By HOWARD BERGER
MINNEAPOLIS (June 23) – Messages were screaming on my Twitter page within seconds of the two monster deals made by the Philadelphia Flyers:
"Why couldn't Burke pull that one off?!"
"Dammit, Burkie missed out on both!"
"With Richards/Carter gone, what else can Leafs do?"
Got news for you, folks: despite popular conception, rival NHL teams are not obliged to run their trade discussions past Brian Burke. I've scoured the rule book and nowhere is there even a loophole  suggesting the Leafs have to sign off on deals that are made between other clubs. So, it may be quite the stretch to assume that Burke had an opportunity to land either Jeff Carter or Mike Richards before the ex-Flyers wound up, respectively, in Columbus and Los Angeles earlier today. "It's tampering to talk about players that belong to other teams, so I won't comment," Burke said when asked, pointedly, whether he was in on the Carter discussions.
It may also be foolhardy for Leaf supporters to throw in the towel on Burke's pursuit of a front-line centre this off-season. For the first time, the Leaf boss acknowledged today he would trade all three of his top picks (numbers 25, 30 and 39) "… if we could walk away from here a better team." Such a notion isn't likely to warm the heart of scouting director Dave Morrison, who hasn't had many first-round selections to mull over in recent drafts (let alone two). But, as Morrison said today: "If Burkie can do things to make us a better team, we keep our jobs in the organization. So, I'm all for it."
LEAFS SCOUTING DIRECTOR DAVE MORRISON (LEFT) SAYS
HE'S OPEN TO ANY MANEUVER THAT WILL HELP THE CLUB
Despite not being involved in the Philadelphia makeover, there is every indication Burke will keep his foot on the pedal in pursuit of a trade. Moreover, timing isn't necessarily an issue.
Such an event as the NHL draft does bring together all the main principals in the hockey world, but trades certainly do not have to be made "in person". Deals often transpire in the wake of the draft (i.e. Kris Versteeg from Chicago for Viktor Stalberg et al last June 30, four days after the 2010 event in Los Angeles), while others are completed in response to the free agency scramble on July 1 and 2 each summer. Remember all the angst among Leaf supporters when Burke didn't trade Tomas Kaberle at the draft a year ago? Remember how the angst turned to sheer panic when Kaberle remained a Leaf after the mid-August trade window? In the end, most Leaf fans were thrilled with the deal Burke ultimately pulled off for the Czech defenseman, more than half-a-year after the summer trade period. So, there is plenty of time and – likely – several options available to Burke before training camp in September.
If nothing transpires by tomorrow night, Burke said he'd be perfectly content to make his three picks in the top 39. "I don't feel this date is material to making your team better [via trade]," he said. "There is pressure on a manager to make deals around the draft because other teams do, but I don't feel that pressure. I happen to like this draft… I think the pool of solid prospects goes into the 50s. That's why we don't feel any great pressure to move up [from No. 25] in the order. It's not like we're saying, 'boy, if we're stuck where we're picking, we won't get a guy that can play some day.' I'd say a move-up scenario looks unlikely at this point, but I will use those picks to get a player [or players] that can help us now."
Free agency is another way the Leafs could improve, but the batch this summer hardly jumps off the page. "The problem with July 1 is there's a lot of teams going after a small group of players, and some of the teams do those wonky contracts that we won't do," Burke said, likely in a veiled reference to Brad Richards, who could be this summer's version of Ilya Kovalchuk. "But, that's okay. If we have to improve our club through trade, we're prepared to do that."
Philadelphia rocked the NHL establishment by dealing Carter and Richards within a half-hour of one another. Carter went to the Blue Jackets for strapping forward Jacub Voracek and a pair of draft choices (first and third-rounders). Flyers then dealt their captain, Richards, to the Kings for forward Wayne Simmonds and highly-touted prospect Brayden Schenn, the brother of Leafs' defenseman Luke Schenn. While it's intriguing to ponder whether Burke could have offered Philly packages that were equal to, or better, than the ones accepted for Carter and Richards, don't confuse that sort of conjecture with the belief that any such opportunity arose. In fact, Burke indicated there is no connection between his trade talks and the two Philadelphia moves.
When asked if the Carter trade might get the ball rolling toward other deals here in Minnesota, Burke said, "Probably… that's what normally happens. It's a good-sized trade that'll get some other things moving but it doesn't affect anything we're working on."
LEAFS GM BRIAN BURKE GATHERS WITH MEDIA AT
TEAM HOTEL IN MINNEAPOLIS EARLIER TODAY
I've been told by a good source that Burke continues to talk with Colorado about centre Paul Stastny – a player that would suit his needs better than Carter, and generally as well as Richards. In the realm of comparison, would a package of, say, Nazem Kadri, Joffrey Lupul and a third-round pick be fair return for Stastny? Kadri and Brayden Schenn are both excellent prospects; Lupul and Wayne Simmonds can put the puck in the net, and the draft pick could be a pot-sweetener. Stastny makes $6.6 million, so the Avs would have to take back some salary… Lupul's $4.25-million cap hit for the next two years would soothe the financial burden on the Leafs.
Another option for Burke could be RFA Zach Parise of the New Jersey Devils.
Otherwise, the Toronto GM also must come to terms with his restricted free agents. Luke Schenn is due a fat raise after his excellent third season in the NHL and Burke said, "there doesn't appear to be any urgency on [his] side to get that done; he'll probably wait to see if other teams sign players that help his [financial] cause. He's obviously an important player for us and [the contract] will get done at some point." As for winger Clarke MacArthur, who enjoyed his best NHL season alongside Mikhail Grabovski and Nikolai Kulemin with 21 goals and 62 points, Burke is anticipating he'll go to salary arbitration, though term – not money – appears to be the stumbling block.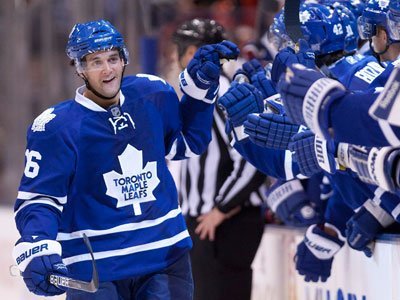 LEAFS AND CLARKE MacARTHUR REMAIN AT A CONTRACT
STALEMATE, PRIMARILY OVER THE TERM OF A NEW DEAL
"I think [Clarke] wants to stay and we'd like to keep him," said the GM, who negotiates with MacArthur's agent, Don Meehan. "The problem is, I'm not prepared to commit to a long-term contract for a player that's had only one productive year. Putting a value on that is difficult and that's why we haven't been able to sign him. It's not that he's being unreasonable; it's just that we don't really know what he is… a 70-point player or a 35-point player, where he's been most of his career. So, I'm not surprised we're having a difficult time arriving at a value; I think it's a difficult situation. But, I'm not committing a lot of money over a long period of time for a guy that's had one good year."
When I asked Burke if a "long period of time" means more than two years, he replied, "yes".
Tyler Bozak also needs to be re-signed as a restricted free agent.
***************************************************
Had a brief opportunity to look inside Target Field earlier today – home of the Minnesota Twins, who are playing inter-league series in San Francisco and Milwaukee this week. It's an impressive facility in its second major league season. Here are several photos:
VIEW FROM UP AND BEHIND HOME PLATE ON A
CLOUDY, DREARY AFTERNOON HERE
THE BUILDINGS OF DOWNTOWN MINNEAPOLIS ARE
VISIBLE BEYOND THE RIGHT-FIELD BLEACHERS
A GLANCE INTO THE LEFT-FIELD CORNER AT TARGET FIELD