By HOWARD BERGER
LOS ANGELES (July 22) – There is redeeming value to the third jersey the Toronto Maple Leafs will show-case next season: it was once worn by champions. That alone should make it a hot-selling item, as Maple Leaf Sports & Entertainment continues to avail itself of the most irrepressible hockey market on Earth.
The club's new alternate design will closely resemble the predominantly blue jersey worn at home during the 1967 Stanley Cup playoffs… and for three seasons thereafter. When captain George Armstrong lifted the silver mug on the night of May 2, 1967, no follower of the Maple Leafs could have conceived the impending drought. And no current follower needs be reminded that next May 2 will mark the 45th anniversary of that crowning moment. Perhaps it's all in the uniform.
If so, the Leafs are on their way to big things. When the aging outfit of '67 pulled on its new jersey – with the 12-point logo identical to the red maple leaf on Canada's national flag – even the most ardent fan of the team envisioned a quick playoff exit. Up first, in the semifinals, were the Chicago Blackhawks: 19 points superior during the 70-game regular season. Authoring one of the great upsets to that point in Stanley Cup history, the Leafs rode a breathtaking performance by veteran goalie Terry Sawchuk to a six-game triumph over Bobby Hull, Stan Mikita, Phil Esposito et al. The netminding tandem of Sawchuk and Johnny Bower then subdued arch-rival Montreal in the Stanley Cup final – Leafs winning the NHL championship for the fourth time in six years.
Sadly for the Blue & White, a sequence of poor ownership and management decisions sent the club into steep decline. John Bassett and Stafford Smythe foolishly sold a pair of feeder clubs – the Rochester Americans and Victoria Maple Leafs – thereby discarding organizational depth. And, general manager George (Punch) Imlach upheld his fatal attraction for veteran players one season too long – a verdict that cost him his job. Whereas Bower, Armstrong, Tim Horton, Marcel Pronovost, Bob Pulford and Allan Stanley helped Imlach to his surprise championship, they were too old – collectively – to maintain stamina and effectiveness the following year.
In 1967-68, as the Leafs began to wear their new uniforms in the regular season, the National Hockey League underwent the most ambitious expansion in pro sport history – doubling in size from six to 12 teams. A pair of California-based clubs necessitated longer road trips and more frequent travel; the schedule increased from 70 to 74 games. Hockey was becoming a young man's sport and many Leafs were nearing retirement. This led to playoff absence in 1968 and 1970. In between, the Leafs were throttled by Boston in a 1969 qurterfinal that is still, arguably, the most humiliating playoff result in club history. Toronto lost the first two games at Boston Garden 10-0 and 7-0 en route to a four-game sweep – after which Smythe immediately fired Imlach.
So, take the new alternate duds as you wish. Overall, they didn't serve the Leafs particularly well. But, they were on display when the club last stood atop the professional hockey world… in the spring of Canada's centennial year. Over the past week, to acknowledge the club's new alternate design, I scoured the Internet and my personal collection of photos. What follows, is a comprehensive photo-review of the players that wore the jersey between the springs of 1967 and 1970. A number of images were culled from my favorite website relating to the team: Vintage Leafs (vintageleafs.blogspot.com). I thank the proprietors for their passion and hard work.
The overwhelming majority of pictures were snapped by the most prolific, renowned and enterprising hockey photographer of the 1960s and '70s – Harold Barkley – whose strobe lights, anchored to the Herculite-glass at either end of Maple Leaf Gardens, pioneered color images and brought the jersey/uniform designs of the 12-team NHL to life. Much of Barkley's collection was acquired, several years ago, by my friend Mike Leonetti, whose coffee-table books are among the most spectacular of the past generation. The effect of these strobe-light images – as you'll notice – illuminated the central figures and created the illusion of darkness in the background. This was also used prominently at the time by John Maiola, who spent several decades at the Gardens taking photos for the Globe & Mail.
Please enjoy this photographic history of the Leafs' new alternate jersey and the players that initially wore it from 1967 to 1970.
THE ABOVE LOGO WAS WORN ON THE MAPLE LEAFS WHITE ROAD JERSEY FROM 1963-64 TO THE END OF THE 1966-67 NHL REGULAR SEASON. THE REVERSE LOGO (WHITE WITH BLUE LETTERING) WAS WORN ON THE HOME JERSEY, AS SEEN BELOW WHILE EDDIE SHACK TALKS TO GM AND COACH PUNCH IMLACH.
EDDIE SHACK (LEFT) AND PUNCH IMLACH.
TO COMMEMORATE CANADA'S CENTENNIAL BIRTHDAY, THE HOCKEY CLUB ADOPTED A LOGO (ABOVE) BASED ON THAT WHICH ADORNED THE COUNTRY'S NATIONAL FLAG (BELOW). THE LEAFS WORE IT FOR THE FIRST TIME ON THEIR WHITE ROAD JERSEY IN GAME 1 OF THE STANLEY CUP SEMIFINALS, AT CHICAGO STADIUM, APR. 6, 1967. THE REVERSE LOGO (WHITE WITH BLUE LETTERING) ADORNED THE HOME JERSEY.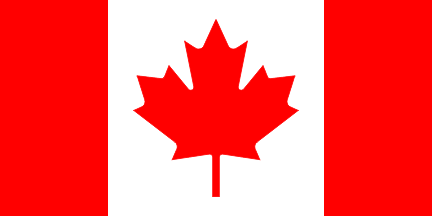 THE HOME JERSEY (ABOVE) WORN BY DAVE KEON IN THE 1967 STANLEY CUP PLAYOFFS.
1967 STANLEY CUP SEMIFINALS: TORONTO vs. CHICAGO
THREE PHOTOS (BELOW) FROM LEAFS-BLACKHAWKS FIRST-ROUND SERIES
LEAFS DEFENSEMAN ALLAN STANLEY TRACKS DOWN PHIL ESPOSITO OF THE BLACKHAWKS.
ACROBATIC TERRY SAWCHUK THWARTS CHICAGO'S STAN MIKITA WHILE DAVE KEON AND TIM HORTON (SPRAWLED ON ICE) HOPE THE PUCK STAYS OUT.
PHOTO TAKEN FROM END BLUES AT MAPLE LEAF GARDENS SHOWS (L-R) ALLAN STANLEY, TIM HORTON AND RED KELLY CONVERGING ON BOBBY HULL OF CHICAGO.
1967 STANLEY CUP FINAL: TORONTO vs. MONTREAL
EIGHT PHOTOS (BELOW) FROM LEAFS-CANADIENS CHAMPIONSHIP SERIES AND VICTORY CELEBRATION AFTER GAME 6 AT MAPLE LEAF GARDENS.
PHOTO TAKEN FROM SEATS ON EAST SIDE OF GARDENS SHOWS LEAFS CELEBRATING A GOAL SCORED ON MONTREAL'S LORNE (GUMP) WORSLEY.
JOHNNY BOWER COVERS PUCK WITH HIS ANCIENT GOAL EQUIPMENT AS TIM HORTON AND MONTREAL'S JEAN BELIVEAU WATCH PLAY.
PUCK FLIES TOWARD CAMERA IN SOUTHEAST CORNER OF GARDENS AFTER TERRY SAWCHUK MAKES ARM SAVE OFF YVAN COURNOYER OF MONTREAL. MARCEL PRONOVOST LOOKS ON.
EDDIE SHACK OF LEAFS IS COVERED BY RALPH BACKSTROM (6) AND J.C. TREMBLAY OF THE CANADIENS, WHILE FORWARD GILLES TREMBLAY (21) FOLLOWS THE PLAY.
MOMENTS AFTER THE LEAFS SERIES-CLINCHING TRIUMPH ON MAY 2, 1967, A LESS-THAN ENTHUSED GUMP WORSLEY SHAKES HANDS WITH TED HARRIS AND JEAN BELIVEAU BEHIND HIM.
LEAFS CAPTAIN GEORGE ARMSTRONG AND HIS TEEN-AGED SON, BRIAN, ACCEPT STANLEY CUP ON GARDENS ICE FROM NHL PRESIDENT CLARENCE CAMPBELL.
GEORGE ARMSTRONG CARRIES STANLEY CUP TO THE LEAFS DRESSING ROOM FOR THE FOURTH  TIME IN SIX NHL SEASONS. TEAMMATE RON ELLIS IS TO ARMSTRONG'S LEFT.
DAVE KEON, WINNER OF THE CONN SMYTHE TROPHY AS PLAYOFF MVP, ADMIRES STANLEY CUP IN LEAFS DRESSING ROOM WHILE TAKING A CHAMPAGNE SHOWER FROM BEHIND.
1967 STANLEY CUP CHAMPIONS. TOP ROW (L-R): BOB HAGGERT (TRAINER); MILAN MARCETTA; BRIAN CONACHER; JIM PAPPIN; AUT ERICKSON; TOMMY NAYLOR (EQUIPMENT MANAGER). THIRD ROW (L-R): RON ELLIS; MARCEL PRONOVOST; PETER STEMKOWSKI; ALLAN STANLEY; EDDIE SHACK; LARRY JEFFREY; MIKE WALTON. SECOND ROW (L-R): JOHNNY BOWER; DAVE KEON; LARRY HILLMAN; RED KELLY; FRANK MAHOVLICH; TIM HORTON; BOB BAUN; TERRY SAWCHUK. SEATED (L-R): PUNCH IMLACH (GM/COACH); GEORGE ARMSTRONG; JOHN BASSETT (CO-OWNER); STAFFORD SMYTHE (PRESIDENT); HAROLD BALLARD (VICE-PRESIDENT); BOB PULFORD; KING CLANCY (VICE-PRESIDENT).
ON FEB. 17, 2007, SURVIVING MEMBERS OF THE 1967 STANLEY CUP CHAMPIONS RE-UNITED AT THE AIR CANADA CENTRE PRIOR TO A GAME BETWEEN THE MAPLE LEAFS AND EDMONTON OILERS. FOR THE FIRST TIME SINCE HIS ACRIMONIOUS PARTING FROM THE BLUE & WHITE 32 YEARS EARLIER, DAVE KEON ATTENDED AN EVENT HOSTED BY THE HOCKEY CLUB. KEON HAD BEEN PART OF NUMEROUS GATHERINGS OF EX-TEAMMATES, BUT ONLY WHEN ORGANIZED BY INDEPENDENT PARTIES. HE REFUSED TO ATTEND THE GALA CELEBRATION ON THE FINAL NIGHT OF HOCKEY AT MAPLE LEAF GARDENS (FEB. 13, 1999), WHEN VIRTUALLY EVERY LIVING MEMBER OF THE CLUB MARCHED ONTO THE ICE IN A POST-GAME COMMEMORATION.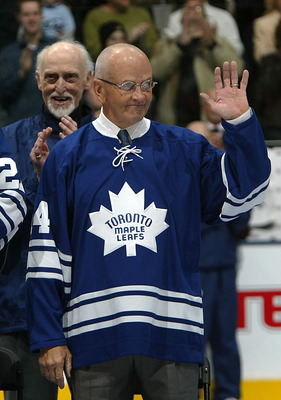 HAVING FINALLY AGREED TO ATTEND A TEAM-HOSTED EVENT, DAVE KEON ACKNOWLEDGES OVATION AT THE AIR CANADA CENTRE (ABOVE). LEAFS TRAINER IN THE 1960s, BOB HAGGERT, APPLAUDS KEON FROM BEHIND. HAGGERT RECENTLY PASSED AWAY.
JOHNNY BOWER AND DAVE KEON – TEAMMATES ON ALL FOUR LEAF STANLEY CUP WINNERS IN THE 1960s – SHAKE HANDS DURING PRE-GAME CEREMONY ON FEB. 17, 2007 WHILE FRANK MAHOVLICH LOOKS ON. LARRY JEFFREY IS BEHIND BOWER IN LEFT OF PHOTO. THOUGH KEON'S APPEARANCE GENERATED ABUNDANT PUBLICITY, BOWER – ARGUABLY THE MOST BELOVED LEAF OF ALL TIME – RECEIVED THE LONGEST AND WARMEST OVATION FROM THE AIR CANADA CENTRE CROWD.
LEAF LEGENDS FRANK MAHOVLICH (LEFT) AND DAVE KEON DURING 1967 STANLEY CUP REUNION.
EXPANSION ERA BEGINS
THE MAPLE LEAFS WORE THEIR REDESIGNED JERSEYS FOR THREE SEASONS, BEGINNING IN 1967-68, THE YEAR THE NHL DOUBLED IN SIZE FROM SIX TO 12 TEAMS.SEVERAL MEMBERS OF THE '67 STANLEY CUP CONTINGENT (RED KELLY, BOB BAUN, TERRY SAWCHUK, MILAN MARCETTA, AUT ERICKSON) WOUND UP WITH EXPANSION TEAMS WHILE EDDIE SHACK WAS TRADED TO BOSTON FOR MURRAY OLIVER TWO WEEKS AFTER THE CUP VICTORY.

ORIGINAL JERSEYS (ABOVE) OF THE SIX NHL EXPANSION TEAMS FOR THE 1967-68 SEASON. LEFT TO RIGHT: CALIFORNIA SEALS; LOS ANGELES KINGS; MINNESOTA NORTH STARS; PHILADELPHIA FLYERS; PITTSBURGH PENGUINS; ST. LOUIS BLUES. LEAFS WOULD BE THE ONLY EXISTING CLUB TO COMPILE A SUB-.500 RECORD AGAINST THE NEW MEMBERS IN THE INAUGURAL SEASON, LARGELY CONTRIBUTING TO THEIR PLAYOFF ABSENCE IN 1968. THERE WERE FOUR MEETINGS (TWO HOME; TWO AWAY) BETWEEN THE EXISTING AND EXPANSION TEAMS IN '67-68.
VETERAN DEFENSEMAN LEO BOIVIN (ABOVE) POSES IN ORIGINAL UNIFORM OF THE PITTSBURGH PENGUINS, WHO MISSED THE PLAYOFFS IN THE WEST DIVISION WITH CALIFORNIA.
ORIGINAL ST. LOUIS BLUES HOME JERSEY (ABOVE) WORN BY DEFENSEMAN NOEL PICARD.
PHOTOS ABOVE AND BELOW ARE FROM A GAME BETWEEN THE PHILADELPHIA FLYERS AND BOSTON BRUINS ON MAR. 7, 1968 AT MAPLE LEAF GARDENS. NEUTRAL-SITE MATCH WAS A HOME GAME FOR PHILADELPHIA, WHOSE ARENA – THE SPECTRUM – WAS TEMPORARILY CLOSED AFTER HIGH WINDS TORE A HOLE IN ITS ROOF. GARY DORNHOEFER OF THE FLYERS BATTLES WITH EDDIE SHACK (ABOVE). THIS GAME IS STILL REMEMBERED FOR THE VICIOUS STICK-SWINGING DUEL BETWEEN SHACK AND FLYERS' GRIZZLED DEFENSEMAN LARRY ZEIDEL.
SHACK AND ZEIDEL (ABOVE) DURING AND AFTER THEIR STICK-SWINGING AFFAIR.
BOSTON FORWARD GLEN SATHER POUNCES ON A LOOSE PUCK IN FRONT OF FLYERS GOALIE BERNIE PARENT IN GAME AT MAPLE LEAF GARDENS, MAR. 7, 1968.
JOHNNY BOWER (ABOVE) ADORNS FRONT OF PROGRAM FOR THE 1968 NHL ALL-STAR GAME, PLAYED AT MAPLE LEAF GARDENS ON JAN. 17 OF THE '67-68 SEASON. IT MARKED THE LAST TIME THE DEFENDING STANLEY CUP CHAMPIONS FACED OFF AGAINST ALL-STARS FROM THE OTHER TEAMS; AN EAST vs. WEST FORMAT DEBUTED THE FOLLOWING YEAR. PROGRAM IS DECORATED BY AUTOGRAPHS FROM MOST OF THE GAME PARTICIPANTS, INCLUDING LEGENDS GORDIE HOWE, JEAN BELIVEAU, BOBBY HULL, BOBBY ORR AND STAN MIKITA.
NHL ALL-STARS AND MAPLE LEAFS CLASH (ABOVE) IN 1968 GAME AT THE GARDENS. ALL-STARS IN PHOTO (L-R) ARE GORDIE HOWE (9), BOBBY ORR (5) AND EX-LEAF BOB BAUN (8), WEARING THE GREEN AND BLUE GLOVES OF THE CALIFORNIA SEALS. HOWE IS EXCHANGING HIGH STICKS WITH LEAFS FORWARD WAYNE CARLETON.
THIRD-STRINGER AL SMITH (ABOVE) TENDED GOAL FOR THE MAPLE LEAFS DURING PART OF THE 1968 NHL ALL-STAR GAME AT THE GARDENS. HERE, SMITH WATCHES AS TIM HORTON ROUNDS THE NET WHILE BEING CHASED BY GORDIE HOWE.
THE 1968 ALL-STAR GAME WAS PLAYED BENEATH A PALL CAST BY THE DEATH, TWO NIGHTS EARLIER, OF MINNESOTA NORTH STARS FORWARD BILL MASTERTON. PHOTO ABOVE SHOWS MASTERTON (19) BEING WATCHED BY TIM HORTON DURING FIRST VISIT TO MAPLE LEAF GARDENS BY THE NORTH STARS, NOV. 22, 1967. THE MINNESOTA PLAYER WAS FATALLY INJURED DURING A HOME GAME ON SAT. JAN. 13, 1968 (BELOW) WHEN CATAPULTED BACKWARD BY DEFENSEMEN LARRY CAHAN AND RON HARRIS OF THE CALIFORNIA SEALS. MASTERTON CRACKED HIS HEAD ON THE ICE AT THE METROPOLITAN SPORTS CENTER AND NEVER REGAINED CONSCIOUSNESS. HE DIED LATE THE FOLLOWING NIGHT IN HOSPITAL.
UNCONSCIOUS BILL MASTERTON IS WHEELED OFF THE ICE IN BLOOMINGTON, MINNESOTA ON THE NIGHT OF JAN. 13, 1968. HELMETED ANDRE BOUDRIAS (15) DISCUSSES SITUATION WITH TEAMMATE PARKER MacDONALD (17). NORTH STAR PLAYER STANDING IN BACKGROUND IS FORWARD RAY CULLEN. BILL COLLINS (18) AND ELMER (MOOSE) VASKO (4) ALSO ACCOMPANY MASTERTON, WHO REMAINS THE ONLY NHL PLAYER TO DIE AS A RESULT OF BEING INJURED DURING A GAME. A TROPHY RECOGNIZING PERSEVERANCE AND DEDICATION IS AWARDED ANNUALLY IN HIS MEMORY.
DAVE KEON'S 1968-69 TOPPS HOCKEY CARD (ABOVE). A TERRIFIC SKATER WHO COMBINED DILLIGENT CHECKING WITH SOFT PLAY-MAKING HANDS, KEON WAS A PRIME FIGURE DURING THE MAPLE LEAFS STANLEY CUP DYNASTY OF THE 1960s. WHEN OWNER HAROLD BALLARD REFUSED TO OFFER HIM A CONTRACT AFTER THE 1974-75 SEASON, KEON DEFECTED BITTERLY TO MINNESOTA OF THE WORLD HOCKEY ASSOCIATION AND REFUSED TO HAVE ANY DEALINGS WITH THE BLUE & WHITE FOR MORE THAN THREE DECADES.
DAVE KEON (ABOVE) ZEROES IN ON LOOSE PUCK IN FRONT OF PITTSBURGH GOALIE LES BINKLEY IN PENGUINS FIRST-EVER VISIT TO THE GARDENS, DEC. 13, 1968.
PRIOR TO THE 1969-70 NHL SEASON, DAVE KEON HAS THE "C" SEWN ONTO HIS BLUE HOME JERSEY BY LEAFS TRAINER JOE SGRO. GEORGE ARMSTRONG HAD BEEN CAPTAIN OF THE HOCKEY CLUB FOR MUCH OF THE PREVIOUS TWO DECADES. KEON WOULD BE REPLACED BY DARRYL SITTLER IN 1975.
THE "BIG M" – FRANK MAHOVLICH – HAD ALREADY BEEN TRADED TO DETROIT BY THE TIME HIS 1968-69 TOPPS HOCKEY CARD CAME OUT (ABOVE), THOUGH HE WAS PICTURED IN HIS LEAFS JERSEY.
FRANK MAHOVLICH BATTLES THE EXPANSION LOS ANGELES KINGS AT MAPLE LEAF GARDENS IN HIS FINAL GAME WITH THE BLUE & WHITE, MAR. 2, 1968. LATE THE FOLLOWING NIGHT – IN A SHOCKING DEVELOPMENT – MAHOVLICH WAS TRADED TO THE RED WINGS WITH PETER STEMKOWSKI (PLAYER TO HIS LEFT IN PHOTO), GARRY UNGER AND THE NHL RIGHTS TO DEFENSEMAN CARL BREWER. THE LEAFS RECEIVED VETERAN FORWARDS NORM ULLMAN, PAUL HENDERSON AND FLOYD SMITH. KINGS GOALIE WAYNE RUTLEDGE AND DEFENSEMAN BRENT HUGHES ATTEMPT TO THWART MAHOVLICH AND STEMKOWSKI IN PHOTO ABOVE.
PLAYERS THAT WOULD SOON BE TRADED FOR ONE ANOTHER – FLOYD SMITH OF DETROIT AND FRANK MAHOVLICH OF THE MAPLE LEAFS – CLASH AT THE GARDENS IN 1967-68, AS TORONTO GOALIE BRUCE GAMBLE LOOKS ON.
THE SEASON AFTER HIS TRADE TO THE RED WINGS (1968-69), FRANK MAHOVLICH STRUGGLES TO FREE HIMSELF FROM THE GRASP OF HELMETED DEFENSEMAN PIERRE PILOTE.
JOHNNY BOWER'S TOPPS HOCKEY CARD IN 1966-67.
JOHNNY BOWER KEEPS EYE ON PUCK (ABOVE) WITH CANADIENS CAPTAIN JEAN BELIVEAU (4) ON HIS DOOR-STEP. LEAFS DEFENSEMAN MIKE PELYK AND YVAN COURNOYER OF HABS TRAIL THE PLAY.
JOHNNY BOWER (ABOVE) SEEMS UNAWARE THAT FORMER TEAMMATE DICK DUFF OF MONTREAL IS SNEAKING OUT FROM BEHIND HIM AT THE GARDENS.
IN HIS FINAL NHL SEASON (1969-70), JOHNNY BOWER – THEN 45 YEARS OF AGE – AGREED TO WEAR A GOALIE MASK FOR THE ONLY TIME IN HIS LONG, BRILLIANT CAREER. BRUINS DEFENSEMAN BOBBY ORR TOPPLES OVER BOWER IN ABOVE PHOTO.
1966-67 TOPPS HOCKEY CARD (ABOVE) OF THE GREAT TERRY SAWCHUK.
TERRY SAWCHUK (ABOVE), WEARING HIS DISTINCT, UNFORGETTABLE GOALIE MASK, WAS MARVELOUS FOR THE UPSTART MAPLE LEAFS DURING THE 1967 STANLEY CUP FINAL. DAVE KEON WON THE CONN SMYTHE TROPHY, BUT MANY VOTES WERE ALSO CAST FOR SAWCHUK.
CLAIMED BY THE LOS ANGELES KINGS (ORIGINAL LOGO BELOW) IN THE 1967 NHL EXPANSION DRAFT, TERRY SAWCHUK RETURNED TO MAPLE LEAF GARDENS (ABOVE) IN HIS GOLD AND PURPLE ROAD UNIFORM ON OCT. 25, 1967. SAWCHUK PLAYED ONLY ONE SEASON FOR THE KINGS.
PHOTOS OF TERRY SAWCHUK IN ACTION WITH THE KINGS ARE QUITE RARE, SUCH AS ABOVE IMAGE DURING A GAME AGAINST THE CALIFORNIA SEALS IN OAKLAND. HERE, SAWCHUK READIES TO CONFRONT SEALS FORWARD BILL HICKE, WHILE TEAMMATE TED IRVINE (15) CLOSES IN.
IN THIS GAME PHOTO FROM A LESS-THAN FILLED MET CENTER IN BLOOMINGTON, MINNESOTA, TERRY SAWCHUK KEEPS EYE ON LOOSE PUCK WITH NORTH STARS FORWARD BILL GOLDSWORTHY (8) CLOSE BY. GOLDSWORTHY IS DEFENDED BY KINGS CAPTAIN BOB WALL (2).
AFTER A BRIEF, SECOND FLING IN DETROIT – THE CITY IN WHICH HE STARRED DURING THE 1950s – TERRY SAWCHUK FINISHED HIS CAREER IN 1969-70 (ABOVE) AS BACK-UP GOALIE TO ED GIACOMIN OF THE NEW YORK RANGERS. NEW YORK WAS ELIMINATED BY EVENTUAL CUP-CHAMPION BOSTON IN THE OPENING ROUND OF THE PLAYOFFS. LESS THAN TWO MONTHS LATER, AFTER A DRUNKEN WRESTLING MATCH WITH TEAMMATE RON STEWART DURING WHICH HE FELL AWKWARDLY OVER A BARBEQUE SPIT, SAWCHUK DIED IN HOSPITAL OF A PULMONARY EMBOLISM (BLOOD CLOT IN THE LUNG). HE WAS ONLY 40 YEARS OF AGE.
REGARDED BY MANY AS THE GREATEST DEFENSEMAN IN LEAFS HISTORY, TIM HORTON IS PICTURED ABOVE ON HIS TOPPS 1966-67 HOCKEY CARD.
THE HOME JERSEY (ABOVE) THAT TIM HORTON WORE WITH THE MAPLE LEAFS BETWEEN 1967 AND 1970 (IN ATTACHED PHOTO, HORTON CLOSES IN ON BOSTON'S PHIL ESPOSITO DURING 1969-70 GAME AT THE GARDENS). SIMILAR DESIGN WILL BE INTRODUCED BY THE HOCKEY CLUB AS AN ALTERNATE UNIFORM FOR THE 2011-12 NHL SEASON. AFTER 20 YEARS IN TORONTO, HORTON WAS TRADED TO THE NEW YORK RANGERS ON MAR. 3, 1970 – TWO YEARS TO THE DAY THAT EX-TEAMMATE FRANK MAHOVLICH WAS DEALT BY THE LEAFS TO THE RED WINGS.
REGARDED AS THE PLAYER POSSESSING THE MOST PHYSICAL STRENGTH IN THE NHL, TIM HORTON WAS A STALWART ON THE MAPLE LEAFS BLUE-LINE (PAIRED WITH ALLAN STANLEY) DURING THE CUP DYNASTY OF THE 1960s. IN ABOVE PHOTO, ROSS LONSBERRY OF THE KINGS TRIES TO CORRAL HORTON DURING MAR. 2, 1968 GAME AT THE GARDENS.
OPPONENTS WOULD USE ANY AND ALL MEANS TO TRY AND IMPEDE TIM HORTON, SUCH AS HOOK APPLIED (ABOVE) BY MIKE LAUGHTON OF THE OAKLAND SEALS IN 1968 GAME AT GARDENS.
TIM HORTON IS TRAILED (ABOVE) BY FORWARD ED HOEKSTRA OF THE EXPANSION PHILADELPHIA FLYERS IN 1968 GAME AT MAPLE LEAF GARDENS.
LOS ANGELES KINGS FORWARD (AND ONE-TIME LEAF) ED JOYAL DOES A PIRHOUETTE IN FRONT OF TIM HORTON IN 1968 ACTION AT THE GARDENS. THE LEAFS ALL-TIME DEFENSEMAN WAS KILLED IN A SINGLE-CAR ACCIDENT ON THE QUEEN ELIZABETH WAY NEAR ST. CATAHRINES, ONT. ON FEB. 21, 1974, HOURS AFTER PLAYING FOR THE BUFFALO SABRES AGAINST HIS FORMER TEAM AT THE GARDENS. HE IS UNIVERSALLY KNOWN TODAY FOR THE DONUT EMPIRE HE FOUNDED IN THE 1960s WITH BUSINESS PARTNER RON JOYCE. TIM HORTON'S IS A STAPLE ACROSS CANADA.
THE MOST ADROIT BODY-CHECKER ON THE LEAF STANLEY CUP TEAMS OF THE '60s WAS DEFENSEMAN BOB BAUN (ABOVE), WHO TEAMED WITH CARL BREWER DURING THE CHAMPIONSHIP HATTRICK OF 1962-63-64. OUTSPOKEN AND INDEPENDENT BY NATURE, BAUN CLASHED WITH PUNCH IMLACH – AN AUTHORITARIAN FIGURE – AND THIS CULMINATED IN THE BLUE-LINER PLAYING SPARSE MINUTES DURING THE 1967 CUP RUN. IT ALSO LED TO IMLACH FOOLISHLY EXPOSING BAUN FOR THE '67 EXPANSION DRAFT, THEREBY COSTING THE LEAFS A STILL-SERVICABLE VETERAN.
BOB BAUN WAS CLAIMED BY THE CALIFORNIA SEALS IN THE 1967 EXPANSION DRAFT. HE POSES (ABOVE) IN THE SEALS ORIGINAL GREEN HOME JERSEY. BELOW IS AN ACTUAL GAME PUCK FROM THE SEALS INAUGURAL CAMPAIGN AT THE OAKLAND COLISEUM-ARENA.
IN 1968-69, BOB BAUN (ABOVE LEFT) WAS REUNITED IN DETROIT WITH TWO OF HIS FORMER LEAF TEAMMATES: FRANK MAHOVLICH (CENTER) AND CARL BREWER (RIGHT). AFTER A HORRIBLE FIRST-SEASON IN OAKLAND (SEALS WERE DEAD-LAST IN THE NHL), BAUN ASKED TO BE TRADED BACK TO THE EAST DIVISION AND WAS DEALT TO THE RED WINGS, WHERE MAHOVLICH PATROLLED LEFT WING AFTER HIS DEPARTURE FROM THE LEAFS THE PREVIOUS MARCH. BREWER WAS ALSO INCLUDED IN THAT TORONTO-DETROIT TRADE. FED UP WITH IMLACH'S TIRADES, HE QUIT THE LEAFS AFTER THE 1964-65 SEASON; REGAINED HIS AMATEUR STATUS, AND PLAYED FOR CANADA'S NATIONAL HOCKEY TEAM. WHEN NEGOTIATING THE TRADE FOR MAHOVLICH, DETROIT GM SID ABEL FELT HE COULD TALK BREWER BACK TO THE NHL AND DEMANDED THE PLAYER'S RIGHTS BE INCLUDED IN THE PACKAGE. BREWER DID RETURN IN 1968-69 AND WAS A SECOND-TEAM ALL STAR.
GEORGE ARMSTRONG POSES ABOVE IN 1969-70 – THE "C" CONSPICUOUSLY ABSENT FROM HIS HOME BLUE JERSEY AFTER ALMOST 20 YEARS. HAVING THREATENED TO RETIRE UPON BEING EXPOSED BY THE LEAFS IN THE 1967 EXPANSION DRAFT, ARMSTRONG WAS RE-CLAIMED BY PUNCH IMLACH DURING THE PROCESS AND DECIDED TO RETURN. THE VETERAN WINGER ELECTED TO CALL IT QUITS AFTER THE 1967-68 SEASON, ONLY TO BE TALKED BACK ONCE AGAIN BY IMLACH. WHEN ARMSTRONG HESITATED TO RETURN FOR THE 1969-70 SEASON, IMLACH NAMED DAVE KEON THE LEAFS NEW CAPTAIN. ULTIMATELY, ARMSTRONG RETIRED AFTER THE 1970-71 SEASON AT AGE 40.
GEORGE ARMSTRONG (FAR LEFT IN ABOVE PHOTO) AND LINEMATE BOB PULFORD (BACKGROUND) ARE CLOSELY GUARDED BY VISITING MINNESOTA NORTH STARS IN 1967-68 GAME AT THE GARDENS. MINNESOTA GOALIE IS CESARE MANIAGO; BIG DEFENSEMAN BOB McCORD (3) STANDS WATCH IN FRONT, WHILE BILL COLLINS SNEAKS OUT FROM BEHIND ARMSTRONG.
IN GOOD DEFENSIVE POSITION NEAR LEAFS GOALIE BRUCE GAMBLE, GEORGE ARMSTRONG (10) AWAITS HARD-CHARGING FORBES KENNEDY OF THE PHILADELPHIA FLYERS (ABOVE) IN JANUARY 1968 ENCOUNTER AT THE GARDENS. DEFENSEMAN MIKE PELYK IS ATTEMPTING TO SLOW KENNEDY, WHO WOULD JOIN THE LEAFS IN A TRADE IN MARCH 1969; THEN FAMOUSLY GO BERSERK IN A PLAYOFF GAME AT BOSTON A MONTH LATER – SCRAPPING WITH NUMEROUS MEMBERS OF THE BRUINS AND PLANTING A LEFT HOOK ON THE CHIN OF LINESMAN GEORGE ASHLEY. IT WOULD BE KENNEDY'S FINAL GAME IN THE NHL.
BOB PULFORD'S 1968-69 TOPPS HOCKEY CARD (ABOVE). THE LINE OF PULFORD, PETER STEMKOWSKI AND JIM PAPPIN EMERGED AS THE MOST PROLIFIC IN THE 1967 STANLEY CUP PLAYOFFS, LEADING THE BLUE & WHITE TO THEIR FOURTH TITLE OF THE DECADE.
BOB PULFORD IS SURROUNDED (ABOVE) BY ORIGINAL MEMBERS OF THE LOS ANGELES KINGS DURING MAR. 2, 1968 GAME AT MAPLE LEAF GARDENS.  FORWARD REAL LEMIEUX (9) WATCHES PUCK INTO THE GLOVE OF GOALIE WAYNE RUTLEDGE WHILE DEFENSEMAN DAVE AMADIO TRIES TO HOUND PULFORD FROM BEHIND.
BOB PULFORD GAINS POSITION ON MINNESOTA DEFENSEMAN BILL PLAGER DURING 1967-68 GAME AT THE GARDENS WHILE NORTH STARS GOALIE GARY BAUMAN WATCHES PLAY DEVELOP AT THE POINT. PLAGER WOULD LATER SUIT UP IN ST. LOUIS WITH HIS BROTHERS, BOB AND BARCLAY.
BOB PULFORD IS TANGLED (ABOVE) WITH MONTREAL DEFENSEMAN JACQUES LAPERRIERE WHILE LINEMATE DAVE KEON KEEPS EYE ON THE PUCK.
BOB PULFORD, ON A BREAKAWAY, BEATS PITTSBURGH GOALIE LES BINKLEY DURING LEAFS-PENGUINS GAME AT THE GARDENS ON JAN. 13, 1968.
BOB PULFORD ATTEMPTS TO SCREEN MINNESOTA'S LANKY CESARE MANIAGO DURING NORTH STARS FIRST VISIT TO TORONTO, NOV. 22, 1967.
AN AFFINITY FOR OLDER, EXPERIENCED PLAYERS CONTRIBUTED TO PUNCH IMLACH'S UNDOING IN TORONTO. HE UNWISELY GAVE UP ON YOUNG JIM PAPPIN (ABOVE ON 1966-67 TOPPS HOCKEY CARD) JUST A YEAR AFTER PAPPIN TEAMED WITH BOB PULFORD AND PETER STEMKOWSKI TO LEAD THE MAPLE LEAFS OFFENSIVE CHARGE IN THE '67 STANLEY CUP PLAYOFFS. HOPING TO SQUEEZE ANOTHER YEAR OR TWO OUT OF VETERAN PIERRE PILOTE – BEFORE BOBBY ORR, THE BEST DEFENSEMAN OF THE 1960s – IMLACH TRADED PAPPIN TO CHICAGO FOR PILOTE PRIOR TO THE 1968-69 SEASON. IT WAS A GREIVOUS MISTAKE. PILOTE, A FUTURE HALL OF FAMER, HAD NOTHING LEFT, WHILE PAPPIN WENT ON TO SOME BIG SCORING YEARS WITH THE BLACKHAWKS. 
NEW YORK DEFENSEMAN ARNIE BROWN – ONCE A MAPLE LEAFS PROSPECT – KEEPS AN EYE ON JIM PAPPIN AS RANGERS GOALIE ED GIACOMIN WATCHES PUCK IN CORNER… THIS ACTION FROM A TORONTO-NEW YORK GAME AT GARDENS ON OCT. 21, 1967.
JIM PAPPIN STRUGGLES (ABOVE) WITH KEITH McCREARY OF THE EXPANSION PITTSBURGH PENGUINS ON JAN. 13, 1968 AT MAPLE LEAF GARDENS.
WHEN PUNCH IMLACH FINALLY HAD ENOUGH OF EDDIE SHACK, HE TRADED THE ZANY BUT POPULAR FORWARD TO THE BOSTON BRUINS (IN MAY 1967) FOR LESS FLASHY, BUT RELIABLE, MURRAY OLIVER – PICTURED ABOVE ON HIS 1968-69 TOPPS HOCKEY CARD. A SMALLISH WINGER THAT COMPENSATED WITH SMARTS, OLIVER NEVER MISSED A GAME DURING HIS THREE SEASONS IN TORONTO – PLAYING ALL 74 REGULAR-SEASON MATCHES IN 1967-68; ALL 76 IN 1968-69 AND 1969-70. HE WAS THE ONLY LEAFS SKATER TO ACCOMPLISH THAT FEAT.
MURRAY OLIVER RACES FOR LOOSE PUCK (ABOVE) AGAINST MINNESOTA GOALIE CESARE MANIAGO ON NOV. 22, 1967 AT MAPLE LEAF GARDENS. NORTH STARS DEFENSEMAN ELMER VASKO LOOKS ON. OLIVER WOULD LATER PLAY FOR AND COACH MINNESOTA.
MURRAY OLIVER GAINS POSITION BETWEEN MONTREAL GOALIE ERNIE WAKELY AND DEFENSEMAN TERRY HARPER AT MAPLE LEAF GARDENS ON MAR. 26, 1969. IT WAS WAKELY'S ONLY APPEARANCE THAT SEASON FOR THE CANADIENS; HE'D GO ON TO PLAY REGULARLY IN ST. LOUIS.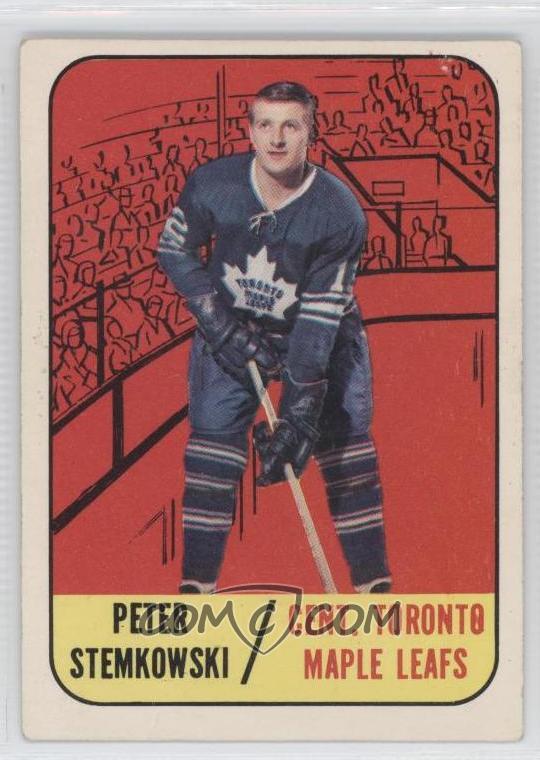 ANOTHER GOOD, YOUNG PLAYER PUNCH IMLACH GAVE UP ON WAS PETER STEMKOWSKI, ONE OF HIS PLAYOFF HEROES IN 1967 (TOPPS HOCKEY CARD FROM 1967-68 ABOVE). STEMKOWSKI WENT TO DETROIT IN THE MARCH 1968 MEGA-DEAL THAT INCLUDED FRANK MAHOVLICH AND BROUGHT THE LEAFS NORM ULLMAN, PAUL HENDERSON AND FLOYD SMITH. STEMKOWSKI HAD A BRIEF STINT WITH THE RED WINGS THEN WENT TO THE NEW YORK RANGERS AND HAD SEVERAL PRODUCTIVE YEARS ON THE GOOD TEAMS OF THE EARLY-'70s COACHED AND MANAGED BY EMILE FRANCIS. 
LESS THAN TWO MONTHS BEFORE HIS TRADE TO THE RED WINGS, PETER STEMKOWSKI GETS INTO SCORING POSITION AGAINST THE PITTSBURGH PENGUINS AT MAPLE LEAF GARDENS (JAN. 13, 1968). NOT SURE WHERE THE PUCK IS… STEMKOWSKI IS LOOKING TOWARD THE POINT WHILE PENGUINS DEFENSEMAN AL MacNEIL AND GOALIE LES BINKLEY HAVE THEIR EYES ON THE CORNER.
PETER STEMKOWSKI (ABOVE) ON CLEAR BREAKAWAY AGAINST CESARE MANIAGO OF THE MINNESOTA NORTH STARS ON NOV. 22, 1967 AT MAPLE LEAF GARDENS.
PETER STEMKOWSKI AND FRANK ST. MARSEILLE OF THE ST. LOUIS BLUES KEEP CLOSE WATCH ON ONE ANOTHER (ABOVE) DURING BLUES FIRST-EVER VISIT TO TORONTO, DEC. 30, 1967.
ON SATURDAY MARCH 9, 1968, ONLY SIX DAYS AFTER THE COLOSSAL TRADE THAT SENT FRANK MAHOVLICH TO DETROIT, THE MAPLE LEAFS AND RED WINGS CLASHED AT THE GARDENS. ALL THE FORMER LEAFS LOOKED STRANGE IN THEIR NEW WHITE AND RED JERSEYS; IN PHOTO ABOVE, STEMKOWSKI ATTEMPTS TO SKATE PAST EX-TEAMMATE TIM HORTON.
AFTER GETTING BOOED OUT OF NEW YORK, ALLAN STANLEY (1966-67 TOPPS HOCKEY CARD ABOVE) JOINED THE MAPLE LEAFS AND TURNED INTO A BEDROCK ON DEFENSE. PAIRED WITH TIM HORTON, STANLEY WAS A MAJOR FORCE ON ALL FOUR STANLEY CUP TEAMS IN THE 1960s.
ALLAN STANLEY POSES (ABOVE) IN HIS MAPLE LEAFS HOME UNIFORM PRIOR TO THE 1967-68 NHL SEASON – HIS LAST IN TORONTO. STANLEY WOULD FINISH HIS CAREER THE FOLLOWING SEASON WITH THE PHILADELPHIA FLYERS.
ALLAN STANLEY WAS ALWAYS A DIFFICULT OBSTACLE ON THE LEAFS BLUE-LINE; IN THE PHOTO ABOVE, HE PESTERS KEN SCHINKEL OF THE PITTSBURGH PENGUINS ON DEC. 13, 1967, DURING PENGUINS FIRST-EVER VISIT TO TORONTO.
IN HIS FINAL NHL SEASON (1968-69), ALLAN STANLEY OF THE PHILADELPHIA FLYERS COLD-COCKS BOB PLAGER OF THE ST. LOUIS BLUES WITH THE GLOVED END OF HIS STICK.
SMOOTH SKATER AND PASSER NORM ULLMAN (ON HIS 1969-70 TOPPS HOCKEY CARD ABOVE) HAD SEVERAL TERRIFIC SEASONS WITH THE MAPLE LEAFS AFTER BEING ACQUIRED FROM DETROIT AS PART OF THE FRANK MAHOVLICH DEAL IN MARCH 1968. ULLMAN SKATED ON A FORWARD UNIT WITH PAUL HENDERSON, WHO CAME OVER IN THE SAME TRADE, AND VETERAN LEAF RON ELLIS. HE WAS SENT PACKING AFTER THE 1974-75 SEASON AND FINISHED HIS CAREER IN THE WHA.
JUST PRIOR TO THE BIG TORONTO-DETROIT TRADE IN MARCH 1968, A COUPLE OF SOON-TO-BE MAPLE LEAFS VISIT THE GARDENS (ABOVE). NORM ULLMAN (FOREGROUND) LOOKS TO STRIP THE PUCK FROM LEAFS CAPTAIN GEORGE ARMSTRONG, WHILE LINE-MATE FLOYD SMITH WATCHES PLAY FROM THE CORNER. TORONTO GOALIE IS BRUCE GAMBLE.
IN HIS FIRST GAME WITH THE LEAFS (MAR. 6, 1968), NORM ULLMAN HEADS UP ICE WITH FORBES KENNEDY OF THE PHILADELPHIA FLYERS. KENNEDY WOULD JOIN THE LEAFS A YEAR LATER.
WEARING THE MAPLE LEAFS ROAD UNIFORM OF 1967-70, NORM ULLMAN WATCHES (ABOVE) AS GERRY CHEEVERS AND BOBBY ORR OF THE BRUINS COVER PUCK AT THE BOSTON GARDEN.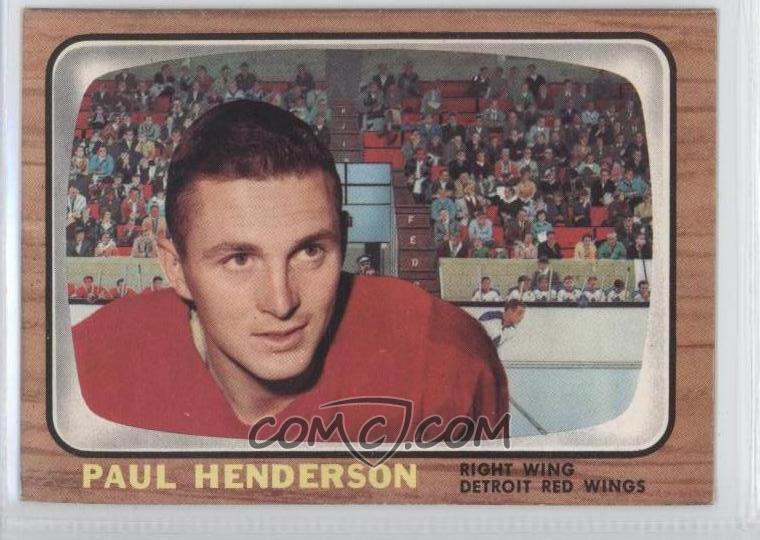 THE TWO IMAGES ABOVE ARE OF PAUL HENDERSON FROM THE 1966-67 SEASON, THE YEAR BEFORE HE WAS TRADED FROM DETROIT TO THE MAPLE LEAFS. HENDERSON'S TOPPS HOCKEY CARD IS ATTACHED TO A BLACK-AND-WHITE PHOTO FOR A PERSONAL REASON: IT'S AN IMAGE FROM THE FIRST LEAFS GAME I EVER ATTENDED – vs. THE RED WINGS – ON SATURDAY, DECEMBER 5, 1966. HOW DO I KNOW THIS? SIMPLE: IT WAS LIKELY THE ONLY TIME IN THE HISTORY OF PRO SPORT THAT A PLAYER WORE A SURGEON'S MASK DURING A GAME. HENDERSON HAD SOME SORT OF VIRUS AND HE PLAYED THE GAME WITH HIS MOUTH AND NOSE COVERED. HERE, HENDERSON DIVES BETWEEN GOALIE TERRY SAWCHUK AND DEFENSEMAN MARCEL PRONOVOST.
PAUL HENDERSON'S TOPPS HOCKEY CARD (ABOVE) FROM 1969-70.
IN HIS FIRST GAME (ABOVE) WITH THE LEAFS (MAR. 6, 1968), PAUL HENDERSON TRIES TO KNOCK THE PUCK AWAY FROM GOALIE DOUG FAVELL OF THE PHILADELPHIA FLYERS.
PAUL HENDERSON JOSTLES (ABOVE) WITH DEFENSEMAN MARSHALL JOHNSTON OF THE MINNESOTA NORTH STARS DURING GAME AT MAPLE LEAF GARDENS IN 1968-69.
DURING GAME AT THE GARDENS IN 1969-70 (ABOVE) HELMETED PAUL HENDERSON CHECKS FORWARD DAVE BALON OF THE NEW YORK RANGERS WHILE BALON'S LINE-MATE, BILL FAIRBAIRN, LOOKS FOR PUCK BEHIND THE PLAY.
YA THINK THIS WOULD BE A PENALTY TODAY? WE'RE NOT SURE IF EX-LEAF KENT DOUGLAS OF THE RED WINGS (ABOVE) WAS SENT OFF FOR BEAR-HUGGING PAUL HENDERSON FROM BEHIND IN THIS 1968-69 MATCH AT THE GARDENS, BUT WE WOULDN'T BE SURPRISED.
THE THIRD MEMBER OF THE FRANK MAHOVLICH DEAL WAS FLOYD SMITH, A RIGHT-WINGER WITH A MODEST SCORING TOUCH BUT LOADS OF CHARACTER AND LEADERSHIP. SMITH IS PICTURED ABOVE ON HIS 1969-70 TOPPS HOCKEY CARD.
AS WITH FORMER RED WINGS TEAMMATES NORM ULLMAN AND PAUL HENDERSON, WE HAVE A PHOTO (ABOVE) OF FLOYD SMITH IN HIS FIRST GAME WITH THE LEAFS (MAR. 6, 1968). HERE, SMITH IS TAKEN DOWN BY PHILADELPHIA FLYERS DEFENSEMAN JOE WATSON IN FRONT OF GOALIE DOUG FAVELL. LINE-MATE NORM ULLMAN VIEWS PLAY FROM BEHIND.
DETROIT INSISTED THAT YOUNG FORWARD GARRY UNGER (PICTURED ABOVE ON HIS 1968-69 TOPPS HOCKEY CARD) BE INVOLVED IN THE FRANK MAHOVLICH DEAL OF MARCH 1968… AND WE SOON FOUND OUT WHY. UNGER SCORED 42 GOALS FOR THE RED WINGS IN 1969-70, THEN WENT ON TO BREAK ANDY HEBENTON'S LONG-STANDING "IRONMAN" RECORD. HIS STREAK OF 914 CONSECUTIVE GAMES BEGAN WITH THE LEAFS (AT THE GARDENS AGAINST BOSTON) ON FEB. 24, 1968 AND ENDED WHEN COACH AL MacNEIL OF THE ATLANTA FLAMES BENCHED UNGER ON DEC. 22, 1979. UNGER BROKE HEBENTON'S MARK, IRONICALLY, AT MAPLE LEAF GARDENS ON MAR. 10, 1976 AS A MEMBER OF THE ST. LOUIS BLUES.
JUST EIGHT DAYS BEFORE HIS TRADE TO DETROIT, GARRY UNGER'S IRONMAN STREAK OF 914 CONSECUTIVE GAMES BEGAN DURING THE ABOVE MATCH – FEB. 24, 1968 – AGAINST THE BOSTON BRUINS AT MAPLE LEAF GARDENS. HERE, UNGER CHASES FRED STANFIELD (17) WHILE GOALIE GERRY CHEEVERS AND DEFENSEMAN DALLAS SMITH WATCH FROM BEHIND.
A VETERAN FARM-HAND WITH ROCHESTER OF THE AMERICAN HOCKEY LEAGUE, DUANE RUPP (1967-68 TOPPS HOCKEY CARD ABOVE) CRACKED THE LEAFS ROSTER IN THE FIRST YEAR OF EXPANSION AFTER THE CLUB LOST FELLOW DEFENSEMEN RED KELLY, BOB BAUN AND KENT DOUGLAS TO THE NEW CLUBS. RUPP LATER PLAYED WITH MINNESOTA AND PITTSBURGH.
DUANE RUPP APPEARED IN 71 GAMES ON THE LEAFS BLUE-LINE IN 1967-68. IN PHOTO ABOVE, RUPP TAKES OUT LOS ANGELES KINGS FORWARD BRIAN SMITH ALONG THE BOARDS IN KINGS FIRST-EVER VISIT TO THE GARDENS, OCT. 25, 1967. SMITH LATER BECAME A SPORTS MEDIA FIGURE IN OTTAWA AND WAS KILLED BY A BULLET TO THE HEAD IN A BIZARRE, TRAGIC SHOOTING OUTSIDE HIS OFFICE. THE PRESS BOX AT SCOTIABANK PLACE (HOME OF THE OTTAWA SENATORS) IS NAMED AFTER SMITH, WHOSE BROTHER – GARY – PLAYED GOAL IN THE NHL WITH A NUMBER OF TEAMS, INCLUDING TORONTO, OAKLAND, CHICAGO AND VANCOUVER.
EVEN WITHOUT THE NAME ON HIS 1969-70 TOPPS HOCKEY CARD (ABOVE) PAT QUINN WOULD LIKELY BE RECOGNIZABLE TO MOST LEAF FANS. QUINN PLAYED DEFENSE FOR THE LEAFS FROM 1968 TO 1970 DURING A 10-YEAR CAREER THAT ALSO TOOK HIM THROUGH VANCOUVER AND ATLANTA. BUT, HE IS BETTER KNOWN AMONG TODAY'S FANS FOR BEING COACH AND GM OF THE BLUE & WHITE FROM 1998-99 TO 2005-06.
PAT QUINN WATCHES A FLYING PUCK (ABOVE) DURING 1969-70 GAME AT MAPLE LEAF GARDENS. THAT'S TEAMMATE JOHNNY BOWER, WEARING A MASK FOR ONE OF THE FEW TIMES IN HIS CAREER, AND FRED STANFIELD OF THE BOSTON BRUINS IN BACKGROUND.
PAT QUINN ROUNDS BACK OF THE NET (ABOVE) WITH FORWARD EARL INGARFIELD OF THE OAKLAND SEALS IN 1969-70 GAME AT MAPLE LEAF GARDENS.
PAT QUINN IS TIED UP (ABOVE) BY FORWARD BILL COLLINS OF THE MINNESOTA NORTH STARS.
PAT QUINN AND LEAFS GOALIE BRUCE GAMBLE SEEM FRANTIC IN TRYING TO LOCATE LOOSE PUCK AT THE GARDENS WITH EX-LEAF GERRY EHMAN OF THE OAKLAND SEALS IN HOT PURSUIT.
FROM THE MID-'60s TO THE EARLY-'80s (WITH A TWO-YEAR HIATUS IN-BETWEEN), RON ELLIS WAS MR. RELIABLE FOR THE MAPLE LEAFS… PLAYING ALMOST EVERY GAME; MOTORING UP AND DOWN HIS WING WITH DISCIPLINE AND EFFORT, AND CHIPPING IN WITH 20-30 GOALS MOST YEARS. HE PLAYED HIS ENTIRE NHL CAREER WITH THE LEAFS, WHO HAVE ERRED BY NOT HONORING HIM WITH A BANNER AT THE AIR CANADA CENTRE. ELLIS (ABOVE) IS PICTURED STILL WEARING NO. 8 FOR THE BLUE & WHITE ON HIS TOPPS 1968-69 HOCKEY CARD.
PRIOR TO THE 1968-69 NHL SEASON, ONLY TWO NUMBERS HAD BEEN RETIRED FROM ACTIVE WEAR BY THE MAPLE LEAFS (ABOVE): NO. 5 BILL BARILKO, WHO PERISHED IN A SMALL-PLANE CRASH WEEKS AFTER SCORING THE 1951 STANLEY CUP WINNER IN OVERTIME, AND IRVIN (ACE) BAILEY, WHOSE CAREER ENDED WHEN HE WAS DUMPED ON THE BACK OF HIS HEAD BY EDDIE SHORE OF THE BRUINS AT THE BOSTON GARDEN IN DECEMBER 1933. BY THE MID-'60s, BAILEY WAS A PENALTY TIME-KEEPER AT THE GARDENS. HE BECAME SO ENAMOURED WITH RON ELLIS, THAT HE REQUESTED THE YOUNG WINGER DON HIS RETIRED NUMBER FOR THE REMAINDER OF HIS CAREER. ELLIS WAS DEEPLY HONORED AND HE SWITCHED HIS JERSEY FROM 8 TO 6 FOR THE '68-69 SEASON. WHEN ELLIS RETIRED IN 1981, BAILEY'S OLD NUMERAL WAS BANISHED ONCE AGAIN.
RON ELLIS IS THWARTED (ABOVE) ON A GREAT SCORING CHANCE BY GOALIE WAYNE RUTLEDGE OF THE LOS ANGELES KINGS – THIS PHOTO FROM A MAR. 2, 1968 ENCOUNTER AT THE GARDENS. BILL WHITE (21) AND REAL LEMIEUX (7) ARE THE OTHER LOS ANGELES PLAYERS.
GOLAIE SETH MARTIN OF ST. LOUIS ISN'T LIKELY AWARE OF RON ELLIS LURKING BEHIND HIM DURING THE BLUES FIRST-EVER VISIT TO TORONTO – DEC. 30, 1967. THE VISITORS HAD ARRIVED DURING A STORM OVERNIGHT AFTER A GAME IN PITTSBURGH AND WERE NOT IN ANY KIND OF SHAPE TO PLAY THE MAPLE LEAFS, WHO DESTROYED THEM 8-1. MARTIN HAD PREVIOUSLY TENDED GOAL FOR THE CANADIAN NATIONAL HOCKEY TEAM IN THE '60s. ST. LOUIS' NO. 1 GOALIE, GLENN HALL, DID NOT DRESS FOR THE ABOVE GAME; MARTIN AND DON CALEY SPLIT THE DUTIES.

HAVING BEEN AN ALL-STAR DEFENSEMAN WITH DETROIT IN THE 1950s, MARCEL PRONOVOST (ABOVE) WAS ACQUIRED BY THE MAPLE LEAFS IN 1965 AND HE FINISHED HIS NHL CAREER IN TORONTO. PRONOVOST WAS A STEADYING FORCE DURING THE 1967 STANLEY CUP RUN.
MARCEL PRONOVOST (3) IS AMONG A QUARTET OF MAPLE LEAFS ATTEMPTING TO STOP KEN SCHINKEL OF THE PITTSBURGH PENGUINS FROM SCORING AT THE GARDENS ON JAN. 13, 1968. OTHER LEAFS (ABOVE) ARE GEORGE ARMSTRONG (10), DAVE KEON AND GOALIE BRUCE GAMBLE.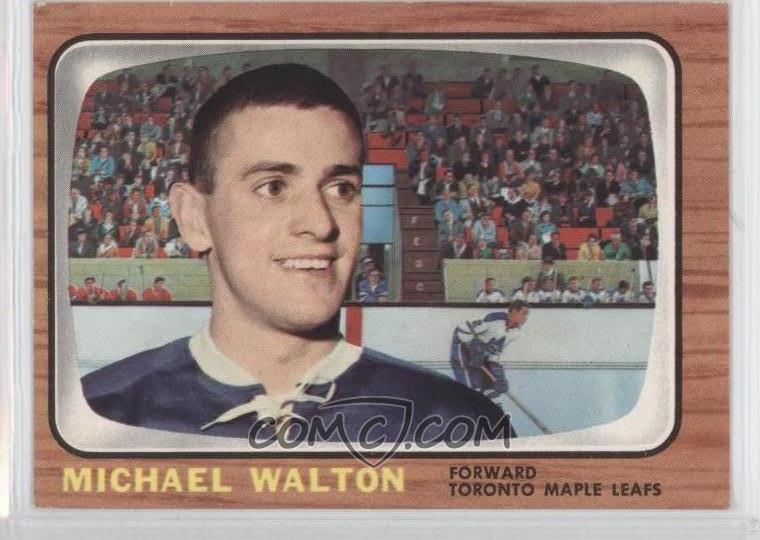 ANOTHER OF THE YOUNG BUCKS THAT GOT UNDER PUNCH IMLACH'S SKIN WAS TALENTED MIKE WALTON (PICTURED ABOVE ON HIS 1966-67 TOPPS HOCKEY CARD). WALTON APPRENTICED WITH ROCHESTER OF THE AMERICAN HOCKEY LEAGUE AND JOINED THE LEAFS DURING THE '66-67 SEASON. HE LED THE CLUB WITH 30 GOALS IN 1967-68 BUT DID NOT ENJOY FOLLOW-UP SUCCESS. HE WAS TRADED TO BOSTON VIA PHILADELPHIA IN A THREE-WAY DEAL THAT BROUGHT GOALIE BERNIE PARENT TO THE MAPLE LEAFS IN FEBRUARY 1971.
PLAYING HIS FIRST FULL SEASON WITH THE LEAFS, MIKE WALTON TURNS UP-ICE (ABOVE) IN JANUARY 1968 GAME AT THE GARDENS. MINNESOTA NORTH STARS IN PHOTO ARE BIG DEFENSEMAN ELMER (MOOSE) VASKO AND GOALIE GARY BAUMAN.
MIKE WALTON AND FORWARD TIM ECCLESTONE OF THE ST. LOUIS BLUES SKATE IN BACK OF BRUCE GAMBLE DURING FEB. 21, 1968 GAME AT MAPLE LEAF GARDENS. ECCLESTONE WOULD PLAY IN TORONTO FROM 1973 TO 1975.
IN THIS 1969-70 GAME AT MAPLE LEAF GARDENS, MIKE WALTON IS CLOSELY GUARDED BY VETERAN DEFENSEMAN LEO BOIVIN OF THE MINNESOTA NORTH STARS.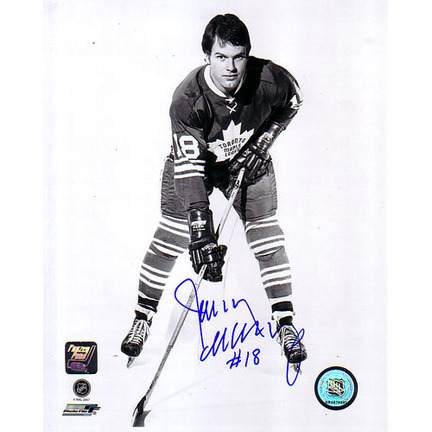 CLEARLY THE BIGGEST DISSERVICE ACCORDED JIM McKENNY ON HIS WAY FROM THE JUNIOR TORONTO MARLBOROS TO THE MAPLE LEAFS IN THE MID-'60s WAS A CONSTANT COMPARISON TO BOBBY ORR OF THE OSHAWA GENERALS. McKENNY (PHOTOGRAPHED ABOVE IN 1969-70) HAD SOME OF ORR'S TALENT BUT ONLY A SMALL PORTION OF THE FUTURE BOSTON PLAYER'S DRIVE AND DETERMINATION. AS A RESULT, THE TORONTO DEFENSEMAN HAD JUST AN AVERAGE NHL CAREER.
MINNESOTA FORWARD RAY CULLEN LEANS ON JIM McKENNY (ABOVE) DURING THIS 1969 GAME AT MAPLE LEAF GARDENS. McKENNY WOULD BRIEFLY PLAY FOR THE NORTH STARS AT THE END OF HIS CAREER – HAVING BEEN CAST ASIDE BY TORONTO COACH ROGER NEILSON IN 1977-78.
A YOUNG JIM McKENNY (ABOVE IN FOREGROUND) TURNS UP ICE AGAINST THE MONTREAL CANADIENS IN 1969-70 GAME AT MAPLE LEAF GARDENS. TEAMMATES JIM DOREY (8) AND BOB PULFORD (BACKGROUND) ALSO BEGIN HEADING THE OPPOSITE WAY. MONTREAL PLAYERS ARE YVAN COURNOYER (IN ONE-BAR HELMET) AND BOBBY ROUSSEAU (AT REAR).
FEW PLAYERS IN THE HISTORY OF THE NHL HAVE MADE A FIRST IMPRESSION THE WAY JIM DOREY DID IN HIS DEBUT AT MAPLE LEAF GARDENS. LOOKING TO BULK UP ON THE BLUE-LINE AFTER A DISASTROUS 1967-68 SEASON, COACH PUNCH IMLACH RECRUITED A TRIO OF ROUGH-HEWN DEFENSEMEN FROM THE MINOR LEAGUES: DOREY, PAT QUINN AND RICK LEY. IN THE LEAFS HOME OPENER OF 1968-69, DOREY INCITED A BENCH-EMPTYING BRAWL WITH THE PITTSBURGH PENGUINS, RESULTING IN A LEAGUE INDIVIDUAL RECORD FOR PENALTY MINUTES IN ONE GAME. DOREY FOUGHT WITH KEN SCHINKEL, JOHN ARBOUR, AL SMITH AND OTHER PENGUINS ON OCT. 16, 1968, AMMASSING 48 MINUTES IN THE BOX. THAT'S WHAT YOU CALL MAKING A NAME FOR YOURSELF.
JIM DOREY (ABOVE LEFT) RACES LEON ROCHEFORT FOR PUCK AT MAPLE LEAF GARDENS DURING 1969-70 GAME AGAINST THE LOS ANGELES KINGS.
FORMER LEAF EDDIE SHACK OF THE LOS ANGELES KINGS IS HELD AT ARM'S LENGTH BY JIM DOREY IN 1969-70 ACTION AT THE GARDENS. SHACK PLAYED ONLY ONE SEASON WITH THE KINGS.
TORONTO MARLBOROS JUNIOR GRADUATE BRIAN GLENNIE JOINED THE MAPLE LEAFS FOR THE 1969-70 SEASON AND WAS A REGULAR ON THE CLUB'S BLUE-LINE FOR MUCH OF THE FOLLOWING DECADE. GLENNIE (PICTURED ABOVE ON HIS 1970-71 TOPPS HOCKEY CARD) WAS A BELOW-AVERAGE SKATER BUT HE POSITIONED HIMSELF SMARTLY AND WAS ABLE TO THROW A CRUSHING BODY CHECK IN OPEN ICE AND ALONG THE BOARDS: A SKILL THAT KEPT HIM IN THE LEAGUE.
BRIAN GLENNIE EXTENDS ARMS AND TAKES A POKE AT YVAN COURNOYER (ABOVE) OF MONTREAL DURING 1969-70 GAME AT MAPLE LEAF GARDENS. LEAF TEAMMATE JIM DOREY IS BEHIND CANADIENS CAPTAIN JEAN BELIVEAU WHILE REFEREE JOHN ASHLEY WATCHES THE PLAY.
BRIAN GLENNIE PASSES PUCK TO DAVE KEON (ABOVE) AS GORDIE HOWE OF THE RED WINGS TRIES TO INTERCEDE DURING 1969-70 ENCOUNTER AT MAPLE LEAF GARDENS.
ORILLIA NATIVE RICKY LEY (ABOVE ON HIS 1969-70 TOPPS HOCKEY CARD) WAS THE THIRD MEMBER OF THE ROOKIE BLUE-LINE TRIUMVERATE ON THE MAPLE LEAFS IN THE 1968-69 SEASON – ALONG WITH PAT QUINN AND JIM DOREY. LEY WAS A SMALLISH DEFENSEMAN BUT STOCKILY BUILT AND HE PLAYED BIGGER THAN HIS SIZE, ROUGHING IT UP QUITE FREQUENTLY. HE WAS AMONG THE LEAF REGULARS THAT DEFECTED TO THE WORLD HOCKEY ASSOCIATION IN 1972, JOINING DOREY AND BRAD SELWOOD ON THE NEW ENGLAND WHALERS. MORE RECENTLY, LEY WAS A TRUSTED ASSISTANT TO PAT QUINN DURING HIS DECADE BEHIND THE LEAFS BENCH.
RICK LEY MAKES A BEE-LINE (ABOVE) FOR NEW YORK RANGERS STAR ROD GILBERT JUST AS THE PLAY IS CALLED DURING 1969-70 GAME AT THE GARDENS. LEAF GOALIE IS GERRY McNAMARA, WHO SUBBED ON TWO OCCASIONS THAT SEASON FOR INJURED REGULARS BRUCE GAMBLE AND MARV EDWARDS. McNAMARA – GM OF THE LEAFS FROM 1982-87 – ALSO PLAYED HALF A GAME IN OAKLAND.
RICKY LEY DARTS AWAY FROM ANDRE LACROIX OF THE PHILADELPHIA FLYERS DURING 1969-70 ACTION AT MAPLE LEAF GARDENS. SEVERAL YEARS LATER, LEY AND LACROIX WOULD BE TEAMMATES WITH NEW ENGLAND OF THE WHA.
ANOTHER YOUNG DEFENSEMAN, MIKE PELYK, MADE HIS LEAFS DEBUT IN 1967-68 AND SOLDIERED ON WITH THE CLUB THROUGH MUCH OF THE ENSUING DECADE. PELYK IS PICTURED ABOVE ON HIS 1970-71 TOPPS HOCKEY CARD.
DEFENSEMAN MIKE PELYK (ABOVE LEFT) TRIES TO KEEP THE PUCK AWAY FROM BOSTON'S PROLIFIC SCORER PHIL ESPOSITO DURING 1969-70 GAME AT MAPLE LEAF GARDENS.
IT WAS A TERRIBLE MOVE BY PUNCH IMLACH, IN THE SUMMER OF 1968, TO TRADE YOUNG SHOOTER JIM PAPPIN TO CHICAGO FOR OVER-THE-HILL DEFENSEMAN PIERRE PILOTE (ABOVE), EVEN THOUGH PILOTE WAS THE NHL'S BEST DEFENSEMAN IN THE YEARS BEFORE BOBBY ORR ARRIVED.
ONE OF THE MOST PROMISING LEAFS OF THE LATE-'60s NEVER PANNED OUT WITH THE TEAM. TORONTO MARLBOROS PRODUCT WAYNE (SWOOP) CARLETON (PICTURED ABOVE ON HIS 1969-70 TOPPS HOCKEY CARD) WAS TRADED TO THE BOSTON BRUINS IN 1969 AND WAS ON THE ICE WHEN BOBBY ORR SCORED HIS FAMOUS STANLEY CUP-WINNING GOAL AGAINST ST. LOUIS IN MAY 1970. CARLETON LATER PLAYED FOR THE CALIFORNIA GOLDEN SEALS, THEN STARRED IN THE WHA WITH THE OTTAWA NATIONALS AND TORONTO TOROS.
LANKY WAYNE CARLETON (25) LEANS ON DEFENSEMAN BOB PLAGER OF THE ST. LOUIS BLUES DURING GAME OF FEB. 21, 1968 AT MAPLE LEAF GARDENS. ST. LOUIS GOALIE IS HALL OF FAMER GLENN HALL, WHO STARRED EARLIER IN THE DECADE WITH THE CHICAGO BLACKHAWKS.
FORWARD BRIAN CONACHER – WHOSE UNCLE, CHARLIE, WAS A LEGENDARY LEAF IN THE 1930s – ALSO HAD LITTLE CHANCE OF SURVIVING UNDER PUNCH IMLACH.  CONACHER, PICTURED ABOVE IN HIS 1967-68 LEAFS UNIFORM, WAS AN INDEPENDENT THINKER WITH INTERESTS BEYOND THE GAME. HE WAS A GOOD SKATER WITH A DECENT SHOT, BUT OTHERWISE MODESTLY TALENTED. BRIAN PLAYED FOR THE CANADIAN NATIONAL TEAM EARLIER IN THE 1960s AND BECAME BUILDING SUPERINTENDANT OF MAPLE LEAF GARDENS IN THE 1980s AND '90s.
HELMETED BRIAN CONACHER (ABOVE) ELUDES LOS ANGELES DEFENSEMAN BOB WALL (2) AND GETS A SHOT OFF AT KINGS GOALIE WAYNE RUTLEDGE DURING MAR. 2, 1968 GAME AT THE GARDENS.
HE WAS BEST KNOWN FOR BEING SON OF THE LEGENDARY KING CLANCY, BUT TERRY CLANCY (PICTURED ABOVE) DID HAVE A BRIEF NHL CAREER WITH THE MAPLE LEAFS AND OAKLAND SEALS.
IN ONE OF HIS RARE APPEARANCES WITH THE MAPLE LEAFS, TERRY CLANCY (ABOVE) EYES LOOSE PUCK IN FRONT OF CHICAGO'S ROOKIE GOALTENDER TONY ESPOSITO DURING JAN. 3, 1970 GAME AT THE GARDENS. ESPOSITO'S 15 SHUTOUTS IN 1969-70 REMAIN A SINGLE-SEASON RECORD.
FOLLOWING TERRY SAWCHUK'S DEPARTURE TO LOS ANGELES IN THE EXPANSION DRAFT, BRUCE GAMBLE (ABOVE ON HIS 1968-69 TOPPS HOCKEY CARD) WAS MORE-OR-LESS THE LEAFS NUMBER-ONE GOALIE FOR THE THREE SEASONS IN WHICH THE CLUB WORE THE JERSEY IT WILL REPLICATE THIS YEAR. GAMBLE SHARED DUTIES WITH A VARIETY OF MEN, INCLUDING JOHNNY BOWER, MARV EDWARDS, AL SMITH AND JACQUES PLANTE BEFORE HE WAS TRADED TO THE PHILADELPHIA FLYERS IN FEBRUARY 1971.
THE PRESENCE OF THE GREAT BOBBY ORR (ABOVE) NEXT TO ANY GOALIE IN THE LATE-1960s WAS ENOUGH TO RATTLE NERVES, AS BRUCE GAMBLE UNDOUBTEDLY DISCOVERED IN THIS 1968 GAME.
BRUCE GAMBLE KEEPS CLOSE EYE ON PUCK (ABOVE), AS CAPTAIN LOU ANGOTTI OF PHILADELPHIA RACES FOR IT IN THE FLYERS FIRST-EVER VISIT TO TORONTO, JAN. 24, 1968.
NO ONE SEEMS QUITE SURE WHERE THE PUCK IS IN THE ABOVE PHOTO, AS BRUCE GAMBLE AND FORWARD RAY CULLEN OF THE MINNESOTA NORTH STARS LOOK AROUND IN 1967. LEAFS DEFENSEMAN DUANE RUPP (BEHIND CULLEN) APPEARS TO HAVE LOCATED THE DISC.
BRUCE GAMBLE SPRAWLS TO PREVENT A GOAL BY VETERAN ANDY BATHGATE OF THE PITTSBURGH PENGUINS IN THIS DEC. 13, 1967 GAME AT MAPLE LEAF GARDENS. BATHGATE PLAYED FOR THE LEAFS IN THE MID-'60s AFTER MANY PROLIFIC SEASONS IN NEW YORK.
WHEN DARRYL SITTLER JOINED THE MAPLE LEAFS AS A FIRST-ROUND DRAFT CHOICE IN 1970, THE CLUB HAD DESIGNED A NEW UNIFORM IT WOULD WEAR FOR THE FOLLOWING 22 SEASONS. THE BLUE ROAD VERSION ARRIVED LATER THAN THE WHITE HOME UNIFORM, SO PLAYERS WERE PHOTOGRAPHED IN THE CLUB'S EXISTING DESIGN (ABOVE).
TWENTY-YEAR-OLD ROOKIE DARRYL SITTLER (ABOVE) IS ALL SMILES.

WINGERS GUY TROTTIER AND BRIAN SPENCER WERE ALSO NEW TO THE MAPLE LEAFS IN 1970-71.
THE ABOVE PHOTO IS BOTH INTERESTING AND EXTREMELY RARE. IT SHOWS THE MAPLE LEAFS IN ACTION EARLY IN THE 1970-71 SEASON WHILE STILL WEARING THEIR HOME UNIFORMS OF THE PREVIOUS YEAR. THIS GAME, IN OAKLAND AGAINST THE CALIFORNIA GOLDEN SEALS, OCCURRED ON NOV. 6, 1970. LEAFS WOULD WEAR THEIR OLD DUDS THE NEXT NIGHT IN VANCOUVER BEFORE FINALLY TAKING DELIVERY OF THEIR NEW BLUE UNIFORMS FOR A GAME THE FOLLOWING WEEK (NOV. 15) AT MADISON SQUARE GARDEN IN NEW YORK. IN THIS PHOTO, DEFENSEMAN BRIAN GLENNIE (24) STICK-CHECKS TED HAMPSON OF CALIFORNIA IN FRONT OF GOALIE BRUCE GAMBLE.
DARRYL SITTLER MODELS THE LEAFS NEW ROAD UNIFORM IN 1970-71. THE TEAM WOULD WEAR THIS JERSEY THROUGH THE 1991-92 SEASON BEFORE SWITCHING TO ITS CURRENT DESIGN.