By HOWARD BERGER
SUNRISE, Fla. (Dec. 27) – It has been a week of mixed emotions for Maple Leafs coach Ron Wilson, who officially received a two-year contract extension on Christmas day and is now mourning the death of his uncle – Johnny Wilson – a former NHL player and coach. The elder Wilson passed away early this morning at 82; Ron said he'd been in failing health for the past couple of months.
The Leafs coach, however, had a bit of playfulness in him after the morning skate today at BankAtlantic Center. Toward the end of his scrum with reporters, I suggested it could be like a home game tonight, with thousands of snow-birds from up north expected to be part of a sell-out audience at the Leafs-Panthers holiday tilt. Wilson acknowledged as much and then went in a different direction. "Jeez, I was at the mall yesterday and everyone was speaking Spanish," he said. "I wonder if Kevin Dineen has to speak [the language] in order to coach down here?" When the mob of reporters chuckled with Wilson, he inserted a waiver. "I'm being facetious, by the way."
Asked, by me, whether he would post the language question on his popular Twitter sight, Wilson responded, "No, I'm not allowed to Tweet anymore."
We shall see.
But, back to Johnny Wilson. I remember him as a coach in the NHL during the 1970s, but his most noteworthy accomplishment occurred during his playing days when he suited up for 580 consecutive games – from the start of the 1952-53 season to the end of 1959-60 – with Detroit, Chicago and Toronto. A left-winger, Wilson was part of four Stanley Cup teams with the Red Wings (1950-52-54-56) and he later coached Los Angeles (1969-70); Detroit (1971-1973); Colorado Rockies (1976-77) and Pittsburgh (1977 to 1980). His best team was the 1978-79 Penguins, which finished with a 36-31-13 record for 85 points and lost in the second round of the playoffs.
Johnny Wilson was the brother of Ron's dad – Larry Wilson – also a former NHLer, who passed away in August 1979 before his 49th birthday.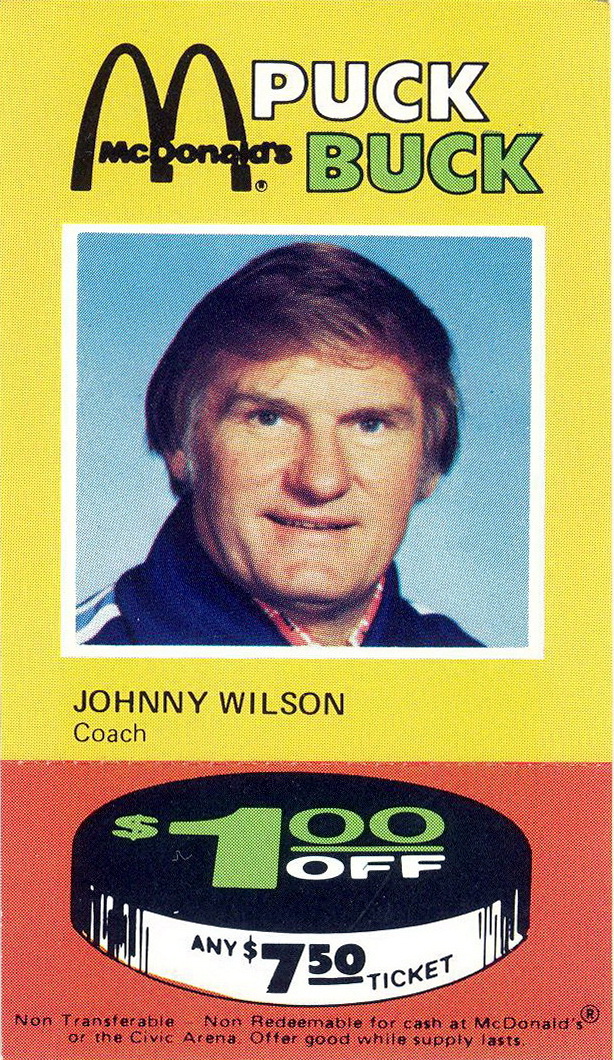 JOHNNY WILSON (ABOVE) WHILE COACHING PITTSBURGH.
Condolences to the Wilson family on its loss.
***************************************************
My photos, now, from the Leafs morning skate today:
IT WAS ANOTHER BEAUTIFUL DAY HERE IN SOUTH FLORIDA, THOUGH A BIT BREEZY. 
LEAFS PLAYERS STRETCH (ABOVE) PRIOR TO THEIR MORNING WORK-OUT. 
LOWER-LEVEL SEATS IN THE BANKATLANTIC CENTER HAVE RECENTLY BEEN RE-UPHOLSTERED IN A CHERRY-RED COLOR (ABOVE AND BELOW), WHILE MID-LEVEL SEATS REMAIN GOLD, AND UPPER-LEVEL SLATE-GREY. IT IS A BEAUTIFUL ARENA, INSIDE AND OUT, THOUGH MORE THAN 35 MILES FROM DOWNTOWN MIAMI.
LEAFS, DURING THEIR MORNING SKATE TODAY (ABOVE).
BACKDROP (ABOVE) TO THE FOX SPORTS FLORIDA DRESSING-ROOM INTERVIEW AREA. AND A BANNER HANGING IN THE BANKATLANTIC CENTER (BELOW) COMMEMORATING THE PANTHERS SUCCESSFUL FIRST NHL SEASON, WHEN THE CLUB PLAYED AT THE OLD MIAMI ARENA, LOCATED IN THE FOREBODING OVERTOWN SECTION OF THE CITY. COACH OF THE FIRST-YEAR PANTHERS WAS THE LATE ROGER NEILSON.
RON WILSON OBSERVES HIS CHARGES (ABOVE) DURING THE MORNING SKATE AND THEN WONDERS ABOUT LANGUAGE ISSUES (BELOW) IN HIS SCRUM WITH REPORTERS.
AFTER THE MORNING SKATE – IN BACK PARKING LOT OF THE ARENA – TIM CONNOLLY STEPS ONTO THE TEAM BUS (ABOVE) WHILE PHIL KESSEL LOOKS FOR A SPOT TO MAKE A CELLPHONE CALL.
THESE ARE NOT THE IMAGES YOU NOTICE OUTSIDE MOST ARENAS IN THE NHL. BUT, GIVEN THIS ONE'S PROXIMITY TO THE FLORIDA EVERGLADES (ACROSS A HIGHWAY), THEY ARE NOT AT ALL UNUSUAL (ABOVE AND TWO BELOW). 
HAD DINNER, MONDAY NIGHT, AT THE WORLD-RENOWNED FONTAINBLEAU HOTEL IN MIAMI BEACH. QUITE THE PLACE (ABOVE AND BELOW).