By HOWARD BERGER
OTTAWA (Jan. 28) – The perfect summary of Darcy Tucker's playing career in the National Hockey League occurred during a ten-day span in October 2009 – a transitory blip that connected elation and despair.
Having returned to the arena in which he made his name, Tucker enjoyed a prosperous, emotional night on Oct. 13 of that season, scoring once and setting up another in a victory for the Colorado Avalanche over the Toronto Maple Leafs at Air Canada Centre. During a television time-out, the popular ex-Leaf was featured in a video-board tribute that spawned a loud ovation, acknowledged by the scrappy winger rising from the visitors' bench and waving to the sold-out crowd.
Just more than a week later – back home in Denver – Tucker's career effectively ended. In a match against visiting Carolina, he got plastered into the side-boards from behind by Hurricanes' forward Tuomo Ruutu and laid unconscious for nearly five minutes. Removed from the Pepsi Center ice on a stretcher – his face mended with 50 stitches – Tucker left behind the ill-mannerism that governed his playing approach and took countless miles off his smallish frame. Though he returned to the Avalanche two weeks later, he found himself incapable of summoning the determination that had served him so well.
THE HIT FROM BEHIND BY TUOMO RUUTU (ABOVE) THAT EFFECTIVELY ENDED DARCY TUCKER'S NHL CAREER, AND THE IMMEDIATE AFTERMATH (BELOW), AS THE UNCONSCIOUS PLAYER IS TENDED TO BY REFEREE DAN MAROUELLI AND COLORADO TEAM DOCTOR.
Such were the extremes of Tucker's career – one that included many important goals for the Leafs in regular season and playoffs; untimely injuries, such as the separated shoulder incurred when Daniel Alfredsson famously crunched him into the boards from behind at the ACC in Game 5 of a 2002 Conference semi-final (Alfredsson, to this day, is booed by Leaf fans for the incident), and a cracked foot suffered at home against Minnesota on Dec. 26, 2006 when Tucker was on pace for a 40-goal season. There were infamous moments as well – Darcy's low-bridge hit on Michael Peca of the Islanders in the 2002 playoffs that shredded the knee of his future Leafs teammate, and an altercation with kooky Sean Avery during the warm-up of a Leafs-Rangers game at the ACC on Nov. 10, 2009 during which Avery allegedly disparaged Tucker's wife.
Despite it all, Darcy was hoping to play beyond the age of 34, though it wasn't to be. "When I came back from the Ruutu hit, I didn't have the same confidence as before," he explained. "It was such a bad injury, with all the stitches and the concussion, that I just couldn't regain the edgy style I needed to play with. I was always someone that used the body and dropped my gloves when I had to. After the injury with Colorado, I couldn't get that desire back."
DARCY, ABOVE, IN HIS FINAL NHL GAME: LOS ANGELES AT COLORADO, APR. 11, 2010.
As such, the sixth-round pick of the Canadiens in 1993 (after a spectacular junior career with Kamloops of the WHL, where he was part of three Memorial Cup championship teams: 1992-94-95) officially called it quits on Oct. 1, 2010. He was 35, with lots of money (including $1 million per year as a buyout from the Leafs that continues through the 2013-14 season) and a whack of time on his hands. It enabled Darcy to pursue a partnership with his long-time, Seattle-based agent, Carlos Sosa, and to coach his youngest child's team in the North York Hockey League.
"Carlos and I had talked about joining up after my career and I went through the process of being certified as an agent by the NHL Players Association," he said. "I really enjoy it and I'm learning more about the business every day. I'm particularly comfortable speaking with young players that have potential – the so-called recruiting process that all agents must be part of. As a former player in the NHL, I've been through just about everything, and it provides me credibility when approaching a young prospect. I can speak to that person on a level I feel only an ex-player has. Some of the potential recruits remember me from my years in Toronto and are big fans of the Leafs. That makes it even easier."
Tucker has added former Leaf teammates Shayne Corson and Jeff O'Neill to his stable, part-time, for the above-mentioned reason. "They are both excellent at relating to young hockey players," Darcy said. Corson, as many Leaf fans know, is Tucker's brother-in-law and closest pal. They were teammates in Toronto for four seasons (2000-01 to 2002-03). O'Neill and Tucker played together with the Leafs from 2005 to 2007.
TUCKER SCORES (ABOVE) AT MADISON SQUARE GARDEN IN NEW YORK, WITH BROTHER-IN-LAW SHAYNE CORSON (BELOW) CAUSING HAVOC IN FRONT OF THE RANGERS NET.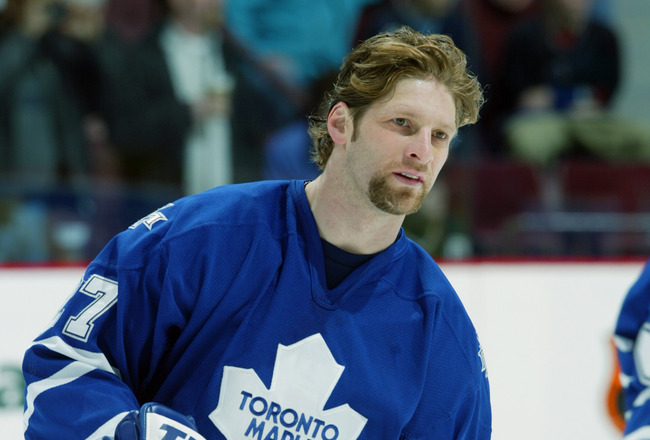 Though he also skated with Montreal, Tampa Bay and the Avalanche, Tucker enjoyed his marquee years in Blue and White, having been acquired by Pat Quinn from the Lightning in a deal for Mike Johnson on Feb. 9, 2000 – just more than a month shy of his 25th birthday. Over parts of eight seasons, Darcy laid it on the line for the Maple Leafs – almost always playing three inches taller and 20 pounds heavier than his modest frame. He dressed in 531 games, compiling 148 goals; 319 points and 756 penalty minutes. In 58 playoff games with the Leafs, he scored 10 goals; added 11 assists and spent 94 minutes in the penalty box.
An informal Twitter poll I conducted recently, asking followers to name their favorite Leaf (other than Mats Sundin) of the Quinn era, resulted in Tucker placing a solid second, behind only Gary Roberts, and ahead of such popular teammates as Curtis Joseph and Tie Domi. He endeared himself to hockey fans in Toronto with his scrappy, intense demeanor on the ice, and was part of a memorable Leaf juncture – the Quinn-coached and managed teams that accumulated 100 or more points on three occasions; regularly feasted on Ottawa in the playoffs, and advanced to the Eastern Conference final in 2002.
"Those are phenomenal memories," Tucker said. "Playing in Toronto was easily the highlight of my career. The fans were great to me and I had some pretty good seasons. We went into every season knowing we would make the playoffs and cause havoc when we got there. It was a special group – led by Mats – who was a terrific captain."
ALWAYS EMOTIONAL ON THE ICE, TUCKER SPENT LOTS OF TIME IN THE PENALTY BOX, BUT ENDEARED HIMSELF TO LEAFS NATION WITH HIS PLUCKY, COURAGEOUS STYLE.
One season after Quinn had been fired by general manager John Ferguson – and five months after Cliff Fletcher replaced Ferguson – the Leafs chose to part company with Tucker, buying out the final three years of his contract, even though it necessitated a $1 million payment over the following half-dozen seasons which continues to count against the club's cap figure. That was on June 24, 2008. Exactly one week later, Darcy signed a two-year, $4.5-million deal as an unrestricted free agent in Colorado. He appeared in 134 games with the Avalanche and scored 18 goals, bringing his career total to 215. His final NHL match was on Apr. 11, 2010, when Los Angeles visited the Pepsi Center.
Darcy's lone appearance with Colorado at the Air Canada Centre remains among his most cherished memories. "That was a very difficult night," he recalled about the October 2009 match, in his second year with the Avs. "I was choked up and on the edge of tears a few times – once during the national anthems, and then after the Leafs did that classy video tribute. Scoring once, assisting on another, and being named the second star made it one of the most special nights of my career."
DARCY IN WARM-UP (ABOVE) AND BATTLING LEAFS DEFENSEMAN LUKE SCHENN (BELOW) DURING HIS RETURN TO THE AIR CANADA CENTRE WITH COLORADO ON OCT. 13, 2009.
Today, Darcy does a fairly good impersonation of his former Leafs coach – the animated, always-grousing-to-the-officials Quinn. He stands behind the bench of his son Cain's Tyke-level team in the North York Hockey League and reacts intensely while guiding a collection of six-year-old boys. "I almost pulled a Quinn, myself, by throwing my gum," Tucker laughed after a game I recently attended. "Hey, I am who I am… right? I've never been the most relaxed guy in a competitive environment, no matter what the situation."
THE MANY FACES OF A TYKE-LEVEL COACH (ABOVE AND THREE PHOTOS BELOW). HOCKEY HAS NEVER PROVIDED TUCKER A RELAXED ENVIRONMENT, REGARDLESS OF THE CIRCUMSTANCE.
TUCKER SHOWS EXASPERATION BEHIND THE BENCH (ABOVE) BUT LEAVES IT ALL BEHIND AFTER THE GAME – POSING WITH SIX-YEAR-OLD SON, CAIN, BELOW. 
Email: howardlberger@gmail.com
Twitter: Berger_BYTES
Facebook: Howard Berger [Thornhill ON]