By HOWARD BERGER
TORONTO (Feb. 3) – Yes, of course I remember where I was 35 years ago last night.
Where else, but Maple Leaf Gardens, a place in which I spent countless hours as a teenager watching the Leafs of Darryl Sittler, Lanny McDonald, Borje Salming, Dave (Tiger) Williams and… Ian Turnbull, who set a National Hockey League record on Feb. 2, 1977 that remains in the book to this day… in fact, it's right there, in the middle of page 171:
On that incredible night, almost one year after an even-more astonishing effort – Sittler's 10-point game against the Boston Bruins (Feb. 7, 1976) – Turnbull accomplished a feat that has trumpeted several of the greatest names in hockey history. Neither Bobby Orr before him nor such Hall-of-Famers as Denis Potvin, Paul Coffey, Raymond Bourque and Al MacInnis in ensuing years were able to score five goals in one game. Turnbull was actually among a trio of players that came closest to matching the record; he erupted for four goals as a member of the Los Angeles Kings nearly half-a-decade after his big night with the Leafs (Coffey and Tom Bladon, as per above photo, the others).
There is definitely something wacky about the opening week of February – Sam Gagner of the Edmonton Oilers joining Sittler and Turnbull with a detonation against Chicago last night: his eight scoring points (four goals and four assists) equalling the third-highest total in league history (Sittler briefly had nine points in his record game), while tying club marks held by Gretzky and Coffey.
Turnbull's record came as part of the most prolific season by a defenseman in Leaf annals: a 79-point effort on 22 goals and 57 assists. Salming was right behind with 78 points. The previous year – for 1975-76 – my dad bought a pair of Leafs season tickets in the blue mezzanine seats up behind the south-end goal. As such, I was able to attend Sittler's record game against Boston; his record-tying five-goal playoff outburst against Philadelphia (Apr. 22, 1976) and Turnbull's obliteration of the Red Wings, which occurred a night before my 18th birthday (yes, I turn 53 today, sharing the occasion with Tiger Williams, who is 58).
[Side note: Blue tickets at Maple Leaf Gardens in 1975 were $6.60, or $283.80 for 43 games (x2 tickets= $576.60). The comparable seats we were provided when Air Canada Centre opened in 1999 are now $110 each, meaning it costs more for three games today than an entire season back then]
I was making an exceptional effort to attend every Leafs home game of the 1976-77 season. Why? Certainly not to enhance my Grade 12 marks at William Lyon MacKenzie C.I. in North York. Instead, I was so grateful to be feeling healthy and vibrant once again, after a dreadful previous winter in which I contracted Crohn's Disease; lost 25 pounds; couldn't keep down a glass of juice; spent nearly seven weeks in Toronto General Hospital, and finally had my ascending-colon and two feet of small intestine surgically removed. After that, botching a Chemistry exam was hardly traumatic.
Turnbull and the Leafs victimized a veteran goaltending tandem in the 9-1 destruction of Detroit. Ed Giacomin, dealt to the Red Wings by the Rangers in a blatantly unpopular trade among New York hockey fans, started the match and was relieved in the second period by Jim Rutherford – current general manager of the Carolina Hurricanes. Having erupted for a hat-trick, there was no real indication that Turnbull would do further damage in the waning moments; it wasn't like Sittler's game, 361 nights earlier, when you just knew something would happen every time he stepped onto the ice. In fact, veteran forward Danny Grant scored for Detroit at 16:18 of the third period – cutting into the Leafs 7-0 lead – and ruining a shut-out bid by Toronto goalie Wayne Thomas (now vice-president and assistant GM of the San Jose Sharks).
But, Turnbull struck again 52 seconds later to tie the NHL mark for defensemen, previously accomplished more than 47 years earlier by Toronto forward Clarence (Hap) Day. A gorgeous pass by Salming sent Turnbull in alone to try and break the record, which he did by firing a snap-shot past Rutherford with 1:30 left on the clock.
IAN TURNBULL LETS OUT A WHOOP AFTER SCORING HIS RECORD-BREAKING FIFTH GOAL (TORONTO STAR PHOTO).
Coincidentally – in fact, almost incredibly – Turnbull was on the cover of the Leafs program  that night. I've kept it through the years and realized, upon retrieving it from a box of such items yesterday, that I defaced the magazine (photo below). I had done the same with the Sittler program a year earlier, clearly not understanding the "mint" value of hockey collectibles at that point in my life. Oh well. At least I was smart enough to bring my old Pentax camera to the game – the one with the eight-inch telephoto lens that required weight-training to properly deploy. The black-and-white photos I took that night are displayed below. They were developed as per the time: using water-based chemicals in a "dark room", which I achieved by changing the standard light-bulb in the laundry room at home to a dim-yellow version, so as not to "expose" the film.
You'll notice the images were not taken from the vantage-point of my season tickets behind the south goal. On nights in which I brought my camera, I would often scout out a pair of red seats on the west side of the Gardens that remained vacant through the first period. During the intermission, I'd go down – schlepping the hapless person that accompanied me to the game – and wait for the usher atop that section to be distracted. Then, we'd slip past him, unnoticed, and into the seats, praying the actual ticket-holders wouldn't arrive after a nine-course dinner. This allowed me to snap photographs from a more conventional angle.
The memories of Ian Turnbull's record night have lingered through three-and-a-half decades. Please enjoy them. And, yes, I did manage to attend every Leafs home game in 1976-77 – three in the pre-season; 40 in the regular schedule and four in the playoffs, as the Leafs knocked off Pittsburgh in a best-of-three preliminary round before coughing up a 2-0 series lead crafted on the road in Philadelphia and dropping out in six games during the Stanley Cup quarterfinals.
THE PROGRAM (AND MY ART-WORK) ABOVE FROM THE TORONTO-DETROIT GAME OF FEB. 2, 1977 WITH CENTRE-SPREAD LINE-UPS BELOW. YOU'LL NOTICE THE RED WINGS WERE COACHED BY LARRY WILSON, LATE FATHER OF CURRENT LEAFS COACH RON WILSON.
MY PHOTOGRAPHS FROM FEB. 2, 1977 AT MAPLE LEAF GARDENS: 
DURING THE PRE-GAME WARM-UP, I SNAPPED THE ABOVE IMAGE OF TURNBULL LAUGHING WHILE STANDING NEXT TO TEAMMATES DON ASHBY (9) AND STAN WEIR (14). ASHBY – THE LEAFS FIRST-ROUND PICK IN 1975 – WOULD BE KILLED ON MAY 30, 1981, WHEN HIS CAR WAS INVOLVED IN A HEAD-ON COLLISION WITH A TRUCK NEAR KELOWNA, B.C.
YOU CAN FIND JIM RUTHERFORD TODAY IN THE EXECUTIVE OFFICE OF THE CAROLINA HURRICANES. ON FEB. 2, 1977, HE WAS DETROIT'S BACK-UP GOALIE, ONLY TO ENTER THE GAME AFTER TORONTO HAD VICTIMIZED TEAMMATE ED GIACOMIN FOR A 6-0 LEAD IN THE SECOND PERIOD. THAT'S RUTHERFORD IN THE WARM-UP (ABOVE) AND POSING NEAR THE WEST-SIDE BOARDS (BELOW) FOR A TV SHOT. OR, IS THAT THE LATE SONNY BONO WEARING THE WINGED-WHEEL?
JIM RUTHERFORD, TODAY.
A DISCONSOLATE ED GIACOMIN IS COMFORTED (ABOVE) BY TEAMMATE MIKE BLOOM, AFTER THE LEAFS BLITZED DETROIT FOR FIVE GOALS IN THE OPENING PERIOD AND ANOTHER (BY TURNBULL) EARLY IN THE SECOND. GOALTENDING EQUIPMENT WAS JUST A TAD SMALLER THAN IT IS TODAY.
BOBBY SHEEHAN OF DETROIT (17 ABOVE) APPEARS TO BE CAPSIZING AS HE FACES OFF AGAINST TORONTO'S STAN WEIR.
UNDERSTANDABLY, THE RED WINGS WEREN'T IN MUCH OF A MOOD AS THE GAME PROGRESSED. SEVERAL ALTERCATIONS BROKE OUT, INCLUDING THE ONE ABOVE, IN WHICH TIGER WILLIAMS OF THE LEAFS WAS PINNED TO THE SIDE-GLASS BY DETROIT DEFENSEMAN RICK LaPOINTE (4), AS THE LATE, GREAT LINESMAN, JOHN D'AMICO (9), RACED IN. ALSO INVOLVED WERE LEAFS BOB NEELY (3) AND BORJE SALMING (21) ALONG WITH DANNY GRANT (21) OF THE WINGS. GOALIE MIKE PALMATEER (FAR LEFT) AND TRAINER GUY KINNEAR WATCHED FROM THE LEAF BENCH. RICK WILSON OF DETROIT (19 BELOW) JAWED LATER IN THE GAME WITH TORONTO DEFENSEMAN (AND FUTURE NHL COACH) RANDY CARLYLE, WHOSE FACE IS BLOCKED BY WINGS VETERAN DENNIS HEXTALL (22). HELMETED LEAF AT LEFT IS DEFENSEMAN CLAIRE ALEXANDER, WHILE TIGER WILLIAMS (22) PREDICTABLY ARRIVED ON THE SCENE. REFEREE (WEARING 6) WAS THE LATE JOHN McCAULEY, WHOSE SON, WES, IS CURRENTLY A REF IN THE NHL. I LOVE THE EXPRESSION OF THE ELDERLY WOMAN IN THE FRONT ROW, BEHIND THE GLASS, WHO WAS CLEARLY ENJOYING THE SQUABBLE.
THE CROWD AT THE NORTH END OF MAPLE LEAF GARDENS ERUPTS (ABOVE) AS STAN WEIR FISHES PUCK OUT OF THE NET AFTER TURNBULL (SPRAWLED ON ICE AT RIGHT) SCORED HIS RECORD-TYING FOURTH GOAL AT 17:10 OF THE THIRD PERIOD. BORJE SALMING IS STANDING ABOVE TURNBULL AND TIGER WILLIAMS (22) IS MOVING IN TO JOIN THE CELEBRATION. DISAPPOINTED RED WINGS AT LEFT ARE RUTHERFORD AND VETERAN DEFENSEMAN TERRY HARPER. TURNBULL WOULD BREAK THE NHL SINGLE-GAME MARK FOR DEFENSEMEN 1:20 AFTER THIS GOAL. 
THE GARDENS SCORE-CLOCK (ABOVE) REFLECTS THE CARNAGE WHILE TURNBULL SKATES OUT (BELOW) RATHER NONCHALANTLY AS THE GAME'S FIRST STAR.
NEWSPAPER IMAGES:
FRONT PAGE (ABOVE) OF THE TORONTO STAR FROM 35 YEARS AGO TODAY – FEB. 3, 1977 – HARDLY PLAYED UP TURNBULL'S RECORD PERFORMANCE, MENTIONING IT SOMEWHAT OBSCURELY IN A LEFT-COLUMN TEASER (BELOW).
FRONT SPORTS-PAGE STORY (ABOVE AND BELOW) BY STAR WRITER RICK MATSUMOTO, WITH BORDERED SIDE-BAR BY JIM KERNAGHAN, WHO WENT ON TO WRITE FOR THE LONDON FREE PRESS. LEFT-HAND COLUMN BY THE LATE MILT DUNNELL FEATURED DETROIT COACH LARRY WILSON (FATHER OF RON).
GAME SUMMARY
Wednesday, February 2, 1977
DETROIT 1 at TORONTO 9
First Period-
No Scoring.
Second Period-
1. Toronto, Turnbull 12 (McDonald, Salming) 1:55.
2. Toronto, Boutette 12 (Weir) 2:35.
3. Toronto, Ashby 14 (Thompson) 4:12.
4. Toronto, Williams 14 (Alexander, Glennie) 8:15.
5. Toronto, Turnbull 13 10:26.
Third Period-
6. Toronto, Turnbull 14 4:48.
7. Toronto, McDonald 33 (Ashby, Alexander) 8:13.
8. Detroit, Grant 2 (Hextall, Harper) 16:18.
9. Toronto, Turnbull 15 (Weir, Salming) 17:10.
10. Toronto, Turnbull 16 (Salming, Valiquette) 18:30.
SHOTS ON GOAL     1          2          3          T
Detroit                         9          12        10        31
Toronto                       5          18        14        37
Goalies- Giacomin, Rutherford Detroit; Thomas Toronto.
Attendance- 16,472.
FIVE YEARS AGO, TO COMMEMORATE THE 30th ANNIVERSARY OF TURNBULL'S ACHIEVEMENT, FORMER TORONTO SUN HOCKEY WRITER JOHN IABONI CONTACTED THE EX-DEFENSEMAN FOR A STORY IN THE LEAFS GAME PROGRAM, WHICH HE HAS PUBLISHED AND EDITED FOR MANY YEARS: 
By John Iaboni February 2, 2007
Leafs Game Day Program, Issue #3, 2006-07
Taking a shine to California during his playing days with the Maple Leafs, Ian Turnbull and his family have resided in the Los Angeles area since 1981 when Toronto traded him to the Kings for Billy Harris and John Gibson.
Turnbull and his wife, Inge, live in the trendy Hollywood Riviera section of Torrance. Their children live nearby. Daughter, Thea, continues her career as a Grade 6 teacher while son, William, is studying to be a teacher at Cal State Dominguez Hills while working at "a pretty happening place" called Club Sushi at Hermosa Beach.
From the hockey-playing perspective, the man nicknamed "Bull" formed an excellent playing partnership with the guy called B.J. (Borje Salming) from 1973 until November 11, 1981.
But even back in those days, Turnbull's life extended beyond the game. He opened a wine bar called Grapes for a time, not far from Maple Leaf Gardens. 
"I was only 25 years ahead of the curve," Turnbull says with a laugh. "It did okay, actually, but it was (laughs again) a little out there. Then, when I got traded I had the option on The Golden Griddle (across the street from the Gardens) but I couldn't see running a business from California."
Turnbull was in real estate until about five or six years ago. And now?
"Not doing too much actually," he says. "I've just got an interest in a studio gallery down in San Pedro, California. I do a little painting but I mostly make picture frames and just do stuff in a shop. We have a nice wood shop in the back."
IAN TURNBULL
Born in Montreal on December 22, 1953, Turnbull has no complaints about his health these days. He considers himself blessed to be able to lace up the skates a couple of times each week; he's an active member of the Kings alumni and he follows the current squad at Staples Center while keeping up with the Leafs via the Internet.
Of the 628 NHL regular-season games Turnbull played, 580 came with the Leafs. He played 42 games for the Kings and six with the Pittsburgh Penguins before packing it in after back surgery.
Turnbull scored 112 goals, 302 assists and 414 points with the Leafs, then added 13 goals, 32 assists and 45 points in 55 career playoff games (all with the Leafs). In 1976-77, Turnbull set the Leafs record for defencemen with 22 goals and 79 points. That same season, Salming had 78 points.
And on February 2, 1977 at the Gardens, Turnbull established the NHL record for most goals in one game by a defenceman with five – triggering Toronto's 9-1 win over Detroit with two goals on Eddie Giacomin and three on Jimmy Rutherford.
"It was one of those nights where things happened to click," Turnbull says. "I think Sitt (Darryl Sittler) would say the same thing about his 10-point night. Things clicked that night and on other nights you'd be doing the same damn thing and you might hit somebody's skate and it would go in the corner or it would hit the post and just didn't go in. As a professional you just take it as it comes. That's basically what happened. It was a combination of a little bit of luck although (laughing) a couple of the goals were pretty decent.
"We had a pretty good core group there that when we got cooking there weren't very many better in the league, particularly on the power play. You see now the game has gone back to that sort of genre where special teams become very important."
Another signature moment for Turnbull occurred in the 1978 playoffs after Salming sustained a serious eye injury against the Islanders. Turnbull was a force as the Leafs stormed back to win the bitterly fought quarterfinal series in seven games.
"Somebody had to step up and I think I just got out maybe a little from (the shadow of) Salming, and I don't mean that in a detrimental way," Turnbull says. "The only thing that really happened is that without him there my game sort of moved up to the forefront. Basically, a lot of the things I did against the Islanders were the same things I was doing every night. But there was more focus on me because Borje was not there, which never bothered me one way or the other because as far as I was concerned you were there for one reason and that was to win the Stanley Cup."
Turnbull enjoyed his partnership with Salming.
"We had a very good chemistry," Turnbull says. "He had a much more spectacular style than I did. He would be sliding all over the ice and blocking shots, doing all those sort of things. And I was a little calmer, less spectacular. I went about my business, sometimes to my detriment, I guess. It was said that I almost looked like I wasn't trying but that's not the truth at all. My style of play was very pretty slick. I didn't waste too much effort. I made the game look a little easier than it really is."
Courtesy of Leafs Game Day Program, Issue #3, 2006-07
NOT SURPRISINGLY, TURNBULL MADE THE COVER OF THE LEAFS MEDIA GUIDE (ABOVE) THE FOLLOWING SEASON, 1977-78, ALONG WITH TIM HORTON (IN BLUE JERSEY); OWNER HAROLD BALLARD; DARRYL SITTLER (27); LANNY McDONALD (IN MUSTACHE) AND DEFENSE-MATE BORJE SALMING. BELOW IS TURNBULL'S BIO IN THE MEDIA GUIDE, AS WRITTEN BY THE LATE GARDENS' PUBLICITY DIRECTOR, STAN OBODIAC.
THIS PRECIOUS PHOTO WAS TAKEN IN 1973-74 AND SHOWS FIVE LEAF ROOKIES FROM THAT SEASON – (LEFT TO RIGHT) INGE HAMMARSTROM, BOB NEELY, TURNBULL, McDONALD (SANS MUSTACHE) AND SALMING. TURNBULL'S 1976-77 O-PEE-CHEE HOCKEY CARD APPEARS BELOW.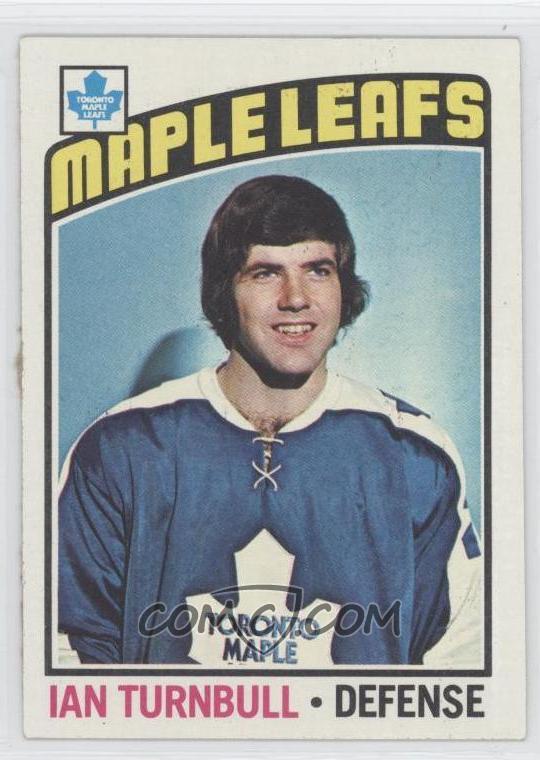 LIKE MANY OF US, TURNBULL HAS PUT ON A BIT OF WEIGHT IN LATTER YEARS. HE IS PICTURED ABOVE IN A LOS ANGELES KINGS JERSEY FROM THE LATE-'70s TALKING WITH CURRENT KINGS STAR ANZE KOPITAR, AND BELOW, SIGNING AN AUTOGRAPH NEXT TO FORMER KINGS GOALIE AND GM ROGIE VACHON. THE LEAFS TRADED TURNBULL TO LOS ANGELES ON NOV. 11, 1981. HE IS NOW 58.