By HOWARD BERGER
TORONTO (Mar. 8th) – Thank-you to all that submitted questions or comments for this blog. Now, to answer them as best I can: 
Q. Steve from Etobicoke writes: "Please come up with a list of sports management teams with a demonstrated level of incompetence comparable to the Leafs and Maple Leaf Sports and Entertainment Ltd."
A. Steve, this is a loaded request – replete with frustration developed through the years – and way too open-ended to answer definitively. In the latter part of your submission (not included here), you offered the Florida Panthers, Phoenix Coyotes and Los Angeles Clippers (NBA) as examples, while suggesting – inaccurately – the aforementioned "have no money". Donald Sterling is a wealthy real estate mogul who could sell his team (the Clippers) for close to $300 million, were he so inclined. Until the Clippers chose University of Oklahoma power-forward Blake Griffin with the first pick of the 2009 draft – and watched as he developed into one of the best players in the NBA – the Lakers' poor cousin could easily have been considered rock-bottom among pro sports teams. But, not because of inadequate financing. In hockey, the Panthers and Coyotes are among the least-supported teams at the gate in the NHL, but are efficient on the ice this season and will both likely make the playoffs. Given their absence from the Stanley Cup final for nearly half-a-century, the Leafs most definitely qualify for your list. But, MLSE is a relatively new enterprise and cannot be responsible for the lost years under Harold Ballard; the ridiculous, frugal decision by Stafford Smythe and Ballard (in 1967) to sell off the Leafs' top farm outfits – Rochester Americans and Victoria Maple Leafs – thus depriving the franchise of innumerable assets, or Ballard's nonchalance toward the World Hockey Association that cost Leafs, among others, Hall of Fame goalie Bernie Parent. MLSE made a poor decision, in 2003, to hire John Ferguson Jr. as GM of the Leafs – not because Fergie doesn't know the game; rather, he was in over his head (at the time) as chief proprietor of a club in the NHL. Why the Leafs chose such an odd direction remains a mystery. If the parent company, for example, were chronically cheap – like Ballard – it wouldn't have hired Bryan Colangelo for its NBA team; Brian Burke for its NHL entry, or spent to the cap in hockey virtually every year. Most Leaf fans were overwhelmingly supportive of the decision to hire Burke and double-B was handed complete authority over hockey matters. Therefore, any success or failure lands at his feet. I don't know enough about basketball to offer an educated reason why Colangelo hasn't been able to achieve success with the Raptors. But, again, MLSE hardly scraped the bottom of the barrel when luring Colangelo out of Phoenix, where he was quite accomplished. As such, I think it's a bit unfair to consider MLSE among the least-competent ownership groups in professional sport. It has attempted, dilligently and conventionally, to provide fans in this city a winning product.
LEAFS CHAIRMAN LARRY TANENBAUM: INCREASES STAKE TO 25% OF MLSE IN NEW OWNERSHIP STRUCTURE.
Q. Joshua from Oshawa (I didn't make that up) writes: "Howard, I've always enjoyed your commentary and used to listen to you on The Fan-590 with my old man in Oshawa. I'm in Melbourne, Australia now and have a few questions. 1) Has there ever been a time covering the Leafs when you thought, 'this could be the year' for the Stanley Cup? 2) Are you able to separate yourself from the business end and remain a Leafs fan? 3) How strong is the desire within the brass to actually win games and will there be moves this summer?"
A. Well, first off, Joshua, say hi to your "old man" for me
. Answering your questions, in order: 1) Yes, there have been two occasions during my time covering the Leafs when I began to think the team might win the Stanley Cup. First was in the spring of 1993, after Game 5 of the Conference final against Los Angeles. Glenn Anderson won that match at Maple Leaf Gardens late in the first overtime by swatting a rebound out of mid-air past Kelly Hrudey, providing Leafs a 3-2 edge in the best-of-seven series. In L.A. – two nights later – Wendel Clark completed a hat-trick by scoring twice in the third period, enabling Leafs to overcome a 4-2 deficit. When Clark took Doug Gilmour's pass and scored in the final minute of regulation – with Felix Potvin on the bench for an extra attacker – I thought it was "in the cards" for Toronto to eliminate the Kings that night and face Montreal in the Cup final. Ironically, it was Anderson who cost the club that chance by taking a dumb boarding penalty a few seconds later, when he nailed Rob Blake from behind. It put the Leafs down a man heading into overtime and Wayne Gretzky won it for the Kings after his now-legendary high stick on Gilmour went undetected. When Gretzky scored, my sense of destiny for the '93 Leafs expired; I did not feel they would win Game 7 back home – nor did it happen. The second time was in 2002, after Leafs won the opener of the Conference final at Carolina and then sent Game 2 into overtime on a goal by Alyn McCauley in the dying seconds. Had Leafs swept the games in Raleigh, they wouldn't have lost the series; Toronto and Detroit would have played for the Stanley Cup. Instead, Niclas Wallin scored for the Hurricanes at 13:42 of overtime and Carolina went on to beat the Leafs in six. 2) My emotional connection to the Leafs – quite intense in the 1970s – dissipated soon-after I began covering the team, full-time, for The Fan-590. My feeling from the outset was that the Leafs deserved to be covered with a critical eye – not at all common in radio, which has forever been known for booster-ism and promotion of local properties. The only emotion I show today is when a tying goal is scored in the last minute of a game I'm writing for the National Post
. 3) This question is silly, Josh. Under what circumstance would the Leaf brass not want to win hockey games? And, of course there will be changes this summer to a team missing the playoffs for a seventh consecutive season and currently mired in a 2-11-1 tail-spin.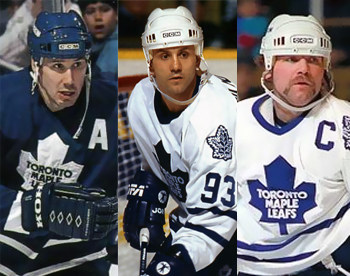 1993 LEAFS DAVE ANDREYCHUK, DOUG GILMOUR, WENDEL CLARK.
Q. Russ from Brampton writes (again, I'm not making this up): "Howard, do you think intrepid Leafs reporter Steve Simmons is a putz? Inquiring minds want to know."
A. First of all, Russ, Steve Simmons does not cover the Leafs as a reporter; he's a general sports columnist at the Toronto Sun and he writes frequently about the Leafs because people like you have an insatiable appetite for information and opinion regarding your favorite team. My sense after nearly 30 years in the Toronto sports media is that any person choosing to be critical of the Maple Leafs is automatically a "putz". Given that Steve provides an unfiltered view in his column, he's a mega-putz. When an opinionated member of the local media says or writes something considered favorable toward the Leafs, he or she becomes temporarily knowledgeable. It is no more complicated than that. The way I see it, a "putz" in the media business is a person unable to develop a following, or a name, when provided an enviable opportunity. Given that criteria, Simmons is a genius. He ranks among the most widely-read sports columnists in Canada; has a Twitter following of more than 21,000, and is employed by TSN on its weekly signature panel, The Reporters. You should endeavor, Russ, to become as big a "putz" as he is. That said, your desire to tear down a member of the media is hardly uncommon – nor is it restricted to those covering hockey here in Canada. In fact, it is child's-play when compared, for example, to the disdain for political commentators and writers in the U.S.  There's an "inner-columnist" in many people and the Internet has provided a forum for those wishing to be heard. Sadly for most, there is virtually no interest in the ramblings of a person without name or stature. That's why you hang, Russ, on practically every word Steve Simmons writes – any why he triggers your emotion.
STEVE "PUTZ" SIMMONS.
Q. Eli from Brooklyn, N.Y. (a Toronto native) writes: "How were Leafs able to beat Boston four times last season when they weren't as good a team as this season? Toronto is 0-5 vs. the Bruins in 2011-12."
A. In a word, Eli: goaltending. Leafs gained three of those victories in the final third of the schedule, with blazing-hot James Reimer in net (Feb. 15 and Mar. 31 at Boston; Mar. 19 at Toronto). J.S. Giguere had defeated Boston in a shootout at the Air Canada Centre on Dec. 4, two days after Leafs were humiliated at home, 5-0, by Edmonton. Thanks in large part to Reimer, Leafs also beat Buffalo on four occasions, marking the first time they had done so against the Bruins and Sabres in the same season. You're right: It's been butt-ugly this year against Boston: 0-5 while getting outscored 28-10.
LUKE SCHENN SCORES PICTURE GOAL ON TIM THOMAS DURING LEAFS 5-2 HOME DEFEAT OF BOSTON, MAR. 19, 2011 – ONE OF FOUR VICTORIES OVER THE BRUINS LAST SEASON.
Q. Kelly in Kingston writes: "Howard, do you think the fans chanting 'Fire Wilson!' last week at the ACC really had an impact on Brian Burke's decision?"
A. I think it played a role, Kelly, and added to the "convenience" of the timing for Burke, who said on Saturday, in Montreal, that allowing Wilson to coach another game at the Air Canada Centre would have been cruel and unusual punishment. Imagine a scenario whereby Leafs – with Wilson still behind the bench – had lost a seventh consecutive game (in Montreal) and then fallen behind early at home against Boston three nights later. ACC organist Jimmy Holmstrom would have added music to the "Fire Wilson!" chorus. So, the timing was humane. In the end, though, Burke simply realized his players had stopped listening to Wilson. He provided his ex-college pal with more-than enough rope and the team could not pull out of a death-spiral… there had to be a breaking point. As such, a decision was made prior to the game at Chicago last Wednesday that if the Leafs lost again, Randy Carlyle would be formally approached about his desire to take over the club. And, that's precisely what happened. Remember, fans at the ACC were chanting "Fire Wilson!" as far back as early-December of last season – during that infamous game (mentioned above) when the young Oilers came to town and laid a five-goal whipping on the Leafs. So, the recent cat-calls were nothing new. Wilson has been a good coach in the NHL – his record of wins is unassailable – but his biggest failing in Toronto was the trio of season-killing slumps the Leafs endured on his watch. I've mentioned several times that playoff-bound clubs in the NHL today must avoid two and three-week stretches of incompetence no matter what point in the season they occur and Leafs were unable to do that under Wilson. The killer slumps in each of the past three seasons produced a combined record of 2-24-5. Any reasonable hope of making the playoffs in 2009-10 evaporated when the club started 0-7-1. Last season was wrecked by a 1-8-3 slide in November. The 1-9-1 cave-in of the past month was the final straw.
RON WILSON'S FINAL LEAFS MEDIA SCRUM – AFTER THE LOSS AT CHICAGO.
Q. Blake in Winnipeg writes: "Howard, what happened to Brian Burke's plan to build outward from the goal? He has a ton of money tied up on the blue-line… why hasn't the plan worked?"
A. There are only two possible answers here, Blake: The defensemen signed or acquired by Burke have either not played to their optimum levels… or they simply aren't good enough. You're right, Leafs have roughly $21.24 million of cap space committed to the blue-line for next season – $14.6 million to Dion Phaneuf, Mike Komisarek and Luke Schenn. Though the defensemen have contributed good numbers up front, the group – as a whole – performs abysmally in its own end and that has to rank as arguably the biggest disappointment of the season for Burke. Let's look at each player: Phaneuf has evolved into a strong captain; he has an excellent shot that can be a weapon when accurate; he's the best open-ice hitter Leafs have had since Wendel Clark, and best on the blue-line since Brian Glennie in the '70s. But, Dion continues to make poor decisions – without the puck in the neutral zone, and with the puck in his own territory. If this is an inherent flaw; if Dion simply processes a fraction of a second slower than required, he likely won't improve much. If, on the other hand, it's a systemic or disciplinary matter, Randy Carlyle and Dave Farrish should be able to work effectively with Phaneuf, who isn't short on ability. Time will tell. Komisarek represents Burke's most grievous mis-step, to this point, as manager of the Leafs. The robust blue-liner is a good fellow; a hard worker and well-respected among his peers. But, he is not reliable in any facet of the game and has clearly withered beneath the weight of his mammoth contract. It's clear that Burke has asked Carlyle to work patiently with Komisarek in an effort to restore confidence lost under Wilson, who had little use for the veteran. Otherwise, the Leafs GM has a decision to make before next season, given the futility of retaining Komisarek's $4.5-million cap hit (and assuming that contract variables are not dramatically altered in the next CBA). Under current guidelines, Leafs could feasibly buy out the last two years of Komisarek's pact – his salary amounting to $7 million – two-thirds of which ($4.67 million) would be paid to the defenseman (counting against the cap) over double the remaining term (in other words, $1.17 million in each of the next four seasons). Less appealing for Burke would be to simply waive Komisarek and bury his salary in the AHL [CORRECTION HERE: I FORGOT THAT KOMISAREK HAS A NO-MOVEMENT CLAUSE, WHICH PRECLUDES WAIVERS. SO, LEAFS COULD ONLY DIMINISH HIS CAP HIT WITH A BUY-OUT IN JUNE]. Luke Schenn has become an enigma – alternating good and lousy seasons early in his NHL career. That puts him on track for a rebound in 2012-13 and he'll get plenty of attention from Carlyle and Farrish… if Burke doesn't trade him in the off-season. John-Michael Liles recently signed an extension that gobbles up $4.2-million of cap space in each of the next three seasons. I like Liles and I believe he'll thrive under Carlyle, who was a superb, puck-handling defenseman in his playing days. Carl Gunnarsson provides the Leafs good value with a $1.325-million cap hit next season, after which he's eligible for restricted free agency. If Gunnarsson re-signs with the Leafs, his salary and hit will probably increase to the $3 million range. Carl is also attractive trade bait. Rookie Jake Gardiner is playing under entry-level salary guidelines; if he can be taught to settle down defensively, he may also take off under Carlyle, given his skill-set and burgeoning confidence with the puck. That leaves Cody Franson, who comes off entry-level as a restricted free agent this summer. To these eyes, he's worth a longer look.
DION PHANEUF: SOLID LEAFS CAPTAIN BUT BETTER DECISIONS NEEDED FROM HIM IN NEUTRAL AND DEFENSIVE ZONES.
Q. Carol from North York writes: "Howard, will Rogers/BCE get Leafs off on the right foot and fire the GM that was given carte-blanche four years ago and is now re-building the foundation he laid? Wouldn't the Rogers/Bell brand be better served by another person running the Leafs?"
A. First of all, Carol, the Rogers/BCE alliance needs sanctioning by the Competition Bureau of Canada in order for the sale of MLSE to be approved; it's been deathly-quiet on that front for several months now but insiders believe the hand-off will take place early in the summer. Burke has tumbled this season in the court of public opinion and I think he understands why. If asked on the day he was hired in November 2008 whether the Leafs would be in better shape by March 2012, Burke likely would have reamed the inquisitor for stupidity. As it stands, however, not much has changed in the ensuing three years, three months and eight days: the hockey club – despite an overhaul that excludes only Schenn and Nikolai Kulemin –  is still spinning its wheels and will almost certainly extend a franchise-record playoff drought to seven seasons. I remember having a discussion with some media friends after the Rangers had missed the playoffs for a seventh year (in 2004) and saying, "Geez, can you imagine if that ever happened in this city?" Well, guess what, folks… the predicament is upon us and it doesn't reflect well on Burke. Of course, there's absolutely no way to answer if Rogers/BCE will make a change because we haven't a clue as to which person (or, more-than likely, committee) will be calling the shots on behalf of ownership. To even speculate on the matter is foolish. Whether the "brand" would be better served by a different GM is a matter of taste. From all I can ascertain, Burke has been a superb representative for MLSE. He's a tireless worker who probably takes on more than he should at the corporate level. But, people enjoy meeting him and hearing him speak on any number of issues; he's a larger-than-life personality in the Toronto area and he generously makes time to connect with every tier of the Leafs' enormous fan-base. The club's revered alumni has been treated royally in the Burke administration; the annual road trip involving the players' dads has become a staple of his regime; the Canadian military is honored at each home game and once per season with a special night that includes a post-game meet-and-greet with players on the ACC ice. And, it's obvious that Burke's intense lobbying played a significant role in Leafs becoming the first team from north of the border – next January – to take part in the NHL's annual outdoor classic. Would another person dedicate himself to juggling the aforementioned and could that individual emulate Burke in prominence and personality? It would be one hell of an act to follow. And it begs the question that has befuddled fans of the Blue and White in the era of corporate ownership: What, in fact, is the role of the Leafs' general manager? Anyone that thinks it solely involves tending to the on-ice product is naive. But, can each component of the job be handled effectively by the same person in such an intense, pressure-filled environment? Has Burke spread himself too thinly while enacting the dual role on behalf of MLSE? We certainly aren't treated to many shots of Ken Holland, Peter Chiarelli or Lou Lamoriello glad-handing in public yet the Red Wings, Bruins and Devils have been infinitely more successful than the Leafs. Ultimately, the new ownership alliance will have to determine its priorities but I'll be rather surprised if Burke isn't at the forefront.
BURKE: CAN HE JUGGLE HIS MYRIAD RESPONSIBILITIES IN HOCKEY-MAD TORONTO?
Q. David from Toronto writes: "Hey, Howard, I'm interested to know the story behind you leaving The Fan-590. I never heard the reasons why."
A. Thanks for your question, David, and we should start by letting you know that I didn't leave The Fan-590; I was asked to leave on June 1, 2011. It turns out, I was one of several workers from the previous administration – all earning senior-level salaries – that were let go (Gord Stellick, Don Landry, Rick Ralph, Mike Hogan, Jack Armstrong, producer Brian Angus and sports director Doug Farraway among the others). After 23 years, 21 of which were absolutely superb, my time was up at the radio station and I have no regrets. The new program director, Don Kollins, strove to make change and that was his prerogative; I respect Don's position and bear no ill will toward him or anyone else. In a nut-shell, Don and I disagreed over the elimination – after nearly 15 years – of a travel budget for Leaf road games. He repeatedly told me it was no longer worth covering the team away from home and I stood my ground in opposition, believing it was a mistake to deprive Fan listeners of the blanket Leafs coverage they'd grown accustomed to – particularly with TSN establishing competition up the dial. In the end, I'm sure I became more of a pain-in-the-neck to Don than I was worth, but listeners today will notice that road coverage has been re-established at Sportsnet-590 (as it is now called) with David Alter. I'm happy for David – he's a keen, hard-working kid – and I'm pleased that I didn't battle in vain for what has long been a critical component of all-sports radio in this city.
INTERVIEWING LUKE SCHENN FOR THE RADIO STATION OUTSIDE MASTERCARD CENTRE MOMENTS AFTER LEAFS TRADED TOMAS KABERLE TO BOSTON ON FEB. 18, 2011.
Q. Dean from Whitby, Ont. writes: "Howard, I've been watching the Leafs for more than 25 years. Will it ever change? I mean, will it ever, EVER change?"
A.
 Oh, I can feel your anguish, Dean. If it's any consolation, rest assured there are tens of thousands out there with a similar degree of annoyance over the Blue and White. When I was a teenager in the '70s – watching games from my season tickets in the south-mezzanine Blues at Maple Leaf Gardens – I used to pose the same question. Only difference is: the Stanley Cup "drought" back then was less than a decade. Hard to believe than fans today are chewing on something more than 3 1/2 times longer. I don't know what it's going to require for the Leafs to break this interminable pattern but I can guarantee you it won't happen until the club learns to control play in the defensive zone. If there's been one constant through the years – with precious-little relief – it is confusion and disarray from goal-line to blue-line. That 50-foot area has strangled the club over and over – regardless of those on the ice; the person behind the bench or the individual calling the shots upstairs. Even during the brief moments of post-1967 prosperity, the Leafs have required spectacular goaltending from the likes of Mike Palmateer, Felix Potvin, Curtis Joseph and Ed Belfour to off-set defensive chaos. Exactly why the same difficulty persists – year after year; decade after decade – is beyond my comprehension. You'd think the law of averages, if nothing else, would provide Leafs a sound defensive structure now and then, but it simply never happens. That, and stability between the pipes, will ultimately solve the Leafs championship puzzle. With continuing medical advancements, you might even live to see it.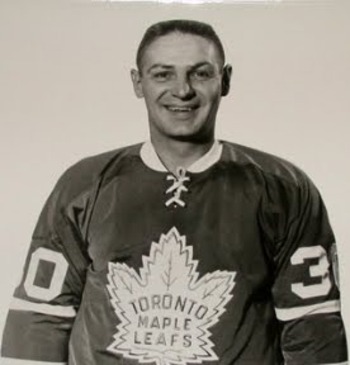 TERRY SAWCHUK: IN GOAL THE NIGHT LEAFS LAST WON THE STANLEY CUP… MAY 2, 1967.
Email: howardlberger@gmail.com
Twitter: Berger_BYTES
Facebook: Howard Berger [Thornhill ON]