By HOWARD BERGER
NEWARK (Mar. 23) – While writing a blog two weeks ago in this corner, I suggested the Maple Leafs should consider buying out the final two years of Mike Komisarek's hefty contract. The veteran defenseman has struggled for the most part in his three seasons in blue and white; he carries a $4.5-million cap hit in 2012-13 and 2013-14.
But, you know what? I've changed my mind.
As the Leafs continue plummeting toward the Eastern Conference cellar, I've noticed a trait in Komisarek that appears to be lacking among the majority of his teammates: losing really pisses him off. When the Leafs fell behind, 4-0, in the first 12 1/2 minutes at Boston on Monday, Komisarek sought out the Bruins' toughest player. This was significant because Milan Lucic had quickly dispatched Komisarek in a pair fights during the defenseman's final season with the Montreal Canadiens. Lucic required several punches to gain the edge in a match at Boston on Nov. 13, 2008… and only one punch to subdue Komisarek in a playoff encounter at the Bell Centre on Apr. 22, 2009.
Given the Leafs unmistakable direction of late, it would have been convenient for Komisarek to stand clear of Lucic at the TD Garden earlier this week, but he chose to dance once again with his Bruin nemesis. In so doing, he placed himself in a rather exclusive category among visiting players that elected to get involved in any aspect of the 8-0 humiliation. Only a handful of Leafs have shown some pluck and mettle during the free-fall of the past seven weeks: a 4-15-2 calamity that has assured the club a record seventh consecutive playoff absence. Komisarek, Luke Schenn, Dion Phaneuf and Jay Rosehill (when provided the opportunity) have shown up most nights. They may not have played particularly well – no one on the Leafs has – but they at least provided the impression that losing is distasteful.
"What do people think?" Komisarek asked when we chatted this morning after the Leafs' skate at the Prudential Center. "Do they think we just show up at the arena, play the game, then go home and forget about it? This is horrible, what we're going through right now. No one in the dressing room accepts it in any way. I know when I go home after a loss, it eats away at me for hours. I can't sleep and I can't get the game out of my mind.
"We play this sport for only one reason: to win. It's not about money, or fame, or glory. It's about being successful as a team. That's the goal we've all had from the moment we began our careers; really from the time we started playing hockey as kids.
"How could anyone think we don't care… that it's okay for us to get embarrassed in front of thousands of fans. It isn't okay. It stinks. The game is supposed to be fun, but there's no enjoyment at all in a situation like our's."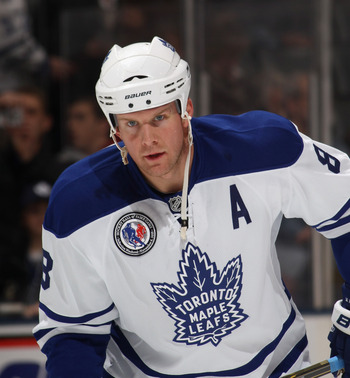 MIKE KOMISAREK: "NO ONE ACCEPTS LOSING. IT STINKS."
Komisarek's emotion today was unfiltered, unrehearsed and flagrantly genuine.
"Look, I've been in a couple of pretty big hockey markets," he said. "Maybe things haven't gone too well for me in Toronto but I've never accepted losing. It bothers me to no end and I take it personally. You can make all the money in the world, it doesn't remove the sting of losing; of getting embarrassed like we did [in Boston and at home to the Islanders]. No player wants to be booed on home ice. But, I understand where the fans are coming from. We have passionate fans that are hungry for a winner… that deserve a winner.
"When we play poorly, it is their right to let us know – as strongly as they wish. And, it's our job to make that reaction different."
So, I'll say it again: I've changed my tune about Mike Komisarek. The Leafs should hang onto him; work with him on improving confidence and performance, and try to obtain others that similarly detest losing. Brian Burke has been pilloried for signing the defenseman to such a gargantuan deal three summers ago. But, the Leafs' GM knew something that has yet to materialize: No. 8 would be an indispensable component of a winning team.
My photo-review, now, of arriving here in "Joisee" last night, and today's skate:
MAR. 22 FELT MORE LIKE JULY 22 IN TORONTO ON THURSDAY – HOT, MUGGY CONDITIONS GIVING WAY TO CLOUD BUILD-UP EARLY IN THE EVENING AT PEARSON AIRPORT (ABOVE) AND ALLOWING FOR ONLY A RAY OF SUNSHINE TO APPEAR (BELOW) AS WE TOOK OFF TOWARD THE EAST FOR NEWARK AFTER 7 P.M.
FLYING PAST MANHATTAN ON FINAL APPROACH TO NEWARK AIRPORT, WE COULD SEE THE WELL-LIT AVENUES OF THE BIG APPLE (ABOVE-LEFT) ACROSS THE HUDSON RIVER. "FIREWORKS" FUNCTION ON MY CAMERA (ABOVE-RIGHT) SHOWS MULTI-COLORED DIRECTIONAL LIGHTING ON THE GROUND AT NEWARK AIRPORT AND A JETLINER IN THE AIR, SECONDS AFTER TAKE-OFF.
THE PRUDENTIAL CENTER HERE IN NEWARK – ONE OF THE NHL's PREMIER FACILITIES.
THOUGH DOWNTOWN NEWARK HAS BEEN TIDIED UP, THE LARGE POLICE PRESENCE AFTER NIGHT GAMES IS STILL COMFORTING FOR A REPORTER HIGH-TAILING IT TO HIS HOTEL.
ZACH PARISE OF THE DEVILS PAUSES TO SIGN AUTOGRAPHS FOR FANS (ABOVE) WHILE LEAVING THE ARENA AFTER TODAY'S MORNING SKATE.
PHOTOS (ABOVE AND BELOW) TAKEN FROM THE ZAMBONI ENTRANCE AT PRUDENTIAL CENTER AS THE LEAFS AWAIT RE-SURFACING FOR THEIR MORNING SKATE.
THOUGH PRUDENTIAL CENTER IS ALSO BASKETBALL HOME OF THE NBA's NEW JERSEY NETS AND SETON HALL UNIVERSITY, THE DEVILS' LOGO APPEARS ON THE LEATHER SEAT-BACKS NEAR ICE LEVEL (ABOVE AND BELOW).
LEAFS STRETCH AT BOARDS (ABOVE-LEFT) BEFORE MORNING SKATE, WHILE GOALTENDING CONSULTANT FRANCOISE ALLAIRE DOES SOME "GARDENING" (RIGHT) FOR JAMES REIMER AND JONAS GUSTAVSSON.
LEAFS DO PASSING DRILLS (ABOVE) UNDER WATCH OF ASSISTANT COACH DAVE FARRISH.
PRUDENTIAL CENTER IS A HANDSOME FACILITY THAT ALLOWS FOR NATURAL LIGHT DURING THE DAY (ABOVE) AND PROUDLY DISPLAYS THE RETIRED JERSEY NUMBERS (BELOW) FROM THE DEVILS' CHAMPIONSHIP SEASONS.
NAZEM KADRI (ABOVE) MAKES HIS FIRST LEAF APPEARANCE UNDER RANDY CARLYLE TONIGHT, AFTER FAILING TO EARN CONFIDENCE OF FORMER COACH RON WILSON.
HOCKEY STATUE HERE IN DOWNTOWN NEWARK (ABOVE-LEFT) AND THE TOP OF AN ART-DECO INSURANCE TOWER.
LEAFS VS. DEVILS, 7 O'CLOCK TONIGHT ON LEAFS TV.
Email: howardlberger@gmail.com
Twitter: Berger_BYTES
Facebook: Howard Berger [Thornhill ON]