By HOWARD BERGER
TORONTO (Mar. 26) – Figurative elimination from the Stanley Cup playoffs for a seventh consecutive season occurred during the Maple Leafs 1-9-1 death-spiral in February. Literal elimination – that which involves mathematics – could happen as early as Tuesday night, when Toronto, Buffalo and Washington are in action.
Trailing the eighth-place Capitals and ninth-place Sabres by nine points with six games remaining, the Leafs are officially out if they lose in regulation time at home to Carolina. Either Buffalo or Washington will earn two points in a match-up at the Verizon Center, pulling ahead of Toronto for good. This combination would be apropos, given the Leafs startling incapacity on home-ice since early February. Among the club's perennial shortcomings, its record at the Air Canada Centre this season – boosted by a 4-0-1 leap from the gate in October – was a respectable 14-9-4 after a 6-3 doubling of Edmonton on Feb. 6 that represents the delineation point of 2011-12 for the Blue and White.
Twenty-four hours later, in Winnipeg, Leafs embarked on one of the steepest declines in club history: crashing from a playoff-worthy 28-19-6 to the 33-34-9 record that allows for elimination on Tuesday. A prime factor in the 5-16-3 downfall is an 0-7-2 blight in the past nine Air Canada Centre engagements – equaling the longest dry-spell at home in franchise history. There was no portent of disaster, considering the 4-0-1 mark against Montreal, Ottawa, Calgary, Colorado and Winnipeg to begin the schedule and a perfect 4-0-0 home-stand in early-January against Tampa Bay, Winnipeg, Buffalo and Detroit.
Determining why all of this happened – and reacting accordingly – is the paramount task of general manager Brian Burke… his "18-wheeler-over-the-cliff" analogy, though accurate, requiring more substantive evaluation.
JONAS GUSTAVSSON PEEKS AROUND BLAKE WHEELER AND LUKE SCHENN IN ACTION AT THE MTS CENTRE IN WINNIPEG ON FEB. 7 – GAME THAT BEGAN TORONTO'S 5-16-3 PLUMMET FROM PLAYOFF CONTENTION.
*   *   *   *   *   *   *   *   *   *   *   *   *   *   *
Though he's not likely to become the superstar that every Leafs' prospect is at the beginning, Jiri Tlusty provides yet another example of the impatience that has hampered the Blue and White for eons.
Drafted, by John Ferguson, 13th overall from Kladno of the Czech Republic in 2006, Tlusty came along slowly in his professional adjustment to North America and was traded to Carolina, by Burke, for Philippe Paradis in December 2009. Paradis then went to Chicago in June 2010, along with Viktor Stalberg, in the deal that brought Kris Versteeg to Toronto. He has five goals and 15 points this season with the Blackhawks AHL affiliate in Rockford, Ill.
Tlusty, meanwhile, has blossomed rather nicely under Hurricanes coach Kirk Muller. He scored twice in a 5-4 loss at Detroit on Saturday and has a most-respectable 17 goals this season – a total that would rank him fifth on the Leafs behind Phil Kessel, Joffrey Lupul, Mikhail Grabovski and Clarke MacArthur. Through all of his difficulties since early-February, Burke has wisely retained the top prospects in the organization.
But, he let one slip away in Tlusty.
JIRI TLUSTY AS A LEAF (ABOVE) IN ACTION AGAINST THE OLD ATLANTA THRASHERS, AND WITH HIS CURRENT TEAM, CAROLINA (BELOW), IN A GAME AGAINST PHILADELPHIA.
*   *   *   *   *   *   *   *   *   *   *   *   *   *   *
I chatted briefly with Mark Howe in the press box at the Prudential Center on Friday night, during Leafs 4-3 shoot-out victory over New Jersey. Enshrined in the Hockey Hall of Fame last November, Howe is director of pro scouting for the Detroit Red Wings… and also in charge of keeping the world up to date on his father, Gordie, who is battling a form of dementia. Mr. Hockey, as the great No. 9 is known, turns 84 this Sunday and is spending much time with son Marty, who accompanied him to Montreal over the weekend.
"Dad went to see Jean Beliveau," Mark told me.
Beliveau, of course, is the 80-year-old Canadiens legend recovering from a stroke suffered last month. "Apparently, Jean is really anxious to get out of the hospital," Mark said, less than 24 hours before Le Gros Bill got his wish and was transferred to a rehabilitation center.
It's a touching scenario for any person – like myself – that remembers watching Howe and Beliveau late in their brilliant NHL careers: one ailing octonagerian visiting another, more than four decades after engaging in a fierce rivalry on the ice. Howe and Beliveau were king-pins of the dominant NHL teams in the 1950s: Detroit and Montreal winning all but one Stanley Cup during the decade while squaring off four times in the Cup final.
It's wonderful to note how their respect and friendship has endured.
GORDIE HOWE AND JEAN BELIVEAU IN A RECENT CEREMONY (ABOVE), AND DURING THEIR PLAYING CAREERS WITH THE RED WINGS AND CANADIENS (BELOW).
*   *   *   *   *   *   *   *   *   *   *   *   *   *   *
The cyclical nature of hockey business appears evident in Quebec City, where ground is to be broken in September on a facility Gary Bettman said was mandatory before any serious talk of the NHL returning. Unsubstantiated whispers have the Phoenix Coyotes re-locating next season in the capital of Quebec, where the Nordiques played from 1972-1995, the first seven years as a charter franchise in the World Hockey Association. When the NHL absorbed four WHA teams for the 1979-80 season, the Nordiques and Montreal Canadiens established perhaps the most intense rivalry ever in the sport.
A transferred outfit today would have to play at least two seasons in the antiquated Colisee: former home of the Nordiques and catalyst for Marcel Aubut selling the franchise to Denver-based interests in the summer of '95. The re-named Colorado Avalanche won the Stanley Cup in their inaugural season (1995-96).
Other teams, of course, have played in temporary facilities while their new arenas were being built – Calgary at the 6,500-seat Corral before the Saddledome; Tampa Bay at the Expo Hall on the Florida State Fairgrounds and Tropicana Field in St. Petersburg before the downtown Forum; San Jose at the Cow Palace in San Francisco; the Seantors at the Ottawa Civic Centre before Scotiabank Place; Carolina at the Greensboro Coliseum before RBC Center; Florida at Miami Arena before its beautiful rink in Sunrise; Dallas at Reunion Arena before the American Airlines Center and the Avalanche at McNichols Arena in Denver before the Pepsi Center. A new Quebec team would similarly have to bridge time.
Combined with the transfer of the Atlanta Thrashers to Winnipeg for the current season, a Phoenix-to-Quebec City move would be another example of hockey returning to its roots. It would hurt the league, geographically, as only four teams would remain in the Pacific time zone, and an enormous, half-country gap would exist between southern California (Los Angeles, Anaheim) and northeast Texas (Dallas). Another team in the Eastern time zone would also necessitate further talk between the league and players on divisional realignment.
But, those too young to remember the Canadiens-Nordiques enmity would be in for one heck of a treat.
GUY LAFLEUR OF MONTREAL BATTLES FOR PUCK (ABOVE) BEHIND QUEBEC GOALIE DAN BOUCHARD, AND THE PROVINCIAL RIVALS SQUARE OFF (BELOW) IN THE LEGENDARY PLAYOFF BRAWL OF GOOD FRIDAY 1984 AT THE MONTREAL FORUM.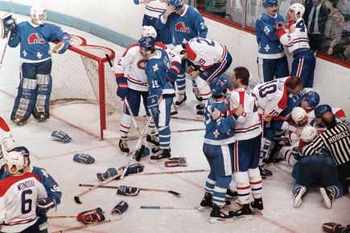 *   *   *   *   *   *   *   *   *   *   *   *   *   *   *
The evolution of protocol for head and neck injury in professional sport had me chuckling when I glanced at an old Canadian Football League scrap-book on the weekend. Granted, the newspaper story I read was written more than 42 years ago, but it offered a remarkable contrast to current-day procedure.
The author was former Toronto Star writer and columnist Jim Proudfoot, who covered the CFL's Toronto Argonauts for the paper in the late-'60s before writing columns in the '70s, '80s and '90s. Jim died from complications of a stroke in 2001. The article in question was a game-story from the Argos visit to Montreal on Sep. 28, 1969 – a 36-33 triumph over the Alouettes at the old Autostade near the site of Expo '67.
It was a particularly rough game during which Montreal quarterback Sonny Wade was abused by the Toronto defense – prompting Alouettes coach Kay Dalton to complain loudly afterward. During his tirade, he casually reflected on a decision that would not be tolerated today. Proudfoot wrote:
Dalton was especially angry about the way on-rushing Toronto defenders went after his quarterback, Sonny Wade. "They slugged him, kicked him and roughed him like he was a punching-bag," Dalton said.
Wade suffered a slight concussion in the second quarter and Dalton ignored medical advice by letting him complete the match. "I had nobody else," he shrugged. "Sonny was never right – fuzzy, you know – but it was him or nobody."
Still dazed, Wade was taken to hospital after the match.
Protocol has thankfully improved since the old "smelling-salt" days.
TORONTO ARGONAUTS DEFENSIVE END VERNON VANOY (ABOVE) STUMBLES WHILE PURSUING OTTAWA ROUGH RIDERS QUARTERBACK RUSS JACKSON IN 1969 CFL ACTION AT LANSDOWNE PARK IN OTTAWA. NO. 15 IS ARGO DEFENDER ED LEARN.
*   *   *   *   *   *   *   *   *   *   *   *   *   *   *
Former NHLer Ron Stewart died of cancer on the weekend. A reliable checking forward, Stewart played on the Leaf teams that won consecutive Stanley Cups in 1962, '63 and '64 then later coached the New York Rangers and Los Angeles Kings.
Veteran hockey people also remember Stewart in connection with the death of Hall-of-Fame goalie Terry Sawchuk in May 1970. At a post-season gathering, Stewart and Sawchuk – teammates on the 1969-70 Rangers – apparently engaged in a drunken altercation. Depending on who's version is told, Sawchuk either fell over a barbecue spit or Stewart's knee and suffered internal injuries that led to a fatal pulmonary embolism (blood-clot in the lung). Sawchuk was only 40 when he died and charges were not laid against Stewart.
While enjoying a pre-game dinner with Scotty Bowman in Tampa last week, Stewart's name came up in connection with arguably the best trade in St. Louis Blues history. The veteran forward had been chosen by St. Louis from Boston in the original expansion draft but the Blues got off to a terrible start in their inaugural season and were in the West Division cellar on Nov. 29, 1967 with a record of 4-13-2 after 19 games. That's when Bowman and the late Lynn Patrick – running the Blues – traded veterans Stewart and Ron Attwell to the Rangers for part-timers Red Berenson and Barclay Plager. What a move it turned out to be.
Berenson quickly developed into the first star of the expansion era, putting up 51 points in 55 games and following with seasons of 82 and 72 points as St. Louis advanced to the Stanley Cup final in each of its first three seasons. Plager became an iconic defender with the Blues – performing famously and ruggedly alongside brother Bob: also a defenseman and also acquired from New York in the expansion draft.
Ron Stewart was 79 years old.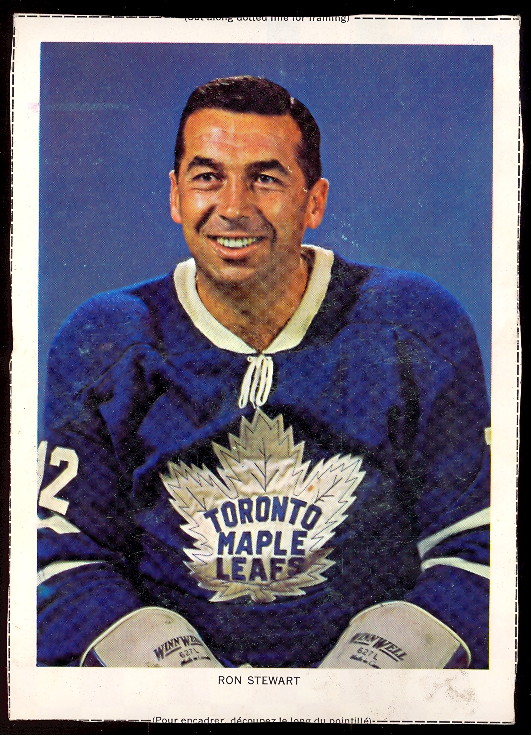 RON STEWART AS A LEAF IN THE EARLY-'60s (ABOVE-LEFT) AND THE LAST POSED IMAGE OF TERRY SAWCHUK – AS A NEW YORK RANGER IN 1969-70.
Email: howardlberger@gmail.com
Twitter: Berger_BYTES
Facebook: Howard Berger [Thornhill ON]