By HOWARD BERGER
NEWARK (May 29) – With a nod to the opening line of The Beatles' Sgt. Pepper's album of June 1967, two decades has passed since a critical moment in the post-Stanley Cup era of the Toronto Maple Leafs. Yes, it was 20 years ago today – May 29, 1992 – that Pat Burns took a bow as the 24th head coach in Leafs history and it remains the coaching move that brought the club closest to a post-'67 championship.
Coincidentally, it was 19 years ago today – May 29, 1993 – that the Leafs, under Burns, made it to that point of the Stanley Cup tournament, losing Game 7 of the Conference final to Wayne Gretzky and the Los Angeles Kings at Maple Leaf Gardens.
PAT BURNS IS INTRODUCED AS COACH OF LEAFS (ABOVE AND BELOW) IN THE HOT STOVE LOUNGE AT MAPLE LEAF GARDENS 20 YEARS AGO TODAY – MAY 29, 1992.
This date stands alongside Apr. 22, May 2 and May 4 as the most significant playoff anniversary in the championship drought of the Blue and White. May 2, 1967 was the night the club last raised the silver mug. On Apr. 22, 1976, Darryl Sittler scored what remains a playoff record-tying five goals against Philadelphia at the Gardens, and May 4, 2004 stands as the last night the Leafs appeared in the post-season.
Such occasions will continue to grow in prominence until the Leafs make it back to the Stanley Cup final; 24 teams [Montreal, St. Louis, Boston, Chicago, New York Rangers, Philadelphia, Buffalo, New York Islanders, Minnesota North Stars, Vancouver, Edmonton, Calgary, Pittsburgh, Los Angeles, Detroit, New Jersey, Florida, Colorado Avalanche, Washington, Dallas, Carolina, Anaheim, Tampa Bay and Ottawa] have qualified for the title round at least once since Toronto last made it. New Jersey, this spring, is appearing in the Cup final for a fifth time; L.A. has been to The Dance twice.
The hiring of Burns by general manager Cliff Fletcher stands out among the rare occasions in which a major hockey story in Toronto was not preceded by rampant speculation. In fact, it came out of nowhere, just hours after Burns announced his resignation as coach of the Montreal Canadiens. I was getting a haircut when news came over the radio speaker in the barber shop and I rushed down to Maple Leaf Gardens with my new coif for Burns' introductory press gathering in the Hot Stove Lounge. I remember the old cop looking rather strange with a Leafs logo on his jacket after his half-decade behind the bench of the club's eldest rival.
PAT BURNS LOOKED A LOT MORE FAMILIAR IN MONTREAL RED ON MAY 29, 1992.
It proved a splendid bit of organizational work by Fletcher – occurring less than five months after he had acquired Doug Gilmour from Calgary in a still-record 10-player trade. The Burns-Gilmour tandem began to click just after the New Year in 1993 and the upstart Leafs couldn't be stopped until Gretzky turned in what he still calls his greatest playoff effort on this date 19 years ago. Had the Leafs prevailed in Game 7 that night, Burns would have faced his old team in a story-book Cup final, as Montreal had knocked off New York Islanders in the Wales Conference championship.
Burns and Gilmour were back in the Stanley Cup semifinals the following year but were taken out in five by the Vancouver Canucks. Fletcher dismissed Burns in early-March 1996 after the Leafs had fallen into a wicked slump of 3-16-5.
PAT BURNS AS COACH OF THE MAPLE LEAFS (ABOVE AND BELOW).
After a coaching stop in Boston, Burns joined the New Jersey Devils for the 2002-03 season, racking up a 46-20-16 record for 108 points, and winning his lone Stanley Cup as the Devils squeaked past upstart Anaheim in seven games. A diagnosis of colon cancer less than a year later ended his career behind the bench. He survived a second bout of the disease in 2005 before a terminal recurrence in '09. After a brave fight, he passed away at 58 on Nov. 19, 2010 – fittingly, one night before the Leafs and Canadiens hooked up at the Bell Centre in Montreal.
PAT BURNS (ABOVE) IN FINAL STAGES OF HIS BATTLE WITH CANCER.
BURNS AND DOUG GILMOUR (ABOVE) ALMOST TOOK LEAFS TO THE STANLEY CUP FINAL IN 1993, WHERE BURNS' FORMER TEAM – MONTREAL CANADIENS – STOOD WAITING.
FROM HUMBLE BEGINNINGS…
Long before this spring, the New Jersey Devils had crafted a legacy as one of the great NHL franchises of the past quarter-century. Any such notion, however, would have been scoffed at during the early years of the hockey club, which debuted in Kansas City MO in 1974 before transferring to Denver in 1976 and East Rutherford NJ in 1982. The Kansas City Scouts (road jersey above) of 1974-75 and 1975-76 were among the worst teams in NHL history. Playing in the Crosby-Kemper Memorial Arena, they compiled a record of 27-110-23, scoring 374 goals and yielding 679. In their final 27 games of '75-76, the Scouts were 0-21-6! Notable players included Wilf Paiement, Simon Nolet, Gary Bergman and Craig Patrick.
COVERS (ABOVE) OF THE TWO KANSAS CITY SCOUTS MEDIA GUIDES.
No one, therefore, asked "why?" when the Scouts packed up and moved west to Denver for the 1976-77 season. What followed were six ignominious years as the Colorado Rockies – not quite as dreadful as the two in K.C. – but close. Rockies missed the playoffs in five of the six years, getting swept by Philadelphia [2-0] in a best-of-three preliminary round in 1978. The franchise is best remembered for a coach, as Don Cherry stood behind the Rockies' bench in 1979-80 – future Hall-of-Famer Lanny McDonald joining him in December of that season after a trade from Toronto.   
COLORADO ROCKIES INAUGURAL MEDIA GUIDE IN 1976-77 (ABOVE-LEFT) AND JUST A FEW IMAGES OF DONALD S. CHERRY ON COVER OF THE 1979-80 EDITION (RIGHT).
A second relocation occurred prior to the 1982-83 season, as the Rockies moved to the Meadowlands Sports Complex in East Rutherford NJ – directly across the Hudson River from midtown Manhattan. Once there, the franchise legacy continued – the New Jersey Devils (wearing red and dark-green) being dubbed "Mickey Mouse" by none other than Wayne Gretzky after a 13-4 destruction by the Edmonton Oilers at Northlands Coliseum on Nov. 19, 1983 that dropped the Devils record to 2-18-0 on the season. Gretzky's former teammate in Edmonton – Ron Low – remained between the pipes that night for all 13 Oiler goals, prompting the Great One's reaction.
New Jersey was 34-101-21 in its first two seasons at the Meadowlands and only slightly better – 50-97-13 – in Years 3 and 4. It wasn't until 1987-88 that the club eclipsed the .500 mark in the regular season (38-36-6) and made the playoffs on the final night of the schedule when forward John MacLean scored an overtime goal at Chicago Stadium. Backed by a superb effort from goalie Sean Burke, the Devils astonishingly made it to the Conference final before bowing to Boston in a series still famous for Devils' coach Jim Schoenfeld bumping referee Don Koharski and calling him a "fat pig" in the corridor of the Byrne Meadowlands Arena. It led to a wild-cat strike by the referee and linesmen for the next game at New Jersey. 
ORIGINAL MEDIA GUIDE (ABOVE) OF THE NEW JERSEY DEVILS IN 1982-83.
After the lockout-shortened season of 1994-95 (reduced to 48 games), the Devils – now wearing red and black – made it to the Stanley Cup final and swept Detroit in four games. Led by phenomenal players Martin Brodeur, Scott Stevens and Scott Niedermayer, the club went back to the final three more times – defeating Dallas in 2000 and Anaheim in 2003 while losing a seven-game marathon to Patrick Roy, Raymond Bourque and the Colorado Avalanche in 2001.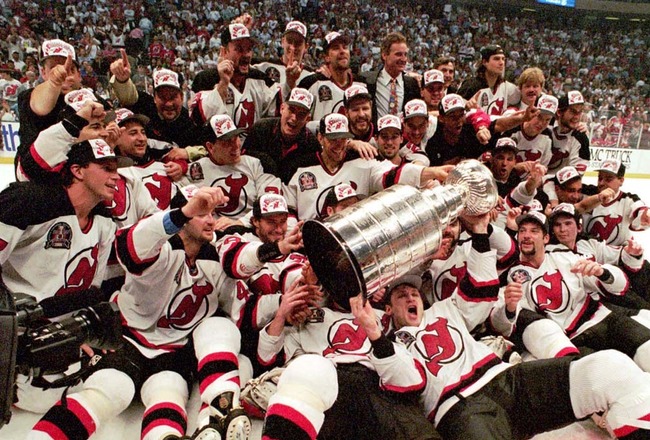 MEMBERS OF THE FIRST NEW JERSEY STANLEY CUP TEAM CELEBRATE FOUR-GAME SWEEP OF DETROIT (ABOVE) ON THE ICE AT THE MEADOWLANDS, JUNE 24, 1995.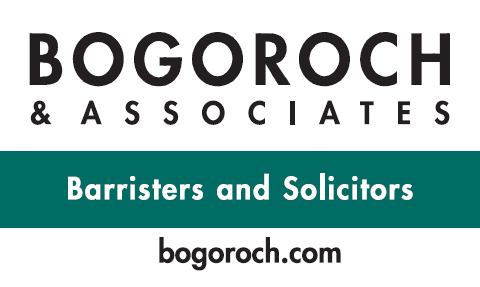 UP NEXT…
LOS ANGELES KINGS (ORIGINAL JERSEY LOGO ABOVE; INAUGURAL MEDIA GUIDE BELOW) WILL ATTEMPT TO DENY NEW JERSEY ITS FOURTH STANLEY CUP CHAMPIONSHIP WHEN THE 2012 FINAL FACES OFF HERE IN NEWARK ON WEDNESDAY NIGHT.
TORONTO TO NEWARK MONDAY NIGHT…
NO, I DIDN'T FLY EMIRATES AIR TO NEW JERSEY, BUT YOU MIGHT LIKE TO SEE THE NEW DOUBLE-DECKER AIRBUS-380 ON THE GROUND (ABOVE AND BELOW) AT PEARSON AIRPORT.
AFTER A LONG TAXI TO RUNWAY 23 IN SETTING SUN, WE WERE AIRBORNE ON AIR CANADA #770, TURNING LEFT ABOVE BUILDINGS OF DOWNTOWN MISSISSAUGA.
NOT OFTEN YOU GET TO FLY PAST A GIANT THUNDER-HEAD CLOUD SUCH AS THIS ANVIL-SHAPED MONSTER OVER UPSTATE NEW YORK ON THE TRIP HERE.
MEADOWLANDS SPORTS COMPLEX AND MANHATTAN ACROSS THE HUDSON RIVER (ABOVE) ON FINAL APPROACH TO NEWARK-LIBERTY INTERNATIONAL AIRPORT. MET-LIFE STADIUM, HOME OF THE SUPER BOWL CHAMPION NEW YORK GIANTS IS AT BOTTOM-RIGHT IN LEFT PHOTO; THE DEVILS OLD ARENA IS WHITE-SQUARE BUILDING IN UPPER-LEFT (WITH RED NEON SIGN).
Email: howardLberger@gmail.com
Twitter: Berger_BYTES
Facebook: Howard Berger [Thornhill ON]