By HOWARD BERGER
NEWARK (June 2) – Less than 24 hours after the greatest European to ever play in the National Hockey League announced his retirement, the goalie of the defending Stanley Cup champions suggested he would take a year's sabbatical and a no-hitter was tossed by a New York Mets pitcher for the very first time. Hey, we wondered about the gap between Games 1 and 2 of the New Jersey-Los Angeles Stanley Cup final, didn't we?
The specter of a "quiet sports day" is unimaginable right now. There was no deliberate attempt by Nicklas Lidstrom, Tim Thomas or Johan Santana to upstage the hockey final, yet people are chatting about them to a far greater degree than the Devils-Kings match-up. Barring more of the unforeseen, that will change later tonight, as the Stanley Cup resumes here in Newark with Game 2 at the Prudential Center (8 o'clock EDT on CBC and NBC).
Given the overwhelming pattern of this year's Cup tournament, nothing extraordinary happened in the series opener. Los Angeles won for the ninth time in as many road games (extending its playoff record) and the teams struggled to maintain emotion after knocking off heated rivals in the Conference championships.
Expect a more open, entertaining affair in Game 2.
________________________________________________
THOMAS EXHAUSTED…
AFTER EXPERIENCING THE HIGHEST OF HOCKEY HIGHS LAST YEAR AT THIS TIME, BOSTON GOALIE TIM THOMAS TOLD GENERAL MANAGER PETER CHIARELLI THIS WEEK THAT HE IS PHYSICALLY AND MENTALLY EXHAUSTED, AND IS LEANING TOWARD NOT PLAYING NEXT SEASON. IT WAS A DOUBLE-CELEBRATION FOR THOMAS AT ROGERS ARENA IN VANCOUVER LAST JUNE 15, AS HE LIFTED THE STANLEY CUP (ABOVE) AND THE CONN SMYTHE TROPHY (BELOW) AFTER THE BRUINS 4-0 VICTORY OVER THE CANUCKS IN GAME 7.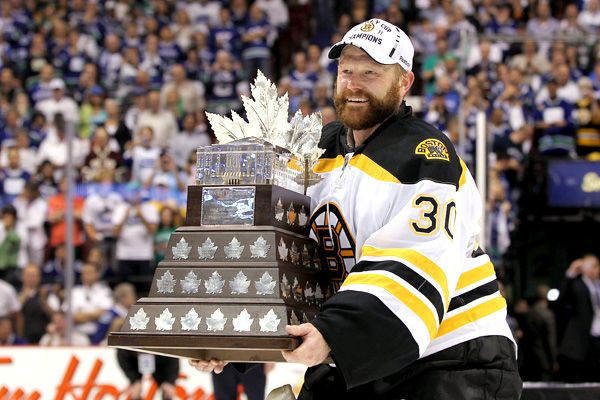 LIDSTROM ECHOES SUNDIN…
I HAD THE OPPORTUNITY TO INTERVIEW NICKLAS LIDSTROM (WITH FAMILY ABOVE) ON RADIO FRIDAY AFTERNOON AND HIS ESSENTIAL REASON FOR RETIRING WAS IDENTICAL TO THAT OF FELLOW-COUNTRYMAN MATS SUNDIN. "I STILL LOVED PLAYING THE GAME BUT I DIDN'T HAVE THE DRIVE ANYMORE TO PUT IN THE WORK – ESPECIALLY DURING THE OFF-SEASON – THAT A PLAYER MY AGE NEEDS IN ORDER TO MAINTAIN PERFORMANCE," HE SAID. "I DIDN'T WANT TO CHEAT MYSELF; THE DETROIT RED WINGS OR THE GAME OF HOCKEY. I HAD A LONG CHAT WITH MATS ABOUT THE SITUATION AND WE WERE DEFINITELY ON THE SAME PAGE." AS FOR A CAREER HIGHLIGHT AMONG SO MANY, LIDSTROM POINTED TO HIS FIRST OF FOUR STANLEY CUPS WITH THE RED WINGS (IN 1997 vs. PHILADELPHIA) AND TO BEING THE FIRST EUROPEAN CAPTAIN TO RAISE THE SILVER MUG AFTER DETROIT KNOCKED OFF SIDNEY CROSBY AND THE PITTSBURGH PENGUINS ON JUNE 4, 2008 AT MELLON ARENA (PHOTOS BELOW).
LIDSTROM'S FINAL TORONTO VISIT…
IN MY BLOG YESTERDAY, I RE-POSTED SEVERAL PHOTOS I TOOK OF LIDSTROM DURING THE RED WINGS GAME AGAINST THE MAPLE LEAFS AT AIR CANADA CENTRE ON JAN. 7. IT TURNED OUT TO BE THE GREAT DEFENSEMAN'S LAST GAME IN TORONTO AND GRAIG ABEL (http://www.graigabel.com/) SNAPPED THE FOLLOWING THREE PICTURES FOR GETTY IMAGES AND NHL.COM:
LIDSTROM WATCHES THE POINT AS MAPLE LEAFS WINGER NIKOLAI KULEMIN STUMBLES IN FRONT OF GOALIE JIMMY HOWARD.
WITH LIDSTROM BLOCKING HIS PATH, TORONTO'S PHIL KESSEL UNLEASHES A SNAP-SHOT.
LIDSTROM CHECKS FORWARD MIKE BROWN OF THE MAPLE LEAFS.
_______________________________________________________________________________
BIG MORNING HEADLINES TODAY…
OH YES…
__________________________________________________________________________________
A BITE OF THE BIG APPLE…
I TOOK THE TRAIN FROM NEWARK INTO MANHATTAN ON FRIDAY AFTERNOON TO CO-HOST WITH SCOTT LAUGHLIN FOR A COUPLE OF HOURS ON NHL HOME-ICE IN THE SIRIUS-XM STUDIOS – LOCATED OFF COLUMBUS CIRCLE (8th AVE. AND 60th ST.) ACROSS FROM CENTRAL PARK. AFTERWARD, I WALKED BACK 28 BLOCKS TO PENN STATION DOWN 7th AVE., PASSING TUMULTUOUS TIMES SQUARE ALONG THE WAY. WITH MY TRUSTY NIKON IN HAND, I PUT TOGETHER THIS PHOTO ESSAY OF THE BIG APPLE: 
ATOP THE TOSHIBA SIGN AT ONE TIMES SQUARE IS THE FAMOUS BALL THAT BEGINS DROPPING FROM A 77-FOOT FLAG-POLE (SEEN ABOVE THE BALL) AT 11:59 P.M. ON DEC. 31 – ITS ONE-MINUTE DESCENT CULMINATING WITH THE ADVENT OF THE NEW YEAR. IT IS ARGUABLY THE MOST FAMOUS NEW YEAR'S TRADITION IN THE WORLD AND IS WITNESSED BY MORE THAN ONE MILLION PEOPLE SHOEHORNED INTO THE BROADWAY/7th AVE. DISTRICT.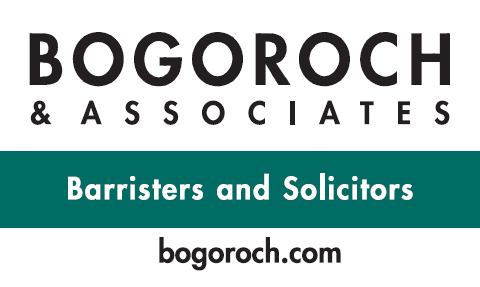 MADISON SQUARE GARDEN (ABOVE). TAXI LINE-UPS (BELOW).
NORTHERN PERIMETER OF CENTRAL PARK (ABOVE AND BELOW) ON 59th ST.
GIANT MANHATTAN HOTELS: SHERATON NEW YORK (ABOVE-LEFT) AT 7th AND 53rd ST. AND THE DOUBLETREE GUEST SUITES IN TIMES SQUARE (RIGHT).
SCOTT LAUGHLIN (TOP-LEFT) AND YOURS TRULY DURING OUR NHL HOME-ICE RADIO GIG FRIDAY AFTERNOON AT SIRIUS-XM STUDIOS IN COLUMBUS CIRCLE (BELOW).
FROM NEW JERSEY SIDE ON TRAIN BACK TO NEWARK, THE EMPIRE STATE BUILDING (TOP-LEFT); THE NEW WORLD TRADE CENTER TOWERS (TOP-RIGHT) AND 25,000-SEAT RED BULL ARENA IN HARRISON, N.J. (BOTTOM-LEFT), HOME OF MAJOR LEAGUE SOCCER'S NEW YORK RED BULL. AND, IT'S ALWAYS NICE TO BE WELCOMED "HOME".
________________________________________________________________________________________
NORFOLK UP 1-0 IN CALDER CUP FINAL
WHO SAYS THERE IS NO SUCH THING AS PLAYOFF HOCKEY IN TORONTO? THOUGH THE LEAFS HAVEN'T APPEARED IN A POST-SEASON GAME SINCE MAY 4, 2004, THE CLUB'S AMERICAN HOCKEY LEAGUE AFFILIATE – TORONTO MARLIES – IS VYING FOR THE CALDER CUP CHAMPIONSHIP AGAINST THE NORFOLK ADMIRALS. GAME 1 IN THE BEST-OF-SEVEN FINAL WAS PLAYED THURSDAY NIGHT AT THE SCOPE IN NORFOLK, VIRGINIA – THE HOME SIDE PREVAILING 3-1. SPORTS WRITER JIM HODGES OF THE VIRGINIAN PILOT COVERED THE MATCH AS DID PHOTOGRAPHERS L. TODD SPENCER AND SEAN PROCTOR. THEIR WORK APPEARS HERE: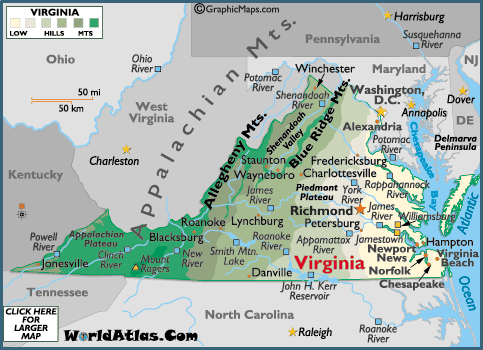 By Jim Hodges
NORFOLK
For a night, the Kids Line rode again, except that one of its members was skating for the other team.
Cory Conacher and Tyler Johnson scored Friday for the Admirals, as they have since October. Their goals, along with a short-handed, empty-net shot by Brandon Segal gave the Admirals a 3-1 win over Toronto in Game 1 of the Calder Cup Finals at Scope.
Carter Ashton, the third Kid until he was traded in February, scored as he has since October. But this time his goal cut into the Admirals' lead in the third period and put offensively challenged Toronto in a position to pull out a game in which it was outshot 42-24 and couldn't find a way to take advantage of 10 power-play opportunities.
Worse, the Marlies skated the final power play at 6 on 4, with goalie Ben Scrivens pulled in the final minute. Instead of success, though, the Admirals' Segal corralled a loose puck and scored into an empty net. "We're in the Finals and our best players were our best players," Admirals coach Jon Cooper said. "Cory Conacher was a deserving league MVP and he had one goal in 13 playoff games. Tonight, he gets a big one." Which gave the Admirals a 1-0 first-period lead.
"Tyler Johnson gets a big one on the power play, and it was a big one for us," Cooper said. "Toronto's penalty killers were intimidating all year long, and to get that power-play goal for us was big."
The Marlies had given up only three power-play goals in 12 playoff games until Friday. And they killed off a 96-second, 5-on-3 Admirals advantage to open the third period. But the Admirals were no slouches in killing off penalties.
"Let's call a spade a spade, our penalty killing was outstanding," Cooper said. "We're not going to survive in the series by taking that many penalties."
The Admirals had 36 minutes of penalties, disrupting the flow of play and keeping defensive-minded players on the ice much longer than they should have been. But penalty-killing notwithstanding, Toronto's power play struggled. In fact, if you listen to coach Dallas Eakins, most of his players struggled.
"I think the best way to put it is that some of our top guys that we need to perform well weren't at their best tonight," he said. "I think we had maybe three or four forwards that I was happy with their game. And maybe two defensemen."
The lack of power in the power play was a concern, but it's a discrepancy that can be fixed easily enough, he added.
"No. 1, that was the worst ice I've ever seen in my life," Eakins said. "It was just horrible out there. It was like having a lacrosse ball, but I thought we were complicating it. When there's ice like that, it's the same for both teams, and you've got to simplify your power play. You're looking for two passes and get it to the net."
On Friday, Dustin Tokarski was in the net waiting. He turned back 23 shots in earning his ninth win in 11 playoff starts this season.
All around him – and for that matter, all around his Toronto counterpart, Ben Scrivens – players pushed and shoved, and punched.
"People are angry, but this is the playoffs," Cooper said. "People get angry."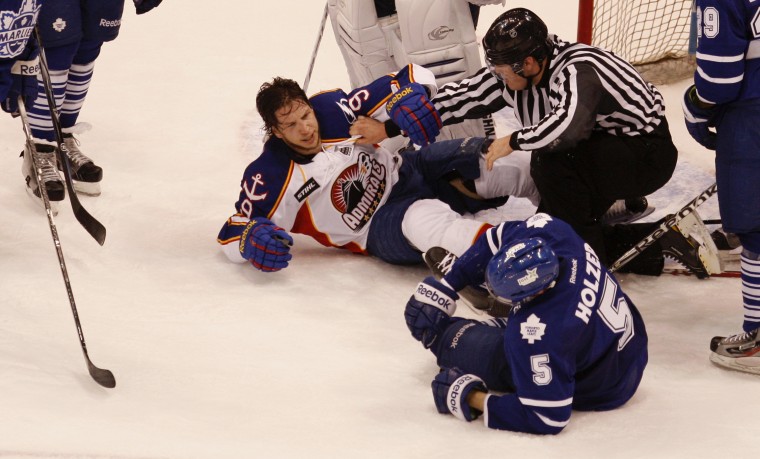 L. TODD SPENCER – THE VIRGINIAN PILOT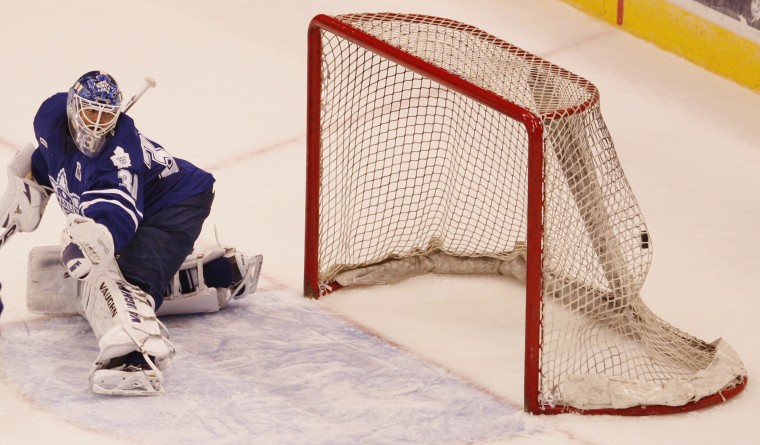 L. TODD SPENCER – THE VIRGINIAN PILOT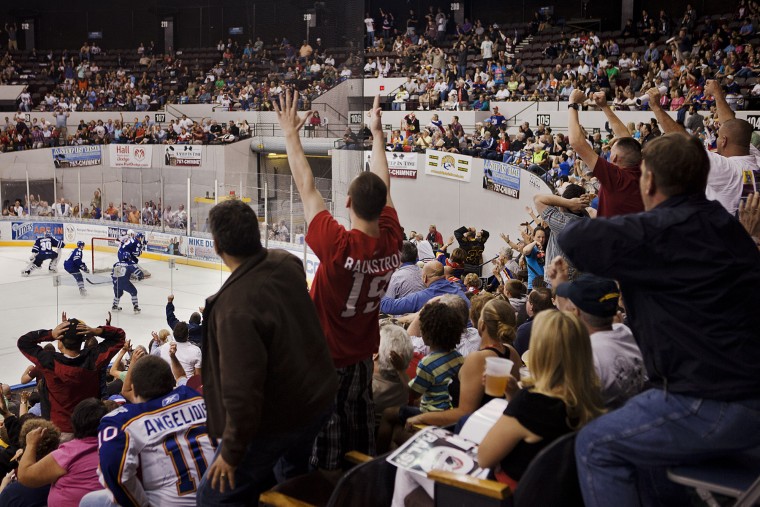 SEAN PROCTOR – THE VIRGINIAN PILOT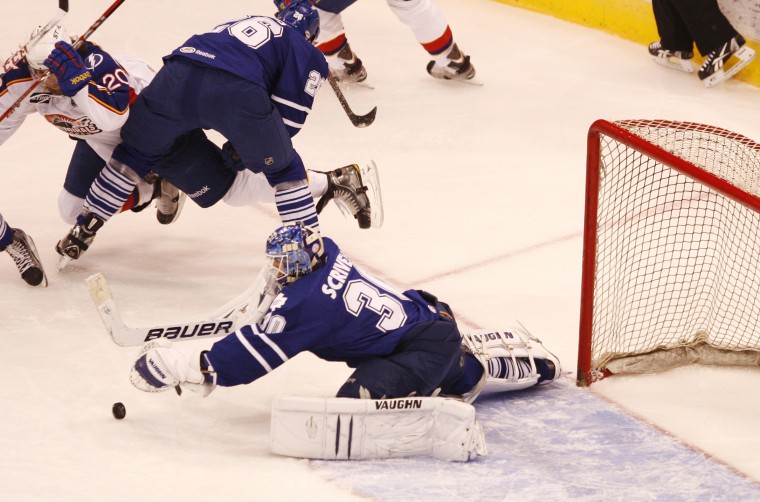 L. TODD SPENCER – THE VIRGINIAN PILOT
Email: howardLberger@gmail.com
Twitter: Berger_BYTES
Facebook: Howard Berger [Thornhill ON]