By HOWARD BERGER
TORONTO (Aug. 1) – Marking one of the truly historic occasions in franchise history, the Maple Leafs are reaching back to their earliest years for a jersey to be worn at the Bridgestone Winter Classic next season. When the Leafs take on Detroit Red Wings at Michigan Stadium, Jan. 1, the players will be decked out in blue uniforms similar to those worn by the club in 1931-32, the first year of hockey at Maple Leaf Gardens.
A merchandising source – the same individual that tipped me off, last summer, about the Leafs new alternate jersey (replica of the 1967 home playoff edition, worn last season for the first time) – says the club will don a "slightly tweaked" version of the 1931 uniform. As part of my vintage collection, I have a blue Leafs sweater from that era – pictured below – and worn by such franchise legends as Charlie Conacher, Red Horner, Irvin (Ace) Bailey and Frank (King) Clancy.     
The Leafs blue jersey of 1931-32 encompassed the above logo; arm, and uniform stripes, but it also had a white shoulder-yoke: as depicted, below, on the website nhluniforms.com. I cannot yet confirm whether the Winter Classic edition will have such a feature. As with previous compositions for the annual outdoor game, the National Hockey League will design a unique shoulder-patch; coaches Randy Carlyle of Toronto and Mike Babcock of Detroit will wear specially-designed jackets.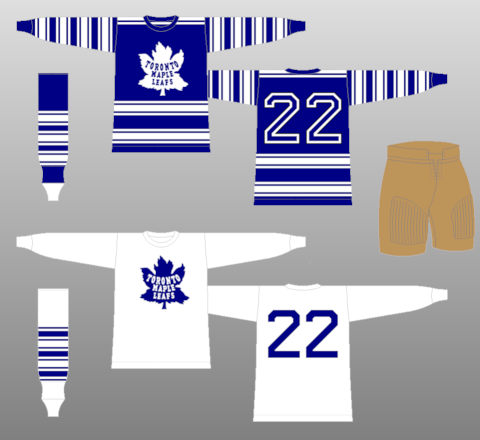 ARTIST'S DEPICTIONS (ABOVE AND BELOW) OF THE 1931-32 TORONTO MAPLE LEAFS JERSEY.
More than 100,000 spectators will be on hand at the Big House in Ann Arbor, Mich. New Year's Day, as Leafs become the first Canadian team to compete in the NHL's marquee mid-season event. The Winter Classic series began on Jan. 1, 2008, when 71,217 fans jammed Ralph Wilson Stadium in Buffalo – home of the NFL Bills – for a game between the Sabres and Pittsburgh Penguins (photo below). Sidney Crosby decided the match in a shoot-out, beating goalie Ryan Miller to give the visitors a 2-1 victory. Subsequent outdoor games have been played at Wrigley Field in Chicago; Fenway Park in Boston; Heinz Field in Pittsburgh and Citizen's Bank Park in Philadelphia. The 2013 event will be held at the historic field in Ann Arbor – home of the University of Michigan football team.
JERSEY WORN IN 1996-97…
TO COMMEMORATE THEIR 65th-ANNIVERSARY SEASON IN '96-97, THE MAPLE LEAFS TWICE DONNED REPLICAS OF THE CLUB'S EARLY-1930s DESIGN – FOR A HOME GAME AGAINST DETROIT AND A ROAD MATCH AT THE MONTREAL FORUM. I HAVE NEWSPAPER PHOTOS IN MY SCRAP-BOOK COLLECTION FROM EACH GAME:
DETROIT at TORONTO – SATURDAY, NOVEMBER 2, 1996
FRONT SPORTS-COVER OF TORONTO SUN (ABOVE) AND A STORY BY SUN HOCKEY WRITER DAVE FULLER (BELOW) FROM LEAFS 6-2 ROMP OVER DETROIT AT MAPLE LEAF GARDENS.
TORONTO at MONTREAL – SATURDAY, FEBRUARY 22, 1997
LEAFS ROMPED AGAIN WHILE WEARING THEIR 1930s UNIFORM, CLOBBERING THE HABS, 5-1, AT THE MONTREAL FORUM (TORONTO SUN SPORTS-FRONT ABOVE; STORIES AND PHOTOS FROM THE SUN AND MONTREAL GAZETTE BELOW).
LA PRESSE SPORTS-FRONT (ABOVE) FROM FEB. 22, 1997 LEAFS-HABS GAME IN MONTREAL.
MICHIGAN STADIUM IN ANN ARBOR – SITE OF 2013 BRIDGESTONE WINTER CLASSIC.
EMAIL: HOWARDLBERGER@GMAIL.COM
TWITTER: BERGER_BYTES
FACEBOOK: HOWARD BERGER [THORNHILL ON]