By HOWARD BERGER
TORONTO (Sep. 20) – For Brian Burke, the summer of 2012 has been all about tempering expectation. The Maple Leafs' general manager made a couple of modest additions and suggested – rather strongly – that no further altering will be done.
That isn't so, according to an Eastern Conference rival.
"From my standpoint, Brian is poised to make at least one prime acquisition… possibly two," said the fellow executive. "I think – like many of us – he is waiting to see the lay of the land once a new Collective Bargaining Agreement is in place.  He's been very involved in trying to improve his goaltending and I can tell you that he's determined to add a big player up front. I'll be quite surprised, as will many of my colleagues, if he goes into the next hockey season without a significant upgrade."
To many Leaf fans, the aforementioned is the verbal equivalent of Groundhog Day. Nor is it possible for a rival associate to conclude the precise course of action Leafs will follow. But, it does make sense. For all the revisionist chatter about patience and building through the draft, Burke has to get the Leafs into playoff contention. Though the club's number-one pick in June, Morgan Rielly, appears to be in the "can't miss" category, there are no guarantees with the other Toronto hopefulls. In fact, the domineering pattern for decades in this city is not to anticipate home-grown results. Even in a best-case scenario, we're talking three-to-five years before reasonable progress can be attained – assuming the Leafs are able to groom a handful of prospects.
Burke doesn't have that kind of time and he knows it.  
DIFFICULT TO FATHOM THAT BRIAN BURKE IS AT ALL CONTENT WITH HIS CURRENT ROSTER.
All you have to do is reflect on the first Saturday in March, when Burke sat forlornly in Montreal and lamented the firing of his long-time pal, Ron Wilson. He exchanged Wilson for Randy Carlyle because his promising team – for no apparent reason – went over the cliff in an "18-wheeler". Sadly for Burke, the plight only worsened, culminating in that flagrant submission to the Bruins on Mar. 19: an 8-0 wipe-out at the TD Garden. Another mail-in followed – 7-1 at home to Philadelphia – and the two-month debacle was capped by a no-show at Montreal in the season finale. Leafs might have been the worst team in the NHL when the siren rang at the Bell Centre.
Despite his temperate remarks – none of which have been persuasive – Burke knows better than anyone that his foundering club cannot be salvaged by James van Riemsdyk and Jay McClement. Only the NHL's most loyal/least-demanding fans would believe otherwise. Leafs were so far down the pike in the latter portion of the 2011-12 schedule that only a drastic measure can spark a turnaround. Until recently, bold maneuvering had been the hallmark of Burke's career in the NHL. I don't believe he's abandoned that pursuit; nor does the individual I spoke with earlier today.
That's why I firmly contend that, once the smoke clears, Roberto Luongo will be in a Toronto uniform. Burke may believe – as I do – in James Reimer but he cannot afford another misstep between the pipes. Luongo provides the quickest and best opportunity for Leafs to end their playoff drought before it encompasses an entire decade. Once the labor dispute is resolved and the 2012-13 season becomes a reality, Mike Gillis will no longer have the luxury of seeking a king's ransom for his No. 2 netminder. If the new CBA, as many anticipate, contains an amnesty clause – allowing teams to discard an onerous contract without cap constraint – acquiring Luongo will be a minimal risk.
And though the Montreal native, now 33, must agree to a trade, he's smart enough to recognize the best – and perhaps only – opportunity to continue his career as a No. 1 goalie. Luongo has professed a desire to return to south Florida, where he began his NHL career and maintains an off-season home. But, the Panthers haven't provided a smidgen of evidence they are pursuing the veteran. Florida already has a couple of aging netminders – Jose Theodore, 36, and Scott Clemmensen, 35. Moreover, Dale Tallon and his staff are high on Swedish prospect Jacob Markstrom, a second-round pick in 2008 who appeared in seven NHL games last season.
MAKES TOO MUCH SENSE… I EXPECT IT TO HAPPEN.
There have been loud whispers about Burke maintaining his pursuit of Luongo through the early days of the lockout. A mere glance at the Leafs' woeful defensive record provides overwhelming compulsion for such a move. 
BOBBY ORR DISCUSSES LOCK-OUT
The greatest hockey player I've seen made the rounds earlier today on local and national TV, promoting a liniment he claims can conquer even his post-career agony.
LivRelief must be one powerful concoction, given the surgical piece-work Bobby Orr became during a brilliant, yet abbreviated term in the National Hockey League. "If it can help with the discomfort in my knees, hands and back, it can work on your pain," Orr insisted while appearing on CTV's Canada AM and CITY TV's Breakfast Television.
Unfortunately, LivRelief will not soothe anguish and torment over the labor disruption in the NHL – an owners' lockout that began early Sunday and is nowhere close to being resolved. The great former Boston and Chicago defenseman has a vested interest in the squabble over Hockey Related Revenue; his agency – Orr Hockey Group – represents a number of NHL players, including Jason Spezza of the Ottawa Senators. A select few, however, transcend the game and Orr is at the front of that class.
BOBBY ORR SPEAKS EARLIER TODAY ON CITY TV's BREAKFAST TELEVISION.
"I know what I'd do with them," Orr said, smiling. "I'd put [Gary Bettman and Donald Fehr] in a room with bread and water and say, 'Now you stay in there until you make a deal.' I think we'll get most of the season in. Don and Gary are two smart guys, and there's so much good in our game right now: from talent, the L.A. market winning the Stanley Cup, the Rangers are going to be strong, there's so many young players, TV contracts – there's a lot at stake here. It would be outrageous not to have season."
Several of my Twitter followers disagreed with Orr on one point: they wouldn't provide Bettman and Fehr with bread or water. Ouch!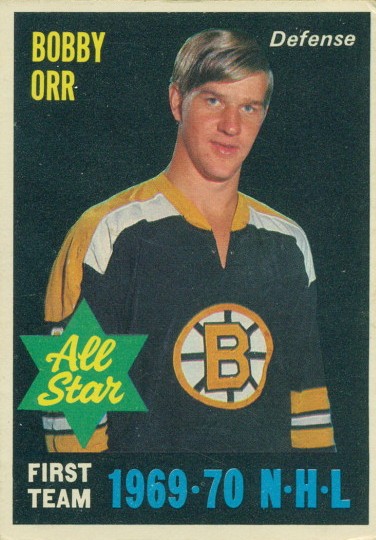 BOBBY ORR HOCKEY CARDS. ONLY WAYNE GRETZKY SO DOMINATED THE GAME. 
THE LINIMENT (ABOVE) THAT BOBBY ORR IS PROMOTING. "I WON'T ENDORSE ANY PRODUCT UNLESS I BELIEVE IN IT AND USE IT," ORR SAID. "THIS PRODUCT WORKS EXTREMELY WELL."
43 YEARS AGO TONIGHT…
I DON'T REMEMBER WHAT HAPPENED EARLIER THIS WEEK BUT I CAN RECOUNT TO YOU – IN FAIRLY VIVID DETAIL – THE EVENTS OF 43 YEARS AGO TONIGHT. FOR SOME REASON, I WILL ALWAYS REMEMBER THE DATE ON WHICH I ATTENDED MY FIRST-EVER CANADIAN FOOTBALL LEAGUE GAME: OTTAWA ROUGH RIDERS AT TORONTO ARGONAUTS – SEP. 20, 1969. MY DAD AND I SAT WAY UP IN SECTION 'A' OF THE OLD CNE STADIUM GRANDSTAND – NEAR THE BACK OF THE WEST END-ZONE – AS RUSS JACKSON ROUTINELY OUT-POINTED THE ARGOS, 34-27. THE ABOVE PHOTO WAS FROM THE OLD TORONTO TELEGRAM. IT SHOWS ARGO DEFENSIVE BACK RON ARENDS GRABBING THE OTTAWA QUARTERBACK'S JERSEY WITH SAFETY MARV LUSTER (27) IN PURSUIT. IT BEGAN MY LIFE-LONG AFFINITY FOR THE CFL.
EMAIL: HOWARDLBERGER@GMAIL.COM
TWITTER: BERGER_BYTES
FACEBOOK: HOWARD BERGER [THORNHILL ON]