By HOWARD BERGER
TORONTO (Oct. 12) – The novelty will prevail for as long as they live.
It is forever a thrill and privilege to be in the company of my boyhood heroes – doubly so when the backdrop is the shrine in which they garnered fame. Eight former members of the Toronto Maple Leafs gathered on Thursday afternoon at 60 Carlton St. – now a combination athletic facility and grocery outlet, but far-better known as Maple Leaf Gardens, home of the Leafs from 1931 to 1999.
Johnny Bower, Red Kelly, Eddie Shack and Dick Duff – key figures from the Leafs Stanley Cup dynasty of the 1960s – were joined by Gary Collins, Larry Jeffrey, Brit Selby and Jim Dorey to promote an auction of Gardens' antiquities that ranges from a toilet, to team banners; Stanley Cup photos, and the penalty box that occupied centre-ice on the west side of the arena.
The public, on-line auction began on Thursday and continues until Nov. 14. Details are here: http://frozenpond.com/xcart/customer/home.php.
A preview of items for media and the public was emceed by hockey author Kevin Shea, who moderated a terrific compillation of stories as told by the ex-Leaf players. The unique element of the photographs I took during that session is the background, as players are framed by the cathedral-like ceiling of Maple Leaf Gardens –  their former home – preserved and restored with fresh coats of paint during recent transformation of the building.
BACK IN MAPLE LEAF GARDENS: JOHNNY BOWER (LEFT) AND EDDIE SHACK, TEAMMATES DURING LEAFS STANLEY CUP DYNASTY OF THE 1960s (BELOW).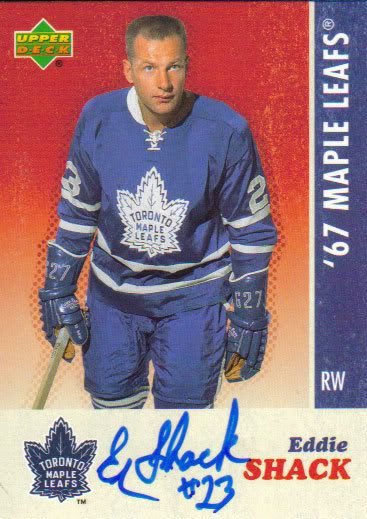 BOWER, THE BELOVED GOALIE AND HALL OF FAMER, WILL TURN 88 ON NOV. 8. HE IS PICTURED ABOVE WITH SHACK AND BELOW WITH GARDENS' DOMED CEILING IN THE BACKGROUND. FOUNDATION OF THE LEAFS STANLEY CUP YEARS IN THE '60s, HE IS THE MOST POPULAR PLAYER IN FRANCHISE HISTORY.
 EDDIE SHACK – STILL THE ENTERTAINER – IS NOW 75 YEARS OLD.
OUT-OF-TOWN SCOREBOARD PANELS
PERCHED ON THE FACADE OF THE MEZZANINE BLUES AT EACH END OF MAPLE LEAF GARDENS (ABOVE) WERE PAINTED PLEXIGLASS LOGOS OF ALL NHL TEAMS TO KEEP FANS INFORMED ABOUT GAMES BEING PLAYED OUT OF TOWN. A NUMBER OF THESE LOGO PANELS ARE AVAILABLE IN THE PUBLIC AUCTION.
BUFFALO SABRES; CLEVELAND BARONS.
LOS ANGELES KINGS (LATE-'80s); HARTFORD WHALERS.
LOS ANGELES KINGS (1967-88); NEW JERSEY DEVILS; PHILADELPHIA FLYERS.
VANCOUVER CANUCKS (1985-97).
STANLEY CUP BANNERS, INCLUDING THE ABOVE ITEMS, DID HANG IN MAPLE LEAF GARDENS, BUT WERE CONTRIVED AND SOMEWHAT FRAUDULENT. WHEN HAROLD BALLARD OWNED THE LEAFS (1972-90) – AND FOR REASONS KNOWN ONLY TO HIM – ALL EVIDENCE OF PRIOR ACHIEVEMENT BY THE HOCKEY CLUB WAS MOTHBALLED. THIS INCLUDED FORMER STANLEY CUP-WINNING PLAYERS THAT WANTED TO RETAIN A CONNECTION TO THE TEAM. THOUGH CHAMPIONSHIP PHOTOS WERE DISPLAYED IN THE MAIN CORRIDOR OF THE ARENA, THERE WAS NO EVIDENCE OF TRIUMPH DURING HOCKEY GAMES. ONLY AFTER BALLARD DIED (IN APRIL 1990) DID THE SITUATION REVERSE. NEARLY A QUARTER-CENTURY AFTER THE CLUB'S LAST TITLE, STANLEY CUP BANNERS WERE CREATED. ASTONISHINGLY, THEY FEATURED THE POST-1970 LOGO (ABOVE) THAT HAS LONG REPRESENTED FAILURE. NOT ONCE, WHILE ADORNED IN THIS LOGO, HAS THE TEAM PLAYED IN THE STANLEY CUP FINAL. WHY THE BANNERS WERE NOT MADE WITH EMBLEMS CORRESPONDING TO YEARS IS A MYSTERY. FOR EXAMPLE, BANNERS DEPICTING THE FOUR CHAMPIONSHIPS OF THE 1960s SHOULD HAVE FEATURED THE 35-POINT LEAFS LOGO OF THAT ERA; SAME WITH THOSE OF THE '40s AND '30s (AS SHOWN BELOW). FROM MY POINT OF VIEW, THIS WAS A MAJOR OVERSIGHT BY THE MAPLE LEAFS AND HAS DIMINISHED THE VALUE OF THE ITEMS.
THESE LOGOS – REPRESENTING STANLEY CUP TEAMS OF THE 1930s, '40s AND '60s – SHOULD HAVE ADORNED BANNERS CREATED AFTER 1990 AND HUNG FROM THE RAFTERS IN MAPLE LEAF GARDENS (COURTESY SPORTSLOGOS.NET). ODDLY, LEAFS CONTINUE TO USE THE UNACCOMPLISHED, POST-1970 VERSION AS THEIR PRIMARY LOGO; IT SHOULD HAVE BEEN DITCHED LONG AGO. 
HALL OF FAMERS DICK DUFF (TOP AND BOTTOM-LEFT) AND JOHNNY BOWER WERE STANLEY CUP TEAMMATES WITH THE LEAFS IN 1962 AND 1963. DUFF WAS TRADED TO THE NEW YORK RANGERS FOR ANDY BATHGATE IN FEBRUARY 1964 AND THEN SWAPPED TO MONTREAL A YEAR LATER. HE WON FOUR MORE CHAMPIONSHIPS WITH THE CANADIENS (1965-66-68-69). DUFF AND BOWER WERE LEAF SCOUTS UNDER HAROLD BALLARD IN THE '70s AND '80s.
BOWER AND DUFF – LIFE-LONG PALS.
DICK DUFF, WITH MONTREAL, IN 1966-67 TOPPS HOCKEY CARD (ABOVE) AND AT MAPLE LEAF GARDENS (BELOW) ON THURSDAY. DUFF FINISHED HIS CAREER WITH LOS ANGELES KINGS AND BUFFALO SABRES, RETIRING AFTER THE 1971-72 SEASON. HE WAS ALWAYS A CLUTCH GOAL-SCORER. 
ALSO ON HAND THURSDAY WAS LEONARD (RED) KELLY (ABOVE AND BELOW) – FIRST WINNER OF THE NORRIS TROPHY WITH DETROIT IN 1954 AND ONE OF THE BEST DEFENSEMEN IN NHL HISTORY. HE WON FOUR STANLEY CUPS WITH THE RED WINGS; JOINED THE LEAFS IN A 1960 TRADE, AND WAS SHIFTED TO CENTER IN A BRILLIANT MOVE BY COACH PUNCH IMLACH. IT EXTENDED KELLY'S CAREER TO AGE 40 (HE IS NOW 85) AND HE PLAYED ON ALL FOUR STANLEY CUP TEAMS OF THE DECADE. KELLY RETIRED AFTER THE LEAFS' 1967 TRIUMPH AND BECAME FIRST COACH OF THE LOS ANGELES KINGS. HE LATER COACHED PITTSBURGH PENGUINS AND HE REPLACED JOHN McLELLAN AS COACH OF THE LEAFS IN 1973-74 – GUIDING THE CLUB FOR FOUR SEASONS. DURING HIS COACHING TENURE IN TORONTO, KELLY HELPED TO DEVELOP SUCH GREAT LEAFS AS DARRYL SITTLER, LANNY McDONALD, BORJE SALMING AND IAN TURNBULL. HE WAS REPLACED BY ROGER NEILSON IN 1977-78.
KELLY, SEATED NEXT TO DICK DUFF, SPINS A YARN AT MLG ON THURSDAY.
AMONG THE MOST-CHERISHED AUCTION ITEMS SHOULD BE THE FRAMED COMPILATION (ABOVE) THAT FEATURED BOWER, KELLY AND SHACK (BELOW). IT WAS MAPLE LEAFS THIRD CONSECUTIVE STANLEY CUP IN THE '60s.
CARDBOARD CUT-OUT OF LEAFS 1964 STANLEY CUP TEAM (ABOVE) IS PART OF AUCTION – SHOWN HERE WITH MATTAMY HOME ICE IN BACKGROUND. DOWNSIZED RINK, BUILT ON THE FOURTH LEVEL OF MAPLE LEAF GARDENS AND SERVING AS HOME TO THE RYERSON UNIVERSITY RAMS, IS THE BUILDING'S PRIME HOCKEY LEGACY. IT OFFICIALLY OPENED IN SEPTEMBER.
THE WOODEN PENALTY BOX (ABOVE AND BELOW) FROM MAPLE LEAF GARDENS IN THE 1970s, '80s AND '90s IS PERHAPS THE FEATURED ITEM OF THE PUBLIC AUCTION. IT WAS PAINTED TO CORRESPOND WITH THE COLOR OF SEATS AT ICE LEVEL BEGINNING IN 1974-75, WHEN RED SEATS BECAME GOLDS.
BOWER, SHACK AND DUFF MINGLE AT GARDENS ON THURSDAY (ABOVE).
JIM DOREY (LEFT) AND BRIT SELBY WERE TEAMMATES WITH THE LEAFS IN 1969 AND 1970 (BELOW), AFTER SELBY HAD BEEN RE-ACQUIRED FROM PHILADELPHIA. DOREY JOINED THE LEAFS IN 1968-69 AND RECOUNTED THE TALE OF HIS FIRST HOME GAME (OCT. 16, 1968) AGAINST PITTSBURGH WHEN HE AMASSED A LEAGUE-RECORD 48 PENALTY MINUTES (SINCE ECLIPSED SEVERAL TIMES). SELBY WON THE CALDER TROPHY AS NHL ROOKIE-OF-THE-YEAR IN 1965-66 AND WAS LOST TO THE FLYERS IN THE 1967 EXPANSION DRAFT. DOREY AND SELBY JUMPED TO THE WORLD HOCKEY ASSOCIATION WITH NEW ENGLAND WHALERS IN ITS INAUGURAL SEASON (1972-73) AND WERE PART OF THE FIRST AVCO TROPHY CHAMPIONSHIP TEAM. THEY BOTH PLAYED FOR THE WHA TORONTO TOROS IN THE MID-'70s.
FORWARD LARRY JEFFREY (ABOVE AND BELOW) CAME TO LEAFS FROM DETROIT IN MAY 1965 AND WAS A MEMBER OF THE 1967 CHAMPIONSHIP TEAM, THOUGH HE HAD TO SKIP THE PLAYOFFS WITH A LEG INJURY AND WAS ON CRUTCHES (BOTTOM-RIGHT) WHEN GEORGE ARMSTRONG ACCEPTED THE STANLEY CUP. JEFFREY FINISHED HIS CAREER WITH NEW YORK RANGERS IN 1968-69.
LARRY JEFFREY AND JOHNNY BOWER CHAT ON THURSDAY.
FOSTER HEWITT'S FAMOUS GONDOLA IN THE RAFTERS OF MAPLE LEAF GARDENS – PICTURED ABOVE IN 1970 – IS NOT PART OF THE PUBLIC AUCTION AFTER HAROLD BALLARD BOORISHLY HAD IT INCINERATED IN 1979.
PAINTINGS OF THE GREAT TIM HORTON (ABOVE), LEAFS DEFENSEMAN FROM 1949 TO 1970, AND STARS OF THE '80s AND '90s – WENDEL CLARK AND DOUG GILMOUR (BELOW) – ARE AMONG THE AUCTION ITEMS FROM THE GARDENS.
BANNERS FROM THE GARDENS (ABOVE) DEPICTING THE LEAFS' ONLY RETIRED NUMBERS. BILL BARILKO FAMOUSLY SCORED THE 1951 STANLEY CUP-WINNING GOAL IN OVERTIME AGAINST MONTREAL AND WAS SOON-AFTER LOST IN THE CRASH OF A SMALL AIRPLANE IN NORTHERN ONTARIO. IRVIN (ACE) BAILEY PLAYED DEFENSE FOR LEAFS IN THE 1930s AND NEARLY LOST HIS LIFE WHEN UPENDED BY BRUINS' DEFENSEMAN EDDIE SHORE AT THE BOSTON GARDEN ON DEC. 13, 1933. A PLAYERS BENEFIT FOR BAILEY ON VALENTINE'S DAY 1934 MORPHED INTO THE ANNUAL NHL ALL-STAR GAME.
FRAMED PHOTOS (ABOVE) FROM GARDENS HALLWAY OF LEGENDARY LEAFS PLAYER, COACH AND ASSISTANT MANAGER FRANK (KING) CLANCY – MEMBER OF THE TEAM FROM 1921 UNTIL HIS DEATH IN NOVEMBER 1986 – INTERRUPTED BY AN 11-YEAR TENURE AS NHL REFEREE FROM 1937 TO 1948.
EDWARD SHACK IN FULL-LISTEN MODE ON THURSDAY.
MAPLE LEAF GARDENS (ABOVE) FROM PARKING LOT ACROSS CHURCH ST.
EMAIL: HOWARDLBERGER@GMAIL.COM
TWITTER: BERGER_BYTES
FACEBOOK: HOWARD BERGER [THORNHILL ON]