By HOWARD BERGER
TORONTO (Nov. 6) – The most menacing game in hockey does not involve slashing, elbowing, high-sticking or bulldozing rival players. It has nothing to do with ice, skates, arenas or private luxury suites. Conducted every eight years or so, it toys with the emotional spectrum – rising quickly and then falling like a hundred-ton weight. It is best-described as "lockout optimism."
Play it with extreme care.
Game time could be upon us once again. After a weekend of apparently cordial chatter among the protagonists, it is time to invite the antagonists back into the room. Heaven help us all. No labor deal, of course, can be finalized without the involvement of Gary Bettman and Donald Fehr. Ominously, the mere sight of one another tends to abridge negotiation. It has already annihilated two months of the National Hockey League schedule. Our only hope, now, is the gray-haired dictum that "absence makes the heart grow fonder." Otherwise, many more hearts will be broken.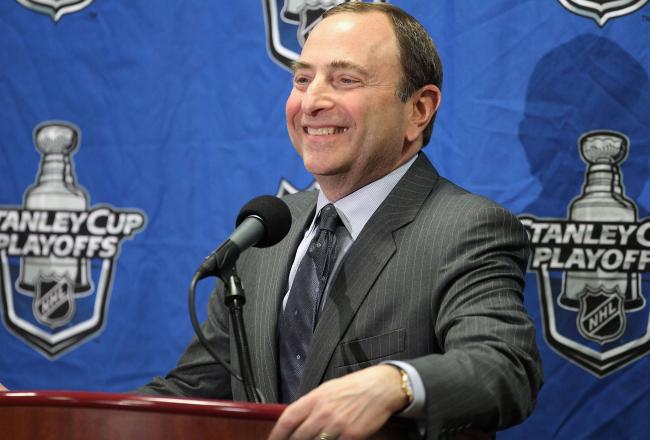 GARY BETTMAN: OH, HOW WE NEED SOME SMILES.
Playing "lockout optimism" is not for the faint-of-heart. In fact, it can easily subdue the robust. Many of us whirled the dice in 2004-05 only to roll craps – time and again. Nearly a decade later, there could be aces on the horizon. But, the horizon darkens every 24 hours; earlier now than a week ago.
So, let's see what happens with the dawn of another day – in New York, a city where people, too often, are compelled to recover. Maybe the antagonists have been apart long enough. Or, maybe not. Time alone will tell.
THE SOUL OF HOCKEY
They congregate on the first Monday of each month – NHL old-timers and their friends – at a restaurant in north-Toronto. Among them are the most legendary names in the history of hockey. They sip beer; munch on chicken-wings (those with teeth); swap stories and tell lurid jokes. Each time they assemble, they count heads and bless the lord for another month; another chance to be together. Invited with my trusty Nikon to the November gathering this week, I spent a couple of hours in a wondrous time-warp…      
THE OLDEST SURVIVING MEMBER OF THE TORONTO MAPLE LEAFS: WALLY STANOWSKI (ABOVE-LEFT) AND HIS SON, WALLY JR. STANOWSKI, 93, PLAYED DEFENSE FOR THE LEAFS (BELOW) FROM 1939 TO 1948 AND WON FOUR STANLEY CUPS (1942-45-47-48). AMONG HIS LEGENDARY TEAMMATES WERE SYL APPS, TURK BRODA, TED KENNEDY AND BILL BARILKO.

THE SON OF HOCKEY ROYALTY: HOWIE MORENZ JR. (ABOVE), NOW 85 YEARS OLD. HIS FATHER, HOWIE MORENZ (BELOW), IS A MYTHICAL FIGURE – ONE OF THE ORIGINAL STAR PLAYERS IN THE NHL. BETWEEN 1923 AND 1934, MORENZ SKATED FOR THE EARLY MONTREAL CANADIENS, SCORING GOALS LIKE NO ONE BEFORE HIM – 40 IN 44 GAMES DURING THE 1929-30 SEASON. HE WON THE ART ROSS TROPHY AS NHL POINTS LEADER IN 1928 AND 1931; THE HART TROPHY AS THE LEAGUE'S MOST VALUABLE PLAYER IN 1928, 1931 AND 1932.
THE DEATH OF HOWIE MORENZ IS STILL HOCKEY LORE. FROM WIKIPEDIA: The Canadiens played the Chicago Black Hawks in Montreal on January 28, 1937. In the first period, Morenz went after the puck in the Chicago end while being chased by Black Hawks defenceman Earl Seibert. Morenz lost his balance and fell to the ice, crashing into the boards and catching his left skate in the wooden siding. Seibert, unable to stop, landed on him with full force. The resulting impact snapped Morenz' left leg, creating a noise heard throughout the rink. Helped to the Canadiens bench by his teammates, Morenz was taken to Hôpital St-Luc, where it was found that his leg was fractured in four places. While recovering in the hospital, Morenz received many get-well cards and visits from his teammates and players from other NHL teams. So many of them brought drinks that a teammate remarked that "the whiskey was on the dresser and the beer was under the bed." Though there were many visitors, Morenz often found himself alone in the hospital room, unable to move off his bed. To pass the time, he read newspapers to stay up to date with the Canadiens as they finished the season. Since his injury, the team had dropped in the standings, causing Morenz to worry. He began to think he would never play hockey again and became depressed. The Canadiens' team doctor, J.A. Hector Forgues, visited Morenz in late February and determined that he had suffered a nervous breakdown. In order to help Morenz, Dr. Forgues banned all visitors to his room, except for family and Canadiens officials. Mary, Morenz' wife, and their oldest son, Howie Jr., visited on most days, and William Morenz, his father, traveled from Stratford during the first week of March and stayed through March 5. Three days later, on March 8, Morenz began complaining of chest pains, which doctors attributed to a heart attack. Mary Morenz and Cecil Hart were called to the hospital; around 11:30 pm, Morenz tried to get out of bed to use the washroom but collapsed on the floor and died minutes before his wife and coach arrived. He was 34.
ONE OF THE NICEST MEN THE GAME OF HOCKEY HAS EVER KNOWN: JIM GREGORY (ABOVE), GENERAL MANAGER OF THE TORONTO MAPLE LEAFS FROM 1969 TO 1979 AND RESPONSIBLE FOR DRAFTING OR SIGNING SUCH GREAT PLAYERS AS DARRYL SITTLER, LANNY McDONALD, BORJE SALMING, IAN TURNBULL, DAVE (TIGER) WILLIAMS AND MIKE PALMATEER. JIM, 77, HAS LONG BEEN A KEY FIGURE IN THE NHL OFFICE AND HAS STRUGGLED WITH HEALTH ISSUES IN RECENT YEARS. WHAT A THRILL IT WAS, ON MONDAY, TO SEE HIM LOOKING SO WELL. HE IS PICTURED BELOW IN 1970 WITH LEAFS COACH JOHN McLELLAN.

BOB NEVIN (ABOVE) PLAYED IN THE NHL FOR 18 SEASONS (1957 TO 1976). HE WON THE STANLEY CUP WITH THE TORONTO MAPLE LEAFS IN 1962 AND 1963 AND WAS CAPTAIN OF THE NEW YORK RANGERS FROM 1965-71. HE LATER PLAYED FOR THE MINNESOTA NORTH STARS AND LOS ANGELES KINGS. IN HIS SECOND-TO-LAST SEASON (1974-75), NEVIN HAD A CAREER-BEST 72 POINTS WITH L.A. HIS GREATEST NHL MOMENT OCCURRED AT CHICAGO STADIUM IN GAME 6 OF THE 1962 STANLEY CUP FINAL. LEADING THE SERIES, 3-2, LEAFS WERE IN A SCORELESS TIE WITH CHICAGO BLACK HAWKS AFTER 40 MINUTES. BOBBY HULL BROKE THE DEADLOCK AT 8:56 OF THE THIRD PERIOD, TOUCHING OFF BEDLAM IN THE STADIUM. AS WORKERS CLEARED DEBRIS FROM THE ICE, THE LEAFS HAD TIME TO SETTLE DOWN. JUST 1:23 AFTER PLAY RESUMED, NEVIN SCORED ON PASSES FROM BOB BAUN AND FRANK MAHOVLICH. THAT LED TO THE DECISIVE GOAL – BY DICK DUFF – WITH 5:46 REMAINING AND LEAFS WON THEIR FIRST OF THREE CONSECUTIVE CHAMPIONSHIPS.
BOB NEVIN IN 1966-67 NEW YORK RANGERS MEDIA GUIDE (ABOVE) AND IN 1971-72 (BELOW) WITH MINNESOTA NORTH STARS.
DAVE GARDNER (ABOVE-LEFT) WAS A GREAT JUNIOR PLAYER WITH THE TORONTO MARLBOROS IN THE EARLY-'70s, SKATING ON AN EXPLOSIVE LINE WITH STEVE SHUTT AND BILLY HARRIS. ALL THREE WENT ON TO THE NHL – SHUTT, MOST NOTABLY, AS A BIG GUNNER WITH MONTREAL CANADIENS IN THEIR STANLEY CUP DYNASTY FROM 1976 TO 1979. GARDNER WAS DRAFTED BY MONTREAL AND LATER PLAYED WITH ST. LOUIS BLUES, CALIFORNIA GOLDEN SEALS AND CLEVELAND BARONS. HIS FATHER WAS CAL GARDNER, A LEAF FROM 1948 TO 1952. LONG-TIME HOCKEY SCOUT PAUL HENRY POSES (TOP-RIGHT) WITH TERRY CLANCY, SON OF LEAFS ICON  FRANK (KING) CLANCY. TERRY PLAYED BRIEFLY IN OAKLAND AFTER THE 1967 NHL EXPANSION AND THEN WITH THE MAPLE LEAFS IN 1969-70.


BROADCASTING LEGEND BRIAN McFARLANE (ABOVE) WAS AT THE LUNCH ON MONDAY. FANS THAT GREW UP WITH THE MAPLE LEAFS IN THE '60s AND '70s WILL REMEMBER BRIAN DOING COLOR COMMENTARY ALONGSIDE BILL HEWITT ON HOCKEY NIGHT IN CANADA TELECASTS FROM THE GONDOLA AT MAPLE LEAF GARDENS.
BOB TINDALL (ABOVE-LEFT), FORMER DIRECTOR OF SCOUTING FOR THE BOSTON BRUINS AND JIM MORRISON – A LEAFS DEFENSEMAN FROM 1951-58. THROUGH MUCH OF THE '60s, MORRISON WAS A STALWART WITH QUEBEC ACES OF THE AMERICAN HOCKEY LEAGUE AND WILL BE INDUCTED THIS YEAR INTO THE AHL HALL OF FAME. JIM PLAYED TWO SEASONS (1969-71) WITH THE  PITTSBURGH PENGUINS (BELOW) AFTER EXPANSION. HIS SON – DAVE MORRISON – IS CURRENTLY THE  TORONTO MAPLE LEAFS DIRECTOR OF AMATEUR SCOUTING.

FORMER JUNIOR HOCKEY RIVALS FRANK BONELLO (ABOVE-LEFT) AND DICK TODD. BONELLO WAS GM OF THE TORONTO MARLBOROS THROUGH MOST OF THE 1970s AND '80s WHILE TODD WAS COACH OF THE PETERBOROUGH PETES FROM 1980-92. DICK LATER WENT ON TO THE NHL AS AN ASSISTANT COACH WITH NEW YORK RANGERS – A POST HE HELD ALONGSIDE MIKE KEENAN WHEN RANGERS WON THE STANLEY CUP IN 1994. TODD IS A DEMONSTRATIVE STORY TELLER, AS EVIDENCED BELOW.
EMAIL: HOWARDLBERGER@GMAIL.COM
TWITTER: BERGER_BYTES
FACEBOOK: HOWARD BERGER [THORNHILL ON]