By HOWARD BERGER
TORONTO (Mar. 10) – It has been a mighty long time since the Maple Leafs have gone this deep into the schedule without losing more than two consecutive games. Such is the improvement  under Randy Carlyle in 2013. On three occasions, the Leafs have dropped consecutive matches, including those against Pittsburgh and Boston in their last two games. But, that's it. A third defeat has been avoided through 26 engagements so far in the lockout-shortened season.
Not since 2001-02 – under the big Irishman, Pat Quinn – have Leafs done the same. For time perspective, that was just after the Sep. 11 terrorist attacks. Toronto compiled a 14-7-5 mark for 33 points in its first 26 games (the club is 15-10-1 for 31 points this year). Shoot-outs had not yet been implemented; matches could still end in a draw after five minutes of overtime. Three-point games did occur when a goal was scored in the extra period.
Question now is: Can Leafs avert the kind of winless streak that would particularly hamper them in a 48-game season? To this point, there is no indication the club will lapse into a prolonged dry spell. Leafs have played an aggressive, up-tempo style, even when losing. But, it doesn't take much to rise or fall in a Conference-only schedule, where every game is a four-pointer.
IT HAS BEEN 11 SEASONS SINCE THE TORONTO MAPLE LEAFS OF PAT QUINN – PICTURED HERE OUTSIDE THE FORUM WITH ROGIE VACHON ON COVER OF THE 1984-85 LOS ANGELES KINGS MEDIA GUIDE – WENT 26 GAMES WITHOUT LOSING MORE THAN TWO CONSECUTIVELY, AS THEY HAVE THIS YEAR (LOTS MORE ON THE KINGS LATER).
One thing Leafs much definitely avoid is regulation shoot-outs.
Two of their past three games have ended 5-4 – Leafs defeating Ottawa Wednesday and losing to Pittsburgh on Saturday. Carlyle will be the first to warn that his team will not often prevail when yielding four goals. 
James Reimer has been all over the map since returning from a knee injury 11 nights ago. He allowed a couple of weak goals against the Penguins on Saturday before earning Leafs a point with a terrific third period. Reimer was then easily fooled by James Neal and Sidney Crosby in the shoot-out. With no apparent plan to acquire another goal-keeper, Reimer has to bar the door when Leafs are not in a sound defensive posture. His rebound control was suspect on Saturday and he is still vulnerable to high, glove-hand shots.
No goalie is perfect and Leafs cannot expect Reimer to morph into Patrick Roy or Martin Brodeur. Still, I believe he's a legitimate No. 1 commodity and Leafs will win the bulk of his starts when they provide a solid defensive foundation. Such effort did not prevail in two of the past three games.
CHICAGO BLACKHAWKS HAVE UNAVOIDABLY sagged after their incomparable first half of the NHL season – yielding 12 goals in consecutive losses to Colorado and Edmonton. Still, their 21-0-3 start ranks with the most remarkable accomplishments in league history – among them:
• Montreal winning five consecutive Stanley Cup titles from 1956-60.
• Canadiens playing to near-perfection on home ice in 1976-77 with a 33-1-6 record – a 4-3 loss to the Bruins in their second game at Montreal Forum (Oct. 30, 1976) the lone set-back. Habs won the Stanley Cup that season.
• Philadelphia Flyers, coached by Pat Quinn, composing a phenomenal 35-game undefeated streak between Oct. 14, 1979 and Jan. 6, 1980 with 25 wins and 10 ties. Flyers lost the Stanley Cup final that year to New York Islanders.
• Pittsburgh winning a league-record 17 consecutive games between Mar. 9 and Apr. 10, 1993 – Mario Lemieux emerging from a two-month hiatus for treatment of non-Hodgkin's lymphoma with an astronomic 56 points in 20 games (160 points in 60 games) to overtake Pat LaFontaine for the NHL scoring title. Lemieux trailed LaFontaine by 18 points when he returned.
• Detroit winning 62 games in 1995-96 – most ever in a regular season.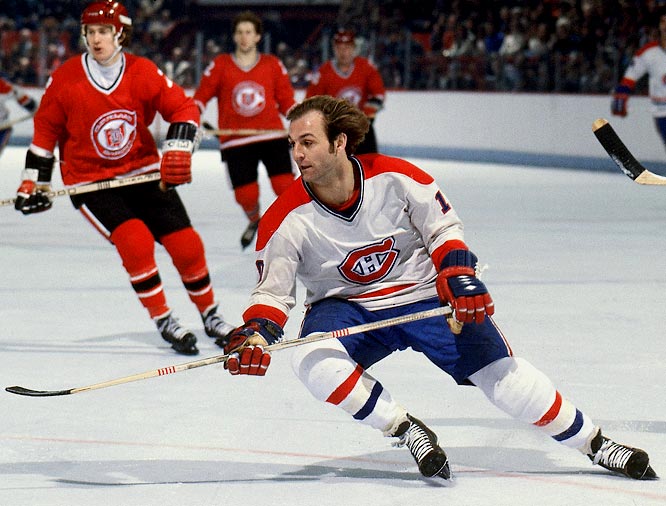 MONTREAL CANADIENS – WITH GUY LAFLEUR (ABOVE, IN ACTION AGAINST CLEVELAND BARONS) WINNING THE ART ROSS TROPHY – LOST ONLY ONCE IN 40 HOME GAMES DURING 1976-77 SEASON AND DEFEATED BOSTON TO WIN THE STANLEY CUP.
With their unparalleled start, Blackhawks can play .500 hockey in their remaining 22 games and almost certainly finish atop the NHL standings. Are we looking at a Chicago-Boston Stanley Cup final – the first battle of pre-expansion teams since Montreal defeated New York Rangers in 1979? I wouldn't bet against it, though I suspect Los Angeles, Pittsburgh (with decent goaltending), Montreal, Anaheim (if it doesn't trade Corey Perry and Viktor Fasth remains unconscious between the pipes) and possibly even the Maple Leafs (with superb goaltending) could have a say in the matter.
The second half of the season will be enchanting.
BY THE WAY, YOU NOTICE that I use the term "pre-expansion" when referring to the six NHL teams that were in the league between 1942-43 and 1966-67. The more common term is "Original Six" – a phrase coined by the TV/advertising firm that produced a series of oldtimer's games in the early-1980's involving former players from the Boston Bruins, Chicago Blackhawks, Detroit Red Wings, New York Rangers, Montreal Canadiens and Toronto Maple Leafs. Describing these teams at the "Original Six" in a misnomer.
If you look at the record book, the first six teams to compete in the NHL upon its inception in 1917-18 (logos below) were Montreal Wanderers (for one season), Montreal Canadiens, Ottawa Senators, Toronto Blueshirts (renamed Arenas the following year), Quebec Bulldogs and Hamilton Tigers.
COURTESY SPORTSLOGOS.NET
Boston Bruins were born in 1924-25; Toronto Arenas became the Maple Leafs in 1926-27 – the same season that Chicago Blackhawks, Detroit Cougars (later Falcons and Red Wings) and New York Rangers entered the league. 
          THOSE PURPLE KINGS           
COURTESY SPORTSLOGOS.NET
WHAT A KICK IT WAS TO WATCH THE LOS ANGELES KINGS HOST CALGARY SATURDAY WEARING THEIR ORIGINAL PURPLE AND GOLD UNIFORMS. KINGS HONORED KELLY HRUDEY – THE BANDANNA-WEARING GOALIE-CUM-HOCKEY NIGHT IN CANADA FIXTURE WHO PREVAILED OVER MAPLE LEAFS IN THE 1993 CAMPBELL CONFERENCE FINAL BEFORE KINGS LOST THE STANLEY CUP TO MONTREAL.
LOS ANGELES WORE PURPLE AND GOLD FROM ITS INCEPTION IN 1967-68 THROUGH THE 1987-88 SEASON. WHEN THE CLUB ACQUIRED WAYNE GRETZKY FROM EDMONTON, IT SWITCHED TO ITS CURRENT DESIGN OF BLACK, SILVER AND WHITE. LOS ANGELES LAKERS OF THE NBA STILL WEAR PURPLE AND GOLD.
KELLY HRUDEY PERFORMS CEREMONIAL FACE-OFF ON SATURDAY AT STAPLES CENTER BETWEEN CAPTAINS DUSTIN BROWN OF THE KINGS AND JEROME IGINLA OF CALGARY. KINGS, WEARING THEIR ORIGINAL PURPLE AND GOLD UNIFORMS, CELEBRATE GOAL (BELOW) IN 6-2 ROUT OF THE FLAMES. NOAH GRAHAM GETTY IMAGES/NHL.COM 
THE PRE-GRETZKY KINGS
PHOTOS (BELOW) OF SEVEN LOS ANGELES KINGS MEDIA GUIDE COVERS BETWEEN 1968-69 AND 1984-85:
WHERE THE KINGS PLAYED…
DURING MY FIRST VISIT TO LOS ANGELES – IN AUGUST 1978 – I TOOK THE ABOVE PHOTO OF THE FORUM IN SUBURBAN INGLEWOOD, HOME OF THE KINGS FROM 1967 TO 1998. WHEN WAYNE GRETZKY ARRIVED IN THE SUMMER OF 1988, GREAT WESTERN BANK SPONSORED THE FORUM, WHICH UNDERWENT AN EXTERIOR FACE-LIFT (BELOW), AS SHOWN IN A PICTURE I SNAPPED IN AUGUST 2011.
FIRST HOCKEY GAMES AT THE FORUM…
I TRAVELED TO LOS ANGELES TO VISIT MY COUSIN IN MARCH 1981, ENSURING TO DO SO WHEN THE KINGS WERE IN TOWN, AND SAW THREE GAMES IN SIX NIGHTS – L.A. HOSTING MINNESOTA, BUFFALO AND PITTSBURGH. I WAS INTO THE PHOTOGRAPHY/DARK-ROOM CRAZE AND SNAPPED THE FOLLOWING IMAGES:
MINNESOTA AT LOS ANGELES – SATURDAY (AFTERNOON) MAR. 14, 1981. NORTH STARS WORE THEIR ROAD GREEN UNIFORMS (BELOW) WITH GOLD AND WHITE TRIM; THE KINGS THEIR HOME GOLD JERSEYS WITH PURPLE TRIM. L.A. ROMPED, 10-4.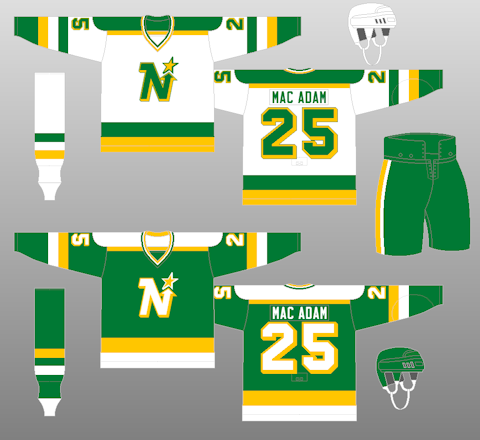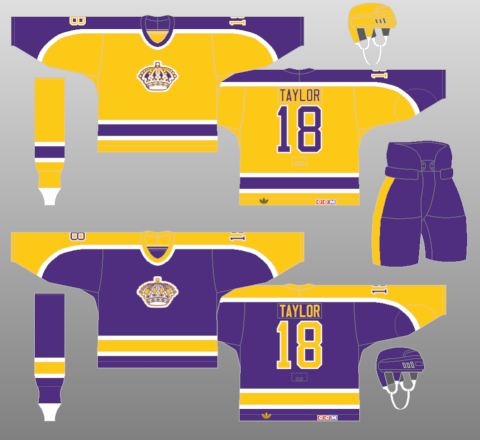 PITTSBURGH AT LOS ANGELES – THURSDAY MAR. 19, 1981. PENGUINS WORE THEIR BLACK ROAD UNIFORMS (BELOW) WITH GOLD AND WHITE TRIM. THE DUAL-CROWN DESIGN AT CENTER-ICE DATED TO THE OPENING OF THE FORUM ON DEC. 30, 1967. IT WAS ALTERED TO BEGIN THE GRETZKY ERA IN 1988-89. GAME ENDED IN A 4-4 TIE.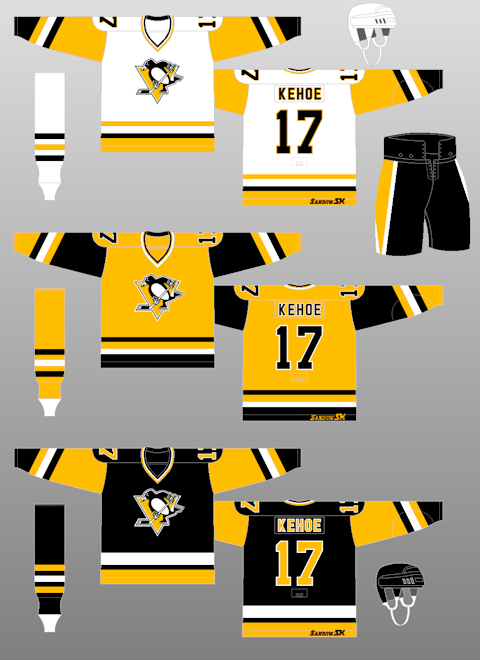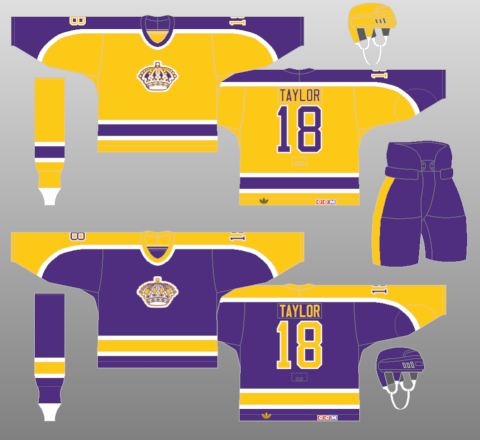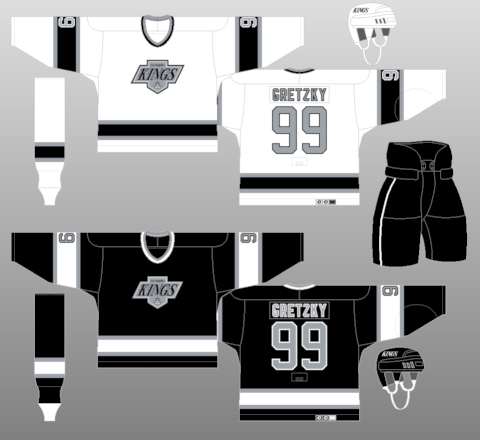 KINGS SWITCHED TO THIS UNIFORM DESIGN IN 1988-89.
COURTESY NHLUNIFORMS.COM
EMAIL: HOWARDLBERGER@GMAIL.COM
TWITTER: BERGER_BYTES
FACEBOOK: HOWARD BERGER [THORNHILL ON]