By HOWARD BERGER
TORONTO (Mar. 29) – Between 1964 and 1971 – from Kindergarten through Grade 6 – I was fortunate to attend Wilmington Avenue Public School. It was a five-minute walk from my house along a narrow path that bisected Wilmington Park, which is still located between Bathurst and Dufferin Streets running north/south; Sheppard and Finch Avenues east/west.
When I was young, the district was known as Downsview. Ultimately, it became a part of North York.
The brief walk allowed me to sprint home along the path after school and rummage through the mail. In Grade 5 (1969-70), I began writing directly to players across the National Hockey League for autographed photos. Invariably, these coveted items would arrive within two to three weeks. Players and teams were very generous back then.
My life-long pal, Jeffrey Spiegelman, sent a request in early 1970 to the Oakland Seals for autographs of the entire club. Two weeks later came a stack of individual black-and-white glossies signed by each player (Harry Howell and Charlie Hodge among them). At the time, we didn't realize it could have been the lone request ever made to the Seals. Neither did we care.
I immediately wrote to the Seals for a 1969-70 media guide and received it within two weeks. It became the first of roughly 2,000 such items I own today from all NHL teams (pre and post-expansion), dating to 1960.
RECEIVED IN THE MAIL FROM CALIFORNIA: START OF AN ENORMOUS COLLECTION.
Of course, getting a package from Oakland was one thing; from the Maple Leafs quite another. Given the club's popularity, I assumed each player was deluged with fan inquiries and did not expect much of a reply when writing for autographed photos. Much to my delight, the Leafs were as accommodating as all other NHL clubs. A postage stamp was five cents in 1970 and I took my chances by writing to every player, c/o Maple Leaf Gardens, 60 Carlton Street, Toronto, Ontario.
As you'll see below, I was rather successful.
In 1970-71, the Maple Leafs redesigned their logo and uniform. For three seasons – beginning in the playoffs of 1967 – Leafs wore a jersey with the 11-point logo similar to that on the Canadian flag. It was modified for the new decade and not necessarily for the better. Still, it was novel to receive an autographed photo from a Leafs player in the new uniform.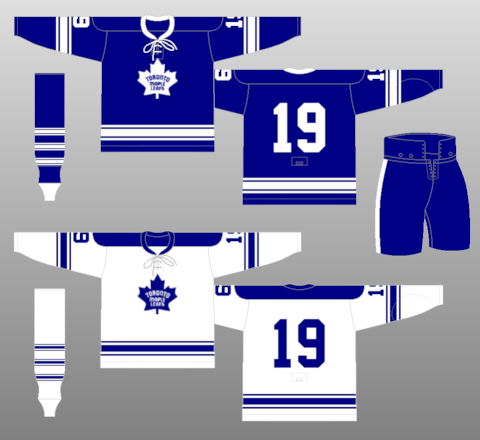 LEAFS UNIFORM RE-DESIGN (ABOVE) AND LOGO MODIFICATION (BELOW) FOR 1970-71. COURTESY NHLUNIFORMS.COM AND SPORTSLOGOS.NET
HOCKEY CARD PROGRESSION (ABOVE/BELOW) DEPICTING LEAFS UNIFORM RE-DESIGN.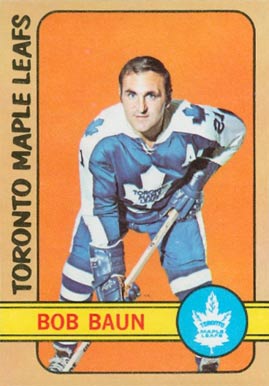 I was clearly in awe of the first Leaf player I ever met – and somewhat disappointed, as Bob Pulford had the personality of a dish-rag (some claim he still does, though I've had several alluring chats with the Hall of Fame center, integral to all four Leaf Stanley Cup teams of the 1960's). Surely as unimpressed was legendary Hockey Night In Canada broadcaster Bill Hewitt, in front of whom I pretended to faint. Dropped stone-cold at his feet during a 1968 school visit to the old CKFH radio studio on Granville St., near Maple Leaf Gardens (ooh, did I catch hell from my teacher).
Autographs, however, were prime among youthful hockey zealots back then – as souvenirs rather than entrepreneurial items. Athletes didn't charge for their signatures and fans didn't sell them. In the early-70's – before liability concern – those arriving early at Leaf games would pile in three and four deep at the team benches. Players skating by would stop and sign programs, notepads and whatever else was thrust upon them. It was an engrossing way to stand literally beside NHL stars during the pre-game warm-up, but the custom ended soon-after a young fan got clipped by an errant puck.
On several occasions, I have told and written about Bobby Hull providing me an unparalleled moment of joy. Chicago Black Hawks were in town to play the Leafs on Jan. 3, 1970 – Hull's 31st birthday. My uncle – Ralph Blatt – occasionally got tickets from a friend who had rail seats at Maple Leaf Gardens (first row, directly behind the glass), immediately to the left of the visitors' penalty box. I mean, right next to it – first two seats. 
The side glass was low enough back then that even a 10-year-old shrimp like me could stand up and look over. At one point, Hull was coming directly toward me and I squeaked out, "happy birthday, Bobby." After turning right to skate along the boards into the corner, he shot a quick glance over his left shoulder. I thought nothing more of it and sat down to read the program.
Seconds later, my uncle nudged me with his right arm and pointed to the glass. Standing there – the Indian logo on his white Chicago jersey staring me directly in the face – was none other than hockey's Golden Jet, flashing his toothless grin. Hull removed his right glove; reached over the glass, and shook my hand before literally grabbing my program. He asked my uncle for a pen; me for my name, and signed the most coveted autograph of my life.
I'll never forget looking around at much older people – their mouths agape – as the NHL's most exciting player fawned over me. What a moment.
BOBBY HULL: WHAT A THRILL HE PROVIDED A TEN-YEAR-OLD IN 1970.
For more than 42 years, I've kept an envelope full of autographed photos sent to me by players on the 1969-70 and 1970-71 Toronto Maple Leafs – some of them fly-by-nighters; others future Hall-of-Fame inductees. Most names should be recognizable to those with historic interest in the Blue and White:  
THE ONLY PLAYER TO ADDRESS ME BY NAME WAS THE LEGENDARY PUCK-STOPPER OF THE MONTREAL CANADIENS' RECORD DYNASTY THAT GARNERED FIVE CONSECUTIVE STANLEY CUP TITLES BETWEEN 1956 AND 1960. JACQUES PLANTE WAS COAXED OUT OF RETIREMENT BY SCOTTY BOWMAN AND THE ST. LOUIS BLUES FOR THE 1968-69 SEASON. PLANTE AND GLENN HALL BECAME A FORMIDABLE TANDEM AS ST. LOUIS APPEARED IN CONSECUTIVE STANLEY CUP FINALS – LOSING TO MONTREAL AND BOSTON. SOLD TO THE MAPLE LEAFS ON MAY 18, 1970, PLANTE TEAMED INITIALLY WITH BRUCE GAMBLE, AND THEN WITH BERNIE PARENT, TO RECORD A BRILLIANT 1.88 GOALS-AGAINST AVERAGE IN 40 APPEARANCES DURING THE 1970-71 SEASON. 
ON FEB. 1, 1971, JIM GREGORY PULLED OFF WHAT COULD HAVE BEEN THE BEST TRADE IN THE LEAFS MODERN-DAY HISTORY – ACQUIRING BERNIE PARENT FROM PHILADELPHIA FOR BRUCE GAMBLE AND MIKE WALTON. AN ABOVE-AVERAGE NETMINDER WHEN HE ARRIVED IN TORONTO, PARENT BECAME AN ELITE GOALIE UNDER THE TUTELAGE OF PLANTE. HE SHOULD HAVE SPENT THE BALANCE OF HIS CAREER IN A BLUE AND WHITE UNIFORM, BUT LEAFS OWNER HAROLD BALLARD LET HIM ESCAPE TO THE WORLD HOCKEY ASSOCIATION AFTER THE 1971-72 SEASON, REFUSING TO ADD DOLLARS AND YEARS TO PARENT'S NHL CONTRACT. WHEN PARENT RETURNED AFTER AN INJURY-PLAGUED SEASON IN THE WHA, HE WOULD NOT GO BACK TO THE LEAFS. IT FORCED GREGORY INTO A TERRIBLE SWAP: PARENT TO THE FLYERS FOR GOALIE DOUG FAVELL. PARENT BRILLIANTLY LED PHILADELPHIA TO CONSECUTIVE STANLEY CUP TITLES IN 1974 AND 1975. LEAFS HAVEN'T BEEN TO THE DANCE SINCE 1967. 
VIRTUALLY EVERY LEAFS FAN SHOULD RECOGNIZE THIS BRUTE OF A DEFENSEMAN. AFTER FAILING TO MAKE THE PLAYOFFS IN THE FIRST YEAR OF EXPANSION – 1967-68 – LEAFS COACH PUNCH IMLACH SOUGHT MORE AGGRESSIVENESS ON THE BLUE-LINE. GRADUATING TO THE BIG CLUB FOR 1968-69, THEREFORE, WAS PAT QUINN, JIM DOREY AND RICK LEY. QUINN BECAME LEGENDARY ON APR. 2, 1969 WHEN HE CAUGHT BOBBY ORR LOOKING AT THE PUCK AT BOSTON GARDEN AND KAYOED THE BRUINS' PHENOM WITH A FLYING SHOULDER/ELBOW CHECK ALONG THE BOARDS. A MERE FOOTNOTE TO THE PLAYOFF GAME WAS BOSTON OBLITERATING THE LEAFS, 10-0. YOUNGER LEAF FANS RECOGNIZE QUINN AS GM AND COACH OF THE CLUB BETWEEN 1998 AND 2006. HE TWICE GUIDED LEAFS TO THE STANLEY CUP SEMIFINALS, WHERE THEY BOWED TO BUFFALO (IN 1999) AND CAROLINA (2002).
THE AFOREMENTIONED DUO (ABOVE) JOINING PAT QUINN ON THE 1968-69 MAPLE LEAFS. JIM DOREY WENT BERSERK IN THE LEAFS HOME OPENER THAT SEASON – OCT. 16, 1968 – AGAINST PITTSBURGH. HE ACCUMULATED 48 MINUTES IN PENALTIES AND HELD THE SINGLE-GAME NHL RECORD FOR 10 YEARS. DOREY AND LEY ENGAGED IN A BIZARRE AND MEMORABLE FIGHT DURING A LEAFS OPEN-TO-THE-PUBLIC PRACTICE AT THE GARDENS IN DECEMBER 1971 BEFORE DEFECTING TO NEW ENGLAND OF THE WHA IN 1972-73. UNDERSTANDING THAT DOREY WOULD LEAVE, JIM GREGORY TRADED HIM TO NEW YORK RANGERS ON FEB. 20, 1972 FOR FORWARD PIERRE JARRY. LEY ASSISTED QUINN DURING THE BIG IRISHMAN'S EIGHT YEARS AS COACH OF THE MAPLE LEAFS.
ONE OF THE MOST UNPOPULAR AND CONTENTIOUS TRADES IN LEAFS HISTORY WAS MADE ON MAR. 3, 1968, WHEN PUNCH IMLACH SENT FRANK MAHOVLICH, PETER STEMKOWSKI, GARRY UNGER AND THE NHL RIGHTS TO CARL BREWER TO DETROIT FOR NORM ULLMAN, PAUL HENDERSON (ABOVE) AND FLOYD SMITH (BELOW). JUST MORE THAN 3½ YEARS LATER, HENDERSON WOULD SCORE THE MOST IMPORTANT GOAL IN THE ANNALS OF CANADIAN INTERNATIONAL HOCKEY – BEATING VLADISLAV TRETIAK IN MOSCOW ON SEP. 28, 1972 WITH 34 SECONDS REMAINING IN THE ICONIC BATTLE BETWEEN CANADA AND RUSSIA. SMITH, IN 1970-71 UNDER IMLACH, WOULD BECOME THE FIRST CAPTAIN OF THE BUFFALO SABRES AND WOULD COACH THE UPSTART TEAM TO THE 1975 STANLEY CUP FINAL, ULTIMATELY LOSING TO PHILADELPHIA. FLOYD LATER COACHED AND SCOUTED WITH THE MAPLE LEAFS. 
THE LEAFS' FIRST-ROUND DRAFT CHOICE IN 1970 ULTIMATELY BECAME THE FRANCHISE SCORING LEADER IN A SPLENDID 12-YEAR TERM WITH THE CLUB. DARRYL SITTLER COMPILED 916 POINTS IN 844 REGULAR-SEASON GAMES WITH THE BLUE AND WHITE. HE IS BEST-KNOWN FOR A 10-POINT ERUPTION (SIX GOALS, FOUR ASSISTS) AGAINST BOSTON ON FEB. 7, 1976 AT MAPLE LEAF GARDENS. MORE THAN 37 YEARS LATER, THE 10-POINT GAME REMAINS A LEAGUE STANDARD. SITTLER WAS OVER-TAKEN IN ALL-TIME LEAFS SCORING BY MATS SUNDIN DURING THE 2006-07 NHL SEASON.
AMONG THE MOST RELIABLE, DEDICATED PLAYERS IN LEAF HISTORY, RON ELLIS SKATED FOR NO OTHER TEAM BETWEEN 1963 AND 1981 (WHICH INCLUDED A BRIEF, TWO-SEASON RETIREMENT IN 1975-76 AND 1976-77). HE SCORED 332 GOALS FOR THE HOCKEY CLUB AND SKATED ALONGSIDE HENDERSON IN THE '72 CANADA-RUSSIA SERIES. A BLATANT OVERSIGHT, TO THIS POINT, IS LEAFS REFUSING TO HONOR ELLIS WITH A BANNER-RAISING CEREMONY AT AIR CANADA CENTRE.
PICTURED, ABOVE AND BELOW, ARE SECOND AND THIRD-LINE FORWARDS WITH THE EARLY-70's MAPLE LEAFS. DENIS DUPERE AND GUY TROTTIER CAME TO THE CLUB AS PART OF THE TRADE THAT SENT TIM HORTON TO NEW YORK RANGERS ON MAR. 3, 1970. HORTON AND BORJE SALMING ARE CONSIDERED THE GREATEST DEFENSEMEN IN LEAFS HISTORY. GARRY MONAHAN AND BILL MacMILLAN SKATED ON A FORWARD UNIT WITH DAVE KEON THROUGH MUCH OF THE 1970-71 AND 1971-72 SEASONS.  
ANOTHER HUGE LOSS TO THE WHA FOR 1972-73 WAS RUGGED JIM HARRISON, WHO COULD HAVE FORMED A TERRIFIC ONE-TWO PUNCH UP THE MIDDLE WITH DARRYL SITTLER HAD HE REMAINED IN TORONTO. HARRISON QUICKLY DEVELOPED INTO A SCORING STAR WITH ALBERTA (LATER EDMONTON) OILERS OF THE WHA, ACCUMULATING 39 GOALS AND 86 POINTS IN '72-73. 
RETURNING TO THE LEAFS IN NOVEMBER 1970 WAS THE "BOOMER" – BOB BAUN – ONE OF THE MOST POPULAR PLAYERS IN FRANCHISE HISTORY AND A MEMBER OF ALL FOUR STANLEY CUP TEAMS IN THE 1960's. BAUN WAS CLAIMED BY CALIFORNIA SEALS IN THE 1967 EXPANSION DRAFT AND TRADED TO DETROIT THE FOLLOWING YEAR, WHERE HE RE-UNITED WITH CARL BREWER, HIS FORMER DEFENSE-MATE IN TORONTO. A NECK INJURY EARLY IN 1972-73 FORCED BAUN INTO RETIREMENT. LIKE ELLIS, THE "BOOMER" SHOULD BE IMMORTALIZED WITH A BANNER AT AIR CANADA CENTRE.
EMAIL: HOWARDLBERGER@GMAIL.COM
TWITTER: BERGER_BYTES
FACEBOOK: HOWARD BERGER [THORNHILL ON]