By HOWARD BERGER
TORONTO (Mar. 16) – I got around, the other day, to reading a book by Dick Irvin – published in 1993 – and called BEHIND THE BENCH. Irvin interviewed 28 NHL coaches about their experience in the game and their association with legendary players.
For those unaware, Irvin is the son of Dick Irvin Sr., who coached in Chicago, Toronto and Montreal between 1928 and 1956, winning four Stanley Cup titles. Dick Jr. was a Hockey Night In Canada mainstay in the 1960's and 70's, working alongside the great Danny Gallivan in Montreal, and then becoming radio voice of the Canadiens. He is now 80 years old and retired.
While reading Dick's book, I was reminded of general managers that have egregiously fouled up through the years while discarding – in one way or another – some of the most prominent figures in the NHL. It started me thinking of which deals were the absolute worst:
MAY 15, 1967 – CHICAGO TRADES PHIL ESPOSITIO, KEN HODGE AND FRED STANFIELD TO BOSTON FOR HUBERT (PIT) MARTIN, GILLES MAROTTE AND JACK NORRIS.
This is universally considered the largest blunder in NHL history.
Phil Esposito ran afoul of Blackhawks management with a brutal performance in the 1967 Stanley Cup semifinals. Chicago had finished first in the six-team NHL, a whopping 19 points ahead of third-place Toronto. Led by ancient goalie Terry Sawchuk, Leafs pulled off a mammoth upset – Esposito failing to record a point in the six-game series.
Meanwhile, in Boston, Pit Martin had scored 20 goals, one fewer than Esposito. Impatiently, Blackhawks' GM Tommy Ivan shipped Esposito to the Bruins in a deal that would follow him to his grave.
The lanky, outspoken native of Sault Ste. Marie, Ont. responded with 35 goals and 84 points in 1967-68 – the first year of expansion – and led the NHL with 49 assists. Boston improved by an astounding 40 points and finished third in the East Division, four points ahead of Chicago.
PHIL ESPOSITO WITH CHICAGO BLACKHAWKS (ABOVE); BOSTON BRUINS (BELOW).
The following year – 1968-69 – Esposito shattered the NHL record for points in a season with 126 – 29 more than Bobby Hull had recorded in 1965-66. He also broke Stan Mikita's mark of 62 assists, leading the league again with 77. It was clear he had become one of the greatest scorers in NHL history.
Esposito played a leading role in two Stanley Cup conquests by the Bruins (1970 and 1972), combining brilliantly with hockey's all-time best player, Bobby Orr. His total of 76 goals in 1970-71 boggled the mind; he later had seasons of 68, 66, 61 and 55 goals. Thirty-two years after playing his final NHL game, Esposito remains fifth on the all-time NHL list with 717 tallies.
Adding salt to the Blackhawk wounds, Ken Hodge scored 289 goals for Boston, including seasons of 50, 45, 43 and 37. Fred Stanfield never scored less than 20 goals in six seasons with the Bruins. In fairness to Pit Martin, who died in a snowmobile accident in November 2008, he played very well for Chicago, centering the "MPH" line with Jim Pappin and Dennis Hull. Martin had seasons of 90, 77, 75 and 71 points, but has never been mentioned in the same breath as Esposito. With Martin, the Hawks twice went to the Stanley Cup final (1971 and 1973), losing both series to Montreal.
Jack Norris, the goalie acquired by Chicago in the lop-sided deal, played a grand total of 10 games with the Blackhawks.
JUNE 10, 1970 – CALIFORNIA TRADES ITS FIRST-ROUND SELECTION IN THE 1971 NHL DRAFT (AND CASH) TO MONTREAL FOR ERNIE HICKE AND THE CANADIENS' FIRST CHOICE IN 1970 – CHRIS ODDLIEFSON – WHO IS DEALT BY THE SEALS TO BOSTON WITH RICHARD LEDUC FOR IVAN BOLDIREV ON NOV. 17, 1971.
Disregard all of the above-mentioned names. A cataclysmic fusion of events prompted Frank Selke Jr. – general manager of the ill-fated California Golden Seals – to help construct a dynasty for the Montreal Canadiens.
In the early expansion years, several of the new teams – drawing abysmally at the gate – acquired veteran players (however mediocre) in the hope of a quick fix. They did so by trading high draft choices to the established teams, almost always with a grievous result. Montreal GM Sam Pollock was especially cunning in this pursuit, given the Canadiens' deep well of talent. But, even Pollock couldn't have envisioned the staggering result of his trade with Selke – consummated exactly one month after Bobby Orr's legendary overtime goal that won the 1970 Stanley Cup for Boston.
The Seals had a veteran forward by the name of Bill Hicke, who scored 51 goals in the first three years of expansion. Often attracting less than 3,000 ticket buyers to games at the Oakland Coliseum-Arena, the club figured a brother act may boost attendance. Selke – with pressure from above – donated his No. 1 draft choice the following year to Montreal for Ernie Hicke.
A GM making such a deal today would receive death threats. In the late-60's, it was common practice. I likely don't have to tell you that Bill and Ernie Hicke did not morph into the second coming of Bobby and Dennis Hull.
Far more tragic for the Seals was an appalling 20-53-5 record for 45 points in the 1970-71 season – 10 points fewer than the NHL's second-worst team. It guaranteed Montreal first pick of the 1971 amateur crop and heavenly dibs on a prolific French-Canadian winger coming off a miraculous 130-goal season with the junior Quebec Remparts.
Today, no one can possibly imagine Guy Lafleur wearing green and gold in northern California. As a result of the second-worst trade in NHL history, he donned the bleu, blanc et rouge of Montreal and rang up 1,246 points as an integral component of six Stanley Cup teams. The Hicke brothers combined to register 82 points in Oakland before Bill was sold to Pittsburgh in September 1971. Net result: a mere 1,164 points in favor of the Habs.   
JOURNEYMAN FORWARD ERNIE HICKE (ABOVE) – CALIFORNIA GOLDEN SEALS "PRIZE" FOR TRADING THEIR 1971 FIRST-ROUND DRAFT PICK (BELOW) TO MONTREAL.
The Lafleur theft by Montreal will forever be coupled with Ralph Backstrom.
Fable has it that Sam Pollock dealt Backstrom – the reliable, diligent veteran of five Stanley Cup teams – to Los Angeles on Jan. 26, 1971 to bolster the Kings because the Seals were threatening to overtake L.A. in the standings. At the time, Kings had but a three-point lead over California (34-31). With Backstrom delivering a stout 14 goals and 27 points in 33 games, Los Angeles improved to an 11-17-5 record. In the end, however,  it didn't matter. California did its own part – rather spectacularly – with a 6-23-5 record after the Backstrom deal.   
JUNE 23, 1975 – IN A COMPLICATED TRANSACTION, LOS ANGELES ACQUIRES MARCEL DIONNE FROM DETROIT AS A FREE AGENT (WITH BART CRASHLEY) FOR VETERAN PLAYERS TERRY HARPER, DAN MALONEY AND THE KINGS' SECOND CHOICE (LATER TRANSFERED TO MINNESOTA) IN THE 1976 NHL DRAFT.
This deal was nearly as calamitous as the one involving Esposito eight years earlier. Though Los Angeles routinely underachieved in the playoffs, Dionne became one of the most prolific scorers in NHL history. Thirty-four years after last suiting up, he remains fourth in all-time regular season goals with 731 – trailing only Wayne Gretzky, Gordie Howe and Brett Hull.
In the late-1970's, Dionne centered an explosive forward unit – the "Triple Crown" line – with Dave Taylor and Charlie Simmer. Though he and Gretzky finished with 137 points in 1979-80, Dionne won the NHL scoring title by virtue of a 56-51 edge in goals. He had other seasons in L.A. of 59, 58, 56, 53 (twice), 50 and 46 goals and recorded at least 120 points five times.
MARCEL DIONNE – KING-PIN OF THE THIRD-WORST TRANSACTION IN NHL HISTORY.
Though Harper and Maloney were solid NHL pros, it's not even worth mentioning what they accomplished for Detroit. All you have to know is that Red Wings missed the playoffs in six of seven years after the deal.
One note: Had California not finished dead-last in the 1970-71 season, Montreal would have chosen second in that summer's draft. Assuming Detroit – selecting first – had taken Lafleur, Dionne would have spent a brilliant, Stanley Cup-laced career in bleu, blanc et rouge.
MAR. 7, 1988 – CALGARY TRADES BRETT HULL AND STEVE BOZEK TO ST. LOUIS FOR ROB RAMAGE AND RICK WAMSLEY.
Evaluation of this deal is tempered by the fact Calgary won the Stanley Cup over Montreal just more than 14 months later. Time, however, has proven there was – and still is – no way to reasonably account for Cliff Fletcher surrendering the third-most prolific goal scorer in NHL history.
Only Wayne Gretzky and Gordie Howe stand between Brett Hull and the game's most lofty individual exploit: Most goals scored in the National Hockey League. On the day of the big trade, Hull had 27 career goals for Calgary. Two years later, he did a numeric reverse, poring in 72 for St. Louis. A year after that, it was 86 goals for the Blues and the Hart Trophy as league MVP. When the dust cleared in 2006, Hull had elevated his Calgary total by a paltry 714 goals – 527 of them scored while wearing the Missouri Blue Note.
Fletcher had a Stanley Cup ring… and chronic indigestion.
GIVEN HIS GENETIC COMPOSITION, IT WAS NO COINCIDENCE BRETT HULL ROCKETED TO THIRD ALL-TIME WITH 741 GOALS – 131 MORE THAN HIS FAMOUS DAD, BOBBY.
Hull did not record his numbers by chance. Were his maternal grandmother a brood-mare, the family would have been wealthy many years before Brett came along. Bobby Hull – Brett's father – was the most dazzling hockey player on Earth in the 1960's and early-70's, reaching the 50-goal mark on five occasions with Chicago. Bobby's 58 goals in 1968-69 figured to endure as a league standard. It was obliterated, however, three seasons later by former Hawks line-mate Phil Esposito, who rang up an otherworldly 76 goals in Boston. The Bobby-Brett era encompassed 36 NHL seasons from 1958-2006. It yielded 1,315 goals and 1,210 assists for 2,525 points.
Though Rob Ramage played a significant role in the Flames' 1989 Stanley Cup triumph, his Calgary tenure lasted all of 80 games before a June 1989 deal with Toronto for a second-round draft pick. Ironically, Fletcher somewhat mitigated the Hull blooper after becoming GM of the Leafs. On Jan. 2, 1992, he acquired Rick Wamsley (the goalie obtained from St. Louis in the Hull deal) and Kent Manderville (second-rounder he got for Ramage) in the NHL-record 10-player trade with Calgary that yielded Toronto Doug Gilmour.
MAY 24, 1974 – CALIFORNIA TRADES REGGIE LEACH TO PHILADELPHA FOR LARRY WRIGHT, AL MacADAM AND THE FLYERS' FIRST-ROUND PICK IN THE 1974 NHL DRAFT – RON CHIPPERFIELD – WHOSE RIGHTS ARE TRADED BACK TO PHILADELPHIA BY THE SEALS FOR GEORGE PESUT ON DEC. 11, 1974.
Oy vey!
Less than four years after trading Guy Lafleur for Ernie Hicke, the bumbling hockey team in Oakland facilitated yet another Stanley Cup powerhouse. Lafleur won six championships in Montreal and Reggie Leach another in a splendid, eight-year term with Philadelphia. Many hockey fans, to this day, think that Leach played on both Flyer Cup teams (1974 and 1975). In fact, the Riverton, Manitoba native watched the entire 1974 playoff tournament as a member of the Seals, after a 22-goal regular season effort. He was acquired from California five days after Philadelphia became the first of the 1967 expansion teams to win the Stanley Cup.
The following year (1974-75) – while the Seals missed the playoffs for a fifth consecutive time – Leach erupted for 45 goals in Philadelphia, and then eight more during the Flyers' run to a second championship. In 1975-76, the final year of hockey in Oakland (and another playoff miss), Leach had 80 goals for Philly – 61 in the regular season and a record 19 in the playoffs – including a five-goal game against Boston in the Cup semifinals. Flyers appeared in the championship round for a third time and were ousted by Montreal (and Lafleur), which began its streak of four consecutive titles.
In 1979-80, Leach scored 50 goals and the Flyers again went to the Stanley Cup final – losing to the New York Islanders.
During his prime years in Philadelphia, Leach played right wing on a lavish scoring unit with Hall of Famers Bobby Clarke and Bill Barber.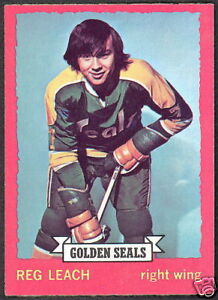 BOSTON AND CALIFORNIA (ABOVE) BOTH GAVE UP ON REGGIE LEACH, WHO WENT TO THE STANLEY CUP FINAL THREE TIMES WITH PHILADELPHIA (BELOW). 
When all the numbers were tabulated, California had relinquished 890 goals and 1,925 regular-season points by discarding Lafleur and Leach. This disaster would have been marginally tempered had the Seals not also goofed by selecting Ron Chipperfield 17th overall in the 1974 draft – the pick acquired for Leach. Among those also available were Bryan Trottier (524 NHL goals/1,425 NHL points), Mark Howe (197/742) and Danny Gare (354/685). Add Trottier's numbers (just for fun) to Lafleur and Leach, the Seals passed on 1,414 goals and 3,350 points.
Repeat after me again: "Oy vey!"
Chipperfield recorded a grand total of 46 NHL points (none for the Seals) while George Pesut – acquired by the Seals for Chipperfield – contributed a mighty three goals and 12 points in Oakland. After nine mostly dreadful years, Seals became the Cleveland Barons in 1976-77 and the Barons merged with Minnesota North Stars in 1978-79. The NHL returned to northern California in 1991-92 with the expansion San Jose Sharks.
EMAIL: HOWARDLBERGER@GMAIL.COM
TWITTER: BERGER_BYTES
FACEBOOK: HOWARD BERGER [THORNHILL ON]