By HOWARD BERGER
TORONTO (Apr. 14) – It is forever lost in semantics – the blurred line between objective and expectation – and is apparently unique to the pro sporting landscape in this city.
We take you to Sep. 8, 2009, a Tuesday afternoon, when the Maple Leafs christened their opulent playground – MasterCard Centre For Hockey Excellence – near the Toronto lake-shore. Following a ceremony that included Richard Peddie, Larry Tanenbaum and the luminaries of Maple Leaf Sports and Entertainment, media wags were led to a corner of the main practice arena. There, mounted on a wall, was a large, grayish-blue backdrop featuring logos of the Maple Leafs, Toronto Marlies and MasterCard. A bevy of reporters and TV cameramen jostled for position, awaiting the grand entrance of Leafs president and general manager Brian Burke.
Upon excusing himself through the mob, Burke was quickly asked about expectation for a club that had missed the playoffs by 12 points in his initial season. "Our goal is clear: to be in the playoffs next spring – anything else is unacceptable," he replied, without hesitation.
Not more than three weeks into the 2009-10 season, Burke understood how his words would haunt him. Under coach Ron Wilson, Leafs staggered out of the gate winless in their first eight games (0-7-1) – a club record for futility. With a 3-11-5 mark after 19 games, the word "playoffs" no longer existed in the Leaf vocabulary. This time, the club finished 14 points below eighth place in the Eastern Conference and watched the Stanley Cup tournament for a fifth consecutive spring (Chicago, coincidentally, won the NHL title, breaking a 49-year drought, and leaving Toronto with the longest famine among the six teams that were in the league on May 2, 1967).
Immediately after the 2009-10 regular season, an argument began over Burke's training camp forecast. Naturally, the GM claimed – in his wrap-up session with reporters – he had merely stated his "goal" was to make the playoffs. Burke's recollection of a direct quote was accurate. But, how was the quote semantically altered by his follow-up contention that anything less than a playoff spot would be "unacceptable?" Such an avowal inferred more than just desire to be in the playoffs (doesn't every GM want the same?); it was rather implicit conjecture that his team would be capable of appearing in the 2010 post-season. Nothing even close materialized.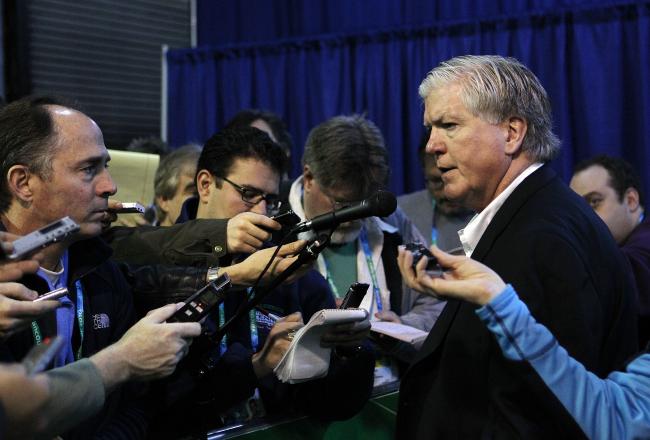 BRIAN BURKE: PLAYOFFS YES, OR PLAYOFFS NO?
A similar debate occurred on the afternoon of Feb. 18, 2011, moments after Burke had dealt veteran defenseman Tomas Kaberle to Boston in a wave-the-white-flag transaction. This argument was even more biting, given the face-lift Burke had engineered just more than a year earlier – trading four players (Matt Stajan, Niklas Hagman, Ian White and Jamal Mayers) to Calgary for Dion Phaneuf. Leafs were wallowing at 17-28-11 after 56 games when Burke pulled the trigger on Jan. 31, 2010. As was custom, Leafs finished the schedule strongly in "garbage time" with an 8-3-1 mark.
Afterward, Burke spoke about Phaneuf. "I've never brought in a guy who had a bigger impact on a team from a personality standpoint. It was like an adrenaline bomb went off in our dressing room. This guy brought energy and a positive approach, he challenges everybody." About his resurgent team, Burke added: "I like the group that finished the year; I think just on internal improvement we will be better. I think we will be good enough with this group and a couple additions to say, in training camp, that the playoffs are a reasonable goal." Of course, that's exactly what happened – Burke, Wilson and everyone connected with the club suggesting the strong finish in 2009-10 would carry over and propel Leafs into the Stanley Cup tournament.
This scenario appeared reasonable late in the 2010-11 season when goalie James Reimer burst on the scene, enabling Leafs to quickly shear 10 points off their playoff deficit. Burke then traded Kaberle to the Bruins in a concessionary move and was asked about a) his contention the new and improved Leafs of Phaneuf would strongly contend for a playoff spot, and b) his choice to throw in the towel after an unexpected surge under Reimer.
What resulted was Burke's most infamous retort – to be surpassed only by his "18-wheeler" reference in Montreal just more than a year later.
"I'm not interested in sneaking into the playoffs as No. 8 [seed] and getting our asses kicked in the opening round," he barked at reporters.
When asked, justifiably, why he bothered to mention the playoffs in the first place (after the previous season; then again in training camp), Burke had no answer – weakly reiterating it was his "goal" to be in the Cup tournament.
All of this ambiguity came to mind on Saturday morning when I read the comments of Toronto Raptors coach Dwane Casey. Somehow, Casey – urged on by GM Bryan Colangelo – had told reporters in training camp he felt a playoff spot in the NBA this season was a possibility. It belied rationale and appeared nonsensical when the club wobbled to a 4-19 record after 23 games, thereby destroying any chance of busting a five-year playoff drought.
After a 97-88 victory over the injury riddled Chicago Bulls on Friday night, Casey attempted to clear the air. "When we went into the season, I remember saying we were going to knock on the door of the playoffs," he argued. "I don't think I ever said we're going to make the playoffs."
The inference, however, was unmistakable – that the Raptors, at this moment, would be none-to-nose with Milwaukee at the Eastern Conference terminator rather than 5½ games out of post-season contention (7½ games behind the Bucks when mathematically eliminated last week). That's akin to knocking on the front door of your home from a neighboring county.
DWANE CASEY: WHAT EXACTLY DID HE SAY?
Managerial back-pedaling has become an art in this city. It may therefore be no coincidence that the Leafs are playoff bound in a tranquil, unpretentious environment. If I recall correctly, there were no gallant predictions from either David Nonis or Randy Carlyle heading into the lockout-shortened season. As such, Leafs have been able to perform without the burden of invalid conjecture. And the results are there – for everyone to see.
NOTES: With Saturday night's 5-1 rout of Montreal, the Maple Leafs surpassed their point-total from the entire 48-game schedule of 1995. In that lockout-shortened season, Leafs were 21-19-8 for 50 points. Today – with seven games left – the club is 23-13-5 for 51 points. The '95 Leafs had Doug Gilmour, Mats Sundin, Dave Andreychuk, Mike Gartner and Dave Ellett. Gilmour, Gartner and Sundin are in the Hall of Fame. Andreychuk, with 640 career goals and a Stanley Cup in Tampa Bay (2004) should be… Leafs are an otherworldly 8-1-4 in their past 13 games. It is the best string of results since midway through the 2003-04 season, when the club set a franchise record for longest streak without losing in regulation time. Between Nov. 22 and Dec. 26, 2003, Leafs were 14-0-2 under Pat Quinn. Included, was an eight-game win streak (Nov. 22 to Dec. 6). New York Islanders ended the remarkable run with a 3-1 victory at Nassau Coliseum on Dec. 27. Leafs set a franchise record by compiling 103 points that year… For the life of me, I cannot understand this Leaf nonsense about evading the word "concussion". Perhaps Joffrey Lupul summed it up best when he told reporters last week, "I sure didn't sprain an ankle." Even an imbecile watching Lupul stagger to the bench against Philadelphia 10 nights ago could tell he had suffered head trauma. The dictionary definition of concussion is: "Injury to the brain or spinal cord due to jarring from a blow or fall." I would say that Lupul a) had been jarred by a blow, and b) was rather brain-wonky as he careened toward the bench. Randy Carlyle hasn't made a lot of mistakes this season but he came off looking ridiculous by telling reporters that Lupul was "50/50" to appear at practice the day after the injury, and by insisting the ailment be termed "upper-body". Well, duh! Paranoid coaches in the NHL have taken to subterfuge for the "protection" of their players. Ron Wilson used to rant about not disclosing injury and providing opposition skaters a body target (knee, arm, shoulder, etc.). Difference here is that everyone could see Lupul had suffered a head injury and that targeting the head is frowned upon rather vehemently by the NHL. So, please, spare us the "upper-body" crap and do not insult yourself by declaring a player could return to practice less than 24 hours after such an injury… I've got to hand it to  the Toronto Raptors TV crew of Matt Devlin, Jack Armstrong, Leo Rautins and Rod Black for sustaining enthusiasm during another lost NBA season here in town. Yes, it is their job to keep the faith but that alone doesn't make it easy. Raptors are fortunate to have such professionals on the TV and radio sides – the latter superbly captained by the long-time duo of Paul Jones and Eric Smith… I'm lost: What is it about the Jody Arias murder trial that prompts a network (CNN's Headline News) to devote full-time coverage? Sadly, boyfriends, girlfriends, husbands and wives have been killing one another for centuries. What makes this case more compelling than others? O.J. Simpson I can understand. Jody Arias I cannot… Now that Columbus Blue Jackets have become a playoff contender in the Western Conference, when might they discard their ghastly alternate jersey? A five-year-old kid in nursery school could have drawn up such a monstrosity. Florida's third jersey – of similar color – is no better… I enjoy listening to Glenn Healy in any forum but the ex-NHL goalie is best utilized by Hockey Night In Canada between the benches. Healy was back in his familiar roost at Air Canada Centre during the Leafs-Habs telecast on Saturday. There, he should remain – especially during the playoffs. No hockey analyst in this country can so quickly and compellingly describe to viewers what is happening at ice level… I've been asked several times about which team I believe will win the Stanley Cup this spring. After Los Angeles romped to the title last year – having sneaked into the eighth and final playoff spot in the West on the final day of the regular season – it is anyone's guess. If Sidney Crosby returns healthy, and Marc-Andre Fleury doesn't soil the linen once again, a Pittsburgh-Chicago Stanley Cup final seems logical. Since when, however, has the Cup tournament been governed by logic? For my money, I can't seem to escape the notion of Minnesota Wild pulling an L.A. this spring… Hard to believe it was 30 years ago that New York Islanders extended their Stanley Cup win streak to four. Islanders swept Wayne Gretzky and the young, dynamic Edmonton Oilers in the 1983 Cup final. Gretzky and Co. would return the favor and command the hockey universe the following year. More in an up-coming blog… I can't imagine anyone other than Michel Therrien of Montreal winning the Jack Adams Trophy as NHL coach of the year. Canadiens have made an astounding recovery from 28th place in the overall standings a season ago. But, how about Paul MacLean? Ottawa Senators have gone the entire season without their two best players – Jason Spezza and Erik Karlsson – and have endured a revolving door between the pipes. Still, MacLean's team is a solid bet for the playoffs – sixth in the East, three points behind Toronto and four up on ninth-place Winnipeg. Carlyle is also in the mix, but not ahead of Therrien or MacLean.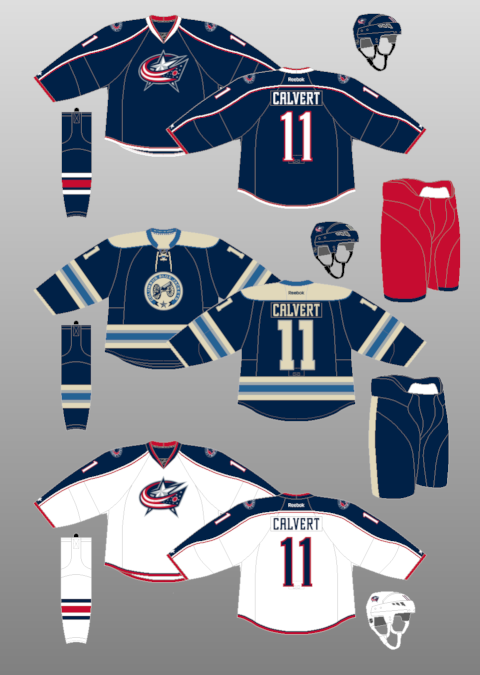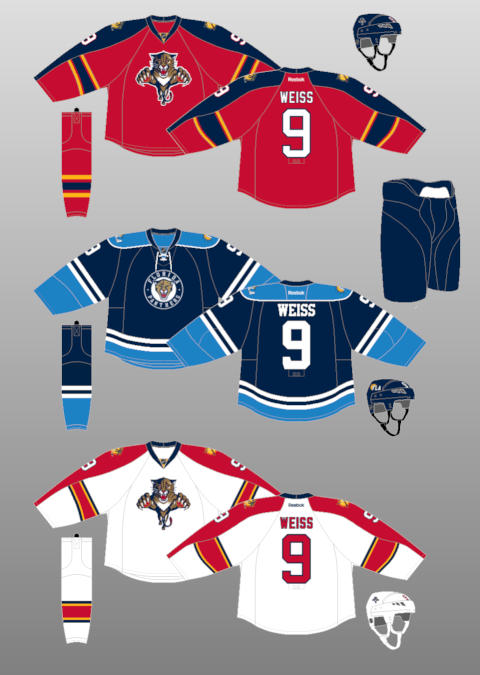 COLUMBUS BLUE JACKETS AND FLORIDA PANTHERS ALTERNATE JERSEYS (MIDDLE-ABOVE) HAVE TO GO. NHLUNIFORMS.COM
BEFORE THE TRADE…
THIS COVER OF 2008-09 NHL GUIDE AND RECORD BOOK IS NOSTALGIC FOR FANS OF CALGARY FLAMES AND TORONTO MAPLE LEAFS:
NOTHING FANCY…
SPORTSLOGOS.NET
LIKE ITS RELENTLESS, PLAYOFF-BOUND TEAM, THE COVER OF THIS YEAR'S TORONTO MAPLE LEAFS MEDIA GUIDE IS SIMPLE AND STRAIGHT FORWARD – DELIVERING THE GOODS: 
LEAFS P.K. NO ACCIDENT
Want to know why the Maple Leafs penalty-killing unit is most improved in the NHL this season? Have a look at the television sequence below from Hockey Night in Canada on Saturday. Jay McClement turns around outside the blue line and effectively becomes a third defenseman. Such discipline under Carlyle has finally amended the Leafs most glaring weakness. 
SEPARATED AT BIRTH?
I was watching Piers Morgan Live on CNN Friday night when legendary Canadian-born singer Paul Anka appeared on the screen. I couldn't help but notice that Anka bore a striking resemblance to NHL Commissioner Gary Bettman. What do you think?
RISING ABOVE THE FLUSH
During most of my years traveling with the Maple Leafs, I took along a video camera. I enjoyed, in particular, recording take-offs and landings from airports around the league. A common flight pattern out of LaGuardia Airport in New York has aircraft climbing above Flushing Meadows – suburb in Queen's that is site of baseball and tennis. In January of 2006, my flight took off in that direction. I recorded the approach and passing of Shea Stadium (above), which is no longer in existence. Citi Field, current home of the New York Mets, was built in the former Shea Stadium parking lot beyond center-field. Seconds later, I recorded Arthur Ashe Stadium (below), home of the annual U.S. Open tennis tournament. And, finally, the Unisphere globe (bottom-right), symbol of the 1964-65 New York World's Fair.
EMAIL: HOWARDLBERGER@GMAIL.COM
TWITTER: BERGER_BYTES
FACEBOOK: HOWARD BERGER [THORNHILL ON]