By HOWARD BERGER
TORONTO (July 5) – David Nonis, GM of the Maple Leafs, made a couple of good decisions on Friday, signing unrestricted free agents Tyler Bozak and David Clarkson. The moves came after his earlier acquisitions of Jonathan Bernier and David Bolland, delivering the club promise; grit; Stanley Cup experience and familiarity.
But, are the Leafs more talented than on the night of May 14, when they were overwhelmed in Game 7 of their playoff quarrel with Boston?
My assessment: Not yet.
The club's most urgent need – a front-line center capable of point-per-game execution – still has not been addressed. Bozak and Bolland lead the current group with season-high totals of 47 points, hardly a bloodcurdling prospect for Leaf opponents. Mikhail Grabovski will never set foot in a hall of fame without paying admission, yet he did compile 29 goals and 58 points in 2010-11. So, are the Leafs better up the middle? The same? Or, not quite as gifted?
Right now, I'm leaning toward Door No. 3.
And, it's the reason I believe that Nonis isn't finished re-shaping the club. Another move – via trade – is almost certain before next season.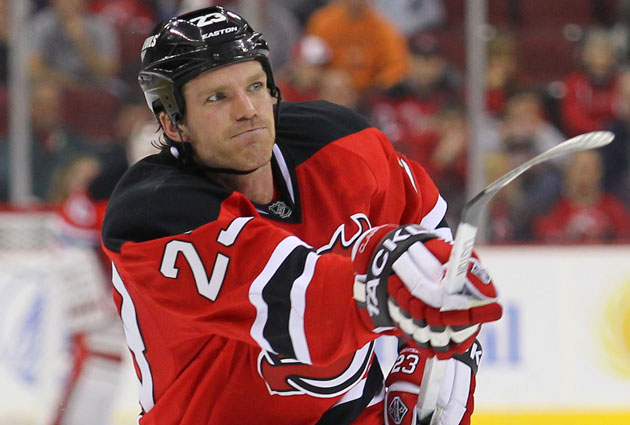 DAVID CLARKSON: RED-AND-BLACK TO BLUE-AND-WHITE.
Meantime, there will be much debate over the recent exchange of bodies: Grabovski, Clarke MacArthur, Ben Scrivens, Matt Frattin and Leo Komarov out; Clarkson, Bolland, Bernier and T.J. Brennan in. Seems like a saw-off, at best, though Clarkson will provide Leafs a missing component – someone who can play and fight. Last season, the club had one or the other and it became futile in the playoffs when Randy Carlyle quickly realized he couldn't dress either Frazer McLaren or Colton Orr. He'll have no-such concern with Clarkson – a tough, uncompromising winger with decent hands. The Toronto native will quickly become a fan favorite at Air Canada Centre.
Leafs have to be looking at a best-case scenario – one that includes:
• Bozak proving he can thrive offensively in a full, 82-game schedule as he mostly did in the 48-game, lockout-abbreviated sprint.
• Nazem Kadri building on his 2013 campaign and developing into a 65 to 75-point center. With maturity and more self-discipline, it could be attainable.
• Bernier realizing the promise so many in the hockey world foresee, thereby supplanting James Reimer as Leafs No. 1 goalie.
• Jake Gardiner and Cody Franson becoming the cornerstone of a youthful defense and building on the confidence acquired by performing so effectively – at times – against Boston. With Morgan Rielly, Matt Finn, Jesse Blacker and Stuart Percy all potentially knocking on the door, Leafs could have an enviable blue-line cast within three years.
To this point in the off-season, Nonis appears to have held serve. But, you've got to believe he is aiming higher. Whether or not he can provide Leafs more of jolt remains to be seen, but change is still very much in the air.
EMAIL: HOWARDLBERGER@GMAIL.COM
TWITTER: BERGER_BYTES
FACEBOOK: HOWARD BERGER [THORNHILL ON]