By HOWARD BERGER
TORONTO (Sep. 26) – Looking not-too-distantly into the future, it appears that mathematics are working against Dion Phaneuf.
Though the proud captain of the Toronto Maple Leafs – a player I contend has been unjustly assailed in his time here – says he wants to remain with the club, the National Hockey League's salary cap will render it nearly impossible. After the signing of Cody Franson to a one-year deal Wednesday night, Leafs have nine defensemen with NHL experience under contract for 2013-14. That will undoubtedly become ten when Morgan Rielly suits up on opening night, next Tuesday in Montreal, to start a minimum nine-game audition. The others are Phaneuf, John-Michael Liles, Carl Gunnarsson, Mark Fraser, Jake Gardiner, Paul Ranger, Korbinian Holzer and T.J. Brennan.
Gardiner comes off entry-level restriction after this season; Rielly, in the summer of 2016. Franson will again have to be signed before next season. Given breakout performance and can't-miss potential, this would appear to be the Leafs' Big Three moving forward. And, it could develop into one of the elite defense nuclei in the NHL. It will therefore have to be compensated accordingly over the next three years.
What type of commitment are we looking at?
Performance will obviously dictate numbers but let's say the Maple Leafs procure a best-case scenario with Gardiner, Franson and Rielly matching expectation. Should one of Jonathan Bernier or James Reimer evolve into a true, front-line goalkeeper (also anticipated by many), history would strongly advocate Toronto becoming a Stanley Cup threat, as building outward from goal is clearly the preferred approach in hockey. Looking at the Cup finalists from last spring, Leafs would be very fortunate to develop a Top 3 defense core similar to Duncan Keith, Brent Seabrook and Niklas Hjalmarsson in Chicago or (to a lesser extent) Zdeno Chara, Dennis Seidenberg and Johnny Boychuk in Boston (with Torey Krug and Dougie Hamilton nipping at heels).
These elements are expensive – to secure and, particularly, retain.
In the coming season (according to Capgeek.com), Keith, Seabrook and Hjalmarsson will cost Chicago $16,150,000 in salary and $11,688,462 in cap space. Chara, Seidenberg and Boychuk will consume $14,900,000 in salary from the Bruins and $13,533,334 in cap space. That's big-time bread for three players and it doesn't include the cost of a premier goaltender. Add, for example, the $6 million salary and $7 million cap hit of Tuukka Rask to the Bruins' top three defensemen and the numbers balloon to $20,900,000 and $20,533,334 for four players – nearly one-third of the $64,300,000 cap allotment per club in 2013-14.
Logically, the Leafs would prefer to be in the same numeric range by 2016. It would indicate that Gardiner, Franson and Rielly had developed into front-rank defensemen and Bernier (for argument's sake) a top-level goalie capable of starting 55 to 65 games. Should Bernier immediately thrive in a Toronto uniform, he'll be among the best bargains in the NHL – at any position – for the next two years. Leafs have him under contract at $2.4 and $2.9 million; the latter, indicating his cap hit. Beginning in 2015-16, each figure could rise by roughly $4.5 million.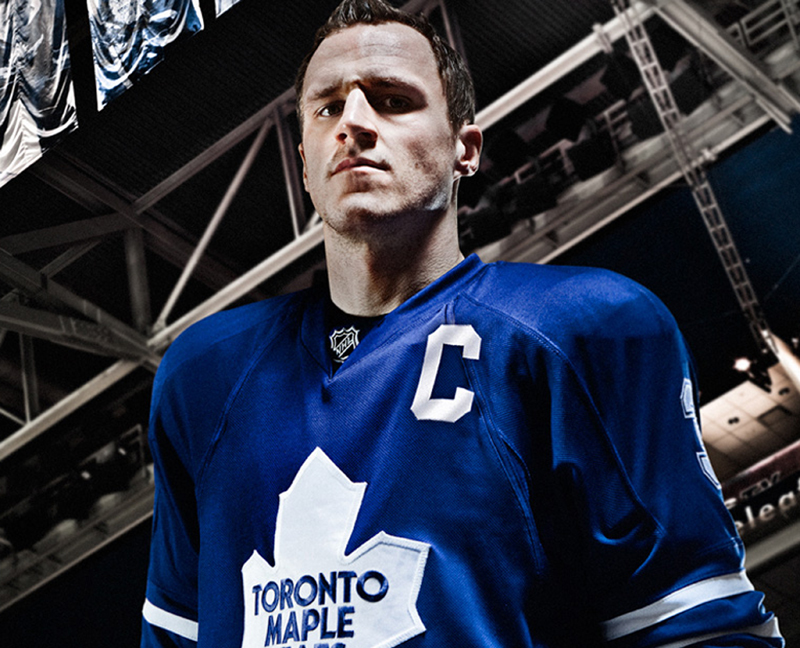 DION PHANEUF: LAST STAND IN BLUE AND WHITE?
That brings us back to Phaneuf.
The Toronto captain is in the final season – and bottom end, financially – of a six-year, $39 million contract signed with Calgary in the summer of 2008. His cap hit throughout the deal is $6.5 million, but his salary, this season, is a contract-low $5.5 million (Phaneuf made $7 million in 2008-09 and 2010-11). Though it seems as if he's played forever, Dion will be just 29 years old at the end of his current pact. Here in the Big Smoke, where everything Maple Leaf is magnified beyond comprehension, hockey observers tend to dwell on the not-so-good. As such, Phaneuf is often badgered for his defensive-zone misgivings; lauded, far less frequently, for robust skating; elite open-ice bodychecking and among the premier (when fired accurately) one-time slap-shots in the NHL.
Neutral measurement would therefore place him in the upper range of blue-liners; perhaps not at the level to which he's been compensated since 2008, but pretty darn close in today's NHL economy. Barring a disastrous contract-year with the Blue and White, a club deploying Phaneuf next season will have coughed up $4.5 to $5 million (salary and cap hit) over a span of four or five seasons. Given the Leafs' blueprint of establishing a younger defense corps – and its potential cost – retaining Phaneuf at such an expense seems highly implausible.
There will be others to consider beyond this season – Phil Kessel, David Bolland, Nikolai Kulemin, Jay McClement and Reimer potentially among them. All have just one year remaining on their current deals.
What, then, is to become of Phaneuf and the Maple Leafs? In the club's best interest, probably nothing. Any reasonable trade scenario would be governed by the team having a poor season. Otherwise, and in the scenario painted here, Dion will remain captain of the Leafs until he joins a rival club in unrestricted free agency next July.
EMAIL: HOWARDLBERGER@GMAIL.COM
TWITTER: BERGER_BYTES
FACEBOOK: HOWARD BERGER [TORONTO]