By HOWARD BERGER
TORONTO (Oct. 23) – A close examination of the Toronto Maple Leafs through ten games would suggest the club is neither performing at – nor worthy of – a .700 win percentage. The record, however, at 7-3-0, is all that really matters.
And, while it's still too early to put a stamp on the 2013-14 Leafs, I contend the club – if reasonably healthy – is more than capable of avoiding the protracted gloom that brought about self-annihilation in years past. For reasons that are mostly obvious, I'll exclude last year's abbreviated schedule from the equation, though Maple Leafs did very well in limiting a drought to four games (0-3-1, Mar. 7-14). The full, 82-game schedules in the post-2005 lockout era were invariably ruined by at least one lengthy dry spell; sometimes early in the season, gouging a hole from which the team could not emerge. These killer famines stick out like a sore thumb in each and every year:
2011-12: 2-13-2 (Feb. 7 to Mar. 13)
2010-11: 1-9-2 (Oct. 21 to Nov. 13)
2009-10: 0-7-1 to start season (Oct. 1-24)
2008-09: 3-10-2 (Dec. 23 to Jan. 27)
2007-08: 2-9-2 (Dec. 15 to Jan. 12)
2006-07: 2-8-2 (Nov. 16 to Dec. 9)
2005-06: 4-14-2 (Jan. 2 to Mar. 4)*
*Streak interrupted by 2006 Winter Olympics break
If you wonder why Leafs missed the playoffs seven years in a row – obliterating the franchise record – there's your answer. As indicated here in previous blogs, unreliable goaltending was the main culprit, and eyebrows had to be raised last week when the indistinct former Leaf tandem of Jean-Sebastien Giguere (now with Colorado) and Jonas Gustavsson (Detroit) was stopping bee-bees. Though generally unspectacular through ten games, goaltending is not an issue with the current team and will likely become a force as the schedule evolves.
Underplayed, however, is the fact Leafs have assembled a cast of weapons that ranks with just about any in the league. Phil Kessel and Joffrey Lupul – currently tied (with a large group) for sixth and seventh in scoring – could easily break into the top ten. James van Riemsdyk was banged up for a week but has eight points in as many games. Beleaguered Nazem Kadri – though scuffling early in the season – has a respectable eight points in 10 games. Tyler Bozak has been steady; David Bolland opportunistic, and Jay McClement, perhaps the most integral free agent signing Leafs have made since Gary Roberts in 2000, does everything well on the defensive side. Now, David Clarkson – once a 30-goal shooter; always a pain-in-the-neck – will be added to the mix.
PHIL KESSEL DID LOTS OF HIGH-FIVING TUESDAY NIGHT – SCORING HIS SECOND HAT-TRICK AS A LEAF IN COMEBACK, 4-2 VICTORY OVER ANAHEIM AT AIR CANADA CENTRE. GRAIG ABEL GETTY IMAGES/NHL.COM
What a terrific one-two punch Leafs have gotten from Brian Burke and David Nonis. Mismanagement has contributed overwhelmingly to the Stanley Cup drought of 4½ decades, but it ended – conclusively – with Burke. Though he didn't get results in nearly four seasons at the helm, double-B is solely responsible for the Leafs' splendid core – having traded for Kessel, Lupul, van Riemsdyk, Dion Phaneuf, Cody Franson and Jake Gardiner; signed Bozak and McClement as free agents; drafted Kadri and Morgan Rielly. In hindsight, no Leaf general manager in the post-1967 era has so remarkably retro-fitted the club. Cliff Fletcher added Doug Gilmour and Dave Andreychuk in the early 90's and garnered overnight, yet fleeting success.
Burke, by comparison, stocked the Blue and White with quality and depth that should reap reward for years.
Nonis has picked up where Burke left off – acquiring Bolland and Jonathan Bernier; signing Clarkson. Leafs have very good personnel.
Lacking to this point, however (and notwithstanding the 7-3-0 record), is a spate of effort and performance from the hockey club. Leaf players looked anesthetized in the first period-and-a-bit against Anaheim Tuesday night before waking up and providing their most dynamic 30 minutes of hockey this month. When Leafs are so determined, with their entire arsenal, they can match any opponent in the league and compensate for the ubiquitous defensive lapses that plague them most nights. Randy Carlyle must find a way to limit that susceptibility and to have Leafs better prepared for the opening minutes – particularly at home (a scourge that inordinately pre-dates his tenure as coach).
What Carlyle has at his disposal is the best Leaf personnel – top to bottom – since the Gilmour-Andreychuk era 20 years ago. Every bit, in my opinion, as good as the teams Pat Quinn coached to 100-plus points three times in five seasons between 1999-2000 and 2003-04. And, unquestionably good enough to avoid the catastrophic weeks of ineptitude that haunted the club in its seven-year playoff vacuum.
BACK ON THE ROAD
After purposely staying away from the rink last season – the first year since 1965 that I didn't attend a Leafs game as a fan or reporter – I'm looking forward to getting involved once again. Even on a limited basis. I will be on the Leafs western-Canada swing next week through Edmonton, Calgary and Vancouver – commenting for Sirius-XM NHL Network Radio; writing for the National Post and – of course – updating my blog with photos and stories. Can hardly wait.
OH YEAH, 20 YEARS AGO WEDNESDAY…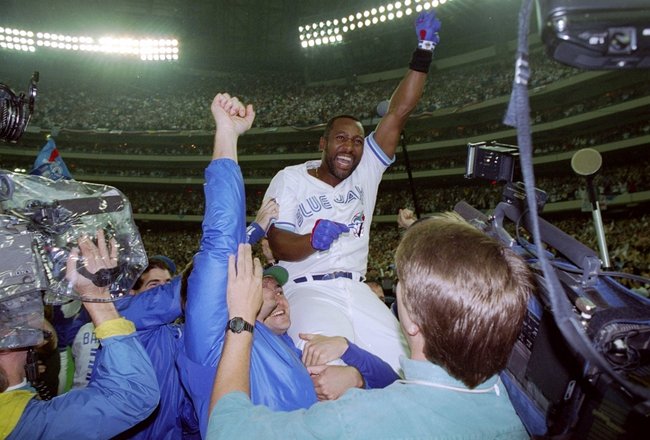 "TOUCH 'EM ALL, JOE!" – THE LATE, GREAT TOM CHEEK.
EMAIL: HOWARDLBERGER@GMAIL.COM
TWITTER: BERGER_BYTES
FACEBOOK: HOWARD BERGER [TORONTO]