By HOWARD BERGER
TORONTO (Nov. 23) – When considering the best general managers in the National Hockey League, where would you rank David Nonis of the Toronto Maple Leafs?
Among GM's currently employed, deference would have to belong – for obvious reasons – to those that have won multiple Stanley Cup titles: Ken Holland in Detroit; Lou Lamoriello in New Jersey and Stan Bowman in Chicago. Next would be one-time Cup winners: Peter Chiarelli in Boston; Ray Shero in Pittsburgh and Jim Rutherford in Carolina (each with two Cup final appearances); Dean Lombardi in Los Angeles; Jay Feaster and Brian Burke in Calgary, for Stanley Cup victories at Tampa Bay (2004) and Anaheim (2007). Deference and current aptitude, however, aren't necessarily linked. And, that's where Nonis, in his second year of Leafs' command, has surged very close to the top.
How can such a claim be made of an executive whose team has yet to win a playoff round? Well, first, Nonis is hardly an untested sophomore. He was GM of the Vancouver Canucks for three seasons (2005-06 through 2007-08) and his club won the Northwest Division title in '06-07 with a record of 49-26-7 for 105 points (the Leafs all-time high in regular-season points is 103). More specifically, Nonis pulled off one of the champion trading heists of the past decade in the NHL when he acquired – on June 23, 2006 – Roberto Luongo from Florida in a complex deal that sent Todd Bertuzzi, Bryan Allen and Alex Auld to the Panthers. Luongo, as many are aware, won a gold medal as Canada's netminder in the 2010 Winter Olympics and then backstopped Vancouver to a Game 7 appearance in the 2011 Stanley Cup final, losing to Boston. Florida has made the playoffs once in the past 12 seasons, bowing to New Jersey in the opening round of the 2012 Stanley Cup tournament.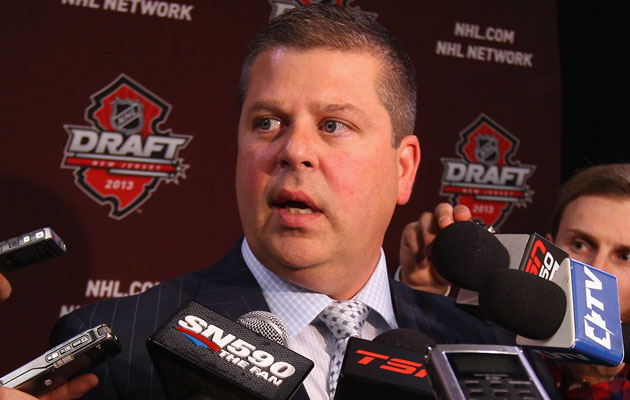 DAVID NONIS: EXCELLENT WORK SO FAR AS GM OF THE LEAFS.
Here in Toronto, Burke was able to structure – during four ineffectual seasons as GM – a much-improved team, with one notable exception: Reliability between the pipes. None of Vesa Toskala, Curtis Joseph, Justin Pogge (all carried over from the John Ferguson and Cliff Fletcher regimes), Martin Gerber, Jean-Sebastien Giguere or Jonas Gustavsson could get Leafs into the playoffs. When Burke was abruptly fired last January, Nonis assumed control with James Reimer (drafted under Ferguson) and Ben Scrivens (signed as a free agent by Burke) his goalies. Leafs finally did make the playoffs. Sprinkled among Burke's many terrific moves were colossal blunders: Wasting money and salary cap space on such players as Mike Komisarek, Colby Armstrong, Tim Connolly, Gustavsson, John-Michael Liles, Philippe Paradis and Mikhail Grabovski. Komisarek, Armstrong, Gustavsson and Liles had unlimited courage and character, but could not help the Maple Leafs.
Nonis, in less than one calendar year, has been more careful and productive. In fact, it is difficult to find fault with any of his key moves.
See for yourself:
JAN. 31 Frazer McLaren claimed off waivers from San Jose.
JUN. 23 Jonathan Bernier acquired from Los Angeles for Ben Scrivens, Matt Frattin and a second-round draft pick in 2014 or 2015.
JUN. 30 David Bolland acquired from Chicago for three draft picks (second and fourth-rounders in 2013; fourth-rounder in 2014).
JUL. 05 David Clarkson signed as a free agent.
JUL. 05 Trevor Smith signed as a free agent.
JUL. 05 Tyler Bozak re-signed as a free agent.
JUL. 24 Paul Ranger signed as a free agent.
SEP. 11 Nazem Kadri signed to a two-year contract extension.
SEP. 23 Mason Raymond signed as a free agent.
SEP. 29 Joe Colborne traded to Calgary for a fourth-round pick in 2014.
OCT. 01 Phil Kessel signed to an eight-year contract extension.
NOV. 16 Peter Holland and Brad Staubitz acquired from Anaheim for Jesse Blacker and a pair of 2014 draft picks.
Not all of these moves are spectacular – Ranger is a middling presence; Colborne, though still trying to locate his niche, is being regularly deployed by the Flames, and no one can be sure if Leafs will garner adequate return from the Clarkson, Bozak and Kessel long-term commitments. Otherwise, Nonis has impressively filled vacancies throughout the roster with McLaren, Bernier, Bolland, Smith, Raymond and Holland. Beyond draft picks, the Toronto GM has relinquished only Scrivens, Frattin and Blacker. Scrivens, to his (and Dean Lombardi's) credit, has been magnificent with Los Angeles in relief of the injured Jonathan Quick, compiling a 5-1-2 record; 1.43 goals-against average and .942 save percentage. Still, I doubt many clear-thinking Leaf fans would want Nonis to send Bernier back to the Kings for Scrivens.
When viewed in its entirety, the body of work executed by Nonis ranks among the best in the NHL over the past year.   
50 YEARS SINCE JFK
Friday afternoon marked one-half century since the assassination of United States President John F. Kennedy in Dallas on Nov. 22, 1963. As with millions of people, I have long been fascinated by the events of that fateful afternoon, and the interminable debate over which person (Lee Harvey Oswald) or group of people (the Russians, the Cubans, the Central Intelligence Agency) was responsible for Kennedy's death.
I've had the privilege of visiting the Kennedy assassination site numerous times, beginning in my first season covering the Maple Leafs for The FAN-590. In fact, I'll never forget drawing open the curtains of my hotel room at the Hyatt Regency Dallas on the morning of Apr. 22, 1995 and seeing all of Dealey Plaza three blocks in the distance. I had flown on the Leafs' charter from a game in St. Louis the night before and I still remember the late Pat Burns stepping off the plane and saying: "There's no way we're at the main airport (Dallas-Fort Worth International). The downtown buildings are too close."
Burns was correct. We were at Love Field, where Kennedy and his wife, Jacqueline, boarded their limousine for the ominous motorcade ride that would cost the President his life. I remember how surreal it felt walking down the steps of that charter jet and onto the tarmac of Love Field in the middle of the night; it was nearly 2 a.m. when we landed.
Later that day, after the Leafs morning skate at old Reunion Arena, I walked over to Dealey Plaza and visited, for the first time, the infamous site. At the Sixth Floor Museum of the Dallas County Administration Building (known as the Texas School Book Depository on Nov. 22, 1963), I ran into future Hall-of-Famer Mike Gartner of the Maple Leafs and we both marveled at a re-creation of the sniper's nest that Oswald was said to have designed. The view from that window indicated – to me – how difficult it would have been for even a trained marksman to fire at Kennedy's motorcade with such speed and accuracy.
On the day of the Leafs' last visit to Dallas (Nov. 25, 2011), I returned to Dealey Plaza and snapped these photos with my trusty Nikon:
THE DALLAS COUNTY ADMINISTRATION BUILDING (ABOVE) AT THE CORNER OF HOUSTON AND ELM STREETS. IT WAS KNOWN AS THE TEXAS SCHOOL BOOK DEPOSITORY ON THE DAY OF KENNEDY'S ASSASSINATION 50 YEARS AGO.
FROM THE WINDOW OF MY RENTAL CAR (ABOVE), DRIVING ALONG ELM ST. TO THE FAMED TRIPLE UNDERPASS, IS THE SO-CALLED "GRASSY KNOLL" KENNEDY'S LIMOUSINE PASSED SECONDS BEFORE THE FATAL HEAD SHOT. 
LOOKING UP (TOP-LEFT) AT THE SIXTH-FLOOR, CORNER WINDOW FROM WHICH OSWALD ALLEGEDLY FIRED AT THE MOTORCADE. A MAN (TOP-RIGHT) STANDS UPON THE CEMENT PEDESTAL WHERE ABRAHAM ZAPRUDER LEGENDARILY CAPTURED THE ASSASSINATION OF THE PRESIDENT (BELOW) ON HIS 8mm FILM CAMERA.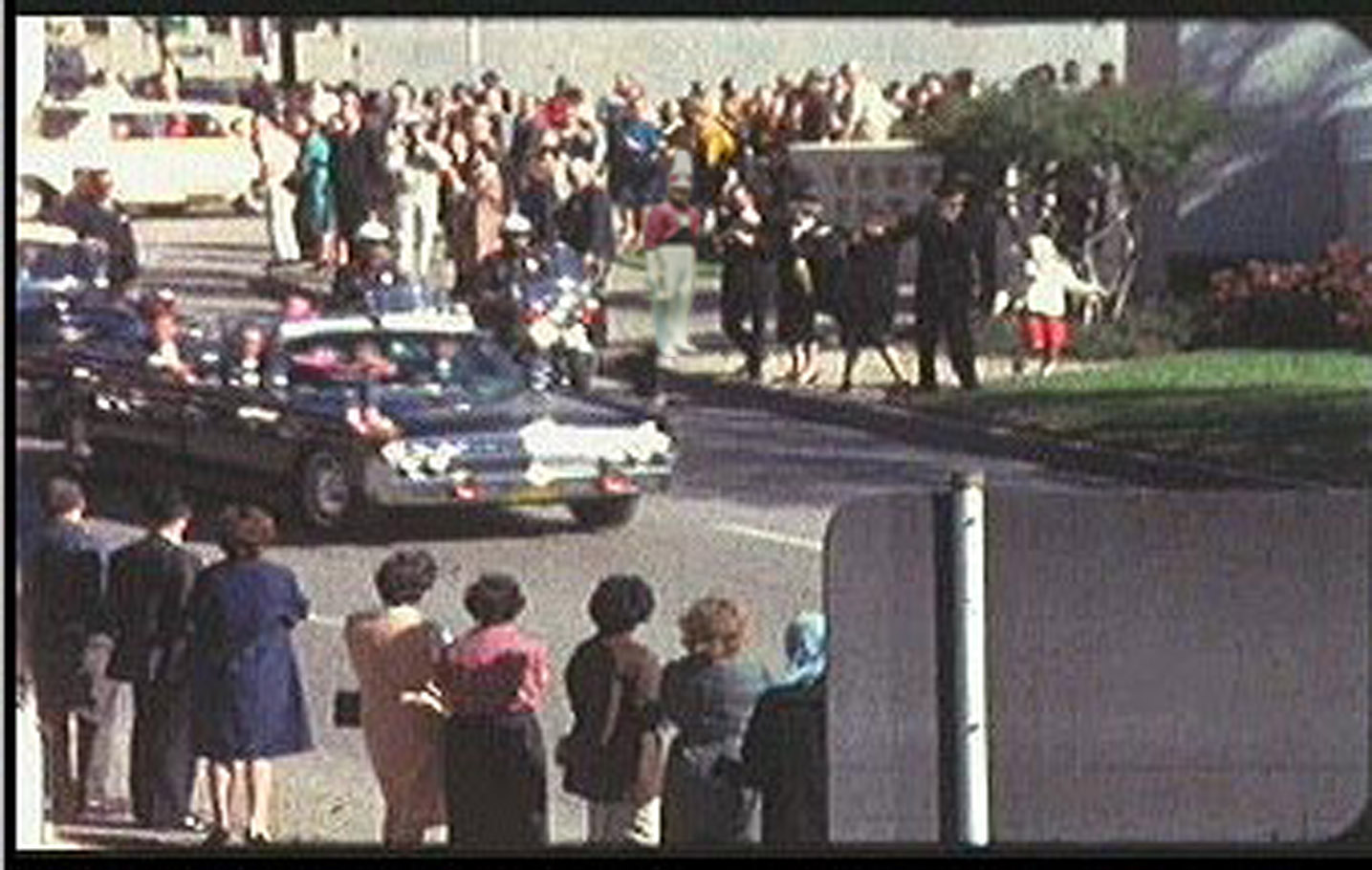 MY OWN VIEW (ABOVE) FROM THE CEMENT PEDESTAL. BLACK CAR IS VIRTUALLY IN THE SAME SPOT AS KENNEDY'S LIMO WHEN THE FATAL SHOT RANG OUT. FROM SIDEWALK ON ELM ST. (BELOW), TRIPLE-UNDERPASS LEADING TO THE STEMMONS FREEWAY.
EMAIL: HOWARDLBERGER@GMAIL.COM
TWITTER: BERGER_BYTES
FACEBOOK: HOWARD BERGER [TORONTO]