By HOWARD BERGER
TORONTO (Dec. 15) – I remember the game as if it were yesterday, but I still had to look up the date (I'm only so much a hockey savant). Though merely 15 years old, I somehow felt I was watching the final Toronto Maple Leafs game of my life – so fearful was I of my first-ever jet-plane ride, two days later.
We were heading to Florida over the Christmas school break and the notion of flying had all but paralyzed me. I needed something – anything – to take my mind off the fast approaching Toronto to Miami trek.
Enter your beloved Blue and White.
The date was Dec. 21, 1974 – a Saturday. After a bounce-back season in 1973-74 (improving by 22 points), the Leafs had again fallen on hard times with a ghastly 9-16-6 record in 31 games. Conversely, Boston Bruins were sailing along at 19-7-6, arriving here on a tidy seven-game win streak. These were the Bruins of Bobby Orr and Phil Esposito – guided by rookie coach Don Cherry. It would be the third (and final) time Orr suited up for all games of a season; the peerless defenseman winning the Art Ross Trophy with 135 points while setting a National Hockey League record for most goals (46) by a blue-liner (Paul Coffey would establish the new and existing mark – 48 – with the 1985-86 Edmonton Oilers). Esposito led the NHL in goals (61) and finished second to Orr with 127 points. Safe to say few people anticipated a struggle when the Bruins came to town four days before Christmas.
Those people were bang-on… only in reverse.
Providing their disgruntled fans an early Holiday gift, Leafs hammered the Bruins, 8-4. Obviously, I don't remember who scored the goals, but they just kept coming. Leafs big gunners were Darryl Sittler, Ron Ellis, Errol Thompson and Blaine Stoughton. Veterans Dave Keon, Norm Ullman and Eddie Shack were in their final season with the club. The eight-goal eruption was bettered only once that year, when Leafs annihilated the North Stars, 9-2, in Bloomington, Minn. on Feb. 25, 1975.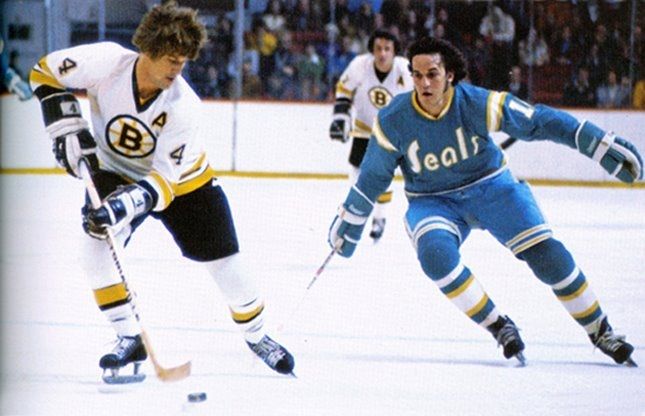 BOBBY ORR GATHERS IN PUCK DURING GAME AGAINST THE OLD CALIFORNIA GOLDEN SEALS AT BOSTON GARDEN IN 1974-75. PHIL ESPOSITO IS IN THE BACKGROUND.
I offer you this four-decades-ago memory for one reason: The Leafs destruction of Boston came to mind several times during a similarly shocking result – last night's 7-3 embarrassment of Chicago at Air Canada Centre. It was a game that no hockey observer expected, and though Blackawks stunk like at no other time in the past two seasons, Leafs did not take their foot off the pedal. For the second time in as many home games, Leafs were flying – and rewarded, this time, with a victory, having been defeated, 3-1, by Los Angeles Kings on Wednesday.
As such, Randy Carlyle's crew avoided getting blanked in a four-game stretch against Boston, L.A., St. Louis and Chicago. A road game in Pittsburgh looms on Monday, with the prospect of Evgeni Malkin not being in uniform for the Penguins. After collecting three points in a 4-1 victory at Detroit last night, Malkin lost his footing behind the Red Wings goal while entangled with rookie Luke Glendening. The big Russian went feet-first into the end boards – his left leg taking the brunt. He was helped off the ice, lifting his skate the whole way. It looked ominous.
LEAF FANS HAD A DOUBLE-DOSE OF CHEER ON SATURDAY: A MONSTER VICTORY OVER THE DEFENDING STANLEY CUP CHAMPIONS AND LEGENDARY BOB COLE (BESIDE KELLY HRUDEY) IN THE TELECAST BOOTH ON HOCKEY NIGHT IN CANADA. CBC IMAGES
Should Leaf fans anticipate consecutive good performances by the club? Probably not, though Leafs have skated well at Consol Energy Center the past couple of years – a 4-1 second-period lead morphing into a 6-5 shootout loss to the Penguins on Nov. 27. Not coincidentally, in my view, have Leafs upped the tempo at home this week with Carlyle deploying his young, inexperienced, but undeniably gifted players.
Jake Gardiner was terrific against Chicago, skating as he did toward the end of last season while adroitly setting up goals by Peter Holland (with a clean outlet pass) and Joffrey Lupul (with a low, accurate shot from inside the point that was redirected past Anti Raanta). I've liked Jerry D'Amigo's game since his recall from Toronto Marlies last week; he scored his first NHL goal on Saturday. Holland, Morgan Rielly and Cody Franson also performed efficiently against L.A. and Chicago.
For one splendorous night, anyway, Leaf fans were able to forget and enjoy. As I did, on a similar night, in 1974.
Oh yeah, I survived that Toronto to Miami flight, as did all fellow passengers. Nearly one thousand subsequent plane rides have delivered and returned me safely.
BOBBY ORR AUTOGRAPHS
Speaking of the greatest player in NHL history, I found the two hockey magazines on which Bobby Orr graced me with his signature: 
SOME TIME IN THE LATE-1980's, ORR WAS IN THE PRESS BOX AT MAPLE LEAF GARDENS. I WAS SITTING NEXT TO JIM PROUDFOOT OF THE THE TORONTO STAR WHEN ORR DROPPED BY TO SAY HELLO TO THE FAMED COLUMNIST. I HAD BROUGHT SEVERAL OF MY OLD HOCKEY ILLUSTRATED MAGAZINES TO SHOW PROUDFOOT – ONE FORTUITOUSLY BEING THE MARCH 1969 ISSUE (ABOVE) WITH ORR ON THE COVER. BOBBY GRACIOUSLY SIGNED THE PHOTO AFTER CHATTING WITH PROUDFOOT.
HERE'S ANOTHER MEMORY THAT HAS SOMEHOW STUCK WITH ME THROUGH THE DECADES. IN JUNE 1971 – LATE IN MY FINAL YEAR OF ELEMENTARY (OR GRADE) SCHOOL – SEVERAL CLASSES TRAVELED BY BUS TO NORTH BAY FOR TWO NIGHTS. I HAVE NO IDEA, ALL THESE YEARS LATER, WHY WE WERE ON SUCH A TRIP BUT I WILL ALWAYS REMEMBER THE BUS STOPPING OUTSIDE ORILLIA, NEAR THE BOBBY ORR-MIKE WALTON SPORTS CAMP. SOMEONE HAD ARRANGED FOR ORR TO COME ABOARD THE VEHICLE AND SAY HELLO. THANKFULLY, I HAD MY MAY 1971 COPY OF HOCKEY ILLUSTRATED (ABOVE), WITH DEREK SANDERSON ON THE COVER.  
AFTER ORR CAME ON AND ADDRESSED US OVER THE BUS MICROPHONE, WE WERE ABLE TO GO OUTSIDE AND STRETCH OUR LEGS FOR A FEW MOMENTS. JUST BEFORE HE DROVE OFF, I CAUGHT UP TO ORR AND ASKED HIM TO SIGN A PHOTO ON THE COLOR CENTER-SPREAD OF THE MAGAZINE (ABOVE AND BELOW). HE COMPLIED.
EMAIL: HOWARDLBERGER@GMAIL.COM
TWITTER: BERGER_BYTES
FACEBOOK/LINKEDIN: HOWARD BERGER [TORONTO ON]