By HOWARD BERGER
TORONTO (Jan. 6) – It appears all but certain that Maple Leafs general manager David Nonis will have to make a decision before the National Hockey League trade deadline this year:
Nazem Kadri or Randy Carlyle.
Should Nonis choose Door No. 1 – to retain Kadri and continue his development – he'll almost certainly have to find a new coach. If it's Door No. 2, and Carlyle remains behind the Leafs bench beyond this season, Kadri will pack up and be out of town on or before Mar. 5.
There seems to be no other way.
Carlyle made it clear on the HBO 24/7 series that he and Kadri are at lager-heads. "He thinks he's a number-one [center] but he isn't," scoffed the coach. "He has a rather inflated opinion of himself."
After a punishing skate on Sunday – and in the wake of Saturday night's calamity against New York Rangers – there was more.
"[Kadri] seems to be in a bit of a funk," offered Carlyle in a early bid for personal understatement-of-the-year. "He seems to be standing still in a lot of situations. He's falling down a lot… I've never seem him fall down on the ice when he's got 100 per cent possession of the puck. [On Saturday], at the blue line, he finds a way to fall down. He's surprised and we're surprised that those types of things are happening to him.
"Our advice to him is to commit to the time off the ice [workouts in the gym], and when you're on the ice, you work extremely hard and then you do extra… and that's what he's doing now. It's the same for any pro. When things aren't going well for yourself, you have to be selfish, take a look in the mirror and say, 'I've got to work my way out of this.' The old adage is put your nose to the grindstone and work your way through it."
I'm not entirely sure what all that meant but it wasn't exactly an endorsement of the London Knights' phenom the Maple Leafs took seventh overall in the 2009 NHL draft.
NAZEM KADRI RESPONDS TO RANDY CARLYLE AT XCEL ENERGY CENTER AFTER BEING TOSSED FROM LEAFS GAME IN MINNESOTA, NOV. 13. BRACE HIMMELGARN USA TODAY SPORTS
Another consideration for Nonis will be the standing of his hockey club as it approaches the trade deadline. I've said it before and I'll repeat: I don't think Carlyle can survive Leafs missing the playoffs this season.
Apart from the team's obvious regression, Carlyle – it must be remembered – was a Brian Burke hire that Nonis inherited. In a functional organization, it should always be the prerogative of a GM to name his own coach. The last Toronto manager to do that, without ulterior motive, was John Ferguson, who supplanted Pat Quinn with Paul Maurice for the 2006-07 season. Cliff Fletcher hired Ron Wilson in June 2008, correctly anticipating that Burke would replace him as GM and run the show. Burke then hired Carlyle to take over from Wilson, having won the 2007 Stanley Cup with Carlyle in Anaheim. Nonis maintained the status quo upon Burke's abrupt firing last January.
Should Nonis conclude that Leafs are on the playoff terminator, with no more than a 50/50 chance of qualifying for the post-season, he could be quiet at the trade deadline and make a coaching move in the summer. It would be less risky than trading an unpolished talent like Kadri. 
On the flip side, Kadri now appears to be 0-for-2 with NHL coaches, having previously failed to gain Wilson's confidence. But, Kadri did respond to the tough love of Dallas Eakins during the lockout last year – albeit in the American Hockey League. He was much more thorough while performing at nearly a point-per-game clip with Leafs in the abbreviated 48-game schedule. It is another reason for Nonis to be circumspect with Kadri, who is far from the only Leaf youngster to regress under Carlyle. If, however, Nonis feels that moving Kadri is in the best interest of the hockey club – and if Eakins is likely to survive the mess in Edmonton – there could be a match at the trade deadline.
A Kadri-for-Nail Yakupov swap might be sensible from a skill perspective, though Yakupov would send Carlyle to a mental institution within a month. A better fit – should Carlyle be retained – is veteran Sam Gagner, who Leafs have previously inquired about. Gagner has been the topic of rampant trade speculation in northern Alberta, but he's also accomplished a bit in the NHL, with seasons of 18 and 16 goals.
Perhaps a change of scenery would benefit the player Edmonton chose sixth overall in the 2007 draft. Gagner does have two years left after this season on a contract that pays him $5 million and carries a $4.8-million cap hit. Though the payroll ceiling is expected to rise to $71.1 million next year – an increase of $6.8 million per team – Leafs aren't exactly swimming in cap space and Gagner's contract would likely require movement elsewhere. It is, however, highly workable.
Whatever transpires – if anything – it appears certain that Kadri and Carlyle will never be a match. For the betterment of the Maple Leafs, Nonis will have to dissolve the unworkable accord.
BOBBY HULL FISH-WRAP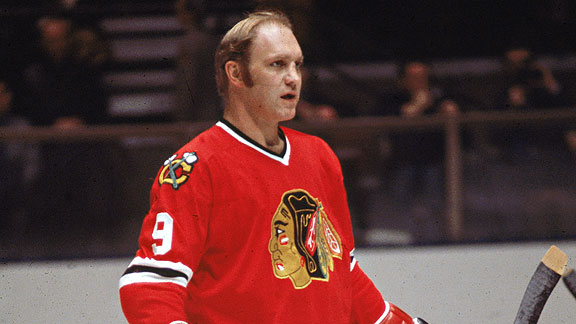 After reading my personal recollections of Bobby Hull in a blog (here: 1e0Dw71) on Friday, former Toronto Star columnist Dave Perkins emailed an amusing yarn:
Howard: Happy New Year and all that good stuff. Your Hull piece brings a memory for me, too. First byline I ever got in the Globe and Mail, while I was working there part-time and attending Ryerson, was on a Hull story. Jim Vipond sent me up to Varsity Arena because Hull was in town with the [WHA] Winnipeg Jets to play Toronto Toros. Hull introduced himself to me, a 19-year-old nobody, and called me by name. I wrote the story and it appeared the next day under my byline. That made me hot stuff (for a day) among the Ryerson crew; bylines in the Globe were the stuff of dreams. Four days later, hustling into work for the Globe after class, I stopped for some takeout fish and chips. Sure as hell, they wrapped my dinner in newspaper and right on top was Monday's Globe with my Hull story and byline. Valuable lesson: Four days later it's fish-wrap. I never forgot that. Cheers, Dave Perkins.
BARNYARD AT LAMBEAU
THOUGH I'M GLAD I WASN'T IN THE CROWD FOR THE SAN FRANCISCO AT GREEN BAY NFL WILD-CARD GAME ON SUNDAY – PLAYED AT NIGHT IN A MINUS-20F WIND-CHILL – IT WAS COOL WATCHING ON TV. THE "FROZEN TUNDRA" AT LAMBEAU FIELD NO LONGER RESEMBLED GRASS (ABOVE AND BELOW), BUT SOMETHING YOU'D SEE IN A BARN FULL OF HAY. THE 49ers PREVAILED ON A LAST-SECOND FIELD GOAL. FOX/CTV IMAGES
CANCER OR CONJUNCTIVITIS?
Though cancer of any sort is not to be discussed flippantly, I did a double-take when reading this week's edition of the National Enquirer (not a habit, I swear). The grocery-store tabloid claims O.J. Simpson likely has a malignant brain tumor and quotes the former Buffalo Bills running back saying "I feel the end coming." But, a closer look at the magazine made me wonder if O.J. merely has "pink-eye?"
COMPARE THE COVER PHOTO (TOP-LEFT) TO THE IDENTICAL IMAGE THAT ACCOMPANIED THE STORY (RIGHT). IT APPEARS THAT SOME FORM OF "COLORING" TOOK PLACE. HARD TO BELIEVE IT'LL BE 20 YEARS – JUNE 12 – SINCE THE SLAYINGS OF NICOLE BROWN SIMPSON AND RONALD GOLDMAN, FOR WHICH O.J. WAS ACQUITTED AFTER A SENSATIONAL MURDER TRIAL. I WAS IN NEW YORK COVERING THE '94 STANLEY CUP FINAL WHEN NEWS BROKE THAT THE EX-NFL STAR WAS A PRIME SUSPECT.
EMAIL: HOWARDLBERGER@GMAIL.COM
TWITTER: BERGER_BYTES
FACEBOOK/LINKEDIN: HOWARD BERGER [TORONTO ON]