UPDATED ANUALLY, HERE IS A RE-POST OF THE NOW 60 MEN THAT HAVE TENDED GOAL FOR THE TORONTO MAPLE LEAFS SINCE THE 1967 STANLEY CUP TRIUMPH:
By HOWARD BERGER
TORONTO (Jan. 25) – Today marks 46 years, eight months and 23 days since Maple Leafs last hoisted the Stanley Cup.
On the night of Sat. Oct. 14, 1967, when Chicago Black Hawks visited Maple Leaf Gardens to begin the expansion era in the National Hockey League (which had doubled from six to 12 teams), Johnny Bower started in goal. Toronto breezed to a 5-1 victory. Bower and Terry Sawchuk had shared the goaltending duties the previous spring, when Leafs upset the Black Hawks and Canadiens to win the '67 championship. Unprotected for the expansion draft, Sawchuk was quickly chosen by the Los Angeles Kings. It left Bower and Bruce Gamble to form the Leafs netminding duo for 1967-68.
BOBBY ORR SHOOTING ON BERNIE PARENT IN 1971.
Since that October night, a total of 60 men have played at least one regular-season game in goal for the Leafs. None have been so fortunate as to raise the Stanley Cup. None have played for the Leafs in the Stanley Cup final. Only one has competed for Toronto in a seventh game of the Cup semifinals. How many do you recall?
TERRY SAWCHUK (LEFT) AND JOHNNY BOWER CELEBRATE IN THE DRESSING ROOM AT MAPLE LEAF GARDENS AFTER TORONTO DEFEATED MONTREAL, 3-1, ON MAY 2, 1967 TO WIN THE CLUB'S LAST STANLEY CUP.
JOHNNY BOWER CONCLUDED HIS TERRIFIC RUN WITH THE LEAFS IN DECEMBER 1969 AT THE AGE OF 45, MAINLY BECAUSE HE COULDN'T SEE THE PUCK ANYMORE. A KEY MEMBER OF ALL FOUR STANLEY CUP TEAMS IN THE '60s, BOWER PLAYED 51 1/3 GAMES FOR THE BLUE AND WHITE AFTER EXPANSION, RECORDING THE FINAL SIX SHUT-OUTS OF HIS NHL CAREER.
FROM 1967-70, BRUCE GAMBLE WAS MORE-OR-LESS THE LEAFS NUMBER-ONE GOALIE – NERVOUSLY SENSING THE GREAT BOBBY ORR IN THE ABOVE PHOTO. GAMBLE'S SEASON HIGH WITH LEAFS WAS 61 GAMES IN 1968-69. HE APPEARED IN 177 GAMES AFTER EXPANSION AND WAS DEALT TO PHILADELPHIA ON FEB. 1, 1971.
A PRODUCT OF THE JUNIOR TORONTO MARLBOROS, THE LATE AL SMITH SUBBED FOR BOWER AND GAMBLE DURING THE '68-69 SEASON AND WAS CLAIMED BY PITTSBURGH IN THE JUNE 1969 INTRA-LEAGUE WAIVER DRAFT. HE APPEARED IN SEVEN GAMES FOR THE LEAFS AND COMPILED A 2.87 GOALS-AGAINST AVERAGE.
LEAFS CLAIMED MINOR-LEAGUE VETERAN MARV EDWARDS FROM PITTSBURGH AND HE SHARED GOALTENDING DUTIES WITH GAMBLE IN 1969-70. EDWARDS HAD PLAYED IN THE MINORS AT AMARILLO, TEXAS FOR THE LEAFS COACH AT THE TIME, JOHN McLELLAN. THE ST. CATHARINES NATIVE APPEARED IN 25 LEAF GAMES WITH A 10-9-4 RECORD; 3.25 GAA AND ONE SHUT-OUT. HE LATER PLAYED WITH THE CALIFORNIA GOLDEN SEALS.
THE MAN THAT WOULD BE GENERAL MANAGER OF THE LEAFS FOR MUCH OF THE 1980s APPEARED IN TWO GAMES FOR THE CLUB DURING THE 1969-70 SEASON. GERRY McNAMARA REPLACED GAMBLE AT 6:44 OF THE THIRD PERIOD AT THE GARDENS ON JAN. 14, 1970 DURING A 7-1 ROMP BY THE RANGERS (PHOTO FROM THAT GAME ABOVE-LEFT). HE WENT IN FOR GAMBLE AGAIN AT 9:48 OF THE FINAL PERIOD JUST MORE THAN A WEEK LATER – JAN. 23, 1970 – DURING A 6-3 LOSS TO THE SEALS IN OAKLAND. McNAMARA ALLOWED TWO GOALS AGAINST THE RANGERS AND HIS GAA FOR '69-70 WAS 5.22.
LEAFS WENT BIG – AND OLD – TO START THE NEW MILLENNIUM, PURCHASING A FUTURE HALL-OF-FAMER FROM ST. LOUIS ON MAY 18, 1970. AND, WOULDN'T YOU KNOW IT, JACQUES PLANTE, 42, HAD ONE OF THE BEST SEASONS OF HIS BRILLIANT CAREER – REGISTERING A 1.88 GAA AND FOUR SHUT-OUTS IN 40 GAMES WITH THE 1970-71 MAPLE LEAFS. THE BACKBONE OF MONTREAL'S RECORD FIVE CONSECUTIVE STANLEY CUPS (1956-60), PLANTE WOULD PLAY THREE SEASONS FOR THE LEAFS (106 GAMES/ 48-38-16 RECORD/ 2.46 GAA AND SEVEN SHUT-OUTS). HE WAS TRADED TO BOSTON ON MAY 22, 1973 FOR GOALIE ED JOHNSTON AND THE BRUINS FIRST-ROUND PICK THAT SUMMER, WHICH TURNED INTO A GEM: DEFENSEMAN IAN TURNBULL, WHO STILL HOLDS THE LEAFS SEASON RECORD FOR POINTS BY A DEFENSEMAN WITH 79.
OH, WHAT THE LEAFS MIGHT HAVE ACCOMPLISHED HAD THEY HUNG ONTO THIS GUY. GM JIM GREGORY PULLED OFF ONE OF THE MORE BRILLIANT DEALS IN FRANCHISE HISTORY, ACQUIRING BERNIE PARENT FROM PHILADELPHIA FOR GAMBLE AND MIKE WALTON ON FEB. 1, 1971 (WALTON WAS SUBSEQUENTLY TRADED TO BOSTON). PARENT – LEARNING FROM PLANTE – WOULD PLAY ONLY 65 GAMES IN A TORONTO JERSEY OVER PARTS OF TWO SEASONS BEFORE CHEAPSKATE OWNER HAROLD BALLARD DARED HIM TO JUMP TO THE NEW WORLD HOCKEY ASSOCIATION. PARENT DID JUST THAT, AFTER 65 GAMES WITH THE LEAFS AND A 2.59 GAA. HE DEMANDED A TRADE BACK TO PHILADELPHIA AFTER A BRIEF TENURE IN THE WHA AND LEAFS COMPLIED, GETTING GOALIE DOUG FAVELL AND A FIRST-ROUNDER (BOB NEELY) FOR PARENT ON MAY 15, 1973. TWO YEARS LATER, PARENT RAISED THE STANLEY CUP WITH THE FLYERS FOR A SECOND CONSECUTIVE SPRING.
NOT TO BE CONFUSED WITH THE ACCOMPLISHED CANADIAN FOLK-SINGER OF THE SAME NAME, THIS FELLOW'S CAREER SPANNED PARTS OF TWO GAMES WITH THE LEAFS IN 1970-71. THE FIRST WAS RATHER FAMOUS, AS HE REPLACED A SHELLED BRUCE GAMBLE ON NOV. 18, 1970 AT THE GARDENS DURING PUNCH IMLACH'S CELEBRATED RETURN TO THE CITY AS GM AND COACH OF THE BUFFALO SABRES. IMLACH RECEIVED A LONG STANDING OVATION BEFORE THE OPENING FACE-OFF AND HIS EXPANSION TEAM WAXED THE LEAFS, 7-2. THE FOLLOWING NIGHT, IN MONTREAL, COACH JOHN McLELLAN SAW FIT TO START McLACHLAN AGAINST THE CANADIENS, BUT HAD TO TURN TO GAMBLE AFTER THE ROOKIE ALLOWED THREE GOALS IN THE OPENING 13:24 OF PLAY. McLACHLAN'S CAREER THUS ENDED AT THE FORUM THAT NIGHT: TWO GP/ 0-1-0 RECORD AND 9.60 GAA.
GORD McRAE, OR "THE BIRD", AS HE WAS KNOWN, ENJOYED HIS 15 MINUTES OF FAME IN BLUE AND WHITE DURING THE 1975 STANLEY CUP PLAYOFFS. HE WAS PRIMARILY RESPONSIBLE FOR THE LEAFS UPSETTING LOS ANGELES IN A BEST-OF-THREE PRELIMINARY ROUND – THE CLUB'S FIRST SERIES VICTORY SINCE THE '67 STANLEY CUP. LEAFS WON THE DECIDING MATCH, 2-1, AT THE FORUM IN INGLEWOOD, CALIF., JUST ONE NIGHT AFTER BLAINE STOUGHTON HAD EXTENDED THE SERIES WITH AN OVERTIME GOAL AT MAPLE LEAF GARDENS. McRAE WAS BACK-UP TO MIKE PALMATEER DURING LEAFS EXCELLENT SEASON OF 1977-78. SPORTING A BEARD IN THE TEAM PHOTO THAT YEAR (AGAINST HAROLD BALLARD`S RULE), A HAIR-LESS IMAGE OF McRAE WAS TRANSPOSED OVER THE BEARDED ONE, AND NONE-TOO-NEATLY, AS THE GOALIE APPEARED TO HAVE AN ELONGATED NECK. HE PLAYED PARTS OF FIVE SEASONS IN TORONTO (71 GP/ 30-22-10/ 3.49 GAA/ ONE SHUT-OUT).
THE PRIME VICTIM OF BERNIE PARENT'S DEPARTURE TO THE WHA WAS THIS MAN (ABOVE) – RON LOW GETTING SADDLED WITH THE WORST LEAFS TEAM TO THAT POINT IN MODERN NHL HISTORY AS A ROOKIE IN 1972-73. LOW SHARED DUTIES WITH JACQUES PLANTE AND McRAE, LEADING TORONTO GOALIES IN WINS (12-24-4, 3.89 GAA) AS LEAFS FINISHED OUT OF THE PLAYOFFS WITH A 27-41-10 RECORD FOR 64 POINTS – 16 FEWER THAN THE PREVIOUS YEAR. LOW WOULD PLAY IN 42 GAMES WITH LEAFS. AND, TORONTO MUST HAVE SEEMED LIKE A PICNIC FOR HIM TWO SEASONS LATER, WHEN HIS FORTUNE DETERIORATED FURTHER AS NO. 1 GOALIE WITH THE EXPANSION WASHINGTON CAPITALS – WORST TEAM EVER IN THE NHL – WITH A MARK OF 8-67-5.
TRADED TO LEAFS FOR BERNIE PARENT – WITH WHOM HE HAD SHARED GOALTENDING DUTIES IN PHILADELPHIA FOR THE FIRST THREE YEARS OF EXPANSION – DOUG FAVELL WOULD SPEND PARTS OF THREE SEASONS IN BLUE AND WHITE. FAVELL, DUNC WILSON AND ED JOHNSTON WERE A TANDEM IN 1973-74, HELPING LEAFS BACK INTO THE PLAYOFFS WITH A 22-POINT IMPROVEMENT FROM THE PREVIOUS YEAR. FAVELL PLAYED 74 GAMES IN TORONTO (26-26-16/ 3.53 GAA/ ONE SHUT-OUT).
A FREE SPIRIT THAT HAD PREVIOUSLY PLAYED IN PHILADELPHIA AND VANCOUVER, DUNC WILSON PERFORMED DECENTLY ALONGSIDE FAVELL AND JOHNSTON IN '73-74. HE ALSO TENDED GOAL FOR LEAFS THE FOLLOWING YEAR BEFORE THE RANGERS SCOOPED HIM UP IN THE WAIVER DRAFT. WILSON'S LEAF TOTALS: 49 GP/ 17-22-7/ 3.29 GAA/ ONE SHUT-OUT.
ED JOHNSTON WAS QUITE CELEBRATED BY THE TIME HE JOINED THE LEAFS AT 37 YEARS OF AGE… HE AND ANOTHER EX-LEAF, GERRY CHEEVERS, HAD SHARED GOALTENDING DUTIES ON THE BRUINS STANLEY CUP TEAMS OF 1970 AND 1972. HE PLAYED FAIRLY WELL FOR THE IMPROVED TORONTO TEAM OF '73-74 (26 GP/ 12-9-4/ 3.09 GAA/ ONE SHUT-OUT). EDDIE WAS TRADED TO ST. LOUIS FOR FORWARD GARY SABOURIN ON MAY 27, 1974.
YOU'RE A GRADE-A LEAFS FAN IF YOU REMEMBER THIS FELLOW. UNDRAFTED AND INVITED TO TRAINING CAMP IN 1974, PIERRE HAMEL APPEARED IN FOUR GAMES AS A LEAF IN '74-75 AND ANOTHER IN '78-79 BEFORE PLAYING 64 GAMES WITH THE GOD-AWFUL WINNIPEG JETS IN THEIR FIRST TWO NHL SEASONS (1979-80 AND 1980-81, PHOTO ABOVE-RIGHT). HAMEL BEGAN HIS CAREER BY STARTING CONSECUTIVE-NIGHT GAMES FOR THE LEAFS IN OAKLAND AND VANCOUVER, NOV. 15-16, 1974. HE BEAT THE CALIFORNIA GOLDEN SEALS, 5-3, ON A FRIDAY AND THEN LOST A NATIONALLY-TELEVISED GAME TO THE CANUCKS, 5-2. HIS LEAF TOTALS: 5 GP/ 1-2-0/ 5.51 GAA).
ACQUIRED FROM MONTREAL, WHERE HE HAD SAT IN THE PRESS BOX FOR EVERY GAME OF THE 1974-75 SEASON, WAYNE THOMAS HAD AN ABOVE-AVERAGE YEAR WITH THE LEAFS IN '75-76. HIS GOALTENDING HEROICS ON AN EMERGING, YOUNG TEAM HELPED TORONTO EXTEND TWO-TIME DEFENDING CUP-CHAMPION PHILADELPHIA TO THE SEVENTH AND DECIDING GAME OF A BRAWL-FILLED QUARTERFINAL SERIES DURING WHICH DARRYL SITTLER TIED A LEAGUE MARK WITH FIVE GOALS IN ONE MATCH. THOMAS PLAYED IN 64 GAMES THAT SEASON BUT WAS REPLACED EARLY THE FOLLOWING YEAR AFTER A DREADFUL START. HE WAS CLAIMED BY THE NEW YORK RANGERS IN THE OCTOBER 1977 INTRA-LEAGUE WAIVER DRAFT AND IS CURRENTLY VICE-PRESIDENT AND ASSISTANT GM OF THE SAN JOSE SHARKS. THOMAS' TORONTO TOTALS: 97 GP/ 38-37-18/ 3.41 GAA/ THREE SHUT-OUTS.
BRASH AND CONFIDENT, ON AND OFF THE ICE, MIKE PALMATEER WAS CALLED UP TO THE LEAFS AFTER THE CLUB STUMBLED OUT OF THE GATE IN 1976-77 WITH A 1-5-3 RECORD. HE TOLD GM JIM GREGORY "YOUR GOALTENDING TROUBLES ARE OVER" AND BACKED UP HIS CLAIM. PALMATEER PERFORMED SPECTACULARLY IN A 1-0 VICTORY OVER MONTREAL AT THE GARDENS ON NOV. 17, 1976 – HANDING THE CANADIENS ONE OF ONLY EIGHT LOSSES THAT SEASON. HE WAS PHENOMENAL DURING THE 1978 PLAYOFF UPSET OF THE ISLANDERS, WHICH LANNY McDONALD WON WITH AN OVERTIME GOAL IN GAME 7 AT NASSAU COLISEUM. PALMATEER PLAYED SIX SEASONS IN TORONTO – COMING BACK TO THE LEAFS TWO YEARS AFTER BEING TRADED TO WASHINGTON IN 1980 – AND IS CURRENTLY AN AMATEUR SCOUT WITH THE CLUB. HIS LEAF TOTALS: 296 GP/ 129-112-41/ 3.43 GAA/ 15 SHUT-OUTS.
ACQUIRED FROM MINNESOTA FOR A FOURTH-ROUND DRAFT PICK ON JUNE 14, 1978, PAUL HARRISON SERVED AS BACK-UP TO PALMATEER IN THE '78-79 SEASON AND WAS AMONG FIVE GOALIES DEPLOYED BY THE CLUB IN THE TURMOIL-FILLED '79-80 CAMPAIGN. HIS LEAF TOTALS: 55 GP/ 17-29-5/ 3.98 GAA/ ONE SHUT-OUT.
IMPORTED FROM THE FORMER CZECHOSLOVAKIA, JIRI CRHA – OR "GEORGE" – WAS TOUTED AS THE ELIXIR TO LEAF GOALTENDING ISSUES WHEN HE ARRIVED AS A TRAINING CAMP INVITEE IN 1979. NEEDLESS TO SAY, THE PLAN DIDN'T QUITE UNFOLD. CRHA ALMOST ALWAYS HAD HIS REAR-END PLANTED BENEATH THE CROSS-BAR IN THE LEAFS CAGE, THEREFORE SHUNNING THE COMMON STRATEGY OF NARROWING SHOOTING ANGLES. HIS REFLEXES WERE TERRIFIC AND THAT'S WHY HE STUCK AROUND  FOR A COUPLE OF SEASONS, TOTALLING 69 GP/ 28-27-11/ 3.97 GAA. HE LATER BECAME A CERTIFIED HOCKEY AGENT.
HAVING PLAYED 96 GAMES WITH VANCOUVER BETWEEN 1975 AND 1979, CURT RIDLEY WAS KIND OF A DESPERATE ACQUISITION BY PUNCH IMLACH ON FEB. 10, 1980, AS THE LEAFS GM PURCHASED THE MINNEDOSA, MAN. NATIVE IN THE HOPE OF OBTAINING A SEMBLANCE OF STABILITY BETWEEN THE PIPES. IT WAS NOT TO BE. RIDLEY APPEARED IN ONLY SIX GAMES AS A LEAF OVER TWO SEASONS, WITH A 1-2-0 RECORD AND 5.13 GAA.
ANOTHER IMLACH EXPERIEMENT WAS YOUNG VINCENT TREMBLAY, WHO PLAYED IN PARTS OF FOUR SEASONS WITH THE LEAFS, WINNING 10 GAMES IN 1981-82. CHOSEN 72nd OVERALL IN THE 1979 NHL DRAFT, TREMBLAY APPEARED IN 54 GAMES IN BLUE AND WHITE, WITH A 12-22-8 RECORD; 4.69 GAA AND ONE SHUT-OUT.
THE CURRENT AND LONG-TIME GM OF THE CAROLINA HURRICANES (ABOVE) DOESN'T HAVE QUITE AS MUCH HAIR AS HE DID WHEN IMLACH ACQUIRED HIM FROM DETROIT FOR FORWARD MARK KIRTON ON DEC. 4, 1980. NEITHER DID JIM RUTHERFORD HAVE A LOT OF SUCCESS WITH THE LEAFS DURING 1980-81 BEFORE IMLACH DISPATCHED HIM TO L.A. AT THE TRADE DEADLINE FOR A FIFTH-ROUND PICK. RUTHERFORD'S LEAF TOTALS: 18 GP/ 4-10-2/ 5.12 GAA.
IF NOTHING ELSE, MICHEL (BUNNY) LAROCQUE HAD LEARNED HOW TO WIN BEFORE COMING TO THE LEAFS IN A TRADE FOR DEFENSEMAN ROB PICARD ON MAR. 10, 1981 – THE SAME DAY IMLACH SENT RUTHERFORD TO THE KINGS. LAROCQUE HAD BEEN BACK-UP TO KEN DRYDEN DURING MONTREAL'S STANLEY CUP DYNASTY OF THE LATE-'70s – APPEARING IN 231 GAMES WITH THE HABS BETWEEN 1973 AND 1980 WHILE SHARING THE VEZINA TROPHY WITH DRYDEN ON THREE OCCASIONS. THINGS DIDN'T PAN OUT QUITE AS SPECTACULARLY IN TORONTO, WHERE LAROCQUE PLAYED PARTS OF THREE SEASONS. HIS LEAF TOTALS: 74 GP/ 16-35-13/ 4.90 GAA. SADLY, BUNNY DIED OF BRAIN CANCER AT JUST 40 YEARS OF AGE ON JULY 29, 1992.
MOST CERTAINLY THE SECOND-BEST B. PARENT TO TEND GOAL FOR THE MAPLE LEAFS, THE ABOVE FELLOW SUBBED DURING THREE GAMES OVER TWO SEASONS (1981-82 AND 1982-83), WITH AN 0-2-0 RECORD AND 5.63 GAA.
BETWEEN 1977 AND 1982, RICK ST. CROIX APPEARED IN 82 GAMES WITH SOME DECENT PHILADELPHIA CLUBS AND WAS DEALT TO THE LEAFS FOR BUNNY LAROCQUE ON JAN. 10, 1983. WITH AWFUL TORONTO TEAMS OVER THREE SEASONS, ST. CROIX PLAYED IN 47 GAMES; REGISTERED AN 11-28-2 RECORD AND A 4.65 GAA. HE IS CURRENTLY THE LEAFS' GOALTENDING COACH.
THE FIRST TIME I SAW ALLAN BESTER (ABOVE) IN PERSON, I WONDERED HOW THE LEAFS WERE ABLE TO DRAFT A 10-YEAR-OLD GOALIE. CHOSEN 49th OVERALL IN 1983 FROM BRANTFORD OF THE OHL, BESTER REMAINS THE YOUNGEST-LOOKING NHLer I'VE EVER LAID EYES ON. TYPICALLY RUSHED INTO THE LINE-UP BY THE LEAFS OF THAT ERA, THE HAMILTON NATIVE PLAYED 32 GAMES AS A 19-YEAR-OLD ROOKIE IN 1983-84, SHARING THE DUTIES WITH FOUR OTHERS. OVER EIGHT SEASONS, BESTER APPEARED IN 205 REGULAR-SEASON GAMES WITH THE LEAFS (69-91-16/ 4.06 GAA/ SEVEN SHUT-OUTS). I REMEMBER HIM AS A CHATTY, GOOD-NATURED KID.
ALSO FAST-TRACKED TO THE NHL WAS LANKY KEN WREGGET, DRAFTED 45th OVERALL FROM LETHBRIDGE OF THE WHL IN 1982. A HIGHLY-TOUTED PROSPECT, HE OFTEN TEAMED WITH BESTER AS SORT OF A MUTT-AND-JEFF COMBO – ONE TALL AND RELATIVELY RESERVED; THE OTHER SHORT AND MOTOR-MOUTHED. THIS YOUTHFUL RIVALRY SUCCEEDED ON THE ICE NOW AND THEN, BUT WAS NOT A PERSONALITY MATCH IN ANY WAY. WREGGET TWICE CAME ALIVE IN THE PLAYOFFS (1986 AND 1987), ALLOWING VERY BAD LEAF TEAMS TO OVERACHIEVE. TORONTO EXTENDED ST. LOUIS TO THE FULL SEVEN GAMES OF AN OPENING-ROUND SERIES IN '86, AND THEN KO'D THE BLUES THE FOLLOWING YEAR AND ALMOST UPSET DETROIT TO ADVANCE TO THE STANLEY CUP SEMIFINALS. OVER SIX SEASONS (1983-84 TO 1988-89), WREGGET APPEARED IN 200 REGULAR-SEASON GAMES AND WAS TORONTO'S NO. 1 GOALIE IN '86-87 AND '87-88. HE WAS TRADED BY THEN-GM GORD STELLICK TO PHILADELPHIA FOR TWO FIRST-ROUND DRAFT CHOICES ON MAR. 6, 1989. HIS LEAF TOTALS: 200 GP/ 55-112-17/ 4.34 GAA/ TWO SHUT-OUTS.
TORONTO MARLIES GRAD BRUCE DOWIE (HIS MASK, ABOVE) APPEARED IN TWO GAMES WITH THE 1984-85 MAPLE LEAFS – THE CLUB THAT FINISHED DEAD-LAST IN THE 21-TEAM NHL. HE WENT THE DISTANCE IN THE HOME-OPENER AGAINST BUFFALO, OCT. 12, AND EARNED A POINT IN A 4-4 TIE. HE THEN REPLACED BESTER FOR THE FINAL 12 MINUTES OF A 6-1 POUNDING BY THE CANADIENS, IN MONTREAL, MAR. 17, 1984. DOWIE'S LEAF TOTALS: 2 GP/ 0-0-1/ 3.33 GAA.
LONG-TIME NHL SCOUT TIM BERNHARDT LIKELY HAS NIGHTMARISH MEMORIES OF TENDING GOAL FOR THE MID-'80s MAPLE LEAFS – AMONG THE MOST DISORGANIZED TEAMS BEHIND CENTRE-ICE IN FRANCHISE HISTORY. HAVING PLAYED SIX GAMES WITH CALGARY IN 1982-83, BERNHARDT SIGNED AS A FREE AGENT WITH THE LEAFS ON DEC. 5, 1984 AND WAS THE CLUB'S NO. 1 GOALIE DURING THE LAST-PLACE SEASON OF '84-85, SHARING THE BURDEN WITH BESTER, WREGGET AND ST. CROIX. OVER PARTS OF THREE YEARS, HIS LEAF TOTALS WERE: 61 GP/ 17-31-7/ 4.26 GAA. HE LATER BECAME DIRECTOR OF AMATEUR SCOUTING FOR THE DALLAS STARS.
WHEN DON EDWARDS BURST UPON THE NHL SCENE WITH BUFFALO IN 1976-77, HE LOOKED LIKE A HALL OF FAME CANDIDATE. A 16-7-2 RECORD THAT SEASON LIFTED HIM TO THE NO. 1 POSITION WITH THE SABRES FOR THE NEXT FIVE SEASONS, BEFORE A TRADE TO CALGARY IN JUNE 1982. THE LEAFS OBTAINED EDWARDS FROM THE FLAMES FOR A CONDITIONAL PICK (THIRD OR FOURTH) IN THE 1987 ENTRY DRAFT ON MAY 29, 1985. HE WAS TORONTO'S NO. 1 GOALIE DURING HIS LONE SEASON WITH THE CLUB – 1985-86 – SHARING DUTIES WITH WREGGET, BERNHARDT AND BESTER. LEAFS BOUGHT OUT HIS CONTRACT AFTERWARD AND HE RETIRED. EDWARDS' TORONTO NUMBERS: 38 GP/ 12-23-0/ 4.78 GAA.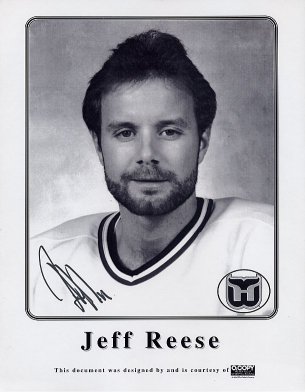 CHOSEN BY LEAFS IN THE THIRD ROUND (67th OVERALL) OF THE 1984 ENTRY DRAFT FROM LONDON OF THE OHL, JEFF REESE GRADUATED TO THE NHL IN 1987-88 AND WAS MOSTLY A FILL-IN GOALIE WITH THE BLUE AND WHITE FOR FIVE SEASONS. HE APPEARED IN 30 GAMES DURING THE 1990-91 SEASON AND IS BEST REMEMBERED IN THESE PARTS FOR BEING AMONG THOSE DEALT TO CALGARY IN THE NHL-RECORD 10-PLAYER TRADE OF JAN. 2, 1992 THAT BROUGHT DOUG GILMOUR HERE. REESE RETURNED BRIEFLY IN THE 1998-99 SEASON WHEN CURTIS JOSEPH AND GLENN HEALY WERE BOTH INJURED. I STILL REMEMBER FEELING SORRY FOR HIM WHILE COVERING A 6-0 LEAF LOSS TO THE PENGUINS IN PITTSBURGH ON JAN. 28, 1999. JEFF WAS WELL PAST HIS PRIME BY THEN AND JAROMIR JAGR AND CO. HAD THEIR WAY WITH HIM. HIS TORONTO TOTALS: 76 GP/ 20-33-9/ 4.09 GAA/ ONE SHUT-OUT. 
ACQUIRED FROM PHILADELPHIA FOR A COUPLE OF LATE-ROUND DRAFT PICKS, MARK LaFOREST IS REMEMBERED TO THIS DAY FOR A DANDY SCRAP HE HAD WITH SEAN BURKE IN HIS ONLY SEASON WITH THE LEAFS. ON OCT. 23, 1989, AT 17:14 OF THE SECOND PERIOD AT MAPLE LEAF GARDENS, LaFOREST AND BURKE OF THE NEW JERSEY DEVILS MET AT CENTRE-ICE AND POUNDED ON ONE ANOTHER FOR A FULL MINUTE. OTHERWISE, LaFOREST PLAYED BEHIND A GOOD SCORING TEAM IN '89-90, BUT ONE THAT COULDN'T DEFEND PARTICULARLY WELL. HIS LEAF TOTALS: 27 GP/ 9-14-0/ 3.89 GAA.
BORN AND RAISED IN TORONTO, PETER ING WAS ANOTHER GOALIE SWALLOWED UP BY THE LEAFS INEPTITUDE OF THE '80s AND EARLY-'90S. HIS NHL DEBUT WAS INAUSPICIOUS, AS THE ISLANDERS FEASTED ON HIM IN UNIONDALE AND FORCED COACH DOUG CARPENTER TO INSERT LaFOREST DURING A 6-2 LOSS ON NOV. 16, 1989. ANOTHER DEFEAT AT CHICAGO (DEC. 6) WAS FOLLOWED BY HIS FIRST POINT IN THE NHL – A 7-7 TIE AT DETROIT ON DEC. 27. ING TOOK OVER AS THE LEAFS NO. 1 NETMINDER THE FOLLOWING SEASON – 1990-91 – BEFORE GOING TO EDMONTON AS PART OF THE MULTI-PLAYER TRADE (IN SEPTEMBER 1991) THAT BROUGHT GRANT FUHR AND GLENN ANDERSON TO TORONTO – THE FIRST MAJOR DEAL CONSUMMATED BY CLIFF FLETCHER IN HIS YEARS RUNNING THE HOCKEY CLUB. ING'S LEAF TOTALS: 59 GP/ 16-31-9/ 3.95 GAA/ ONE SHUT-OUT.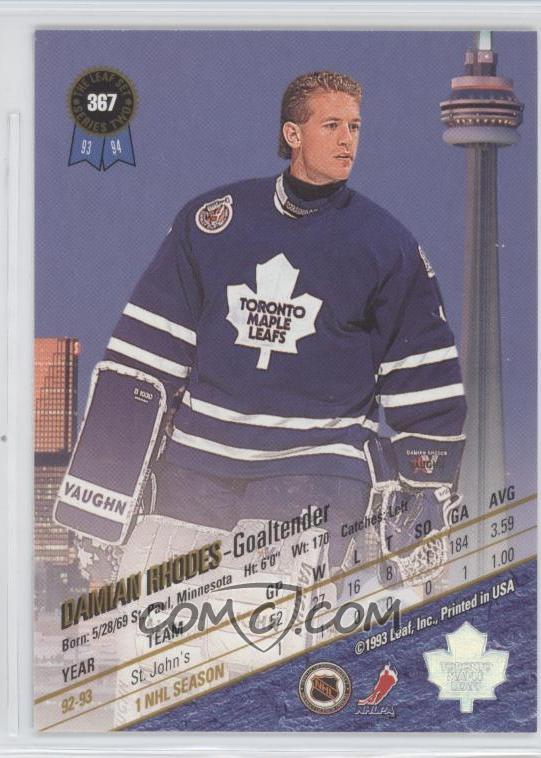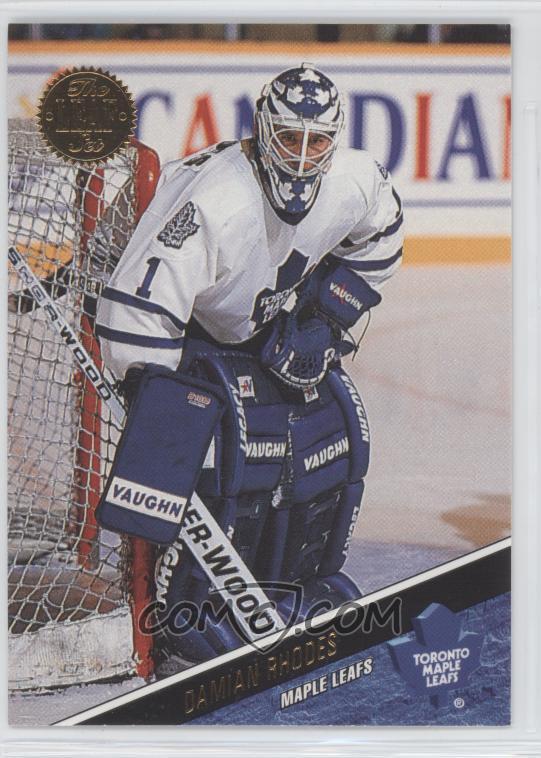 ONE OF THE NICEST YOUNG MEN THE LEAFS HAVE DEPLOYED IN MY YEARS AROUND THE TEAM, DAMIAN RHODES ENJOYED A BIT OF SUCCESS ALONGSIDE FELIX POTVIN DURING THE DOUG GILMOUR-LED RENAISSANCE OF 1992-94. RHODES ACTUALLY ARRIVED BEFORE POTVIN, MAKING HIS NHL DEBUT IN A 3-1 WIN AT DETROIT ON MAR. 22, 1991. HE SPENT THE NEXT TWO SEASONS WITH ST. JOHN'S OF THE AHL BEFORE RE-APPEARING AS POTVIN'S BACK-UP IN 1993-94 AND THE LOCKOUT-SHORTENED 1994-95 CAMPAIGN. DAMIAN IS LIKELY THE NHL GOALTENDER WITH THE SHORTEST-EVER PLAYOFF APPEARANCE – 10 SECONDS – FOR WHICH HE SPELLED POTVIN IN SAN JOSE ON MAY 6, 1994. HE LATER PLAYED FOR THE OTTAWA SENATORS. RHODES LEAF TOTALS: 47 GP/ 20-18-5/ 2.64 GAA.
THE MOST DECORATED OF ALL LEAF GOALIES SINCE 1967 APPEARED IN 95 GAMES WITH THE CLUB. HIS DECORATING, HOWEVER, HAD BEEN DONE WELL BEFORE-HAND – IN EDMONTON – AS PART OF THE DYNASTIC OILERS OF THE 1980s. GRANT FUHR CAME TO THE LEAFS IN SEPTEMBER 1991 ALONG WITH CUP TEAMMATE GLENN ANDERSON. ANY RESEMBLANCE BETWEEN HIS NEW AND FORMER TEAM WAS COINCIDENTAL. THE FUTURE HALL-OF-FAMER DID, HOWEVER, BECOME GOLDEN TRADE BAIT, AS FLETCHER WAS ABLE TO PROCURE DAVE ANDREYCHUK FROM BUFFALO IN FEBRUARY 1993, THUS PROVIDING DOUG GILMOUR AN ELITE FINISHER. GILMOUR AND ANDREYCHUK BECAME THE MOST PROLIFIC TANDEM OVER TWO SEASONS IN CLUB HISTORY. FUHR'S LEAF TOTALS IN '91-92 AND THE FIRST HALF OF '92-93: 95 GP/ 38-42-9/ 3.50/ THREE SHUT-OUTS.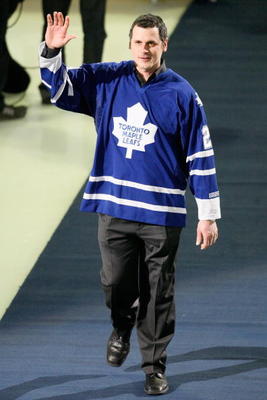 A MID-SEASON REVELATION IN 1991-92, FELIX POTVIN WOULD GRAB THE NO. 1 GOALTENDING MANTLE IN TORONTO THE FOLLOWING YEAR AND HANG ONTO IT FOR MORE THAN HALF-A-DECADE. HE FORMED THE BACK-BONE OF THE GILMOUR-LED TEAMS THAT ADVANCED TO THE STANLEY CUP SEMIFINALS IN 1993 AND '94 – HIS UNEXPECTEDLY QUICK DEVELOPMENT ALLOWING FLETCHER TO MAKE THE FUHR-ANDREYCHUK DEAL WITH BUFFALO. AHL ROOKIE-OF-THE-YEAR IN '91-92 AT ST. JOHN'S, POTVIN WAS CALLED UP FOR A GAME IN CHICAGO ON NOV. 14 OF THAT SEASON. THOUGH THE LEAFS WERE BLANKED, 3-0, THE "CAT" TURNED IN A STELLAR PERFORMANCE WITH 38 SAVES. HE FACED THE 'HAWKS AGAIN TWO NIGHTS LATER IN 2-2 STAND-OFF WITH ED BELFOUR AT MAPLE LEAF GARDENS. TAKING OVER AFTER THE FUHR TRADE (FEB. 2, 1993), POTVIN WAS IN GOAL FOR ALMOST EVERY MINUTE OF THE LEAFS 21-GAMES-IN-42-NIGHTS PLAYOFF ODYSSEY IN THE MEMORABLE SPRING OF '93, ADVANCING FURTHER THAN ANY LEAFS NETMINDER IN THE POST-'67 ERA – TORONTO LOSING GAME 7 OF A STANLEY CUP SEMIFINAL TO WAYNE GRETZKY AND THE LOS ANGELES KINGS. ANOTHER APPEARANCE IN THE PENULTIMATE ROUND FOLLOWED IN '94 AND LEAFS WERE OUSTED IN FIVE GAMES BY VANCOUVER. BOTH GOALIE AND TEAM WENT DOWNHILL AFTER THAT, THOUGH POTVIN CEMENTED HIS LEGEND BY ENGAGING IN A LIVELY POST-GAME SCRAP WITH FELLOW NETMINDER RON HEXTALL OF THE FLYERS ON NOV. 10, 1996 – SECONDS AFTER LEAFS HAD PLAYED THEIR FIRST GAME IN PHILADELPHIA'S NEW ARENA (PHOTO ABOVE-LEFT). FELIX BEGAN TO ALLOW SOFT, KILLER GOALS – NONE MORE-SO THAN A 100-FOOT SHOOT-IN BY AL MacINNIS OF ST. LOUIS AT THE GARDENS ON NOV. 17, 1997 THAT BOUNCED TWICE AND SKIPPED OVER POTVIN'S CATCHING GLOVE AT 19:58 OF THE THIRD PERIOD, HANDING THE BLUES A STAGGERING 3-2 VICTORY. WHEN CURTIS JOSEPH ARRIVED VIA FREE AGENCY IN JULY 1998, IT SPELLED THE END FOR THE "CAT", WHO ENDURED A BRUTAL HALF-YEAR BEFORE THE LEAFS TRADED HIM TO THE ISLANDERS FOR DEFENSEMAN BRYAN BERARD. HIS LEAF TOTALS: 369 GP/ 160-149-49/ 2.87 GAA/ 12 SHUT-OUTS.
AMONG THE "NEBULOUS-9" INVOLVED IN THE TRADE THAT LANDED GILMOUR WITH THE LEAFS, RICK WAMSLEY ENDED A DECENT PLAYING CAREER BY SUBBING IN GOAL ON 11 OCCASIONS DURING THE 1991-92 AND 1992-93 SEASONS. PREVIOUSLY A STARTER IN MONTREAL AND ST. LOUIS, "WAMMER" BROUGHT AN INFECTIOUS PERSONALITY TO TORONTO AND HIS ABILITY TO TEACH AND RELATE KEPT HIM IN THE GAME. UPON RETIRING, HE JOINED PAT BURNS AS AN ASSISTANT COACH WITH THE LEAFS – A POSITION HE HELD WHEN I BEGAN TO COVER THE TEAM, FULL-TIME, IN 1994. WHENEVER WE CROSS PATHS TODAY, I CALL HIM "GRAMPS", AS HE AND HIS WIFE BECAME GRANDPARENTS TWO YEARS AGO. WAMSLEY'S LEAF TOTALS: 11 GP/ 4-6-0/ 4.29 GAA.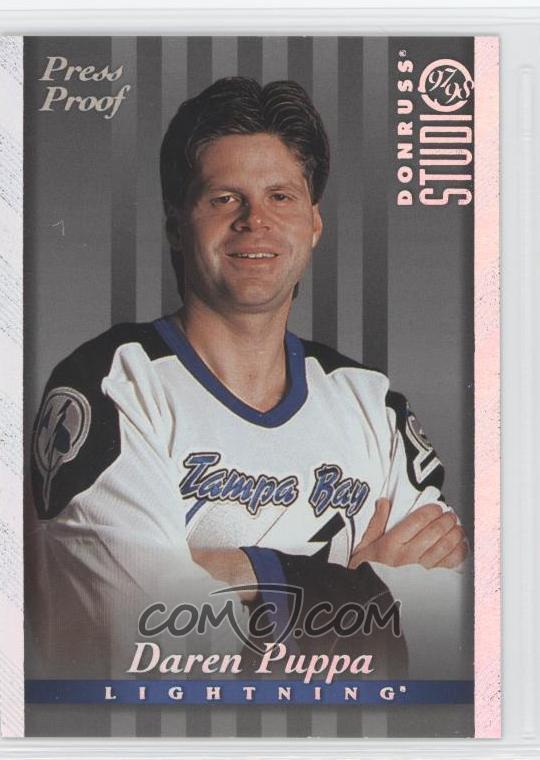 ACQUIRED FROM BUFFALO AS PART OF THE FUHR-FOR-ANDREYCHUK TRADE, DARREN PUPPA SAT ON THE LEAFS BENCH FOR ALL BUT 20 MINUTES OF 1993 STANLEY CUP PLAYOFF RUN, HAVING APPEARED IN EIGHT REGULAR-SEASON GAMES BEFOREHAND. HE WAS LEFT UNPROTECTED FOR THE '93 EXPANSION DRAFT AND CHOSEN BY THE FLORIDA PANTHERS. PUPPA'S LEAF TOTALS: 8 GP/ 6-2-0/ 2.25 GAA/ TWO SHUT-OUTS. 
SHOULD DON BEAUPRE EVER WRITE A MEMOIR, CHANCES ARE HIS BRIEF TIME HERE IN TORONTO WILL BE MENTIONED SOMEWHERE NEAR THE BACK… IF AT ALL. AFTER A NUMBER OF GOOD SEASONS WITH MINNESOTA AND WASHINGTON (BEGINNING IN 1980-81), BEAUPRE SPENT THE LOCKOUT-SHORTENED 1994-95 CAMPAIGN IN OTTAWA. LEAFS ACQUIRED HIM FROM THE SENATORS AS PART OF A COMPLICATED THREE-WAY TRANSACTION INVOLVING THE ISLANDERS THAT LANDED KIRK MULLER IN A TORONTO JERSEY ON JAN. 23, 1996. MORE THAN 16 YEARS LATER, BEAUPRE – NOW 50 AND LONG-RETIRED – IS STILL LOOKING FOR HIS FIRST LEAF VICTORY. OVER PARTS OF TWO SEASONS, HE WAS BLANKED IN EIGHT DECISIONS. HIS LEAF TOTALS: 11 GP/ 0-8-0/ 4.84 GAA.
WHENEVER MARCEL COUSINEAU COMES TO MIND – AND IT ISN'T OFTEN – I THINK OF GLENN HEALY'S HAND. WHY? BECAUSE COUSINEAU HAD TO REPLACE HEALY DURING A GAME AT SAN JOSE ON NOV. 4, 1997 AND PRESERVE A 0-0 TIE WITH THE SHARKS (NEWSPAPER STORY ABOVE-RIGHT). ORIGINALLY A THIRD-ROUND SELECTION OF THE BRUINS IN 1991, COUSINEAU SIGNED WITH TORONTO AS A FREE AGENT ON NOV. 13, 1993. HE WAS POTVIN'S BACK-UP IN 1996-97 AND HIS ONLY APPEARANCE THE IN '97-98 INVOLVED THE 16:39 IN WHICH HE REPLACED HEALY TO SHARE THE WHITE-WASH IN SAN JOSE. MARCEL'S LEAF TOTALS: 15 GP/ 3-5-1/ 3.19 GAA/ ONE SHUT-OUT.
THE FORMER LEAFS GOALIE MOST FAMILIAR TO FANS TODAY IS GLENN HEALY, WHOSE HONEST, ACCURATE APPRAISAL EACH WEEK ON HOCKEY NIGHT IN CANADA RANKLES DIE-HARD SUPPORTERS OF THE BLUE AND WHITE. GLENN CAN BE FOUND BETWEEN THE BENCHES AT ICE LEVEL AND IS AMONG THE MOST ASTUTE OBSERVERS IN THE GAME. HEALY SIGNED WITH TORONTO AS A FREE AGENT ON JULY 8, 1997, LEAVING THE NEW YORK RANGERS, WITH WHOM HE WON A STANLEY CUP IN 1994 AS BACK-UP TO MIKE RICHTER; HE HAD PREVIOUSLY BEEN A STARTER WITH LOS ANGELES AND THE ISLANDERS. IN TORONTO, GLENN SERVED AS BACK-UP TO POTVIN AND CURTIS JOSEPH FOR FOUR SEASONS AND HE LATER HELD A HIGH-RANKING POST WITH THE NHL PLAYERS ASSOCIATION. HIS LEAF TOTALS: 65 GP/ 23-30-5/ 2.91 GAA/ TWO SHUT-OUTS.   
THE BEST LEAFS GOALIE IN THE POST-1967 ERA, AND THE CLUB'S BEST FREE AGENT ACQUISITION TO DATE, WAS CURTIS JOSEPH, WHO JOINED THE TEAM ON JULY 15, 1998 AFTER A NOW-LEGENDARY ENCOUNTER BETWEEN AGENT DON MEEHAN AND LEAFS PRESIDENT KEN DRYDEN AT A CONVENIENCE OUTLET ON DAVENPORT AVE. IT APPEARED JOSEPH WAS HEADED TO THE FLYERS AFTER DECIDING TO LEAVE EDMONTON. THE LEAFS WERE LOLLYGAGGING IN THE SECOND WEEK OF FREE AGENCY WHEN MEEHAN AND DRYDEN HAPPENED UPON ONE ANOTHER WHILE PURSUING ICE CREAM ON A HOT, MUGGY NIGHT. THE AGENT SUGGESTED TO DRYDEN HOW SUPERB AN ACQUISITION HIS CLIENT WOULD BE, AND IMPLORED THE LEAFS EXECUTIVE TO ACT WITHOUT DELAY, AS PHILADELPHIA WAS ANXIOUS. DRYDEN WISELY TOOK THE BAIT AND INSTRUCTED HIS ASSISTANT, MIKE SMITH, TO NEGOTIATE A CONTRACT. IT WAS, BY FAR, THAT ADMINISTRATION'S BEST MOVE. FOR FOUR SEASONS, JOSEPH PROVIDED THE LEAFS UNQUESTIONED GOALTENDING STABILITY. ON TWO OCCASIONS, HE BACK-STOPPED THE CLUB TO THE STANLEY CUP SEMIFINALS, LOSING TO BUFFALO IN 1999 AND CAROLINA IN 2002. A FALLING OUT WITH GM AND COACH PAT QUINN PROMPTED CUJO TO LEAVE TORONTO AND SIGN WITH DETROIT AS A FREE AGENT IN JULY 2002 – A MOVE BOTH SIDES LIVED TO REGRET. CURTIS RE-SIGNED AS A FREE AGENT WITH THE BLUE AND WHITE IN 2008-09, BACKING UP VESA TOSKALA, AND RETIRED SOON-AFTER. HIS LEAF NUMBERS: 270 GP/ 138-97-28/ 2.49 GAA/ 17 SHUT-OUTS.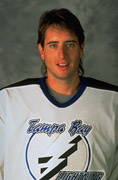 HE SPENT ONLY ONE YEAR WITH THE LEAFS, BUT COREY SCHWAB PLAYED SAVIOUR LATE IN THE 2001-02 SEASON AFTER JOSEPH WAS LOST WITH A FRACTURED WRIST IN A FEB. 26 GAME AGAINST CAROLINA. LEAFS WERE BATTLING THE ISLANDERS, NEW JERSEY AND OTTAWA FOR THE NO. 4 PLAYOFF SEED IN THE EASTERN CONFERENCE AND HOME-ICE ADVANTAGE IN THE OPENING ROUND. THEY WERE 32-18-9 AFTER THE CAROLINA MATCH. WITHOUT CUJO, MOST OBSERVERS EXPECTED TORONTO WOULD NOT BE ABLE TO HOLD ITS POSITION. BUT, SCHWAB WAS JUST FINE IN RESERVE, STARTING THE NEXT 10 GAMES AND COMPILING A 4-2-4 RECORD. LEAFS ACQUIRED VETERAN TOM BARRASSO FROM CAROLINA AS INSURANCE AT THE TRADE DEADLINE BUT SCHWAB WENT 5-1-1 IN HIS NEXT SEVEN STARTS. HIS COMBINED 9-3-5 RECORD KEPT THE LEAFS IN FOURTH SPOT – EXTREMELY IMPORTANT GIVEN THAT TORONTO ELIMINATED THE ISLANDERS ON HOME ICE IN GAME 7 OF A FIRST-ROUND PLAYOFF SERIES AND OTTAWA AT THE ACC IN GAME 7 OF THE FOLLOWING ROUND. SCHWAB LEFT THE LEAFS TO SIGN WITH NEW JERSEY AND IS CURRENTLY GOALTENDING DEVELOPMENT COACH WITH SAN JOSE; I SAW HIM IN THE ACC PRESS BOX ON THURSDAY NIGHT WHEN THE SHARKS WERE IN TOWN. COREY'S LEAF TOTALS: 30 GP/ 12-10-5/ 2.73 GAA/ ONE SHUT-OUT.
AS MENTIONED ABOVE, LEAFS ACQUIRED TOM BARRASSO FOR A FOURTH-ROUND DRAFT PICK FROM CAROLINA AT THE TRADE DEADLINE IN 2002, IN CASE JOSEPH COULD NOT RECOVER FROM HIS WRIST-FRACTURE IN TIME FOR THE PLAYOFFS. CUJO DID RETURN AND BARRASSO'S TORONTO STAY BECAME MERCIFULLY BRIEF, AS HE WAS NOTORIOUSLY DIFFICULT TO CONTEND WITH FROM A MEDIA STAND-POINT. HIS CLAIM-TO-FAME WAS BACK-STOPPING THE OFFENSIVELY-CHARGED PITTSBURGH PENGUINS OF MARIO LEMIEUX, JAROMIR JAGR, RON FRANCIS AND CO. TO CONSECUTIVE STANLEY CUP TITLES IN 1991 AND '92. PRIOR TO THAT, HE'D BEEN A TEENAGED SENSATION WITH BUFFALO. HIS LEAF TOTALS: 4 GP/ 2-2-0/ 2.74 GAA.
THE LONE NETMINDER TO APPEAR IN ONLY ONE GAME AMONG THE 60 LEAF GOALIES SINCE 1967 IS SEBASTIEN CENTOMO, WHO REPLACED COREY SCHWAB FOR THE FINAL TWO PERIODS OF A 6-2 LOSS AT DETROIT ON MAR. 6, 2002, ALLOWING THREE GOALS. HE HAD SIGNED WITH TORONTO AS A FREE AGENT IN SEPTEMBER 1999 AND WAS THE CENTRAL HOCKEY LEAGUE'S ROOKIE-OF-THE-YEAR AT MEMPHIS IN 2001-02 – ALSO PLAYING 25 GAMES WITH THE LEAFS AHL AFFILIATE IN ST. JOHN'S THAT SEASON. IN THE NHL, HE EXCEEDED HIS "15 MINUTES OF FAME" BY ONLY 25 MINUTES. CENTOMO'S LEAF TOTALS: ONE GP/ 0-0-0/ 4.50 GAA.
WHEN GRADING THE TOP LEAF GOALTENDERS OF THE POST-'67 ERA, SOME WILL ARGUE THAT ED BELFOUR STANDS AHEAD OF CURTIS JOSEPH. I'M NOT AMONG THEM. WHILE BELFOUR IS SLIGHTLY MORE DECORATED THAN CUJO BY VIRTUE OF HIS STANLEY CUP WITH DALLAS IN 1999 (AND WAS A WORTHY HALL OF FAME SELECTION THIS YEAR), HE HAD TWO GOOD SEASONS IN TORONTO COMPARED TO JOSEPH'S FOUR. WITH CUJO, THE LEAFS WON SIX PLAYOFF ROUNDS; WITH BELFOUR, THEY WERE ELIMINATED BY PHILADELPHIA IN THE OPENING ROUND IN 2003 AND THE SECOND ROUND IN 2004; THE "EAGLE" STEALING AN '04 FIRST-ROUND SERIES AGAINST OTTAWA. WHAT WE CAN TELL YOU, WITHOUT EQUIVOCATION, IS THIS: BELFOUR WAS THE LAST MAN TO PROVIDE THE LEAFS GOALTENDING STABILITY THROUGH AN ENTIRE SEASON (2003-04). HIS LEAF TOTALS: 170 GP/ 93-61-15/ 2.51 GAA/ 17 SHUT-OUTS.
APPEARING, AT TIMES, LIKE A GOOD NHL PROSPECT, THE LEAF TENURE OF MIKAEL TELLQVIST WENT UP IN SMOKE DURING A THREE-DAY SPAN IN MONTREAL TOWARD THE END OF THE 2005-06 SEASON. THE NHL HAD DOUBLE-HEADERS ON ITS SCHEDULE BACK THEN – A TEAM WOULD TRAVEL AND PLAY CONSECUTIVE GAMES IN A CITY. LEAFS WENT TO MONTREAL FROM MAR. 23 TO 25, 2006 STILL IN THE TEETH OF THE EASTERN PLAYOFF RACE. BUT, TELLQVIST AND THE CLUB IMPLODED AT THE BELL CENTRE, GETTING WHIPPED 5-1 AND 6-2. LEAFS REBOUNDED BEHIND A SPECTACULAR, LATE-SEASON PERFORMANCE BY JEAN-SEBASTIEN AUBIN BUT MISSED THE PLAYOFFS BY TWO POINTS. GM JOHN FERGUSON LATER FIRED COACH PAT QUINN, REPLACING HIM WITH PAUL MAURICE. TELLQVIST, FROM SWEDEN, WAS CHOSEN 70th OVERALL IN THE 2000 DRAFT; HE SPENT SIX YEARS IN THE LEAF ORGANIZATION, MAKING HIS NHL DEBUT IN 2002-03. HIS TRADE TO PHOENIX ON NOV. 28, 2006 YIELDED A PROMISING, YOUNG PLAYER, AS THE LEAFS CHOSE MATT FRATTIN WITH THE FOURTH-ROUND SELECTION THEY OBTAINED (ALONG WITH TYSON NASH) FROM THE COYOTES. TELLQVIST'S LEAF NUMBERS: 40 GP/ 16-16-4/ 3.01 GAA/ TWO SHUT-OUTS. 
ONE OF THE GREAT CHARACTERS IN THE GAME – AND A TERRIFIC GUY, TO BOOT – WAS DUGALD, MAN. NATIVE TREVOR KIDD, WHO SIGNED AS A FREE AGENT WITH THE LEAFS ON AUG. 26, 2002 AND BACKED UP ED BELFOUR FOR A COUPLE OF SEASONS. PREVIOUSLY A NO. 1 GOALIE IN CALGARY, CAROLINA AND FLORIDA – WITH HAIR, AT TIMES, WELL BELOW SHOULDER LENGTH – TREVOR FINISHED HIS NHL CAREER IN TORONTO BEFORE HEADING BRIEFLY TO SWEDEN DURING THE LOCKOUT. HE WAS A PLEASURE TO CHAT WITH – OCCASIONALLY ABOUT HOCKEY. HIS LEAF TOTALS: 34 GP/ 12-15-4/ 3.17 GAA/ ONE SHUT-OUT.
THE AFOREMENTIONED J.S. AUBIN ALMOST SINGLE-HANDEDLY PROPELLED LEAFS INTO THE PLAYOFFS LATE IN THE 2005-06 SEASON WITH A NEAR-PERFECT 9-0-2 RECORD. THAT 11-GAME STREAK WITHOUT LOSING IN REGULATION TIME (MAR. 26 TO APR. 18) EARNED HIM A SPOT AS BACK-UP TO ANDREW RAYCROFT THE FOLLOWING SEASON. PRIOR TO SIGNING WITH LEAFS IN AUGUST 2005, AUBIN HAD APPEARED IN 168 GAMES FOR PITTSBURGH BETWEEN 1998 AND 2004. HIS TORONTO TOTALS: 31 GP/ 12-5-4/ 2.83 GAA/ ONE SHUT-OUT.  
DESPITE SHARING – WITH BELFOUR – THE LEAFS SINGLE-SEASON RECORD OF 37 GOALTENDING VICTORIES, ANDREW RAYCROFT EVOLVED INTO ONE OF THE MOST RIDICULED TORONTO PUCK-STOPPERS SINCE 1967. PERHAPS THAT'S BECAUSE HE RARELY STOPPED THE PUCK WHEN IT MATTERED, OR AS A RESULT OF THE 2006 DRAFT-NIGHT DEAL IN VANCOUVER THAT MADE HIM A LEAF IN EXCHANGE FOR TOP PROSPECT TUUKKA RASK. WHATEVER THE CASE, RAYCROFT REMAINS AN INDIVIDUAL LEAF FANS WOULD RATHER FORGET, THOUGH HE WAS FAR FROM THE CLUB'S WORST GOALIE IN THE POST-'67 ERA. HAVING WON THE CALDER TROPHY AS NHL ROOKIE-OF-THE-YEAR WITH BOSTON IN 2003-04, RAYCROFT NEVER REBOUNDED FROM THE LOCKOUT, SUFFERING A GROIN INJURY AT BRUINS TRAINING CAMP IN 2005. HE PLAYED 30 GAMES FOR BOSTON IN '05-06 AND SLUMPED TO A RECORD OF 8-19-2 WITH A 3.71 GAA – FAR WORSE THAN HIS 2.05 ROOKIE MARK. THE PRECIPITOUS DECLINE WAS IGNORED BY LEAFS GM JOHN FERGUSON, WHO YIELDED RASK AND GAMBLED THAT RAYCROFT WOULD RETURN TO ROOKIE FORM. THE GAMBLE FAILED, THOUGH NEITHER HAS RASK BEEN ABLE TO SUPPLANT TIM THOMAS IN BOSTON. RAYCROFT WAS 37-25-9 IN 2006-07 BUT LEAFS MISSED THE PLAYOFFS ONCE AGAIN, PROMPTING FERGUSON TO ACQUIRE VESA TOSKALA AT THE '07 DRAFT IN COLUMBUS. ANDREW WAS STILL KICKING AROUND THE NHL EARLIER THIS SEASON, PLAYING 10 GAMES IN DALLAS (2-8-0 RECORD) BUT IS NOT CURRENTLY ON THE STARS' ACTIVE ROSTER. HIS LEAF NUMBERS OVER TWO SEASONS: 91 GP/ 39-34-14/ 3.17 GAA/ THREE SHUT-OUTS.
IN THE SUMMER OF 2007, SCOTT CLEMMENSEN FELT HE HAD TO "RE-TAKE CONTROL OF MY CAREER" AFTER WATCHING MARTIN BRODEUR FROM THE BEST SPOT IN THE HOUSE FOR THREE SEASONS IN NEW JERSEY. DURING THAT SPAN (2003-04 TO 2006-07), CLEMMENSEN APPEARED IN FOUR, 13 AND SIX GAMES; BRODEUR IN 75, 73 AND 78. NO WONDER SCOTT WANTED TO FLEE THE MEADOWLANDS. HE SIGNED WITH TORONTO AS A FREE AGENT ON JULY 6, 2007, BUT DIDN'T EXACTLY HAVE "CONTROL" HERE, PLAYING IN ONLY THREE GAMES DURING THE '07-08 SEASON BEFORE RETURNING TO THE DEVILS, AND THEN SIGNING AS A FREE AGENT (IN 2009) WITH FLORIDA. SCOTT'S SKIMPY LEAF TOTALS: 3 GP/ 1-1-0/ 3.90 GAA.
JOHN FERGUSON'S ANNUAL DRAFT-HUNT FOR A GOALIE DID THE MOST DAMAGE TO HIM AS LEAFS GM, THOUGH HE CERTAINLY TRIED HARD TO OBTAIN STABILITY IN A LESS-THAN-EXACT SCIENCE. TOWARD THE END OF THE 2006-07 SEASON, SAN JOSE GM DOUG WILSON PROMISED HE WOULD TRADE ONE OF HIS GOALIES – EACH OF WHOM APPEARED CAPABLE OF A STARTING ASSIGNMENT. WILSON CHOSE TO UNLOAD VESA TOSKALA AND RETAIN EVGENI NABOKOV. WHETHER HE FELT NABOKOV WAS THE BETTER GOALIE OR SIMPLY COULDN'T REJECT THE LEAFS' OFFER OF FIRST, SECOND AND FOURTH-ROUND PICKS IN THE 2009 DRAFT FOR TOSKALA REMAINS UNCLEAR. TOSKALA WAS ENJOYING THE MIDNIGHT SUN IN FINLAND (WITH A CASE OR TWO OF BEER) WHEN HE HEARD ABOUT THE DEAL AND HIS GLEE WAS EVIDENT ON TORONTO SPORTS-RADIO STATIONS. IT MAY HAVE BEEN THE HIGH-POINT OF HIS LEAFS CAREER. AS WITH MANY THAT HAVE PASSED THROUGH THESE PARTS, TOSKALA DEVELOPED THE WHIFFS AND WAS YIELDING SOFT GOALS AT AN ALARMING RATE IN HIS FINAL SEASON (2009-10). THOUGH PLAGUED BY GROIN ISSUES, VESA WAS CLEARLY NOT THE ANSWER, HAVING DEVELOPED NO AFFINITY WHATSOEVER FOR GOLATENDING COACH FRANCOIS ALLAIRE (AND VISE VERSA). HIS LEAF NUMBERS: 145 GP/ 62-54-20/ 3.08 GAA/ FIVE SHUT-OUTS.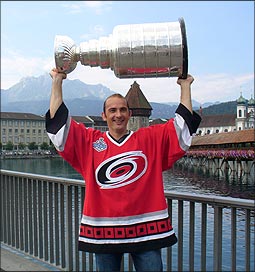 AT THE TRADE DEADLINE IN 2009, THE LEAFS APPEARED TO BE SLIPPING TOWARD THE NHL BASEMENT, WITH A CHANCE TO DRAFT LONDON KNIGHTS' PHENOM JOHN TAVARES. BRIAN BURKE WOULD HAVE NOTHING TO DO WITH SUCH A SCENARIO. INSTEAD, HE CLAIMED MARTIN GERBER OFF WAIVERS FROM OTTAWA AND GERBER WON SIX GAMES DOWN THE STRETCH. WITH VETERAN GOALIE'S HELP, TORONTO MISSED THE PLAYOFFS BY ONLY 12 POINTS (SIGH). NOTED FOR BACKING UP CAM WARD DURING CAROLINA'S 2006 STANLEY CUP TRIUMPH – AND FOR BLANKING TEAM CANADA WHILE PLAYING FOR SWITZERLAND AT THE 2006 WINTER OLYMPICS IN TURIN – GERBER DID NOT RE-JOIN THE LEAFS FOR 2009-10. HIS TORONTO NUMBERS: 12 GP/ 6-5-0/ 3.23 GAA.
A HIGHLY-TOUTED PROSPECT THAT APPEARED TO LEAVE HIS GAME IN JUNIOR, JUSTIN POGGE ENDURED A SHORT, PAINFUL TENURE IN BLUE AND WHITE. AFTER WINNING HIS NHL DEBUT IN ATLANTA, IT WAS ALL DOWNHILL FOR TORONTO'S FIRST PICK, 90th OVERALL, IN THE 2004 ENTRY DRAFT. WHEN POGGE ABSORBED A 6-1 BEAT-DOWN AT MINNESOTA IN HIS SECOND APPEARANCE – JAN. 27, 2009 – RON WILSON BLAMED IT ON REPORTERS "ERECTING A STATUE" OF THE ROOKIE AFTER THE ATLANTA WIN (HIS LONE NHL TRIUMPH). POGGE EXCITED LEAF FOLLOWERS BY RECORDING 11 SHUT-OUTS AND A 1.72 AVERAGE WITH CALGARY OF THE WHL IN 2005-06. HE NEVER CAME CLOSE TO REALIZING SUCH PROMISE IN BLUE AND WHITE. BURKE TRADED HIM TO ANAHEIM FOR A SIXTH-ROUND DRAFT CHOICE IN AUGUST 2009. POGGE'S LEAF TOTALS: 7 GP/ 1-4-1/ 4.35 GAA.
THOUGH BURKE ACQUIRED JEAN-SEBASTIEN GIGUERE FROM HIS FORMER TEAM – AND GIGUERE HAD BACK-STOPPED THAT CLUB TO THE 2007 STANLEY CUP – THE MOVE WAS LARGELY OVERSHADOWED BY THE DEAL, 90 MINUTES EARLIER, THAT BROUGHT DION PHANEUF FROM CALGARY TO TORONTO. JAN. 31, 2010 REMAINS THE MOST PROMINENT DAY IN BURKE'S TENURE WITH THE BLUE AND WHITE. GIGUERE ARRIVED FOR VESA TOSKALA AND JASON BLAKE – MANY OBSERVERS CONSIDERING IT A MIRACLE THAT BLAKE'S CONTRACT WAS TOUCHED BY ANOTHER TEAM. GIGGY, AS HE IS KNOWN, STARTED WITH A BANG – RECORDING SHUT-OUTS IN HIS FIRST TWO LEAF APPEARANCES – BUT A SLIGHT GROIN-TEAR EVOLVED INTO A LARGER ISSUE FOR MUCH OF HIS TIME HERE. A TOP-NOTCH PRO AND SUPERB TEAMMATE, HIS REAL VALUE TO THE CLUB CAME FROM OTHER PLAYERS OBSERVING THE MANNER IN WHICH HE CONDUCTED HIMSELF. LEAFS DID NOT RE-SIGN HIM AFTER LAST SEASON AND HE JOINED COLORADO AS A FREE AGENT. GIGUERE'S TORONTO NUMBERS: 48 GP/ 17-18-6/ 2.73 GAA/ TWO SHUT-OUTS.  
BRIAN BURKE EXPENDED MUCH TIME AND ENERGY TO LURE JOMAS GUSTAVSSON (AKA "THE MONSTER") HERE IN THE SUMMER OF 2009, BELIEVING THE TOP-RANKED GOALIE IN EUROPE WOULD BECOME A FIRST-RATE NHLer. IT DIDN'T HAPPEN. HAVING ENDURED THE DEATH OF BOTH HIS PARENTS BEFORE AGE 27; A HEART AILMENT REQUIRING THREE CARDIAC ABLATIONS AND A NAGGING GROIN PROBLEM, MOST LEAF OBSERVERS WERE ROOTING FOR GUSTAVSSON TO REALIZE HIS POTENTIAL. THE SCOURGE OF SOFT, UNTIMELY GOALS, HOWEVER, SEVERELY DAMAGED THAT POSSIBILITY IN TORONTO. HE IS NOW PLAYING QUITE REGULARLY IN DETROIT. THE MONSTER'S LEAF TOTALS: 107 GP / 39-45-15 / 2.98 GAA / FIVE SHUT-OUTS.
WHAT MEMORIES JOEY MacDONALD MUST HAVE OF JOINING THE LEAFS IN THE MIDST OF THEIR WORST-EVER START TO A SEASON. POOR JOEY GOT THE CALL IN THREE CONSECUTIVE GAMES (HOME AGAINST THE RANGERS AND COLORADO, THEN AT VANCOUVER) DURING THE 0-7-1 SLUMBER OF OCTOBER 2009 AND LEAFS WERE SWEPT BY A COMBINED 11-3 COUNT. THANKFULLY FOR MacDONALD, HE HAD A CHEERY DISPOSITION AND WAS JUST HAPPY TO BE PLAYING IN THE NHL. HE RECORDED HIS LONE  VICTORY AT COLUMBUS ON DEC. 3. 2009 AND WAS TRADED TO ANAHEIM IN MARCH 2010. JOEY LATER RE-JOINED HIS ORIGINAL TEAM, DETROIT. HE'S APPEARED IN EIGHT GAMES FOR THE RED WINGS THIS SEASON, WITH A 6-1-1 RECORD AND 1.66 AVERAGE. HIS LEAF TOTALS: 6 GP/ 1-4-0/ 3.20 GAA.
LEAF FANS LIKELY DON'T RECALL THAT JAMES REIMER DRESSED FOR THE CLUB PRIOR TO HIS EXCELLENT RUN IN THE FINAL-THIRD OF THE 2010-11 SEASON. HE SAT ON THE BENCH AS MacDONALD'S BACK-UP DURING THE TRIO OF GAMES IN OCTOBER 2009, WITH TOSKALA AND GUSTAVSSON SIDELINED. IN HIS METEORIC RISE TO FAME THREE YEARS AGO, OPTIMUS REIM PROVIDED LEAFS THEIR BEST STRETCH OF GOALTENDING IN THE POST-LOCKOUT ERA AND WAS A HERO TO EVERY FAN OF THE CLUB. HE IS NOW PRINCIPALLY THE BACK-UP TO JONATHAN BERNIER, BUT COULD START FOR A DOZEN NHL TEAMS.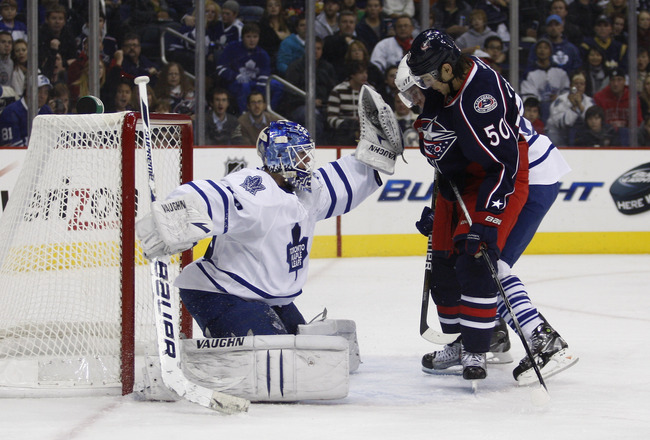 BEN SCRIVENS WAS BORN IN SPRUCE GROVE, ALBERTA ON SEP. 11, 1986 – 18 YEARS, 10 MONTHS AND FOUR WEEKS AFTER JOHNNY BOWER FACED CHICAGO AS THE FIRST OF 60 LEAF GOALIES TO SUIT UP IN THE POST-EXPANSION ERA. A GRADUATE OF CORNELL UNIVERSITY, SCRIVENS SIGNED WITH TORONTO AS A FREE AGENT ON APR. 28, 2010. HE WAS TRADED TO LOS ANGELES LAST SUMMER FOR BERNIER AND RECENTLY PEDDLED FROM THE KINGS TO EDMONTON. HIS LEAF TOTALS: 32 GP / 11-14-2 /2.86 GAA TWO SHUT-OUTS.
DURING THE SECOND-LAST WEEK OF THE 2011-12 SEASON, JUSSI RYNNAS (PRONOUNCED "ROON-US") MADE A COUPLE OF UNEXPECTED APPEARANCES. THE NATIVE OF PORI, FINLAND SIGNED WITH LEAFS AS A FREE AGENT ON APR. 21, 2010. HE CAME TO NORTH AMERICA AND PLAYED 30 GAMES WITH THE AHL's TORONTO MARLIES IN 2010-11, AND THEN 22 MORE LAST SEASON. ON MAR. 27, 2012, HE JOINED THE LEAFS AND DRESSED AS BACK-UP TO JONAS GUSTAVSSON FOR A HOME GAME AGAINST CAROLINA. WHEN GUSTAVSSON WHIFFED ON A SHOT BY EX-LEAF JAY HARRISON AT 0:37 OF THE SECOND PERIOD, GIVING CAROLINA A 3-0 LEAD, COACH RANDY CARLYLE SUMMONED RYNNAS (SHOWN GETTING PREPARED TO MAKE HIS NHL DEBUT, TOP-LEFT). TWO NIGHTS LATER, GUSTAVSSON TOOK A SHOT OFF HIS KNEE IN THE WARM-UP AT AIR CANADA CENTRE AND RYNNAS HAD TO START AGAINST PHILADELPHIA. HIS TEAMMATES THREW IN THE TOWEL BEFORE THE OPENING FACE-OFF AND THE FLYERS BREEZED TO A 7-1 VICTORY.
JONATHAN BERNIER – GOALTENDER NO. 60 FOR LEAFS IN THE POST-EXPANSION ERA – MADE HIS DEBUT BY REPLACING REIMER IN THE CLUB'S HOME OPENER THIS SEASON, OCT. 5, AGAINST OTTAWA. HE HAS SINCE ESTABLISHED HIMSELF – THROUGH SOME ROCKY MOMENTS – AS LEAFS NO. 1 STOPPER. BERNIER'S LEAF TOTALS AS OF TODAY: 37 GP / 17-15-4 / 2.63 GAA / ONE SHUT-OUT. 
TORONTO 60 IN ORDER… JOHNNY BOWER, BRUCE GAMBLE, AL SMITH, MARV EDWARDS, GERRY McNAMARA, JACQUES PLANTE, BERNIE PARENT, MURRAY McLACHLAN, GORD McRAE, RON LOW, DOUG FAVELL, DUNC WILSON, ED JOHNSTON, PIERRE HAMEL, WAYNE THOMAS,  MIKE PALMATEER, PAUL HARRISON, JIRI CRHA, CURT RIDLEY, VINCENT TREMBLAY, JIM RUTHERFORD, MICHEL (BUNNY) LAROCQUE, BOB PARENT, RICK ST. CROIX, ALLAN BESTER, KEN WREGGET, BRUCE DOWIE, TIM BERNHARDT, DON EDWARDS, JEFF REESE, MARK LaFOREST, PETER ING, DAMIAN RHODES, GRANT FUHR, FELIX POTVIN, RICK WAMSLEY, DARREN PUPPA, DON BEAUPRE, MARCEL COUSINEAU, GLENN HEALY, CURTIS JOSEPH, COREY SCHWAB, TOM BARRASSO, MARCEL CENTOMO, ED BELFOUR, MIKAEL TELLQVIST, TREVOR KIDD, JEAN-SEBASTIAN AUBIN, ANDREW RAYCROFT, SCOTT CLEMMENSEN, VESA TOSKALA, MARTIN GERBER, JUSTIN POGGE, JEAN-SENASTIEN GIGUERE, JONAS GUSTAVSSON, JOEY MacDONALD, JAMES REIMER, BEN SCRIVENS, JUSSI RYNNAS, JONATHAN BERNIER.
EMAIL: HOWARDLBERGER@GMAIL.COM
TWITTER: BERGER_BYTES
FACEBOOK/LINKEDIN: HOWARD BERGER [TORONTO ON]