"I can't tell you that [Jonathan Bernier] is going to be available to us tomorrow or the next day or the next day after that. Obviously there's outside pressures that come in when you're not having success, but that's something that has to be a sidebar. The player's health is paramount."
— Randy Carlyle making sense, 11 days too late.
By HOWARD BERGER
TORONTO (Mar. 25) – Oh, the agony, Leafs Nation. Had Randy Carlyle merely practiced a week-and-a-half ago what he preached on Monday, your hockey club would not be in such a dilemma. His words, therefore, come cheaply and tardily.
Otherwise, stop torturing yourself while attempting to figure out the Maple Leafs apparent collapse. It's simple: The team is without its No. 1 goalie and its back-up goalie isn't playing well. Period. End of story. Conjuring any other statistical analysis is a waste of time. No team at any level of the sport can prosper in the absence of reliable goaltending. That applies to any juncture of the season but is particularly noticeable and calamitous during the stretch drive and playoffs. A prolonged dry spell in the former can easily annul the latter, as Toronto's perturbed hockey enthusiasts are observing right now.
Sadly for Leafs, Jonathan Bernier is likely not to be 100 percent healthy until next season. Such was the folly of Carlyle gambling with Bernier's existing groin injury at Los Angeles, Mar. 13. Whether in training camp or the final month of the schedule, a groin issue will maddeningly endure. Given the mobility required to play goal, it is especially problematic. One day, it may feel better – tricking the athlete into fraudulent security. He will "push" himself in an attempt to re-gain playing status only to incur a set-back. Bernier admitted to this Monday.
WHAT A TIME FOR THE TORONTO MAPLE LEAFS TO ENCOUNTER ST. LOUIS AND CAPTAIN DAVID BACKES – HERE CELEBRATING HIS DECISIVE GOAL SUNDAY IN THE BLUES 1-0 SHUT-OUT AT PITTSBURGH. ST. LOUIS COMES TO THE AIR CANADA CENTRE TONIGHT WITH A 7-2-1 MARK IN ITS PAST 10 GAMES AND THE NHL's SECOND-BEST OVERALL RECORD: 48-16-7 FOR 103 POINTS. GREGORY SHAMUS GETTY IMAGES/NHL.COM
As for James Reimer, the dilemma is somewhat puzzling. He has performed much more effectively for the Maple Leafs than during Bernier's absence. Some, including myself, are left to wonder if Optimus Reim is also a victim of the game at Los Angeles. You'll recall that after Bernier pulled himself for the start of the second period, Reimer was shaken in a goalmouth collision with Jaret Stoll. Given his history of head and neck trauma, many expected he would repair to the so-called "quiet room" for a spell. Problem is, Leafs had no option between the pipes. Reimer shook off the immediate effect of the blow and played brilliantly over the last 40 minutes, guiding Leafs to a 3-2 regulation win.
Did the bump, however, have a lingering effect on Reimer?
I don't believe for a minute the Toronto medical staff – led by Dr. Noah Forman – would disdain protocol and jeopardize Reimer in any way. If anything, the Morweena, Manitoba native is a trifle gun-shy and has therefore lost his swagger and confidence. There are few things more emotionally debilitating than recurrence of injury or illness. Having battled Crohn's Disease on and off for 38 years, I can speak to the latter. Reimer has provided Leafs much better work that in the past week-and-a-half. He is also in search of a new contract after this season.
With their wobbly goaltending, Maple Leafs will try to pull it together tonight at the ACC against St. Louis – the NHL's second-most prolific team (trailing Boston in points, 104 to 103). Toronto can forget about anything but preserving one of the two Eastern Conference wild-card playoff entries. Montreal and Tampa Bay – once battling with the Blue and White for second and third place in the Atlantic Division – have each pulled away by seven points. A regulation loss to the Blues tonight combined with a point gained by Washington at home to Los Angeles would nudge Leafs out of the playoffs for the first time all season.
Last game against the Blues (in St. Louis, Dec. 12), Reimer was pulled for Bernier at 16:10 of the first period with Leafs trailing, 3-0. Toronto lost the match, 6-3; a score that flattered the visitors. But, don't be astounded if Leafs turn in a better effort tonight. They frequently play to the level of opposition and are much overdue for a win.
With Bernier, the Leafs were a sizzling 14-3-3 in 20 games between Jan. 12 and Mar. 10 (which includes the 19-day hiatus for the Sochi Winter Olympics). The club is 4-7-2 since the resumption of play, Feb. 27;  0-5-0 since Carlyle rolled the dice with his No. 1 goalie, Mar. 13. Interject any amount of "science" you wish to otherwise interpret the slump.
But, please waste someone else's time with it.
RECALLING THOSE GREEN SEALS
Continuing with my series of looking at NHL pages of the past, here is a program from the 1968-69 season opener between the Minnesota North Stars and Oakland Seals at the Oakland Coliseum-Arena (now Oracle Arena – home of the NBA's Golden State Warriors). Seals came into the NHL as part of the Great Expansion of 1967, when the league doubled to 12 teams. After playing to sparse crowds in Oakland, the club moved – in 1976-77 – to Richfield, Ohio and became the Cleveland Barons.   
CARS WERE CHEAP ?? IN 1968.
HERE IS WHAT THE SEALS OLD ARENA LOOKS LIKE TODAY – STILL PART OF THE OAKLAND COLISEUM COMPLEX (BELOW), HOME OF THE NBA GOLDEN STATE WARRIORS; MAJOR LEAGUE BASEBALL OAKLAND A's AND THE NFL OAKLAND RAIDERS.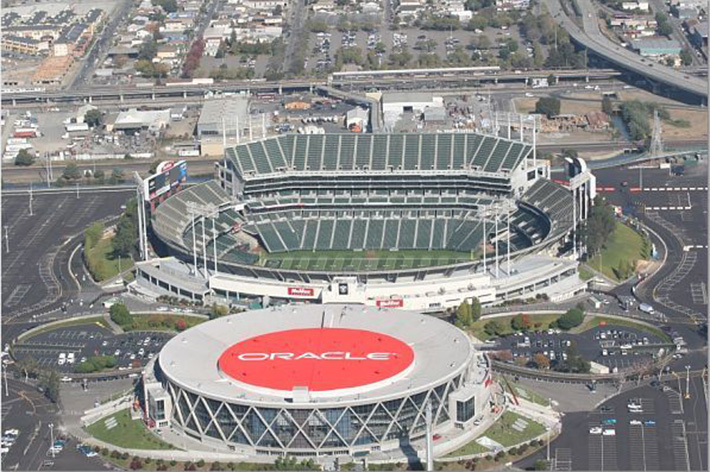 EMAIL: HOWARDLBERGER@GMAIL.COM
TWITTER: BERGER_BYTES
FACEBOOK: HOWARD BERGER [HUMBER COLLEGE]
LINKEDIN: HOWARD BERGER: BROADCAST MEDIA