By HOWARD BERGER
TORONTO (Mar. 10) – One of the most thorough hockey publications of the year is the annual "Future Watch" edition of The Hockey News – expertly assembled by my friend, Brian Costello. It was delivered to me late last week and I turned, with interest, to the Toronto Maple Leafs page.
A fair segment of the hockey universe will tell you that the only legitimate prospects in the Leafs organization are those already playing for the big team. Which likely isn't far from the case with all other clubs in the NHL. According to a Western Conference amateur scout with whom I chat regularly – and who insisted, last summer, that Morgan Rielly would make the Leafs this season – the Toronto cupboard isn't as bare as some might argue. I asked him for a purely subjective ranking of the Top 5 Maple Leaf prospects and he listed – in order – Fredrik Gauthier, Matt Finn, Petter Granberg, Josh Leivo and Stuart Percy.
This dovetailed only partially with The Hockey News Top 5 of Gauthier, Finn, Andreas Johnson, Connor Brown and Granberg. The magazine ranked Leivo eighth and Percy tenth. That's why teams have multiple scouts. Varying opinions allow for constructive debate in a science that will forever be inexact. But, a Stanley Cup can rarely be won without it.
"Of the Leafs prospects, Matt Finn is the only kid I think has the potential to be an above-average player in the NHL," said my Western Conference source. "But, that doesn't mean others won't make it. Toronto has plenty of top-end forward talent with [Phil] Kessel, [James] van Riemsdyk, [Joffrey] Lupul, [Tyler] Bozak and [Nazem] Kadri. The defense is also young and mobile. Dave Nonis has a lot of work to do before next season with free agents and potential salary cap concerns. This is where his prospects could become valuable in different roles."
A quick run-down, now, from the scout on his Top 5: 
FREDRIK GAUTHIER
2013 NHL Draft @Newark NJ 21st Overall "The Leafs traded for Joe Colborne [now with Calgary] a few years ago and hoped he would develop into a strong physical presence at center. It didn't work out because Toronto felt [Colborne] lacked drive. That won't be a problem with this kid… at least, it shouldn't be. I think Gauthier will be an every-night player in the NHL. He isn't spectacular in a specific area, but Leafs have enough flash up front. Gauthier will provide them a much-needed big body up the middle; a kid that thinks the game well and will lean in on face-offs. I like this pick very much."  
MATT FINN
2012 NHL Draft @Pittsburgh 35th Overall
"I know some GM's who think Matt Finn could develop into the best, young defensemen in the Leafs organization. I don't necessarily share that opinion because I feel [Morgan] Rielly and [Jake] Gardiner are more talented. But, one thing I can tell you: This kid is constantly improving with Guelph [of the OHL]. He is smart with the puck and is learning to kind of leverage his body in a way that will help compensate for average size (6-foot, 185 pounds). He's also a poised kid off the ice; others are beginning to look up to him. I think Matt is a true NHL prospect." 
PETTER GRANBERG
2010 NHL Draft @Los Angeles 116th Overall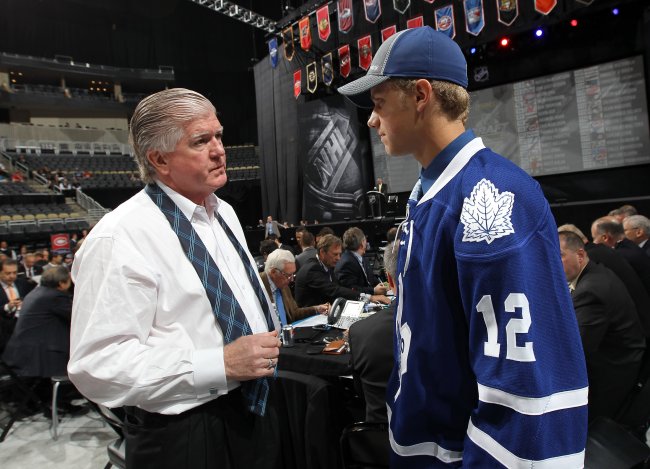 "If Toronto didn't have so many defensemen locked into salary, I think Petter Granberg might have played in the NHL this season. He has the potential to give Leafs what they most need – a big [6-foot-3, 210-pound], strong presence in front of the net. I know Toronto has a decision to make with Cody Franson [an unrestricted defenseman] before next season and this is where Granberg and Matt Finn could enter the picture. If Leafs choose not to re-sign Franson, they could have a couple of ready-made replacements. From my point of view, Granberg will play in the NHL – and effectively."
JOSH LEIVO
2011 NHL Draft @St. Paul MN 86th Overall
"This kid has really filled out  in the past couple of years and he did not look out of place in a handful of games with the Leafs earlier in the season [scoring his first NHL goal against Carolina, Oct. 17, at Air Canada Centre]. He's still a bit thin for his size (6-2, 180) though he's learned to play a variety of roles at the forward position. I think Leivo has to bulk up to be an effective power-forward at the NHL level, but his improvement in the AHL has been steady. I like his chances of playing regularly with the Leafs in probably a third-line role."  
STUART PERCY
2011 NHL Draft @St. Paul MN 25th Overall
"I may get an argument placing Stuart Percy in the Leafs' top five but I'm partial toward players that can think on the ice. Stuart plays a cerebral game. Unfortunately, his tangibles haven't blossomed like many of us anticipated – his scoring numbers and physical strength. But, he compensates by understanding the game… how the play unfolds in front of him. He doesn't often panic with the puck. If he improves his skating and lower-body strength, I can see him as a reliable defender in pressure situations. Leafs have a potential winner here."   
PIANO MAN STILL SOUNDING GOOD
EXACTLY TWO MONTHS BEFORE ATTAINING SENIOR CITIZENSHIP, BILLY JOEL PERFORMED AT AIR CANADA CENTRE FOR THE FIRST TIME SUNDAY NIGHT. CLAD IN A DARK-GREY BLAZER; BLACK SHIRT AND SLACKS, THE "PIANO MAN" PUT ON A TERRIFIC SHOW – SINGING ALL OF HIS MEGA-HITS FROM THE 1970's AND 80's DURING A TWO-HOUR-AND-TEN-MINUTE SET. IT WAS JOEL'S SIXTH TORONTO APPEARANCE DATING TO A MASSEY HALL ENGAGEMENT, OCT. 16, 1976. HE PERFORMED THREE TIMES AT MAPLE LEAF GARDENS – DEC. 1, 1977 / OCT. 5, 1978 / JAN. 22, 1994 – AND PLAYED SKYDOME (NOW ROGERS CENTRE) IN A FACE-TO-FACE CONCERT WITH ELTON JOHN, MAR. 29, 1995. "THIS PLACE HAS BETTER SOUND THAN MAPLE LEAF GARDENS," JOEL MENTIONED DURING SUNDAY'S SHOW. HE TURNS 65 ON MAY 9. I TOOK PHOTOS, ABOVE AND BELOW, FROM BALCONY SEC. 310, ROW 5 AT AIR CANADA CENTRE.  
FROM THE LIBRARY
If you were a hockey fan in the first year of the 1970's, you may still possess this handsome sticker-album. It came out midway through the 1970-71 season in a co-opt between the NHL; NHL Players Association and Imperial Oil – the parent company of Esso. Upon filling your car with gasoline, you were presented a pack of Esso Power Player stamps which could be pasted into a soft or hard-cover album (I had the latter, pictured below). All 14 NHL teams – Boston Bruins, Buffalo Sabres, California Golden Seals, Chicago Black Hawks, Detroit Red Wings, Los Angeles Kings, Minnesota North Stars, Montreal Canadiens, New York Rangers, Philadelphia Flyers, Pittsburgh Penguins, St. Louis Blues, Toronto Maple Leafs and Vancouver Canucks – were featured. Buffalo and Vancouver were in their first NHL seasons. Though coffee-table-sized photo books are common today, this item was quite a novelty 43 years ago – only the second of its kind dedicated to hockey.   
EACH OF THE 14 NHL CLUBS HAD A SECTION AND STAMP LAYOUT FOR 18 PLAYERS (MAPLE LEAFS ABOVE AND BELOW). THE STAMPS WERE 1½ INCHES IN HEIGHT.
THE 14 NHL ARENAS WERE PICTURED IN A TWO-PAGE LAYOUT – ABOVE (TOP-TO-BOTTOM, LEFT): BOSTON GARDEN, BUFFALO MEMORIAL AUDITORIUM, CHICAGO STADIUM, DETROIT OLYMPIA. (TOP-TO-BOTTOM, RIGHT): MONTREAL FORUM, METROPOLITAN SPORTS CENTER [MINNESOTA NORTH STARS], LOS ANGELES FORUM.
TOP-TO-BOTTOM, LEFT: MADISON SQUARE GARDEN [NEW YORK RANGERS], OAKLAND COLISEUM-ARENA [CALIFORNIA GOLDEN SEALS], PITTSBURGH CIVIC ARENA. TOP-TO-BOTTOM, RIGHT: PACIFIC COLISEUM [VANCOUVER CANUCKS], PHILADELPHIA SPECTRUM, MAPLE LEAF GARDENS, ST. LOUIS ARENA. OF THE 14 NHL ARENAS IN 1970-71, MADISON SQUARE GARDEN IS THE ONLY ONE STILL IN USE.
IN 1970-71, CLARENCE CAMPBELL (TOP-LEFT) WAS IN HIS FINAL SEASON AS PRESIDENT OF THE NHL AND THE ORIGINAL HOCKEY HALL OF FAME BUILDING – ON GROUNDS OF THE CANADIAN NATIONAL EXHIBITION IN TORONTO – WAS 10 YEARS OLD.
HOCKEY ALBUM PHOTOS
WHAT MADE THIS BOOK UNIQUE WAS THE PREPONDERANCE OF COLOR PHOTOGRAPHY – MOST OF IT FROM THE FIRST HALF OF THE 1970-71 NHL SEASON WHEN TEAMS BEGAN WEARING WHITE UNIFORMS AT HOME AND COLORED JERSEYS ON THE ROAD (THIS WOULD REVERT FOR 2003-04, WITH COLORED JERSEYS AT HOME, AS TODAY).
FROM 1970-71: TORONTO at NEW YORK RANGERS. DAVE KEON WEARING THE NEW MAPLE LEAFS ROAD UNIFORM – A DESIGN THE CLUB WOULD MAINTAIN THROUGH THE 1991-92 SEASON. GOALIE JACQUES PLANTE (INSERT PHOTO, BOTTOM-RIGHT) WEARS THE MAPLE LEAFS NEW PREDOMINANTLY WHITE HOME UNIFORM.
FROM 1970-71: CHICAGO at PHILADELPHIA. LEFT-TO-RIGHT – SIMON NOLET, DOUG MOHNS, JEAN-GUY GENDRON, GERRY PINDER. ON FEB. 7, MOHNS DIED AT 80 OF A BLOOD AND BONE-MARROW DISORDER. HE PLAYED IN THE NHL FROM 1953 TO 1975.
FROM 1969-70: MINNESOTA at MONTREAL. JEAN-PAUL PARISE OF THE NORTH STARS – KNOWN TODAY AS ZACH PARISE'S FATHER – AND HABS DEFENSEMAN TERRY HARPER.
FROM 1969-70: LOS ANGELES at MONTREAL. LEFT-TO-RIGHT – TERRY HARPER, BILL FLETT, ROGIE VACHON. HARPER AND VACHON WOULD LATER PLAY FOR THE KINGS.
FROM 1969-70: CHICAGO at PITTSBURGH. NET-CAMERA SHOWS ACTION AT CIVIC ARENA BEHIND GOALIE AL SMITH. CHICAGO FORWARD IS CLIFF KOROLL (20).
FROM 1969-70 (LEFT): NEW YORK at MONTREAL. RANGERS GOALIE ED GIACOMIN. FROM 1970-71 (RIGHT): MINNESOTA at NEW YORK. NORTH STARS GOALIE GILLES GILBERT.
FROM 1970-71: TORONTO at ST. LOUIS. RON ELLIS OF MAPLE LEAFS AND TERRY CRISP OF THE BLUES, WEARING BLUE-AND-GOLD MATCHING SKATES.
FROM 1970-71: CALIFORNIA at PHILADELPHIA. NOTICE THE SEALS WEARING GREEN-AND-GOLD SKATES. CALIFORNIA PLAYERS ARE TONY FEATHERSTONE (16), WAYNE MULOIN (4) AND GOALIE GARRY SMITH. FLYERS FORWARD IS BOB KELLY (9).
EXPANSIONS TEAMS IN 1970-71 REPRESENTED (LEFT) BY GARY DOAK OF VANCOUVER CANUCKS AND GILBERT PERREAULT OF THE BUFFALO SABRES.
FROM 1969-70: DETROIT at MONTREAL (LEFT). RED WINGS CAPTAIN ALEX DELVECCHIO. DETROIT at TORONTO (RIGHT). THE IMMORTAL GORDIE HOWE.
FROM 1969-70: PITTSBURGH at MONTREAL. LEFT-TO-RIGHT – TERRY HARPER, KEN SCHINKEL (12), RON SCHOCK (17) AND HABS GOALIE ROGIE VACHON.
FROM 1968-69: MONTREAL at NEW YORK. LEFT-TO-RIGHT – VIC HADFIELD, JEAN BELIVEAU, ROGIE VACHON, JEAN RATELLE (19), RANGERS CAPTAIN BOB NEVIN.
FROM 1969-70: LOS ANGELES at MONTREAL (LEFT). HABS DEFENSEMAN SERGE SAVARD CHASED BY JIMMY PETERS OF THE KINGS. MINNESOTA at MONTREAL (TOP-RIGHT). HABS FORWARD HENRI RICHARD STRUGGLING WITH DEFENSEMAN LOU NANNE IN FRONT OF NORTH STARS GOALIE FERN RIVARD. TORONTO at MONTREAL (BOTTOM-RIGHT). LEAFS DEFENSEMAN JIM McKENNY AND HABS' YVAN COURNOYER (12).
FROM 1970-71: CHICAGO at PHILADELPHIA. KEITH MAGNUSON (3) AND BOBBY CLARKE (16) IN FRONT OF BLACK HAWKS GOALIE GERRY DESJARDINS.
FROM 1970-71 (LEFT): CALIFORNIA at PHILADELPHIA. SEALS GOALIE GARRY SMITH AND DEFENSEMAN RON STACKHOUSE. FROM 1979-70 (RIGHT): BOSTON at MONTREAL. BOBBY ORR BEING CHASED BY HENRI RICHARD.
FROM EXHIBITION GAME AT MAPLE LEAF GARDENS IN SEPTEMBER 1970: CHICAGO at TORONTO. PAUL HENDERSON BATTLING WITH GOALIE GERRY DESJARDINS.
EMAIL: HOWARDLBERGER@GMAIL.COM
TWITTER: BERGER_BYTES
FACEBOOK: HOWARD BERGER [HUMBER COLLEGE]
LINKEDIN: HOWARD BERGER [BROADCAST MEDIA]