By HOWARD BERGER
TORONTO (Apr. 11) – Maple Leafs have commemorated the 24th anniversary of Harold Ballard's death with new life in the form of Brendan Shanahan. History will determine whether the acquisition of another high-profile president marks a turning point for the franchise or a level of redundant bureaucracy.
When Ballard died on Apr. 11, 1990, his Maple Leafs had just landed in St. Louis for Game 5 of an opening-round playoff series. Perhaps fittingly, the Leafs expired 24 hours later. Given that Ballard – even in the throes of dementia – authorized every personnel decision, all bets were off as it pertained to the hockey club. Floyd Smith kept his job as general manager the following season before Donald Giffen – assuming the presidency upon Ballard's demise – brought in Cliff Fletcher to run the hockey operation. Fletcher traded for Doug Gilmour in January 1992 and hired Pat Burns as coach in May of that year. In May 1993, Leafs made it to Game 7 of the Stanley Cup semifinals before losing to Wayne Gretzky and the Los Angeles Kings at Maple Leaf Gardens. No Toronto club has since advanced as deeply into the Stanley Cup tournament.
Shanahan should be so fortunate with the Blue and White. Frankly, I've never entirely understood the fascination toward the Mimico, Ont. native. Yes, he's a Hall-of-Fame player (though passed over in his first year of eligibility) and he sounds quasi-intelligent when asked about hockey matters. His recent post as the NHL's vice-president of player safety belied a career as a ruthless, crooked performer on the ice, for which he incurred multiple suspensions. He did score 656 regular-season goals (13th on the all-time list) and played on three Stanley Cup winners. Otherwise, and for no particular reason, I've found him to be a middling, unremarkable presence since hanging up the blades.
NEW MAPLE LEAFS BOSS BRENDAN SHANAHAN.
Clearly, Maple Leafs Sports and Entertainment boss Tim Leiweke has not. And nothing else – including my assessment of Shanahan – really matters. Without a day's worth of hands-on experience in managing a big-league club, Shanahan is to have full control of the Leafs' hockey operation; the current executive posse of David Nonis, Dave Poulin and Claude Loiselle reporting directly to him. This, of course, pre-supposes that Shanahan retains the incumbent managerial group. It appears Nonis has a place, initially, with Shanahan, as both will appear at Monday's official press conference anointing the new president. Though Leiweke presented Nonis a five-year contract extension last July, it is inconceivable that Shanahan arrives amid any instruction to stand pat – not with the Maple Leafs in a full, late-season meltdown (2-11-0 in their past 13 games after a 4-2 loss at Florida Thursday night). Rather, we can likely expect – at some point – yet another massive overhaul, with no part of the hockey enterprise immune to change. Given this move, it appears virtually impossible that the entire nucleus of Nonis, Poulin, Loiselle, Randy Carlyle and captain Dion Phaneuf will be back.
Otherwise, Shanahan comes aboard as a highly paid spectator.
My vote, as outlined in a blog here on Tuesday (1kKYYke), would be to retain the Nonis-Poulin-Loiselle trio and to thoroughly alter the club's ice-level direction by replacing Carlyle and trading Phaneuf. Despite his career playing numbers, there is only so much Shanahan can achieve in a made-to-measure suit. If the composition and character of the hockey club does not dramatically change, the redundancy of Shanahan's appointment will quickly become apparent.
And, that's why all bets are off with the Maple Leafs – from the GM's chair to those that fill water bottles. If Shanahan is prudent (and that remains to be seen), he will not stomp into Air Canada Centre as Mister Know-it-All. Instead, the new president will feel out – with an open mind – his current employees and other sounding boards throughout the NHL.
But, there's something about me, though I can't put my finger on it, that isn't convinced of this move. As always, time will tell.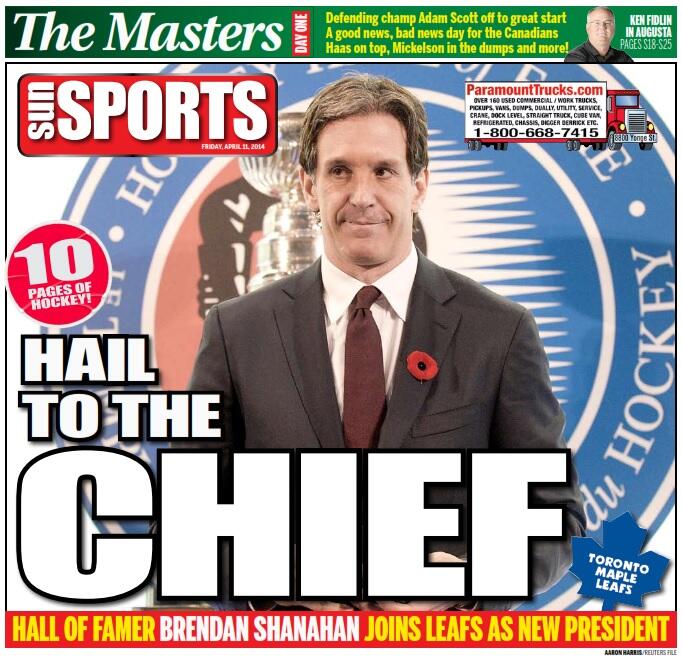 THE COVER OF FRIDAY'S TORONTO SUN.
EMAIL: HOWARDLBERGER@GMAIL.COM
TWITTER: BERGER_BYTES
FACEBOOK: HOWARD BERGER [HUMBER COLLEGE]
LINKEDIN: HOWARD BERGER [BROADCAST MEDIA]