By HOWARD BERGER
TORONTO (Apr. 16) – The first time I met David Shoalts, he looked at me disdainfully and said I was too big for my britches.
That was more than three decades ago (in February 1982) when we worked together, ever-so briefly, at the Calgary Sun. I was 23 years old and homesick; out of my childhood dwelling for the first time. Way out – as in 3,500 kilometers and two time zones. David, by comparison, was a grizzled veteran – perhaps 25 at the time. He welcomed me to Alberta with a friendly pole-ax.
The last time I saw Shoalts, roughly a year ago, he shot me a withering look as if to say I was too big for my britches. Proof again that only the calendar flips with regularity. By then, I was rather acquainted with David – and he with me – given our 15 years together in airports and press boxes covering the Toronto Maple Leafs. Only once in that time did he phone my hotel room and invite me to dinner. It was in Raleigh, N.C. during the 2002 Eastern Conference final between the Leafs and Carolina Hurricanes. As if we were best buds, he heartily suggested I meet up with him and the other Toronto-area reporters at a steakhouse… with my rental car. "How nice of Dave," I thought to myself. Then I paused and thought a bit harder. Shoalts would have invited a serial killer to dinner before me. Surely, something was up.
That something became apparent when I arrived a bit late for the gathering. There was Dave – sweating profusely – and happier to see me than anyone in his life to that point. "Okay guys… let's order the beer!" he loudly exclaimed, drawing agitated looks from other restaurant patrons. You see, Howard Berger was the lone non-drinker in the group. David had little desire to blow his paltry Globe and Mail per-diem on something as frivolous as a taxi. "Oh, thanks a ton for the invite, Dave," I sighed as he glanced at me with a sh*t-eating grin. Two hours later, a half-dozen media colleagues staggered toward my rental car for a safe trek back to the hotel. "Friends" like David are hard to find, I'll tell you.
LEAFS/HURRICANES IN 2002 EASTERN CONFERENCE FINAL.
I will, however, give Shoalts credit. He's been a damned good reporter and columnist at the Globe for the past 25 years and has somehow been able to soldier on professionally since the death of his son, Matthew, in December 2012. Even after that pitiable stunt in Raleigh 12 years ago, I respect him. Lots. As such, I thought I might compare notes with David as per his individual assessment of the 2013-14 Maple Leafs – now folded and put away for the summer. In Monday's newspaper, under the headline SHANAHAN WILL HAVE HIS HANDS FULL DURING LEAFS' OFF SEASON, Shoalts commented on each Toronto player.
Today, I will share his typically blunt remarks with you… and then comment on David's comments. Here we go:
ME (LEFT) IN DETROIT AND MY RALEIGH, N.C. DINNER "COMPANION."
SHOALTS: Dion Phaneuf – At $7 million per for the next seven years, the Leafs are stuck with him. Take away the captaincy and get him to work solely on his game. He makes way too many mistakes for a 29-year-old NHLer. As with a lot of his teammates, he is higher on the roster (No. 1 defenceman) than he should be.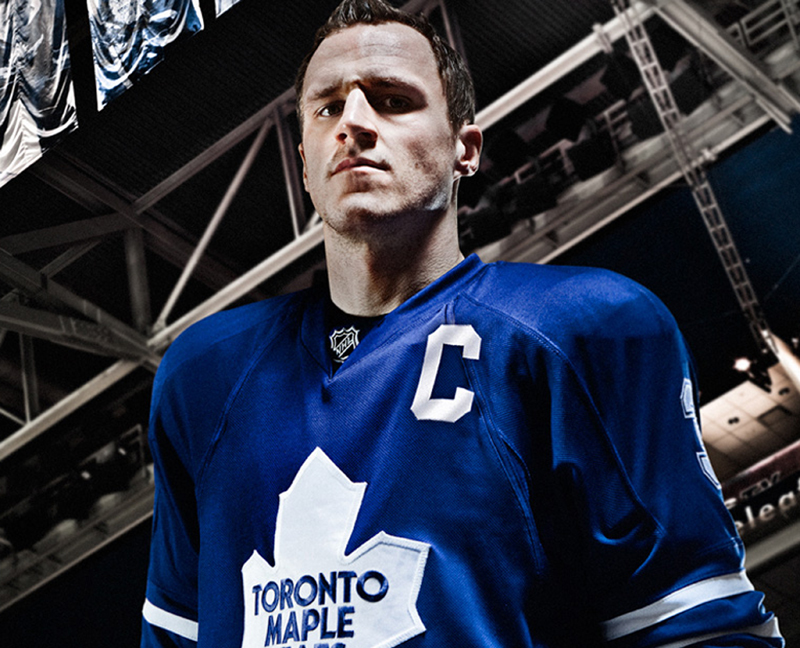 ME: Disagree on a couple of points. As I've written several times, I'm not 100 percent sure the Maple Leafs are incapable of moving Dion's contract. Had the club not signed him to an extension, he would have commanded close to his salary and term on the open market this summer. Perhaps not from a bevy of teams, but certainly a handful. A change of locale might be a remedy and the guy does eat minutes, though he regurgitated more than a few in the heinous last month of the schedule. But, one thing I will say (and have said) about Dion: He's an honest, dedicated player and has worked hard through success and failure to be a good captain – with the team and in the community. As such, he doesn't deserve to be embarrassed by having the 'C' removed. I understand David's point about Phaneuf perhaps improving without the so-called burden, but I don't think it would be a palatable situation. And it's not as if the Leafs are engorged with heirs-apparent, as proven during the 2-12-0 meltdown to end the season. That's why I believe Dave Nonis should work diligently with Phaneuf and his management group – Newport Sports – to find a taker. It would benefit all parties.
SHOALTS: Carl Gunnarsson – Keep him, as he is a solid defenceman with a decent cap hit at $3.15-million for two more years. But he should be a No. 4 or 5, not on the top pair.
ME: Could be interesting. Gunnarsson is chronically under-appreciated here, yet valued around the league for the reasons David mentioned. With Morgan Rielly and Jake Gardiner poised to move up in the pecking order – and with Petter Granberg and Matt Finn considered good NHL prospects – Gunnarsson might be relevant trade fodder. We'll see.
SHOALTS: Cody Franson – He is a restricted free agent July 1 and it's time to trade his rights. After a solid 2012-13 season and playoffs, Franson regressed. Space is needed for a physical, defensive-minded blueliner such as farmhand Petter Granberg, who made an impressive NHL debut Saturday.
ME: Difficult to argue with David's reasoning, though I'd be very careful. Among surprises this year was the regression of Franson after a commanding effort against Boston last May. I might take another look at him with new direction behind the bench. He wasn't the only young player to fall off under Randy Carlyle. Also, defensemen in hockey are like pitchers in baseball: It's impossible to have too many. Neither can Petter Granberg be judged off one meaningless NHL start.
SHOALTS: Tim Gleason – He did not bring the hoped-for stability to the Leafs defence but was not a disaster either. At $4-million, a tad over-priced for a bottom-three guy but worth keeping for his play in the Leafs' zone and his work ethic, a rare commodity on this team.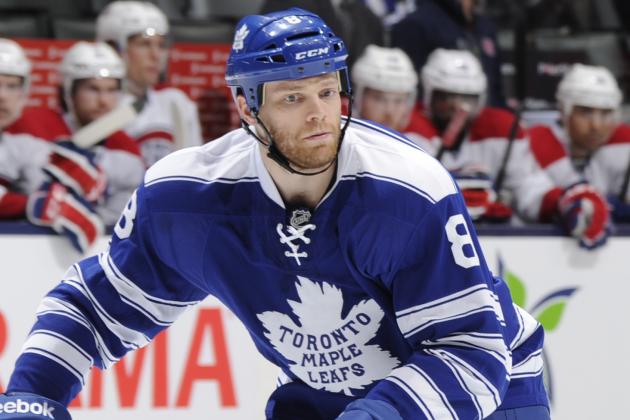 ME: Agree on all points with one caveat: John-Michael Liles (traded to Carolina for Gleason) also brought work ethic to the Blue and White; was extremely well-liked among teammates, and more talented than Gleason. Too bad coach Randy didn't appreciate him.
SHOALTS: Paul Ranger – Pending unrestricted free agent. If he is willing to take a pay cut from this season's $1-million salary, he could be a depth player but looking for an upgrade should be the priority.
ME: Again, you can never have too many defensemen. And this guy has some character – on and off the ice.
SHOALTS: Jake Gardiner – He is not developing as quickly as hoped and it appears his game will always be all offence. But he finished the season well and will remain part of the team's core of young players rather than leave as a restricted free agent.
ME: Gardiner, Morgan Rielly, Matt Finn and, perhaps, Garnberg are the Leafs' future on defense. I wouldn't forego any of them. Gardiner and Rielly are potential 50 to 65-point men on the blue-line; the best Toronto duo, in that regard, since Borje Salming and Ian Turnbull 40 years ago. Leave the kids alone.
SHOALTS: Morgan Rielly – The rookie showed he has the tools to be the No. 1 defenceman the Leafs badly need. But he's still a few years away. A keeper.
ME: See "Jake Gardiner."
SHOALTS: Phil Kessel – He is an important piece of the puzzle rather than a leader, but his scoring skills dictated the team's fortunes. Kessel is locked up at $8-million a year through 2022 so he's settled.
ME: Any Leafs fan expecting some Gilmour out of Kessel will continue to moan. Phil is what he is: Among the most gifted scorers on the planet. But, he will never be an overwhelming force until an equal or greater proportion of his goals come in March, April and beyond.
SHOALTS: Tyler Bozak – Another one who stays, although his relationship with Kessel, rather than his size and skill, dictates his role as the No. 1 centre.
ME: I have nothing but respect for Bozak after suggesting the Leafs allow him to walk as an unrestricted free agent last July. I could not have been further off the mark. Unlike the majority of his teammates, Tyler earned his paycheck this season. And, to David's point: His tight bond with Kessel (they live together in a Bay. St. condominium) appears to only benefit the Maple Leafs.
SHOALTS: James van Riemsdyk – Solid season with 30 goals, developing well despite quibbles with his consistency. Good value at $4.25-million for four more years.
ME: Yes, a good scoring season. And always willing to stand in harm's way with an opponent in the penalty box. But, JVR cannot play a lick, defensively. As such, he was no help to Leafs down the stretch – his weakness without the puck offsetting his around-the-net skill. He needs both elements to fully benefit the team.
SHOALTS: Nazem Kadri – Fifty points in his second full season looks good but too often he disappeared at key times. Much patience is needed here because he's too young to discard. He has the talent but has yet to develop a two-way game. Someone needs to read him the riot act and get him in step with whatever program is in place next season.
ME: Clearly that "someone" cannot be Randy Carlyle.
SHOALTS: Joffrey Lupul – His heart seems to be in the right place but injuries weaken his contributions. Four years left on a contract at $5.25-million means someone might be interested so a trade should be explored.
ME: The notion of trading Lupul would have been scoffed at until the Leafs' collapse. Instead, Brendan Shanahan and Dave Nonis should try diligently to find him a compatible center-iceman. He and Kadri were not a match this season. If healthy, Lupul can still threaten the 30-goal mark. That's what $5.25 million buys you in today's NHL.
SHOALTS: David Clarkson – Yes, an unmitigated disaster at $5.25-million with six years to go. But he didn't forget how to play the game at 30. He can't be traded so the Leafs have to get him to hit the reset button. Can still be an effective player.
ME: Keep your fingers crossed, Leafs Nation. Hard.
SHOALTS: Dave Bolland – This is a tough one. The pending unrestricted free agent is unquestionably the two-way gritty player the team needs. But not at $6-million a year or more if that is what he wants in a new contract. The Clarkson contract makes this a tough negotiation for Nonis. Keeping Bolland would be nice but it looks like it's impossible at the right price.
ME: There's another way to consider this, should Bolland fully recover from his gruesome injury – a severed ankle-tendon that cost him most of the season. As a proven playoff commodity, he'll be in some demand, July 1, by contending teams. If he stays with Leafs, it'll be at the old "hometown discount" and his competitive mood will have been overcome by the convenience factor. In other words, "Muskoka Five" syndrome. Haven't Leafs seen enough of that over the years?
SHOALTS: Mason Raymond – Provided decent value on a one-year deal for $1-million but less so as the season went on. Worth a stab at re-signing for similar money but a more physical replacement would be better.
ME: Not much I can add to that.
SHOALTS: Nikolai Kulemin – His 30 goals in 2010-11 sparked hopes he would develop into a good power forward but it never happened. Could be part of a revitalized fourth line, but if he isn't willing to take a cut from $2.8-million, it's time to say goodbye when free agency hits July 1.
ME: I'm not certain Kulemin will stay in the NHL. He seemed off on an island somewhere without his close pal, Mikhail Grabovski. It may be time for an "at-home" environment in the Kontinental Hockey League. An honest worker, though, in his years with the Leafs.
SHOALTS: Jay McClement – He helped improve the penalty killing in 2012-13 but both special teams fell apart this season. The Leafs are in flux at centre on the third and fourth lines thanks to the Bolland situation, so it's worth keeping McClement, who is a pending unrestricted free agent.
ME: Agree, David, but obviously at a reasonable price. Penalty killing is 75% desire and will; 25% structure. Leafs may still have the structure, but desire went south under Carlyle. It was among the more puzzling aspects of the Toronto season. Unlike the overwhelming majority of his teammates, McClement is both capable of – and willing to – perform behind center-ice. If Leafs let him go, they've got to find someone as competent. Not a likely prospect.
SHOALTS: Colton Orr – A spot with Toronto Marlies to work off the last year of his contract.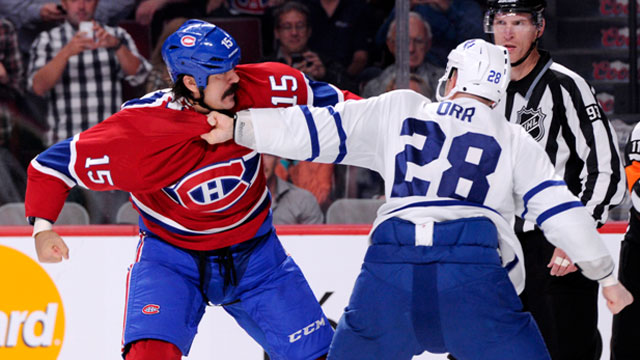 ME: Interesting that Leafs were a force in the lockout-shortened season with Orr dropping his gloves on a regular basis. In many ways, he and Frazer McLaren – though nearly devoid of skill – formed the club's sandpaper identity. Neither man was similarly deployed this season and there was no-such an element to the team. Must be easier to stay nasty over 48 games. But, I do respect Orr for bouncing back after his AHL demotion two years ago. He has character.
SHOALTS: The rest – The Leafs have a group of young players who spent time with them this season and are headed to free agency. Peter Holland and Carter Ashton are the most notable. Holland could play as high as the No. 3 centre, depending on what happens to Bolland. Ashton never got much of a chance under Carlyle but has scored in the American Hockey League. Both should be re-upped. Troy Bodie put in some decent work on the fourth line and should be brought back, too.
ME: Jerry D'Amigo is noticeably absent in the above paragraph. From what I saw, he was the most committed of all the Leaf farmhands. I'd give him every chance to play regularly on the fourth line and while killing penalties.
SHOALTS: Jonathan Bernier – He provided the elite goaltending Nonis and Carlyle wanted. Only question is when does he sign a long-term contract extension? ME: For the club's sake, David, sooner than later. As I've written continuously since Mar. 13, Carlyle allowing Bernier to decide if he was healthy enough to play against his former team in Los Angeles, Mar. 13, killed the Leafs season. Bernier left after 20 minutes and missed the next five games – all losses. He wasn't nearly the same upon returning and a goalcrease mishap against Boston (Paul Ranger pushing Patrice Bergeron onto Bernier, as per the above photo) finished him off. Toronto's best goalie since Ed Belfour ten years ago will have to now recover from a sports hernia operation. His problems all began when Carlyle deferred to him at Staples Center.
SHOALTS: James Reimer – He is bitterly disappointed about losing the No. 1 job to Bernier and reluctantly realized it is time to move on with restricted free agency approaching. Leafs fans have to realize his trade value was never that great and there won't be much coming for him.
ME: If I could wave a magic wand and have all hockey-related matters come together for Optimus Reim, I'd do it right now. He is that solid a guy. As evident in David's assessment, it is clearly assumed that Reimer will play elsewhere next season. But, hang on a minute. Given that Reimer is an RFU on July 1, Leafs still hold the hammer. Under a different coach, perhaps Reimer would adapt to the No. 2 role and play effectively in 25 to 30 games (more, if Bernier is injured). It may not top his wish-list, but neither does he have contractual leverage at the moment. If I'm Nonis, I would not spontaneously look to discard Reimer. An efficient back-up goalie is critical in an 82-game season and Reimer is more than capable of being that player for the Leafs… in a compatible environment. He did not share such a circumstance with Carlyle, who all but waved the white flag on him late in the season. Given how the Leafs folded, I would change the coach long before throwing away a competent back-up goalie.
?     ?     ?     ?     ?     ?     ?     ?
Nice work, David. Call me anytime you're unfit to get behind the wheel.
EMAIL: HOWARDLBERGER@GMAIL.COM
TWITTER: BERGER_BYTES
FACEBOOK: HOWARD BERGER [HUMBER COLLEGE]
LINKEDIN: HOWARD BERGER [BROADCAST MEDIA]