By HOWARD BERGER
TORONTO (June 18) – Unlike others, I am not mourning the demise of Hockey Night In Canada as we've known it through the years. Change in life is inevitable and I suspect Rogers Communications will do a thorough job of presenting our national game on television for the next 12 seasons.
Keith Pelley and Scott Moore have forever been TV types (Moore previously worked for Hockey Night as an executive producer). Providing they don't try to re-invent the wheel, hockey viewers in our land should be exceptionally well-served during the years that Rogers controls editorial content. Familiar faces and voices Jim Hughson, Bob Cole, Ron MacLean, Don Cherry, Scott Oake and Elliotte Friedman will remain on board; MacLean and Cherry continuing their incomparable Coach's Corner segment during intermissions. Shortly after the Rogers announcement in November, Cherry implored the company to "just leave us alone; we know what we're doing here." It will be interesting to see if (and perhaps how long) Rogers fully complies with Cherry's wish.
I grew up in the late-60's and 1970's with Foster Hewitt on radio; Bill Hewitt, Brian McFarlane, Bob Goldham, Ward Cornell, Jack Dennett, Dave Hodge, Howie Meeker, Danny Gallivan, Dick Irvin and Frank Selke Jr. on TV. Hockey Night was a spartan entity back then – televising Maple Leaf home games on Saturday and Wednesday (and road games from Montreal and Vancouver) until the Stanley Cup playoffs.
Through the 1967-68 season, the games began on TV at 8:30 p.m. – roughly one-half hour after the puck had been dropped (earlier, the telecast had started at 9 p.m.). From 8 o'clock 'til 8:30, I would listen to Foster Hewitt describe the play on the radio station he founded (CKFH-1430). If a goal was scored, I imagined the scene, knowing Ward Cornell would replay all the goals on TV during the first intermission.
The telecast would begin with a wide shot of the play at Maple Leaf Gardens and Bill Hewitt welcoming viewers with the line made famous by his Dad: "Hello Canada and hockey fans in the United States." Invariably, 16 to 18 minutes of the first period had elapsed by then.
PHOTO FROM 1973 OF (LEFT-TO-RIGHT) HOCKEY NIGHT IN CANADA LEGENDS BRIAN McFARLANE, DAVE HODGE AND BILL HEWITT. BILL AND BRIAN CALLED TV GAMES FROM THE GONDOLA AT MAPLE LEAF GARDENS. HODGE REPLACED WARD CORNELL AS INTERMISSION HOST IN 1971. RON MacLEAN TOOK OVER FROM HODGE IN 1986.
Until 1966-67, when a bank of bright TV lights was installed on the west side of Maple Leaf Gardens, games were televised in black-and-white. I can still remember the first time I saw a Leafs game on color TV. It was early in the '66-67 season on a Saturday night with Bobby Hull and the Chicago Black Hawks in town. I watched at a friend of my mother's and couldn't believe how wonderful it looked. On Dec. 3, 1966, I attended my first Leafs game – against Gordie Howe and the Detroit Red Wings.
That, my friends, was nothing short of surreal.
A number of Hockey Night In Canada moments come to mind when I reflect on my youth. Before the advent of cable TV, roof-top antennae captured video signals that faded in and out depending on the weather. If nearby, these devices also intercepted audio signals. Our neighbor two doors down, Henry Pollit, had one of those ham-radio units in his basement. He would communicate privately (or so he thought) with other amateur-radio operators and almost always on Saturday nights during the winter. As such, Bill Hewitt's play-by-play of Leaf games was often drowned out by my neighbor seeking a friend on his radio frequency. "This is Henry Pollit calling (so and so) – come in please." It was annoying but we accepted it as part of mid-60's technology.
PROGRAM LINE-UPS FROM BOSTON-TORONTO GAME OF OCT. 29, 1966. IT WAS ROOKIE DEFENCEMAN BOBBY ORR'S FIRST APPEARANCE AS A BRUIN AT MAPLE LEAF GARDENS. 
As mentioned, only Leaf home games – and road games from Montreal (usually Wednesday) and Vancouver (if on a Saturday) – were televised until 1977-78, when Hockey Night In Canada gave up its Wednesday night national slot on CTV. The midweek Leafs package was obtained by independent station CHCH (Channel 11) in Hamilton and all Wednesday games were shown, regardless of location. During that season (Maple Leafs did very well under rookie coach Roger Neilson), telecasts originated from Vancouver, Atlanta (twice) St. Louis, Cleveland, Chicago, Minnesota, New York (Rangers) and Washington. Today, of course, every Leafs game is on TV. Thirty-seven years ago, it was a novelty to watch Leafs play on the road.
As such, a moment from late in the 1971-72 season continues to resonate. With the Stanley Cup playoffs approaching, CBC technicians went on strike. A couple of times, a Saturday night game from Maple Leaf Gardens abruptly disappeared from the screen – replaced by the CBC logo. It happened on Mar. 4, 1972 in the first period of a game between the Leafs and Los Angeles Kings. The feed suddenly went to black. Not one minute later was it replaced by a Bruins-Red Wings game from the Detroit Olympia. Three weeks later – on Mar. 25 – the same thing happened in a telecast between the Rangers and Canadiens at the Montreal Forum. Only this time, it was replaced by a movie.
Had I gone to bed early that night, I would have missed one of the great hockey surprises in my youth. While flipping through the channels at 11 p.m., I came upon a wide corner-shot from an arena I couldn't immediately identify. A team in gold uniforms was skating around prior to the opening face-off and there was no sound. I did a double-take before a voice came on that thanked CBC viewers for their patience and understanding. "As a bonus, we bring you tonight's game between the Maple Leafs and Kings from the Forum in Los Angeles." This can't be true, I thought to myself. I had never seen a game on TV from L.A., let alone one involving the Maple Leafs. But, seconds later, the Kings' broadcast crew appeared on the screen and I stayed up 'til nearly 2 a.m. watching the Leafs blank Los Angeles, 4-0.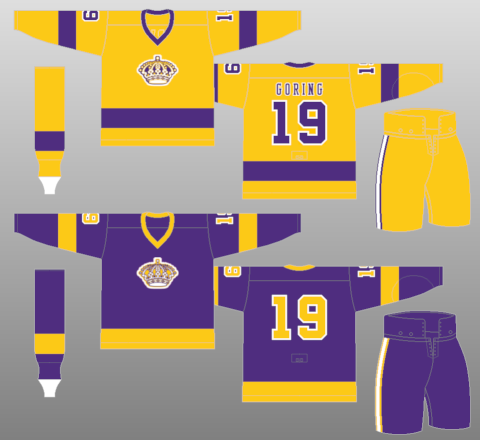 TORONTO ROAD BLUE AND LOS ANGELES HOME GOLD APPEARED SURPRISINGLY ON HOCKEY NIGHT IN CANADA AT 11 P.M. EST, MAR. 25, 1972. NHLUNIFORMS.COM
So, TV viewers today have no reason to complain.
Yes, Hockey Night In Canada on CBC has been sacrosanct for more than 60 years and tradition should always be valued. Just as change must be embraced. Every game during the NHL season is now available on the league's Center Ice cable package. Rogers will engorge hockey types three and four times during the week. Jim, Bob, Ron, Don, Scott and Elliotte won't allow you to forget the "good old days" of exclusive CBC rights – when the man next door could interrupt the action.      
YOUR NAME IS WHAT? — I cannot be certain, but I imagine this former NHLer took unmerciful ribbing from teammates and opponents during his playing days. He likely resented his parents as well:
HARRY DICK (November 22, 1920 – December 1, 2002) was a Canadian professional ice hockey player who played 12 games in the National Hockey League. Born in Port Colborne, Ontario, he played with the Chicago Blackhawks. WIKIPEDIA
HARRY DICK AS A MEMBER OF THE CHICAGO BLACK HAWKS.
LEAFS REBOUND WITH PALMATEER
Much anticipation swirled around the Toronto Maple Leafs to begin the 1976-77 National Hockey League season. The club's impressive nucleus of Darryl Sittler, Lanny McDonald, Borje Salming, Ian Turnbull, Errol Thompson and Dave (Tiger) Williams was in its prime. But, a 1-5-2 wobble out of the gate dampened the enthusiasm. Only when acrobatic goalie Mike Palmateer was promoted from the minors did the Leafs show immediate signs of life. In the first part of this series (here: http://bit.ly/SYrPco), I featured Games 1-10, during which Toronto compiled a 2-5-3 record – the second win occurring in Palmateer's NHL debut, Oct. 30, 1976, at the old Detroit Olympia.
In this second part of my NHL Pages-of-the-Past, I take you through Games 11-20 from scrapbooks I made as a 17-year-old. These games include one of the great regular-season performances by a Toronto goalie: Palmateer's 1-0 blanking of the Stanley Cup-champion Montreal Canadiens at Maple Leaf Gardens on Nov. 17. Montreal would compile an incredible record of 60-8-12 that season and win its second of four straight Cups under Scotty Bowman. I went to every Leafs home game in '76-77 (exhibition, regular season, playoffs) – 47 in all – in my season's tickets in the south mezzanine Blues at the Gardens. Astonishingly, these memories are still fresh more than 37½ years later:
GAME 11: Toronto at Minnesota – Oct. 30, 1976.
GAME 12: Toronto at Cleveland – Nov. 1, 1976.
GAME 13: St. Louis at Toronto – Nov. 3, 1976.
GAME 14: Toronto at Atlanta – Nov. 5, 1976.
GAME 15: Toronto at St. Louis – Nov. 6, 1976.
GAME 16: Toronto at Los Angeles – Nov. 10, 1976.
GAME 17: Toronto at Vancouver – Nov. 13, 1976.
GAME 18: Montreal at Toronto – Nov. 17, 1976.
GAME 19: Minnesota at Toronto – Nov. 20, 1976.
GAME 20: Toronto at Montreal – Nov. 21, 1976.
EMAIL: HOWARDLBERGER@GMAIL.COM
TWITTER: BERGER_BYTES
FACEBOOK: HOWARD BERGER [HUMBER COLLEGE]
LINKEDIN: HOWARD BERGER [BROADCAST MEDIA]