By HOWARD BERGER
TORONTO (June 25) – Saturday evening, when the Wells Fargo Center in Philadelphia is being cleaned up from two days of National Hockey League drafting, will mark one of the more significant anniversaries in Toronto Maple Leafs history.
Around the supper hour, it will be 20 years from the moment Cliff Fletcher acquired Mats Sundin in a monster, multi-player trade with the old Quebec Nordiques. It happened moments before the 1994 NHL draft at the Hartford Civic Center and sent a jolt of energy through the home of the Whalers. Maple Leaf followers had mixed emotions because fan favorite Wendel Clark was among the players dealt to Quebec. But, subsequent years would prove it to be among the best trades ever by a Leafs general manager. Sundin went on to become the all-time leading scorer in franchise history with 987 points, 71 more than Darryl Sittler. Mats scored 420 goals – most in team annals – and his 567 assists rank second all-time to fellow Swede Borje Salming, who had 620 helpers.
When assessing the Sundin trade, however, and comparing it to other significant deals in Maple Leafs history, it cannot be ranked at the top because it failed to result in a Stanley Cup. That wasn't Sundin's fault and the club twice made it to the Cup semifinals during his term – in 1999 (losing to Buffalo) and 2002 (to Carolina). The prime criterion of any major trade has to be its impact on the team. And, there were three earlier deals by Toronto GM's that led directly to the ultimate prize.
MATS SUNDIN WAS TRADED FROM QUEBEC NORDIQUES TO TORONTO MAPLE LEAFS 20 YEARS AGO THIS SATURDAY – JUNE 28, 1994. SPORTS ILLUSTRATED COLLAGE
Leafs won the Stanley Cup in 1942 – famously rebounding from a 3-0 series hole against Detroit and becoming the first of four teams to accomplish the feat in a best-of-seven series. Late the following season, Leafs founder and GM Conn Smythe acquired Ted Kennedy from Montreal for the rights to Frankie Eddolls. The great "Teeder" would become one of the most respected players in club history, skating on five Stanley Cup teams in nine seasons – the final two as captain.
Toronto defeated Montreal to win the 1947 Cup but was struggling under coach Hap Day early the following season. On Nov. 2, 1947, Smythe shipped five roster players (Gus Bodnar, Ernie Dickens, Bob Goldham, Bud Poile and Gaye Stewart) to Chicago for Max Bentley, who had won the NHL scoring title the previous two years. Though Bentley was 27 and just slightly past his prime, he became a major factor in the Leafs defending their Cup title; winning a third consecutively in 1949, then another in 1951. The six championships in ten seasons (1941-42 to 1950-51) may forever represent the greatest decade in Leafs history. Duplicating such a feat in a 30-team league would be miraculous.
The next poignant deal happened nearly 10 years later. On Feb. 10, 1960, general manager Punch Imlach acquired star defenseman Red Kelly from Detroit for forward Marc Reaume, who had one assist in 36 games that season for the Blue and White. There was happenstance to this trade, for Kelly had initially been dealt by the Red Wings to New York. Only after insisting he would not report to the Rangers was the deal rescinded. Imlach jumped all over it and pulled off one of the top three transactions in Maple Leafs history. Augmenting the trade was a brilliant move by Imlach to convert Kelly from a defenseman to a cener-man. Kelly, in 1954, was the first winner of the Norris Trophy. In 1952-53 and 1953-54, he finished among the top ten NHL scorers – a remarkable accomplishment for a blue-liner in that era of hockey.
Sensing that Kelly's deft play-making touch would best help the Maple Leafs up front, Imlach switched him to center. He placed Kelly on a line with Frank Mahovlich and Bob Nevin. Mahovlich responded with seasons of 48, 33, 36 and 26 goals and is still considered – by many – to be the greatest left-winger in franchise history. With Kelly as a vital cog, the Leafs fashioned their next (and most recent) Stanley Cup dynasty – winning in 1962, 1963, 1964 and 1967. Kelly retired after the '67 Cup triumph and became coach of the expansion Los Angeles Kings.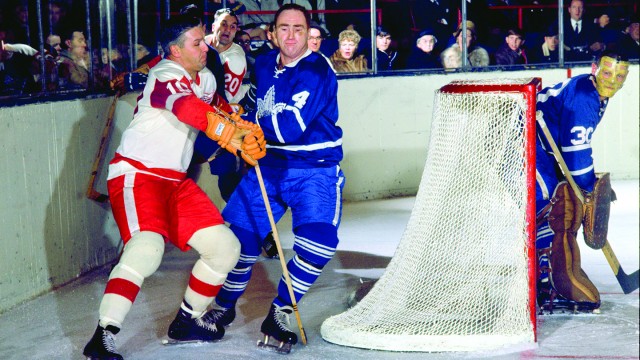 IN THIS 1965 PHOTO FROM MAPLE LEAF GARDENS, RED KELLY (4) BATTLES FORMER DETROIT TEAMMATE ALEX DELVECCHIO WHILE GOALIE TERRY SAWCHUK LOOKS ON.
So, it is clear – in my view – why the Sundin acquisition has to fall in behind the trades that brought Kennedy, Bentley and Kelly to the Maple Leafs. In fact, it probably trails the 10-player blockbuster that made Doug Gilmour a Leaf on Jan. 2, 1992, for Gilmour's remarkable performance in the 1992-93 season and playoffs led the team to its closest brush since 1967 with the Stanley Cup final. Team-record totals of 95 assists and 127 points were followed by a record 35-point outburst in 21 playoff matches in '93 as the Leafs made it to Game 7 of the Campbell Conference final before Wayne Gretzky did them in with a three-goal effort at Maple Leaf Gardens on behalf of the L.A. Kings.
As a captain, team player and media representative, however, Sundin is at least tied at the top of any acquisition in Leafs history. I was privileged to cover his entire 13-season career in Toronto – home and away – as a reporter for The FAN-590. And, never in the sport have I come across a more wonderful gentleman than the Big Swede.
Twenty years on Saturday. Hard to believe.

THE STANLEY CUP CHAMPIONS
I was given, this week, a copy of the June 14 Los Angeles Times from the morning after the Kings won the Stanley Cup. Also, a Times special section on the Kings from June 16. Here are some images:
EMAIL: HOWARDLBERGER@GMAIL.COM
TWITTER: BERGER_BYTES
FACEBOOK: HOWARD BERGER [HUMBER COLLEGE]
LINKEDIN: HOWARD BERGER [BROADCAST MEDIA]