By HOWARD BERGER
TORONTO (Oct. 6) – The Maple Leafs have successfully completed their first mission of the new season – winning five of eight exhibition games while incorporating half-a-dozen new players. Add in $3.00 a man and the entire club can take a one-way ride on the T.T.C.
In other words: Let's move on.
The cash-grab friendlies are over and the Leafs begin quarreling for stakes on Wednesday night at Air Canada Centre against the beloved Canadiens. Given the pattern of this team – which still evolves around the nucleus of Randy Carlyle, Dion Phaneuf and Phil Kessel – a prudent course for on-lookers would be to reserve judgement until the waning portion of the schedule. Or, at least into the final one-third segment. In each of the past two 82-game seasons, the Leafs have remarkably unraveled; a 2-12-0 disintegration in the final 14 games a year ago followed Brian Burke's "18-wheeler" in 2011-12. In between, the Maple Leafs busted off a seven-season playoff drought, but with an asterisk. The lockout-abbreviated schedule of 2012-13 was comprised of but *48 games. Carlyle's team proved more than worthy in a sprint. Distance running, however, has been a problem. Leafs are known to pull-up down the back-stretch and are faced with another marathon this season. Can it be different?
Again, let's chat in early-April.
Between now and then, expect the Leafs to be competitive. Such talented players as Kessel, James van Riemsdyk, Tyler Bozak, Nazem Kadri, Joffrey Lupul, Jonathan Bernier, Jake Gardiner, Morgan Rielly and, yes, Phaneuf — if relatively unscathed — will ensure the club is in the playoff mix come February. Beyond that, all bets are off. The indisputable number-one question about the 2014-15 Leafs: What happens if four or five losses accumulate at some point after mid-February? Does the downturn evolve into a 14 or 15-game calamity or can this team — unchanged, it would appear, in leadership — clot the wound? I'll need evidence of the latter before declaring Leafs a playoff club.
As should you.
WILL THERE BE SMILES IN LEAFS NATION THIS SEASON? GOALIE JONATHAN BERNIER (ABOVE) WILL HAVE MUCH TO SAY ABOUT IT.
Otherwise, I believe new president Brendan Shanahan and incumbent GM David Nonis have chosen the right path by shunning the "quick-fix" mentality and retaining prospects and young players. Now, they must follow that path, even in the throes of on-ice misery. Aiding such a course may be the imminent departure of CEO Tim Leiweke, who strikes me as a "change everything now" executive. And not without justification on the hockey side. Since the end of last season, I repeatedly pushed – in this corner – for at least partial dissolution of the Carlyle-Phaneuf-Kessel triumvirate. Shanahan and Nonis either elected to keep it together or could not peddle Phaneuf's contract in the off-season. Whatever the case, Leiweke had enough pretext for significant change. His philosophy, however, may not have abetted the Leafs — a club that requires more patience to learn about its prospects and young NHLers. No single transaction will morph this collection into a Stanley Cup-caliber team.
But, the Leafs are not without intrigue. It should be compelling to discover how the new, so-called "bottom-six" forwards compliment the top six.
Can Daniel Winnick, Leo Komarov, Mike Santorelli, David Booth (when he returns from injury), perhaps Matt Frattin and eyebrow-raising newcomer Brandon Kozun improve upon the departed Nikolai Kulemin, Jay McClement, Mason Raymond, David Bolland, Jerry D'Amigo and, now, Colton Orr and Frazer McLaren – both of whom hit the waiver wire today?
Kozun has Leafs Nation all excited and he might be the real deal. But, let's give the compact winger some time. Such other Leaf training camp standouts as Don MacLean and Syl Apps III were just that… fabulous amid internal competition. They were not legitimate big-leaguers. It will also be interesting to see if one of the NHL's softest teams a year ago can flourish without the fighting deterrent supplied by Orr and McLaren, neither of whom offered much else. What happens if (when?) opponents begin harassing Kessel, Bozak, Kadri, Gardiner, etc.? McLaren, in particular, was sporadically deployed last season; Orr dressed more frequently but didn't play much. Nonis expects a "pack mentality" from the club — in diametric opposition to the easily-manhandled Leafs of 2013-14. We'll soon find out if the team has more collective fortitude.
Also up for discovery is how the new and largely misunderstood department of analytics will help the Maple Leafs. The concept of puck possession and body position has been around for decades. Only now does it have a particular focus. Fred Shero, who coached the Philadelphia Flyers to Stanley Cup titles in 1974 and 1975, once said: "Hockey is a lot like pool. It's not what you make; it's what you leave. It's not so much how you score but what position you leave yourself in when you try." The Leafs often move around as if engaged in a disorderly fire drill. Perhaps the analytics department can help the coaching staff achieve more structure. Perhaps it cannot. Results are to be determined.
FRED SHERO, LIKELY THE FOUNDING FATHER OF HOCKEY ANALYTICS, TALKS STRATEGY WITH PHILADELPHIA FLYERS CAPTAIN BOBBY CLARKE.
Among the "old and stodgy" (a label affixed to hockey people not mesmerized by analytics), I still believe there are three prime components to a Stanley Cup contender: a) unwavering stability in goal; b) at least one Norris Trophy candidate on defense, and c) as the powerful Western Conference teams demonstrate — size and depth up the middle. The latter may not be quite as essential in the Eastern Conference but the first two are non-negotiable. The Leafs could have "a" but they don't yet have "b" or "c."
In my view, this portends another season-long scramble to creep into the bottom playoff rung as a Wild Card entry. Whatever happens, Leaf followers can expect to be tortured again the the final weeks of the schedule.
PARTNERSHIP vs. CENSORSHIP: It is perfectly understandable that the National Hockey League would insist upon a tone of "partnership" before engorging itself with the $5.2 billion coughed up by Rogers Communications for national TV rights in Canada the next 12 years. There is, however, a distinct line between the parameters of partnership and the act of censorship. Most TV viewers are savvy enough to detect whether that line is blurred. As such, credibility of the Rogers hockey presentation will be squarely on the line beginning with Wednesday night's coast-to-coast doubleheader: Montreal at Toronto and Vancouver at Calgary. David Shoalts of the Globe and Mail touched on the subject in a weekend story, implying that a combative relationship with NHL commissioner Gary Bettman cost Ron MacLean his leading role on Hockey Night In Canada. If true, this is a bright-red flag. If, however, Rogers pursued and landed my old FAN-590 colleague George Stroumboulopoulos to try and attract a younger viewer demographic, the trade-off has merit. The anti-Bettman minions here in Canada likely assume the commissioner longed to "silence" MacLean, who nonetheless will remain Don Cherry's side-kick on Coach's Corner and host Sunday-night telecasts from varied communities across the land. I'm not certain what to believe but proof will be in the pudding. If issues of controversy in the NHL are evaded or softened by the likes of Nick Kypreos, Damien Cox and Mark Spector — all of whom made their names talking or writing candidly about the league — we'll know something is up. The key, of course, is balance and Rogers should provide nothing less.
GEORGE STROUMBOULOPOULOS (CENTER) MAKES NICE WITH RON MacLEAN AND DON CHERRY DURING ROGERS NHL LAUNCH.
NHL UNIFORM TWEAKS
Six teams have altered their prime and/or alternate jerseys for the 2014-15 season. Courtesy the website NHLUNIFORMS.COM, here are the changes: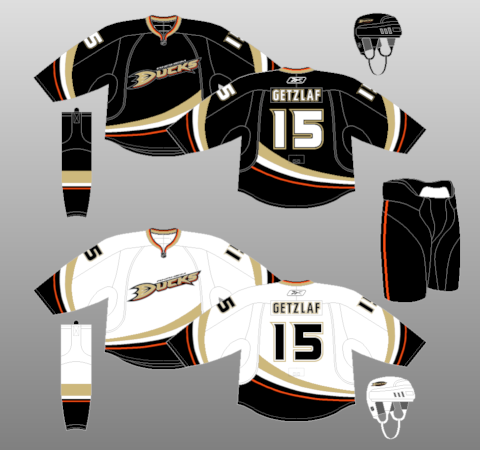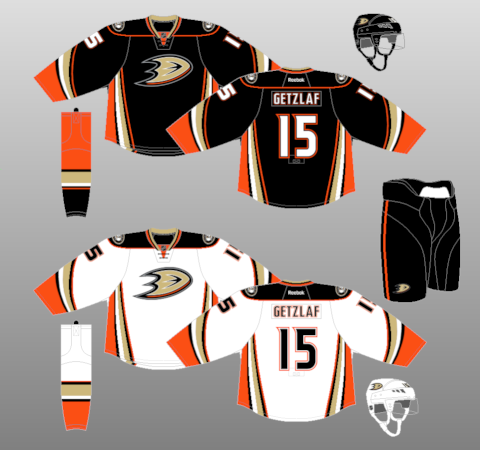 ANAHEIM DUCKS' ALTERNATE HOME AND AWAY JERSEYS (RIGHT) BECOME THEIR PRIMARY OUTFITS THIS SEASON.
NEW YORK ISLANDERS – PRAISE THE LORD – HAVE CHANGED THEIR HORRENDOUS THIRD JERSEY TO A MORE APPEALING BLUE.
PHILADELPHIA HAS A NEW ALTERNATE (MIDDLE).
PITTSBURGH HAS REPLACED ITS DARK-BLUE ALTERNATE JERSEY (FIRST WORN IN THE 2011 BRIDGESTONE WINTER CLASSIC) WITH A BLACK-AND-GOLD REPLICA OF THE 1991 AND 1992 STANLEY CUP CHAMPIONS.
ST. LOUIS BLUES HAVE ADDED SLEEVE AND BOTTOM-STRIPES TO THEIR PRIMARY HOME AND ROAD JERSEYS (RIGHT).
TAMPA BAY LIGHTNING HAS CHANGED THE DESIGN AND COLOR OF ITS ALTERNATE JERSEY (MIDDLE) FROM BLUE TO BLACK.
WASHINGTON CAPITALS WILL WEAR THE ABOVE JERSEYS IN THE 2015 BRIDGESTONE WINTER CLASSIC ON JAN. 1 WHEN HOSTING CHICAGO AT NATIONALS PARK. THE BLACKHAWKS HAVE YET TO UNVEIL THEIR DUDS.
EMAIL: HOWARDLBERGER@GMAIL.COM
TWITTER: BERGER_BYTES
FACEBOOK: HOWARD BERGER [HUMBER COLLEGE]
LINKEDIN: HOWARD BERGER [BROADCAST MEDIA]