By HOWARD BERGER
TORONTO (Aug. 6) — The headline to this blog, just more than a week ago, would have been gibberish. I confirmed as much right here — inferring that a mid–July snowstorm in Toronto would happen before the Blue Jays could even think of catching the New York Yankees, then 7½ lengths ahead and resting comfortably atop the American League East.
Eight days; seven wins and three monster acquisitions later, the New York lead over Toronto has been shaved to 4½ games, with a three–match confrontation between the clubs at Yankee Stadium this weekend; another three at Rogers Centre, here, next weekend. It is beginning to remind me of 30 years ago, when the Jays and Yankees went back and forth until the penultimate day of the 1985 season, whereupon Doyle Alexander pitched the home side to a 5–1 victory at old Exhibition Stadium — clinching a first–ever playoff berth for Toronto.
This is not to imply the guarantee of a two–horse sprint for the remainder of the current schedule; third–place Baltimore is just a game behind the Blue Jays — Tampa Bay three back — in the A.L. East. The Orioles, defending division titlist, have won seven of their past 10 (same as Toronto) and Buck Showalter's crew will hang around the periphery.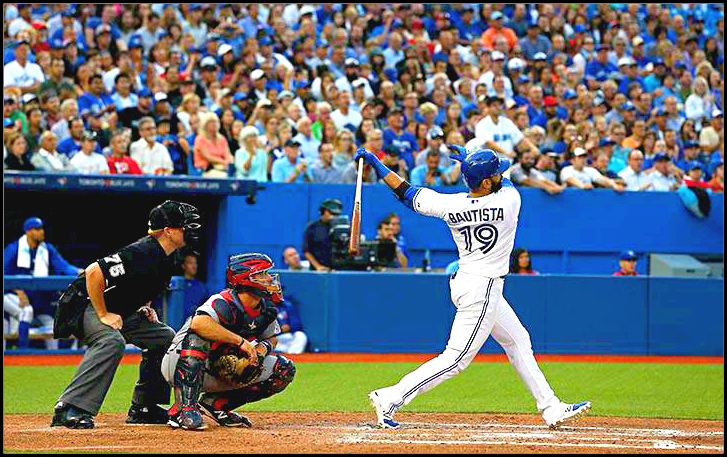 JOSE BAUTISTA HITS A GRAND SLAM AGAINST MINNESOTA WEDNESDAY NIGHT AT ROGERS CENTRE, HELPING THE BLUE JAYS TO THEIR SEVENTH VICTORY IN EIGHT GAMES.
But, the Yankees have set the pace for nearly the entire 2015 schedule and the Jays have become a team without a glaring weakness. Alex Anthopoulos had a lengthy shopping list at the non–waiver deadline and he found every item — a front–line starter (David Price); defensive assurance at shortstop (Troy Tulowitzki); a legitimate left–fielder (Ben Revere) and a couple of reliable bullpen arms (LaTroy Hawkins and Mark Lowe). With Aaron Sanchez returning from injury to further bolster the 'pen, it is difficult to imagine the Blue Jays toppling out of contention.
(NOTE TO SELF: Bite tongue).
There are, however, varieties of contention in Major League Baseball — one of which the Blue Jays currently possess. If the regular season ended today, Toronto would travel to Anaheim for a wild card playoff showdown with the Los Angeles Angels. One game. Winner take all. Or, one game. Loser give all. Not exactly the tempt of fate Anthopoulos had in mind when he depleted the farm system to acquire essentials for the big team. Though the Jays have what is needed for a one–night stand — their bats can put up a 10–spot in the blink of an eye — a "best–of" playoff scenario is far–more appealing. It can be achieved by prevailing in a wild card match… or beforehand, by capturing the American League East and getting a bye into the best–of–five Division Series.
Last week at this time, the Blue Jays were not built to endure such a test. Then came Tulowitzki, Price and Revere. With Price, Mark Buehrle, R.A. Dickey and Marco Estrada, the Jays have a more–than–adequate playoff rotation. Providing they qualify for a circumstance in which a rotation is needed. Otherwise, Anthopoulos and John Gibbons would have to keep fingers crossed that Price is not required on the final weekend of the schedule to sew up a playoff berth — thereby diminishing his opportunity to start a Tuesday or Wednesday wild card encounter. Anthopoulos traded Daniel Norris to Detroit for that precise luxury: Renting Price to throw a wild card, or Games 1 and 7 of a series.
To ensure the latter, the Blue Jays must continue to gobble up territory on the Yankees and kindle a rivalry that's been dormant for three decades. Thirteen head–to–head meetings between Toronto and New York remain on the 2015 calendar. The aforementioned August dates are the preliminaries. The main events are scheduled for Sep. 10–11–12–13 in the Bronx; then Sep. 21–22–23 at Rogers Centre. At which point pennant fever would pop the mercury here for the first time since 1993.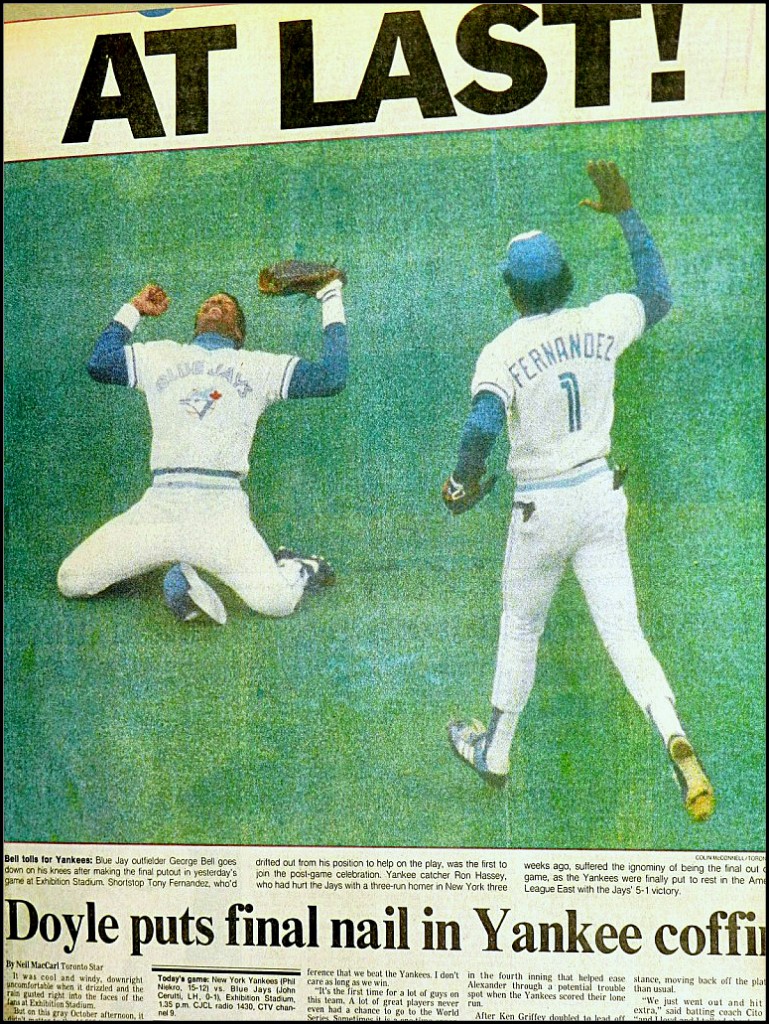 FROM THE OCT. 6, 1985 TORONTO STAR — A DAY AFTER THE BLUE JAYS KNOCKED OFF THE YANKEES AT EXHIBITION STADIUM TO CLINCH THEIR FIRST–EVER PLAYOFF BERTH.
BEGGARS CAN'T BE CHOOSERS: Though undeniably a positive development for the National Hockey League, it is interesting that Quebec City and Las Vegas qualifying for Phase 2 of the expansion process became news. Given that no other cities qualified for Phase 1, the options were rather limited. Geographically, the NHL would have preferred a pair of western ports for its anticipated growth to 32 teams in 2017 — thereby balancing the Conferences at 16 apiece. Instead, the owners will divvy up $1 billion to admit Quebec and Vegas for a 17/15 Conference split. At the moment, it is 16/14 in favor of the East. It would therefore be the same thing. Just bigger. It would also require some juggling of the schedule. One way or another, money from MGM/AEG and Quebecor is on the table and will not be refused… I was momentarily stunned to learn that Toronto Maple Leafs equipment manager Brian Papineau turned 50 this week. It seems as if he's been with the hockey club for half–a–century. A back–check of Leaf media guides reminded me that Pappy joined the Blue and White for the 1988–89 season at the tender age of 23. He is perhaps best remembered for jubilantly spraying a water–bottle on live TV at the visitors' bench seconds after Nikolai Borschevsky scored in overtime of Game 7 at Detroit on May 1, 1993. The now–legendary goal put Doug Gilmour,Wendel Clark and Co. into the Western Conference semifinal against St. Louis. Happy 50th, Brian.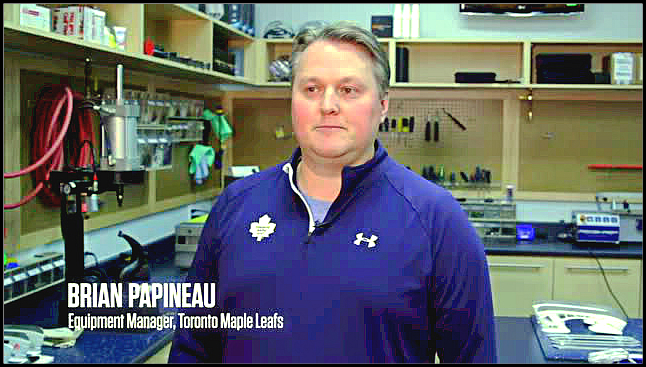 EMAIL: HOWARDLBERGER@GMAIL.COM
TWITTER: BERGER_BYTES
FACEBOOK: HOWARD BERGER [HUMBER COLLEGE]
LINKEDIN: HOWARD BERGER [BROADCAST MEDIA]