By HOWARD BERGER
TORONTO (Aug. 3) — There will come a time one day when Alex Anthopoulos isn't quite as popular as he appears to be right now.
Fans of the Toronto Blue Jays are loving their general manager after he acquired Troy Tulowitzki, David Price, Mark Lowe and Ben Revere in deadline deals this week. Prior to the season, Double–A obtained Josh Donaldson, Chris Colabello, Marco Estrada, Justin Smoak and Devon Travis. That he emptied the club's development system of pitching arms will bite him in the arse at some point, but not likely anytime soon.
Another Anthopoulos acquisition showed his mettle on Sunday during a contentious clash between the Blue Jays and Kansas City Royals at Rogers Centre. Toronto prevailed, 5–2, but not before a mini bean–ball exchange led to a bench–emptying melee in the top of the eighth inning.
With the Jays battling the defending American League champion on even terms all weekend — and messing around with the Royals' vaunted bullpen — large audiences at the Dome became increasingly fervid. When Tulowitzki got plunked by pitcher Ryan Madson in the bottom of the seventh on Sunday, manager John Gibbons bolted from the dugout to defend his player. He was promptly ejected by home–plate umpire Jim Wolf and he stomped off to the clubhouse amid chants of "Gibby! Gibby!"
So much for the dispassionate skipper.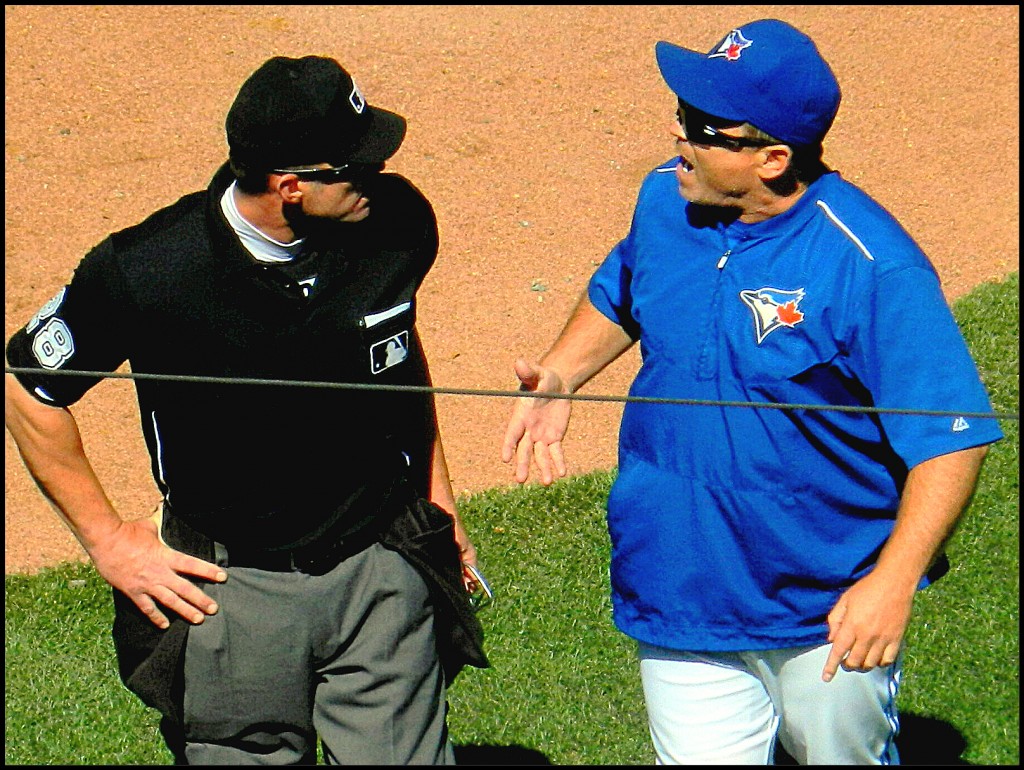 BLUE JAYS MANAGER JOHN GIBBONS OFFERS HIS OPINION TO HOME–PLATE UMPIRE JIM WOLF AFTER BEING TOSSED FROM SUNDAY'S VICTORY OVER KANSAS CITY AT THE DOME.
Followers of the Blue Jays, it is safe to assume, will never cozy up to a manager. Cito Gaston was a constant target in the early–90?s and all he did was guide the club to consecutive World Series championships. Gibbons hasn't been so fortunate in separate engagements with the team, yet his managing style is remarkably similar. As with Cito, Gibbons has a lay–back demeanor and is profoundly likable. Neither man made his mark with x's, o's and daring strategy. But, Gibbons is a latter–day Cito in his ability to manage egos and strong personalities. What came off as indifference with Gaston was in fact a brilliant capacity to delegate responsibility. He allowed his bevy of star players a wide range of freedom on and off the field. Gibbons does the same. And, when he openly displays some fire — as he did Sunday — his popularity soars.
If you believe in Anthopoulos, you should believe in Gibbons.
It was the GM that brought back the manager in 2013 and stuck with him through some lean months and years. As he planned to augment the Jays with such blockbuster additions as Tulowitzki and Price, Anthopoulos could have listened to the baying hounds and replaced his field boss. Instead, he and Gibbons remained fastened at the hip and both should be secured by the ball club well beyond the current season.
Such perennial contenders as San Francisco, St. Louis and the Los Angeles Angels have maintained managerial stability. Bruce Bochy has three World Series rings in eight seasons with the Giants while only two men, Tony LaRussa and Mike Matheny, have managed the Cardinals since 1996. Mike Scioscia has been in the Anaheim dugout for 16 consecutive years, dating to 2000. The New York Yankees — strong again this year — have had only Joe Torre and Joe Girardi since '96.
Now that Rogers Communications has opened the vault to acquire playing talent, it should ensure stability with its general manager and field manager. Anthopoulos and Gibbons are a proficient tandem. Agreements with both men deserve to be comfortably extended.
I was at Sunday's Toronto–Kansas City match with my trusty NIKON: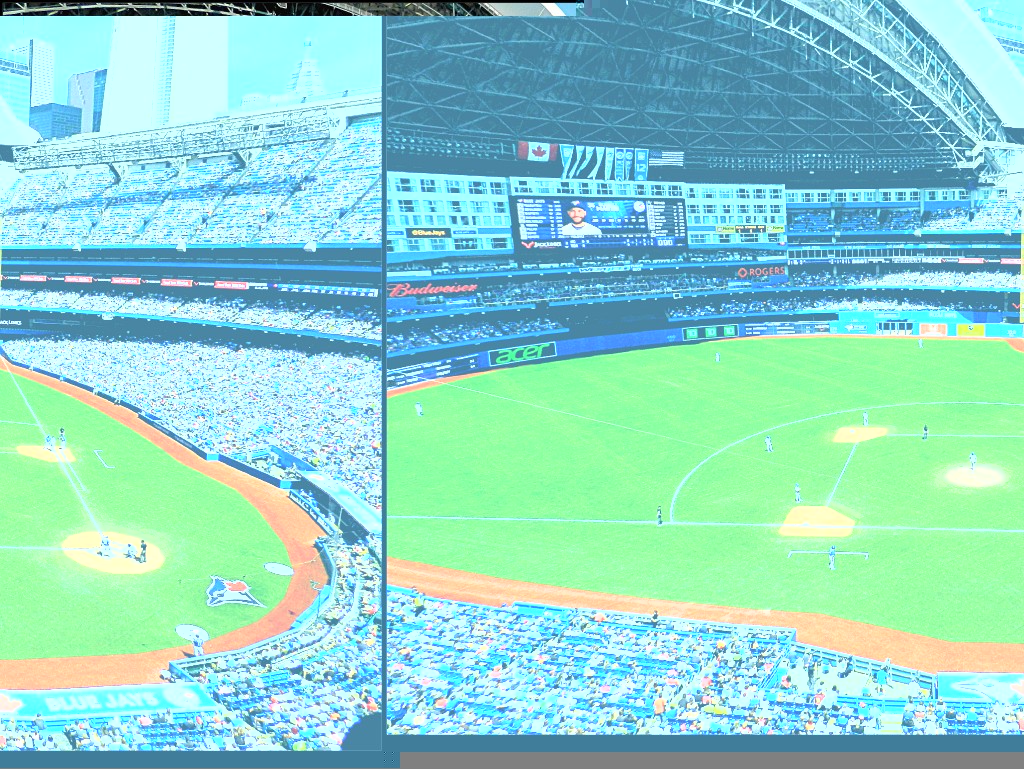 ATTENDANCE FOR THE SERIES FINALE WAS 45,736 — OR 92.8 PERCENT OF CAPACITY.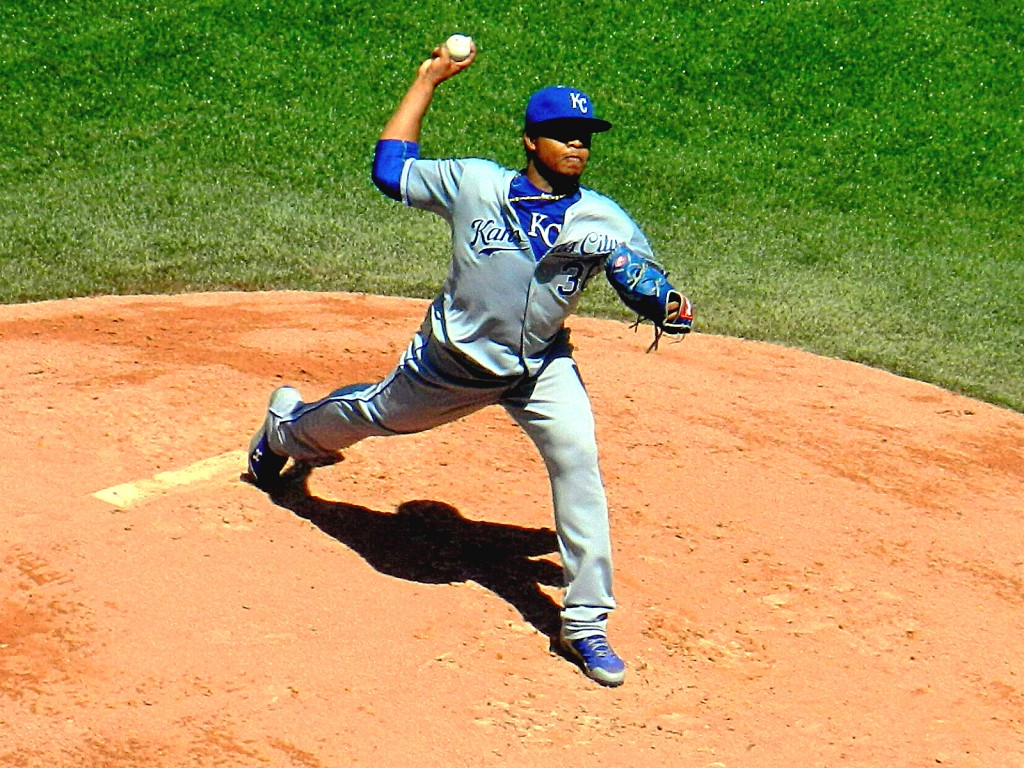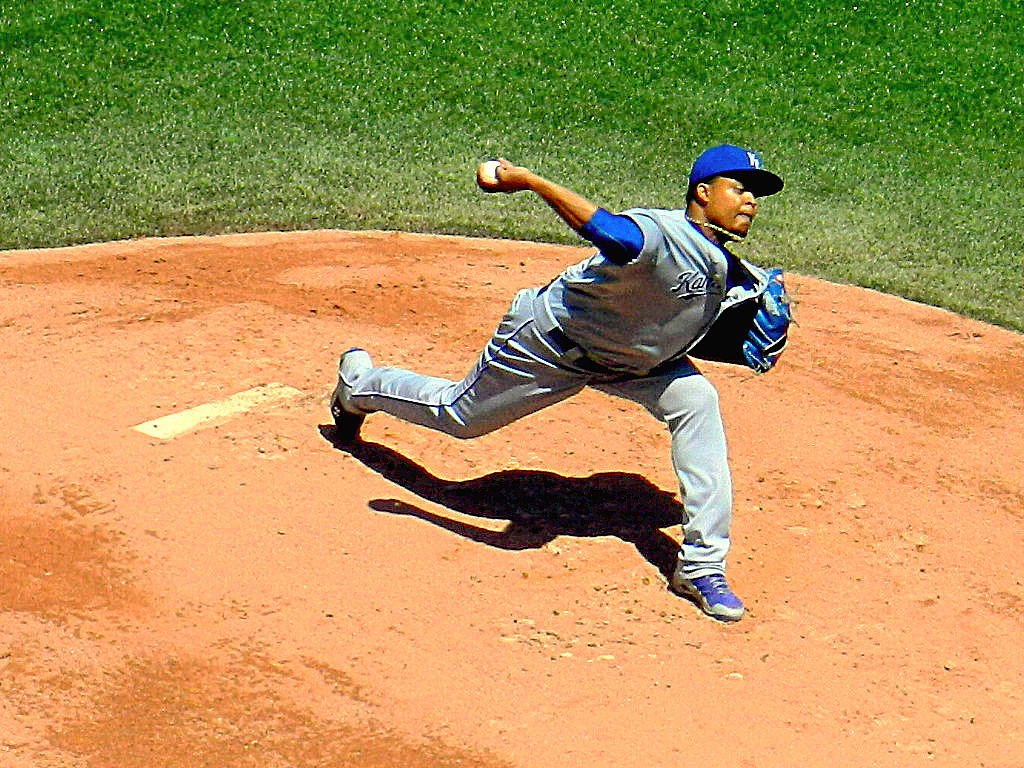 THE SPARKS BEGAN TO FLY EARLY, AS ROYALS STARTER EDINSON VOLQUEZ (ABOVE) HIT THE SECOND BATTER HE FACED: TORONTO'S JOSH DONALDSON. THE BALL, SLIGHTLY CAMOUFLAGED BY THE FIRST–BASE LINE (BELOW), HAS JUST PLUNKED DONALDSON IN THE RIBS. PLATE UMP JIM WOLF IMMEDIATELY ISSUED A WARNING TO BOTH DUGOUTS.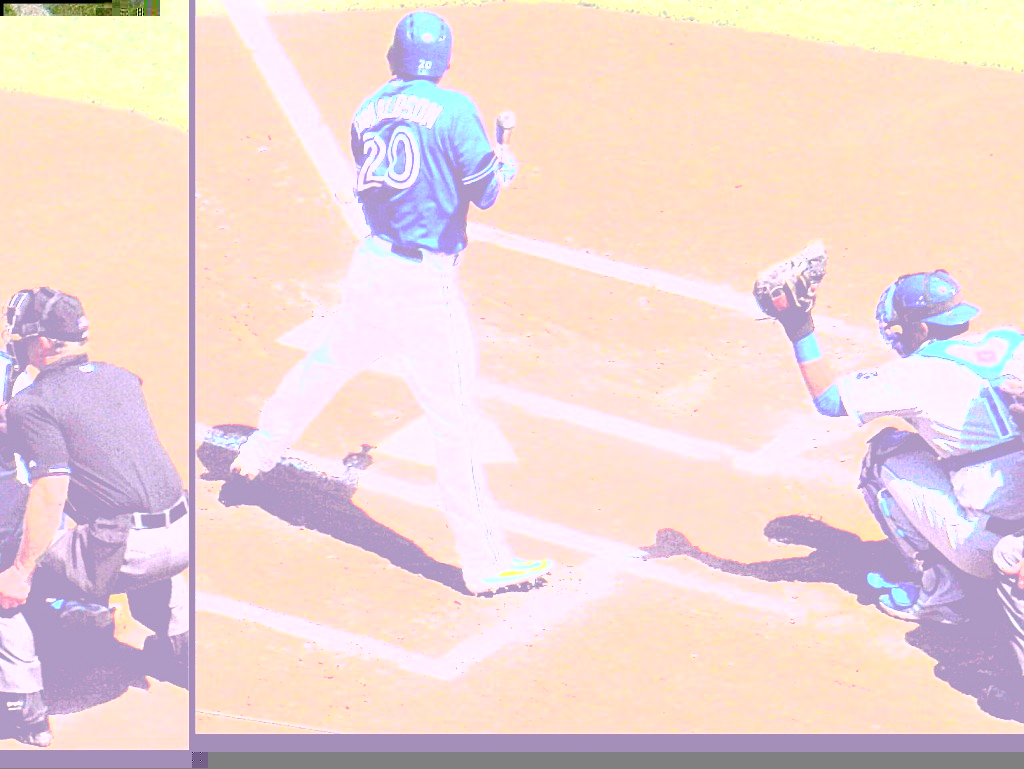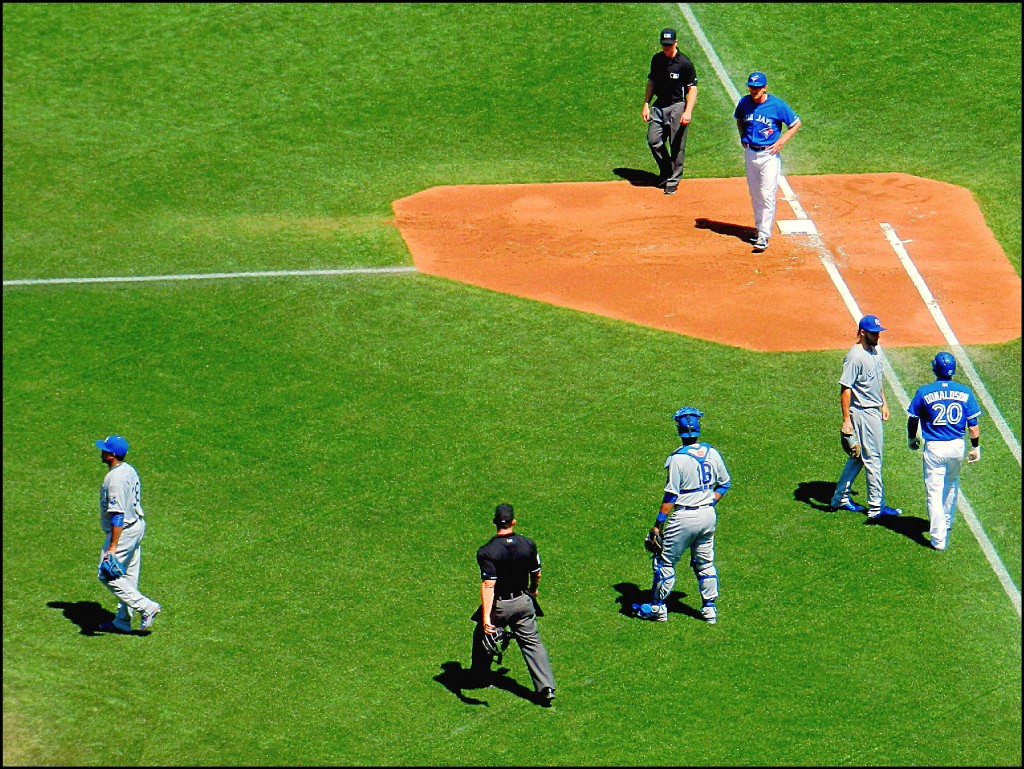 DONALDSON DID NOT TAKE KINDLY TO BEING HIT; HE WAS SEPARATED FROM VOLQUEZ BY WOLF, ROYALS CATCHER SALVADOR PEREZ AND FIRST–BASEMAN ERIC HOSMER.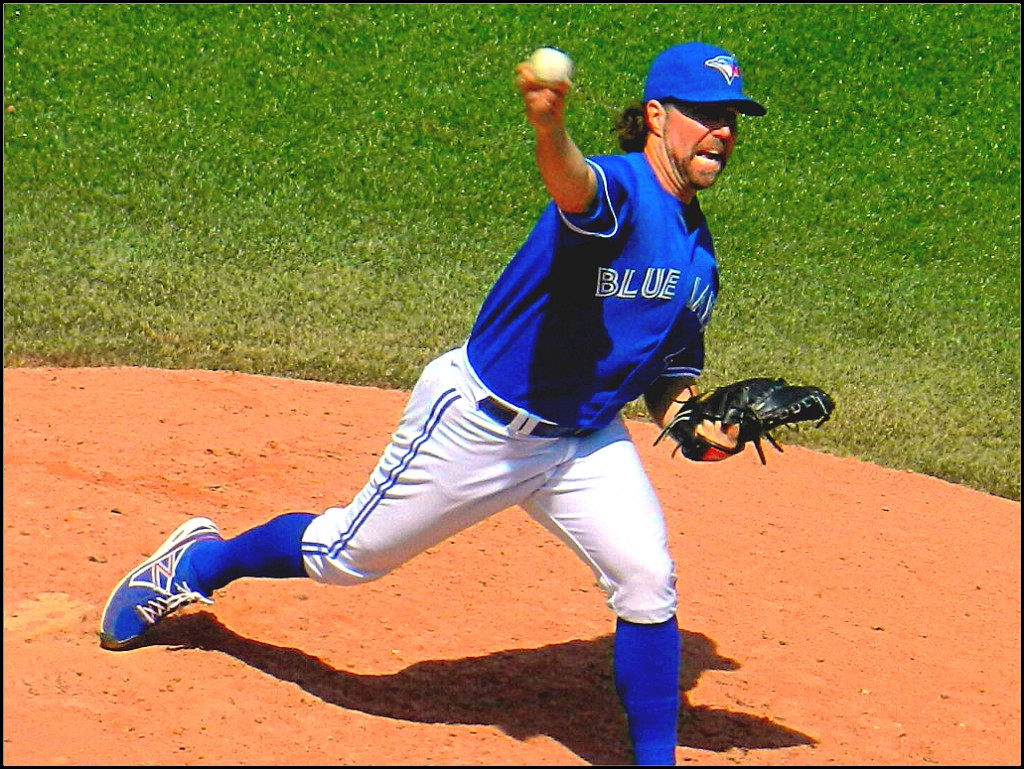 BLUE JAYS KNUCKLE–BALLER R.A. DICKEY WAS IN FULL–GRUNT AND EXTREMELY EFFECTIVE, PITCHING SEVEN INNINGS OF SHUT–OUT BALL. HE IS NOW 6–10 ON THE SEASON.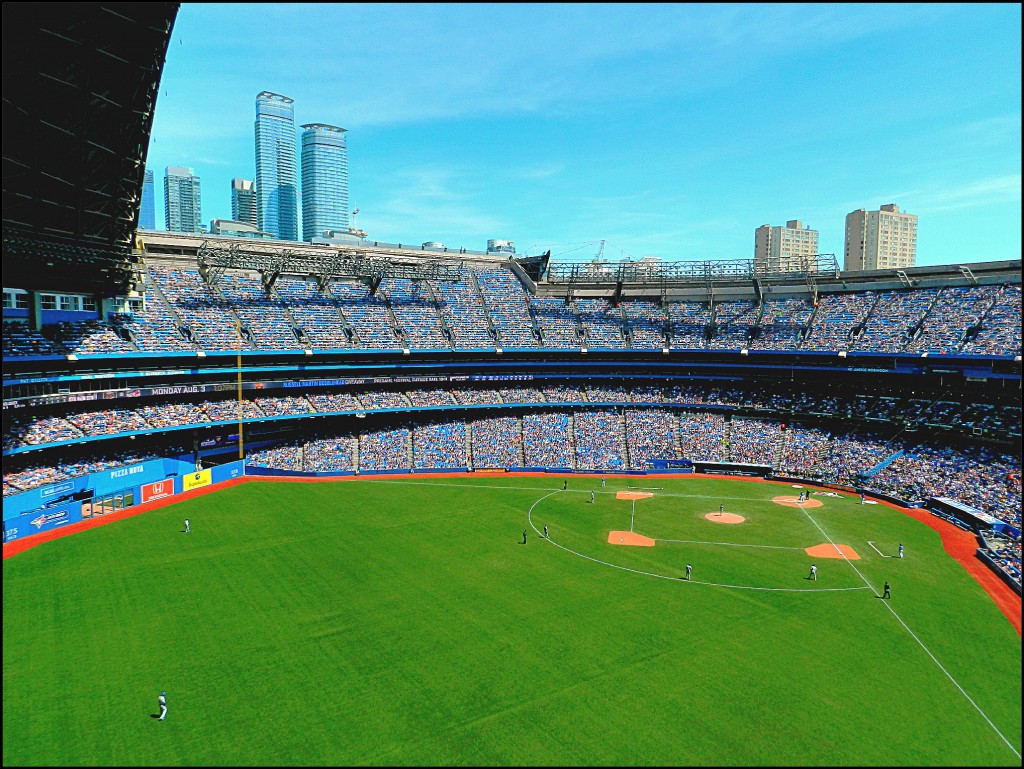 I DECIDED TO ESCAPE THE SUN FOR A FEW INNINGS AND PARKED MYSELF BEYOND LEFT FIELD IN SEC. 541. THE VIEW (ABOVE) WAS UNIQUE AND THE SHADE (BELOW) A BLESSING.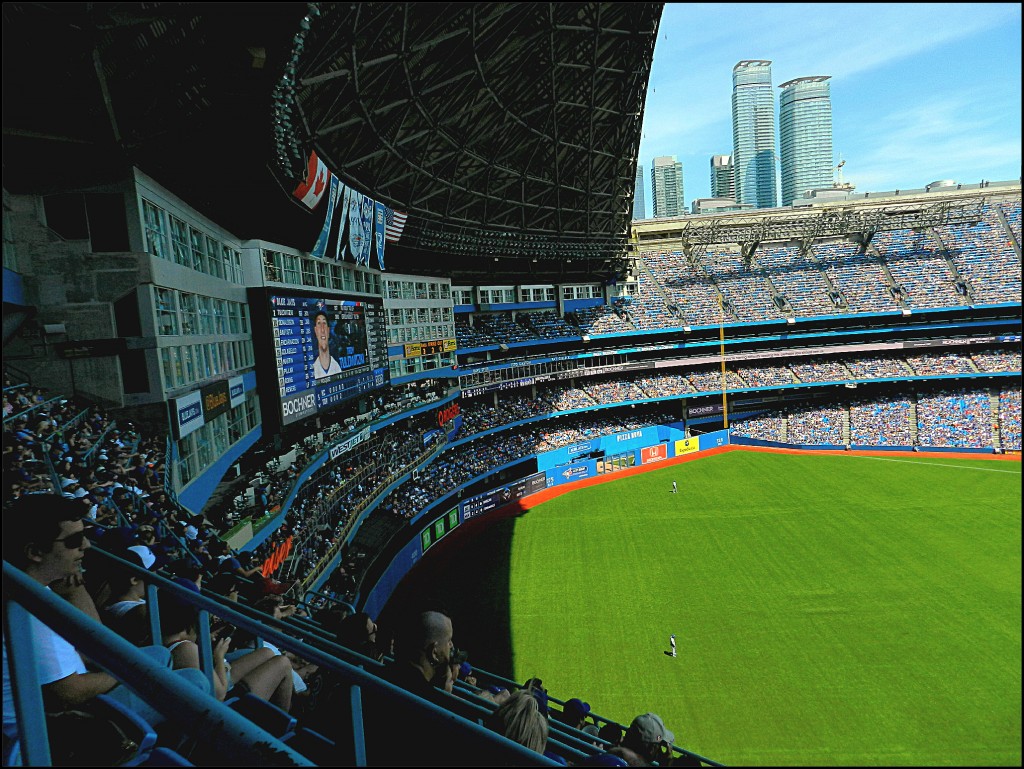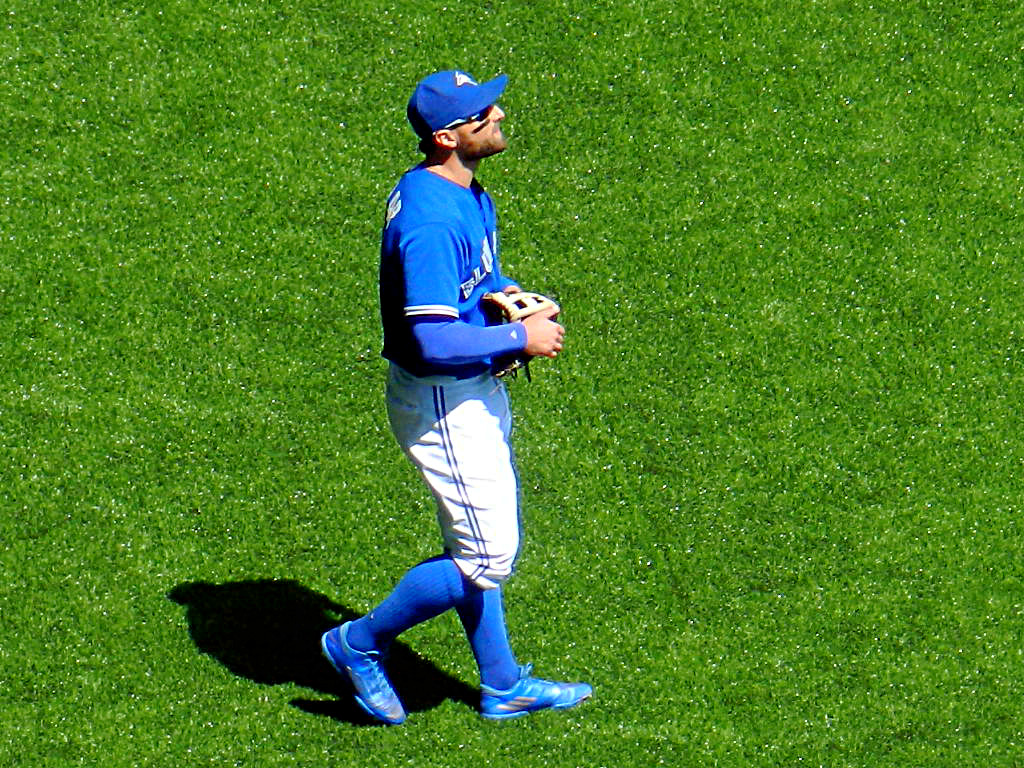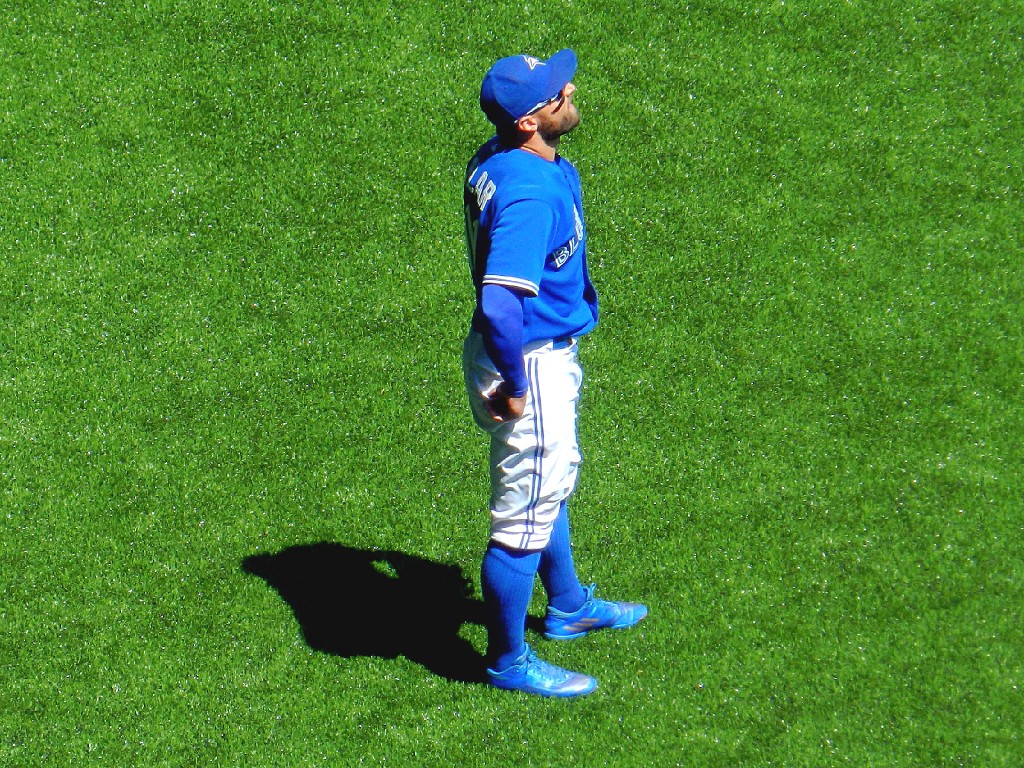 BLUE JAYS CENTER–FIELDER KEVIN PILLAR HAD NO–SUCH LUXURY.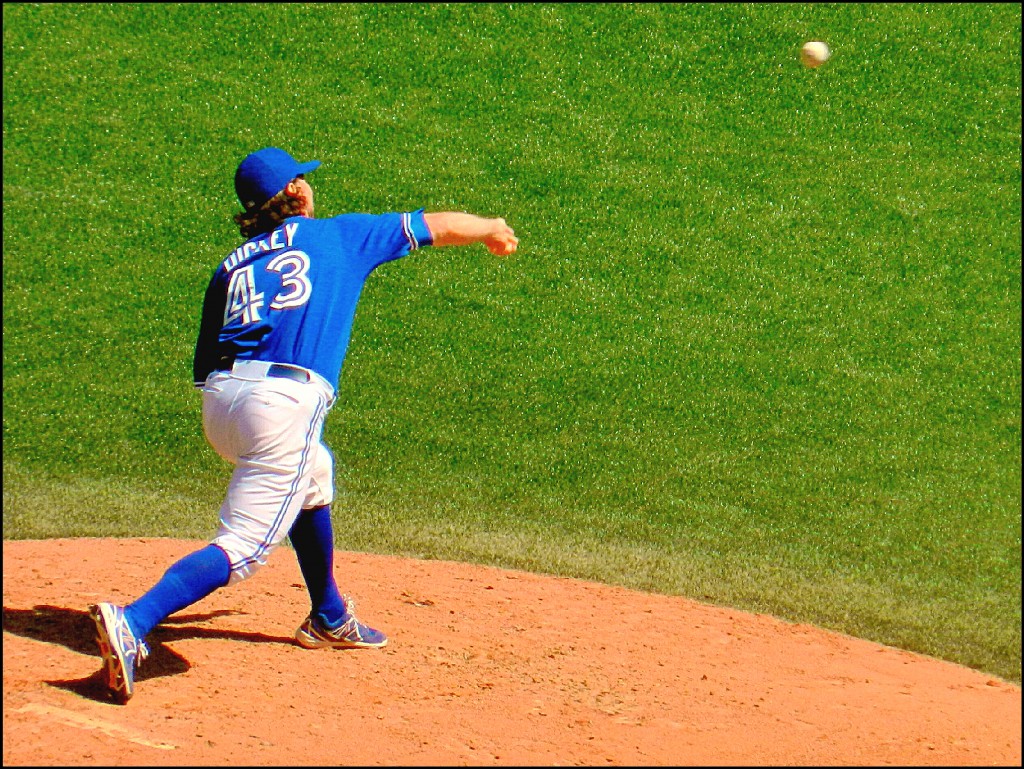 AN R.A. KNUCKLER FROM THE CHEAP SEATS.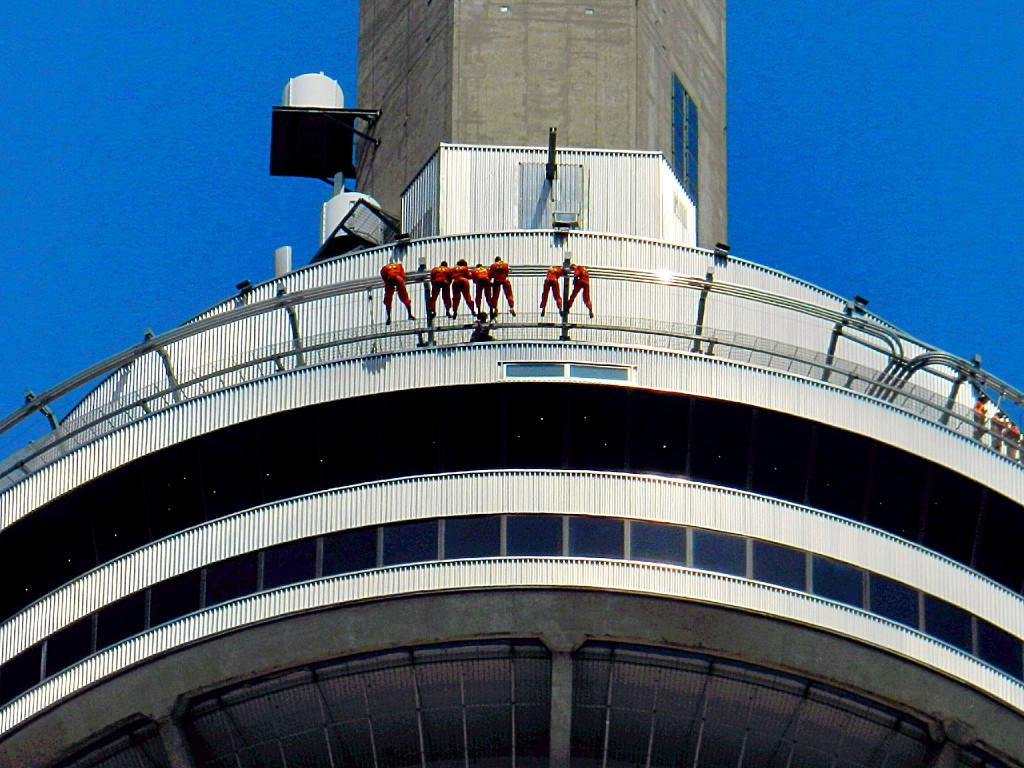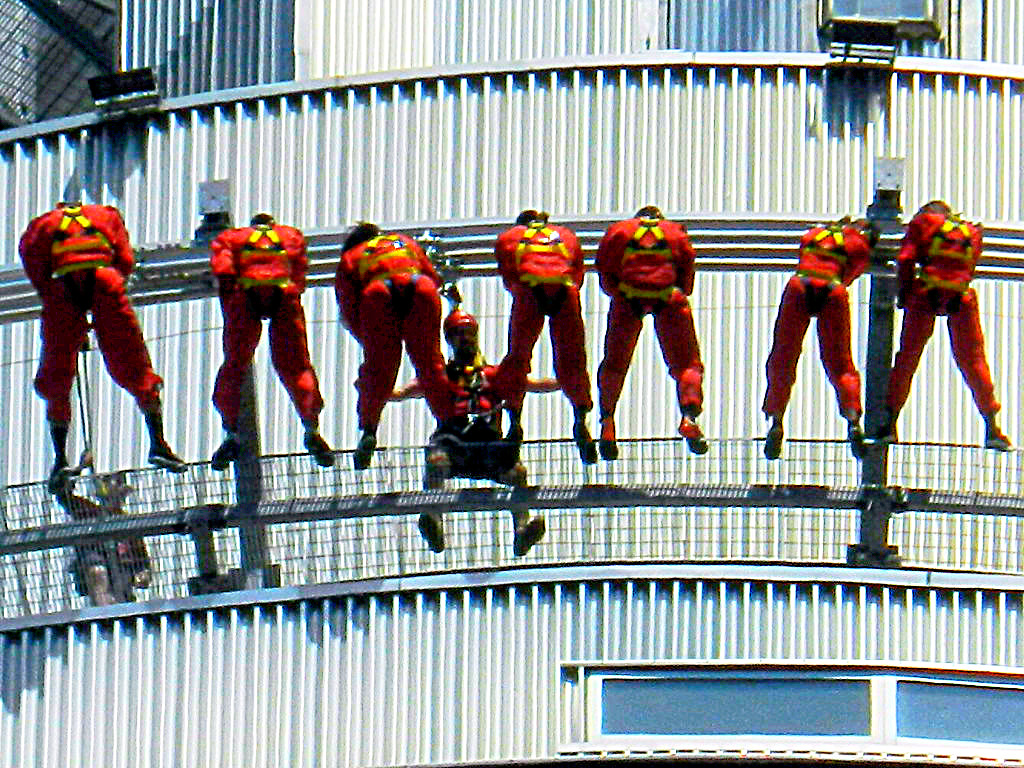 THE C.N. TOWER EDGE–WALKER CRAZIES WERE OUT IN FULL FORCE.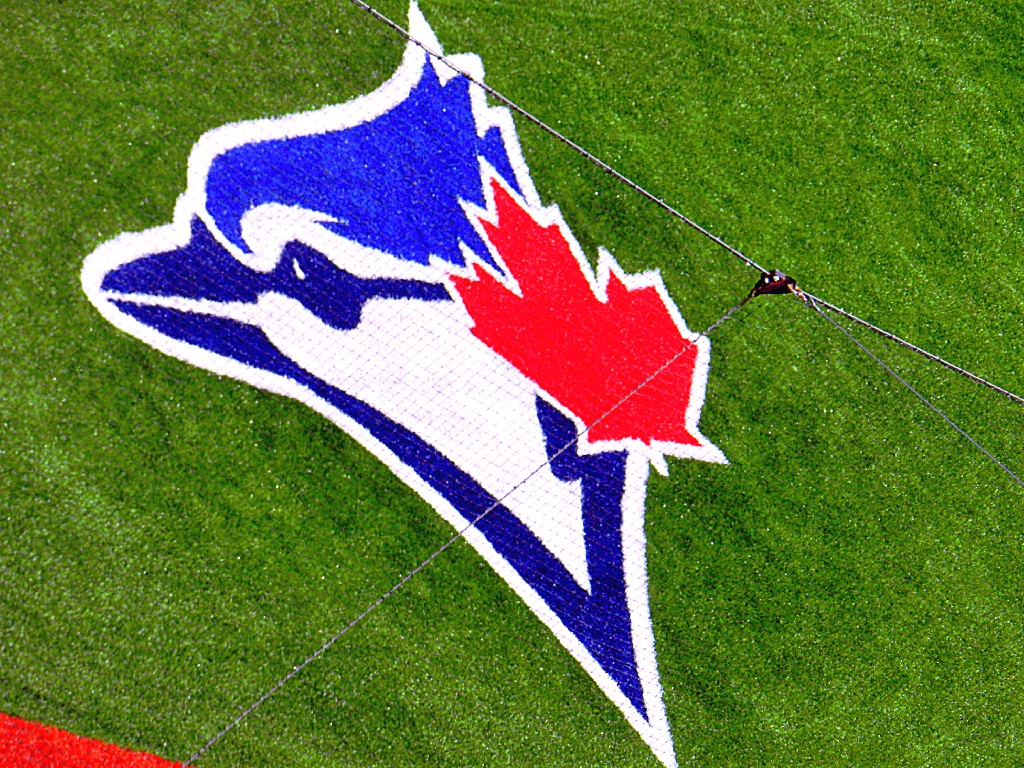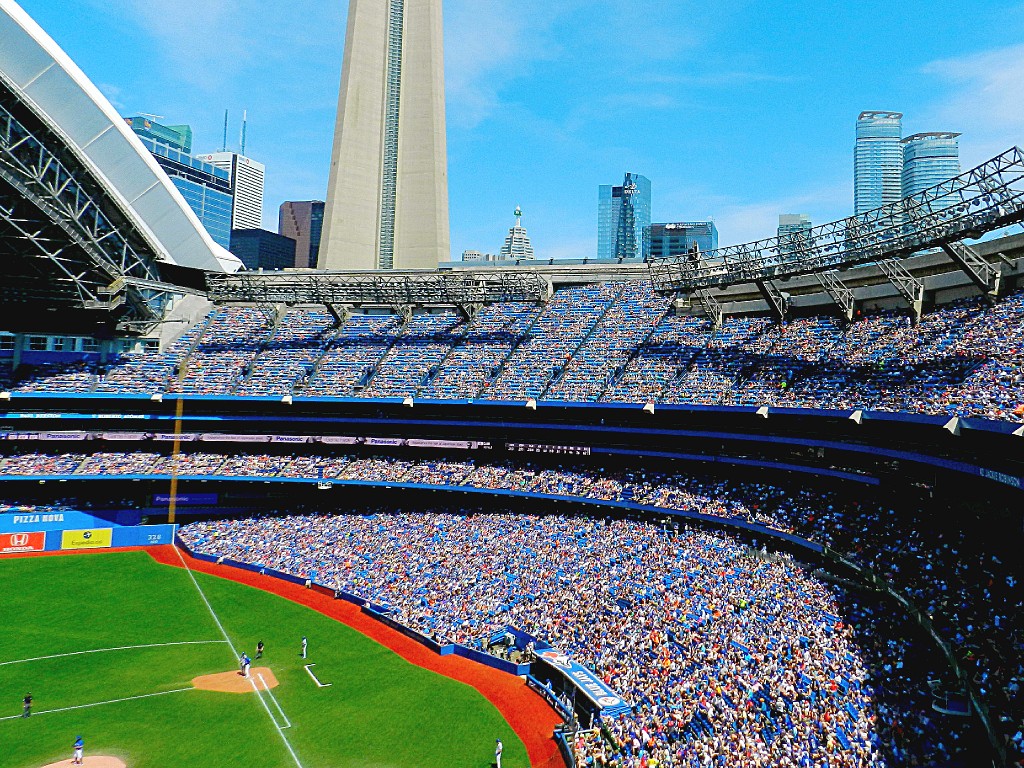 THE ROGERS CENTRE SEATS WERE FILLED TO NEAR–CAPACITY ON A WARM AFTERNOON.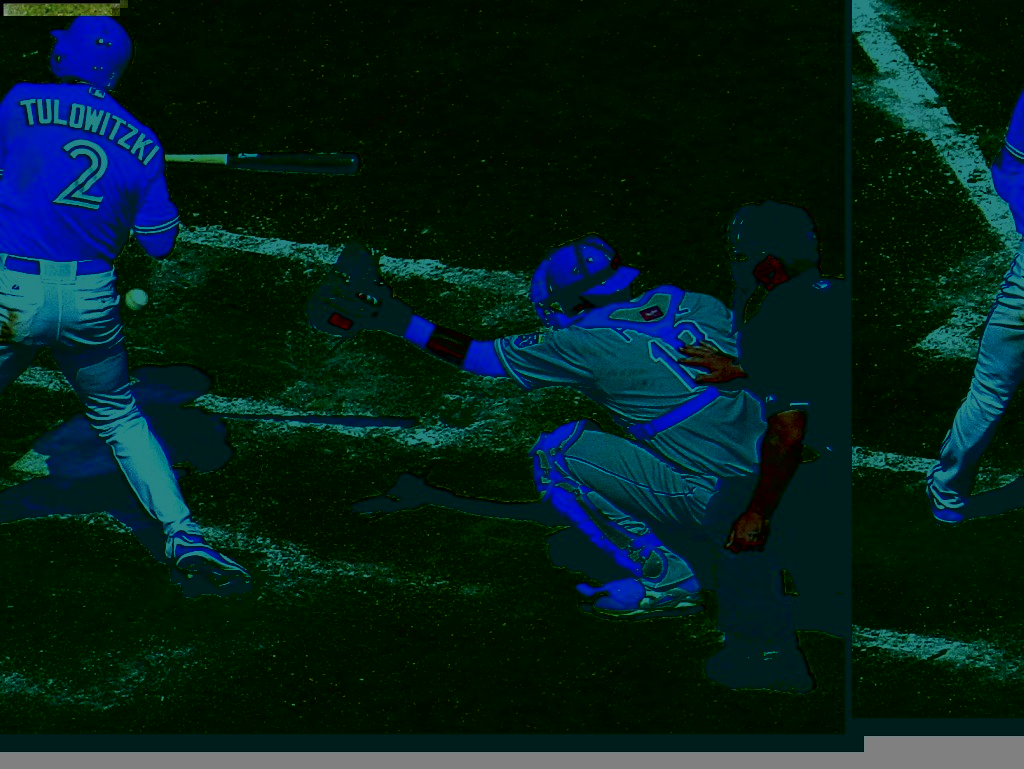 THERE WAS MORE TENSION IN THE BOTTOM OF THE SEVENTH WHEN TROY TULOWITZKI WAS HIT BY A PITCH FROM ROYALS RELIEVER RYAN MADSON.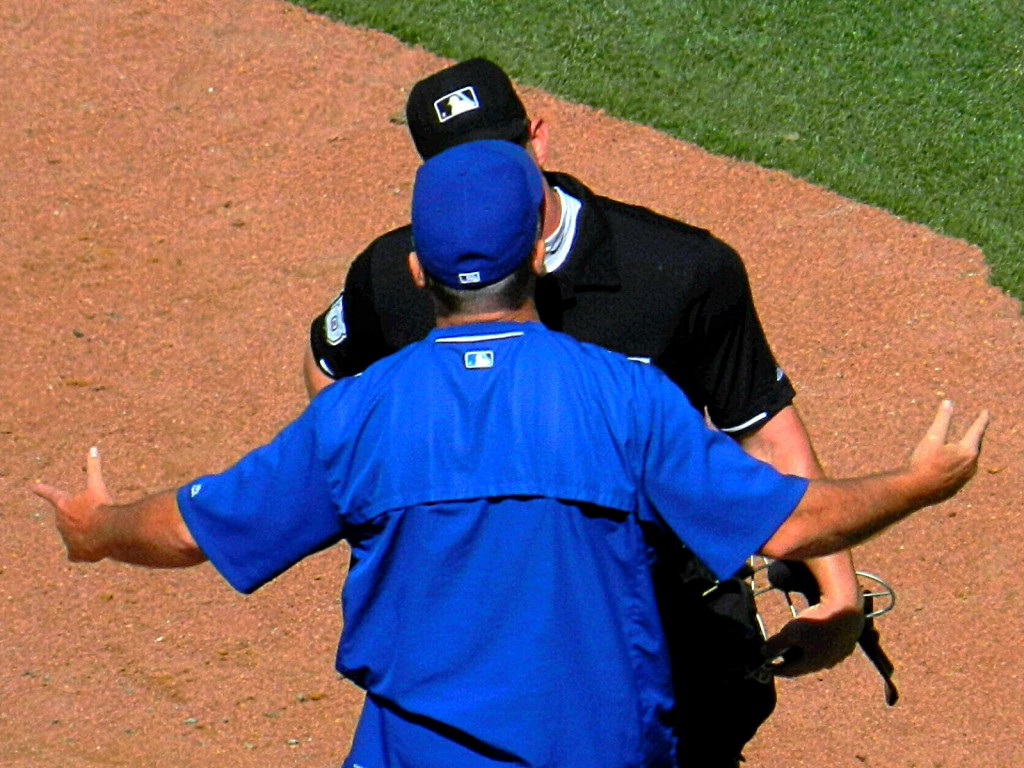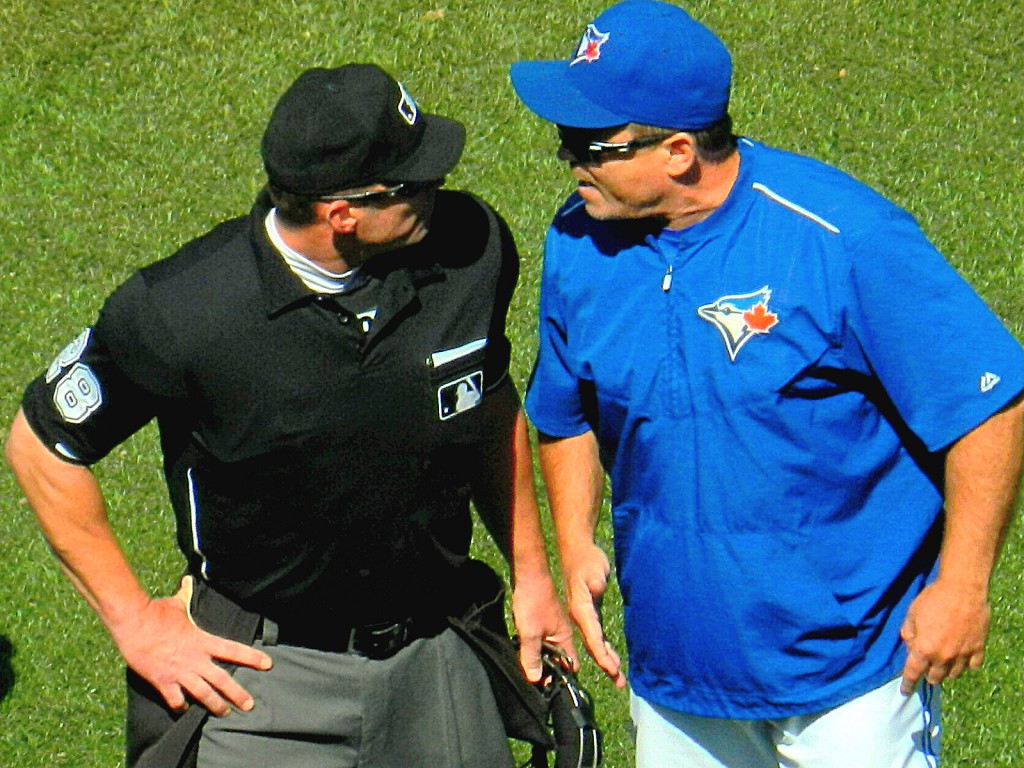 GIBBONS, CLEARLY AIMING TO KEEP HIS TEAM — AND THE CROWD — FIRED UP, DEFENDED TULOWITZKI AND GOT RUN FROM THE MATCH BY WOLF.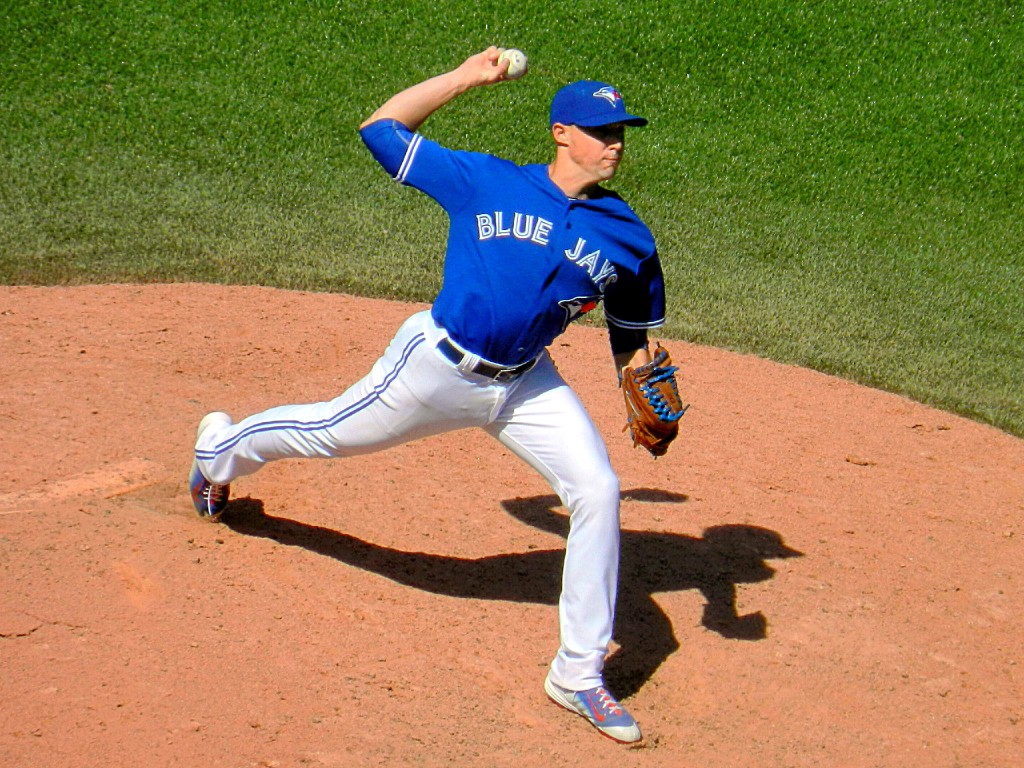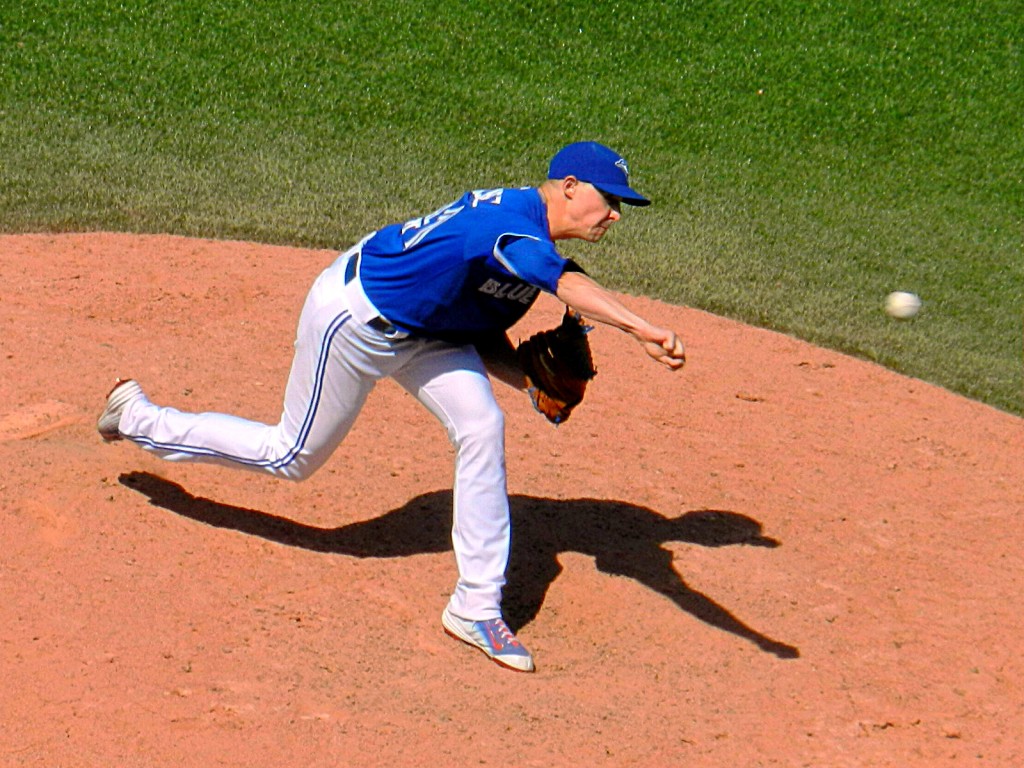 AARON SANCHEZ CAME IN TO RELIEVE R.A. DICKEY IN THE TOP OF THE EIGHTH AND LASTED ALL OF SEVEN PITCHES. HE WAS IMMEDIATELY EJECTED BY WOLF AFTER HITTING ROYALS SHORTSTOP ALCIDES ESCOBAR. PREDICTABLY, SMOLDERING TEMPERS ERUPTED.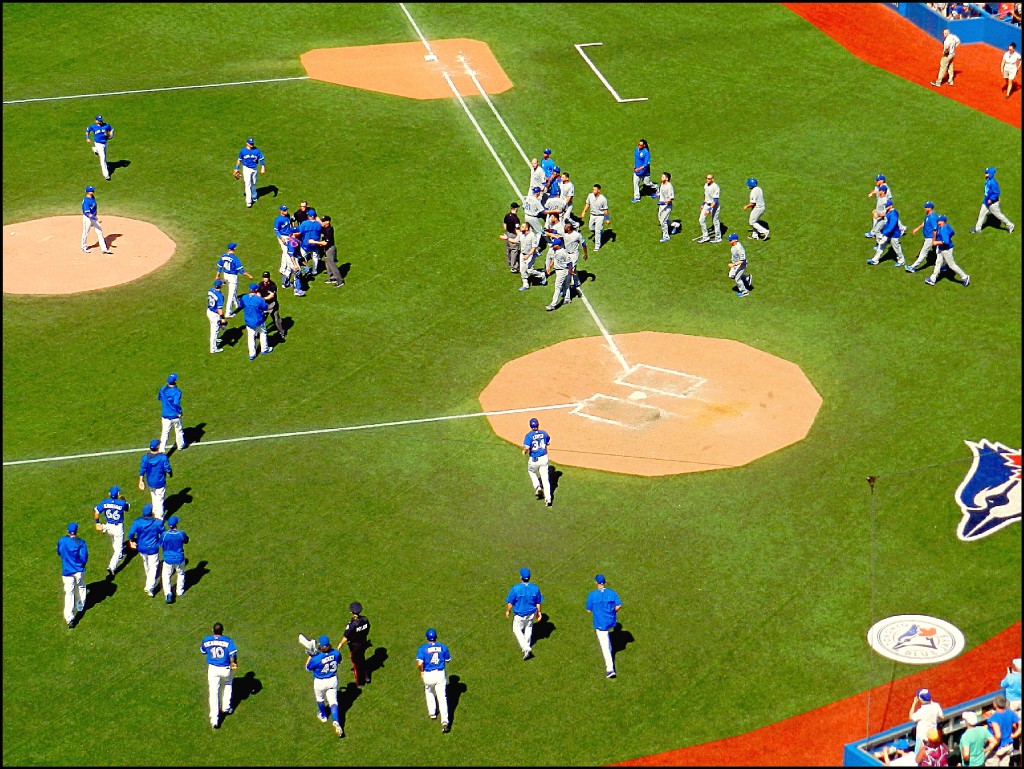 BOTH DUGOUTS AND BULLPENS EMPTIED AFTER THE SANCHEZ EJECTION.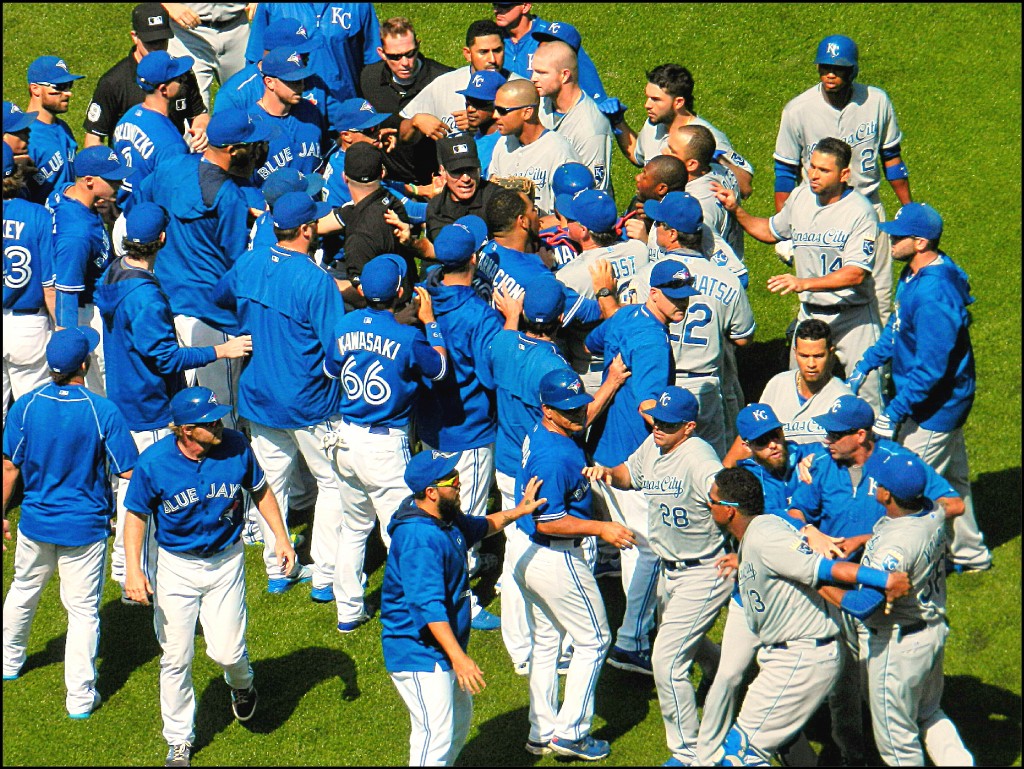 I HAD TO LAUGH WHEN I NOTICED MUNENORI KAWASAKI (66) IN THE MIDST OF BATTLE.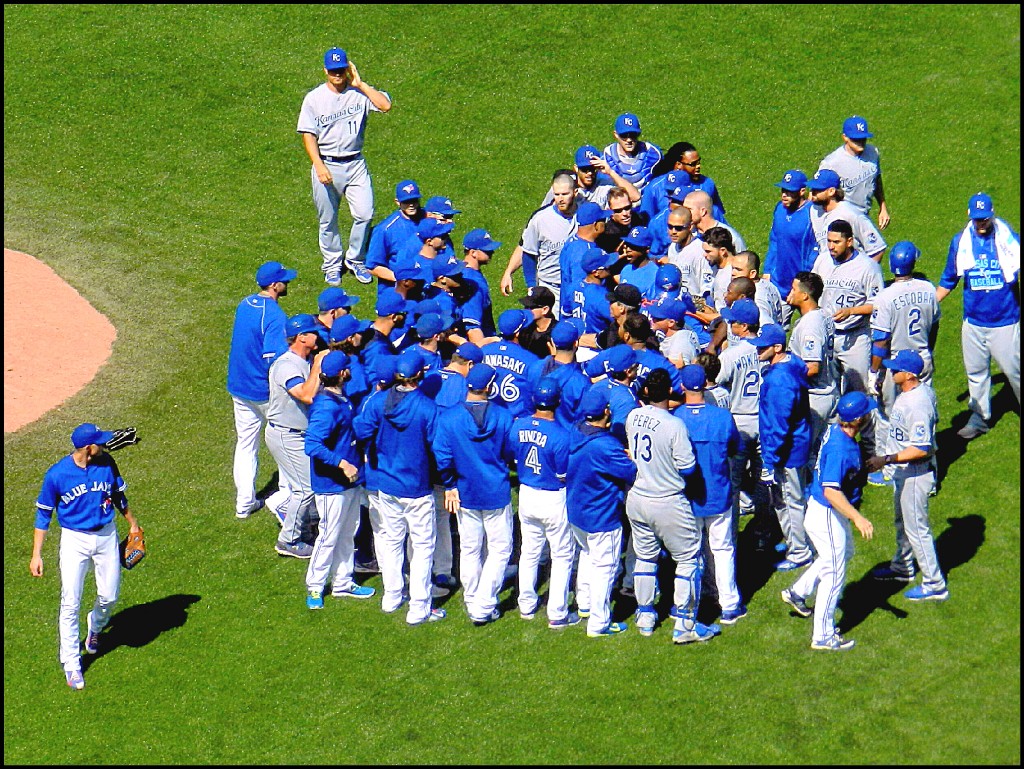 AS SANCHEZ WALKED TOWARD THE CLUBHOUSE (AT LEFT), THE BLUE JAYS AND ROYALS CONTINUED TO EXCHANGE PLEASANTRIES.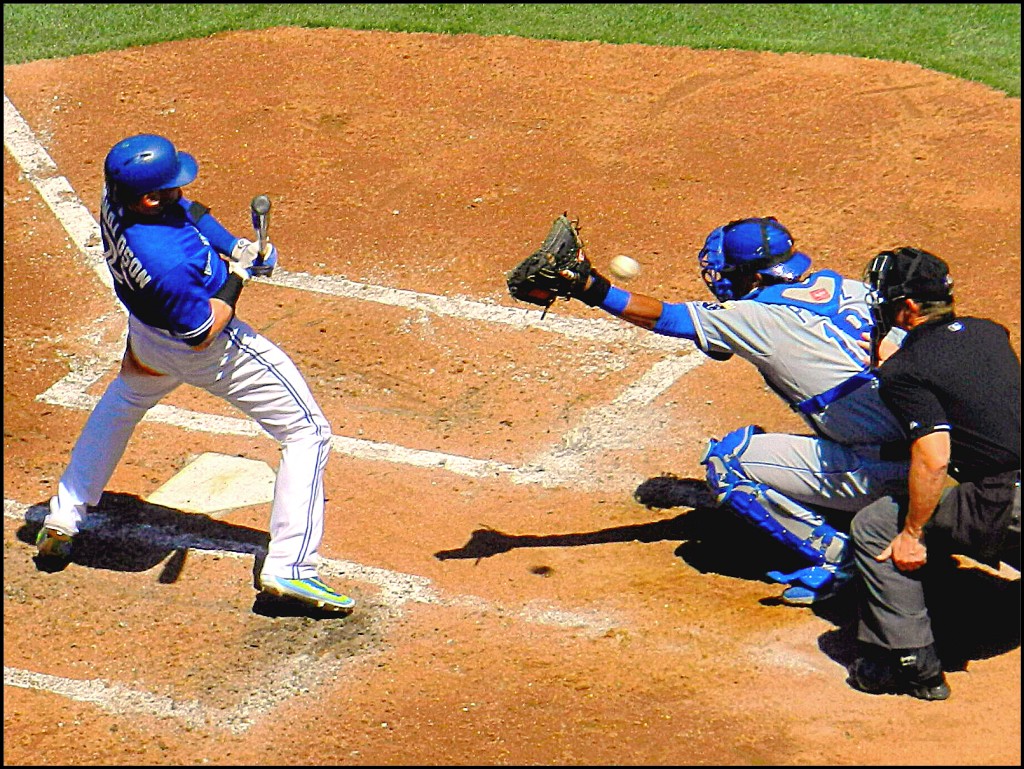 DONALDSON GOT CRANKY AGAIN AFTER BEING BRUSHED BACK (ABOVE) BY ROYALS RELIEVER LUKE HORCHEVAR IN THE BOTTOM OF THE EIGHTH. HE GAVE WOLF ANOTHER EAR–FULL (BELOW) AND WOUND UP LOOKING AT A CALLED THIRD STRIKE TO END THE INNING.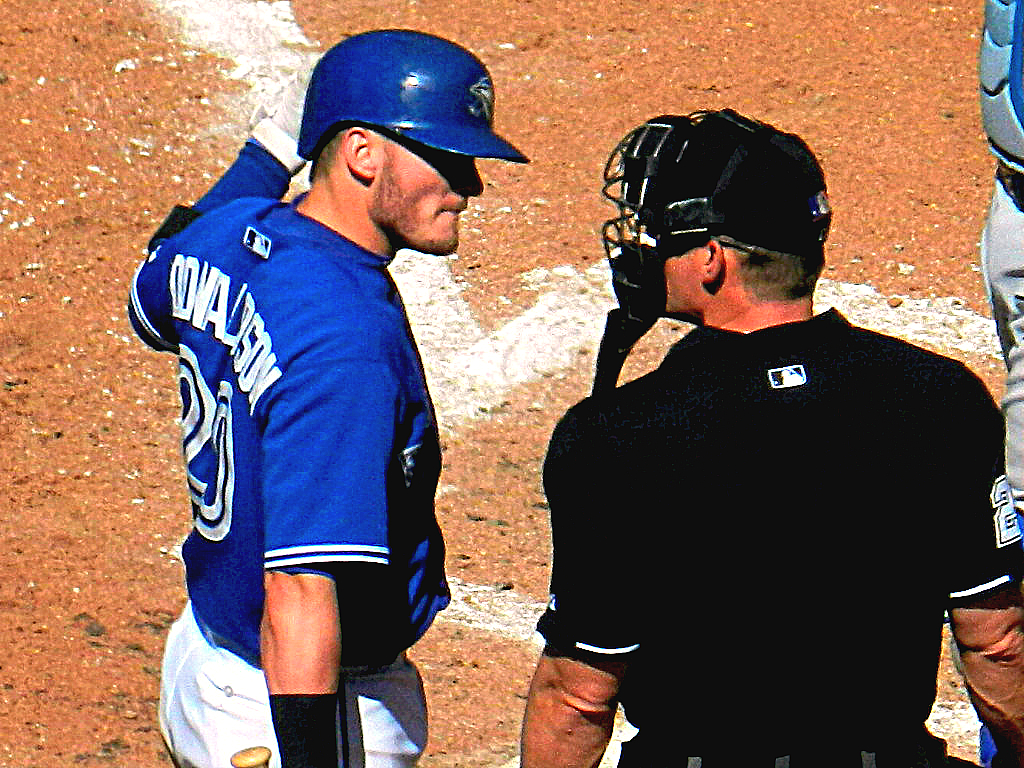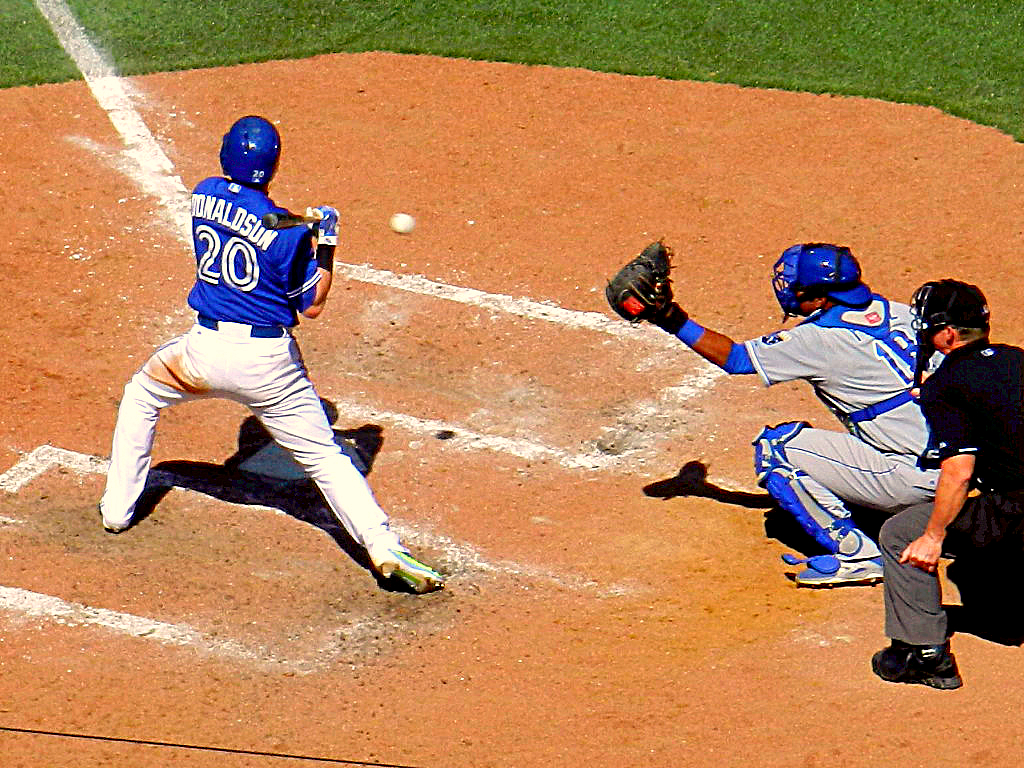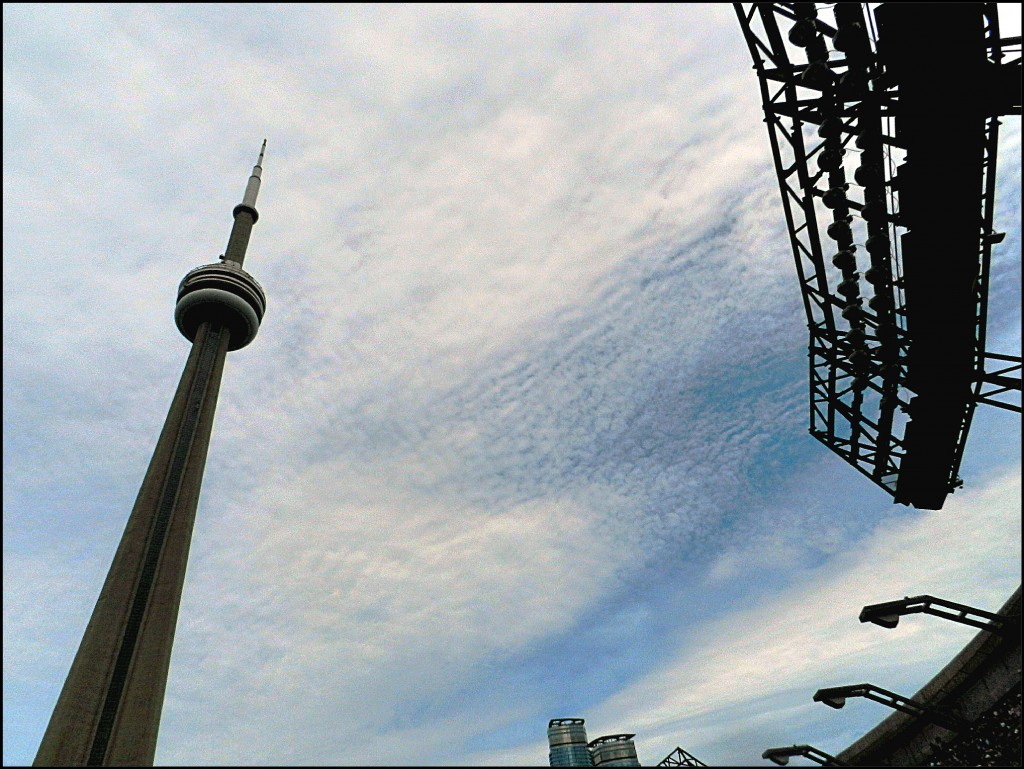 CLOUDS ROLLED IN LATE (ABOVE) AND THE FIELD SHADOWS DIMINISHED (BELOW).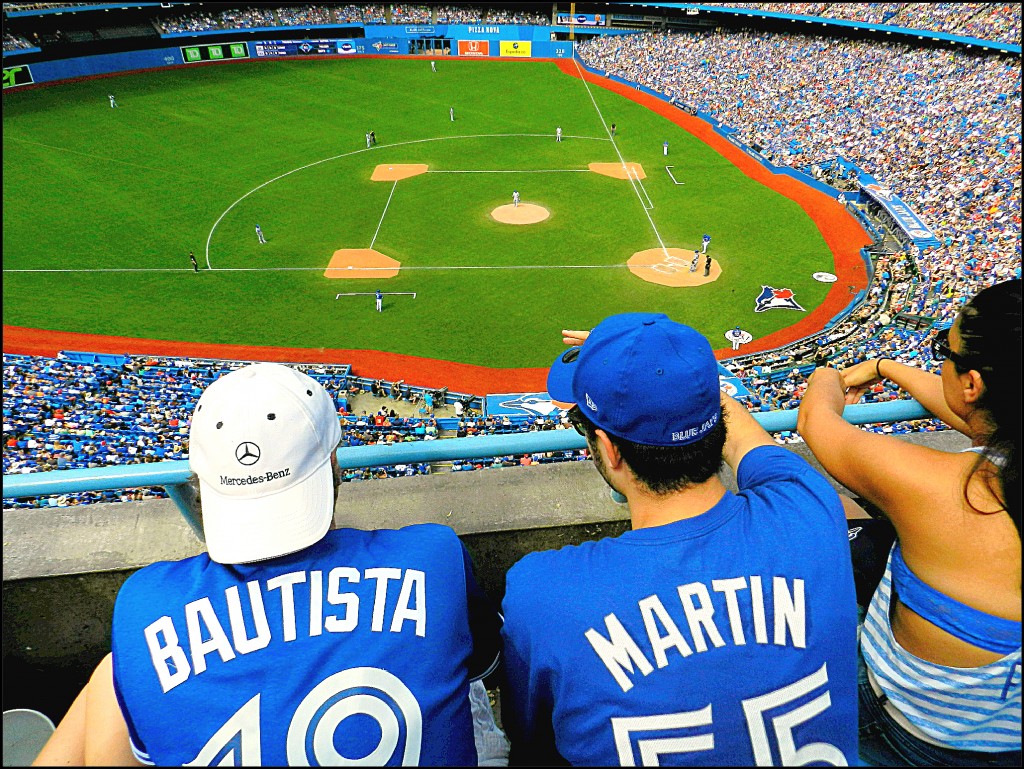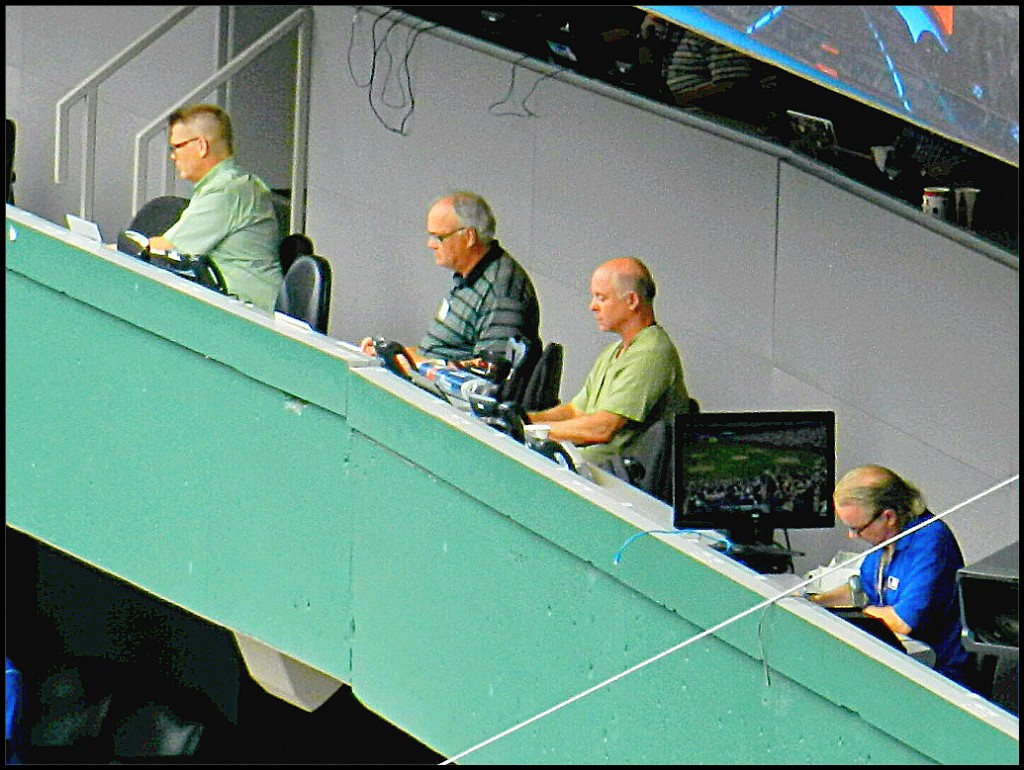 IN THE PRESS BOX WERE MY LONG–TIME FRIENDS (FROM LEFT–TO–RIGHT) ROBERT MacLEOD OF THE GLOBE AND MAIL; KEN FIDLIN OF THE TORONTO SUN; MARK ZWOLINSKI OF THETORONTO STAR AND OFFICIAL SCORER ROGER LAJOIE OF SPORTSNET–590, THE FAN.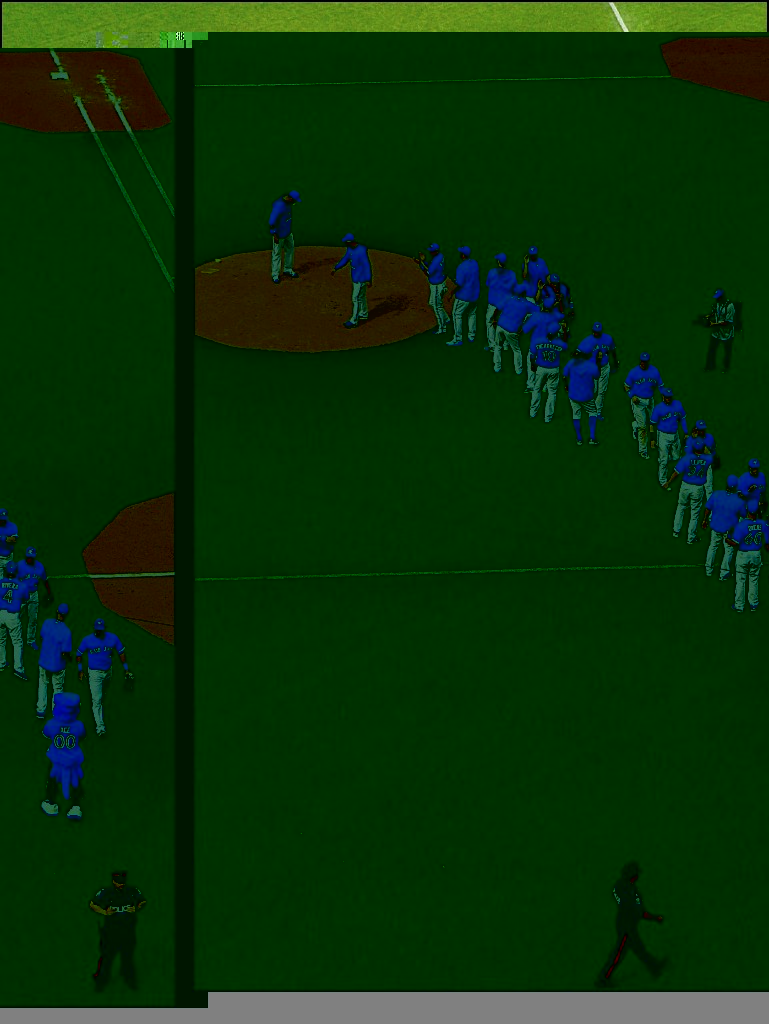 THE BLUE JAYS CELEBRATE WINNING THREE OF FOUR FROM KANSAS CITY.
HAPPY AND NICOTINE–ADDICTED FANS LEAVE THE ROGERS CENTRE.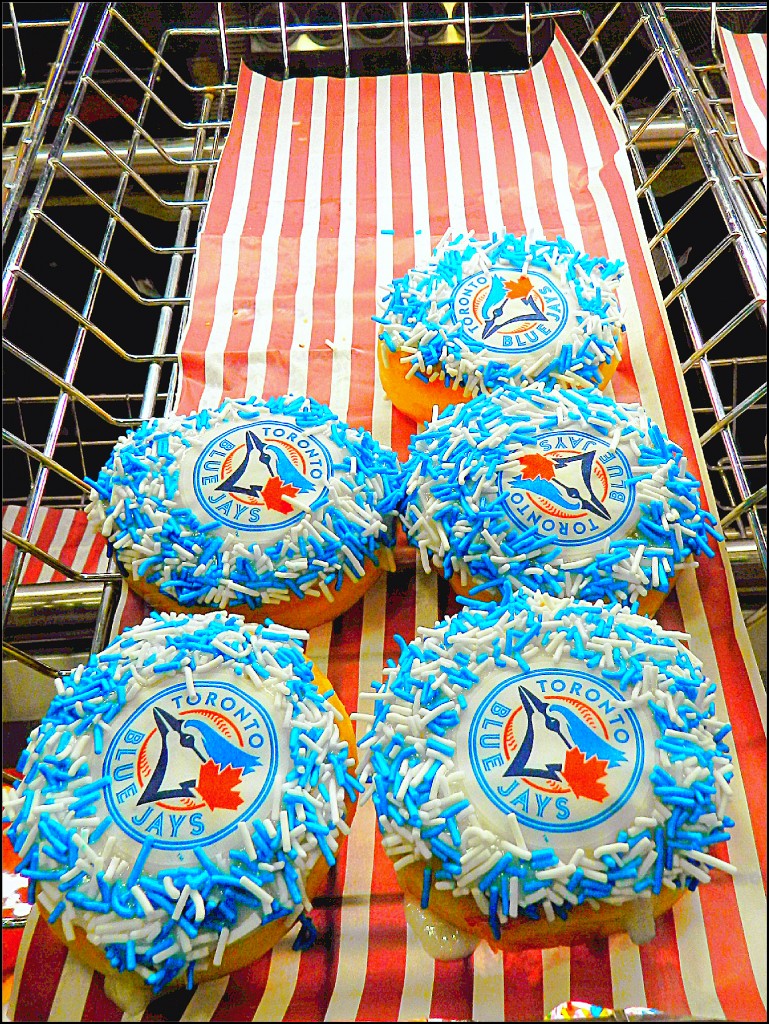 TIM HORTON'S HAS FULLY EMBRACED THE BLUE JAYS' PLAYOFF DRIVE.
EMAIL: HOWARDLBERGER@GMAIL.COM
TWITTER: BERGER_BYTES
FACEBOOK: HOWARD BERGER [HUMBER COLLEGE]
LINKEDIN: HOWARD BERGER [BROADCAST MEDIA]