By HOWARD BERGER
TORONTO (Aug. 27) — It may be early to start looking at Magic Numbers but the runaway train atop the American League East is picking up steam. And, the question now clearly is: Can the Toronto Blue Jays be slowed during the final 5½ weeks of the Major League Baseball season?
Arithmetic over the past month is staggering:
Since July 29, the Blue Jays have a record of 21–4 (.840 Win %) — most victories during a 25–game span in franchise history — rocketing from a mediocre 50–51 to 71–55 today. In that stretch, Toronto has outscored its opposition 158–79, or 6.32–3.16 per game, striking for eight or more runs on nine occasions. During their current five–game win streak on the road (longest of the season), the Blue Jays have out–gunned the Los Angeles Angels and Texas Rangers 46–21, or 9.2–4.2 per match. Perhaps most astoundingly, the Jays have gobbled up 9½ games on the reeling New York Yankees, who held a 7½–game bulge heading into play on July 29. Toronto now leads New York by two full games atop the A.L. East.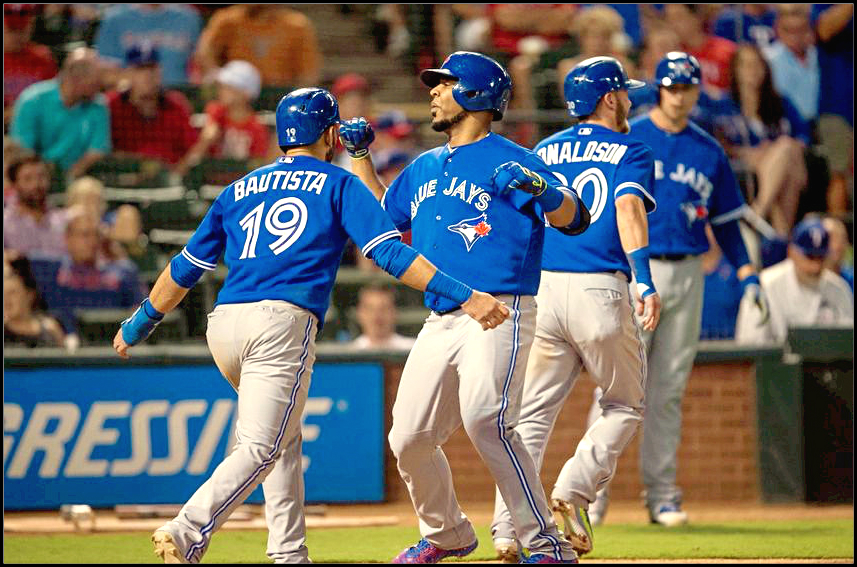 JOSE BAUTISTA AND EDWIN ENCARNACION WHOOP IT UP AFTER ENCARNACION'S GRAND SLAM IN THE SIXTH INNING AT TEXAS WEDNESDAY NIGHT. BLUE JAYS ROUTED THE RANGERS, 12–4, TO MOVE TWO GAMES UP ON NEW YORK IN THE AMERICAN LEAGUE EAST.JEROME MIRON USA TODAY
Moreover, the Blue Jays have a six–game lead on the second Wild Card team in the American League — fast–charging Minnesota — and, therefore, a comfortable cushion at the moment with respect to at least breaking their 22–year playoff famine; longest in the four major North American leagues (MLB, NHL, NFL, NBA). The Twins have won six in a row, overtaking Texas for the No. 2 WC, and trail the Yankees by four.
Only twice since July 10 have the Blue Jays lost consecutive games (27–10 overall) and it's nearly impossible to envision the club falling into a tailspin. In the past 10 seasons, it has required an average of 93 wins to capture the American League East. Last year, 85 wins would have turned the trick (Baltimore finished 96–66 to top the Division by 12 over New York). For 93 victories, Toronto must compile a record of 22–14 in its final 36 games — a comparative slump to the past month. Many believe that 90 wins should be enough in the A.L. East (or 19–17 for the Blue Jays). To equal its franchise–best mark of 99 wins in a season (1985), Toronto needs to go 28–8. But, let's not get too carried away.
The Blue Jays will try to make it a perfect swing through California and Texas today (2:05 p.m. EDT, Sportsnet) when Marco Estrada (11–7, 3.27) goes to the mound against Yovani Gallardo (10–9, 3.25) in Arlington.
Toronto returns for a nine–game home–stand against Detroit, Cleveland and Baltimore beginning Friday night at Rogers Centre.
EMAIL: HOWARDLBERGER@GMAIL.COM
TWITTER: BERGER_BYTES
FACEBOOK: HOWARD BERGER [HUMBER COLLEGE]
LINKEDIN: HOWARD BERGER [BROADCAST MEDIA]