By HOWARD BERGER
TORONTO (Aug. 15) — Yes, the good guys had the right man at the plate. Troy Tulowitzki. The best–hitting shortstop in Major League Baseball. Two out and runners on second and third in the bottom of the ninth. With the home team trailing, 4–3; the table set for more heroics and the Sweat Dome (a.k.a. Rogers Centre) in a tizzy. After a half–dozen foul–offs, a swing. And a miss. Then, the collective groan from 46,000 people.
Welcome to a pennant race, young Blue Jays fans.
Welcome back, you older ones.
Now… take a deep breath. And then another.
We still have seven weeks of this madness on the horizon. From a veteran of covering August and September baseball pandemonium in this city a couple of decades ago, I cannot overstate how important it is to pace yourself. To remain somewhere near middle ground and give emotional balance a fair opportunity. It's your only hope.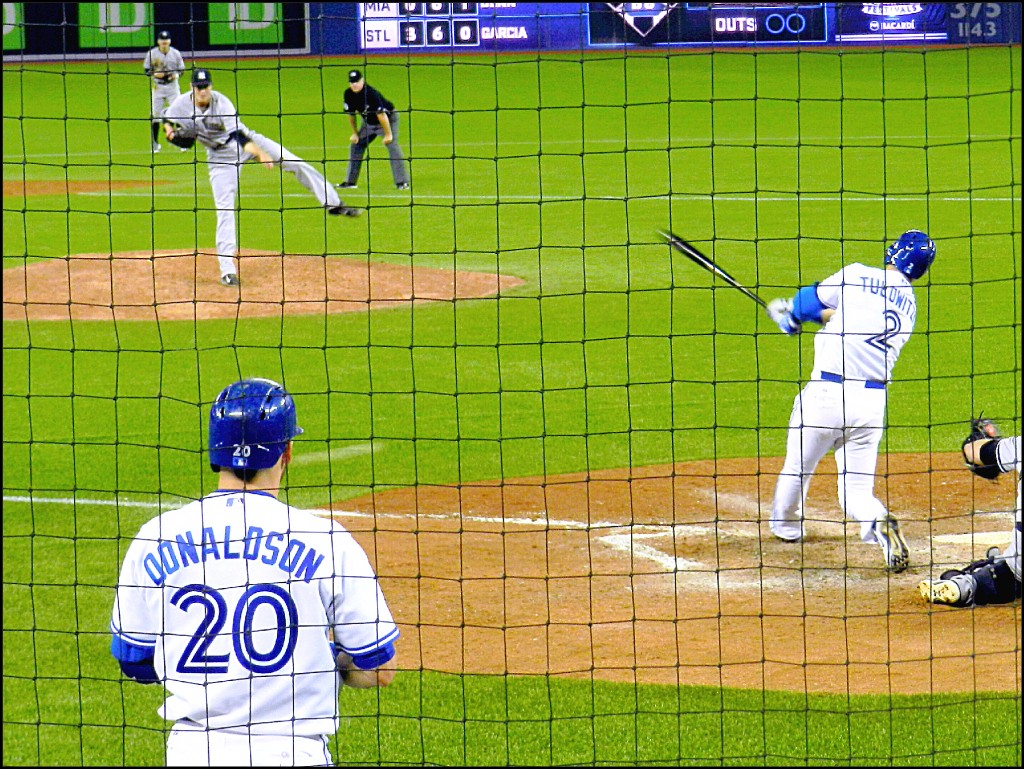 FROM MY SEATS NEAR FIELD LEVEL — AND WITH JOSH DONALDSON WAITING ON DECK — YANKEES CLOSER ANDREW MILLER STRIKES OUT TROY TULOWITZKI TO END FRIDAY NIGHT'S BALL GAME AT ROGERS CENTRE. NEW YORK CAME BACK FROM A 3–0 DEFICIT TO WIN, 4–3.
What we witnessed Friday was the most compelling and significant professional baseball game in Toronto since Oct. 23, 1993. The night Joe Carter touched 'em all against Philadelphia. It was a microcosm of events to come, as the Blue Jays — now one–half length behind the New York Yankees in the American League East — suit up on 44 occasions between this afternoon and Oct. 4. More than half a hockey season's worth of games. It may not be possible to comprehend the mood swings you will experience between now and then. So, take it easy. If you can.
For the first time in eons, I had to pester a Blue Jays contact for tickets to a game. And, this individual went beyond the call — situating me and my son, Shane, seven rows from the field, just to the left of home plate.
The only downside to a terrific ball game was the venue. On a hot, humid night with the Rogers Centre roof closed and 46,689 people on hand — each at 98.6 degrees Fahrenheit — oxygen was in short supply.
But, we did survive.
As will your Blue Jays.
More photos, now, from my trusty NIKON: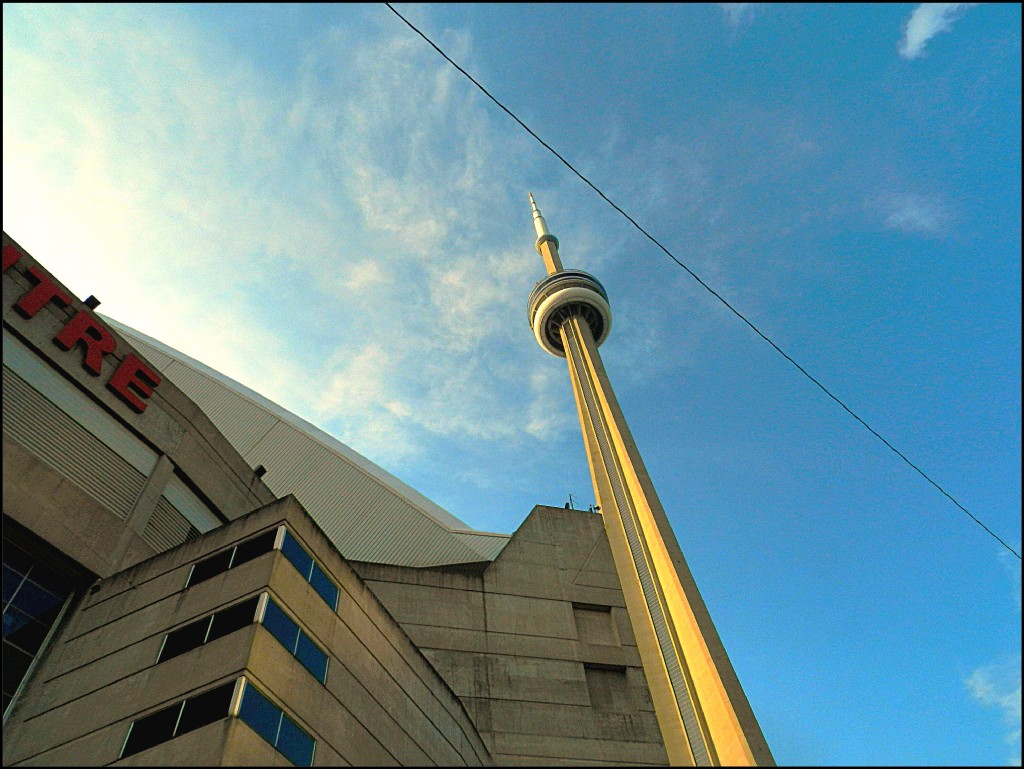 IT WAS WARM AND STICKY OUTSIDE THE DOME BUT NOT NEARLY AS STIFLING AS IN THE STADIUM — WITH A FULL HOUSE AND THE RETRACTABLE ROOF CLOSED.
THANKS TO THE GENEROSITY OF A LONG–TIME BLUE JAYS CONTACT, SHANE AND I WERE IN WONDERFUL SEATS FOR FRIDAY'S BALL GAME — NEAR FIELD LEVEL IN SEC. 123.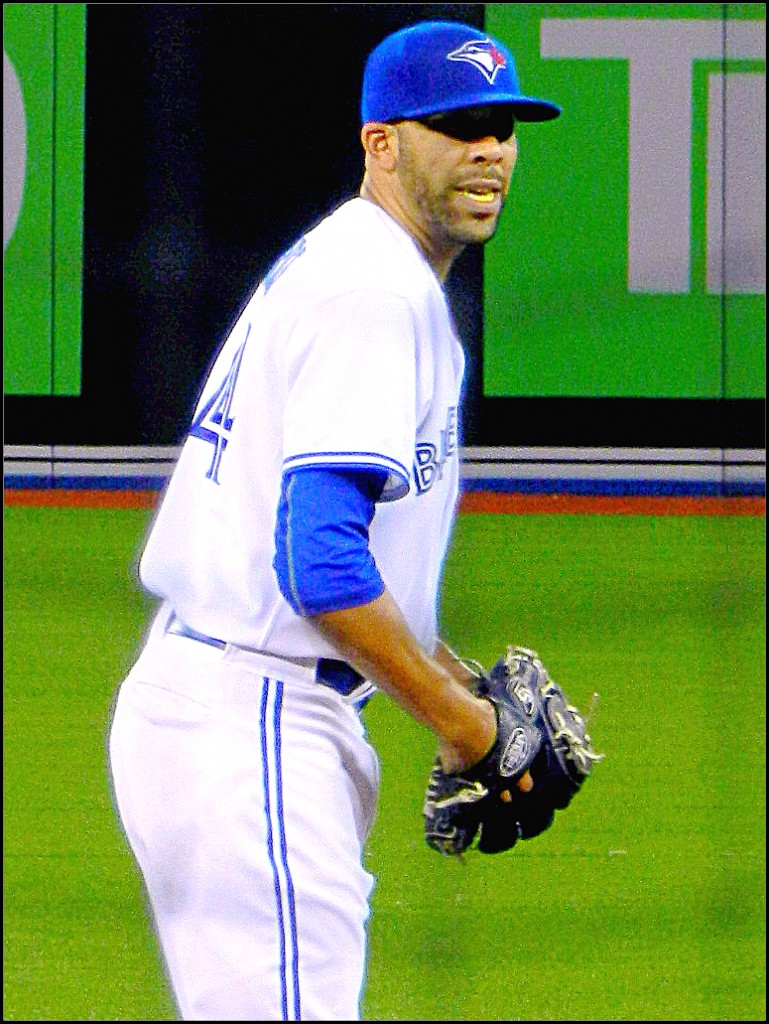 AS EXPECTED, DAVID PRICE ?? PITCHED WELL FOR THE BLUE JAYS, BUT HE DIDN'T QUITE HAVE HIS A–1 STUFF — GIVING UP 11 HITS AND THREE EARNED RUNS.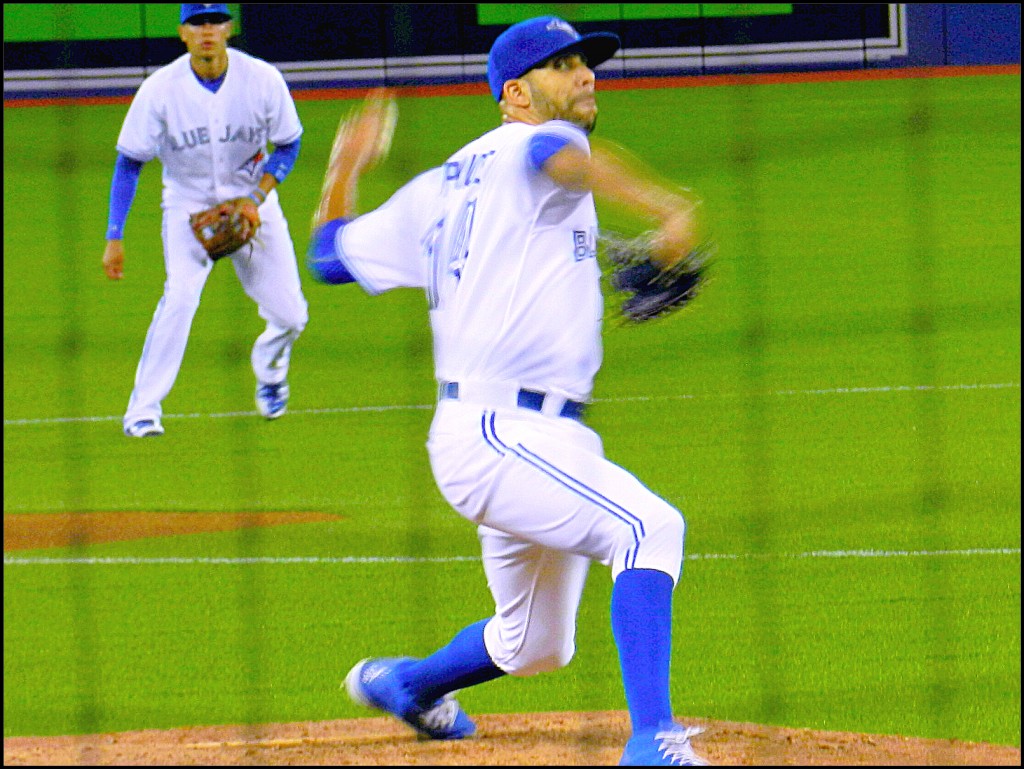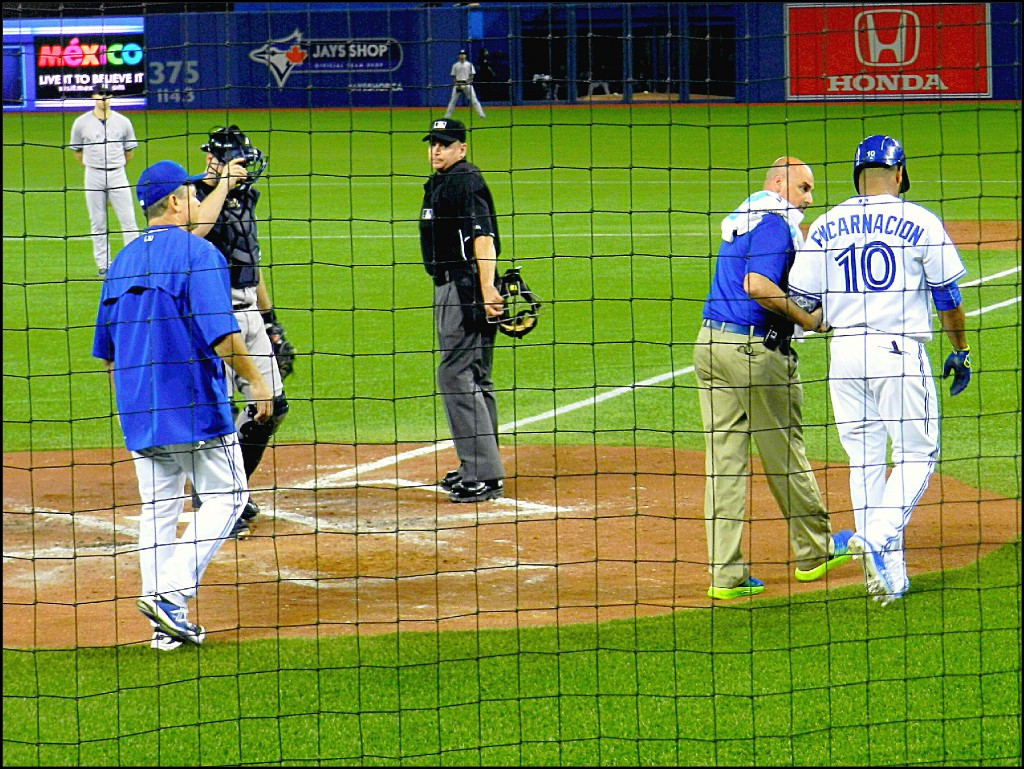 BLUE JAYS MANAGER JOHN GIBBONS (LEFT) LOOKED ON WITH CONCERN AS EDWIN ENCARNACION WAS ESCORTED TO FIRST BASE AFTER BEING HIT BY A PITCH IN THE SECOND INNING. BUT, DOUBLE–E STAYED IN THE GAME AND DROVE IN JOSH DONALDSON WITH A SACRIFICE FLY IN THE BOTTOM OF THE THIRD TO GIVE TORONTO ? A 3–0 LEAD.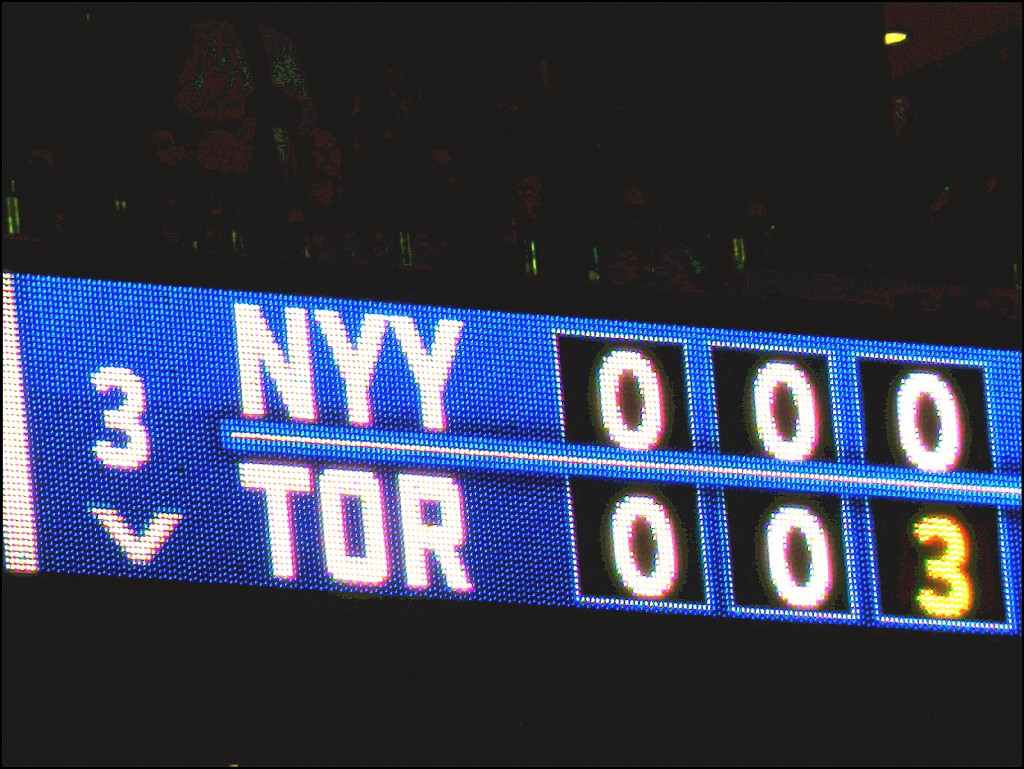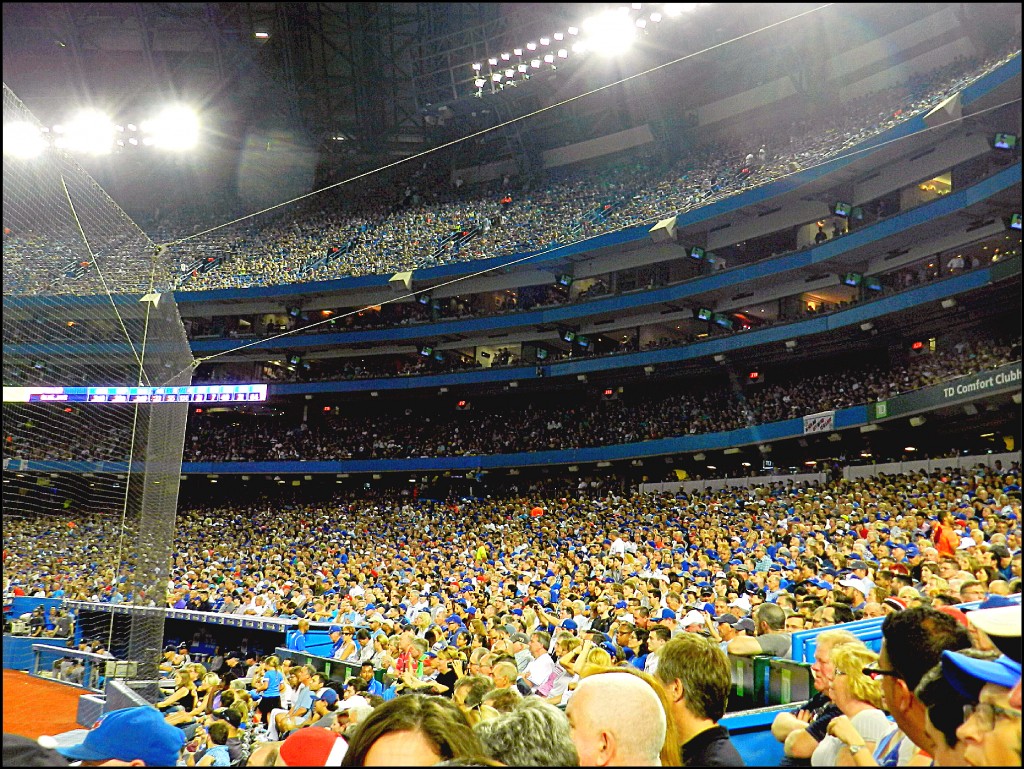 THERE WERE FEW EMPTY SPACES AT THE DOME ?? FOR THE SERIES OPENER.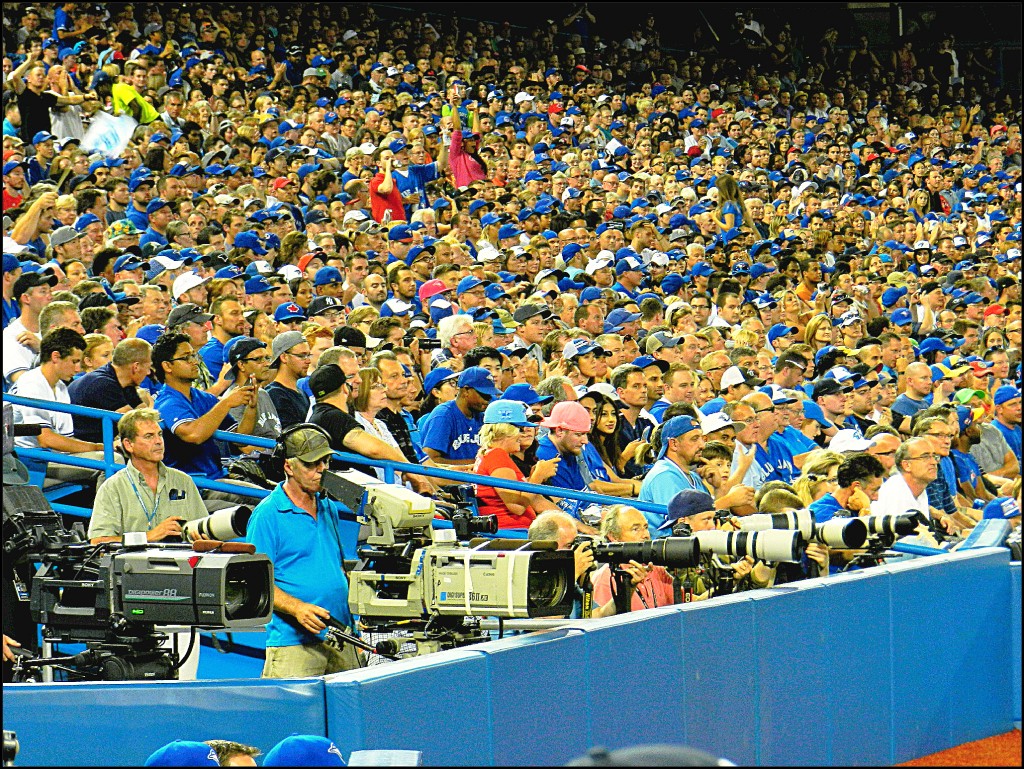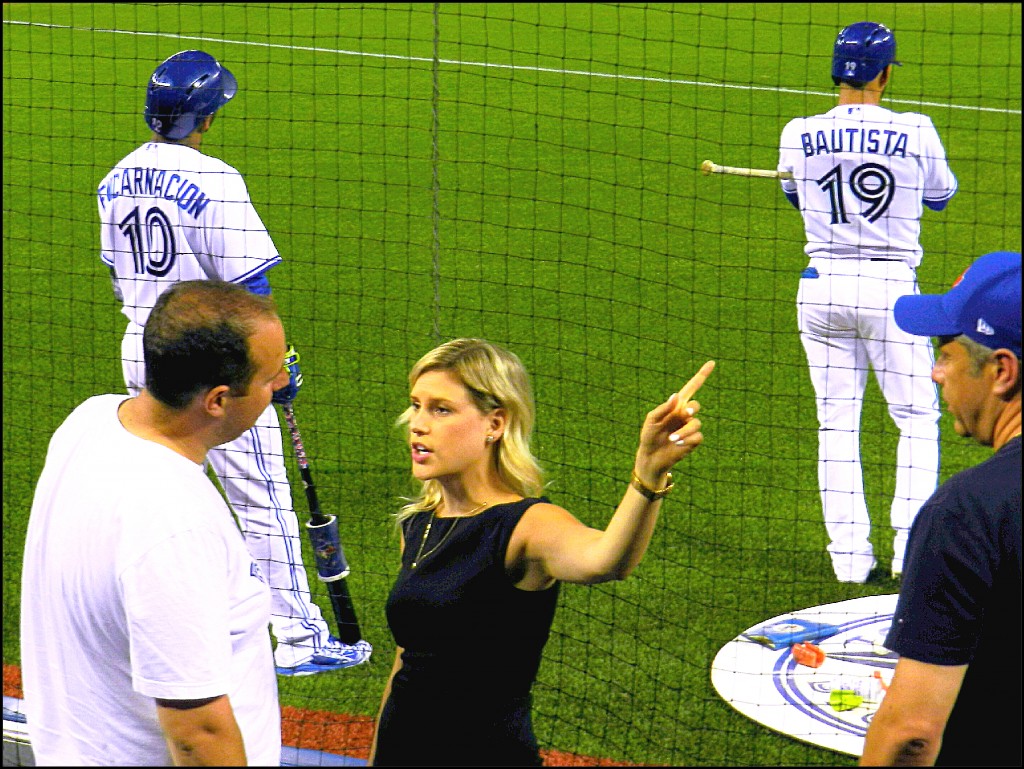 FOR SOME REASON, THE HOSTESS IN THE SEATS BELOW ME ?? KEPT GETTING IN THE WAY OF THE STAR PLAYERS. AND, FOR SOME REASON, I DIDN'T MIND.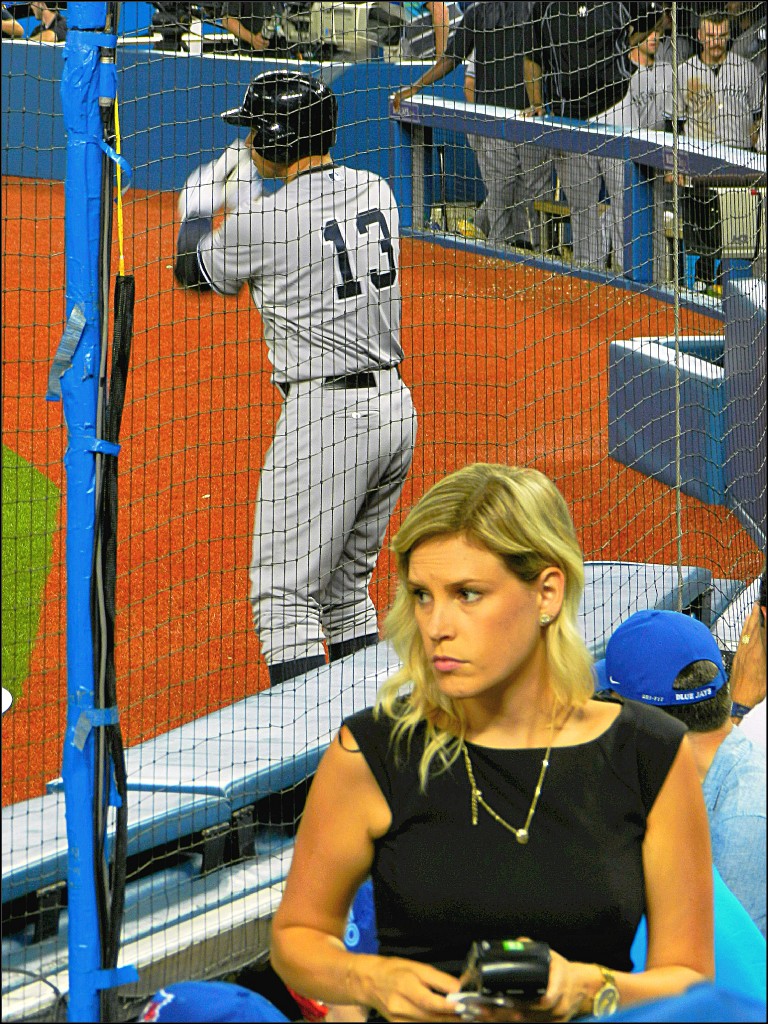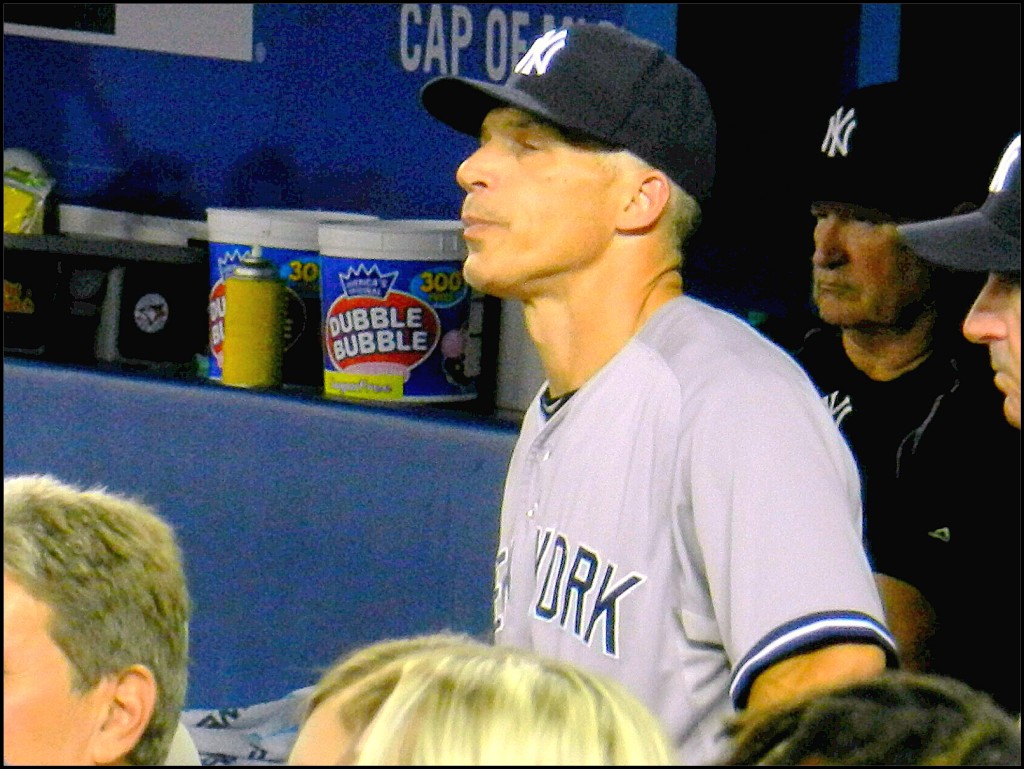 YANKEES MANAGER JOE GIRARDI — IN THE DUGOUT TO MY RIGHT — LOOKED ON APPREHENSIVELY FOR MOST OF THE BALL GAME…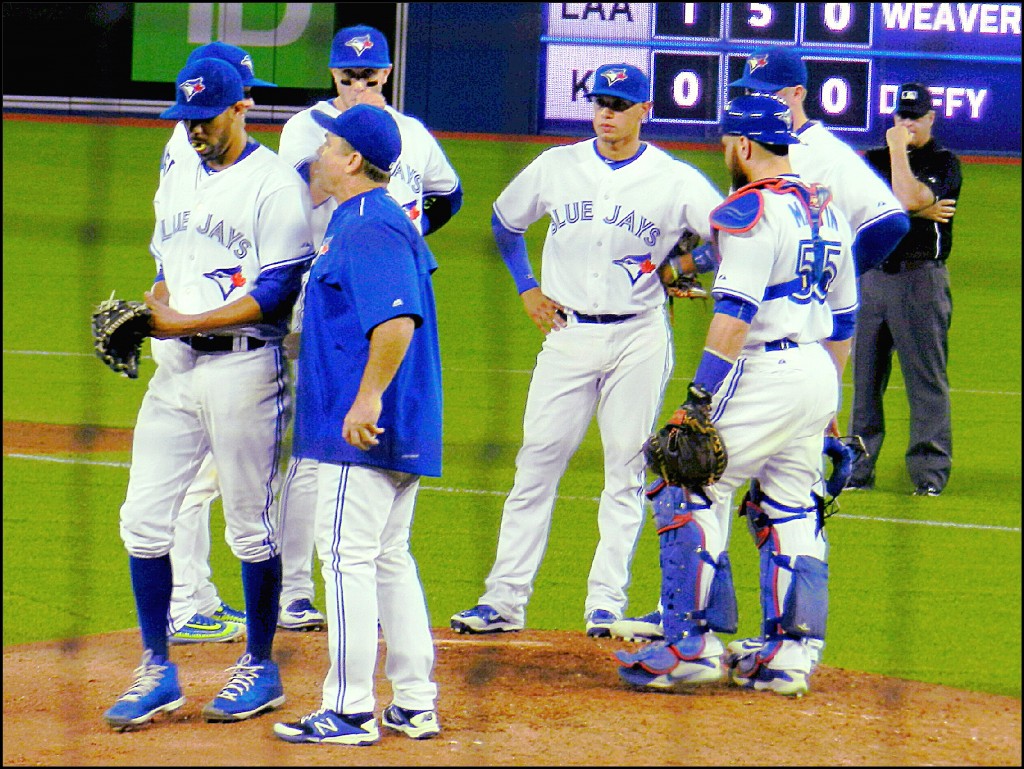 UNTIL GIBBONS CAME TO FETCH PRICE WITH TWO RUNNERS ON BASE AND ONE OUT IN THE TOP OF THE EIGHTH — BLUE JAYS LEADING, 3–1.
SECONDS LATER, CARLOS BELTRAN WAS LEAPING FOR JOY (LEFT) AFTER BLASTING A THREE–RUN HOMER TO RIGHT–CENTER FIELD OFF AARON SANCHEZ TO GIVE NEW YORK THE LEAD.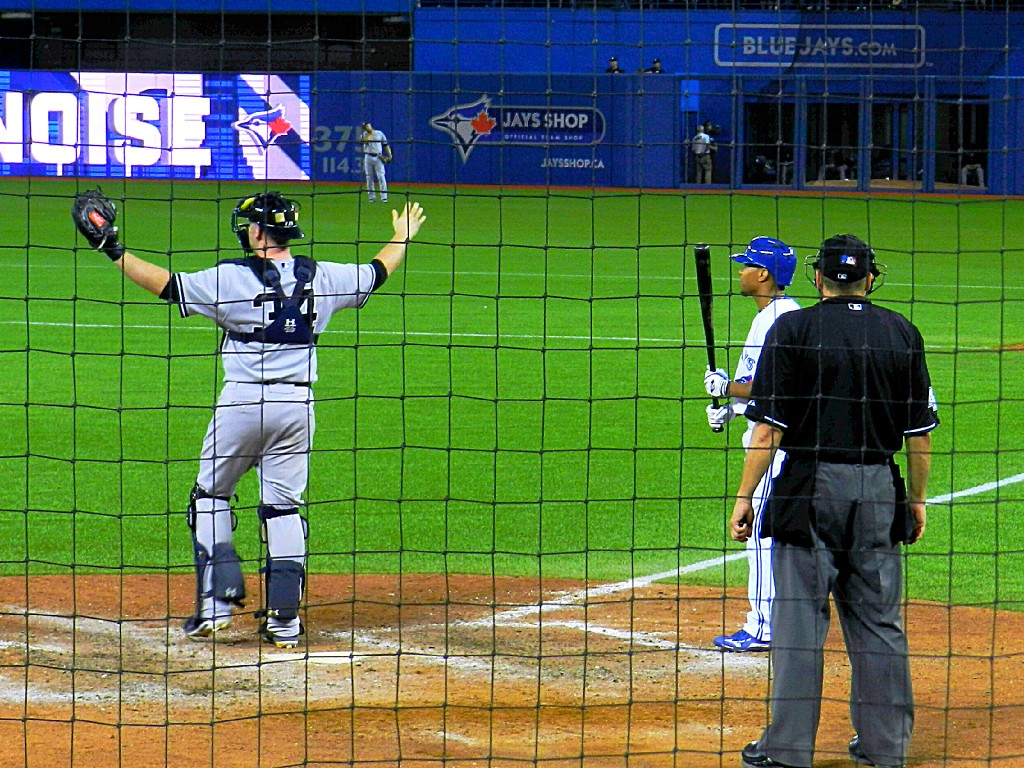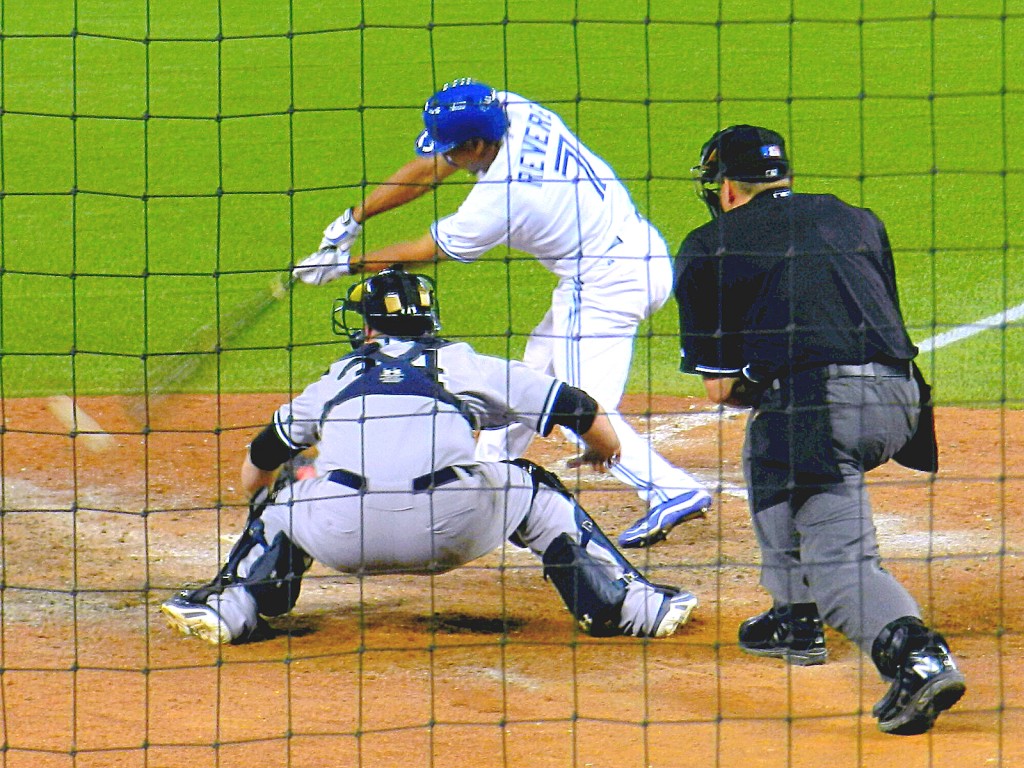 THE BLUE JAYS HAD RUNNERS ON SECOND AND THIRD WITH ONE OUT IN THE BOTTOM OF THE NINTH WHEN LEFT–FIELDER BEN REVERE STRUCK OUT SWINGING.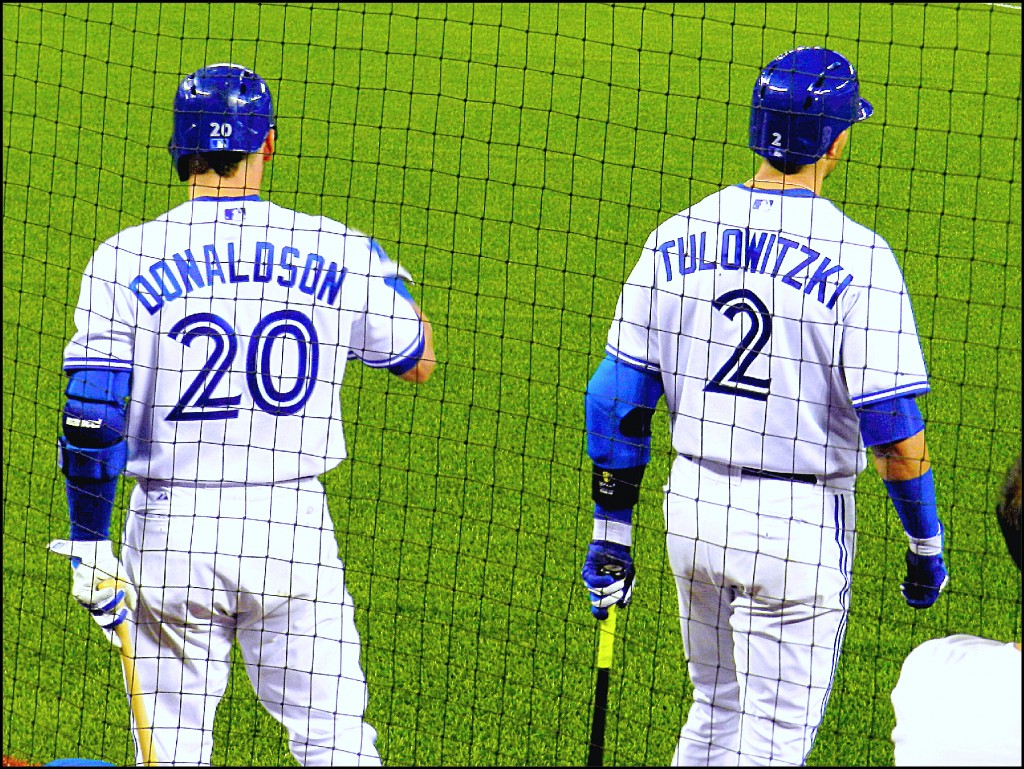 WITH THE BIG BOYS COMING UP, THE JAYS APPEARED TO BE IN BUSINESS…
BUT IT WASN'T MEANT 2 BE… NOT ON THIS NIGHT.
EMAIL: HOWARDLBERGER@GMAIL.COM
TWITTER: BERGER_BYTES
FACEBOOK: HOWARD BERGER [HUMBER COLLEGE]
LINKEDIN: HOWARD BERGER [BROADCAST MEDIA]