By HOWARD BERGER
TORONTO (Aug. 11) — In the short term, the Toronto Blue Jays are marvelously equipped to compete in a best–of–five or best–of–seven playoff series. To obtain that privilege, Alex Anthopoulos shredded the farm system he developed as general manager of the ball club.
It provided him — among others — one of the most accomplished starting pitchers in the game, David Price, who joined incumbents Drew Hutchison, Mark Buehrle, R.A. Dickey and Marco Estrada. The latter three have been lights–out — Buehrle all season; Dickey and Estrada in the past six weeks. Only Hutchison is a crap–shoot on the mound.
If the Blue Jays can win the American League East (they trail the Yankees by 1½ games) and avoid the roulette–wheel of a one–night, Wild Card showdown, manager John Gibbons will shuffle Hutchison to the bullpen and go with a four–man rotation of Price, Buehrle, Dickey and Estrada. Pitching as it is right now, that foursome can stand up against any 2015 playoff contender. There's a chance Marcus Stroman could return from a season–long knee injury, though it's doubtful he'd supplant any of the aforementioned in a playoff rotation.
The American League Division Series is a best–of–five affair; the League Championship and World Series are a best–of–seven. Depending on the length of a playoff round and days in–between, Gibbons could shorten his rotation to three and use Price more often — an example being last October 16 and 21, when Madison Bumgarner started Game 5 of the National League Championship Series for San Francisco, and then Game 1 of the World Series in Kansas City.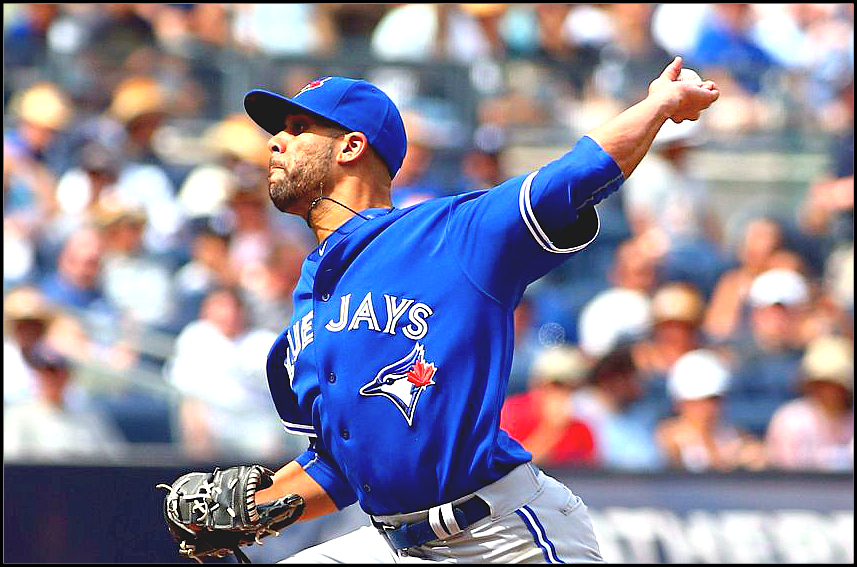 DAVID PRICE PITCHED THE BLUE JAYS TO A 6–0 ROMP OVER THE YANKEES IN NEW YORK ON SATURDAY. HE'LL FACE THE BOMBERS AGAIN THIS FRIDAY NIGHT AT ROGERS CENTRE.
There will, however, be baseball beyond this season and it's alluring to speculate what the Blue Jays rotation might look like in 2016.
Here is the contract status of each (potential) Toronto starter:
DAVID PRICE: Finishing a $19.75–million pact this season (between Detroit and Toronto); can file for free agency afterward.
MARK BUEHRLE: Finishing a four–year, $58–million contract (between Miami and Toronto). Can also become a free agent but has talked seriously about retiring at 36, after 16 Major League seasons.
R.A. DICKEY: Toward the end of a two–year, $25–million extension he signed with the Blue Jays, who hold the option for 2016 — either $12 million to extend his contract or $1 million to buy it out.
MARCO ESTRADA: Finishing a one–year, $3.9–million pact signed with the Blue Jays; a free agent after his breakout season.
DREW HUTCHISON: Working on a one–year, $520,100 deal with the Blue Jays; is eligible for arbitration in the off–season.
MARCUS STROMAN: Is earning $514,700 while injured this year and is ineligible to file for arbitration until 2018.
AARON SANCHEZ: Ending a one–year deal worth $510,800. Also must wait until 2018 to become arbitration eligible.
What it means is that only Hutchison, Stroman and Sanchez are guaranteed to be back with the Blue Jays in 2016. Price will become obscenely rich on the open market and the Jays could be in a better position to keep him if Buehrle and Dickey are off the books. Estrada is also in for a healthy raise after pitching so well here in the second half.
To maintain playoff contention, Anthopoulos will need an established, front–of–the–rotation starter. Stroman or Sanchez could ultimately fill the role, but neither is entrenched. If Price signs elsewhere, there willbe options for the Blue Jays. Wei–Yin Chen (6–6, 3.21 ERA with Baltimore); Johnny Cueto (7–6, 2.62 ERA with Cincinnati / 1–1, 2.05 ERA with Kansas City); Scott Kazmir (5–5, 2.38 ERA with Oakland / 1–1, 0.48 ERA with Houston); Ian Kennedy (7–10, 4.37 ERA with San Diego); Jeff Samardzija (8–7, 4.62 ERA with Chicago White Sox) and Jordan Zimmerman (8–7, 3.44 ERA with Washington) can all become free agents in the off–season.
With Price in the fold, Sanchez has returned from injury to become a key set–up man in the bullpen for closer Roberto Osuna. But, the Jays likely still view Sanchez as part of the rotation — as he was prior to incurring a lat–muscle strain in mid–June. Given that 42–year–old LaTroy Hawkins is strongly considering retirement, the Jays could be tempted to maintain the Sanchez–Osuna late–innings combo. Set–up men are easier to obtain, however, than prime, young starters and the Jays still have Brett Cecil and Mark Lowe. As such, I suspect Sanchez will return to the rotation.
If Hutchison can straighten himself out down the stretch, he'll not only increase the Blue Jays' chance of winning the A.L. East but will give the club more to think about for next season. The 25–year–old right–hander has a deceiving 10–2 record with a bloated 5.42 ERA in 22 starts. He is too young and raw for the Jays to give up on, yet he must develop some stability on the mound in order to pitch regularly for a contending team.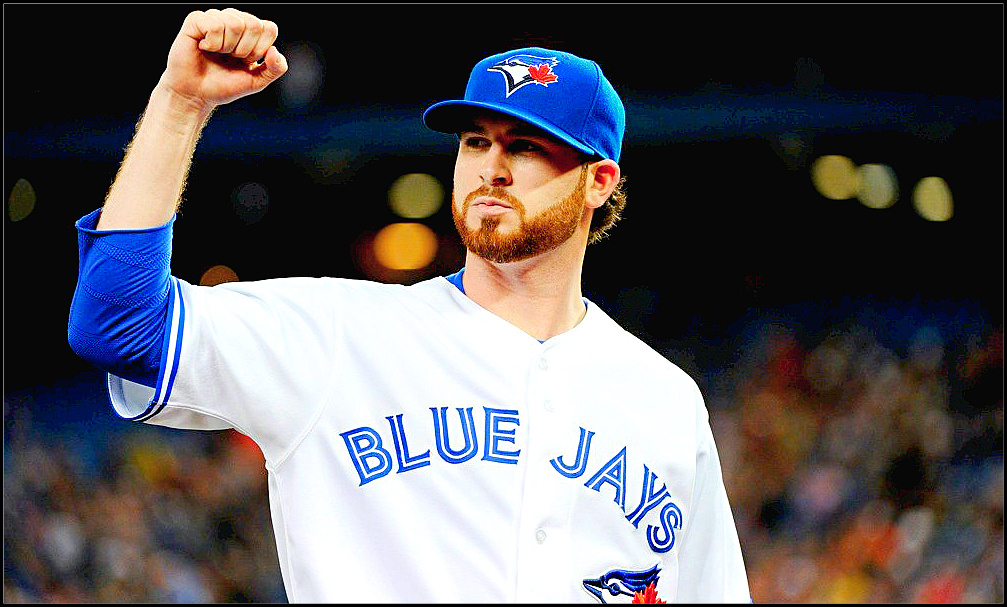 YOUNG DREW HUTCHISON NEEDS TO FIND SOME CONSISTENCY IF HE'S TO REMAIN IN THE BLUE JAYS ROTATION. HE'S BEEN ALL OVER THE MAP THIS SEASON.
Looking ahead, I can therefore see the 2016 Blue Jays with a rotation of (name your free agent), Stroman, Estrada, Sanchez and Hutchison. If Buehrle pulls an about–face and decides to come back, the Jays will be tempted to re–sign him. But, I wouldn't count on it happening. And though 40–year–old Dickey is performing better now than at any previous juncture in Toronto, I would thank him for his service; buy out his contract for $1 million and have an extra $11 million to throw around in free agency — $31 million in total with Dickey and Buehrle off the books.
Whatever transpires with the pitching staff in the winter, the Blue Jays will come back in better shape than at the beginning of this season, when Stroman was hurt and the club did not have a legitimate closer (Osuna). By obtaining Price, Troy Tulowitzki, Hawkins, Lowe and Ben Revere at the trade deadline, the club sent an unmistakable signal to the rest of baseball. It is, for once, serious about pursuing a World Series championship. With a first playoff appearance in 22 years and a bit of noise in October, Toronto would once again become a preferred destination for free agent players — as it was in the early–1990?s.
But, for now, it's a three–game series against Oakland, beginning tonight at Rogers Centre, with Hutchison on the mound against former Blue Jays right–hander Kendall Graveman — dealt to the Athletics last November as part of the trade for third–baseman Josh Donaldson.
FIRST NIKON PHOTOS
I recently came upon some photos I took during a Blue Jays–Philadelphia game at Rogers Centre on July 3, 2011 — shortly after purchasing my trusty NIKON. As you'll see, the Jays were still wearing their black–and–powder–blue uniforms (2004–2011). A crowd of 26,204 watched Toronto break a three–game losing streak with a 7–4 victory over the Phillies. Winning pitcher was Octavio Dotel.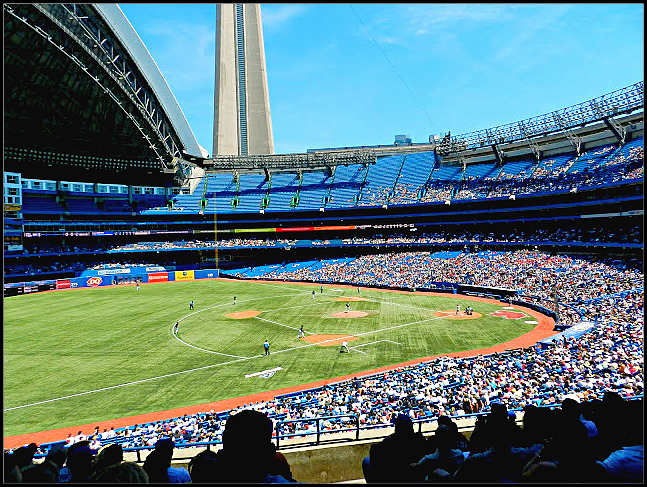 ROGERS CENTRE WAS HARDLY PACKED FOR THE SUNDAY–AFTERNOON GAME.
JOSE BAUTISTA ?? WAS ON BASE FREQUENTLY, AS I RECALL.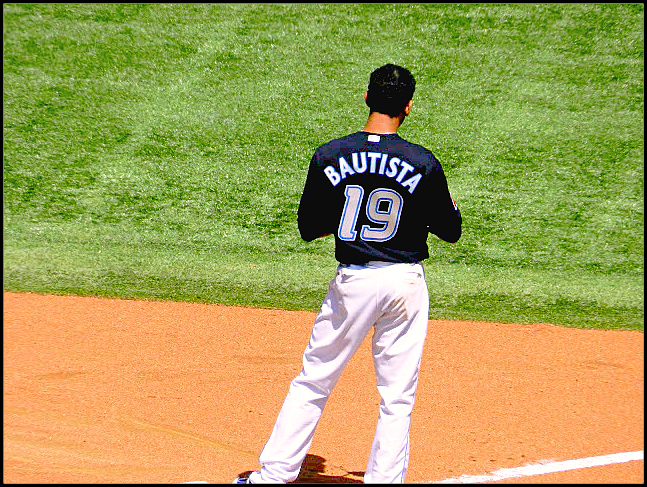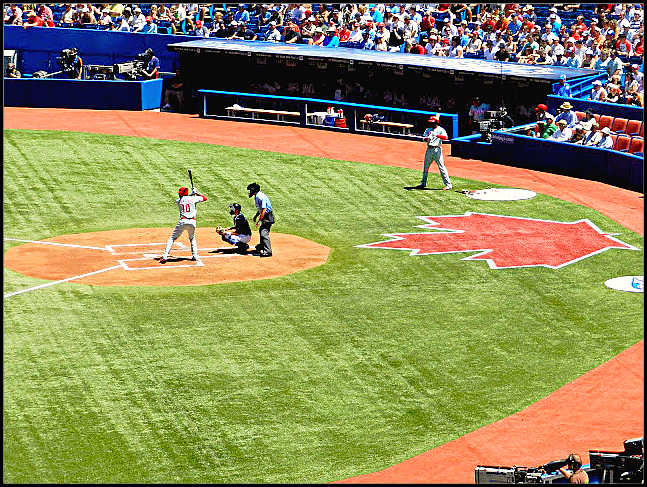 IT WAS THE CANADA DAY WEEKEND, THUS THE LOGO BEHIND HOME PLATE.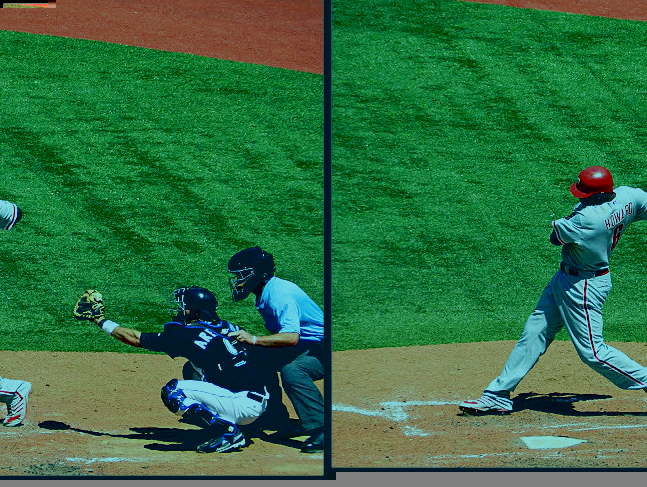 SLUGGER RYAN HOWARD OF THE PHILLIES APPEARED TO NOT HAVE ARMS AFTER FOULING OFF AN INSIDE PITCH. THE TORONTO CATCHER WAS J.P. ARENCIBIA.
EMAIL: HOWARDLBERGER@GMAIL.COM
TWITTER: BERGER_BYTES
FACEBOOK: HOWARD BERGER [HUMBER COLLEGE]
LINKEDIN: HOWARD BERGER [BROADCAST MEDIA]