By HOWARD BERGER
TORONTO (Aug. 30) — Back in 1984, the Detroit Tigers led the American League East Division from wire–to–wire and went on to upend the San Diego Padres for the franchise's most recent World Series. The most phenomenal start in Major League history — 35–5 in their first 40 games — allowed the Tigers to maintain top spot from April to October.
A much–different Detroit club is being embarrassed here in Toronto this weekend. The Blue Jays have romped to consecutive victories by a combined 20–4 — Edwin Encarnacion windmilling nine runners across the plate in a 15–1 obliteration on Saturday, thus equaling the Toronto record for most RBI in a game (third–baseman Roy Howell having preserved the mark since the Blue Jays first season as part of a 19–3 destruction of the eventual World Series–champion Yankees — at New York — Sep. 10, 1977). The 2015 Blue Jays have now touched home plate 10 or more times in a game on 21 occasions, also a team standard.
But, I digress.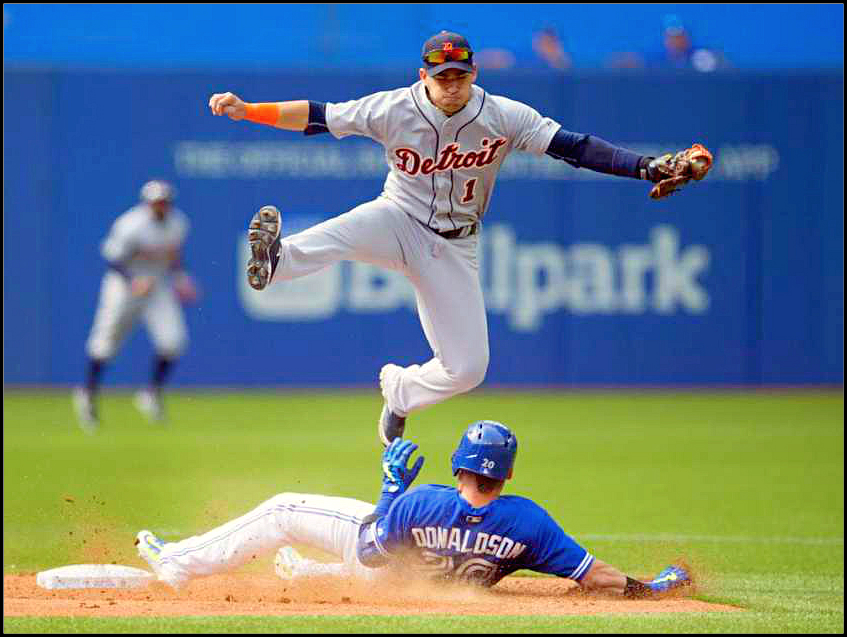 JOSH DONALDSON AND THE TORONTO BLUE JAYS HUMILIATED DETROIT, 15–1, SATURDAY AFTERNOON AT ROGERS CENTRE. DARREN CALABRESE THE CANADIAN PRESS
Given that baseball is a sport of numbers, a case can be made that the current Blue Jays are as prolific as the 1984 Tigers. To wit: In a pair of lengthy hot streaks, Toronto has compiled a record of 34–5 and can equal the '84 Detroit mark by sweeping the Mo–Towners here on Sunday. Since July 29, the Jays are 23–5. From June 2–14, the club was 11–0. Thus the 34–5 mark in 39 games. Of course, we can apply numbers to any compilation throughout the schedule and arrive at a different result.
Toronto, for example, was a combined 16–30 in games between May 10 and June 2; then June 29 to July 28. Or, 22–0 from June 2–14 and Aug. 2–13, when the Blue Jays became only the second club in Major League history to twice win 11 consecutive matches in the same season.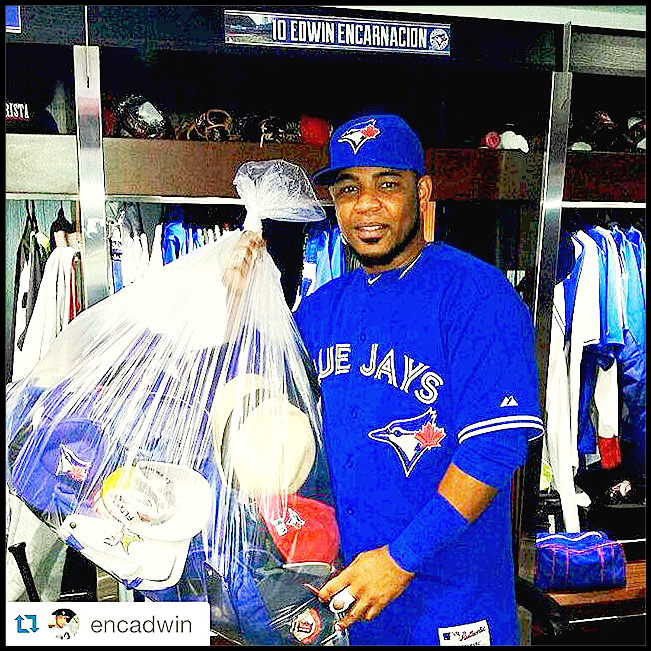 INSTAGRAM/TWITTER PHOTO OF EDWIN ENCARNACION AND A BAG–FULL OF CAPS HURLED ONTO THE ROGERS CENTRE TURF AFTER HIS HAT–TRICK OF HOME RUNS SATURDAY.
Prevailing, however, in 34 of 39 games at any juncture of the schedulewill normally lift a baseball team into contention for a Division title — as it has for the 2015 Toronto entry. But, we don't have to stop there. With three players almost certain to largely exceed the 100–RBI barrier, the Blue Jays could vault into rarefied territory.
Here are the batting numbers as of this morning:
JOSH DONALDSON — 35 HR / 104 RBI.
EDWIN ENCARNACION — 29 HR / 90 RBI.
JOSE BAUTISTA – 31 HR / 88 RBI.
Such arithmetic will not rank with the most explosive club in Major League history — the 1931 New York Yankees — which scored 1,067 runs in 153 games; an average of 6.97 per match. The 2015 Blue Jays lead baseball by a considerable margin with 694 runs (87 more than the Yankees) after 128 games — an average of 5.42 per outing. The '31 Yankees teed off in the era before specialized pitching and therefore flaunted a top three that can no longer be emulated:
LOU GEHRIG — 46 HR / 185 RBI.
BABE RUTH — 46 HR / 162 RBI.
BEN CHAPMAN — 17 HR / 122 RBI.
But, the big Toronto bats this year could come close to equaling the 1999 Cleveland Indians, who hold the post–World War II record of 1,009 runs scored in a Major League season (or 6.23 per match). The '99 Indians finished 97–65; won the American League Central by a whopping 21½ games over the Chicago White Sox and were excused by Boston in a bizarre A.L. Division Series. After Cleveland took a 2–0 lead at home (winning 11–1 in Game 2), it lost three consecutively at Fenway Park by a combined 44–18 (Boston romped 23–7 in Game 4).
The Indians' top three run producers in 1999 were:
? MANNY RAMIREZ — 44 HR / 165 RBI.
? ROBERTO ALOMAR — 24 HR / 120 RBI.
? JIM THOME — 33 HR / 108 RBI.
The 165 RBI by Ramirez is the post–World War II record for one season (the most since Jimmy Foxx of Boston batted in 175 in 1938). Josh Donaldson, currently the runaway favorite to win the American League Most Valuable Player award, needs 61 RBI in the Blue Jays 33 remaining games to match Ramirez. Not likely. But, the Jays will most assuredly have three players with 108 or more RBI, as did the '99 Indians.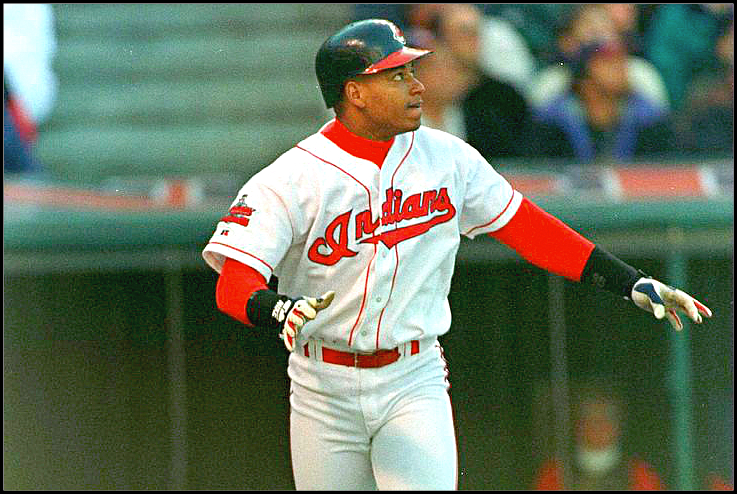 MANNY RAMIREZ OF CLEVELAND WENT WILD IN 1999, ESTABLISHING THE POST–WORLD WAR II RECORD OF 165 RBI IN A MAJOR LEAGUE SEASON.
OTHER STUFF: To equal the club–record of 99 wins in a season (1985), the Jays must compile a 26–7 mark in their final 33 games. Again, the club is 23–5 in its past 28, so never say never. The '85 Blue Jays also hold the Canadian–team record for most wins in a season. In 1979, the Montreal Expos were 95–65 and finished two games behind Pittsburgh in the National League East. Toronto would have to win 22 of its last 33 games to reach the 95–victory plateau. The Expos were on pace to win 104 games in 1994 (74–40) when the season was canceled by an owners' lockout… How will the current Toronto team compare to the World Series champions of 1992 and 1993? The '92 club was 96–66, so the Jays would have to go 23–10 from today on. In '93, it was 95–67, so 22–11 will equal that mark… Toronto requires just a 10–23 pace to match its mediocre record from last season (83–79)… Donaldson needs 41 RBI in the final 33 games to equal the Blue Jays record for most in one season: 145 by Carlos Delgado in 2003. He needs 19 home runs to match Jose Bautista's 54 in 2010… Other team records the Blue Jays are chasing: Most hits in one season (1,591 in 2006 / currently 1,141 / need 450 or 13.64 per game)… Most runs in one season (894 in 2003 / currently 694 / need 200 or 6.06 per game)… Most home runs in one season (257 in 2010 / currently 176 / need 81 or 2.45 per game)… Most RBI in one season (856 in 1999 / currently 662 / need 194 or 5.88 per game).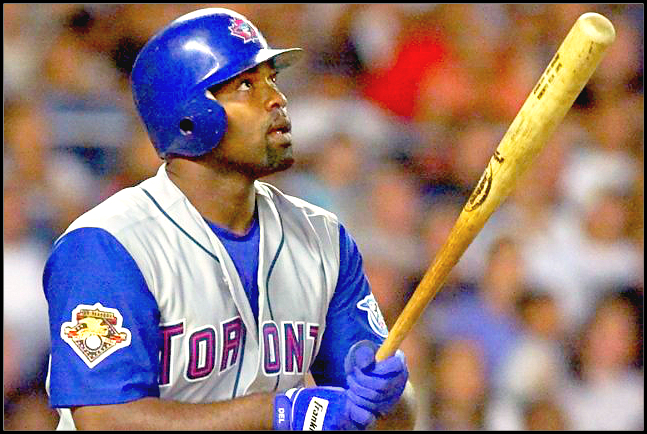 AMONG THE MULTITUDE OF BLUE JAY RECORDS HELD BY CARLOS DELGADO IS 145 RBI (2003).
EMAIL: HOWARDLBERGER@GMAIL.COM
TWITTER: BERGER_BYTES
FACEBOOK: HOWARD BERGER [HUMBER COLLEGE]
LINKEDIN: HOWARD BERGER [BROADCAST MEDIA]