By HOWARD BERGER
TORONTO (Aug. 14) — The words rang hollow from one of our city's most shrewd and reviled executives — often accompanied by a smirk that people interpreted as wry and disingenuous. Years later, however, the Toronto Blue Jays are proving Richard Peddie a clairvoyant.
"Winning is good business," became a mantra for the president and CEO of Maple Leaf Sports and Entertainment — nearly always in response to an observation that his company did not require a successful hockey wing to generate enormous income. When the Toronto Maple Leafs endured their longest–ever playoff drought under his watch (2005–06 to 2011–12), Peddie morphed into a villainous figure — praised internally for his expansion of the MLSE empire beyond sports, yet maligned for his inability to assemble competitive teams in hockey, basketball and soccer. If winning was, in fact, "good business," MLSE should have become insolvent in the first decade of the millennium.
Instead, it remained (and remains) one of the most lucrative and profitable sports/entertainment companies in North America — multi–millions flowing in from the Air Canada Centre and an adjacent condominium complex; all of it arising from the imperishable Leafs logo.
Yet, one can barely comprehend the revenue (both prime and ancillary) yielded by having the ACC dark for seven consecutive playoff springs. A jammed arena with inflated Stanley Cup ticket prices and the incalculable harvest from merchandising (sale of Leafs jerseys, caps, jackets, etc.) would have blown MLSE profits through the stratosphere.
So, yes, winning is absolutely "good business" in professional sport.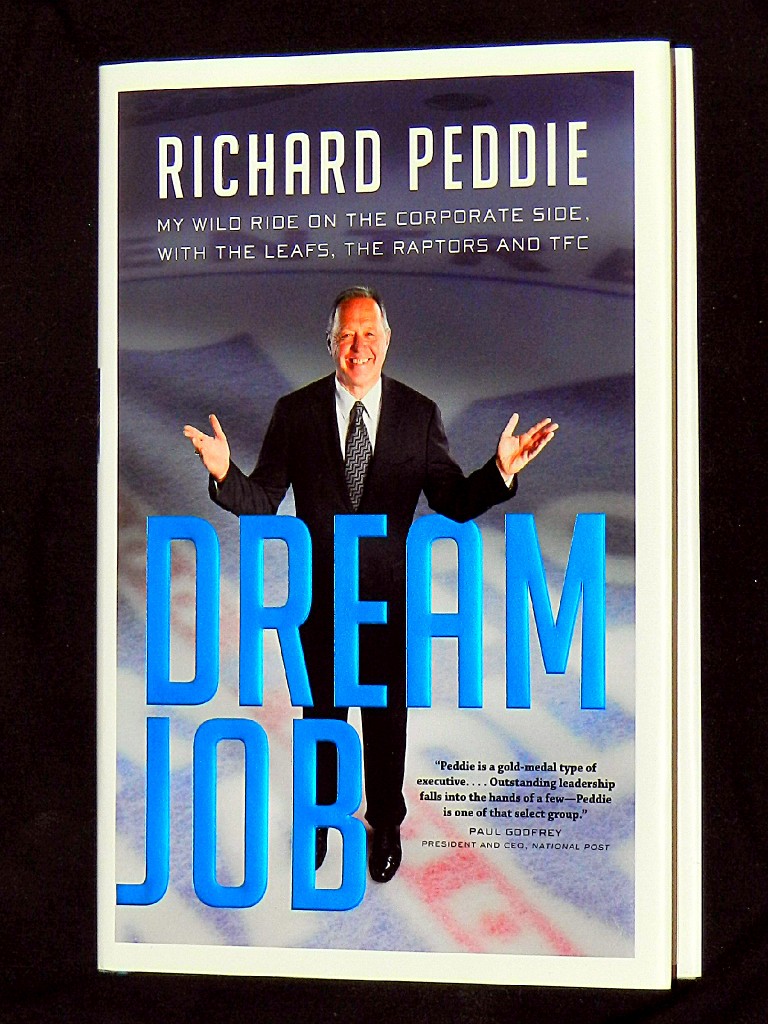 RICHARD PEDDIE ON THE COVER OF HIS 2013 AUTOBIOGRAPHY.
Just ask Rogers Communications, whose Toronto Blue Jays — somnolent for more than two decades — have awakened with a flourish.
For it to happen required commitment, unwavering financial resolve, and the sort of trade–deadline enrichment only possible in a league without a salary cap. No team in the National Hockey League could add, in early–March, arguably the best players at two different positions, as did the Blue Jays a fortnight ago in shortstop Troy Tulowitzki (from Colorado) and right–handed starting pitcher David Price (from Detroit). Such maneuvering has been available to the ball club ever since Joe Carter's walk–off home run that defeated Philadelphia in the 1993 World Series.
Only now, which seems like a hundred years later, did Rogers consider the timing optimal. And, make no mistake: This was a Rogersproduction: an endorsement from the Grand Poobah himself — Guy Laurence — to Alex Anthopoulos, the Blue Jays general manager. It may still have been vetoed had Anthopoulos not shrewdly acquired Josh Donaldson, Russell Martin, Justin Smoak, Chris Colabello and Marco Estrada last winter. With the Blue Jays pushing across more runs this season (by a significant margin) than any Major League opponent, ownership decided to go all in. And the results have been astounding.
For the first time since the '93 championship season, the Blue Jays lead the American League East in mid–August. It has required just more than two weeks to obliterate what appeared to be a comfortable 7½–game edge held by the New York Yankees — in town this weekend for the most compelling three–game series at Rogers Centre since… yes, 1993.
The Blue Jays are a gaudy 14–1 in their past 15 games, having captured 11 in a row for the fifth time in franchise history (and second time this season). Only once before — from May 29 to June 13, 1987 — has the club lost just one of 15 matches. The Toronto attack is the most prolific and entertaining in the Majors. Tickets for home games — plentiful for two decades — are suddenly as scarce as Blue Jay defeats. More than 46,000 bought their way in for a matinee against Oakland on Thursday.
And, forget about this weekend. Stubhub.ca is selling a pair of premium dugout seats (directly behind home plate) to tonight's opener against the Yankees for a mere $799.80 USD. Want a couple of nose–bleeders in Row 21 of the upper deck (Sec. 527) between the plate and third base? Not a problem. Just cough up $160.88 USD.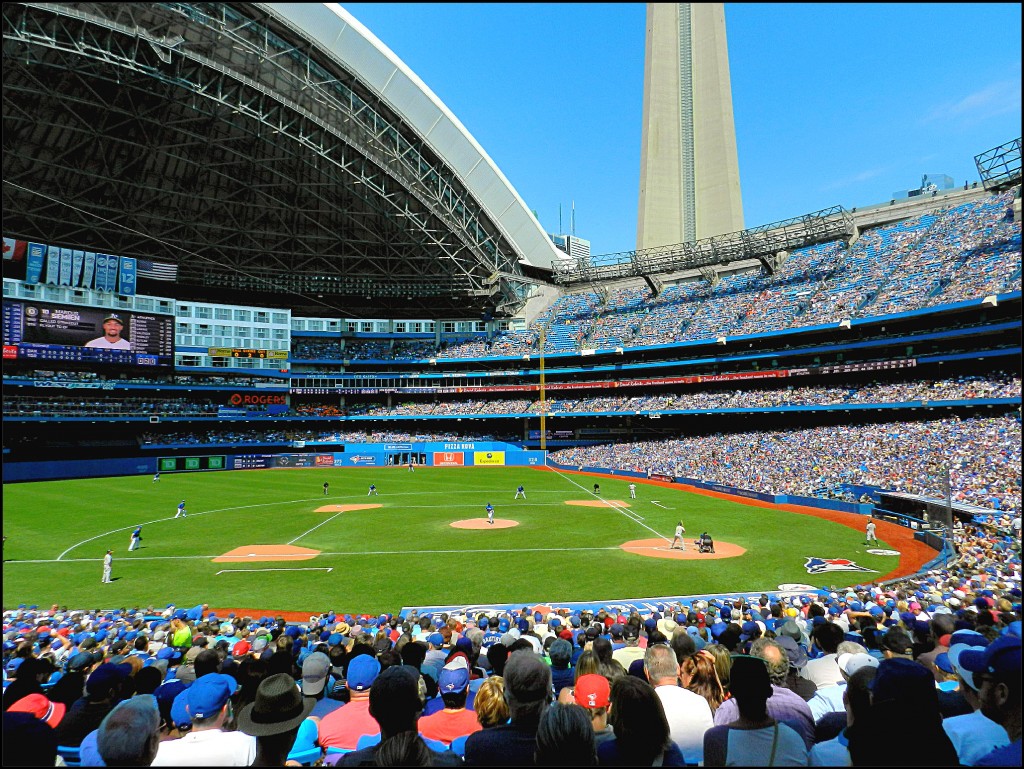 ATTENDANCE AT ROGERS CENTRE THURSDAY AGAINST OAKLAND WAS ANNOUNCED AS A SELL–OUT: 46,902. TICKETS FOR ALL REMAINING HOME GAMES ARE BECOMING SCARCE.
These numbers ring familiar to hockey fans, as they are closer to face value for Maple Leaf tickets. But, baseball has traditionally been more affordable given there are twice as many home games on the schedule.
The current Blue Jays phenomenon is simply a matter of timing. This city aches for a winning team. Though the Canadian Football League Argonauts have been intermittently successful — winning the Grey Cup five times in the past 24 years — they are also the least–popular from an attendance standpoint. The godforsaken Leafs haven't made the playoffs in a full 82–game National Hockey League schedule since 2003–04. The National Basketball Association Raptors haven't gone past the opening playoff round since 2001 while the Blue Jays are threatening to finally end the longest post–season drought (21 seasons) of any team in the four major North American pro sports (baseball, NFL, NHL and NBA).
Our blue birds have become a manna from heaven.
For many baseball fans in Toronto, this is the first time all over again. The Jays were a contending team from 1983 to 1993 — culminating with the back–to–back World Series triumphs. But, no person today younger than 30 has first–hand recollection of that era… just as a hockey fan in our city must be in his or her late–50?s to recall the last Maple Leafs Stanley Cup victory (in 1967). So, an entire generation of Blue Jay zealots — newly born or very young when Joe Carter hit that famous home run in '93 — is now experiencing pennant fever for the first time.
And, without it, mid–summer and autumn business at Rogers Centre would be moderate to miserable. TV ratings for Blue Jays games on team–owned Sportsnet would be annihilated by anything novel in prime time. Jerseys and caps would be soon packed away for the long winter. Twenty–two non–playoff years would routinely become twenty–three.
But, not now.
The Rogers' commitment has awakened a dormant following. The Blue Jays are the talk of the Major Leagues; the envy of such traditional baseball markets as Baltimore, Boston, Detroit, Cincinnati, Atlanta and Philadelphia. And, we're not even into the teeth of the pennant chase.
If you think it's exciting around here, just wait until mid–September.
So, Richard Peddie was bang–on. Winning is good business — no matter the sport or the time of year. As former Globe and Mail sports writer Lou Cauz once entitled a book: Baseball Is Back In Town. You can feel it.
EMAIL: HOWARDLBERGER@GMAIL.COM
TWITTER: BERGER_BYTES
FACEBOOK: HOWARD BERGER [HUMBER COLLEGE]
LINKEDIN: HOWARD BERGER [BROADCAST MEDIA]