TORONTO (Nov. 27) — It is a timeworn and chauvinistic axiom that repeatedly bears itself: "One man's gain is another man's loss." Run it past either of Jonathan Bernier or James Reimer and he'll nod heartily.
This two–step tango has governed the Toronto Maple Leafs goaltending situation since the spring of 2013.
Reimer appeared to be in control with 19 wins in the 48–game lockout season only to implode with his teammates in Game 7 of the playoffs at Boston. That prompted the acquisition of Bernier from Los Angeles and a marvelous stretch of achievement early in 2014, until coach Randy Carlyle allowed Bernier to play injured against his former team at the Staples Center, killing momentum. Leafs folded down the stretch.
Bernier enjoyed another good run in November and December of last season. Then, the most prolific team in the National Hockey League stopped scoring and ran a white flag up the pole in January. This season began disastrously (1–7–2) with Bernier between the pipes. A leg injury in a Halloween–night loss to Pittsburgh unseated him and Reimer moved in brilliantly, guiding the club to a 6–2–2 upswing. Without warning came Tuesday's aborted practice for Reimer at the MasterCard Centre and initial fear that a leg injury would prompt Mike Babcock to deploy Bernier against Washington Saturday night at the Air Canada Centre. After two days of rest, however, Reimer will apparently start for the 12th time in 13 games.
(UPDATE: It appears certain, based on morning skate, that Reimer will rest his leg injury and Bernier will start at home for the first time in four weeks — since the 4–0 loss to Pittsburgh).
REMEMBER HIM? THE LEAFS HAVE TO TRY AND GET JONATHAN BERNIER INTO A GROOVE.
The way I see it, such a plan isn't necessary. A puzzling headline appeared on the Toronto Star website Wednesday afternoon: REIMER SKIPS MAPLE LEAFS PRACTICE BUT TEAM ISN'T PUSHING PANIC BUTTON.
The panic button?
What is it about this development (some have suggested "throw–away") season that would possibly incite the Leafs organization to go loopy? Even for a few moments. I think of greater importance, right now, is an arrangement to try and rehabilitate Bernier, who is rotting at the end of the bench. Were the Maple Leafs planning a Stanley Cup challenge this year, I could fathom the explicit deployment of a No. 1 goalie… and Reimer has doubtlessly earned the designation over the past three weeks. Bernier, however, is sitting on a powder–keg, two–year contract with an annual $4.15 million salary and cap commitment. Before long, you'd think the Leafs will have to do something with it — either derive benefit or solicit trade options.
Quipsters may imply that the best way to rehabilitate Bernier is to keep him on the bench, but that isn't practical. You cannot solve a problem by ignoring it. And while a purely "untrade–able" contract doesn't exist — we've seen that here in Toronto with such athletes as Vernon Wells (Blue Jays), Vesa Toskala, Jason Blake and David Clarkson — Bernier's deal is awfully close. Allowing it to atrophy in the interest of a few extra points this season is bewildering, though Babcock, as a coach, is obviously trying to win games.
Given the Bernier–Reimer tango — now in its third year — the situation will likely resolve itself through injury, fatigue or common sense. The Leafs have a curious schedule in the next month. Beginning Saturday, the club plays five games in eight nights, including a road trip to Winnipeg, Minnesota and St. Louis. Then comes an interruption of one full week (Dec. 9–15), which I don't recall as part of a Leaf season in the post–expansion era. Only during breaks for the All–Star Game or Winter Olympics has there been such a lengthy respite. This, in my view, increases the urgency of Babcock to deploy Bernier, who may not remember how to strap on his pads if idle til mid–December. Irrespective of results, coach Mike has to give Bernier a shot in the coming week (the Minnesota and Winnipeg road games are on consecutive nights).
In a "worst–case" scenario, Bernier would perform well; regain some confidence, and force Babcock into a tougher decision with his goalies. Right now, the choice is too easy. Bernier is being wasted — as an asset and potential trade chip. To me, that doesn't correspond with what the Leafs should be striving to accomplish this season. I'd imagine part of Babcock feels the same way.
CREAKY BONES: A headline on the Globe and Mail website this week mentioned that SUNDAY WILL BE A REMATCH OF THE CLASSIC '81 GREY CUP FINAL. Which cannot be pleasant news for the Canadian Football League or its broadcast partner, TSN, as players from that game are now past middle age. The rival quarterbacks — Warren Moon and J.C. Watts — are 59 and 58 years old. How can we expect an encore performance? Perhaps the Globe could have said SUNDAY WILL BE A REMATCH OF TEAMS THAT MET IN THE CLASSIC '81 GREY CUP FINAL. Then, again, Ottawa RedBlacks quarterback Henry Burris was named the CFL's Most Outstanding Player on Thursday night. And, he's 40. So, anything is possible. Moreover, the RedBlacks weren't in the CFL 34 years ago. It was the Ottawa Rough Riders (5–11–0) that crafted a stunning 20–1 halftime lead over the Edmonton Eskimos (14–1–1) at Montreal's Olympic Stadium, only to lose, 26–23, on a last–second field goal by veteran Dave Cutler. Edmonton won its fourth of a record five consecutive championships. The RedBlacks are in the Grey Cup on Sunday as a second–year expansion team, which ranks among the most remarkable narratives in Canadian sports history. The game could, in fact, be a dandy. It kicks off from Investors Group Field in Winnipeg at 6 p.m. Eastern. The weather calls for a clear sky and a low of minus–12 Celsius (or 10.4 Fahrenheit), which is downright balmy for this time of year.
INVESTORS GROUP FIELD IN WINNIPEG — SITE OF THE 103rd GREY CUP GAME.
ORACLE HAS SEEN IT ALL
For nearly half–a–century, it has been perched on the edge of the Nimitz Freeway and Hegenberger Rd. in a largely industrial area of Alameda County, two miles south of downtown Oakland. It now has the antithetical distinction of housing the most prolific National Basketball Association team from the start of a season… and, arguably, the worst team — over a decade — in the history of the National Hockey League.
When it opened on Nov. 9, 1966 for a Western Hockey League game between the California Seals and San Diego Gulls, it was known as the Oakland Coliseum–Arena — distinguishing itself, in name, from the abutting 50,000–seat stadium that accommodated the American Football League Oakland Raiders and would become home (in 1968) to the transplanted Kansas City Athletics of Major League Baseball. In later years, it would be called The Arena in Oakland; Oakland Arena, and — since October 2006 — Oracle Arena, after the computer technology corporation headquartered in nearby Redwood City, Calif. Since 1971, it has been home to the defending NBA–champion Golden State Warriors, who became, on Tuesday night of this week, the first team in the history of that league to compile a 16–0 record at the start of a season.
By astounding contrast, its one–time NHL tenant — then known as the California Golden Seals — won 16 of 78 games in 1972–73… and then slid to 13 victories the following year. Whereas today, the Warriors routinely appear in front of raucous, sell–out crowds of 19,596, the Seals often wallowed before 2,000 desultory patrons. Joining the NHL in the Great Expansion of 1967 (with the Los Angeles Kings, Minnesota North Stars, Philadelphia Flyers, Pittsburgh Penguins and St. Louis Blues), and known initially as the California Seals; later, the Oakland Seals, the club made the playoffs twice in nine seasons. It won a total of three playoff games, all against Los Angeles in a 1969, best–of–seven quarterfinal. Its best record, compiled during that 1968–69 schedule, was 29–36–11 for 69 points. It worst: 13–55–10 for 36 points in 1973–74.
FORWARD BILL HICKE (d. July 18, 2005) AS A MEMBER OF THE EXPANSION OAKLAND SEALS IN 1967–68.
It is therefore odd that the Seals are today "celebrated" more than any defunct team in the NHL. Perhaps as a result of their kaleidoscopic uniforms and propensity to wear colored skates, bemused onlookers and one–time fans keep the club alive at memorabilia shows. Former players are swarmed upon like quasi–Beatles when they return to the Bay Area — a phenomenon that has grown with the passage of time.
A brief pictorial history:
YESTERDAY…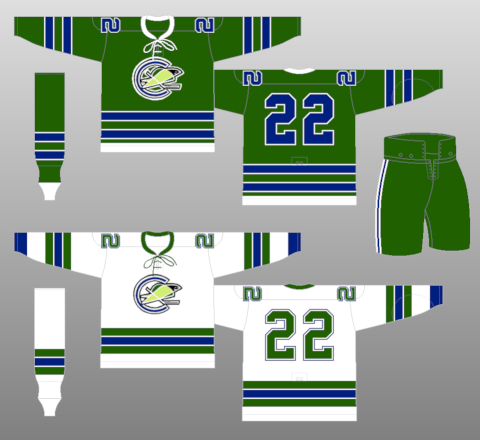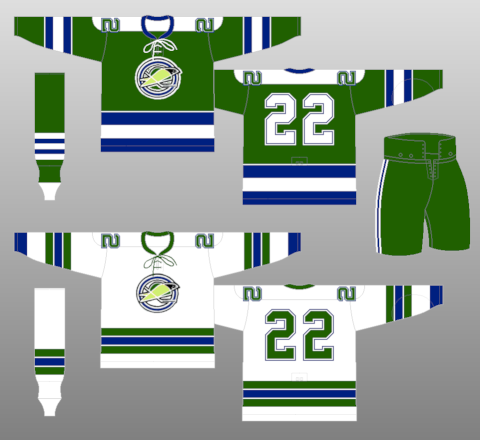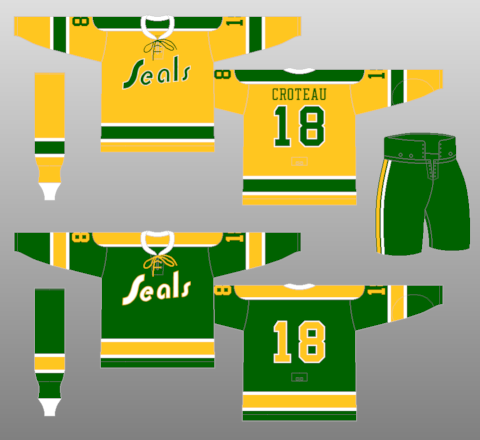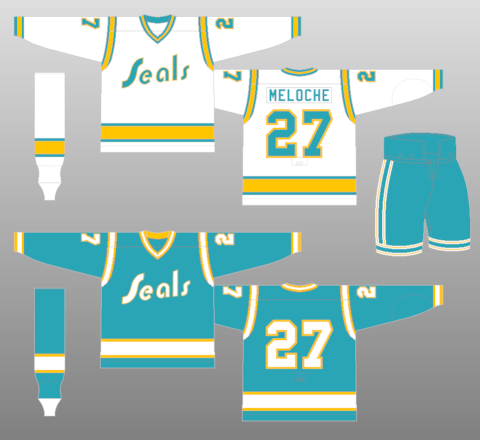 EVOLUTION OF THE SEALS UNIFORM DESIGNS COURTESY NHLUNIFORMS.COM.
THE SEALS ARE REMEMBERED, WITH BEMUSEMENT, FOR WEARING COORDINATED, GREEN–AND–GOLD SKATES (ABOVE) IN 1970–71; THEN TURNING TO WHITE (BELOW) THE FOLLOWING SEASON.
NOTICE THE "CROWD" FOR PHILADELPHIA AT OAKLAND NHL GAME OF DEC. 22, 1968.
THE FIRST SEALS MEDIA GUIDE (ABOVE), WHICH CONTAINED ARENA INFO (BELOW).
… AND TODAY
Photos from my trusty NIKON last Dec. 21 in Oakland:
FANS WALK PAST ORACLE ARENA UPON LEAVING THE OAKLAND COLISEUM AFTER THE RAIDERS DEFEATED THE BUFFALO BILLS, 26–24, IN THEIR FINAL HOME GAME OF THE 2014 NFL SEASON.
MOMENTS AFTER TAKING OFF FROM SAN FRANCISCO AIRPORT LAST CHRISTMAS DAY, WE FLEW DIRECTLY OVER–TOP THE OAKLAND COLISEUM COMPLEX (ABOVE AND BELOW), WITH ORACLE ARENA AND THE BASEBALL/FOOTBALL STADIUM ADJACENT TO THE NIMITZ FREEWAY.
ON TUESDAY, NBA MOST VALUABLE PLAYER STEPH CURRY (WITH THE BALL) AND THE GOLDEN STATE WARRIORS ROUTED KOBE BRYANT (24) AND THE ONCE–POWERFUL LOS ANGELES LAKERS, 111–77 — THUS BECOMING THE FIRST NBA TEAM TO COMPILE A 16–0 RECORD FROM THE START OF THE SEASON.
INSIDE ORACLE ARENA DURING THE 2015 NBA PLAYOFFS. THE INTERIOR WAS GUTTED AND COMPLETELY RENOVATED BEGINNING IN MID–1996. THE WARRIORS PLAYED ONE SEASON AT THE SAN JOSE ARENA (HOME OF THE NHL SHARKS) AND RETURNED TO OAKLAND IN NOVEMBER 1997.
EMAIL: HOWARDLBERGER@GMAIL.COM