TORONTO (Nov. 30) — It sounded radical and dangerously impulsive. But, only until I paused to consider the repercussion. A well–known executive in the National Hockey League told me Sunday afternoon he would be "less than shocked" if the Toronto Maple Leafs chose to waive Jonathan Bernier — anointed No. 1 goalie by incoming coach Mike Babcock prior to the first drip of sweat at training camp.
"Here's the catch," said the exec. "If Mike wants Bernier out of his hair, he'll be gone — one way or another. I think it's beyond clear that he's lost confidence in Bernier and I'd be very surprised if [Bernier] is part of any long–term plan. When that happens with Mike, the road back is very steep. He can quickly size up a player. You look at the Leafs' situation: They've got [James] Reimer playing well and a couple of intriguing prospects [Antione Bibeau and Garret Sparks] on the farm. At the moment, it would be nearly impossible to trade Bernier's contract and the Leafs have already eaten salary [with two of three allowable players, Phil Kessel and Carl Gunnarsson]. If Mike wants nothing more to do with Bernier, waivers is the only viable option.
"As I said, it wouldn't shock me."
JONATHAN BERNIER HAD ANOTHER TOUGH NIGHT ON SATURDAY AGAINST WASHINGTON.
When you cut to the chase, this doesn't rank as more than a blip on the "so what?" meter.
The Leafs are finally looking beyond the quick fix and Babcock cannot fathom he has a bona fide No. 1 goalie. On several occasions, Reimer has been brilliant during a stretch of games, only to regress. There's no evidence he can carry such performance through an entire schedule. Bernier, at the very least, is suffering from the Yips right now and has proven to lack mental toughness; essential for any puck–stopper in the NHL. Reimer can become an unrestricted free agent next July and it would take a miracle akin to child–birth for the Leafs to contend before Bernier's pact expires the following year. If ever, or whenever, the club becomes part of serious playoff dialogue, someone else will almost surely be standing between the pipes. As such, the long–term effect of any goaltending move today ranges from marginal to irrelevant.
This season also affords the opportunity to gauge what the club possesses in Sparks and Bibeau; the former will make his first NHL appearance Monday night against Edmonton. Waiving Bernier would create a roster vacancy. Were he to pass through the NHL without being claimed, Bernier could be demoted to the American Hockey League Marlies. And, out of Babcock's "hair." If that is what the coach truly desires.
SPARKS NO. 62: As projected in a blog here two weeks ago, either Bibeau or Sparks would become the 62nd person to play goal for the Maple Leafs since Johnny Bower and Terry Sawchuk combined to win the 1967 Stanley Cup. It'll be Sparks — against the Oilers  — on Monday at Air Canada Centre.
Here, again, is the chronological, post–1967 list of Leaf goalies:
BRUCE GAMBLE, AL SMITH, MARV EDWARDS, GERRY McNAMARA, JACQUES PLANTE, BERNIE PARENT, MURRAY McLACHLAN, GORD McRAE, RON LOW, DOUG FAVELL, DUNC WILSON, EDDIE JOHNSTON, PIERRE HAMEL, WAYNE THOMAS,  MIKE PALMATEER, PAUL HARRISON, JIRI CRHA, CURT RIDLEY, VINCENT TREMBLAY, JIM RUTHERFORD, MICHEL (BUNNY) LAROCQUE, BOB PARENT, RICK ST. CROIX, ALLAN BESTER, KEN WREGGET, BRUCE DOWIE, TIM BERNHARDT, DON EDWARDS, JEFF REESE, MARK LaFOREST, PETER ING, DAMIAN RHODES, GRANT FUHR, FELIX POTVIN, RICK WAMSLEY, DARREN PUPPA, DON BEAUPRE, MARCEL COUSINEAU, GLENN HEALY, CURTIS JOSEPH, COREY SCHWAB, TOM BARRASSO, SEBASTIEN CENTOMO, ED BELFOUR, MIKAEL TELLQVIST, TREVOR KIDD, JEAN–SEBASTIAN AUBIN, ANDREW RAYCROFT, SCOTT CLEMMENSEN, VESA TOSKALA, MARTIN GERBER, JUSTIN POGGE, JEAN–SEBASTIEN GIGUERE, JONAS GUSTAVSSON, JOEY MacDONALD, JAMES REIMER, BEN SCRIVENS, JUSSI RYNNAS, DREW McINTYRE, JONATHAN BERNIER.
IT WAS TERRY SAWCUK IN GOAL ON MAY 2, 1967 WHEN MAPLE LEAFS LAST WON THE STANLEY CUP.
NEW LOOK? As reported by the website icethetics.co, the Maple Leafs are likely to re–design their primary home and road uniforms next year for their Centennial commemoration. It would be the first–such move since after the 1991–92 season. I wrote a blog on Aug. 19 (http://bit.ly/1Kw97wl) indicating the club will resurrect five jerseys from its past to occasionally wear in 2016–17 — as did the Montreal Canadiens in 2008–09. Now, it appears the prime Toronto uniform will also change. One can barely imagine the financial windfall for Maple Leaf Sports and Entertainment with such licensing variety available to the public.
Details have not emerged about the re–design but two sources tell me the club might finally — mercifully — do away with the "Harold Ballard" logo that's been prime since the start of the 1970–71 season. Though worn by such great players as Jacques Plante, Bernie Parent, Dave Keon, Darryl Sittler, Lanny McDonald, Borje Salming, Doug Gilmour and Mats Sundin, the current logo has stood for losing; not once has it appeared beyond the Stanley Cup semifinals. Given the undeniable trend in North American professional sport, betting is the Leafs will return to a facsimile of the crest worn prior to the 1967 playoffs (as pictured below, courtesy sportslogos.net). During the '67 Cup tournament, a blue version of Maple Leaf on the the Canadian flag was unveiled and worn for three seasons (identical to the club's current alternate jersey).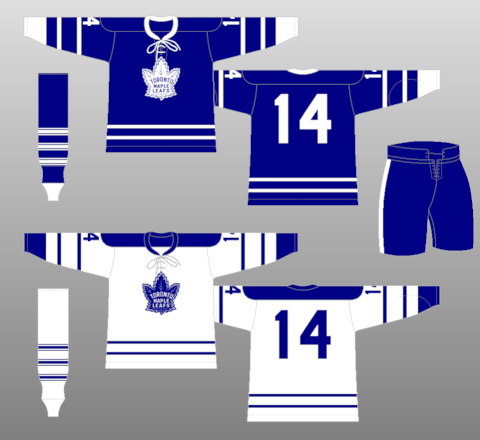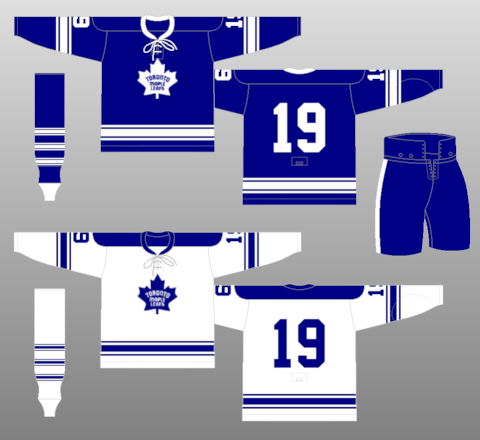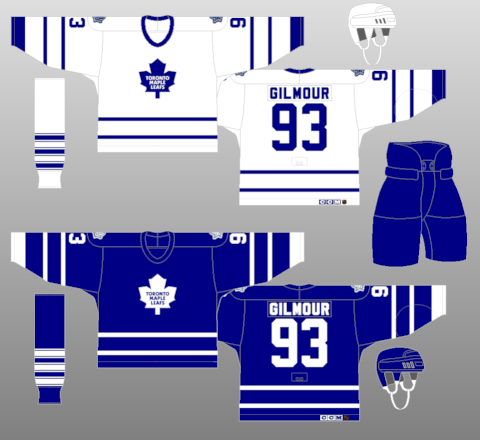 LEAFS JERSEY PROGRESSION SINCE 1966–67, COURTESY NHLUNIFORMS.COM.
CLOSING THOUGHTS: The move to 3–on–3 overtime has been a revelation for the NHL — a wildly entertaining mode of deciding games before the shootout. The lone problem arises when a penalty is called during the five–minute session. Teams revert to 4–on–3 for the powerplay and cannot return to 3–on–3, if killed successfully, until a stoppage in play. This can become quite annoying if 30 or more seconds linger before a whistle. And, a key figure on the penalized club must remain in the box beyond his two–minute sentence, which isn't particularly fair. To me, there's a remarkably simple way to solve the issue. As soon as the puck enters the neutral zone, play is stopped; teams return to 3–on–3, and the face–off is at center–ice. Voila. Fans are happy. The new, exciting format continues… I had a belly–laugh while listening to the Buffalo Bills post–game radio show Sunday on WGR–550 with Mike Shopp and Chris "Bulldog" Parker. The Bills had just lost a heart–breaker at Kansas City; their coach, Rex Ryan, somehow failing to challenge the call of an incomplete pass late in the game, even after his receiver — Chris Hogan — appeared to take three steps with control of the ball. Needless to say, callers to the show were a tad surly. One guy came on; never even said hello, and groused, "We should've let Toronto have this garbage for all 16 games." Sadly, Shopp gassed the poor bugger. It would've been great to hear more… Once again, and not surprisingly, the TSN prime football crew of Chris Cuthbert and Glen Suitor showed during Sunday's Grey Cup telecast why it can stand alongside any tandem on either side of the border. Cuthbert is one of the best broadcasters in Canadian sports history and no analyst — in Canada or the United States — can break down or predict the play more brilliantly than Suitor. He did it again during the final drive of the Grey Cup, as Edmonton strove to maintain control of the ball in the final two minutes. "Keep an eye on [Eskimos quarterback] Mike Reilly. He likes to pull down the ball and run in these situations." No sooner had the words echoed through my TV did Reilly fake a hand–off and scramble for a first down that killed the Ottawa RedBlacks' faint hope of a comeback. It was a terrific telecast — complimented by the superb sideline work of my friends Sara Orlesky and Farhan Lalji. Oh, yeah, Edmonton won the game, 26–20.
MIKE REILLY TAKES THE FINAL SNAP OF THE GREY CUP ON TSN AND IS THEN INTERVIEWED BY SIDELINE REPORTER SARA ORLESKY. EDMONTON WON ITS FIRST CFL CHAMPIONSHIP SINCE 2005.
EMAIL: HOWARDLBERGER@GMAIL.COM