TORONTO (Feb. 2) — It happens every year around this time. An elite player, staring at unrestricted free agency, is on his way to the Toronto Maple Leafs. After all, who wouldn't wish to ply his trade in the center of the hockey universe? Until recently, the answer to that rhetorical query was "just about everyone".
But, times are changing here in the Big Smoke.
The Leafs are no longer a laughingstock and may soon evolve into a perennial playoff contender. If so, our city will become an appealing domain for those looking to cash in — and hook onto the Auston Matthews–Mitch Marner train. Perhaps that is why whispers out of St. Louis claim that Kevin Shattenkirk would hardly be averse to pulling on a blue–and–white jersey (without the gold trim). Though an unseemly minus–13 on a disappointing club that just fired its coach, Shattenkirk is enjoying a good season offensively with 34 points in 50 games — the fifth–highest total among National Hockey League blue–liners. The native of New Rochelle, N.Y. is easily on pace to surpass his career–best 45 points (in 2013–14). And, should be make it to July 1 of this year without a contract, he'll be the plum among defensemen in the 2017 free agent crop.
"I think the Blues want to re–sign Kevin and it wouldn't shock me if it happened before July 1," offered a long–time St. Louis source. "That said, he may be looking for a change of scenery. In my view, the fact he hasn't re–upped with the Blues is more about Kevin hesitating to commit, long–term, than the club's offer to keep him. Toronto, with all its good, young talent, would clearly be of interest to him in free agency. If the climate doesn't change before Mar. 1, I think [general manager] Doug Armstrong will trade Shattenkirk."
And, that's where the Leafs could have a decision to make.
A bidding war at the trade deadline among three or four contending teams would likely fetch St. Louis a first–round draft pick and either a good prospect or an established player. Shattenkirk, in that scenario, would instantly become the Leafs No. 1 defenseman. Toronto has received dismal production from its blue–line corps this season — Jake Gardiner leading the pack with six goals and 23 points (32nd among NHL defensemen as of today). Gardiner, Nikita Zaitsev, Morgan Rielly, Matt Hunwick, Martin Marincin, Connor Carrick, Roman Polak and Frank Corrado have combined to score only 14 goals. Shattenkirk, alone, has 11.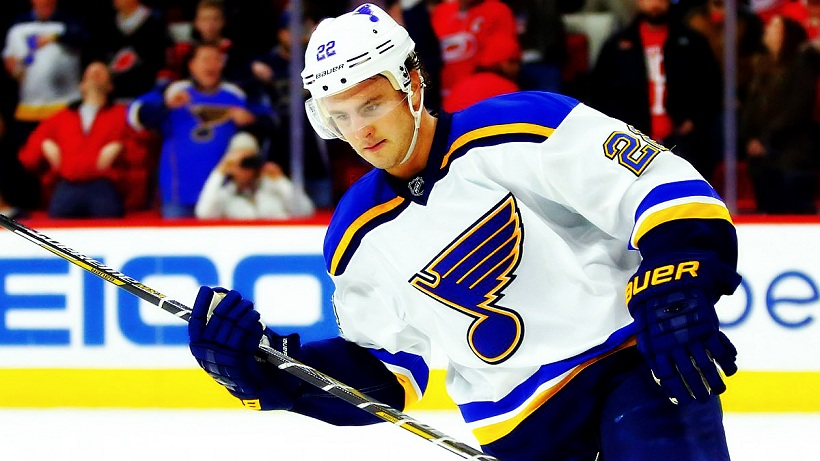 IF ACQUIRED, KEVIN SHATTENKIRK WOULD INSTANTLY BECOME THE LEAFS' NO. 1 BLUE–LINER.
But, is it the optimum time for Lou Lamoriello to yield a high draft pick and one of the Leafs' better young players? Would the Toronto GM better serve the club by waiting until July 1 and hoping that Shattenkirk is on the open market? There is no easy answer. It must be emphasized, however,  that blue–liners the caliber of Shattenkirk are scarce to begin with, and almost never get to free agency in this era. Perhaps, then, taking a risk at the trade deadline — and obtaining four months of exclusive negotiating rights with Shattenkirk — is the route to go. I have repeatedly written in this corner that the Leafs will not become a legitimate Stanley Cup contender until they somehow land a Norris Trophy type. Unless Brent Burns of San Jose falls out of a building, the best defenseman award in 2016–17 is virtually a lock at the 50–game mark. But, Shattenkirk should be in the conversation, even with his ugly plus–minus figure. Which the Maple Leafs understand.
Others will say that Shattenkirk is more of an elite No. 2 defenseman — not quite in the realm of Burns, Duncan Keith, Drew Doughty, Erik Karlsson, Shea Weber and Victor Hedman. This may also ring true, but none of the aforementioned are available. Nor will they be for many years. As such, and as the club looks to improve, the Maple Leafs are in a supply–and–demand market. A defenseman of Shattenkirk's ability isn't likely to crop up in the foreseeable future. Nor would Toronto be nearly alone in its pursuit of Shattenkirk at either the trade deadline or the onset of free agency. Lamoriello's "risk", therefore, could be rather minimal as he tries to better balance a club that is fairly deep up front, yet shallow on the back end.
My inclination would be to go for it, particularly if Shattenkirk indicates he is open to signing a long–term extension with the Leafs. Barring injury, he probably has four or five very good years left. Which is far more than Lamoriello will find elsewhere with a blue–liner of commensurate ability. Unloading such a prospect as William Nylander might sting. In the NHL, however, you have to give in order to get.
And, the Leafs would become a more–rounded team with Kevin Shattenkirk.
MORE TURNBULL RECOLLECTIONS
It was 40 years ago tonight — Feb. 2, 1977 — at Maple Leaf Gardens that Ian Turnbull of Toronto scored five goals in a 9–1 romp over Detroit to establish the existing NHL record for defensemen in one game. Turnbull recalled his terrific performance in a blog I wrote (http://bit.ly/2kpa1Js) here on Tuesday. But, during our 40–minute phone–chat, Ian remembered quite a bit more. In fact, the 63–year–old Montreal native is a book waiting to be written. Among the other topics he discussed from his home in Torrance, Calif. were:
SETTING UP LANNY McDONALD FOR THE BIGGEST LEAFS GOAL OF THE 1970's. IT OCCURRED AT THE NASSAU COLISEUM IN UNONDALE, N.Y. ON APR. 29, 1978. McDONALD KNOCKED DOWN TURNBULL'S FEED AND BEAT GOALIE GLENN RESCH WITH A LOW SHOT TO THE FAR SIDE IN OVERTIME OF GAME 7, PUTTING THE LEAFS IN THE STANLEY CUP SEMIFINALS FOR THE FIRST TIME SINCE THEIR 1967 CHAMPIONSHIP.
"I remember that everyone on the ice was moving toward me, so I stepped up in the neutral zone and just threw the puck toward Lanny, hoping he would see it. The pass was high, and Lanny had to knock it down with his glove. But, he made a great play and a perfect shot to win the series. It was easily the highlight of my career in Toronto. Sure, the five–goal game was great, but I desired to win the Stanley Cup more than anything. Almost all of the bonuses I had in my contract were for the playoffs; that's how I wanted it. I remember how we knocked off Los Angeles [during a best–of–three preliminary round in 1975]. It was the first time the Leafs had won a playoff round since 1967 and I made some nice coin from that. As for the overtime against the Islanders, I thought we would lose if it went too long. I just remember thinking we had to win it quickly, and we did (at 4:13 of the first extra period). Everyone who recalls that series believes I stepped up and played my best hockey after [defense–mate] Borje Salming was lost with an eye injury. But, I think I always played that way. Borje was a flashy defenseman. When he was peeled away, more people just happened to notice. By that time in my career, there were trade rumors involving me. And, I was sort of hoping for a change. In the dressing room after Lanny scored to beat the Islanders, [Leafs owner] Harold Ballard came over to me and said 'don't worry about being traded.' And, I thought to myself, 'Aw f- -k!"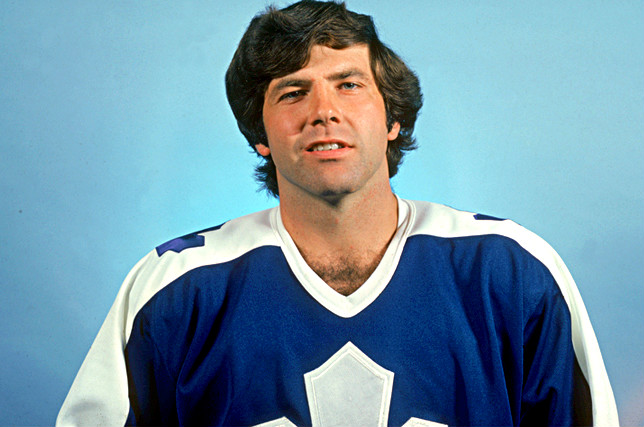 IAN TURNBULL AS A MAPLE LEAFS DEFENSEMAN IN 1977.
ON HEARING THAT DEFENSIVE–MINDED COACH ROGER NEILSON WAS HIRED BY THE MAPLE LEAFS IN THE SUMMER OF 1977 TO REPLACE RED KELLY. TURNBULL AND NEILSON HAD SOME DUBIOUS HISTORY.
"I obviously knew that Red had been fired and the Leafs were going to bring in a new coach, but there was no Twitter or Facebook back then. Instant news didn't evolve as it does today. I had opened a wine–bar across from Maple Leaf Gardens called Grapes. One day that summer, I parked near Harry's Steakhouse [on Church St.] and was walking past the Gardens when [Leafs general manager] Jim Gregory came out of the old Hot Stove Lounge. He told me that Roger Neilson had been hired by Ballard as our new coach. I remember instantly looking and Jim and saying 'before you trade me, please give me a heads–up.' That's how certain I was that I wouldn't be able to play for Neilson. He was a defense–first guru that didn't like flashy hockey. I was a puck–moving guy that took chances and tried to be creative. Me and Salming each had nearly 80 points the previous year. Which is unheard of for a pair of defensemen today. Plus, I kind of knew Roger wasn't fond of me. I initially played for the Montreal Junior Canadiens. When Montreal left the OHA (now the OHL) for the Quebec League (after the 1971–72 season), players were put up for bid. I was drafted by Sudbury but wouldn't go there. I told everyone I would play for either the Toronto Marlboros or the Ottawa 67's. Neilson was coaching Peterborough and he came to my house to try and sell me on joining the Petes. But, I said 'Roger, you don't like my style of hockey. You want pawns — meat–and–potato guys like Doug Jarvis and Bob Gainey.' He was annoyed and said 'well, okay, think about it and we'll talk again.' And I told him I didn't feel there was anything further to talk about. I ended up going to Ottawa. So, when I found out from Jim Gregory that Roger had been hired by the Leafs, I knew my Toronto days were numbered."
ON HIS REPUTATION AMONG LOCAL MEDIA FOR BEING TOUGH AND UNCOOPERATIVE.
"To be honest, I couldn't stand the Toronto reporters during much of my time with the Leafs. They were always looking for something dirty to write, even when things were going well for me and the team. Still, I made time for the media and tried to be forthright. My so–called 'reputation' actually began the morning after I scored the five goals against Detroit. There was a structural issue at my wine–bar and had arranged for a big–money engineer to look at the place. He was difficult to pin down and I felt really fortunate to finally have gotten him. As it turned out, I was hanging around the dressing room at the Gardens after practice that morning. It was only a few hours after the five–goal game and everything had been written the night before. No one in the media said sh– to me. So, I left to go across the street for my appointment. And, boy, did I get lambasted that night by one of the TV guys. 'Who the heck does Ian Turnbull think he is to run out on reporters the day after scoring five goals?' I couldn't understand it. I'd been in the dressing room for probably 20 minutes after practice and not a soul came over to talk with me. Suddenly, I was a lousy bastard for 'avoiding' the media. From that day on, I had the reputation of being a bad guy."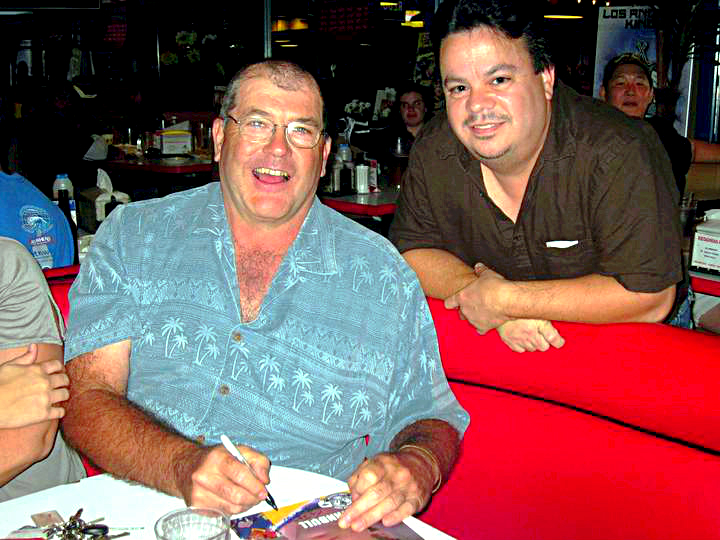 MORE RECENT PHOTO OF TURNBULL SIGNING AN AUTOGRAPH IN LOS ANGELES.
ABOUT HIS INTENTION TO COME TO TORONTO FOR A PRE–GAME CEREMONY ON FEB. 5 OF LAST SEASON COMMEMORATING THE 40th ANNIVERSARY OF DARRYL SITTLER'S RECORD 10–POINT GAME AGAINST BOSTON. AMONG THOSE ON HAND WAS THE GOALIE, DAVE REESE, THAT YIELDED ALL 11 TORONTO MARKERS ON FEB. 7, 1976. TURNBULL SCORED THE SECOND TORONTO GOAL THAT NIGHT.
"I was all set to come until I realized my passport had expired. Oh well."
EMAIL: HOWARDLBERGER@GMAIL.COM