***UPDATE: Congratulations to Charlie Conacher, Frank Mahovlich, Red Kelly and Wendel Clark for being inducted into the Maple Leafs Legends Row at Air Canada Centre. Turns out that four ex–players got the nod, rather than the three I suggested in this blog earlier on Saturday.***
TORONTO (Feb. 18) — The veil of secrecy that governs the Brendan Shanahan/Lou Lamoriello administration has held firm with respect to the three latest additions to Legends Row.
The cluster of bronzed statues on the southwest plaza of the Air Canada Centre will swell to 13 figures — joining Darryl Sittler, Johnny Bower, Ted Kennedy, Borje Salming, Mats Sundin, Syl Apps, George Armstrong, Turk Broda, Tim Horton and Dave Keon. The Leafs will make the announcement in a ceremony prior to tonight's home game against the Ottawa Senators. Among the prime candidates are Charlie Conacher, Hap Day, Red Kelly, King Clancy, Frank Mahovlich, Lanny McDonald, Rick Vaive, Wendel Clark and Doug Gilmour. According to Lance Hornby of the Toronto Sun, one further spot will remain open after tonight for a player "the team hopes distinguishes himself in the coming generation." In other words, Auston Matthews.
Unlike my privileged involvement in helping to choose the Top 100 Maple Leafs of all time for the club's centennial season, I have no say in the Legends Row selection. From what I understand, however, Conacher is a virtual lock for tonight. The first genuine superstar in franchise history, he led (or tied for the lead) in National Hockey League goals on five occasions during his Hall of Fame career. Playing right–wing on the famed "Kid Line" with Joe Primeau and Harvey (Busher) Jackson, Conacher won the NHL scoring title in consecutive seasons — with 52 points in 1933–34 and 57 in 1934–35 (during a 48–game schedule). He was a member of the Toronto Stanley Cup team in the opening year of Maple Leaf Gardens — 1931–32.

MY NIGHT–TIME PHOTO OF DAVE KEON'S STATUE IN LEGENDS ROW OUTSIDE AIR CANADA CENTRE.
Were I making the call on the other two inductees — and given the Maple Leafs have smartly honored every generation since 1926 — my votes would go to Frank Mahovlich and Wendel Clark.
Though enmeshed in a torturous relationship with general manager and coach George (Punch) Imlach, the Big M was the most stylish member of all four Stanley Cup teams in the 1960's… and, arguably, the most popular player of that era. His 48 goals in 1960–61, while skating on a forward line with Red Kelly and Bob Nevin, stood as a franchise record for 21 years, until broken by Rick Vaive in 1981–82. Had a less–cantankerous figure than Imlach been in charge of the Leafs, Mahovlich may have spent his entire career with the Blue and White. Instead, he was shipped to Detroit on Mar. 3, 1968 in the most–shocking trade ever made by the club. Mahovlich promptly scored a career–best 49 goals in 1968–69 while playing on the latter–day "Production Line" with Gordie Howe and Alex Delvecchio. With Montreal in the spring of 1971, the Big M nearly won the Conn Smythe Trophy (27 points in 20 games) while helping the Habs to the Stanley Cup.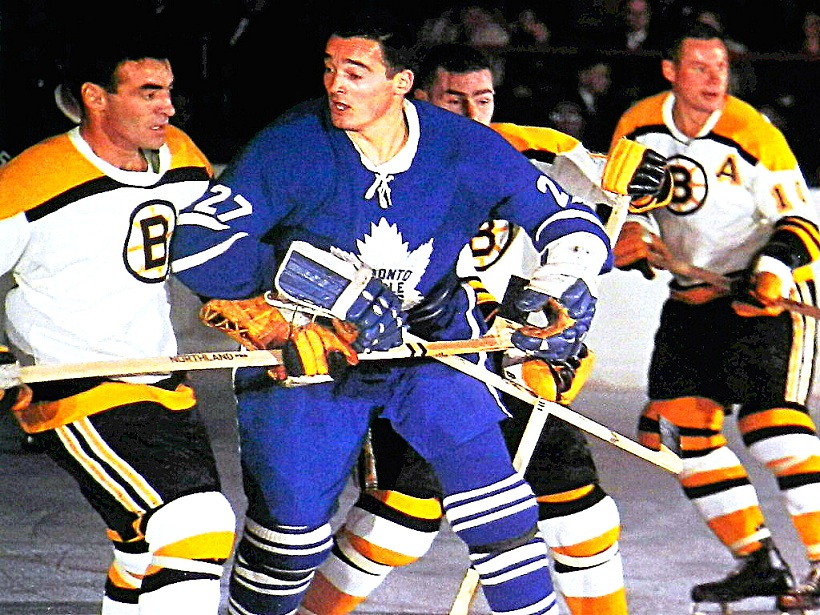 FRANK MAHOVLICH AS A YOUNG LEAF, AGAINST BOSTON, IN 1963–64.
In the post–1967 era, it can be argued, quite easily, that Wendel Clark is the most revered of all Leaf players. The club cannot go wrong tonight by honoring either Clark or his 1993 post–season running–mate, Doug Gilmour, but Wendel suited up in more games for the Leafs (608–393) and immediately impacted the team as a rookie in 1985–86. His combination of goal–scoring, body–checking and fighting was — and still is — unlike any player in franchise history. Clark is best–remembered for a crushing, behind–the–net jolt of Blues defenseman Bruce Bell (Apr. 1, 1986) at the old St. Louis Arena. And, perhaps more–so for riding shotgun with Gilmour during the Maple Leafs' surprise advancement through the 1993 Stanley Cup tournament.
It was Wendel's iconic, late goal at the Los Angeles Forum during Game 6 of the Conference–championship that completed a hattrick; sent the match into overtime, and put the Maple Leafs one goal away from the Stanley Cup final for the only time since 1967. Gilmour, Wayne Gretzky and referee Kerry Fraser legendarily became prime figures in the extra period — during which No. 99 lifted the winner over Felix Potvin with former Edmonton teammate Glenn Anderson serving an ill–advised boarding penalty. Gretzky's hattrick then helped the Kings capture Game 7 of the unforgettable series, two nights later, at Maple Leaf Gardens.
So, yeah: Conacher, Mahovlich and Clark. My picks for the Legends Row announcement before tonight's Toronto–Ottawa game at the ACC. To me, it's as easy as one–two–three.
FORGOTTEN LEFTOVERS
Having recently peddled my older hockey cards for a princely sum, I mourned the loss of sentimental items from the late–60's and early–70's. You can therefore imagine the delight while rummaging through my apartment locker this week when I came upon a stack of "doubles" from that era of NHL expansion — including those of the beloved and defunct California/Oakland Seals. Here are several of the cards I found: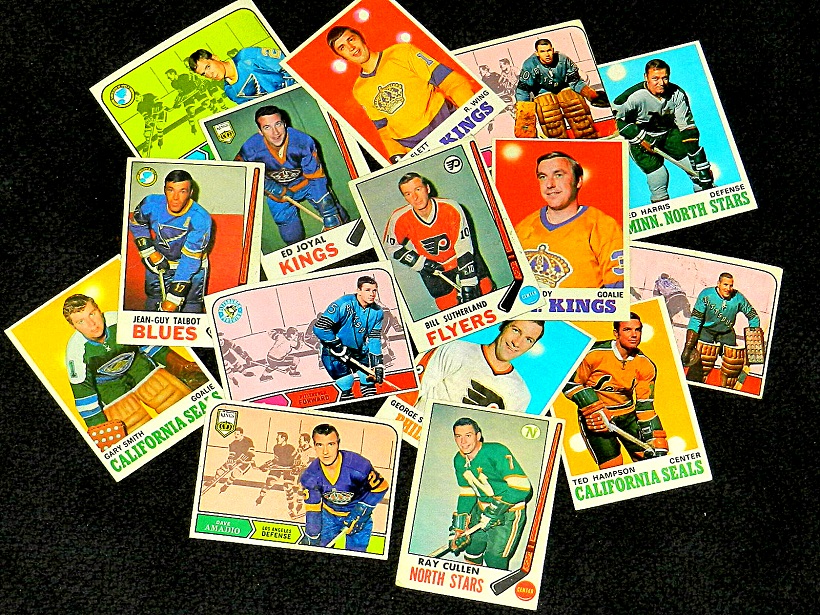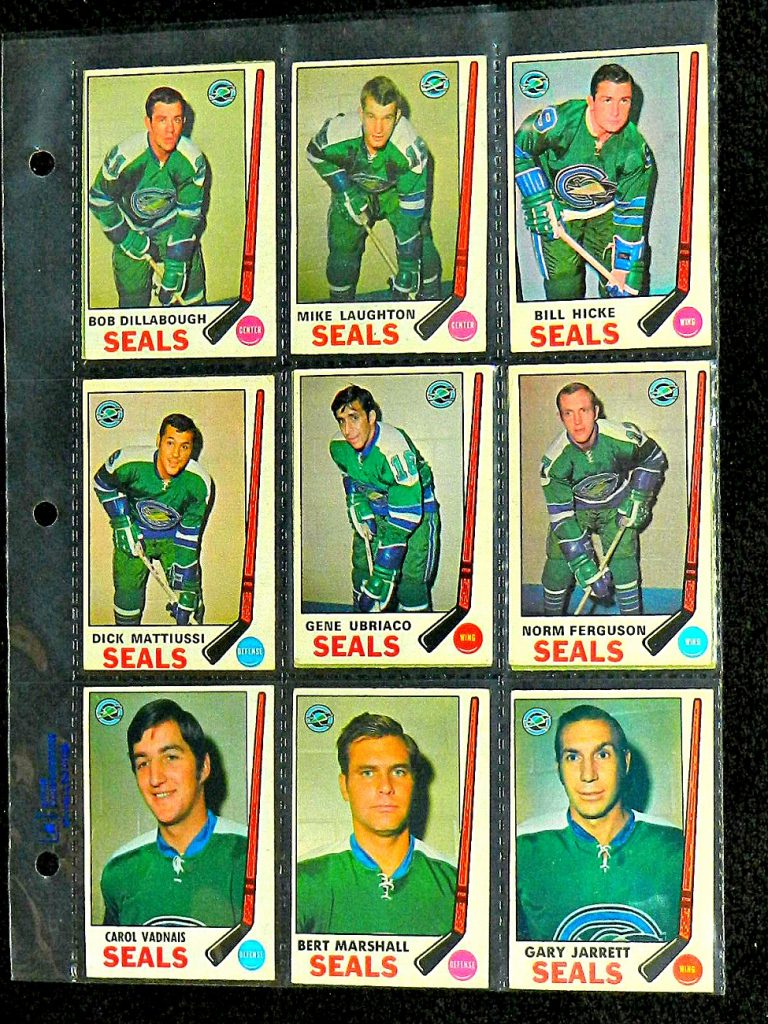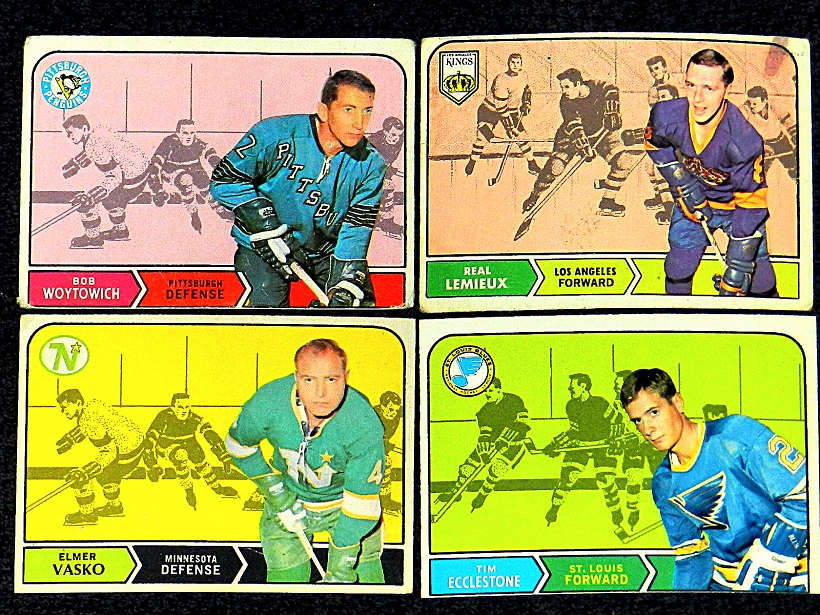 AT THE DETROIT OLYMPIA
In the mid–to–late 1960's, before and after the NHL expanded to 12 teams, a fellow named James McCarthy took photographs of visiting players during pre–game warm–ups at the old Detroit Olympia. These images — 11 of which I purchased more than 30 years ago — have long–been circulated at memorabilia shows.
I found the 8 x 10 color photos in my apartment locker as well: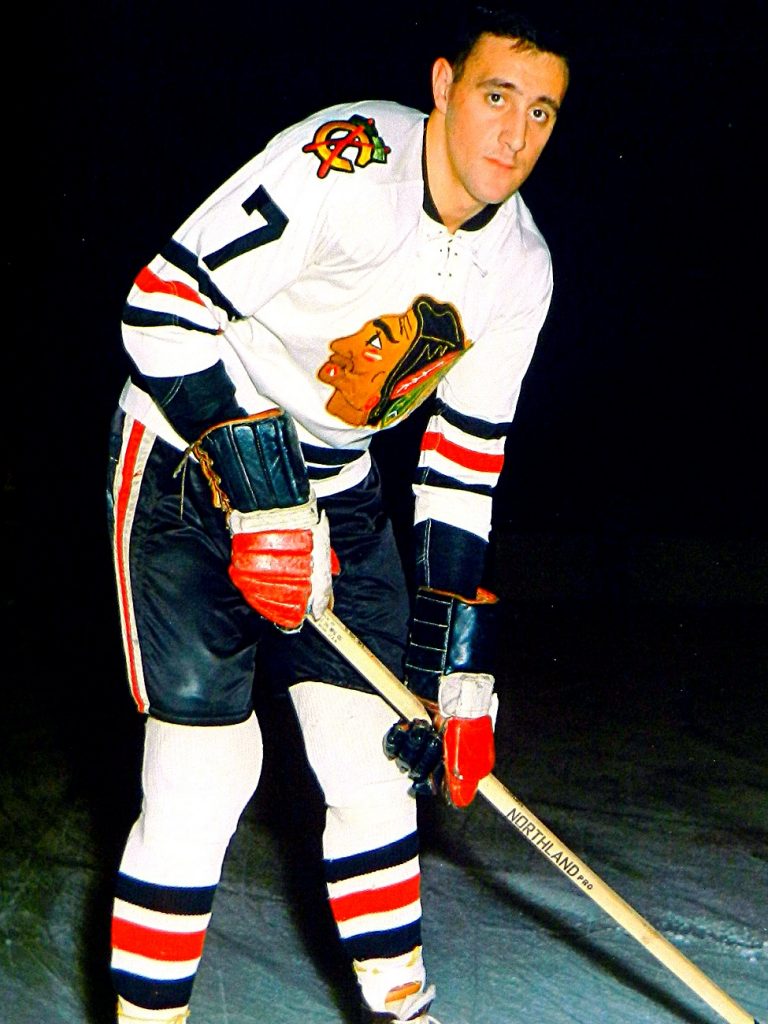 PHIL ESPOSITO: CHICAGO BLACK HAWKS (1966–67).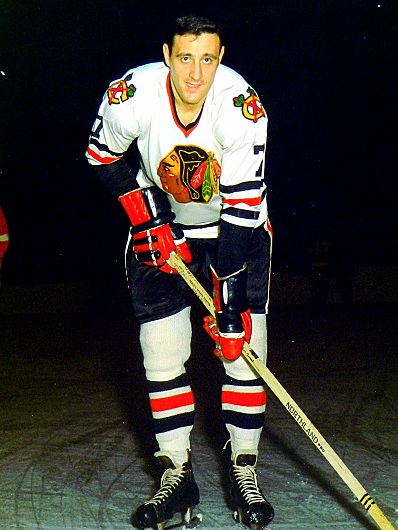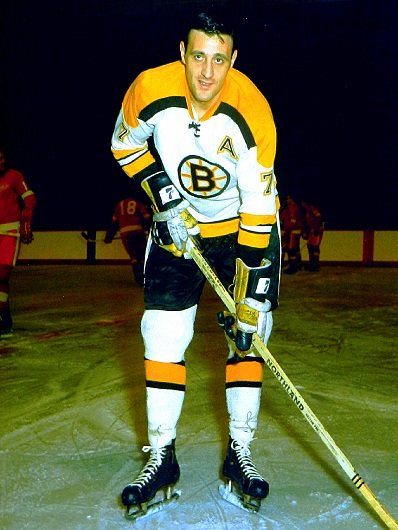 PHIL ESPOSITO: CHICAGO (1966–67) / BOSTON BRUINS (1967–68).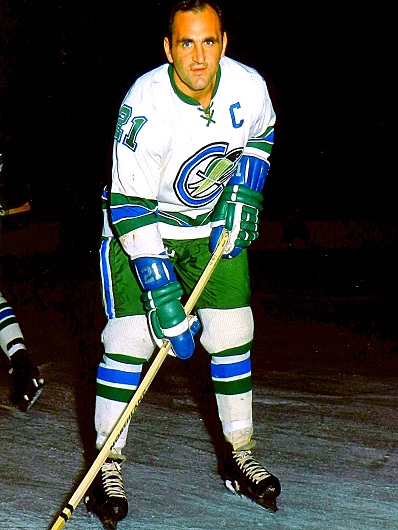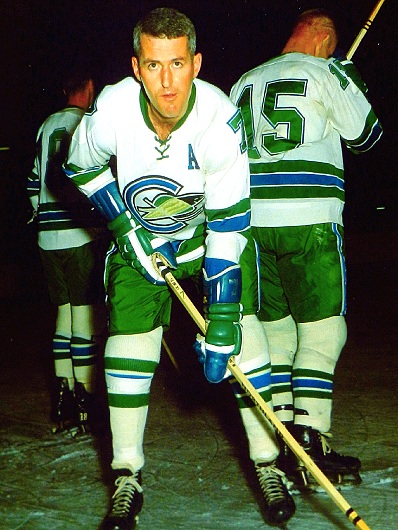 BOBBY BAUN / BILLY HARRIS: CALIFORNIA SEALS (1967–68).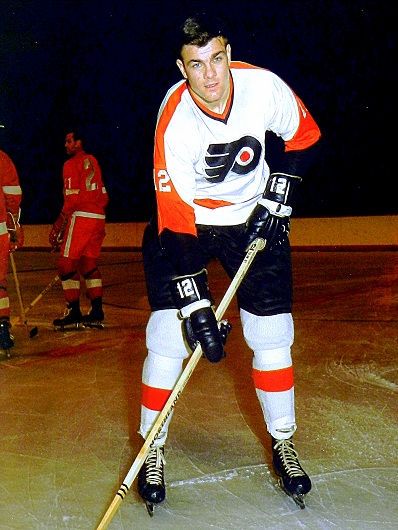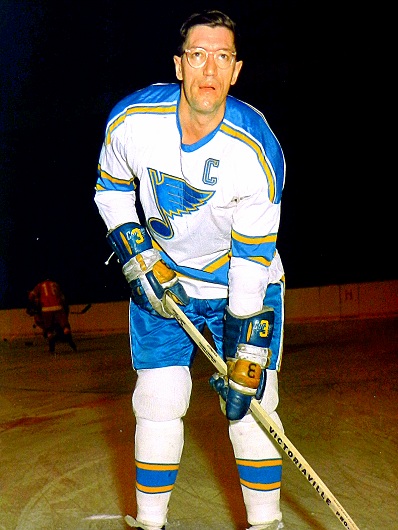 GARY DORNHOEFER: PHILADELPHIA FLYERS / AL ARBOUR: ST. LOUIS BLUES (1967–68).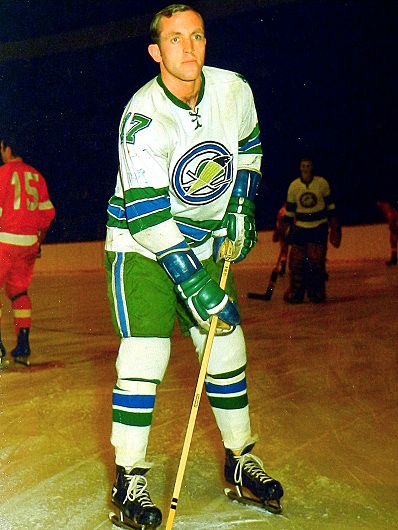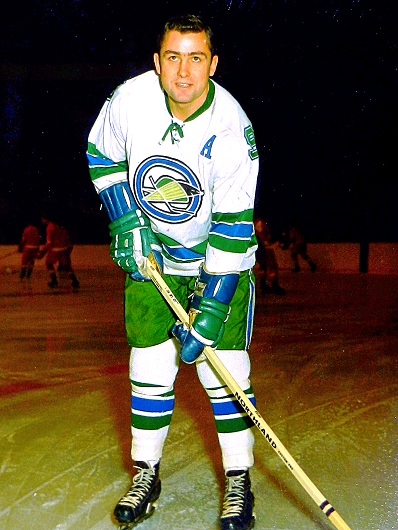 NORM FERGUSON / BILL HICKE: OAKLAND SEALS (1968–69).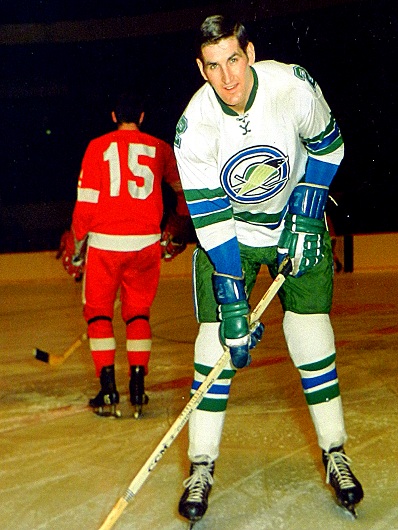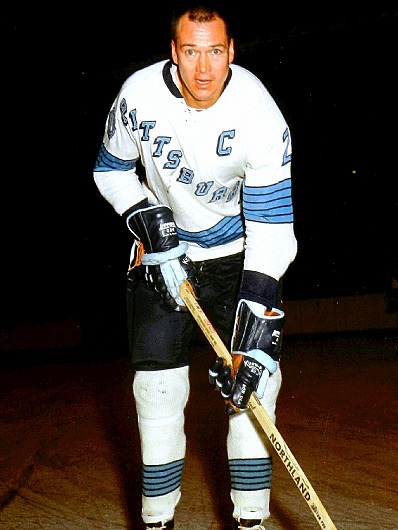 DOUG ROBERTS: OAKLAND SEALS (1968–69) / AB McDONALD: PITTSBURGH PENGUINS (1967–68).
LEAFS IN SEPTEMBER
And, how about this selection of Maple Leafs training camp guides?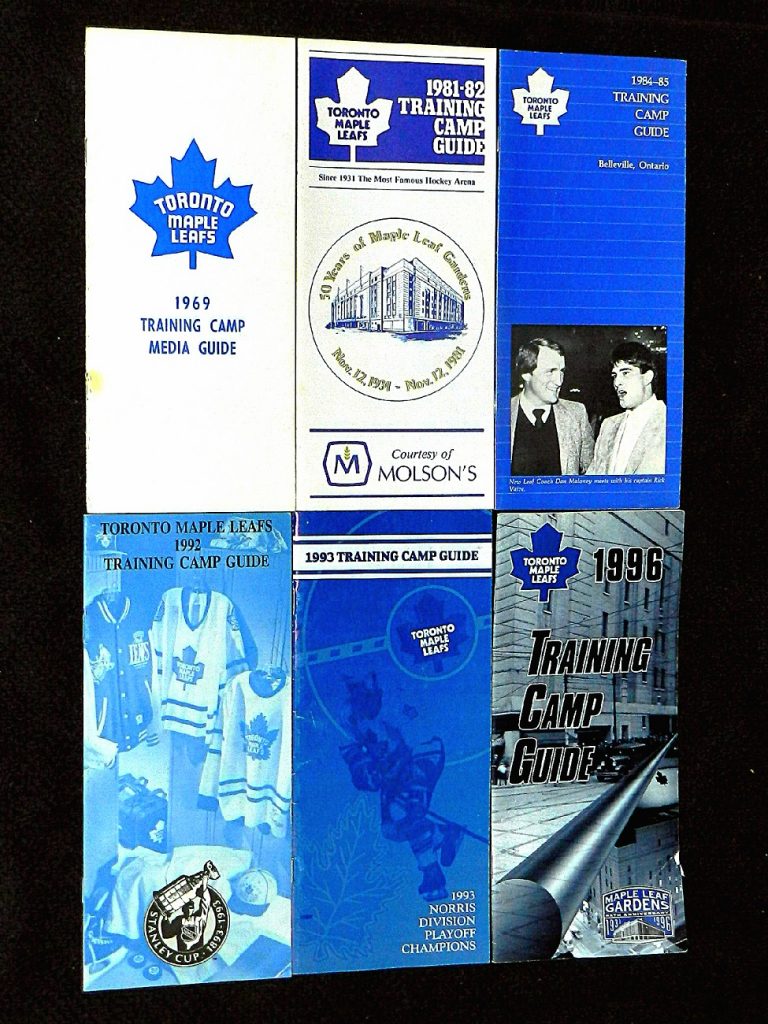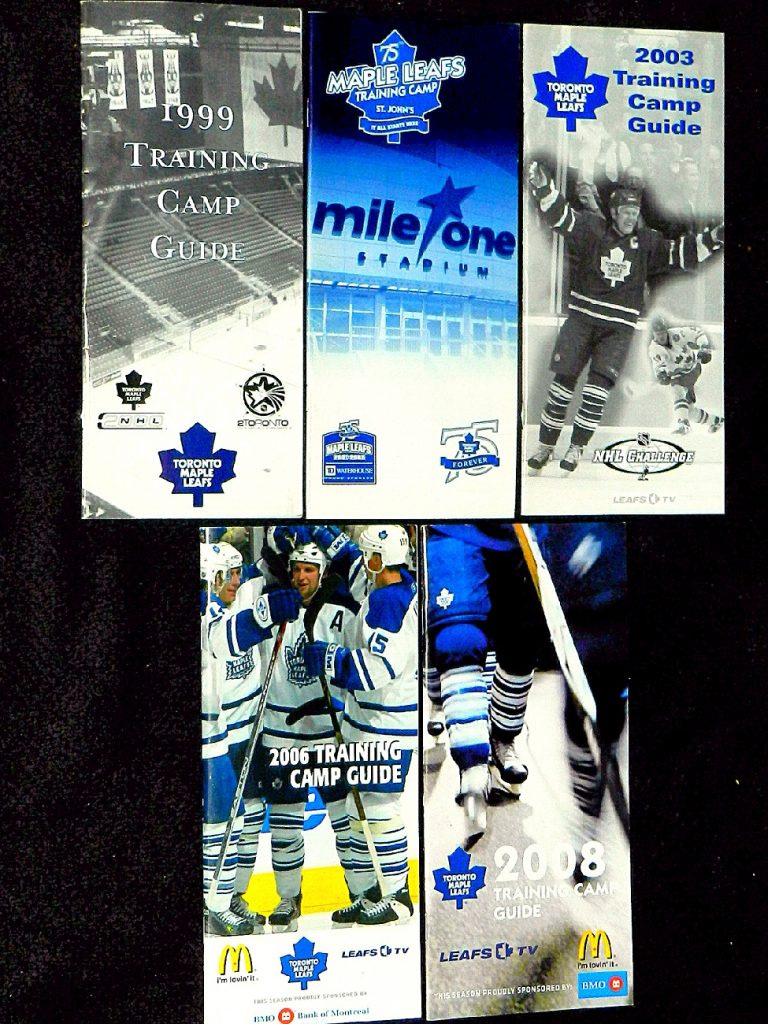 EMAIL: HOWARDLBERGER@GMAIL.COM