TORONTO (Mar. 11) — Here's a prediction for the 2017 Stanley Cup final that would have drawn loud gagging noises if made prior to the season: Columbus Blue Jackets vs. Minnesota Wild in a battle of the two most–recent National Hockey League expansion teams (debuting in 2000–01).
Even today, it sounds like the forecast of an individual in drug rehab, given that Columbus has made the playoffs only twice (without advancing) and that Minnesota has been to a single Conference final — losing to Anaheim way back in 2003. As of this morning, however, the Blue Jackets and Wild held down the No. 2 and No. 3 positions in the overall NHL standings — each trailing the first–place Washington Capitals by only three points. And, you'll likely recall that Columbus and Minnesota own the two longest winning streaks of the 2016–17 season. The Blue Jackets reeled off a remarkable 16–gamer between Nov. 29 and Jan. 3 for the second–longest–such run in NHL history. And, the Wild put together a 12–game streak from Dec. 4–29; it remains in a deadlock with four other teams for the eighth–longest winning streak of all time.
As of this moment, a majority of NHL observers would likely rate John Tortorella of Columbus and Bruce Boudreau of Minnesota as the leading candidates for the Jack Adams Award as NHL coach–of–the–year. Perhaps most significantly, the No. 1 goalies — Sergei Bobrovsky of the Blue Jackets and Devan Dubnyk of the Wild — share the NHL lead with 36 victories. Dubnyk (2.03) and Bobrovsky (2.07) are second and third, respectively, in goals–against average; Dubnyk leads all netminders with a .932 save–percentage.
So, why not Columbus vs. Minnesota for the 2017 Stanley Cup?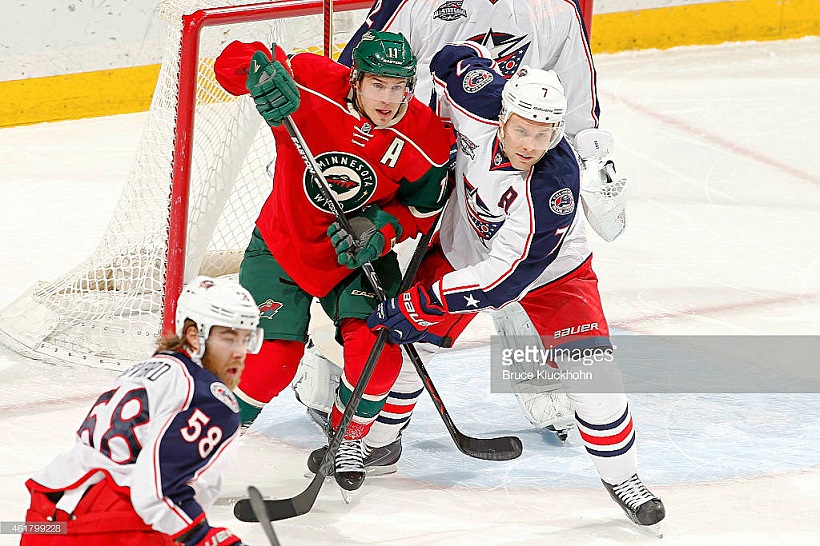 HOW ODD WOULD IT SEEM FOR THESE JERSEYS TO MATCH UP IN THE STANLEY CUP FINAL?
Well… here's why not… the defending Cup–champion Pittsburgh Penguins, on a four–game win streak, are tied with the Jackets and Wild at 92 points (though with one less victory, 43–42). The defending Western–champion San Jose Sharks have only one defeat in their past 10 games (7–1–2) and are five points behind Minnesota for the Conference lead. The Chicago Blackhawks, though having lost two in a row (including a clunker, 4–2, at Detroit on Friday), remain well within striking range of the Western summit, trailing Minnesota by three points. A team with the resumes of Patrick Kane, Jonathan Toews, Duncan Keith and Corey Crawford cannot be considered a playoff underdog. The New York Rangers, as per custom, have lurked on the fringe of the NHL elite — perched sixth in the overall standings with a terrific 24–9–0 record away from home. Such confidence on foreign ice could be a prime factor in the Stanley Cup tournament.
Then there's that other team… yes, the Washington Capitals — poised to lead the NHL from wire–to–wire for a second consecutive year. Yet, wearing playoff underachievement like an anvil…. a gorilla… or both. The Capitals rang up 120 points last season, the highest total since their own 121–point accumulation in 2009–10 (sixth–most in NHL history). Since the arrival of Alex Ovechkin in 2005–06, Washington has won its division six times while topping the Eastern Conference in three of those years. This season will mark the sixth occasion in the past eight full NHL schedules (82 games) that Washington has compiled at least 101 points.
Infamously, dubiously and tragically within the Capital Beltway, Ovechkin and Co. haven't advanced beyond the second round of the playoffs. Still galling, nearly a decade later, is a Game 7 loss at home to Sidney Crosby and the Penguins in the 2009 East semifinal. I covered that deciding match at the Verizon Center for The FAN–590 and it was a landslide. Pittsburgh led, 2–0, after the first period… and 4–0 by the 2:12 mark of the middle frame. Crosby scored twice and set up another in the 6–2 romp, and Washington has been playing catch–up ever since; perennially falling short of expectation in the spring.
So, here's an interesting scenario: The upstart Toronto Maple Leafs finish this season as the No. 2 wild card team in the East, thereby making the playoffs for the first time since 2003–04 in a full, 82–game schedule. Toronto's prize for that noble achievement? An opening–round match–up with Ovie and the Caps. On paper, the Leafs are fodder for the No. 1 team in the NHL. On the ice, perhaps not. Knowing how intensely their Conference quarterfinal will be followed on both sides of the border — and how this city will stop in its tracks — might the Washington sphincters tighten yet again? Imagine the crushing onus on Ovechkin, Nicklas Backstrom, Braden Holtby and Co. were the plucky visitors to grab a split in Games 1 and 2 at the Verizon Center. Why, it's more than enough to make a Capitals fan shiver… and a Maple Leafs fan quiver.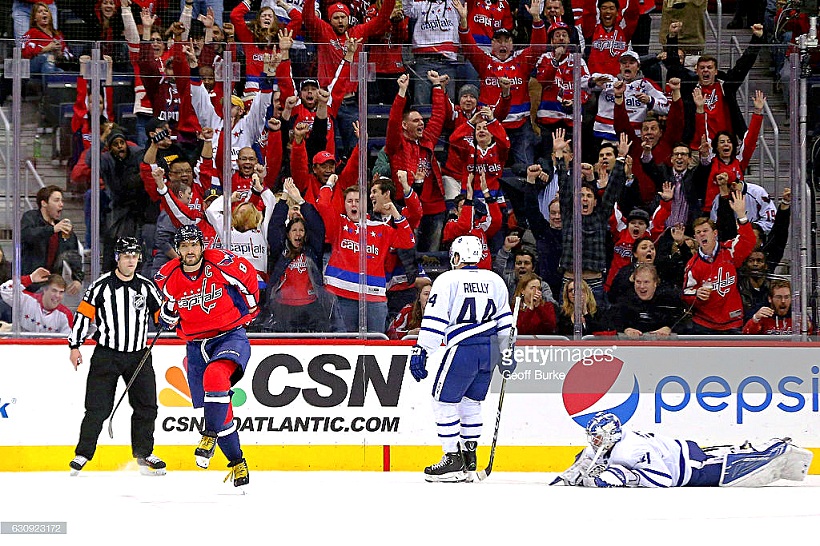 ALEXANDER OVECHKIN SCORED IN OVERTIME ON JAN. 3 AT THE VERIZON CENTER AND WASHINGTON DEFEATED THE LEAFS. BUT, IT WAS HARDLY A CAKEWALK, AS THE CAPITALS OVERCAME 4–2 AND 5–4 LEADS TO WIN THE MATCH, 6–5. IT OFFSET A 4–2 LEAFS VICTORY, OCT. 26, AT THE AIR CANADA CENTRE. THE POTENTIAL FIRST–ROUND PLAYOFF OPPONENTS MEET AGAIN AT THE ACC ON APR. 4.
As of now, my head is slightly overruling by heart with respect to the outlandish forecast atop this blog. With revision rights intact until the start of the playoffs (please and thank–you), I don't believe Columbus will prevail over Pittsburgh in the East. I do, however, think it is finally Minnesota's year in the West.
So… the Penguins and Wild for the 2017 Stanley Cup.
At least until Apr. 9.
MAR. 11, 1977 — Dunedin, Fla.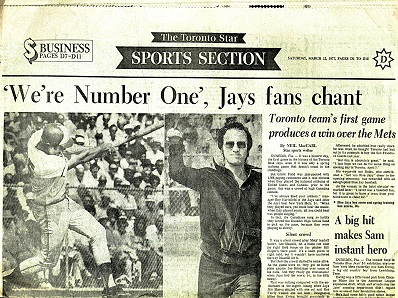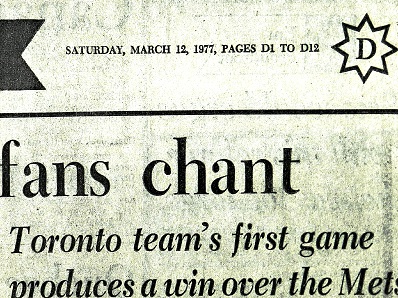 It was 40 years ago this afternoon that the Toronto Blue Jays played their first organized baseball game, defeating the New York Mets, 3–1, in a Grapefruit League match at their spring training base, Grant Field (now Florida Auto Exchange Stadium). Designated hitter Sam Ewing (b. Apr. 9, 1949) had the game–winning hit — a two–run double to left/center–field in the bottom of the eighth off Dwight Bernard (b. May 31, 1952) that broke a 1–1 tie. The winning pitcher was left–handed reliever Dennis DeBarr (b. Jan. 16, 1953). Starting pitchers were Bill Singer (b. Apr. 24, 1944) for Toronto and Jerry Koosman (b. Dec. 23, 1942) for the Mets. The lone home run of the day was hit by New York centerfielder Lee Mazzilli (b. Mar. 25, 1955), who would finish his Major League career by playing in 28 games with the 1989 Blue Jays.
Veteran baseball writer Neil MacCarl (d. Aug. 5, 2011) covered the game for the Toronto Star.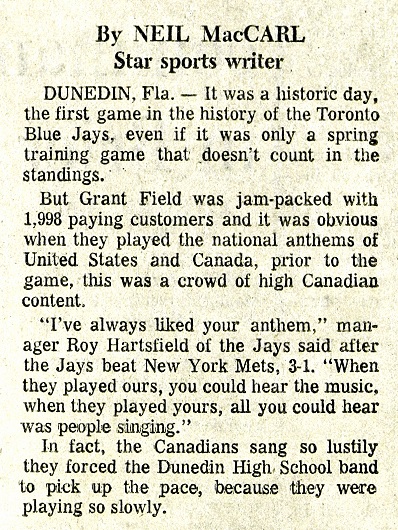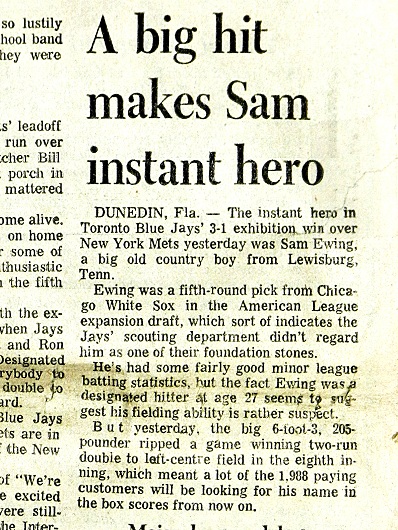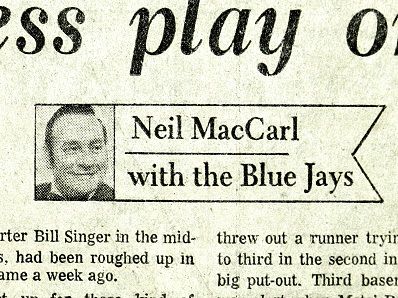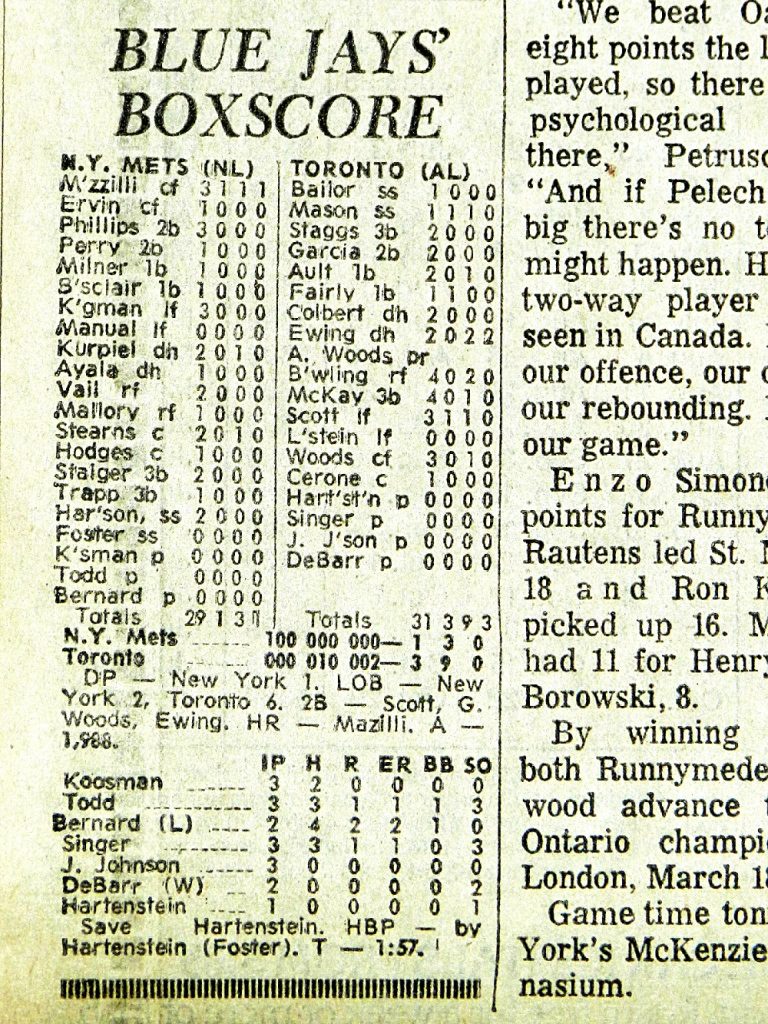 FROM TOP TO BOTTOM IN THE BOXSCORE, THE BLUE JAYS THAT APPEARED IN THE FIRST EXHIBITION GAME: BOB BAILOR (b. July 10, 1951), JIM MASON (b. Aug. 14, 1950), STEVE STAGGS (b. May 6, 1951), PEDRO GARCIA (b. Apr. 17, 1950), DOUG AULT (d. Dec. 22, 2004), RON FAIRLY (b. July 12, 1938), NATE COLBERT (b. Apr. 9, 1946), SAM EWING, ALVIS WOODS (b. Aug. 8, 1953), STEVE BOWLING (b. June 26, 1952), DAVE McKAY (b. Mar. 14, 1950), JOHN SCOTT (b. Jan. 24, 1952), JOHN LOWENSTEIN (b. Jan. 27, 1947), GARY WOODS (d. Feb. 19, 2015), RICK CERONE (b. May 19, 1954), CHUCK HARTENSTEIN (b. May 26, 1942), BILL SINGER, JERRY JOHNSON (b. Dec. 3, 1943) AND DENNIS DeBARR. THE MANAGER WAS ROY HARTSFIELD (d. Jan. 15, 2011).
THE OLD BOOKSHELF
A QUARTER–CENTURY OF WORK
1950 — 1975
Yes, I have a few hockey books in my midtown–Toronto apartment.
I've been an avid reader of the game's history since Grade 6 at Wilmington Avenue Public School (1970–71), when I devoured a 1967 biography of Detroit Red Wings goalie Roger Crozier. Many more followed as I progressed through my teenage years and realized that some form of journalism was in my future.
While tidying up the apartment shelves this week, I separated my oldest books and noticed that roughly 50 of them dated to the quarter–century span between 1950 and 1975. They are authored (or ghost–written) by many of the most revered names in sports newspaper and publishing history. Biographical subjects include some of the greatest all–time players in the National Hockey League. The authors in this photo–essay are (listed alphabetically): Andy Bathgate, Jack Batten, Dick Beddoes, Gerry Cheevers, Charles Coleman, Hugh Delano, Gerald Eskanazi, Phil Esposito, Ira Gitler, Foster Hewitt, Stan Fischler, Ed Fitkin, Trent Frayne, Hugh Hood, Colleen Howe, Bobby Hull, Jim Hunt, Bill Libby, Brian McFarlane, Tim Moriarty, Andy O'Brien, Frank Orr, Maurice (Rocket) Richard, Henry Roxborough, Jim Vipond, Lorne (Gump) Worsley and Scott Young.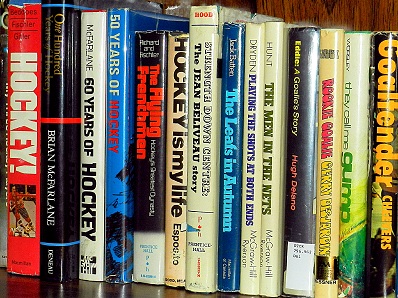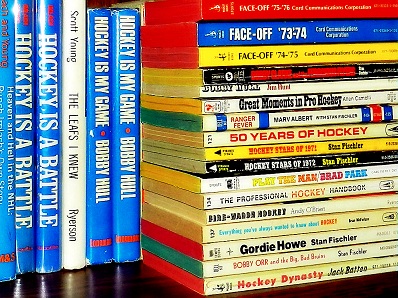 When I began to amass these volumes in the early–70's, a cloth (or hard–cover) book could be had for $6.95. A pocketbook (or paper–back) was rarely more than $1.50. By way of comparison, Wayne Gretzky's Stories of the Game was released in cloth last September for $35.00. And, it is virtually impossible to buy a soft–cover book today for less than $19.95. But, heck, if you hang onto your hockey publications — and maintain them in relatively good condition — they become increasingly rare and difficult to find. Like all collectibles.
Here are my 50 oldest hockey books — and stories behind them: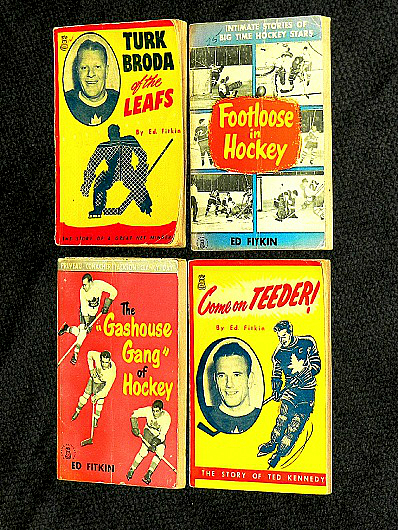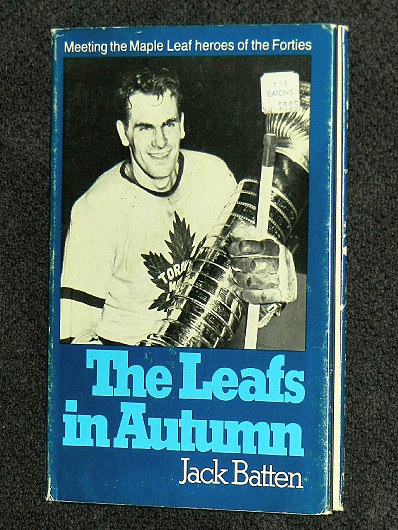 (TOP–LEFT): THE ED FITKIN POCKETBOOK TRILOGY FROM THE EARLY 1950's. FITKIN (d. 1990) WORKED IN PUBLICITY FOR THE MAPLE LEAFS AND THEN WAS HIRED BY JACK KENT COOKE (d. Apr. 6, 1997) TO BE THE FIRST PUBLICITY DIRECTOR OF THE EXPANSION LOS ANGELES KINGS IN 1967. IN 1975, JACK BATTEN (b. 1932) PENNED A WONDROUS TRIBUTE TO THE DYNASTIC MAPLE LEAFS OF 1948–51.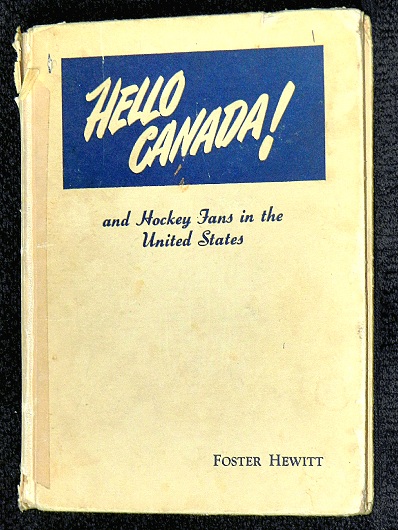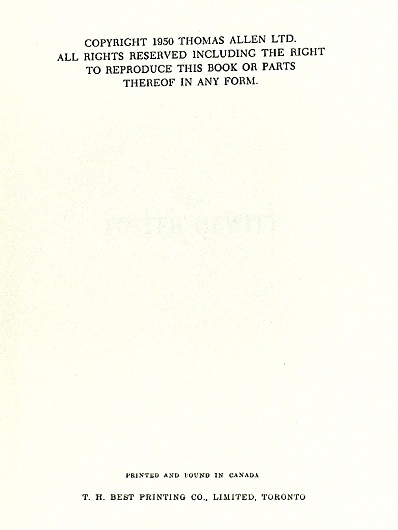 MY OLDEST HOCKEY BOOK (circa 1950), BY LEAFS LEGENDARY VOICE FOSTER HEWITT (d. Apr. 21,1985).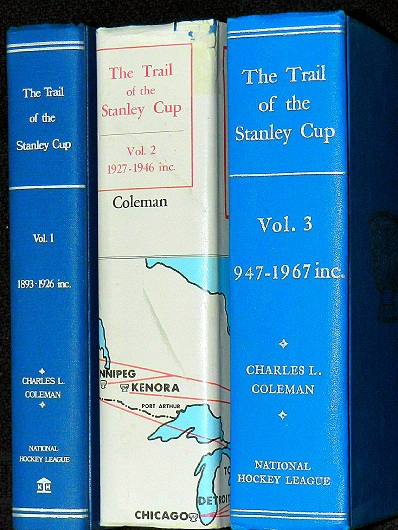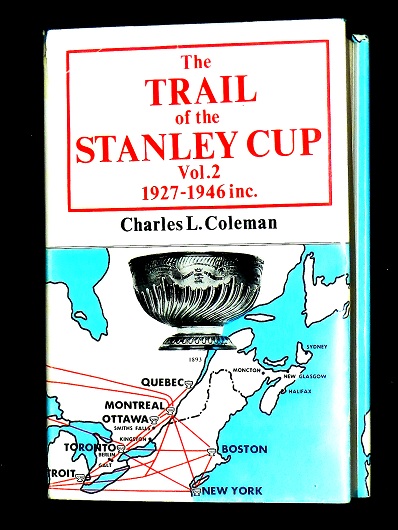 THIS THREE–VOLUME SET WAS A PIVOTAL CONTRIBUTION TO HOCKEY PUBLISHING. IT DETAILS THE HISTORY OF THE NHL AND INCLUDES THE MINUTES OF ANNUAL BOARD MEETINGS FROM 1893 TO 1967. WRITTEN BETWEEN 1966 AND 1976 BY MONTREAL NATIVE CHARLES L. COLEMAN, THESE BOOKS ARE EXTREMELY DIFFICULT TO FIND. AMAZON.COM HAS A USED COLLECTION FOR $650 (USD).

BOTH PUBLISHED IN 1963. ANDY O'BRIEN (d. Apr. 19, 1987); ANDY BATHGATE (d. Feb. 20, 2016).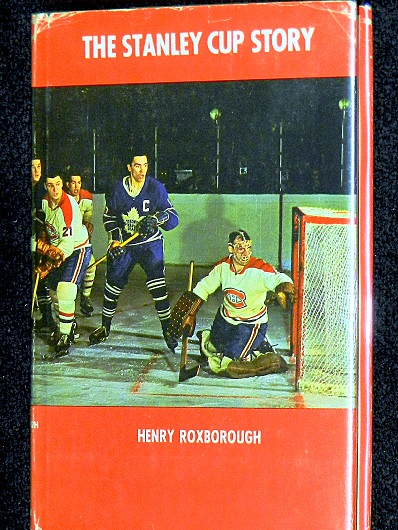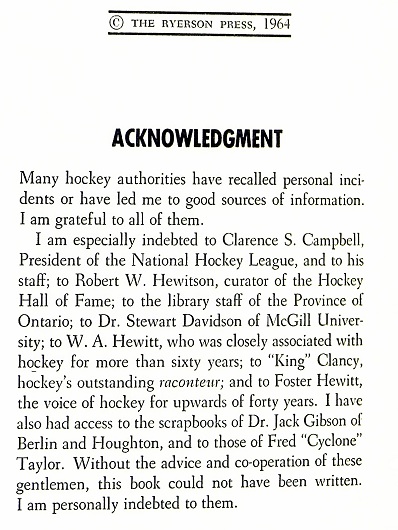 HENRY ROXBOROUGH WAS A PROLIFIC WRITER OF HOCKEY HISTORY IN THE 1960's.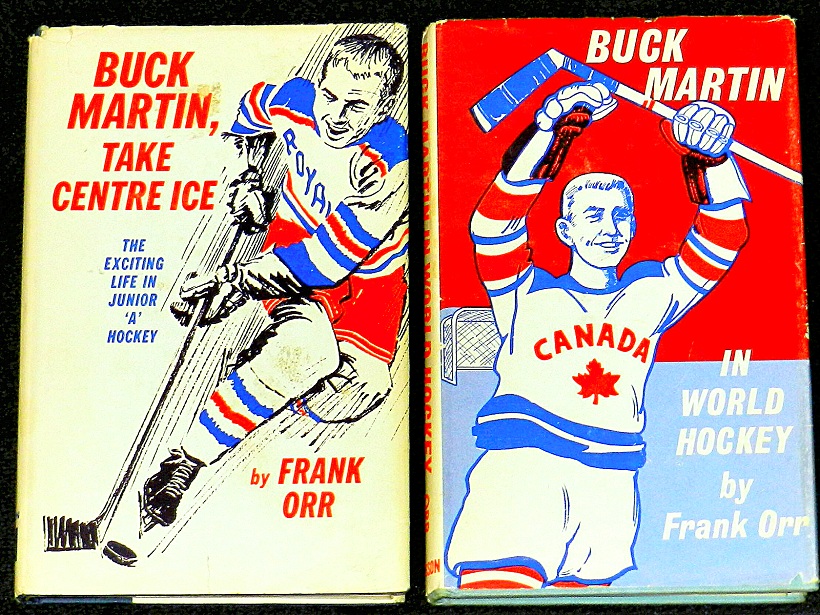 FRANK ORR (b. 1936) WAS A YOUNG JUNIOR HOCKEY WRITER AT THE TORONTO STAR WHEN HE PENNED THESE FICTION NOVELS (IN 1965 AND 1966). WHEN ORR COVERED THE MAPLE LEAFS FOR THE NEWSPAPER (FROM 1976 TO 1985), HE WAS CONSIDERED THE BEST HOCKEY WRITER ON THE PLANET. I'M PRIVILEGED TO HAVE KNOWN HIM THROUGH THE YEARS.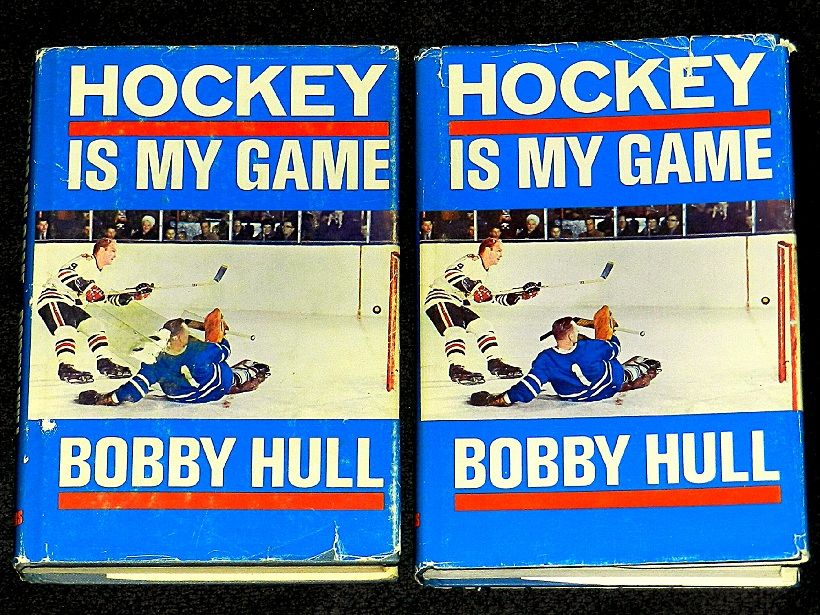 WHAT I REMEMBER MOST ABOUT THIS BOOK — RELEASED IN EARLY–1967, WHEN BOBBY HULL (b. Jan. 3, 1939) HAD NO PEER AMONG NHL SUPERSTARS — WAS THE NEAR–IMPOSSIBILITY OF LOANING IT FROM THE LIBRARY OF WILMINGTON AVE. PUBLIC SCHOOL. I WAS EIGHT, AND THE LEAFS HAD JUST WON THEIR MOST–RECENT STANLEY CUP. THE WAITING LIST FOR HULL'S BOOK WAS MONTHS. I'M NOT SURE I EVER GOT MY HANDS ON IT. THAT'S PROBABLY WHY I'VE KEPT TWO COPIES TO THIS DAY.

THESE POCKET BOOKS — PUBLISHED IN THE LATE–60's AND ORIGINALLY RELEASED IN HARD–COVER (OR CLOTH) — CAME IN A BOX–SET FOR THE 1969 CHRISTMAS SEASON. JIM HUNT (d. Mar. 9, 2006) AND JIM VIPOND (d. Dec. 4, 1989) WERE WELL–KNOWN WRITERS AND RADIO BROADCASTERS HERE IN TORONTO. I WORKED FOR SEVERAL YEARS WITH "SHAKY" (AS HUNT WAS CALLED) AT THE FAN–590. VIPOND WROTE A SPORTS COLUMN (AND WAS LATER SPORTS EDITOR) AT THE GLOBE & MAIL.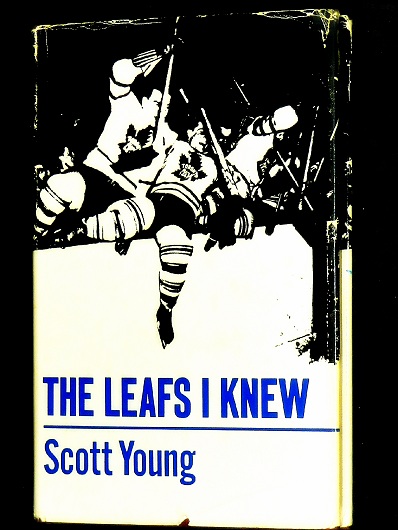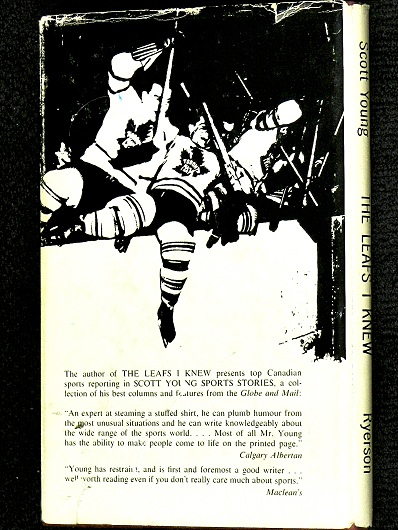 UNTIL THE LATTER PART OF HIS CAREER, SCOTT YOUNG (d. June 12, 2005) WAS KNOWN AS A PROLIFIC SPORTS COLUMNIST (WITH THE TORONTO TELEGRAM / THE GLOBE & MAIL) AND HOCKEY AUTHOR. LATER IN LIFE, HE WAS MORE FAMOUS FOR BEING THE FATHER OF GIFTED CANADIAN GUITARIST AND SONG–WRITER NEIL YOUNG. SCOTT WROTE THIS BOOK IN 1966. IT DETAILED THE MAPLE LEAFS' TRANSITION FROM A LOSING TEAM FOR MOST OF THE 1950's TO A STANLEY CUP DYNASTY IN THE 60's.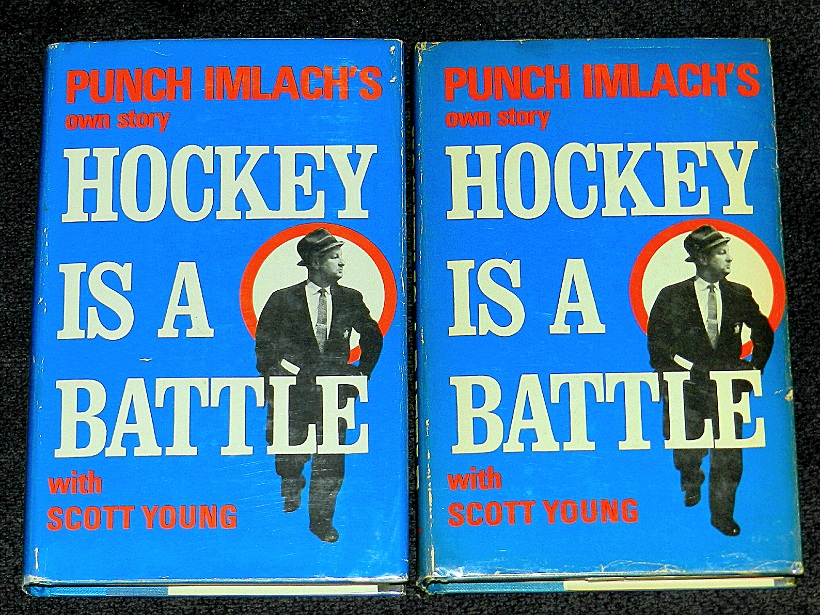 WHILE HANGING AROUND THE MAPLE LEAFS, YOUNG BECAME CLOSE WITH GENERAL MANAGER AND COACH GEORGE (PUNCH) IMLACH (d. Dec. 1, 1987). HE WROTE THIS AUTOBIOGRAPHY IN 1969, SHORTLY AFTER IMLACH WAS FIRED BY LEAFS OWNER STAFFORD SMYTHE (d. Oct. 13, 1971). IT BECAME A BEST–SELLER ACROSS CANADA FOR MANY WEEKS. I'VE KEPT TWO HARD–COVER COPIES.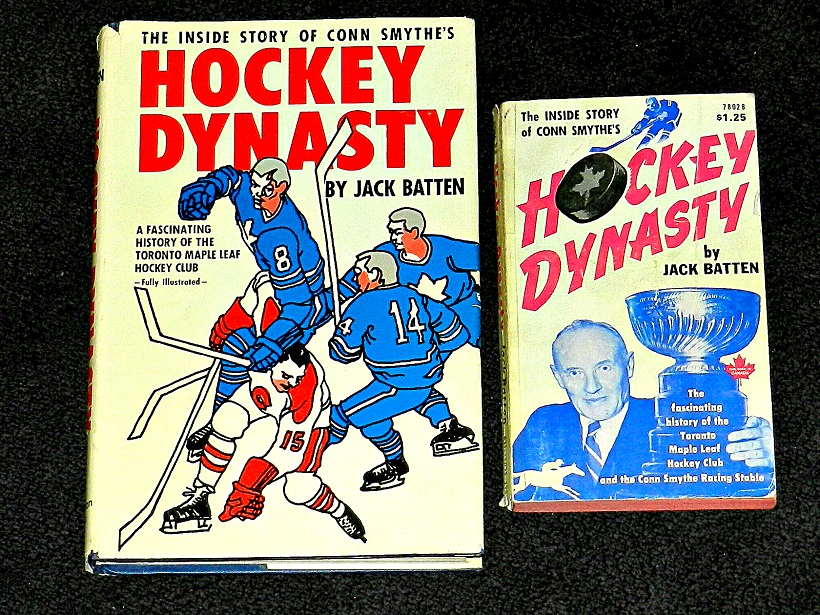 JACK BATTEN BECAME WELL–KNOWN AFTER WRITING THIS BIOGRAPHY OF MAPLE LEAFS FOUNDER CONN SMYTHE (d. Nov. 18, 1980). THE HARD–COVER EDITION (LEFT) CAME OUT IN SEPTEMBER 1969 AND WAS FOLLOWED BY A POCKETBOOK ISSUE (RIGHT) IN FEBRUARY 1970.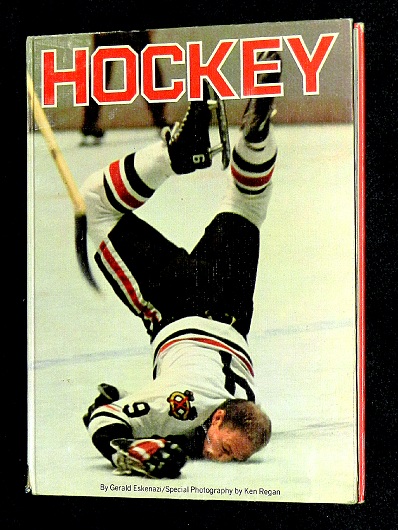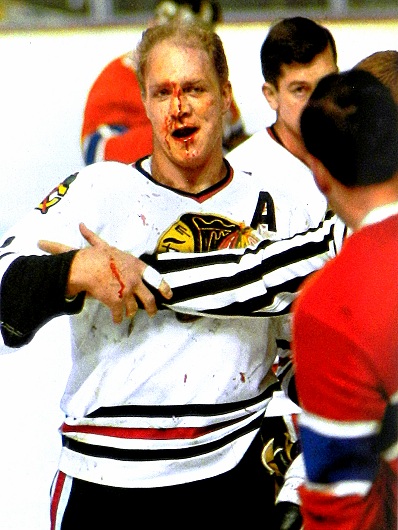 THIS COFFEE–TABLE PUBLICATION ARRIVED IN TIME FOR THE 1969 CHRISTMAS SEASON AND I STILL HAVE MY ORIGINAL COPY. GERALD ESKANAZI (b. Sep. 23, 1936) OF THE NEW YORK TIMES PROVIDED THE TEXT. KEN REGAN (d. Nov. 25, 2012) SNAPPED THE COVER–PHOTO OF BOBBY HULL FALLING ON HIS FACE AT MADISON SQUARE GARDEN. REGAN HAD MADE HIS MARK EARLIER BY PHOTOGRAPHING THE BEATLES UPON THEIR ARRIVAL, IN FEBRUARY 1964, AT NEW YORK'S KENNEDY AIRPORT FOR THE BAND'S INAUGURAL U.S. TOUR. THIS WAS AMONG THE FIRST HOCKEY BOOKS TO FEATURE COLOR PHOTOGRAPHY, INCLUDING HULL'S BLEEDING NOSE (TOP–RIGHT) AFTER BEING CROSS–CHECKED AT THE MONTREAL FORUM BY JOHN FERGUSON OF THE CANADIENS ON DEC. 7, 1968. THE FIRST 16 PAGES FEATURED COLOR IMAGES (BELOW).

FOSTER HEWITT'S ACCOUNT OF  THE TORONTO MAPLE LEAFS WAS ORIGINALLY PUBLISHED IN OCTOBER 1953. REVISED EDITIONS APPEARED IN 1961 AND 1968. MY LATE MOTHER, SANDEE, BOUGHT ME THE FINAL EDITION (ABOVE) ON MAR. 16, 1970 (HER AND DAD'S 12th ANNIVERSARY) AND SHE INSCRIBED IT TO ME (BELOW). IT IS THEREFORE AMONG MY MOST TREASURED BOOKS.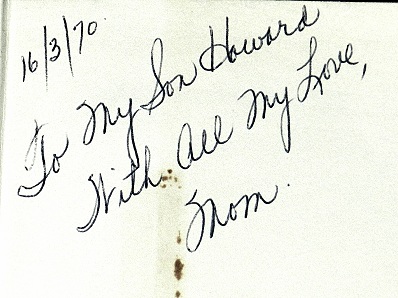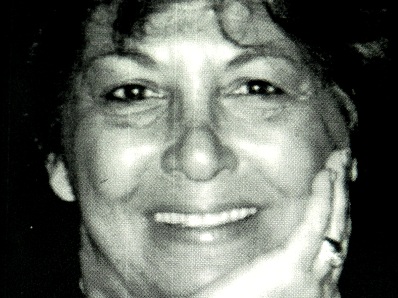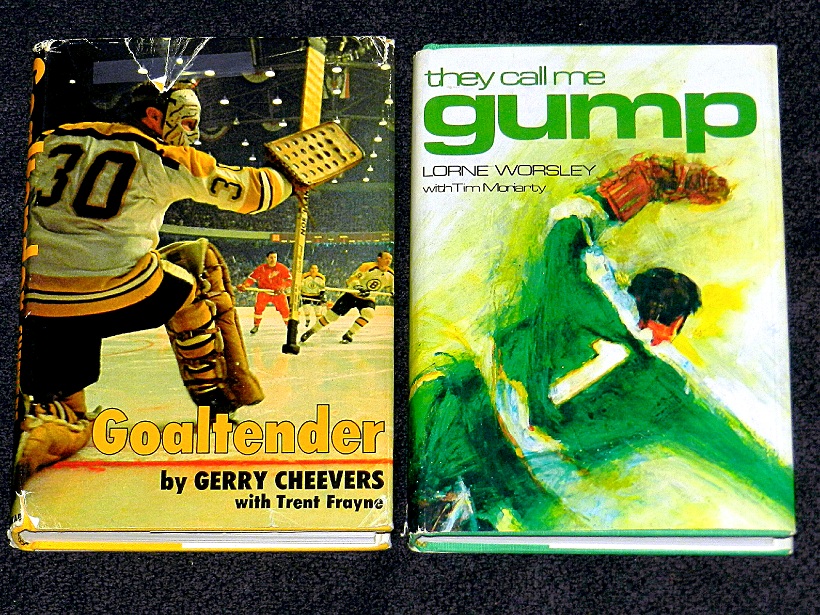 IF YOU'RE A FAN OF HOCKEY WRITING, TRY TO LOCATE A COPY OF GOALTENDER (TOP–LEFT), WRITTEN BY GERRY CHEEVERS (b. Dec. 7, 1940) AND CANADIAN SPORTSWRITER TRENT FRAYNE (d. Feb. 11, 2012). CHEEVERS PLAYED GOAL FOR BOSTON AND PRODUCED THIS FUNNY, YET CANDID DIARY OF THE BRUINS REMARKABLE 1970–71 SEASON (57 WINS, 121 POINTS, 399 GOALS SCORED — ALL NHL RECORDS AT THE TIME). THE GUMPER, LORNE WORSLEY (d. Jan. 26, 2007) IS BEST–REMEMBERED FOR WINNING FOUR STANLEY CUPS IN FIVE YEARS (1965–66–68–69) WITH THE MONTREAL CANADIENS. BUT, A WATER–COLOR OF HIS LATTER NHL DAYS WITH THE MINNESOTA NORTH STARS APPEARED ON A 1975 AUTOBIOGRAPHY (TOP–RIGHT), GHOST–WRITTEN BY TIM MORIARTY (d. Jan. 23, 2006), WHO COVERED THE NEW YORK ISLANDERS FOR NEWSDAY.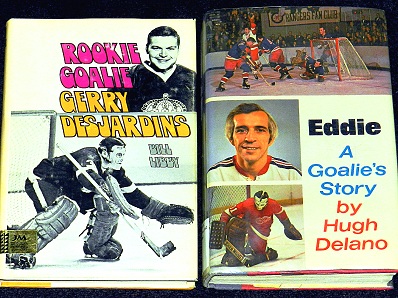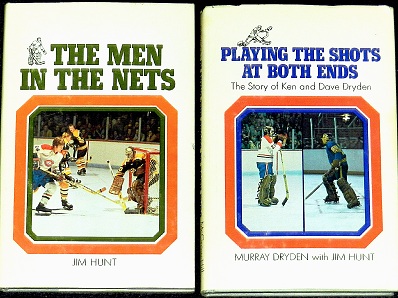 GOALIES WERE POPULAR BOOK SUBJECTS IN THE LATE–60's AND EARLY–70's. LOS ANGELES WRITER BILL LIBBY (b. Nov. 14, 1927) WROTE ABOUT THE KINGS' GERRY DESJARDINS (b. July 22, 1944), A ROOKIE IN 1968–69. THE BOOK CAME OUT IN EARLY–1970. IN LATE–1975, HUGH DELANO (d. Apr. 5, 2015) OF THE NEW YORK POST WROTE A BIOGRAPHY OF ED GIACOMIN (b. June 6, 1939), WHO STARRED IN GOAL FOR THE RANGERS FROM 1965–75 UNTIL HIS UNCEREMONIOUS RELEASE BY THE CLUB. GIACOMIN'S NEAR–IMMEDIATE RETURN TO MADISON SQUARE GARDEN WITH DETROIT ON NOV. 2, 1975 SPAWNED AN UNFORGETTABLE SCENE — A LONG STANDING OVATION AND CHANTS OF "EDDIE! EDDIE!" DURING THE NATIONAL ANTHEM THAT BROUGHT THE VETERAN STOPPER TO TEARS. JIM HUNT AUTHORED GOALIE BOOKS IN 1972 AND 1973 — THE LATTER, AN ACCOUNT OF BROTHERS DAVE DRYDEN (b. Sep. 5, 1941) AND KEN DRYDEN (b. Aug. 8, 1947) FACING ONE ANOTHER WITH BUFFALO AND MONTREAL, RESPECTIVELY, IN THE 1973 STANLEY CUP PLAYOFFS.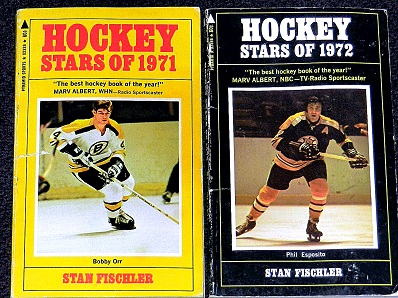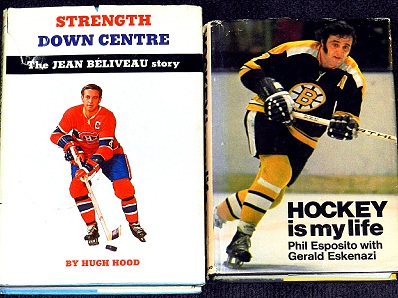 THE MOST PROLIFIC HOCKEY AUTHOR OF ALL TIME — WITHOUT PEER — IS STAN FISCHLER (b. Mar. 31, 1932) IN NEW YORK (MORE LATER). WHEN I WAS A KID, I READ ALL OF STAN'S BOOKS; HE THEN BECAME A WONDERFUL FRIEND DURING MY YEARS COVERING HOCKEY AT THE FAN–590. IN THE EARLY–70's, STAN PRODUCED AN ANNUAL POCKETBOOK (TOP–LEFT) ON THE BEST NHL PLAYERS. TWO OF THE GREATEST ALL–TIME CENTERS WERE ON BOOKSHELVES (TOP–RIGHT) AROUND THAT TIME. MONTREAL NOVELIST HUGH HOOD (d. Aug. 1, 2000) WROTE A BIOGRAPHY OF CANADIENS CAPTAIN JEAN BELIVEAU (d. Dec. 2, 2014) IN 1970. BOSTON SUPERSTAR PHIL ESPOSITO (b. Feb. 20, 1942) COLLABORATED WITH GERALD ESKANAZI, IN 1972, ON HIS FIRST AUTOBIOGRAPHY. A SECOND, WITH ST. PETERSBURG, FLA. AUTHOR PETER GOLENBOCK (b. July 19, 1946), CAME OUT IN SEPTEMBER 2003. ESPO RECENTLY TURNED 75 YEARS OF AGE. WHERE DOES TIME GO?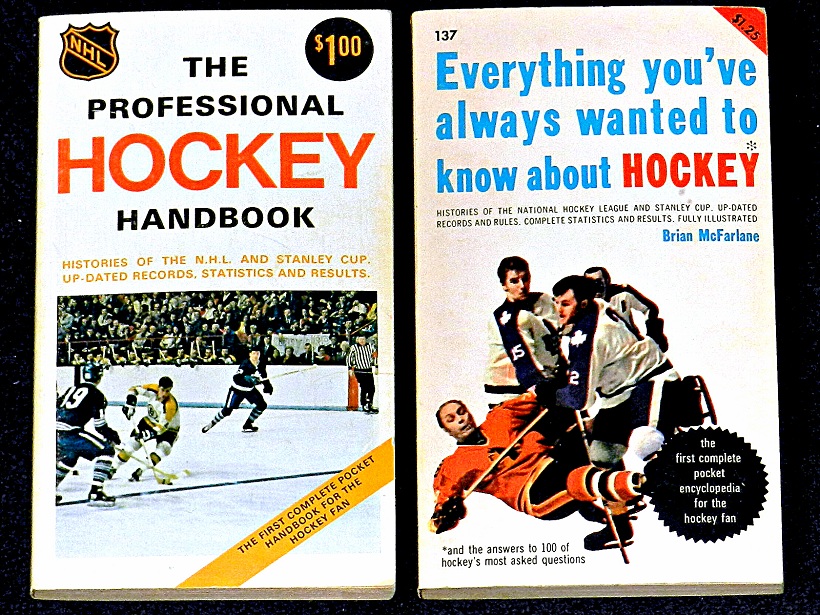 POCKETBOOKS WERE RATHER AFFORDABLE BACK IN THE DAY. I SOMEHOW STILL REMEMBER BUYING THE "HANDBOOK" (LEFT) AT THE OLD COLES BOOKSTORE IN THE YORKDALE SHOPPING CENTER BEFORE CHRISTMAS 1970. SECOND ONLY TO FISCHLER AMONG HOCKEY AUTHORS (WITH RESPECT TO VOLUME) IS BRIAN McFARLANE (b. Aug. 10, 1931). COLOR COMMENTATOR ALONGSIDE BILL HEWITT (d. Dec. 25, 1996) FOR LEAFS TV GAMES (1965–79) IN MY YOUTH, BRIAN HAS ALSO BECOME A TREASURED FRIEND. AMONG HIS EARLY BOOK RELEASES — IN 1971 — WAS THE VOLUME OF FACTS AND STATISTICS (TOP–RIGHT). NOTE HOW BOTH COVERS CLAIM TO BE THE "FIRST COMPLETE" ITEM FOR FANS.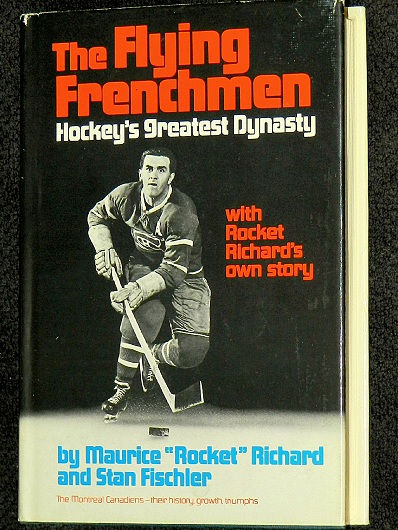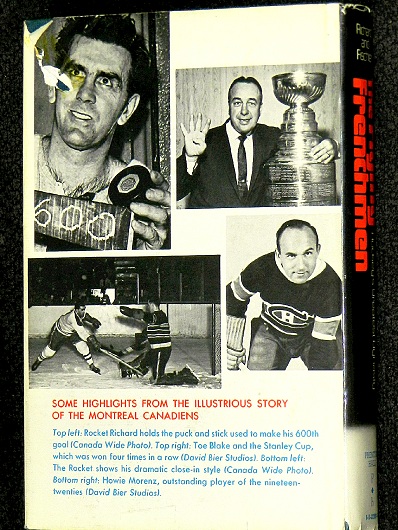 IN 1971, STAN FISCHLER COLLABORATED WITH THE LEGENDARY MAURICE (ROCKET) RICHARD (d. May 27, 2000) ON A HISTORY OF THE MONTREAL CANADIENS.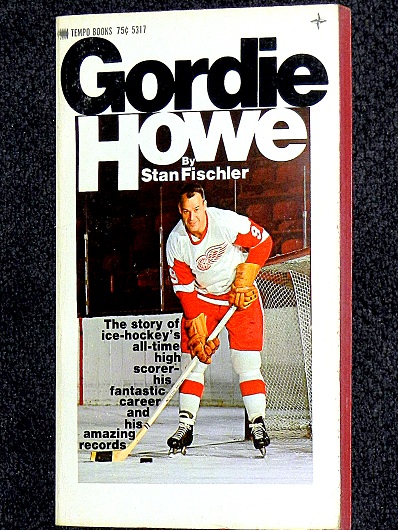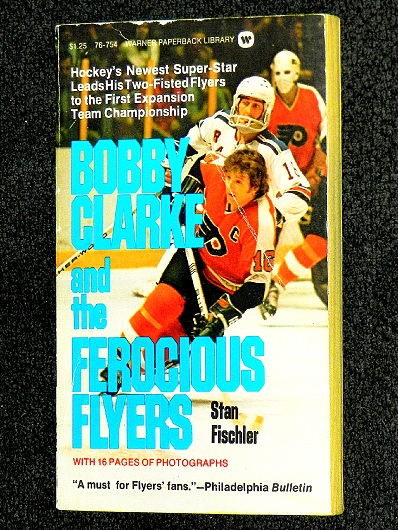 AMONG THE FIRST POCKETBOOKS I REMEMBER IS FISCHLER'S 1967 BIOGRAPHY OF GORDIE HOWE (d. June 10, 2016). THIS VERSION (TOP–LEFT) CAME OUT IN OCTOBER 1969, WHEN I WAS 10. STAN THEN WORKED WITH PHILADELPHIA CAPTAIN BOBBY CLARKE (b. Aug. 13, 1949) ON A BOOK AFTER THE FLYERS FIRST OF CONSECUTIVE STANLEY CUP CHAMPIONSHIPS. IT WAS RELEASED IN DECEMBER 1974.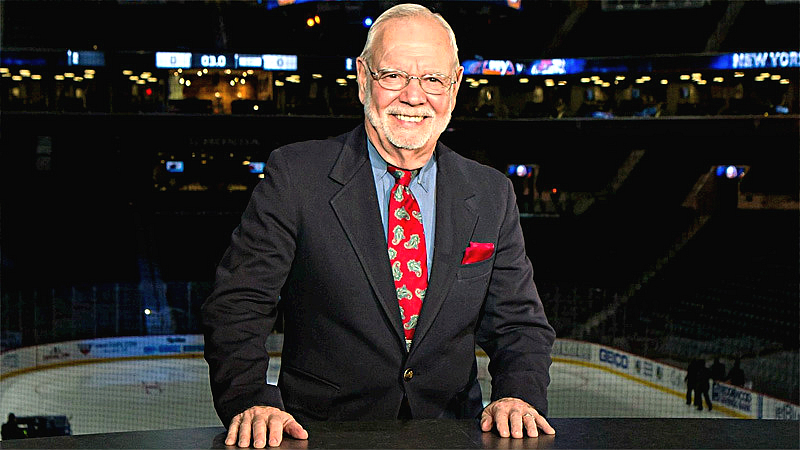 FISCHLER, 85 AT THE END OF THIS MONTH, HAS BEEN MAINSTAY ON THE NEW YORK HOCKEY SCENE FOR NEARLY 60 YEARS. ALONG WITH HIS VOLUMINOUS PUBLISHING ARCHIVE (ROUGHLY 100 BOOKS), HE IS A REGULAR INTERMISSION GUEST ON THE MADISON SQUARE GARDEN NETWORK TELECASTS OF THE RANGERS, ISLANDERS AND NEW JERSEY DEVILS. THROUGHOUT THE 70's, 80's AND 90's, HE WROTE A WEEKLY COLUMN IN THE HOCKEY NEWS. STAN ISN'T YET IN THE MEDIA WING OF THE HOCKEY HALL OF FAME. WHICH IS WRONG. AS WITH OTHERS, THE SELECTION COMMITTEE WILL PROBABLY WAIT UNTIL HE DIES — FEEL BAD — AND APPOINT HIM POSTHUMOUSLY.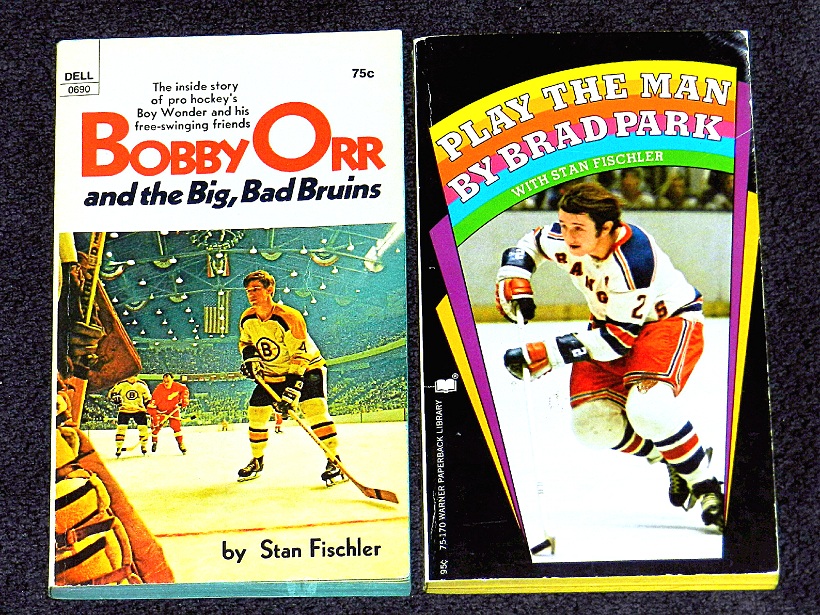 STAN ALSO WROTE ABOUT THE TWO PREMIER NHL DEFENSEMEN OF THE LATE–60's AND EARLY–70's. THE BIOGRAPHY OF BOBBY ORR (b. Mar. 20, 1948) AND THE BRUINS CAME OUT IN 1969 (THIS POCKETBOOK VERSION IN SEPTEMBER 1970). AN AUTOBIOGRAPHY WITH BRAD PARK (b. July 6, 1948) OF THE NEW YORK RANGERS APPEARED IN SEPTEMBER 1971 (THE POCKETBOOK IN DECEMBER 1972).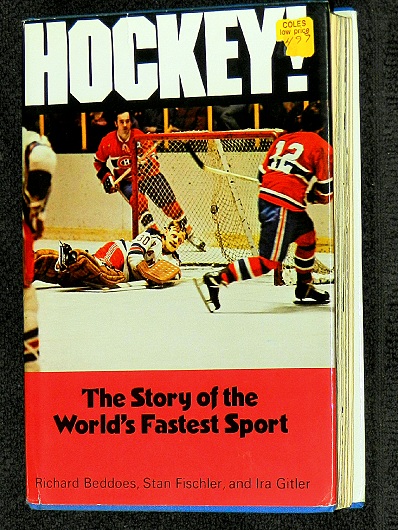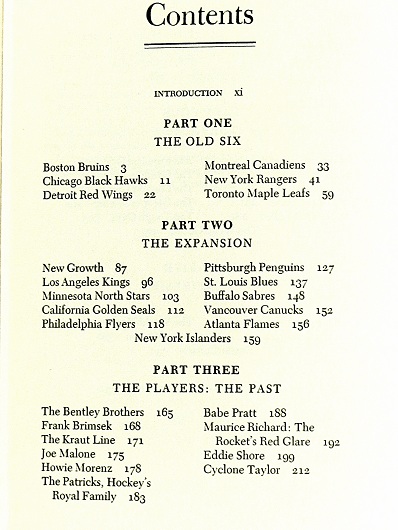 IN 1969, FISCHLER TEAMED WITH DICK BEDDOES (d. Aug. 24, 1991) OF THE GLOBE & MAIL AND BROOKLYN, N.Y. AUTHOR IRA GITLER (b. Dec. 18, 1928) TO PRODUCE A THICK VOLUME OF THE GAME'S HISTORY — THE FIRST TO DETAIL NHL EXPANSION IN 1967–68 (BELOW). THIS THIRD EDITION CAME OUT IN OCTOBER 1973 AND INCLUDED TEAMS FROM THE NEW WORLD HOCKEY ASSOCIATION.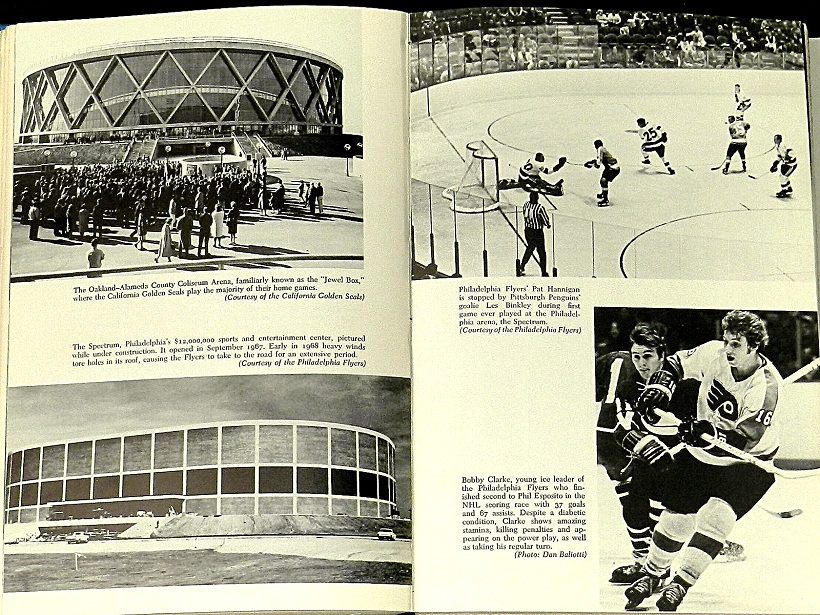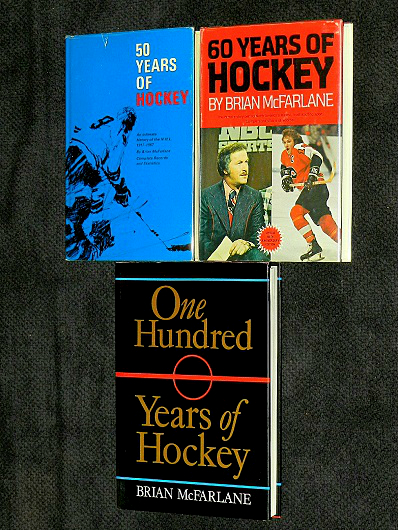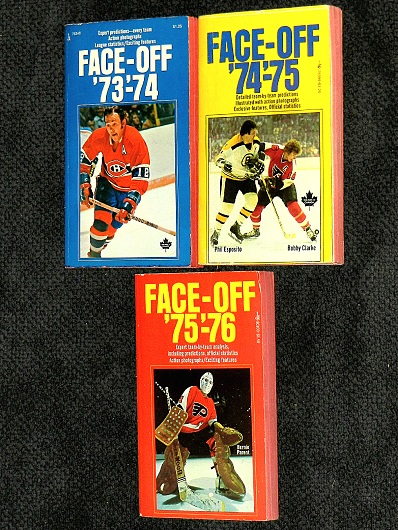 TOP–LEFT: THE THREE–VOLUME, BRIAN McFARLANE TRILOGY. 50 YEARS OF HOCKEY CAME OUT IN SEPTEMBER 1967; UPDATED VERSIONS — 60 YEARS IN SEPTEMBER 1976 AND 100 YEARS IN SEPTEMBER 1989. CORD COMMUNICATIONS OF NEW YORK PUBLISHED PRE–SEASON ANNUALS (TOP–RIGHT) IN THE MID–70's. HARD TO FATHOM THEY ARE NOW MORE THAN 40 YEARS OLD.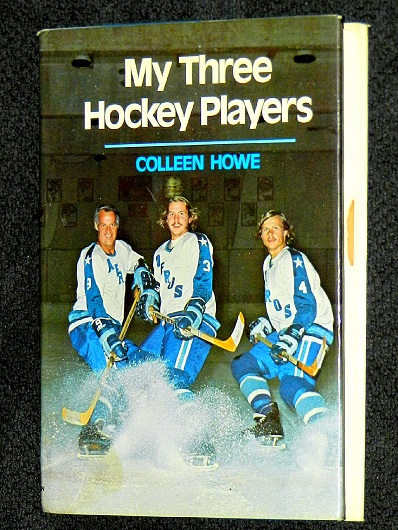 IN 1975, COLLEEN HOWE (d. Mar. 6, 2009) — THE MATRIARCH OF HOCKEY'S FIRST FAMILY — WROTE ABOUT HER FLOCK: HUSBAND GORDIE; SONS MARTY HOWE (b. Feb. 18, 1954) AND MARK HOWE (b. May 28, 1955), AFTER ALL THREE HAD JOINED THE HOUSTON AEROS OF THE WHA. IN THE EARLY–TO–MID–70's, STAN FISCHLER PRODUCED A SERIES OF COFFEE–TABLE–SIZED, SOFT–COVER BOOKS, INCLUDING THIS 1974 RELEASE (TOP–RIGHT) THAT DETAILED HOW THE TORONTO MAPLE LEAFS REBOUNDED IN 1973–74 FROM THEIR WORST SEASON, TO THAT TIME, IN FRANCHISE HISTORY.
EMAIL: HOWARDLBERGER@GMAIL.COM