TORONTO (Mar. 26) — Depending on the severity of the "upper–body" injury (either shoulder or concussion) sustained by Frederik Andersen on Saturday night in Buffalo, the Leafs may be looking at a reprisal of the 2001–02 season. Quite a bit later in the schedule, mind you, but the same premise.
In that year, the Leafs were ably bolstered, between the pipes, by Curtis Joseph — the best goalie the club has deployed since winning the 1967 Stanley Cup. Signed as a free agent from Edmonton in July 1998, Cujo led the Leafs to the playoffs in all four of his seasons here, winning at least one round each spring. Twice (in 1999 and 2002), the club advanced to the Stanley Cup semifinals. Joseph and the Leafs were enjoying another good season when the former suffered a fractured wrist in a home game against Carolina, Feb. 26, 2002. It was Toronto's first match after a 15–day break for the Winter Olympics in Salt Lake City, and it cast an immediate pall over the Blue and White (some may recall how Cujo refused to shake Pat Quinn's hand in a pre–game ceremony to salute Canada's gold medal in men's hockey; Joseph merely extended his blocker at Quinn after the coach had removed him from the Olympic tournament in favor of Martin Brodeur).
Unlike today, and under a different format, the Leafs weren't in acute danger of missing the playoffs. Instead, they were battling three other teams — the New York Islanders, New Jersey and Ottawa — for the No. 4 seed in the Eastern Conference and home–ice advantage in the opening round. Toronto's record after the 4–1 win over Carolina stood at 32–18–9 for 73 points, yet there was virtually no expectation the club would retain home ice with Joseph absent for any length of time. Then, Corey Schwab came to the rescue.
A native of North Battleford, Sask., Schwab arrived at training camp as a walk–on with the Leafs in 2001, having appeared in 93 career games with Tampa Bay (1996–99) and Vancouver (1999–2000). Glenn Healy had retired after backing up Joseph for three seasons. Schwab earned the No. 2 role with a good showing in exhibition games, but was a meager 3–7–2 while subbing for Cujo during the regular season. How could he possibly keep Toronto in the coveted fourth playoff spot? The answer wasn't immediate, as Schwab compiled a respectable 4–2–4 record in 10 starts. Quinn, handling the dual role of coach and general manager, acquired future Hall–of–Famer Tom Barrasso from Carolina at the trade deadline (Barrasso went 2–2 in four starts). But, Schwab really stepped it up with a 5–1–1 record in his next seven appearances — a combined mark of 9–3–5 enabling Toronto to retain the No. 4 perch in the Eastern Conference.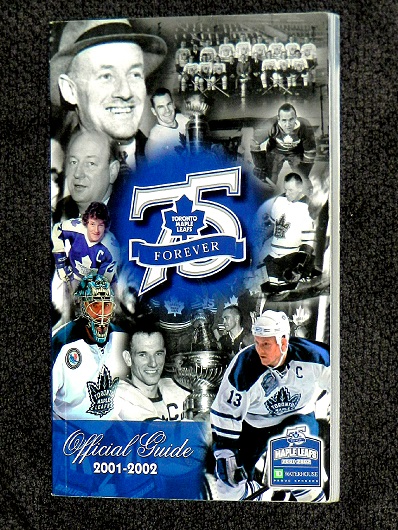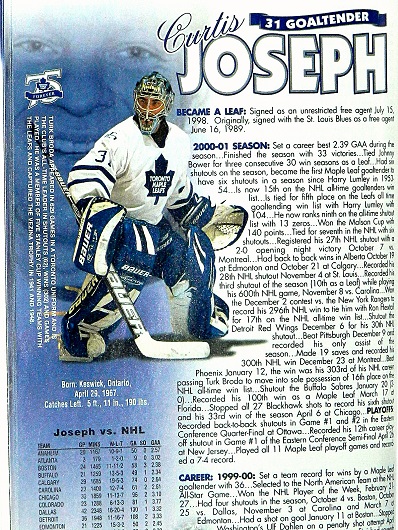 THOUGH HE WOUND UP PLAYING AN IMPORTANT ROLE DOWN THE STRETCH IN THE ABSENCE OF CURTIS JOSEPH, GOALTENDER COREY SCHWAB — A WALK–ON AT TRAINING CAMP — WASN'T EVEN LISTED IN THE TORONTO MAPLE LEAFS 2001–02 MEDIA GUIDE (ABOVE).
This proved critical, as the Maple Leafs, with Cujo back from injury, edged the Islanders in seven games during a chippy and brutal opening round — the home team going undefeated. New York won three at the Nassau Coliseum; Toronto, four at the Air Canada Centre, including a 4–2 triumph in the Apr. 30 decider. Another seven–game series followed, against Ottawa, and again the Leafs prevailed by winning the final match (3–0) on home ice. With Mats Sundin and Darcy Tucker injured — and with Quinn having suffered a frightening bout of arrhythmia — Toronto lost to Carolina in its bid to play Detroit in the Stanley Cup final.
The point of my history lesson is that a back–up goalie came up large for the Blue and White at a make–or–break juncture of the regular season. Multiply the circumstance several times over and you arrive at what may be requested of Curtis McElhinney… if Andersen is sidelined for all or part of the club's final eight games. As with Schwab 15 years ago, McElhinney hasn't inspired profound confidence among Leaf rooters, with a 4–5 record and 2.76 goals–against average. With Saturday night's clash at Buffalo hanging in the balance, he allowed three goals in a 10:25 span of the second period. The Sabres cruised to a 5–2 victory.
Can McElhinney, like Schwab, elevate his performance… or will the Leafs tumble out of the playoff picture?
At the moment, they lead Boston by one point for third in the Atlantic Division and a guaranteed post–season berth. Leafs are three points up on the Islanders (four on Tampa Bay) for the second wild card spot. Toronto's remaining games: Tuesday vs. Florida; Thursday at Nashville; Saturday at Detroit; next Monday (Apr. 3) at Buffalo; Apr. 4 vs. Washington; Apr. 6 vs. Tampa Bay; Apr. 8 vs. Pittsburgh; Apr. 9 vs. Columbus.
Five of eight at home, including the last four… all against good teams at the Air Canada Centre.
We may find out what sort of mettle this young club possesses, and whether Lou Lamoriello made the right call by claiming McElhinney off waivers from Columbus (Jan. 10) — a bargain–basement move when compared to Los Angeles trading their back–up (Peter Budaj); junior defenseman Eric Cernak; a seventh–round and conditional pick in the 2017 draft, to Tampa Bay, for proven veteran Ben Bishop.
But, let's give McElhinney a chance. If needed.
He played very well, at times, for Columbus and may have something in reserve.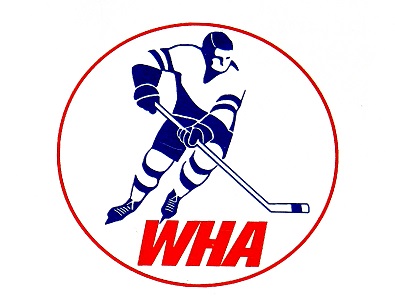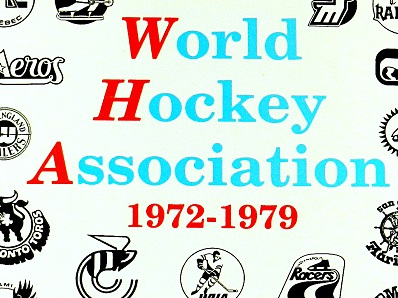 1974–75 WORLD HOCKEY ASSOCIATION CARDS
In the third season of the WHA, O–Pee–Chee here in Canada issued a set of 66 player cards, all pictured horizontally, and including the big names poached from the rival NHL. Here are several: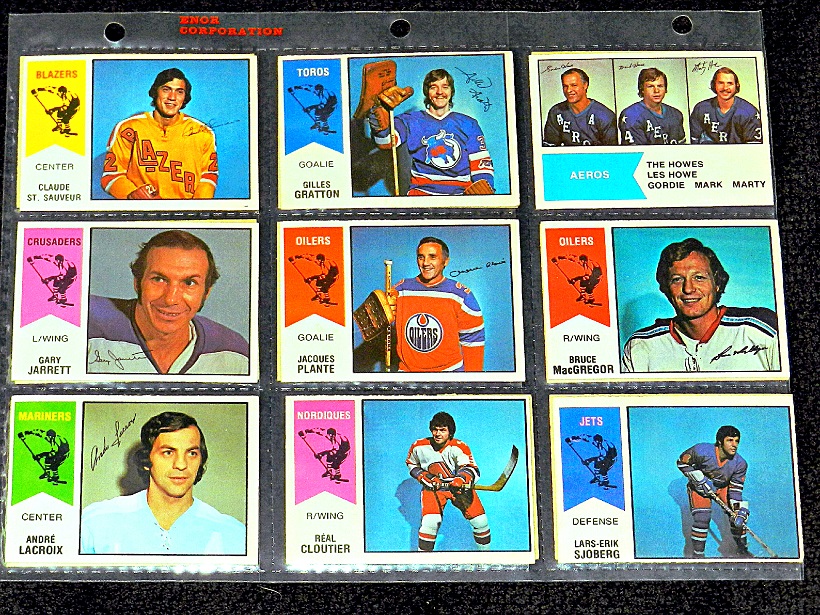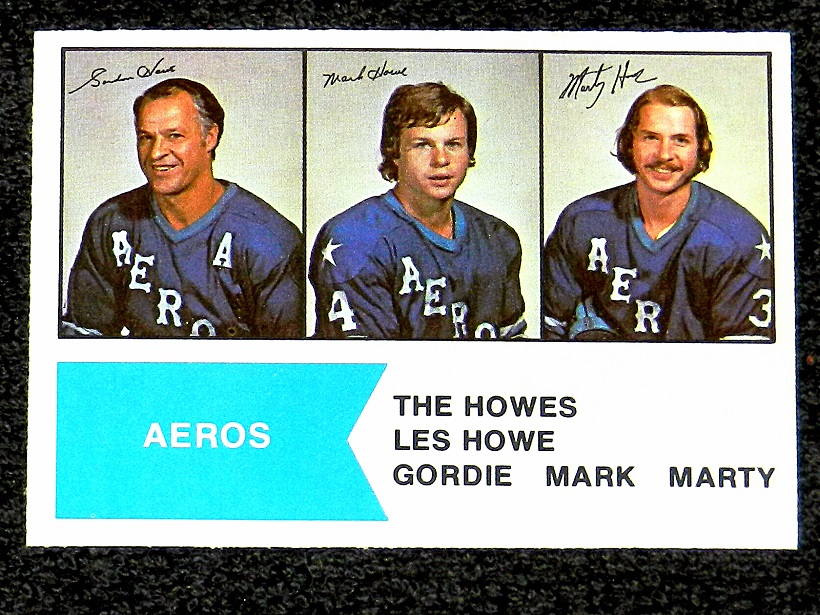 THIS IS, BY FAR, THE MOST VALUABLE CARD OF THE SET (ABOVE AND BELOW). IT CAN FETCH UP TO $100 AT TRADE–SHOWS. THE HOWES SIGNED IN HOUSTON FOR THE 1973–74 SEASON.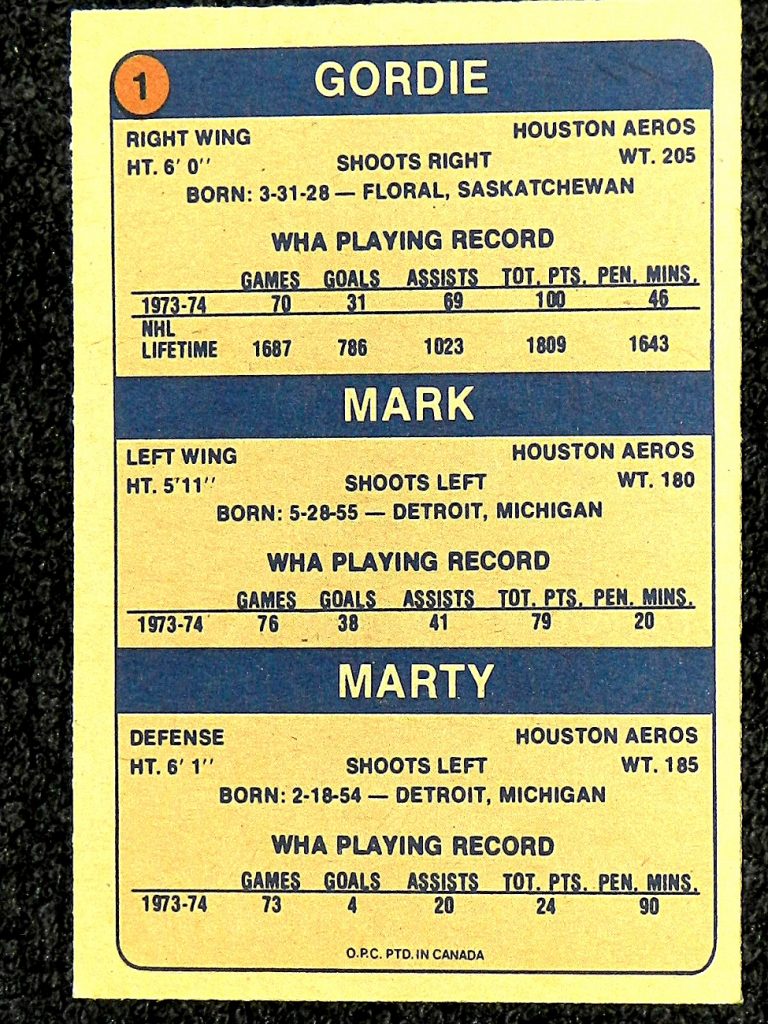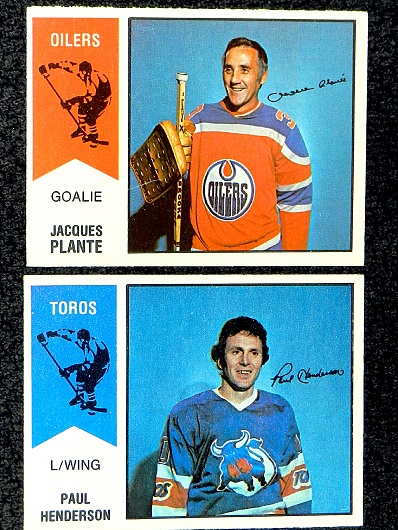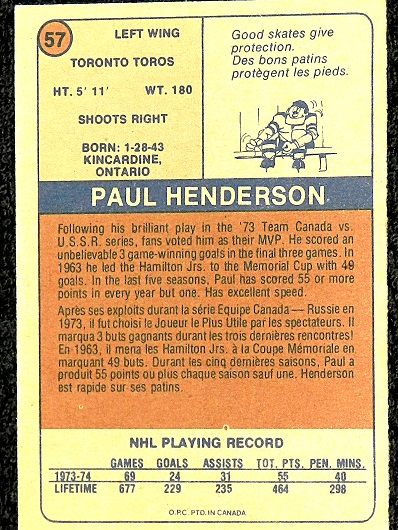 JACQUES PLANTE AND PAUL HENDERSON WERE TEAMMATES WITH THE LEAFS FROM 1970–71 TO 1972–73. THE BACK OF HENDERSON'S WHA CARD SOMEHOW BOTCHED UP THE YEAR OF THE 1972 CANADA–RUSSIA SERIES IN WHICH HE SCORED THE ICONIC WINNING GOAL WITH 34 SECONDS LEFT.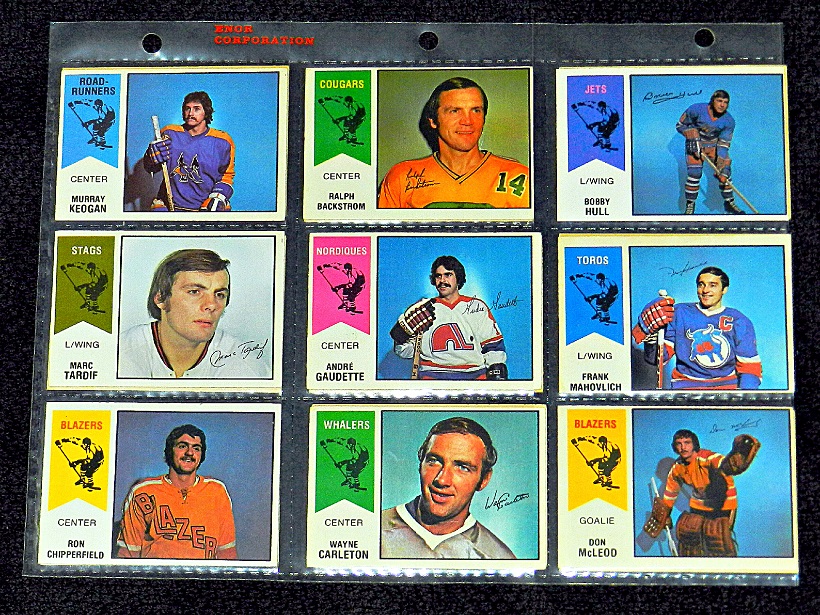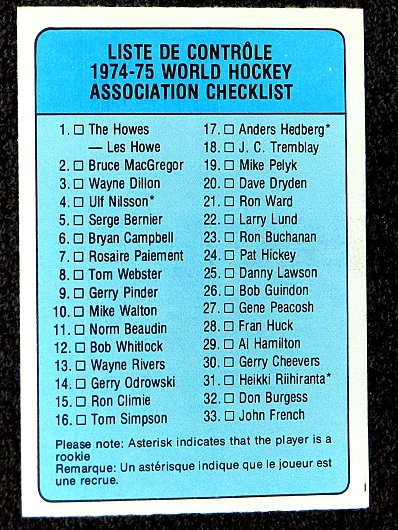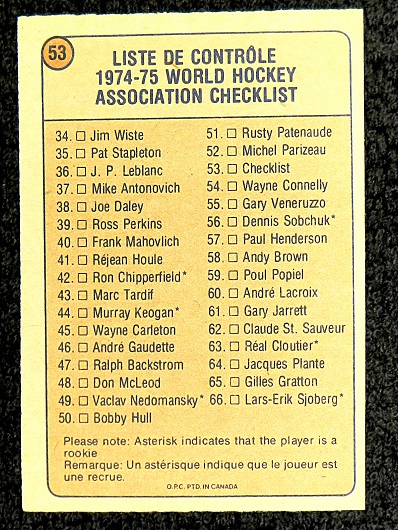 UN–MARKED CHECKLISTS ARE ALWAYS QUITE VALUABLE.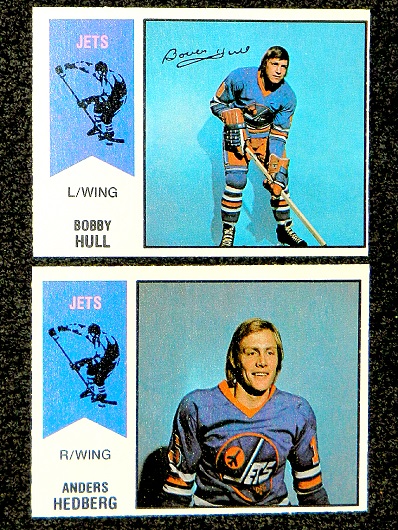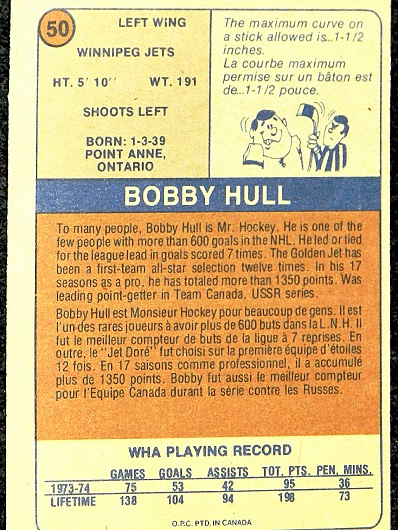 BOBBY HULL LEAVING THE CHICAGO BLACK HAWKS AND SIGNING WITH WINNIPEG IN 1972 ALLOWED THE WHA TO MOVE FORWARD WITH CREDIBILITY. WHILE PLAYING ON A LINE WITH HULL AND FELLOW–SWEDE ULF NILSSON, ANDERS HEDBERG SCORED 53 GOALS AS A ROOKIE IN 1974–75.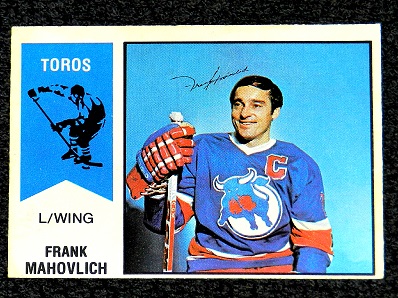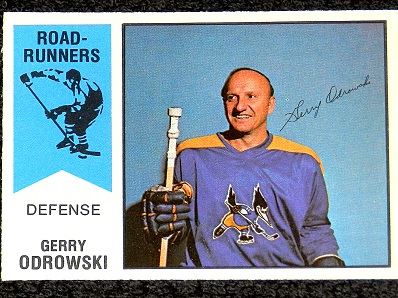 THE HALL–OF–FAMER AND THE QUINTESSENTIAL HOCKEY JOURNEYMAN (ABOVE AND BELOW). FRANK MAHOVLICH JOINED THE TORONTO TOROS IN 1974–75 AFTER WINNING SIX STANLEY CUP TITLES — FOUR WITH THE MAPLE LEAFS AND TWO WITH MONTREAL. GERRY ODROWSKI BOUNCED BETWEEN 12 CITIES IN HIS PROFESSIONAL CAREER (1960–76): DETROIT (NHL); PITTSBURGH (AHL); QUEBEC (AHL); SAN FRANCISCO (WHL); VANCOUVER (WHL); OAKLAND (NHL); SAN DIEGO (WHL); PHOENIX (WHL AND WHA); ST. LOUIS (NHL); LOS ANGELES (WHA); MINNESOTA (WHA) AND WINNIPEG (WHA).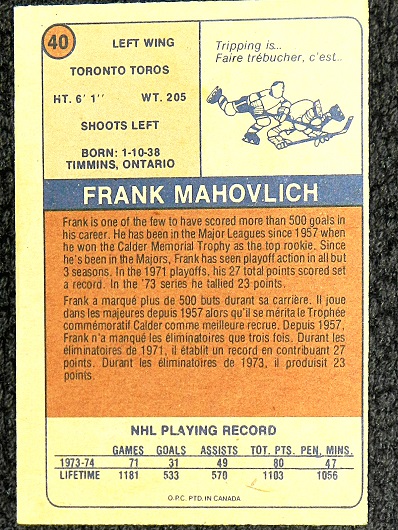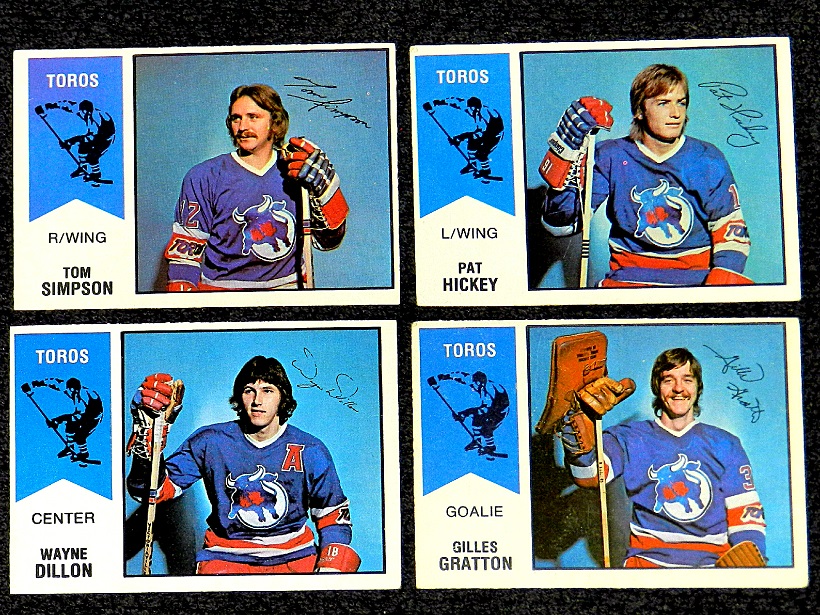 THE TORONTO TOROS PLAYED AT TINY VARSITY ARENA IN 1973–74; THEN AT MAPLE LEAF GARDENS IN 1974–75 AND 1975–76. THE CLUB RE–LOCATED IN BIRMINGHAM, ALA. FOR 1976–77.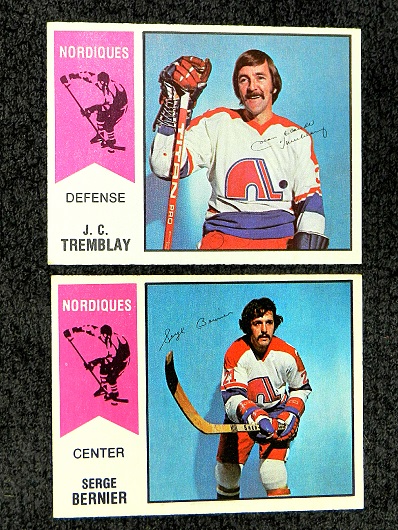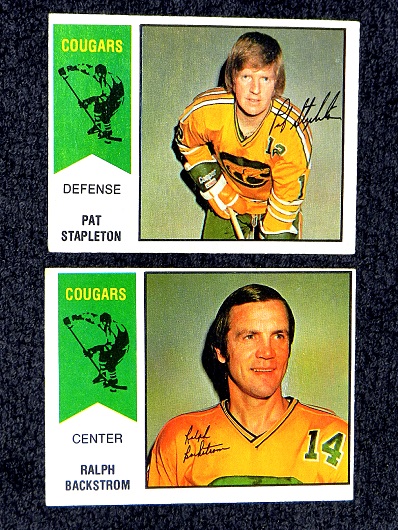 J.C. TREMBLAY (MONTREAL); SERGE BERNIER (PHILADELPHIA, LOS ANGELES); PAT STAPLETON (BOSTON, CHICAGO) AND RALPH BACKSTROM (MONTREAL, LOS ANGELES, CHICAGO) WERE ALL GOOD PLAYERS IN THE NHL BEFORE JUMPING TO THE RIVAL LEAGUE. BACKSTROM AND TREMBLAY WON THE STANLEY CUP AS TEAMMATES WITH MONTREAL IN 1965–66–68 AND '69.
EMAIL: HOWARDLBERGER@GMAIL.COM