TORONTO (Mar. 8) — An off year. A bad season. That has to be it.
How else can one explain the plight of Maple Leafs defenseman Morgan Rielly? As the team plummeted toward the National Hockey League basement in the two seasons prior to this, Rielly made big strides on the Toronto blue line. With the Leafs advancing toward the middle of the NHL pack this year, Morgan has regressed under coach Mike Babcock. During a season that began with the honor of playing for Team North America in the World Cup tournament. It makes no sense. Follows no pattern. Yet, it's there for all to see.
As mentioned, good players occasionally have bad years. And, Morgan Rielly is a good player; a terrific skater and puck–handler. He's never been the vision of superstardom, and Babcock nailed it last winter when he tabbed him a "real good No. 2" defenseman. For reasons unexplained, however, Rielly is zigging when he should zag. Not as frequently as the Leafs other most–talented blue–liner, Jake Gardiner. But, close.
Rielly's work in the defensive zone has never been as thorough as that beyond center–ice. This year, all three zones are lacking. He was badly out of position on both Detroit goals last night, as the Leafs built a 3–0 lead and hung on to edge the Red Wings, 3–2. After a fairly productive season with a 30th–place team (nine goals and 36 points a year ago were career highs), Morgan has but three goals and 22 points this season. His forays into the attacking zone aren't nearly as frequent — a sure sign of lagging confidence. Forever on the negative side in plus–minus numbers with bad Leaf teams, he is blatantly struggling this year (team–worse minus–23) with a much–improved club. TSN showed a graphic last night that placed Morgan dead–last among the NHL's 700–odd players in plus–minus since he returned, 18 games prior, from an ankle injury.
Again, it doesn't make a whole lot of sense. And, it could be a one–season anomaly. Tomorrow is Rielly's 23rd birthday. Perhaps we've forgotten that he's still quite young — particularly for a defender.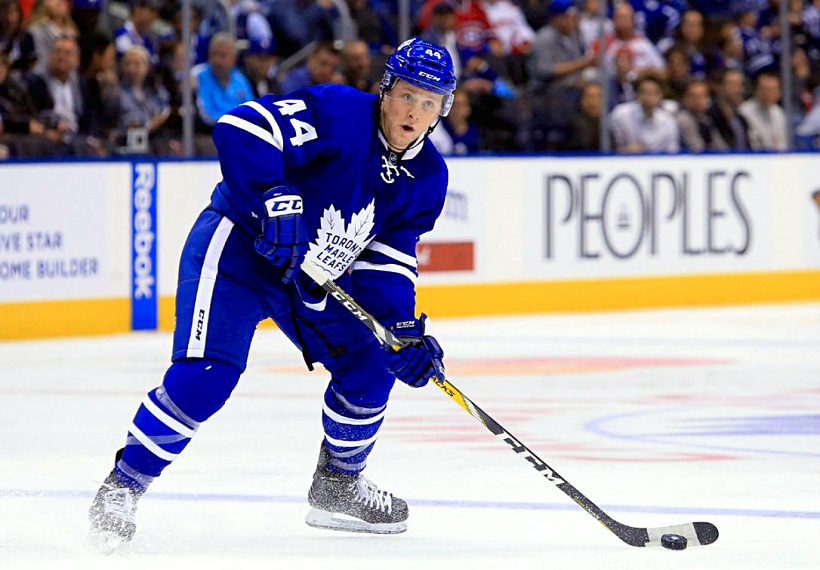 LEAFS DEFENSEMAN MORGAN RIELLY HAS STRUGGLED MUCH OF THIS SEASON. TORONTO STAR PHOTO
Troubling, however, is that Rielly and Gardiner have regressed under Babcock — noted for his dogged determination when imparting teachable elements of the game. And, proper defensive–zone coverage is teachable. Puck–moving decisions are more innate; players either have the ability to make good, quick reads, defensively, or they don't. It's a deficit that plagued Dion Phaneuf during his time as captain of the Maple Leafs. But, zone–coverage can be properly developed with coaching, practice and study.
Sadly for the Leafs, Rielly is trending downward in this crucial area.
Back in December, before it was certain the Leafs would follow the NHL trend of making their best player (Auston Matthews) captain, I touted Rielly for the 'C'. He has evolved from a shy, soft–spoken rookie into an unflappable spokesperson for the team. But, a captain must blend leadership with near–select performance on the ice. And, the latter has somehow escaped Rielly for much of the 2016–17 season.
I figure the reversion is temporary. But, only time will tell.
3,000 FOR JOE (FOUR FOR ME)
The voice of the Maple Leafs, Joe Bowen, called his 3000th game last night at the Air Canada Centre. Since October 1982, Joe has worked only 2,996 of them without yours truly. And, though he probably has no recollection of the four games he called with me beside him, they rank as career highlights at this end.
Between February 1990 and March 1995, during my years as a hockey reporter at The FAN–590, I was asked to pinch–hit for radio analyst Bill Watters — on Feb. 10, 1990 at Hartford; Oct. 13, 1990 vs. Detroit at Maple Leaf Gardens; Dec. 1, 1990 at Los Angeles and Mar. 25, 1995 at Winnipeg. It was a poor exchange for the listening audience, but I sure had a helluva time. Joe was always friendly and welcoming in these situations.
"Just have fun, Howie," he would respond when I sought his advice.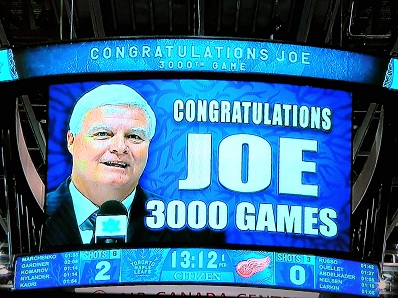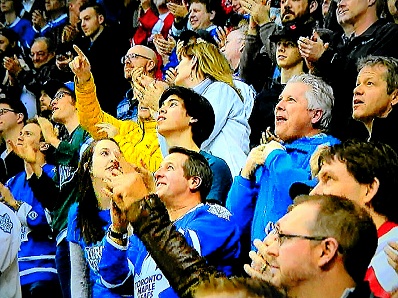 AT 5:48 OF THE FIRST PERIOD LAST NIGHT, THE LEAFS HONORED JOE BOWEN WITH A VIDEOBOARD TRIBUTE FOR HIS 3000th GAME. AS THE FANS AT AIR CANADA CENTRE ROSE TO APPLAUD, THE LEAFS BROADCASTER PAID HOMAGE (BELOW) TO CO–PILOT JIM RALPH; THEN OFFERED A WAVED. TSN IMAGES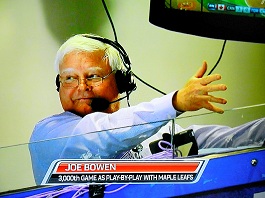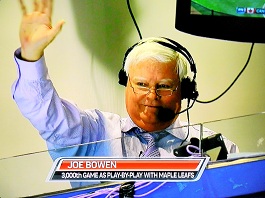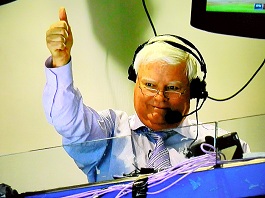 A couple of Joe Bowen stories stand out. I wrote about one, in this corner, on Jan. 10, 2012, hours after the death of long–time NHL executive, Ron Caron. I remember Caron for his tenure as general manager of St. Louis (1983–96), at a time when the Maple Leafs and Blues were Norris Division rivals; frequently squaring off in the regular season and playoffs. Among an ever–diminishing breed of characters in hockey, Caron stood alone for his famed dual–personality — an engaging, articulate gentleman when his team wasn't in action; a raving, uncontrollable lunatic during games. I would therefore sit next to him early in my radio career when the Blues were at Maple Leaf Gardens — knowing that he could fly off the handle at a moment's notice; race over to our unprotected broadcast area; stick his beet–red face between Bowen and Watters and regale our listeners with a riotous stream of obscenity. Any appearance of perspective and decorum would abandon him, only to return once the final buzzer sounded. It was truly remarkable.
By the time I initially covered the Leafs on the road in a playoff series for the radio station, I was fully versed in Caron's histrionics from the Gardens. That was in 1990, when the clubs met in an opening–round series beginning at St. Louis… and I don't think I saw more than 10 minutes of the first two games. The visiting broadcast booth at the old St. Louis Arena was beside Caron, who may have been at his nuttiest back then. A mere pane of glass separated the two enclosures. Caron would stand, wild–eyed, and give the "choke" sign to Bowen and Watters. Joe would respond with the ol' nose–raspberry — further enraging the GM.
From my perch in the press box, I could glance left and see both areas through another pane of glass. Knowing that Caron would leap from his chair and run next door when a referee's call went against the Blues, I had to make like Usain Bolt and get to the entrance before him. At least half–a–dozen times each night, I would become rigid under the door–frame of our booth and prevent Caron from getting at Bowen and Watters — the unruly manager trying to squeeze through openings between my arms and legs. I remember thinking, 'What am I doing here? I should be watching the game.' But, I couldn't risk Caron turning the air blue for our listeners back home. So, I played security guard. You had to see it to believe it.

THE LATE ST. LOUIS BLUES GENERAL MANAGER, RON CARON.
Another Bowen memory — and of astonishing coincidence — is from 25 years ago this afternoon at the Cow Palace in San Francisco. The San Jose Sharks played their first two NHL seasons at the old barn in Daly City, close to San Francisco International Airport. The Leafs were at the arena for a matinee against the expansion Sharks on Mar. 8, 1992. I covered the game for the radio station. With no press box, per say, the broadcast area at the Cow Palace was behind the second level of seats — virtually among the spectators.
Reporters, myself included, sat in front of the TV and radio section.
Well, anyone that has been perched near Joe during a Maple Leafs game will tell you he doesn't need a megaphone. Perhaps not even a microphone. Bowensy has enviable pipes and his enthusiastic play–calling will ultimately land him in the media wing of the Hockey Hall of Fame — maybe as soon as next year. At the Cow Palace, it could have landed him in jail for disturbing the peace. I'll never forget how fans in the immediate area of the press location kept snapping their heads around in shock (and occasional displeasure) each time Joe raised his already–resounding voice during the play. He was wearing a headset and probably didn't realize how stunningly he projected. Nor, I'm certain, did he care.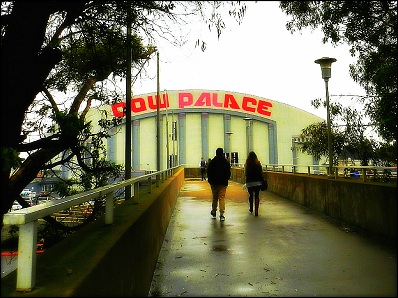 WALKING TOWARD THE COW PALACE IN A DECEMBER 2014 VISIT TO SAN FRANCISCO.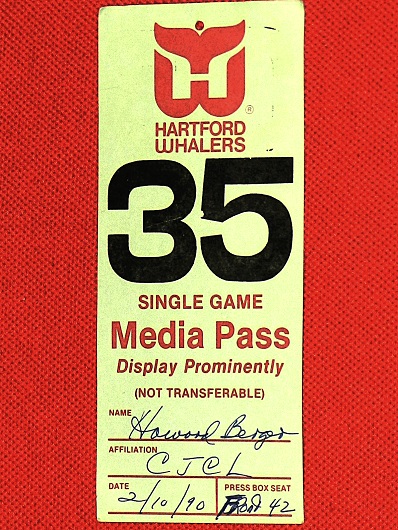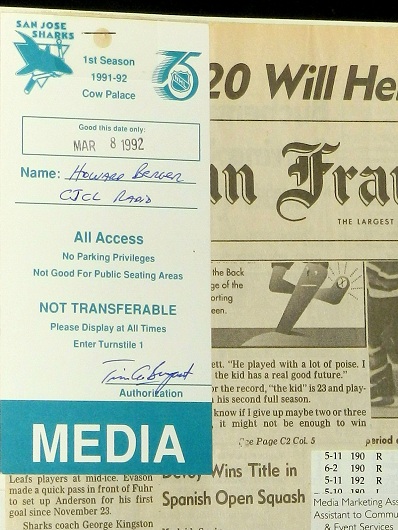 MY MEDIA CREDENTIAL (TOP–LEFT) FROM THE FIRST GAME IN WHICH I DID COLOR–COMMENTARY ALONGSIDE JOE BOWEN (AT THE HARTFORD CIVIC CENTER MORE THAN 27 YEARS AGO). AND, MY PASS (RIGHT) FROM THAT LOUD AFTERNOON IN SAN FRANCISCO — A QUARTER–CENTURY AGO TODAY.
JOE THE PRO: Among the qualities that has made Bowen a sure–fire Hall–of–Famer is the manner in which he calls an opposition goal. Of course, Joe is a "homer". Show me a team broadcaster that isn't and I'll find you someone that believes Rickard Wallin is the greatest player in Maple Leafs history. Joe will be the first to tell you he wants "his" team to prevail. But, not to the detriment of the broadcast.
As such, a quick, recent story: The Leafs played Winnipeg at the Air Canada Centre on Feb. 21. My son, Shane, a virulent fan of the Blue and White, was in town from Guelph (where he attends university) and we were driving along the 407–ETR toll road from Thornhill to my mid–town apartment. Shane and I were talking, with the game on radio in the background (but loud enough to hear). The Leafs led, 1–0, on an early goal by Leo Komarov. Moments later, we heard Bowen exclaim "he scores!!" and Shane raised his arms, certain it was a second Toronto tally. In fact, Joe was calling a game–tying marker by Winnipeg's prized rookie, Patrik Laine. Neither of us would have known, given how professionally he described the play.
This is a quality that sets Joe apart from virtually all other team broadcasters, many of whom cannot mask disappointment when calling an opposition goal. Their voices either flatten out or drop off altogether. It's a major reason why Joe's plaque will eventually adorn the sacred Hall at Yonge and Front St. here in Toronto.
EMAIL: HOWARDLBERGER@GMAIL.COM