TORONTO (Apr. 8) — It is officially and undeniably crunch time for the Toronto Maple Leafs.
Not unexpectedly, the quest for a playoff berth in the Eastern Conference has come down to the final weekend of the regular season and will be impacted by a game tonight against the defending Stanley Cup–champion Pittsburgh Penguins; possibly tomorrow night, as well, against the markedly improved Columbus Blue Jackets — each at the Air Canada Centre. Neither the Penguins nor the Blue Jackets have anything tangible to compete for; both are locked into their playoff brackets in the Metropolitan Division and will open a first–round series against one another at Pittsburgh. That said, Sidney Crosby will be in the line–up tonight, which frequently indicates trouble for the Maple Leafs. Precisely as it should be.
The Leafs can still back into the playoffs with losses by Tampa Bay (tomorrow, at home to Buffalo) and the New York Islanders (tonight, at New Jersey; tomorrow, at home to Ottawa). Should this occur, Toronto can qualify for the Stanley Cup tournament by going point–less over the weekend… and by being swept in regulation time on home ice in its final four games of the schedule. It appears, however, that the Leafs will have to enter via the front door — by accumulating at least two points against Pittsburgh and Columbus.
Again… as it should be.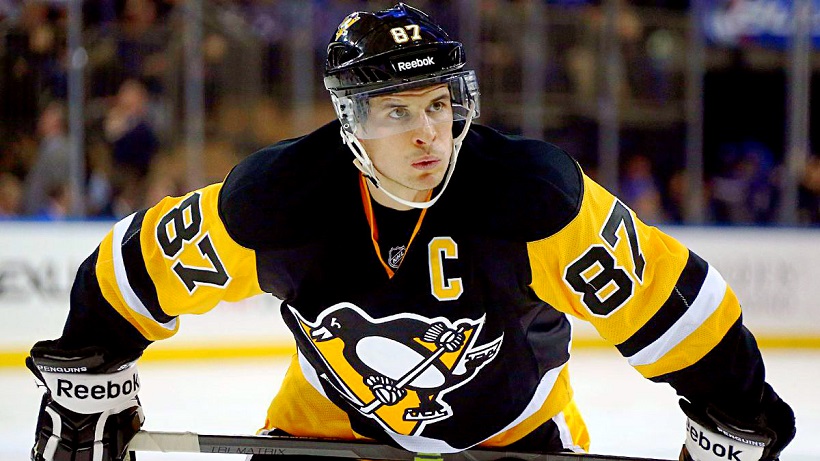 CAPTAIN CROSBY WILL BE IN UNIFORM TONIGHT AT THE AIR CANADA CENTRE.
Tampa Bay has shown the Leafs what is required — amid dire circumstances — to execute a legitimate playoff push. The Lightning is without three of its top players, including the prolific Steven Stamkos. General manager Steve Yzerman unloaded forward Brian Boyle (to Toronto) and elite goalie Ben Bishop (to Los Angeles) prior to the trade deadline. Yet, the club has put together a 7–1–1 mark in its past nine games — a tribute, in particular, to coach Jon Cooper… and defenseman Victor Hedman — among the top three on the planet at his position. As such, should the Lightning finish with another victory tomorrow against the Sabres and snatch the final playoff rung in the East, no Toronto hockey fan will be able to moan about thievery.
Tampa Bay will have earned every scintilla of its place in the Cup tournament.
That said, I stand by my contention that the Leafs will earn the necessary points this weekend to qualify for the first time since 2004 in a full 82–game schedule. Though the road has become strewn with rocks, Toronto is still in the driver's seat — leading the Lightning by one point in the standings, and 38–37 in ROW's (regulation or overtime wins), which constitutes the first tie–breaker. Should Tampa Bay and Toronto finished tied in points and ROW's, the Lightning would make the playoffs on the second tie–breaker, a 5–4 edge in points earned during four head–to–head meeting this year.
Toronto leads the Islanders by three points. New York, according to TSN senior hockey writer, Frank Seravalli, can eliminate Toronto and Tampa Bay only by this near–impossible scenario: "A Sens win vs. the Rangers on Saturday; plus the Bruins losing in regulation to the Capitals on Saturday; plus the Lightning losing in regulation to the Canadiens on Friday (already happened); plus the Leafs losing both games in regulation; plus the Islanders winning both games." The fish–sticks, clearly, are fishing for a miracle.
Hold onto your hats.
The last stretch of road is going to be the wildest.
A FAN'S OPINION — THE LINDSAY FILE


Lindsay Traves is a Toronto lawyer that studied philosophy at the University of Western Ontario; then law at the University of Windsor. I went through school in the 1970's with her parents: Bob Traves and Marla Raibmon. Having met Lindsay only once, on a completely unrelated matter, I had no idea she was such a virulent fan of the Maple Leafs. Until Friday. That's when I came upon a lengthy post on her Facebook page. Which blew me away. Having obtained Lindsay's permission, I'd like to share that post.
How many of you can relate to  her evolving emotion?
It is 2002. The Leafs are in the third round of the playoffs. For every kid born in the late–80's, this is exciting, but a plausible standard. Someone makes a joke about [Nik] Antropov. "He's the worst." A Pylon. In the arena, fans are chanting "Ed–die" or "Do–mi." The Jumbotron has to give up showing kids with red–dyed faux hawks trying to look like Bryan McCabe. I couldn't decide between his jersey or Darcy Tucker's. For my generation of Leaf fans, this is all we knew. Making the playoffs wasn't a question, rattling off the roster was easy, and sprinting to the city with a giant flag to join others was your average school night in April.
Then, it happened. The 2004–05 lockout. When players came back, rules had changed. And while I don't think I can quite pinpoint what took them down (shootouts?), the Leafs began to stink. I mean really blow. Fans turned on them so fast; McCabe was getting booed at home, and no one will forget exactly how many times he scored on his own net. Fans blamed every one of the goalies through the revolving door and groaned at the sight of general managers (John Ferguson, Cliff Fletcher and Brian Burke) for drafting fighters and trading for old guys when the new rules didn't call for it. We ended up with three minutes of Doug Gilmour (March 2003, in Calgary) and guys too old for the Olympic team. Coaches were fired. Managers were fired. Players were traded and retiring. Being a Leaf fan went from a point of pride to something you qualified with "I know, I know, but I was BORN blue."
Fandom meant boasting that we won't give up in the bad times, comparing ourselves to such fickle fan bases as the Senators'. Just like that, the Leafs stunk. Making the playoffs was a pipe dream and the season was over in March. The arena got quiet. Franchise players ran through so fast, they had to keep renaming the Troops program (at Air Canada Centre), until eventually settling on "Leafs Troops," over a player–name rhyme. Luke Schenn. Joffrey Lupul. They had to select a mandatory player from the Leafs for the All Star Game. For my generation, this is the new standard, and while we hardly remember the good times, we can certainly remember those rosters.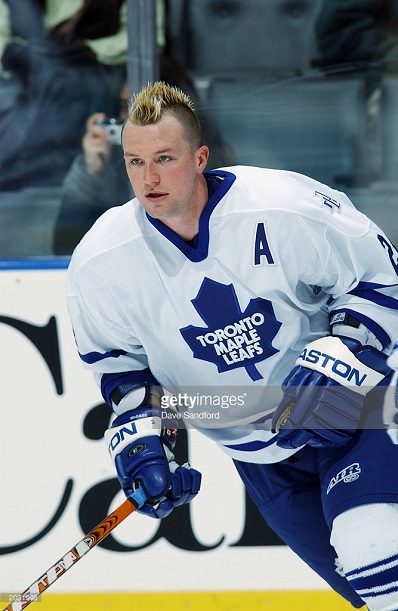 LINDSAY TRAVES STILL REMEMBERS THE McCABE MOHAWK.
Now it is April, 2017. And something is different.
It's been both a perpetual beacon of hope and a running joke that every season, after the opener, Leaf fans start planning their Stanley Cup parade. And we have almost meant it a few times, until roughly January, when it all begins to fall apart and casual Habs' fans revel in our disappointment. While I am not looking into the legality of King Street closures just yet, for the first time, no one is joking about the parade. Why? Because this time, it isn't a hyperbolic pipe–dream. This time, the playoffs could actually happen. They might even get to the second round. They might even get to play the Sens for old time's sake. For the first time since I was a high school kid waving a giant flag in the streets, the Leafs don't suck.
A lot of fans are probably thinking "but we knew Auston Matthews and Mitch Marner were this good. We knew this was our year." Did you? Finding "good players" hasn't been the prime issue. Stanley put a ring on Phil Kessel the season after his big trade. James van Riemsdyk was an Olympic star. This isn't William Nylander's first season. I can't pinpoint the exact moment, I really can't. All I know is we are suddenly at the time of year when playoff spots are being clinched, and cringing Leaf fans everywhere are hearing such things as "when they make the playoffs" and "at the playoff games this year."
Matthews has broken three club records, including one held by Wendel Clark. Marner, who looks like he hasn't finished his first round of braces, is a bona fide star. Matt Martin? An enforcer with legit chops who can keep enforcing with the rule changes, something the Leafs haven't had since 2005.
When Brendan Shanahan took over the team in 2014, fans were skeptical. Perhaps he was merely a famous name rather than a qualified candidate. He hired Lou Lamoriello to take over as general manager and I remember the lukewarm discussions I had with other fans. But later, came the substance of one of the biggest rebuilding whirlwinds fans had ever seen. Discussions changed from the half tongue–in–cheek "this is our year," to "we're building toward something great."
With a couple of games left in the regular season, I don't know if the Leafs will make the playoffs.
What I do know is they don't stink.
If the Leafs make the playoffs, Lindsay will continue to share her feelings on this site.
HOCKEY PICTORIAL
From 1965 to 1967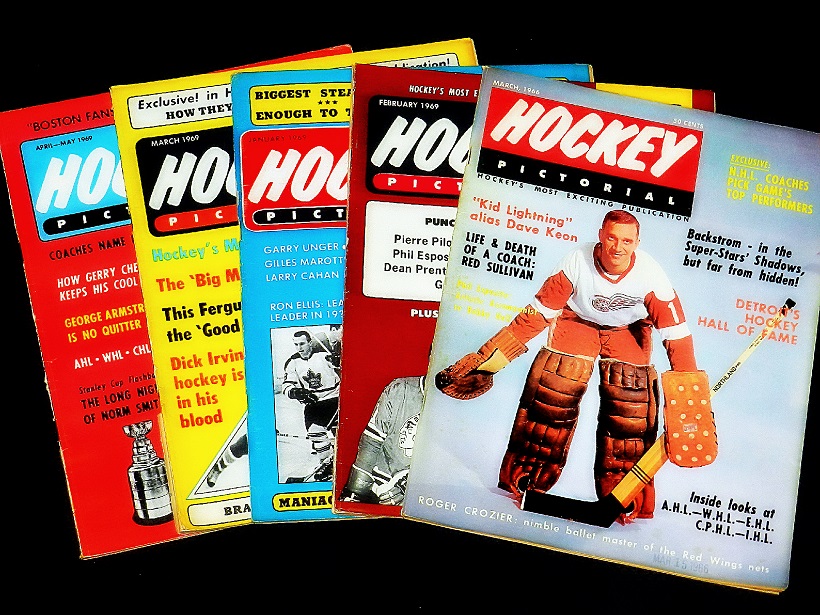 From my collection, a look at the covers of Hockey Pictorial Magazine between October 1965 and April/May 1967 — final edition before the Leafs won their last Stanley Cup: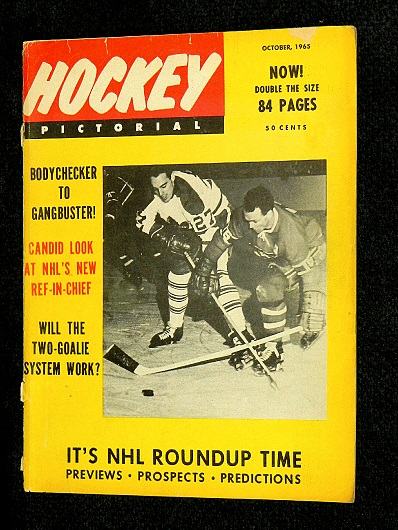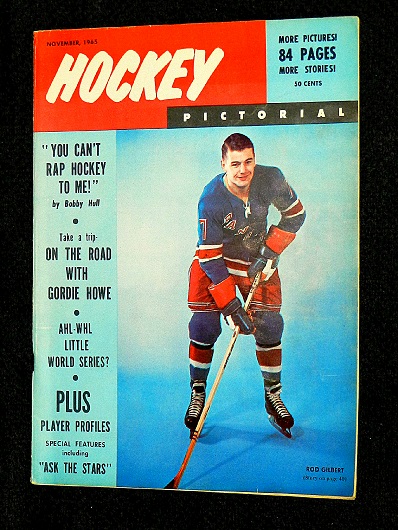 OCTOBER 1965 / NOVEMBER 1965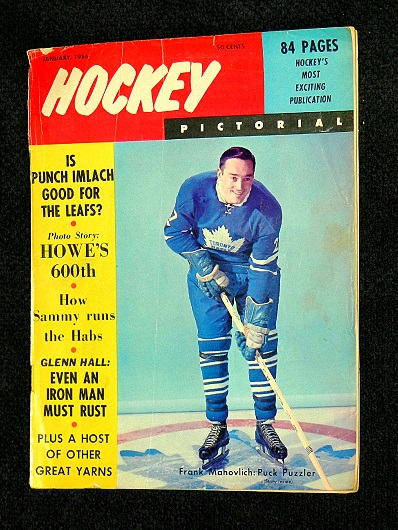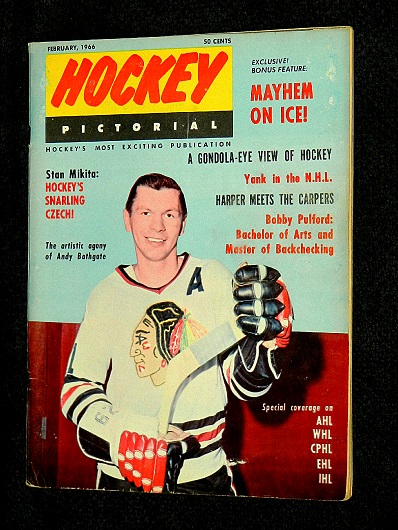 JANUARY 1966 / FEBRUARY 1966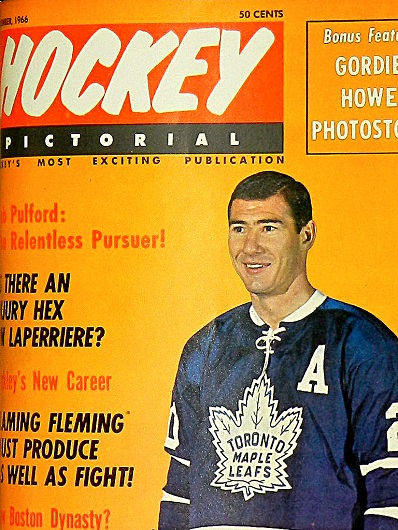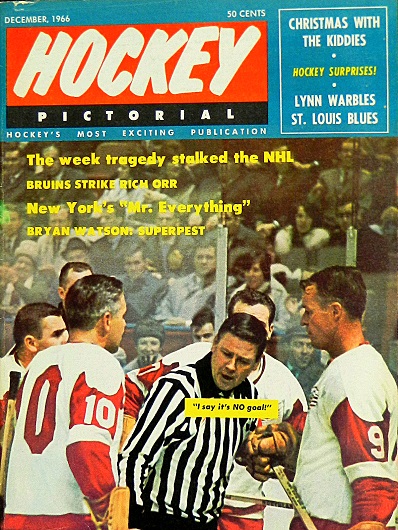 NOVEMBER 1966 / DECEMBER 1966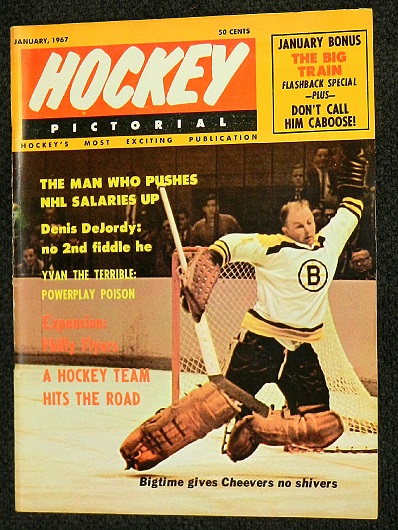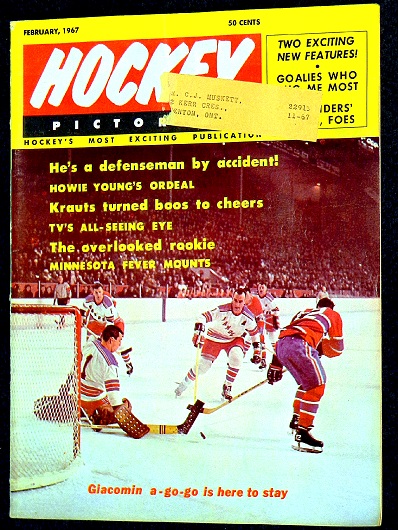 JANUARY 1967 / FEBRUARY 1967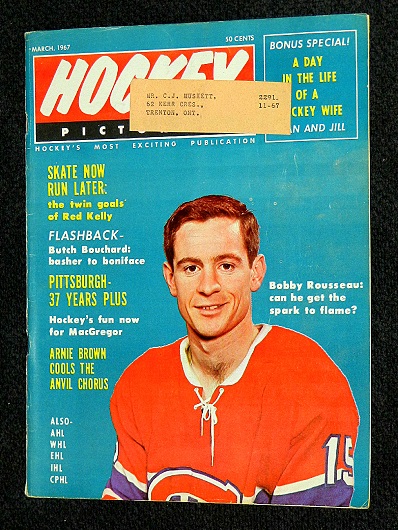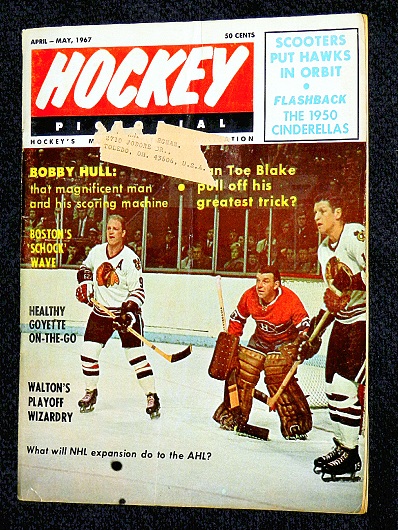 MARCH 1967 / APRIL–MAY 1967
CONTENTS OF THE APRIL–MAY 1967 ISSUE (TOP–RIGHT):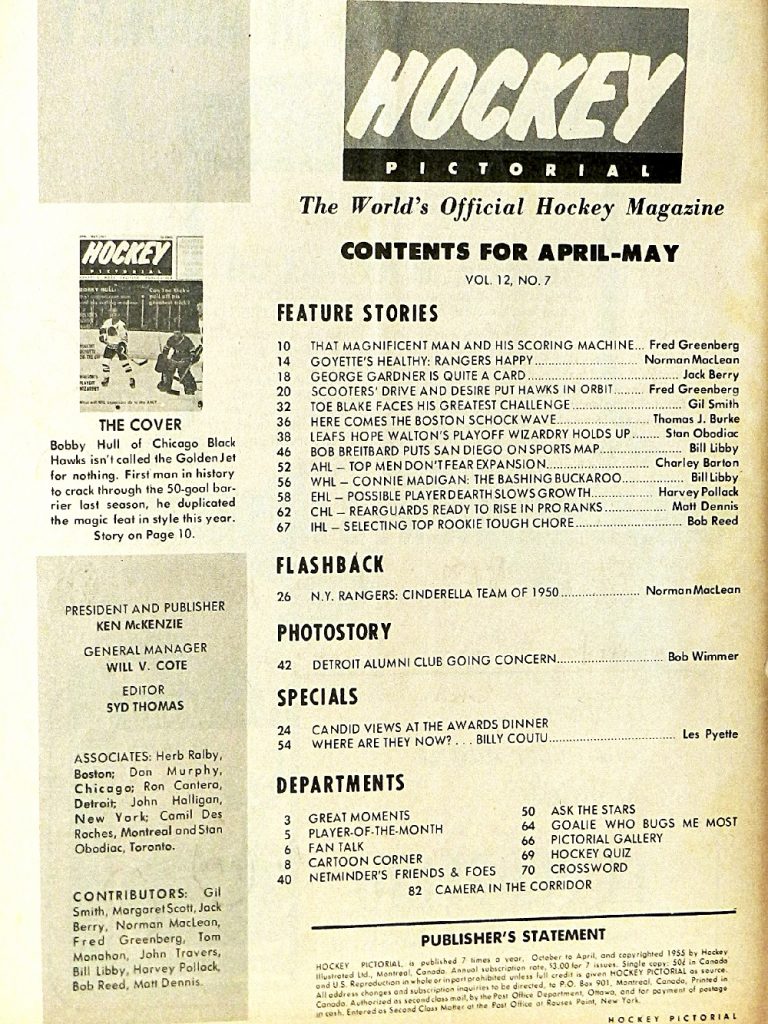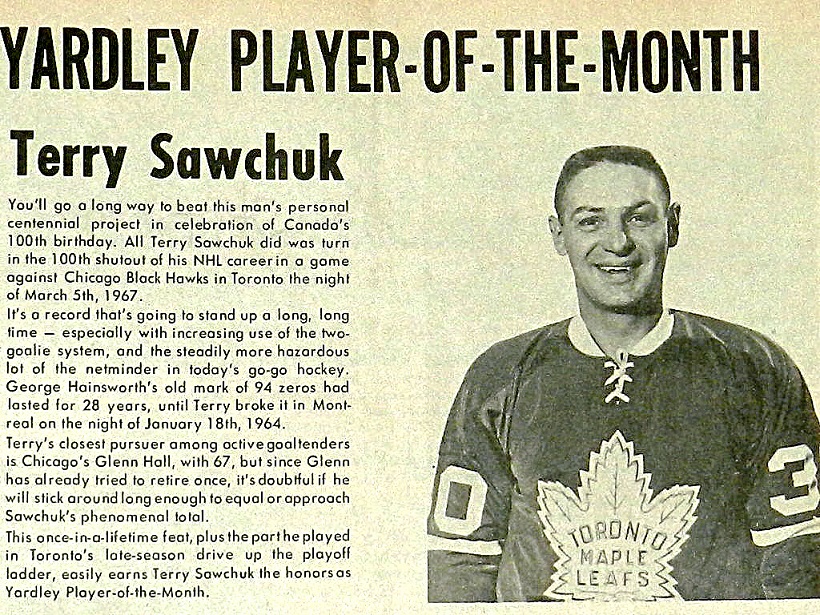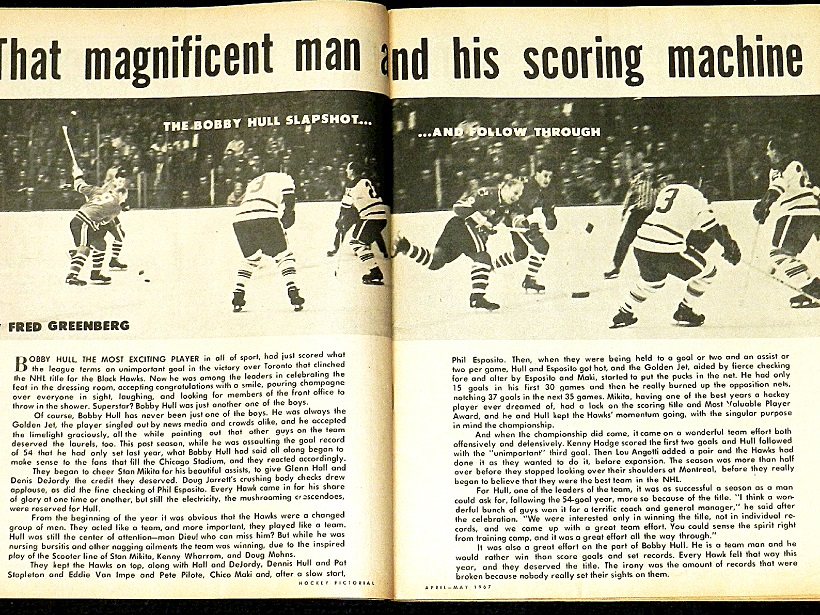 LITTLE BRETT HULL (BOTTOM–RIGHT) IS TODAY THE FOURTH–LEADING GOAL–SCORER IN NHL HISTORY, WITH 741, TRAILING ONLY WAYNE GRETZKY, GORDIE HOWE AND JAROMIR JAGR.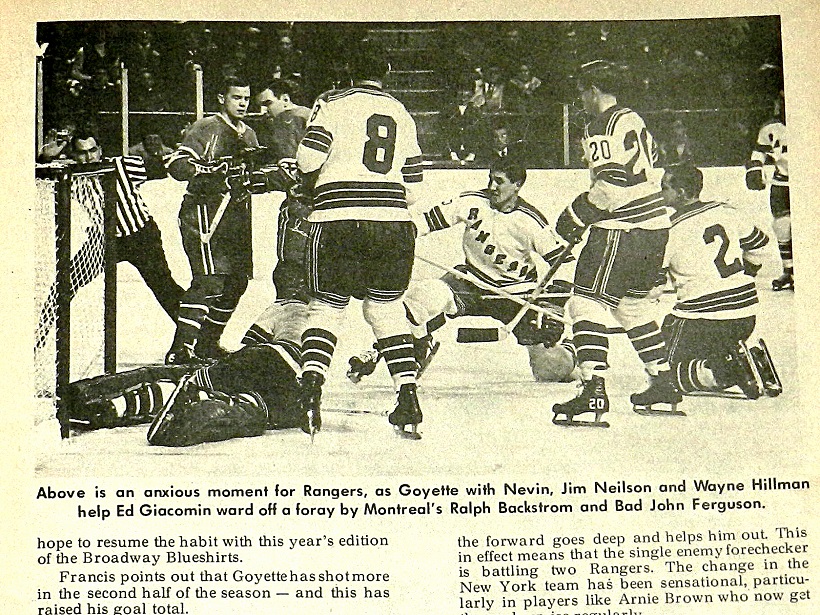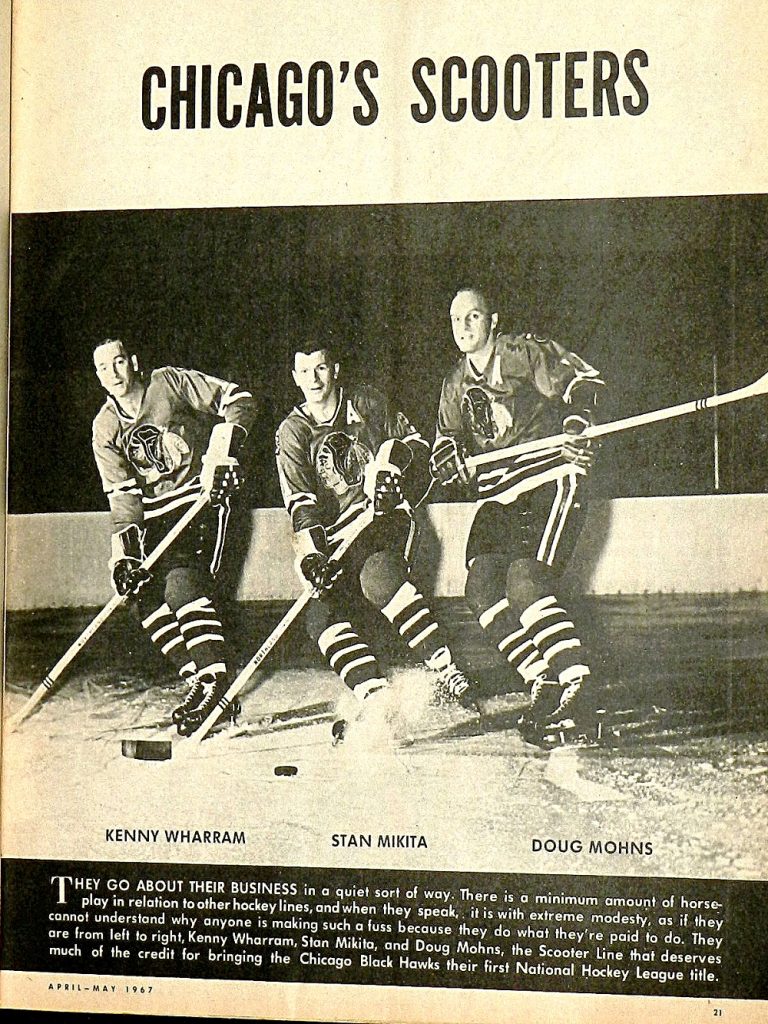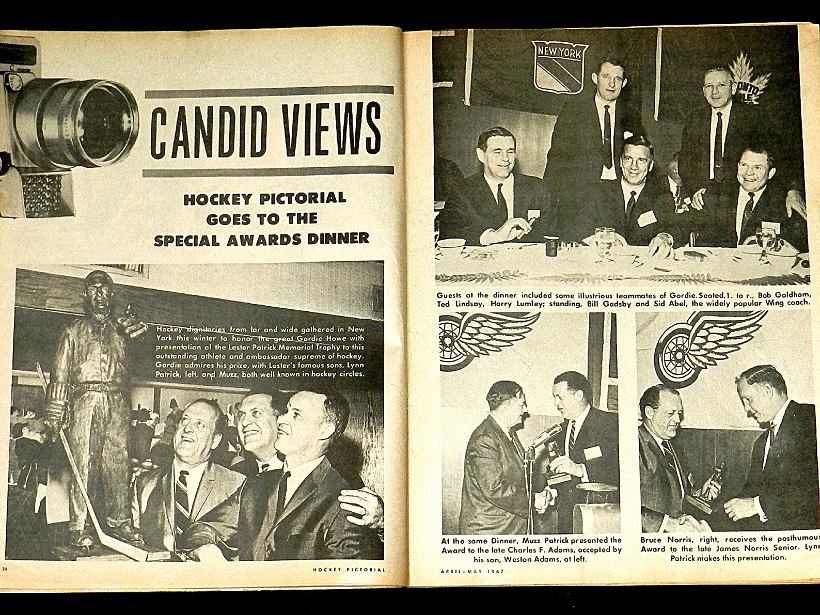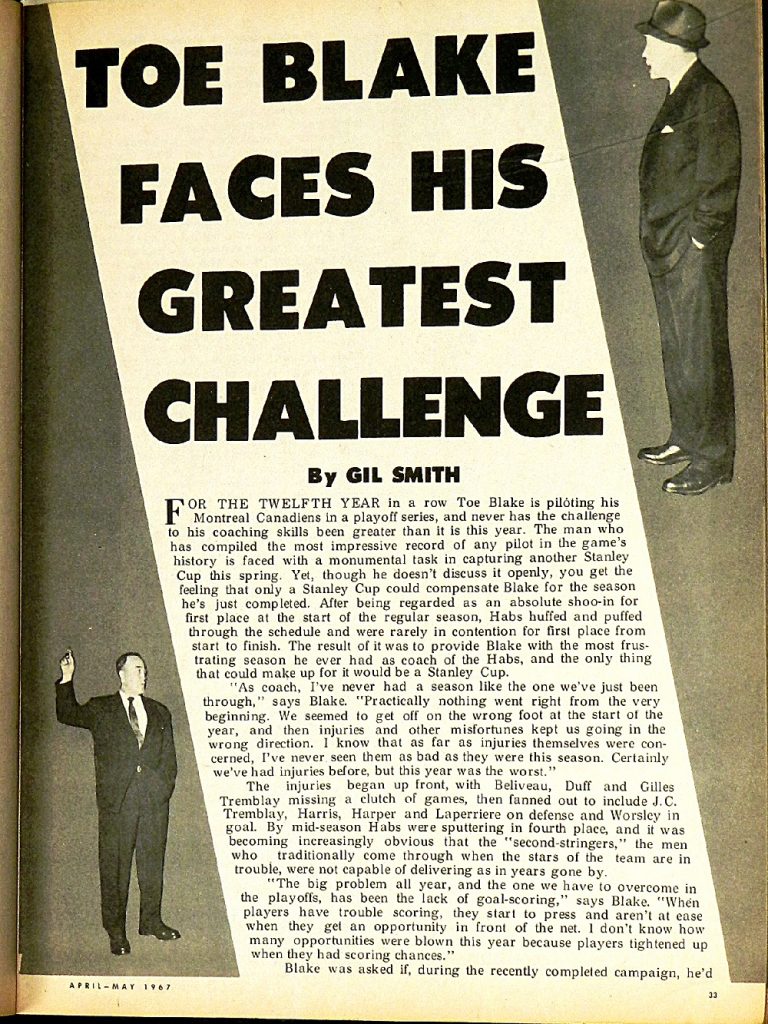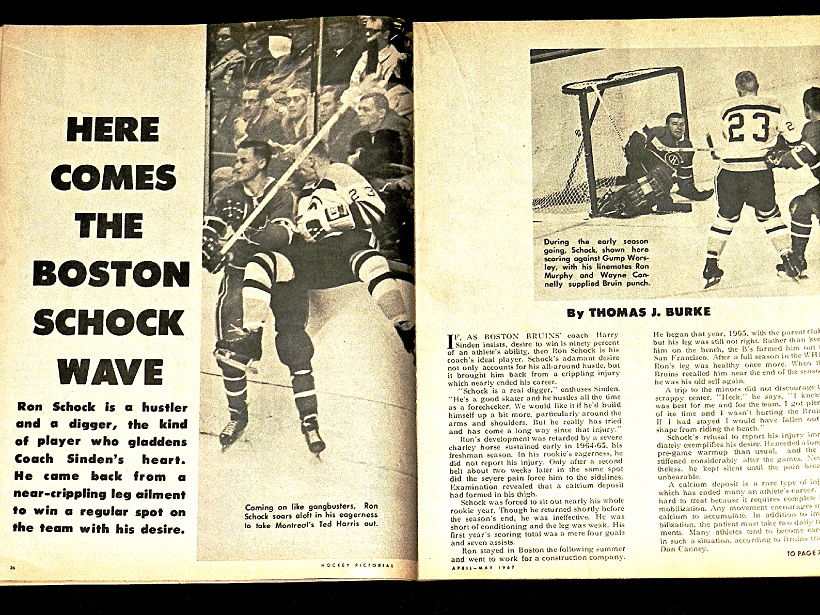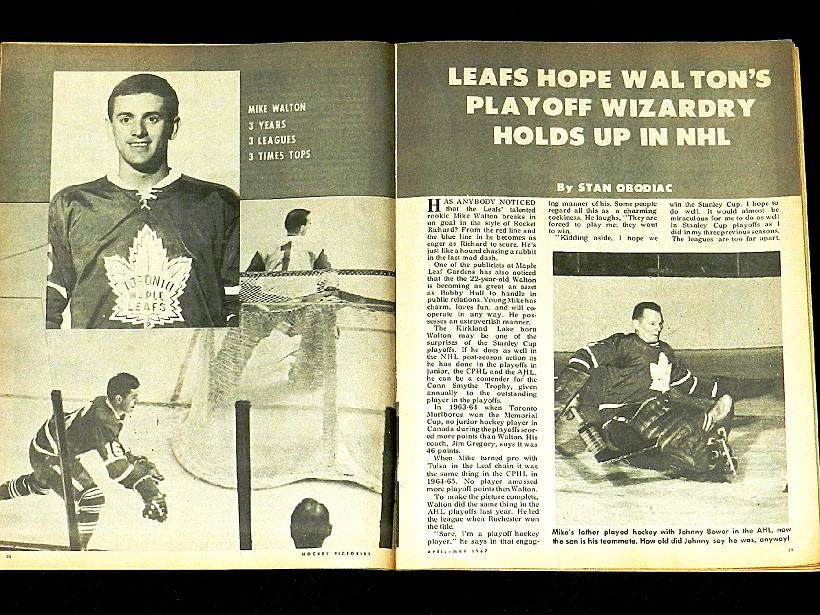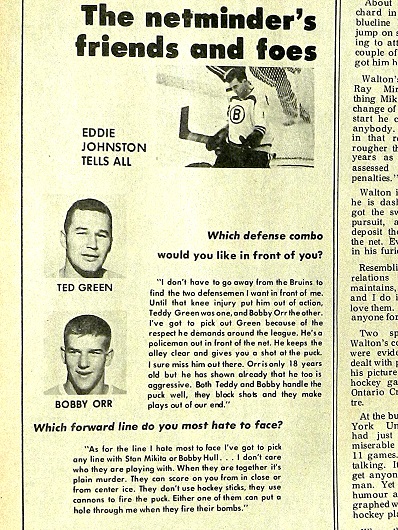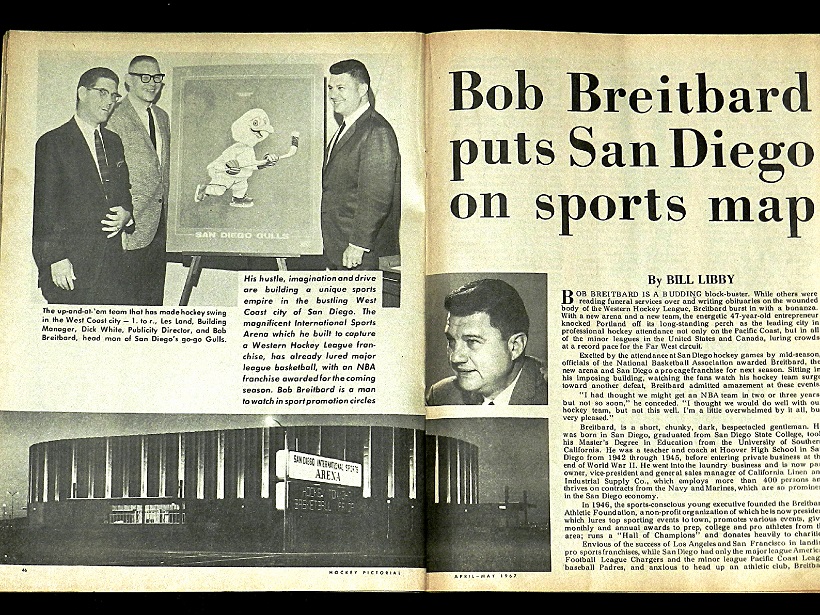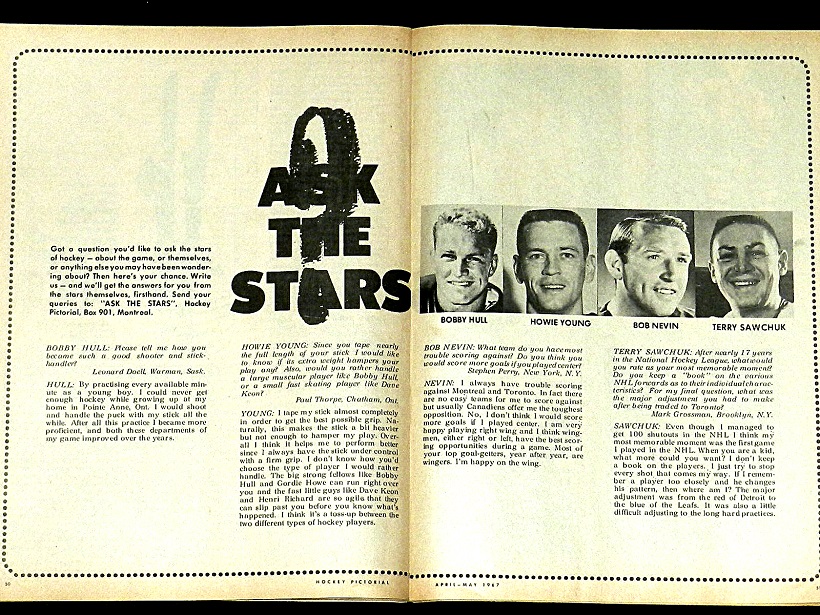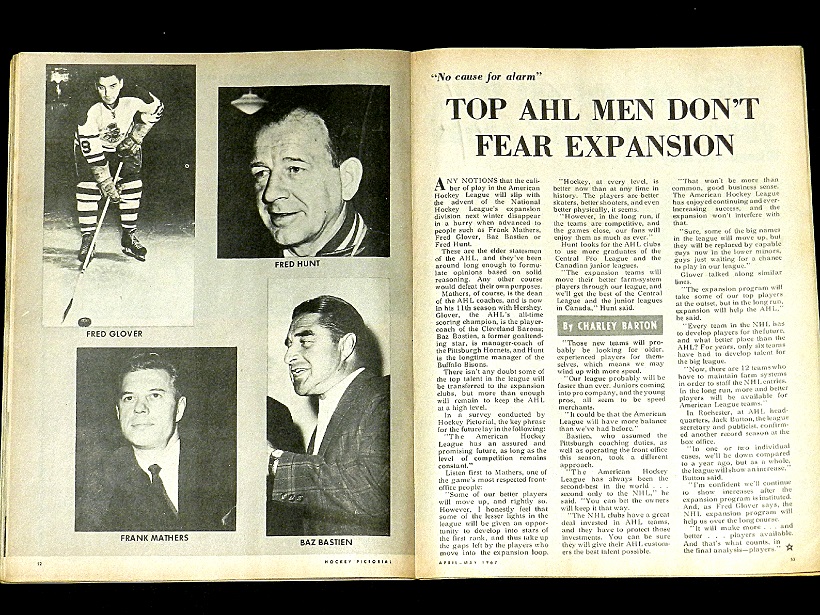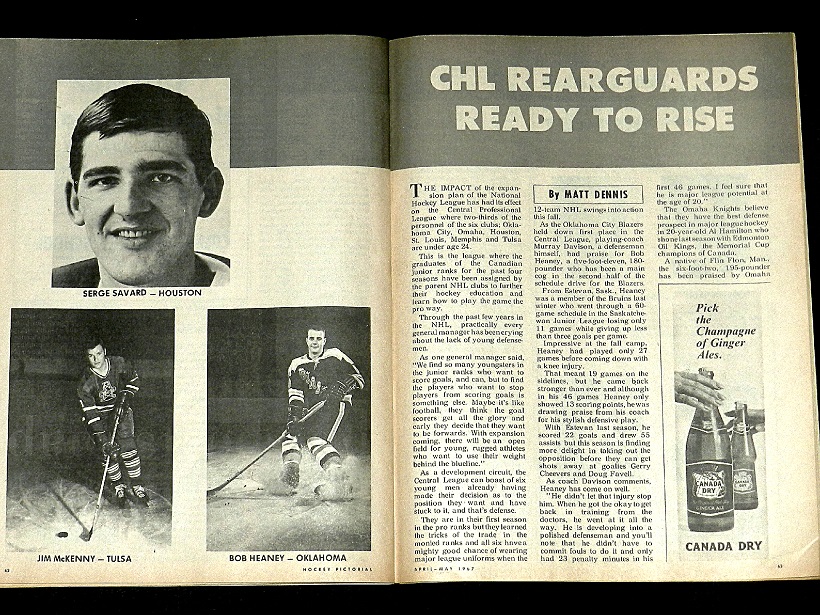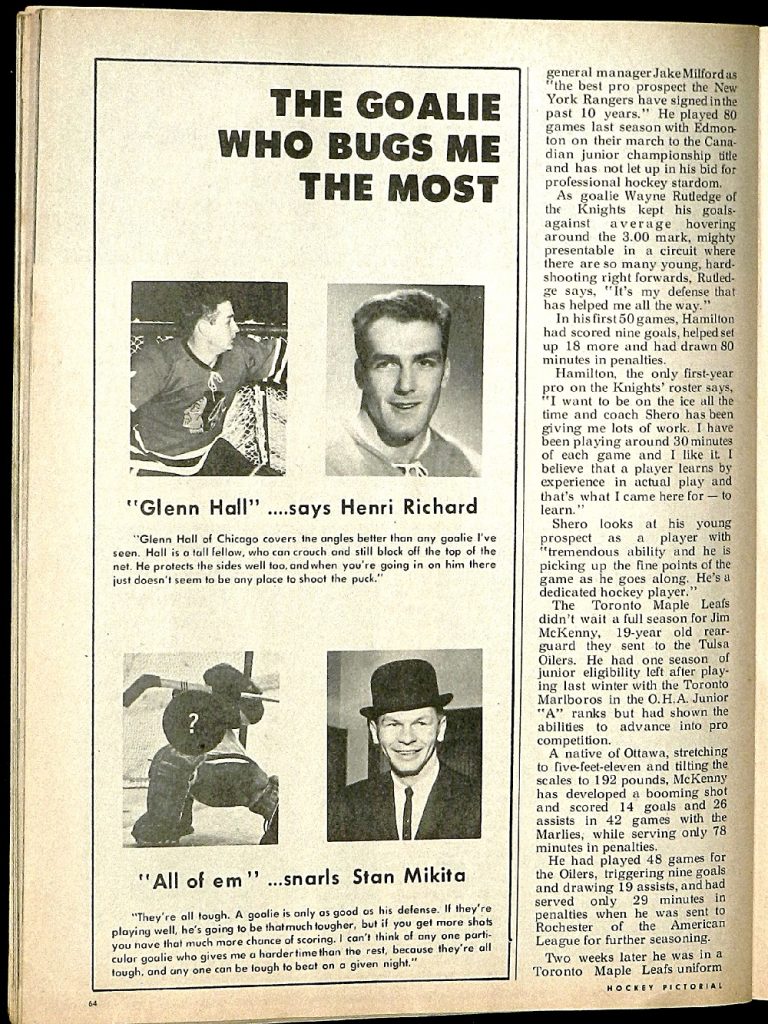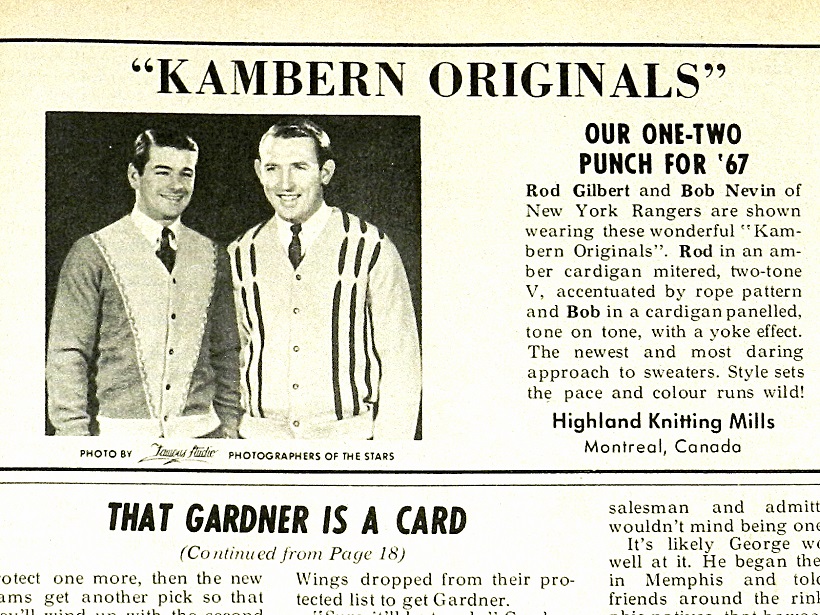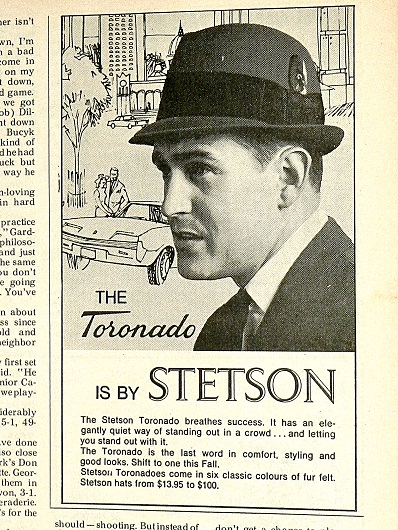 EMAIL: HOWARDLBERGER@GMAIL.COM