TORONTO (Apr. 25) — Rapid achievement in professional sport can be intoxicating. And, hauntingly mercurial if not guided by a steady hand. With that in mind, we wonder how the Toronto Maple Leafs might proceed after graduating from the National Hockey League cellar to within proximity of the Elite Eight.
And, doing so in the lightning–quick interval of 13 months.
The blueprint as sold to the Board of Maple Leaf Sports and Entertainment by Brendan Shanahan called for a methodical, forgiving development of the playing roster. The symbolic five–year plan was ably invoked by the hockey president; a tear–down executed with remarkable swiftness. Year 2 of the so–called Shanaplan called for modest advancement and a fourth jewel in the lottery segment of the NHL draft. Instead, the Maple Leafs shot upward by 26 points and 16 rungs in the overall standings; made the playoffs in a full, 82–game schedule for the first time since 2004, and soiled the undergarments of the best team from the six–month, championship season. Excluded from the draft lottery, the Leafs will select either 17th or 18th when the poohbahs assemble at the United Center in late–June. The Shanaplan is undoubtedly on a treadmill.

Neither is it the first time a meticulous approach to roster–building went zoom!
When Cliff Fletcher was cajoled out of Calgary in the summer of 1991 by the late Maple Leaf Gardens president, Don Giffin, he too spoke of a five–year project. Appalled by the roster scraps at his disposal, he made a preemptive strike — engineering a seven–player deal with Edmonton prior to his first season at the helm (on Sep. 19 of that year). It landed future Hall–of–Fame players Grant Fuhr and Glenn Anderson in blue and white. Nearly 3½ months later, after a macabre 12–1 defeat in Pittsburgh that lowered his club to 10–23–5 after 38 games, Fletcher pulled off the largest trade in NHL history — a 10–player swap with his former team that brought Doug Gilmour to Toronto. Just one season afterward, the methodically re–building Leafs were deep into Game 7 of the Stanley Cup semifinals against Wayne Gretzky and the Los Angeles Kings.
So much for best–laid plans.
It was, of course, an altogether different era in the NHL, when the absence of a salary cap enabled wealthier clubs to stockpile talent with impunity. Still, the most–prescient teams made favorable use of the amateur draft as a foundation; only later supplementing their rosters via trade, regardless of payroll (there was no–such element as free agency until after the lockout–shortened season of 1994–95). In the first decade of the salary cap era, the Leafs journeyed on as if nothing had changed. Myopic ownership budgeted for playoff dates and management routinely sacrificed enviable draft positioning for a quick–fix that never materialized. Accordingly, the club fell into its longest–ever playoff drought — a seven–year quagmire that briefly ended after another lockout schedule of 48 games, from January to April 2013. Two more years of failed deployment followed before Shanahan arrived on the scene and grabbed the Board by its collective throat.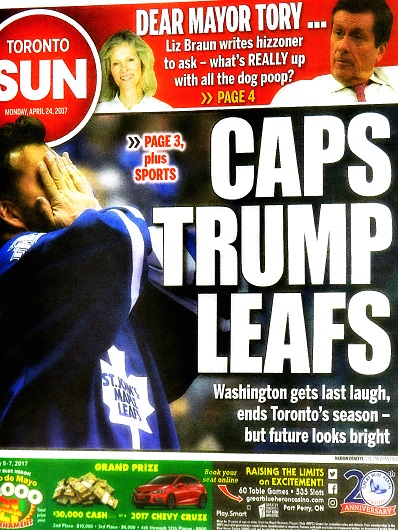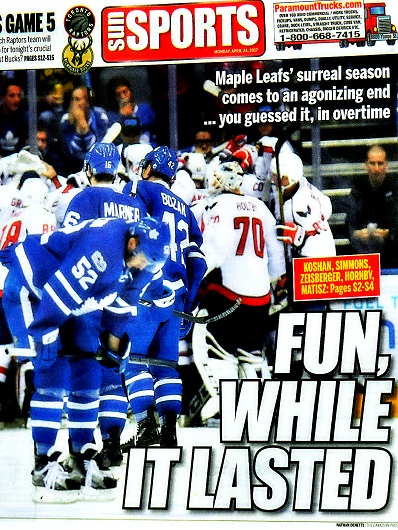 He insisted on a program that would finally maneuver the Leafs into the 21st century — one that precluded the trading for (or signing of) aged personnel in favor of retaining plumb draft picks and developing organizational talent. As part of this scheme, the company hired Mike Babcock to coach and compensated him as never before. In a three–season span of no playoffs, William Nylander, Mitch Marner and Auston Matthews materialized at or near the apex of the NHL draft. Lou Lamoriello, having built a Stanley Cup dynasty in New Jersey, arrived as general manager. He traded Dion Phaneuf to Ottawa and acquired Frederik Andersen from Anaheim. As suddenly (and unexpectedly) as Fletcher's team a quarter–century ago, the Maple Leafs have progressed from the nether regions to the fringe of Stanley Cup contention.
After nearly a full decade of darkness at playoff time, the Air Canada Centre was alive with three nights of wondrous activity in the past week. MLSE likely pulled in more revenue than the Gross Domestic Product of a developing country. A second round of lucrative arena activity seemed within grasp until the Washington Capitals snuffed out the frolic on Sunday night. Bean–counters are enamored of such progress and potential. Might the money–men on Bay St. encourage its hockey administration to "move along" a little quicker now that fans are no longer lobbing Leaf jerseys over the Herculite in disgust? Or, will Shanahan, Lamoriello, Mark Hunter et al stay the course that has enabled the current environment?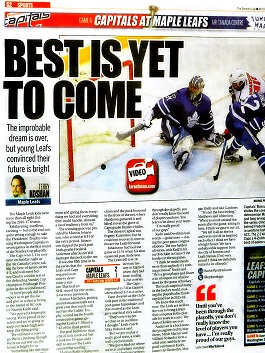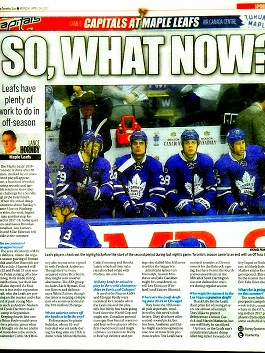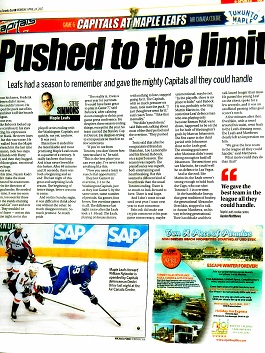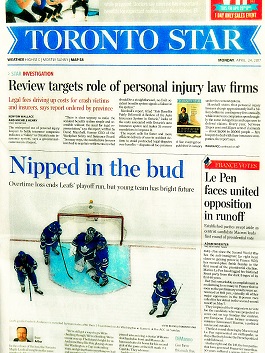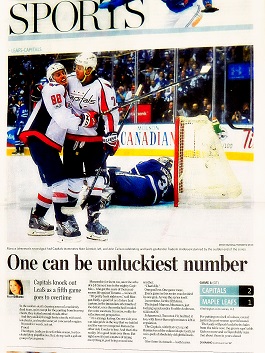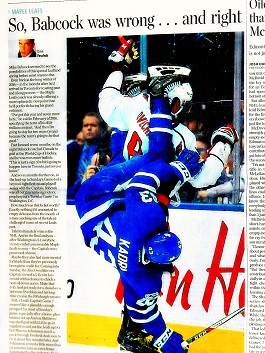 I suspect we'll see a mixture of old and new. I do not anticipate a return to the pell mell era of renouncing the future for immediate gain. The Toronto hockey department is too savvy to regress in such a manner. But Lou the GM knows his club will likely not advance more than baby steps at Stanley Cup time until a front–line defenseman is somehow acquired. I'm talking an Erik Karlsson–Victor Hedman type — roughly as common as Mexican immigrants sporting Donald Trump pendants. At some point in the not–too–distant future, more than just money will need to be surrendered for such a blue–line commodity. The question is: How far down the line? This summer? Next season? Or, the warm months of 2018?
As for now, expect maintenance of the Shanaplan. It is working. Marvelously.
THE LINDSAY FILE — By Lindsay Traves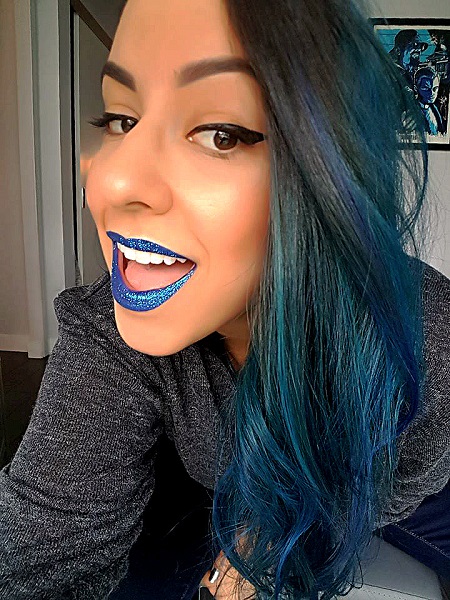 Toronto lawyer and impassioned Leafs fan Lindsay Traves has shared her views with us during the first round of the Stanley Cup playoffs. She woke up on Monday rather mutinous in defeat:
My team went toe–to–toe with the Presidents' Trophy winner for six one–goal games; five ending in overtime. How'd your team do? This is not a postmortem. Though my Centennial Classic bright–blue jersey is tear (and beer)–soaked, I am not grieving.
At the end of the regular season, when the playoffs were still an uncertainty, I wrote how excited I was that the Leafs didn't suck.  Not only is that true, but they're also straight–up great.
In a playoff round that included sweeps and five–game victors involving teams more–closely matched, the Maple Leafs put a giant scare into the Washington Capitals. Until the clubs shook hands at the Air Canada Centre, the series was dead–even. And, while I am certainly crushed that the season has come to an end (not to mention how poorly I'm about to fare in my ill-advised, Leafs–heavy hockey pool), I am mostly proud.
I fell asleep Sunday night remembering Morgan Reilly's top–shelf clapper in Game 2
I awoke in the middle of the night to relive every Auston Matthews strike, and quietly mutter "he has amazing, amazing hands." I laughed when recalling the staunch age–gap between myself and all the Leaf newbies (yes, I'm older), and how bizarre it is to cheer for them. Soon, I'll add Babsocks to my regular rotation. I will take every opportunity to mention Freddy Andersen grabbing pucks out of the air against Washington like Tarzan snatching flies. I'll definitely gaze repeatedly at Nazem Kadri's Instagram post of "42, 43, 44" — replete with the world's biggest grin. I'll chat with everyone about how Awesome Auston is among the three finalists for the Calder Trophy as rookie–of–the–year. And, how he so blatantly deserves it.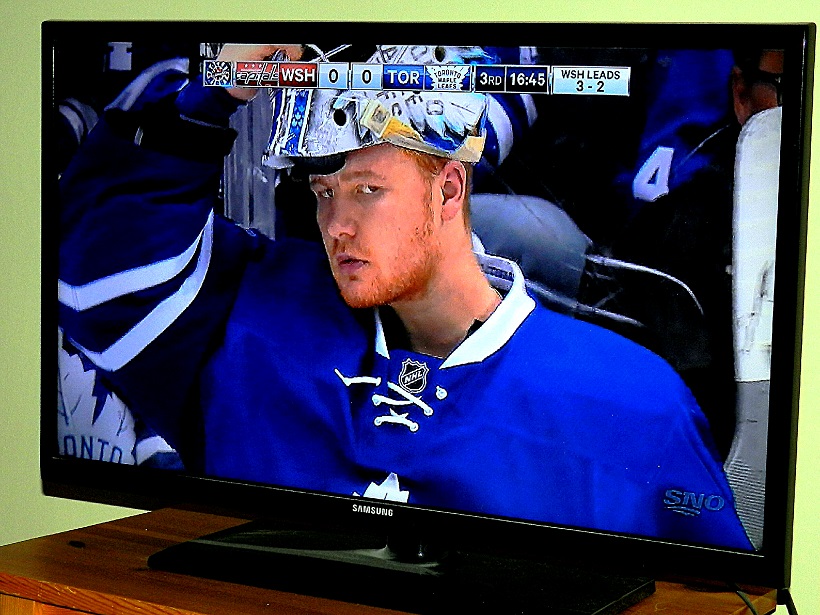 LINDSAY LOVES FREDDY. OR, SO SHE WRITES. SPORTSNET IMAGE
I will undoubtedly glance at Tyler Bozak's overtime goal that won Game 2… and  remember that Toronto had the series lead. I'll mention all summer how Leaf fans chanted "Freddy! Freddy! Freddy!" Like a throwback–rhyme to "Eddie! Eddie! Eddie!" in the Belfour era. I'll continue to sing the praises of Mike Babcock. I'll laugh about "Dart Guy" and how disappointed I am for high–fiving him and not taking a selfie. I will keep showing people the video of Freddy's impish smirk after one of his phenomenal glove–saves. Did I tell you I keep writing him love letters (#LoveLettersToFreddy)? My heart will skip a beat as I remember the referee announcing "upon review there was no goal… tender interference." I'll smile warmly when recalling the Washington fans in Maple Leafs Square and the Leaf fans in the District, shaking hands with their red–uniformed neighbors. And, yes, I'll gleam about being part of the most loyal fan–base in the world.
This series; this season, were incredible and I couldn't be more proud of my boys in blue.
I can't speak for others, but I intend to wear my jersey for at least one more day.
And, then maybe one more after that.
Sigh… "Go Oilers".
DEJA VU (IN BLACK AND BLUE)
"We have all been here before. We have all been here before."
— Crosby, Stills, Nash and Young, 1970.
Given 21 playoff absences in the post–expansion era (since 1967–68), the Maple Leafs have been eliminated from the Stanley Cup tournament inordinately by overtime goals. It happened again on Sunday night when Marcus Johansson of Washington put a sudden end to the Leafs season. A recurring theme began just three years after the NHL doubled in size to 12 clubs:
APR. 15, 1971 — In a series that mirrored the just–completed playoff round against Washington, the Leafs split the first two games of a quarterfinal against the New York Rangers at Madison Square Garden; won Game 3 at home, and then lost three in succession to fall in six. Former Leaf Bob Nevin beat Jacques Plante from just inside the blue–line at Maple Leaf Gardens, 9:07 into overtime, for the series winner.
APR. 14, 1974 — The Boston Bruins of the Bobby Orr–Phil Esposito era made short work of a much–improved Toronto team, sweeping a four–game Stanley Cup quarterfinal. Esposito's right–winger, Ken Hodge, scored on Leafs' Doug Favell at 1:27 of the first overtime to end the series at Maple Leaf Gardens.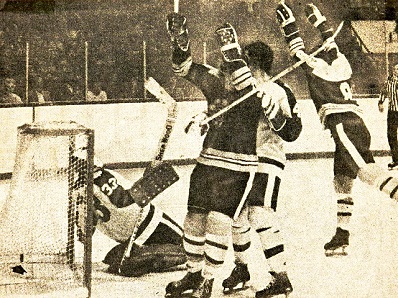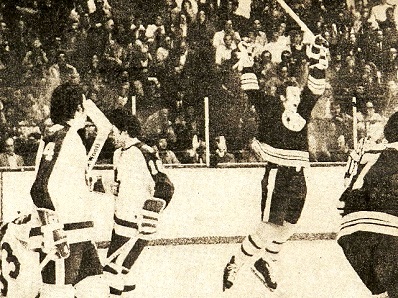 KEN HODGE OF THE BRUINS BEATS DOUG FAVELL WITH SERIES–CLINCHING OT GOAL AT MLG.

APR. 19, 1975 — Again, the Gardens crowd witnessed a series–clinching overtime goal — on this occasion by Philadelphia defenseman Andre (Moose) Dupont, who wandered unmolested toward the net and beat Gord McRae at 1:45 of the first extra period. It completed a four–game quarterfinal sweep for the Flyers, who went on to defeat Buffalo for their second consecutive Stanley Cup championship.
APR. 22, 1979 — Also at the Gardens, the dynastic Montreal Canadiens of Scotty Bowman marched toward their fourth consecutive Cup title by sweeping the Maple Leafs in the quarterfinals. Larry Robinson scored a powerplay goal at 4:14 of overtime with a slapshot from inside the point on Mike Palmateer, and Dave (Tiger) Williams serving a minor. An enraged Williams erupted from the penalty box and tried to get at referee Bob Myers, only to be restrained by several teammates… and Robinson.
APR. 11, 1980 — The old Minnesota North Stars swept a best–of–five preliminary playoff round from the Leafs, winning Games 1 and 2 at the Met Center in Bloomington MN; then Game 3 at Maple Leaf Gardens when forward Al MacAdam beat goalie Jiri Crha at 32 seconds of the first overtime period.
APR. 10, 1983 — Again, it was Minnesota taking a best–of–five preliminary round; this time in Game 4 at Maple Leaf Gardens when Dino Ciccarelli scored on Mike Palmateer at 8:05 of overtime.
MAY 24, 1994 — In the Pat Burns/Doug Gilmour era, the Leafs made it to the Conference final for a second consecutive spring. They split Games 1 and 2 at the Gardens against Vancouver; then lost three consecutive matches at the old Pacific Coliseum, as the NHL deployed a 2–3–2 playoff format that year. Greg Adams scored on Felix Potvin at 14 seconds of the second overtime period to eliminate Toronto.

THE '94 LEAFS ADVANCED TO THE CONFERENCE FINAL AGAINST VANCOUVER BY DEFEATING THE SAN JOSE SHARKS IN A SEVEN–GAME SERIES; THE FINALE AT MAPLE LEAF GARDENS.
May 28, 2002 — Pat Quinn, Mats Sundin, Gary Roberts and Darcy Tucker were Leaf mainstays when the club advanced to the Stanley Cup semifinals against Carolina. Leafs won the opener at Raleigh and nearly grabbed a 2–0 lead when Alyn McCauley hit the goalpost in overtime of Game 2 (Jeff O'Neill — yup, "O–Dog" of TSN — scored for the Hurricanes). The series went to Game 6 at the Air Canada Centre and Martin Gelinas eliminated the home team at 8:05 of the first overtime, beating Curtis Joseph.
MAY 4, 2004 — In what would be their final playoff moment for nine calendar years, the Leafs were bounced from Round 2 of the Cup tournament in Game 6 when Jeremy Roenick of Philadelphia scored high on Ed Belfour at the Air Canada Centre, 7:39 into the first extra period.
MAY 13, 2013 — Need I remind contemporary Leaf zealots of their most gut–wrenching moment? In Game 7 of a first–round series at the TD Garden, the Boston Bruins overcame a 4–1, third–period deficit before eliminating the Leafs at 6:05 of overtime when Patrice Bergeron beat a sprawled James Reimer.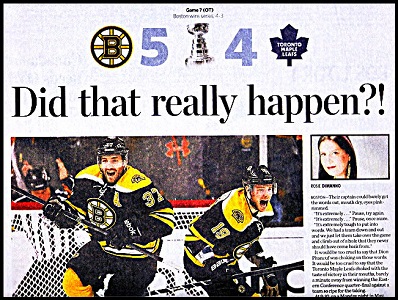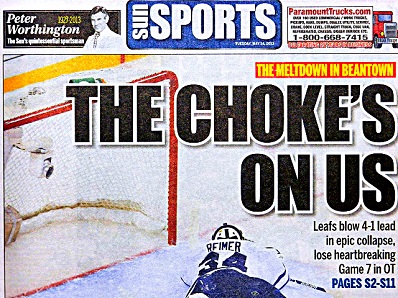 APRIL 24, 2017 — After a splendidly–close series that featured a playoff–record–tying five overtime games, Washington prevailed at the Air Canada Centre in Game 6 when Marcus Johansson poked a rebound past Frederik Andersen at 6:31 of the first extra session.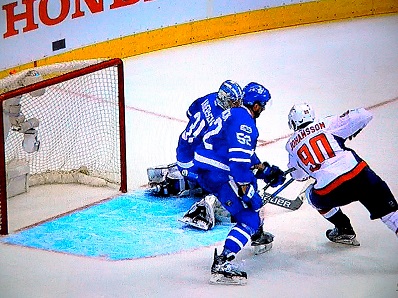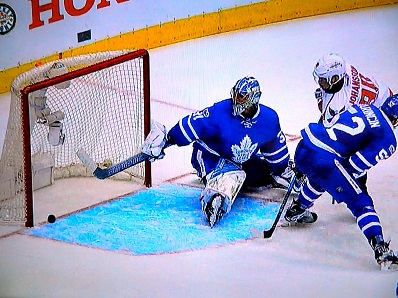 MARCUS JOHANSSON WINS THE LEAFS–CAPITALS SERIES IN OT ON SUNDAY. SPORTSNET IMAGES
In the same period (1968–2017), the Leafs have won three Stanley Cup series with overtime–clinching goals. Lanny McDonald beat Glenn (Chico) Resch at 4:31 of the first overtime at the Nassau Coliseum on Apr. 29, 1978 for a Game 7 upset of the New York Islanders. Nikolai Borschevsky re–directed a shot from the point by Bob Rouse past Tim Cheveldae at 2:35 of overtime on May 1, 1993 at Joe Louis Arena and the Leafs sent the Detroit Red Wings packing in Game 7. And, Garry Valk swept a rebound past Tom Barrasso at 1:57 of extra time at the old Mellon Arena in Pittsburgh on May 17, 1999. Toronto defeated the Penguins in six games of an Eastern Conference semifinal.
EMAIL: HOWARDLBERGER@GMAIL.COM