TORONTO (Apr. 23) — Everywhere you turn in this city, hockey fans are sure the Maple Leafs have a profusion of confidence heading into Game 6 tonight against the Washington Capitals. And, why not?
The buoyant underdog has stayed with the Presidents' Trophy winner stride–for–stride in the first five matches — four of which went to extra time. Shots on goal in the series are even at 175. The Capitals have scored 15 times; the Leafs 14. It wasn't supposed to be this way; Washington's dubious playoff record notwithstanding. So, what could prevent the home side from believing it will prevail tonight and force a Game 7 at the Verizon Center on Tuesday? Elimination. That's what. For the first time, the Toronto fledglings encounter the prospect of playing their final game in this season of renewal. Until today, there has always been another match for which to prepare; an immediate target on the horizon. Not so, if they lose tonight.
Nothing is more un–nerving in professional sport. And, given the young Maple Leafs are hardly robotic, I suspect there's a large clump of apprehension right about now. Perhaps even some distrust.
How could it be avoidable in such a tenuous circumstance?
Which brings us to the coach.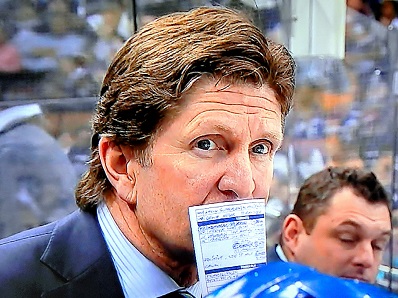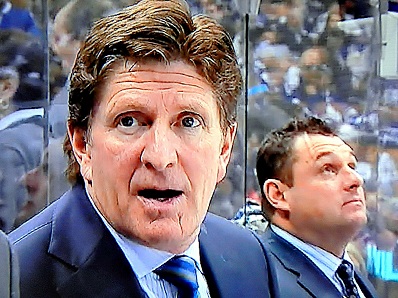 MIKE BABCOCK'S ABILITY TO INFUSE CONFIDENCE WILL BE SEVERELY TESTED BEFORE GAME 6.
Mike Babcock has done a wonderful job harvesting the unparalleled infusion of skill and speed on the hockey club. Unparalleled at the forward position, to be sure, in franchise history. I sense he has stood back, to an extent, and allowed Auston Matthews, Mitch Marner, William Nylander, Connor Brown, Zach Hyman, Nikita Soshnikov and Kasperi Kapanen to perform without encumbrance. To show what they can do in their first full season in the National Hockey League. He'll truly start to "coach" these players next year, when they encounter the inevitable sophomore bumps. As for worrying about their psyche, Babcock has had nearly a free ride. Perhaps once during the regular season — when the Leafs were pummeled on a three–game swing through California in March — did he resort to therapy. Otherwise, nature took its course.
Youth, skill and swagger prevailed for the entire, six–month schedule.
But, it may not be that way right now. Maintaining morale in the hours before tonight's elimination game is surely the most formidable challenge Babcock has faced in his two seasons behind the Toronto bench. Never before have the players so desperately required the conviction and steady hand of their leader — a man that can talk an Eskimo into buying a gob of ice. Whatever remains on that record $6–million (USD) contract for 2016–17 will be earned in scads today. And, certainly, tonight.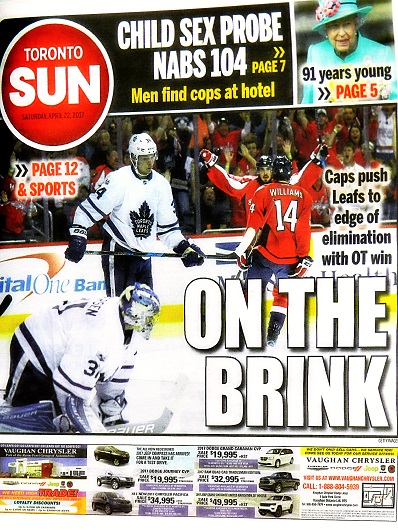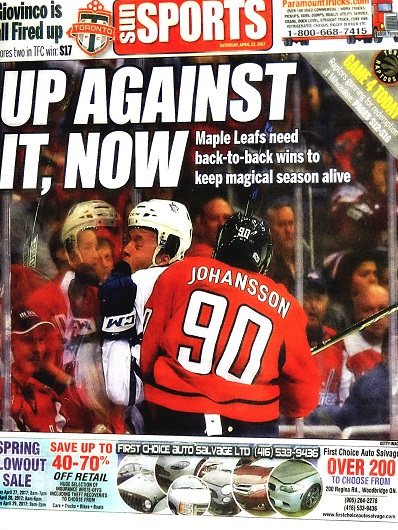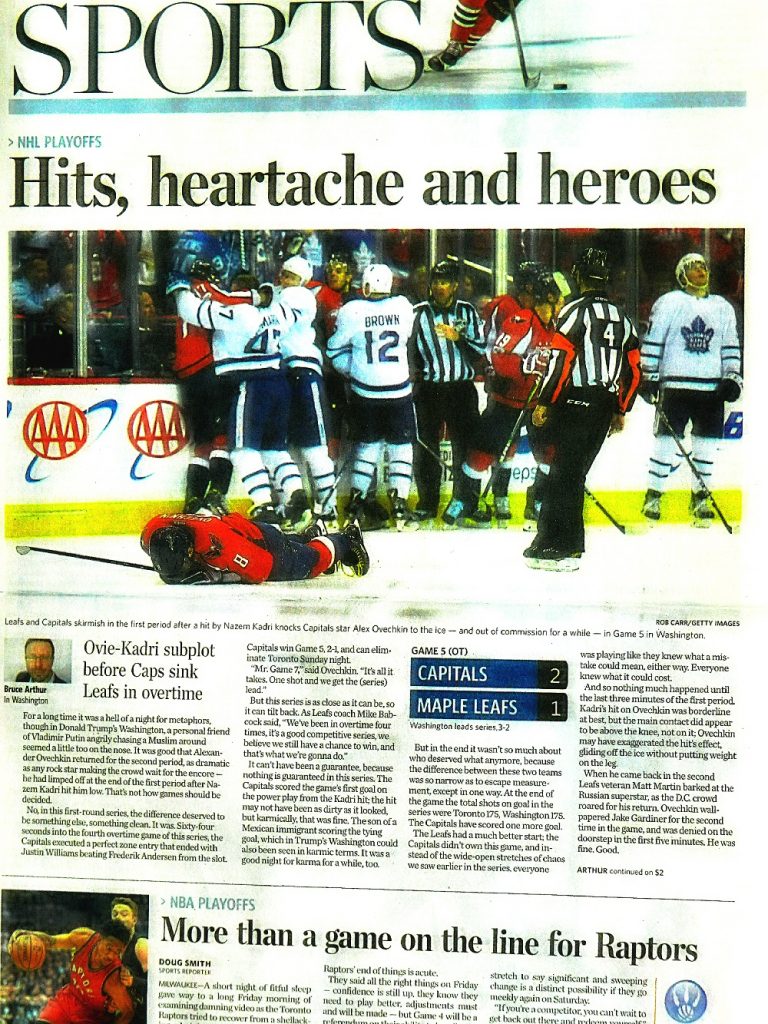 STAYIN' ALIVE — BIG TIME
Never more profoundly have the Leafs avoided elimination on home ice than 41 years ago last night (Apr. 22, 1976) at Maple Leaf Gardens. Trailing the two–time defending Stanley Cup–champion Philadelphia Flyers 3–2 in a best–of–seven quarterfinal, the Leafs rode Darryl Sittler's five–goal effort to an 8–5 victory. Just 2½ months after enjoying what remains the single, greatest night in NHL history — erupting for six goals, four assists and a record 10 points against Boston — the Leafs captain tied a mark shared by Newsy Lalonde (1919) and Maurice Richard (1944) of Montreal for most goals in a playoff game. That record has since–been equaled on two occasions: by Reggie Leach of the Flyers, remarkably, two weeks later (May 6, 1976) against Boston, and by Mario Lemieux of the Pittsburgh Penguins (against Philadelphia) on Apr. 25, 1989.
I had the privilege, at 17 years of age, to attend both of Sittler's big nights in 1975–76 — the first year our family had season–tickets in the south–mezzanine Blues at the Gardens. A while back, the "ubiquitous one" — Toronto hockey archivist and historian, Paul Patskou — provided me a DVD–copy of the Flyers' telecast from Apr. 22, 1976. The late Gene Hart and ex–Detroit Red Wings star Ted Lindsay called the action on WCAU Channel 29 in Philadelphia. Neither man was particularly happy with the result.
The Flyers would ultimately win the series back home at the Spectrum in Game 7.
Here are some grainy TV images from that high–scoring match at MLG: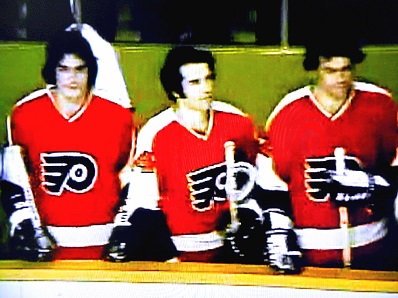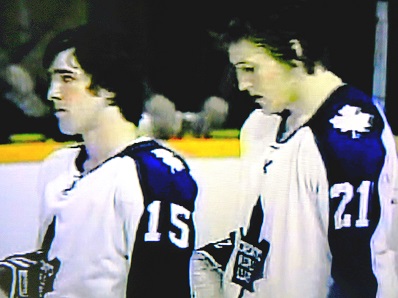 THE FLYERS STAND AT ATTENTION DURING THE NATIONAL ANTHEM (ONLY O CANADA WAS PLAYED), AS DO MAPLE LEAF PLAYERS PAT BOUTETTE (15) AND BORJE SALMING (21).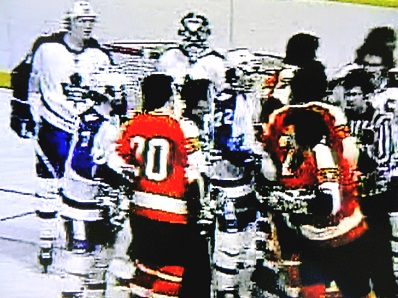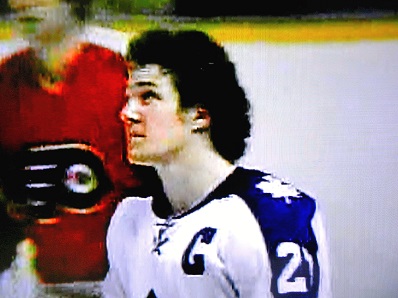 IN A FIGHT–FILLED QUARTERFINAL, SCRUMS IN FRONT OF THE NET (LEFT) WERE COMMONPLACE. SITTLER (RIGHT) WAS JUST 25 YEARS OF AGE ON APR. 22, 1976.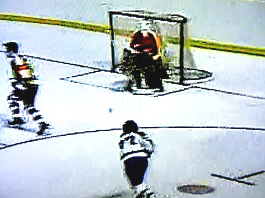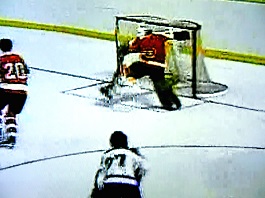 ONE OF SITTLER'S FIVE GOALS — IN THE SECOND PERIOD. WIDE–OPEN IN THE LEFT SLOT, THE LEAFS CAPTAIN CLEANLY FOOLED BERNIE PARENT WITH A LOW SLAPSHOT TO THE STICK SIDE.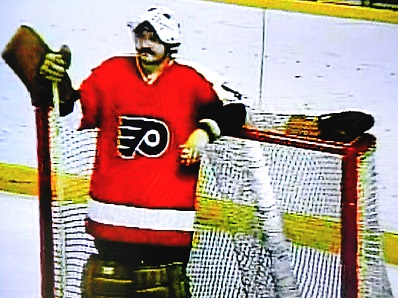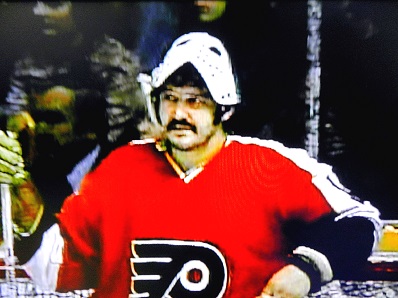 PARENT, AMONG THE TOP TEN GOALIES IN NHL HISTORY, OFTEN RAISED HIS MASK AND WATCHED AS THE FLYERS AND MAPLE LEAFS ENGAGED IN FISTICUFFS.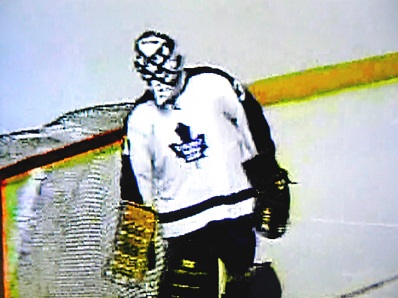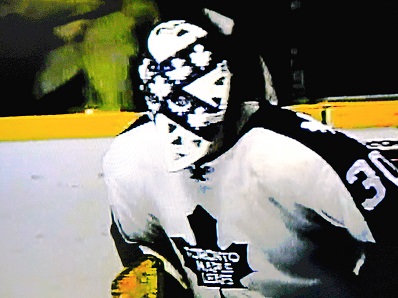 TORONTO'S NO. 1 GOALIE IN 1975–76 WAS OTTAWA NATIVE WAYNE THOMAS, ACQUIRED FROM MONTREAL PRIOR TO THE SEASON. IN 64 APPEARANCES, THOMAS COMPILED A 28–24–12 RECORD, AND 3.19 GOALS–AGAINST AVERAGE. NOW 69, HE RECENTLY RETIRED FROM A LONG–TIME EXECUTIVE POSITION WITH THE SAN JOSE SHARKS. CBC/HOCKEY NIGHT IN CANADA IMAGES
STILL A CHANCE FOR "FUN"
Prior to the start of this year's playoffs, I exchanged emails with Glen Sather — president of the New York Rangers — who wished the Leafs good luck against Washington and suggested it would be "fun" for his team to hook up with the Blue–and–White in the Eastern Conference final. That prospect is still alive after New York eliminated Montreal in Game 6 last night at Madison Square Garden. Toronto, of course, needs to hold up its end by defeating the Capitals tonight at the Air Canada Centre; then again on Tuesday.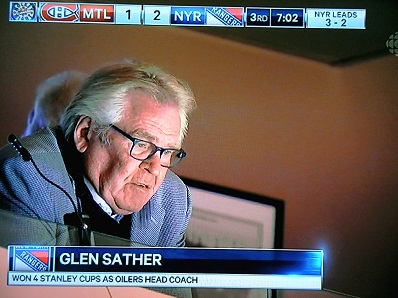 GLEN SATHER (LEFT) WATCHES THE FINAL MOMENTS OF LAST NIGHT'S GAME FROM HIS EXECUTIVE PERCH AT MADISON SQUARE GARDEN. AFTERWARD, STAR GOALIES CAREY PRICE AND HENRIK LUNDQVIST EMBRACE. NEW YORK WILL FACE THE WINNER OF THE OTTAWA–BOSTON SERIES IN ROUND 2.  THE BRUINS AND SENATORS PLAY GAME 6 TONIGHT IN BOSTON. CBC IMAGES

WILD HAVE THE BLUES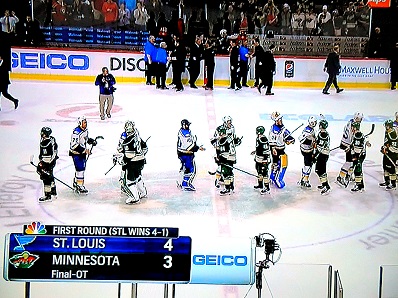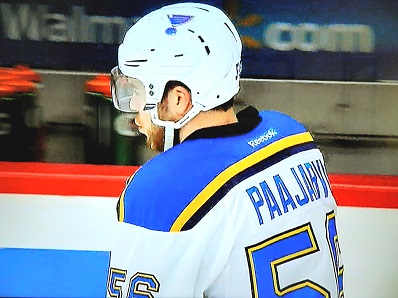 Having compiled 106 points this season for second seed in the Western Conference — and a 27–12–2 record on home ice — the Minnesota Wild will spend much of the summer wondering how it lost all three games at the Xcel Energy Center in the opening round of the playoffs. The hottest team heading into the Stanley Cup tournament, St. Louis, dispatched the Wild in five games. Minnesota fought back nobly from from a 3–1 deficit in the third period yesterday afternoon to send Game 5 into overtime. But, Magnus Paajarvi (top–right) ended the series with a goal at 9:42 of the first extra period. It was yet another playoff disappointment for Minnesota coach Bruce Boudreau (below), whose teams in Anaheim and Washington also vanished earlier than expected. The Blues will face Nashville in Round 2, starting at St. Louis. NBC/SPORTSNET IMAGES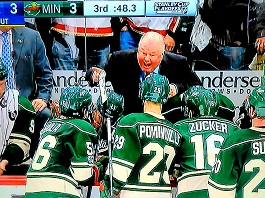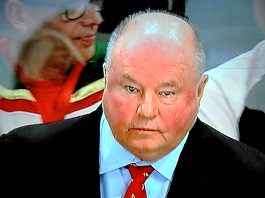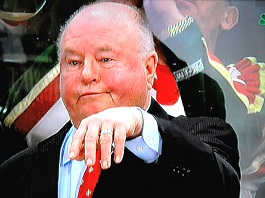 A MATTER OF TIME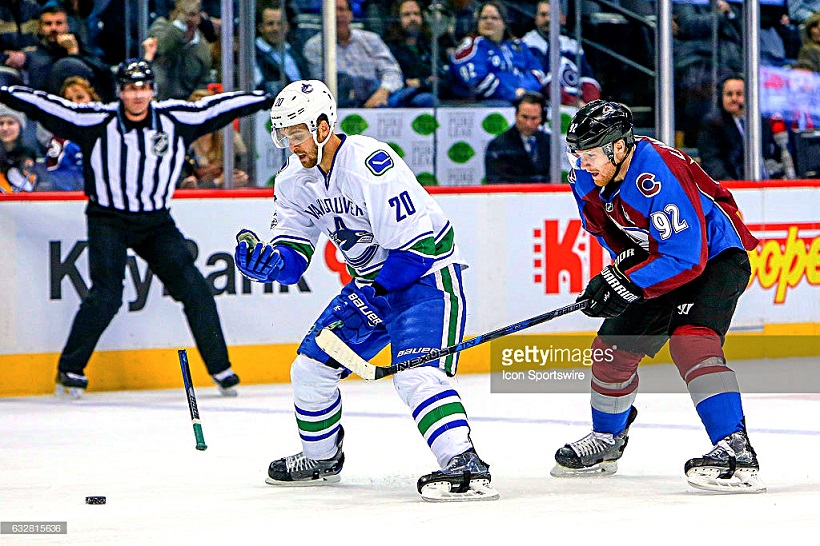 I've said it before and I'll say it again: At no time in the history of professional sport has there been a piece of equipment more unreliable than the composite hockey stick. For whatever reason, manufacturers have been unable to strengthen this fundamental part of the game. The stick continues to disintegrate — not only under the stress of a slap or wrist–shot, but often merely when receiving a pass. Quite frankly, it's become a joke… and you know it's only a matter of time before one of these untrustworthy items costs a team a playoff game; a series, or even the Stanley Cup. NHL shooters swear by the composite design, for it is more spring–like than the old wooden stick and adds much velocity to the puck. Yet, I somehow remember such bombers as Mike Bossy and Al MacInnis firing unstoppable darts with the wooden objects. Sadly, the composites are here to stay. But, they will be cursed to the heavens at some point in the foreseeable future.
You can bank on it.
NO LOVE FOR RAPTORS
With the Leafs in the playoffs for only the second time in the past 13 years, it's obvious why hockey is the number–one sports story in our city right now. But, the Toronto Raptors are in the NBA playoffs for a third consecutive spring and are deadlocked with Milwaukee, 2–2, in the opening round. The decision, however, by local sports editors has been lop–sided. Lead columnists Bruce Arthur and Rosie DiManno (Toronto Star) and Steve Simmons (Toronto Sun) have followed and traveled with the Maple Leafs. Arthur and Simmons covered Game 2 of the Raptors–Bucks series at the Air Canada Centre — only because it was the night between home games for the Leafs. Cathal Kelly of the Globe and Mail has yet to travel with either Toronto club. Rachel Brady is covering the NBA series for the Globe; Mike (Gumby) Ganter and Frank Ziccarrelli for the Sun; Doug Smith for the Star. TSN IMAGES (below)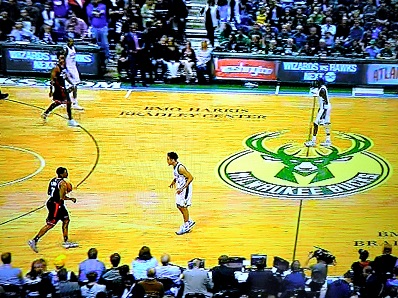 BEAUTIFUL WEEKEND
It's been a gorgeous weather–weekend here in Toronto.
For no particular reason, I've decided to post three images from my trusty NIKON camera: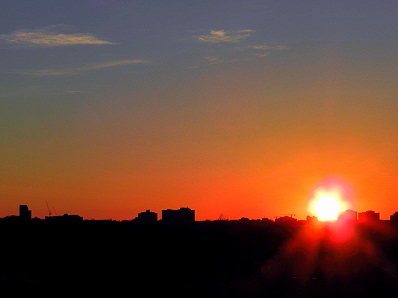 SUNSET AND SKY–WRITER OVER MID–TOWN ON SATURDAY.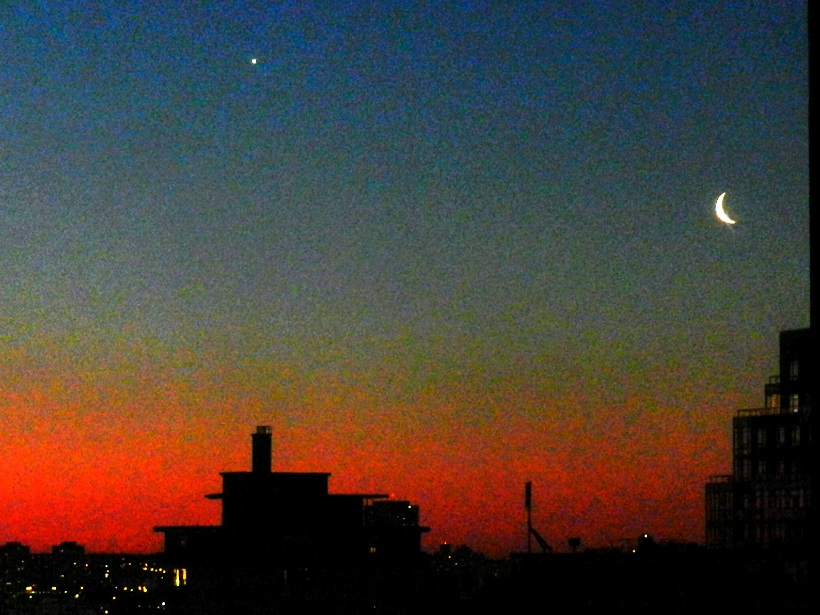 AWAKENING AT 5:30 a.m. TODAY TO FINISH THIS BLOG, I ENCOUNTERED QUITE A SCENE OUT MY OFFICE WINDOW: THE CRESCENT–MOON AND PLANET VENUS BRIGHT IN THE SOUTHEAST SKY.
EMAIL: HOWARDLBERGER@GMAIL.COM