TORONTO (Apr. 26) — There will be no Draft Lottery suspense in Leafs Nation this year, after the club finished 14th in the overall NHL standings — up 16 notches from last season — and improved by 26 points. The 2017 NHL Draft is at the United Center in Chicago, June 23–24 (the first time the Blackhawks have played host). Depending on Stanley Cup playoff results (and subsequent transactions), the Maple Leafs will select either 17th or 18th. The vaunted, Leafs–centric website Pension Plan Puppets offered this explanation:
Nashville (94 points) finished lower than the Leafs (95) and Calgary (also 94, yet two more ROW's), but knocked off the Chicago Blackhawks in Round 1. If the Predators lose in Round 2 (to St. Louis), they'll pick 16th overall; the Flames will pick 17th and Toronto will select 18th. If the Predators win their second–round match–up, their pick will drop to at least the mid–20s. The Flames will pick 16th and Toronto will draft 17th.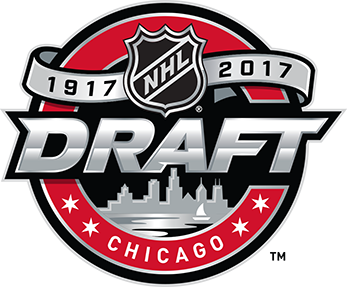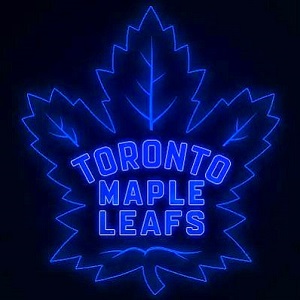 For whatever it's worth, I spent some time looking at the No. 17 and 18 selections in the history of the amateur draft, dating to 1969. Oddly enough, the player chosen 17th in that first draft is the best of the lot: Flin Flon Bombers center Bobby Clarke — now a member of the Hockey Hall of Fame — and among the top half–dozen NHLers of the 1970's. Clarke played an enormous role in Philadelphia becoming the first expansion team to win the Stanley Cup, in 1974; the Flyers then repeated in '75.
Among those also chosen at 17 were:
• 1980 — Brent Sutter New York Islanders: 610 points in 694 NHL games with the Islanders and Chicago from 1980–81 to 1997–98. His 42 goals and 102 points in 1984–85 were career bests.
• 2003 — Zach Parise New Jersey Devils: 661 points in 830 NHL games to date with the Devils and Minnesota. Has seasons of 45, 38, 33 and 31 goals. Recorded a career–high 94 points with New Jersey in 2008–09.
• 2012 — Tomas Hertl San Jose Sharks: In 249 NHL games, has 59 goals, 65 assists and 124 points.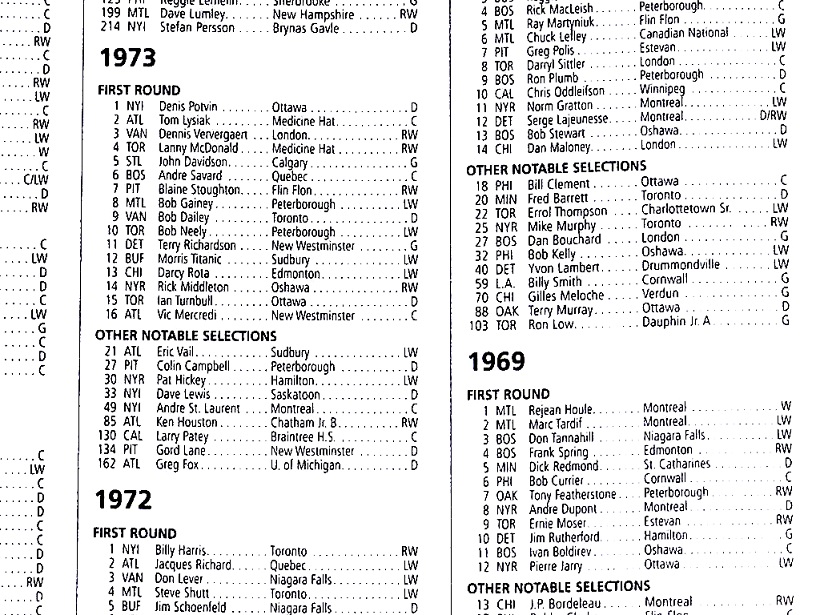 Others of note chosen 17th overall included checking center Lorne Henning (1972, New York Islanders), a key figure on all four Islander Stanley Cup teams (1980–83); offensive defenseman Kevin Hatcher (1984, Washington), who had seasons of 79 and 74 points; slow but crafty center Jason Allison (1993, Washington), who compiled point totals of 95, 83 and 76 with Boston; 74 with Los Angeles, and 60 with the Leafs in 2005–06. Anaheim selected current Maple Leafs defenseman Jake Gardiner 17th in 2008. Toronto's last pick at 17 was defenseman Carlo Colaiacovo of Erie (OHL) in 2001.
Among those chosen 18th in the NHL draft were:
• 1969 — Ron Stackhouse Oakland Seals: A good offensive defenseman whose best seasons were with Pittsburgh in the 1970s. Had point totals of 60 (1974–75) and 71 (1975–76).
• 1980 — Barry Pederson Boston Bruins: Talented center whose big point totals led to a trade with Vancouver for Hall–of–Famer Cam Neely (June 6, 1986). Had seasons of 46, 44 and 39 goals; 116, 107 and 92 points for the Bruins. Later put up 76 and 71 points for the Canucks.
• 1982 — Ken Daneyko New Jersey Devils: Blue–line stalwart for 20 years and arguably the most popular Devils player of all time. Was a key figure on all three New Jersey Stanley Cup teams (1995–2000–03).
• 1995 — Petr Sykora New Jersey Devils: Left–winger on the Devils' "A–Line" with Jason Arnott and Patrick Elias, he had seasons of 35, 29 and 25 goals. Later scored 34 with Anaheim and 28 with Pittsburgh.
Others of note chosen 18th included checking center Bill Clement (1970, Philadelphia), a member of both Flyers Stanley Cup teams in 1974 and 1975; later a TV analyst in the States; defenseman Jason Smith (1992, New Jersey), who went to the Leafs in March 1997 as part of the Doug Gilmour trade and was later captain of the Edmonton Oilers; stalwart blue–liner Brooks Orpik (2000, Pittsburgh), a member of the Penguins' 2009 Stanley Cup team and still an important figure on the Washington Capitals defense.
The Leafs have never chosen 18th in the NHL draft.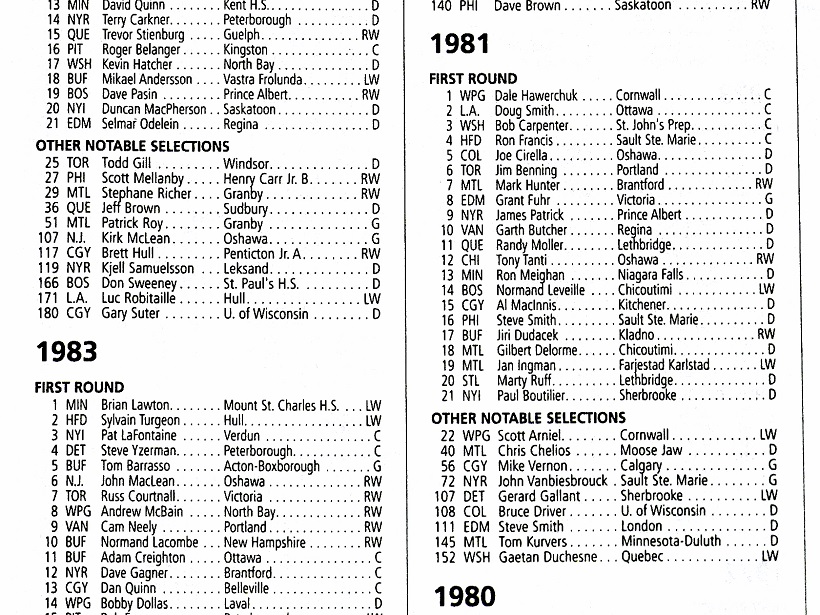 If the Leafs truly wish to land a front–line player, draft history shows they should trade down one or two slots (depending on their final position). Among those selected 19th overall include: Craig Ramsay (1971, Buffalo), a penalty–killing specialist with the good Sabres teams of the 1970's and member of the 1975 club that lost to Philadelphia in the Stanley Cup final; Steve Payne (1978, Minnesota), who played on the North Stars' top line with Bobby Smith and Al MacAdam, scoring 228 goals between 1978–79 and 1987–88; Olaf Kolzig (1989, Washington), a top goalie in the NHL who backstopped the Capitals (coached by Ron Wilson) to the 1998 Stanley Cup final, where they were swept by Detroit; Keith Tkachuk (1990, Winnipeg), a Hall–of–Fame–caliber left–winger who scored 538 NHL goals with Winnipeg/Phoenix, St. Louis and Atlanta between 1991–92 and 2009–10. Included were seasons of 52, 50, 41 and 40 goals; Ryan Getzlaf (2003, Anaheim), still a premier center with the Ducks; had 73 points in 74 games this season and wears a Stanley Cup ring from 2007; Oscar Klefbom (2011, Edmonton), a rapidly–developing blue–liner with the Oilers, who put up 38 points this season; Andrei Vasilevskiy (2012, Tampa Bay), now the Lightning's No. 1 goalie after Ben Bishop was traded to Los Angeles before the deadline this season.
The Leafs have chosen 19th only once… and they blew it, in 1993, with right–winger Landon Wilson, who never played for Toronto and scored only 53 NHL goals in 375 games with Colorado, Boston, Phoenix, Pittsburgh and Dallas. Still available in the first round after Wilson were Saku Koivu (21st, Montreal), who had 832 points in 1,124 games with the Canadiens and Anaheim, and who inspired the hockey world by overcoming a stomach malignancy in 2001. And, Todd Bertuzzi. Though gaining infamy for ambushing and breaking the neck of Colorado's Steve Moore in March 2004, he was an elite scorer with 46, 36 and three seasons of 25 goals in Vancouver. His career totals are 314 goals and 770 points.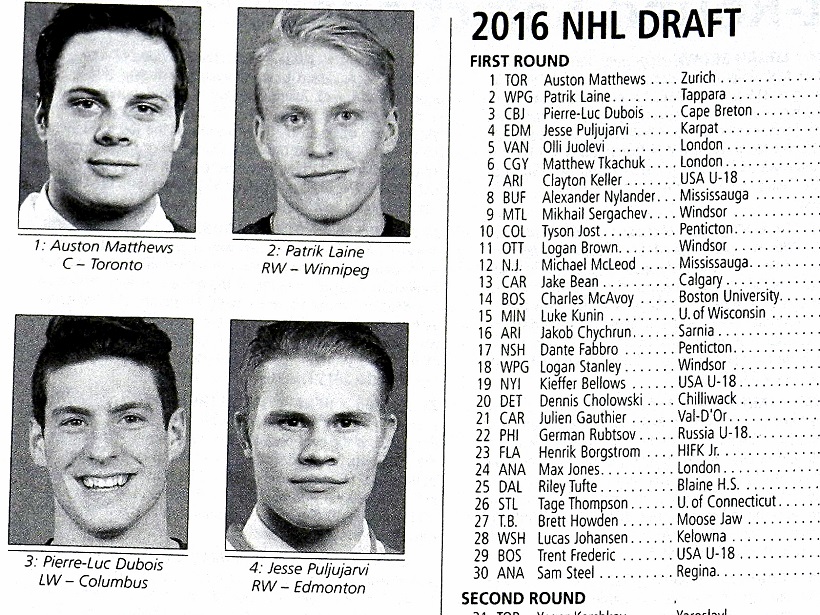 WHEN AUSTON and MITCH
     Were Still ICE OPPONENTS
Seems strange today, after a season here in Toronto in which Auston Matthews and Mitch Marner, as rookies, combined for 59 goals and 130 points. Yet, this cover of The Hockey News dates to less than 1½ years ago — Jan. 4, 2016 — when both were preparing for the World Junior Hockey Championships in Helsinki; Matthews for the United States; Marner for Canada. Neither country made it to the gold medal game. Canada lost 6–5 to Finland in the quarterfinals. The Americans were defeated by Russia, 2–1, in the semifinals. With Patrik Laine showing his vast potential, the host Fins won the tournament championship with a 5–4 overtime victory over the Russians. Current Leaf Kasperi Kapanen scored the winning goal.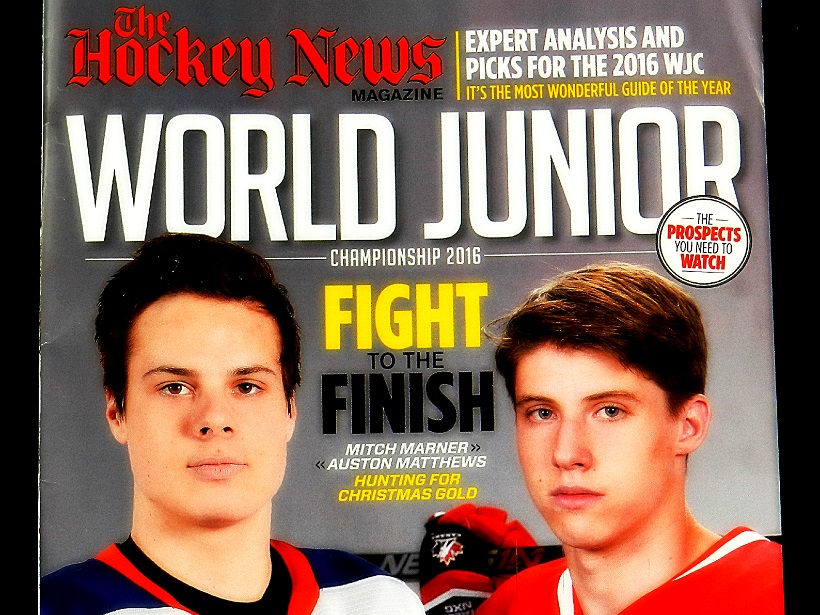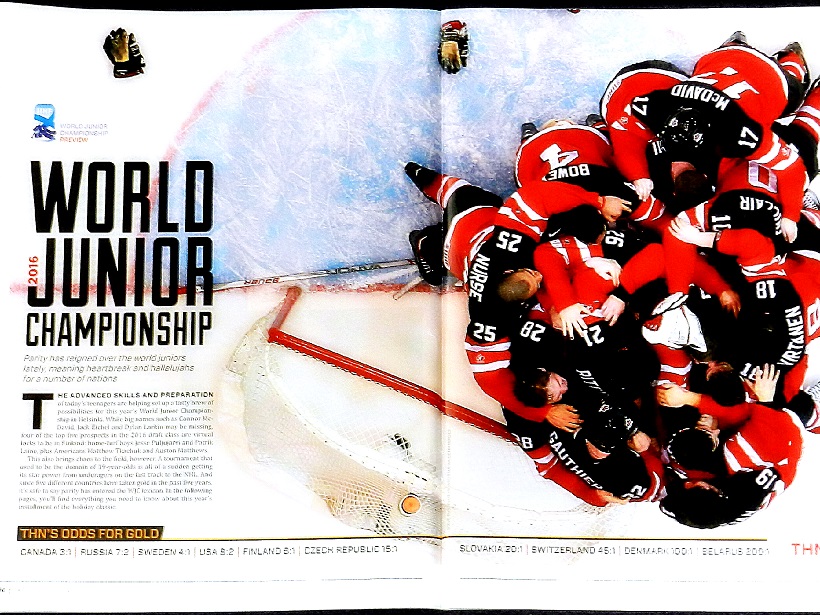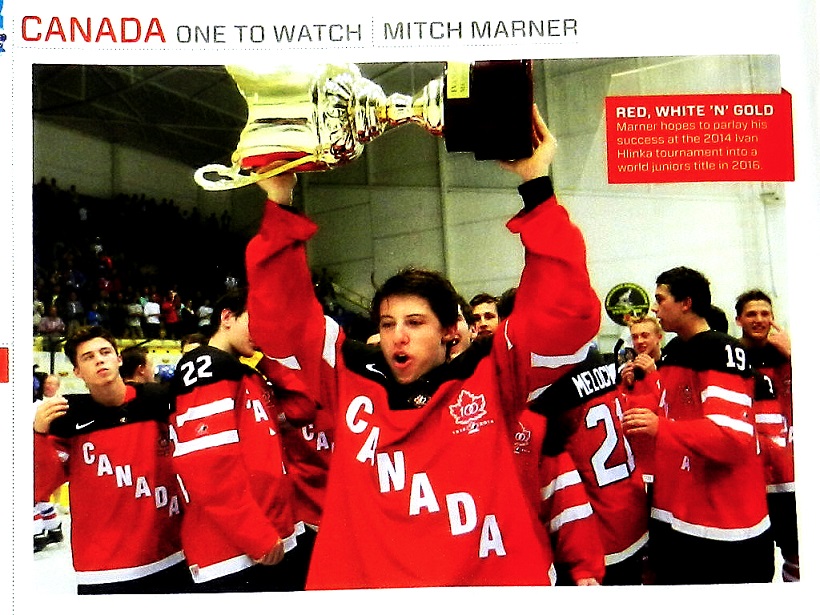 CONFERENCE SEMIFINAL PREDICTIONS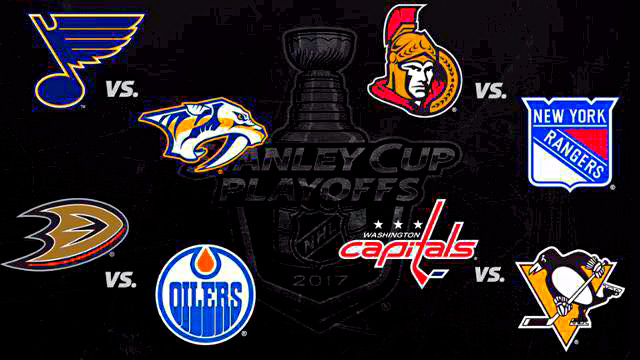 I went 5–and–3 in my first–round playoff predictions.
I'm staying with my pre–playoff forecast of Washington vs. Edmonton in the Cup final.
WESTERN CONFERENCE
ST. LOUIS over NASHVILLE in 7.
EDMONTON over ANAHEIM in 6.
EASTERN CONFERENCE
NEW YORK RANGERS over OTTAWA in 6.
WASHINGTON over PITTSBURGH in 7.
1967 STANLEY CUP FINAL
GAME 4 —  at Maple Leaf Gardens
Yes, it was 50 years ago this week that the Maple Leafs and Montreal Canadiens were clashing for the Stanley Cup in Canada's Centennial year. One–half century ago tomorrow night (Apr. 27, 1967, also a Thursday) saw Montreal even the best–of–seven series 2–2 with a 6–2 romp at the Gardens. This was, according to legend, the game in which the scheduled Leafs starter, Johnny Bower, pulled up lame during the warm–up. Terry Sawchuk, not expecting to play, had allegedly gone on a bender the previous night and was in no condition to tend goal against the Habs. Montreal had also won the series opener, 6–2, at the Forum. The program, below, is from Game 4 — the last Toronto defeat in the '67 Cup final: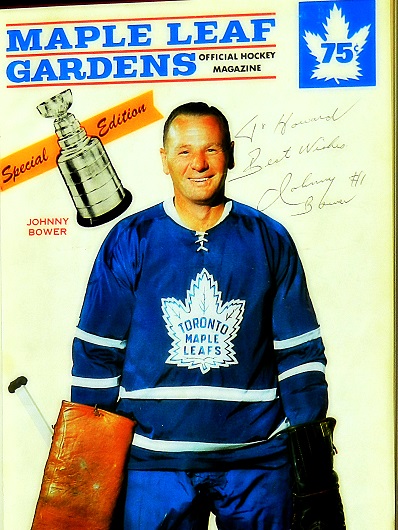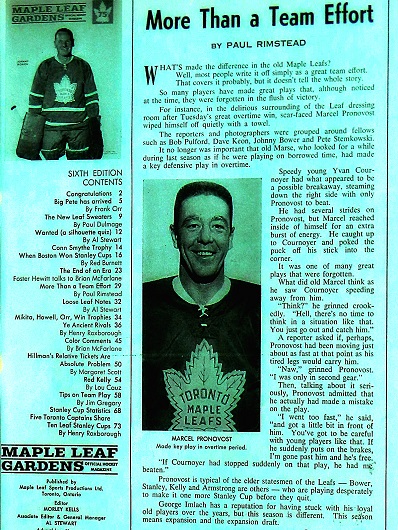 JOHNNY BOWER SIGNED THE COVER TO ME LAST MAY AT HIS HOME IN MISSISSAUGA, ONT.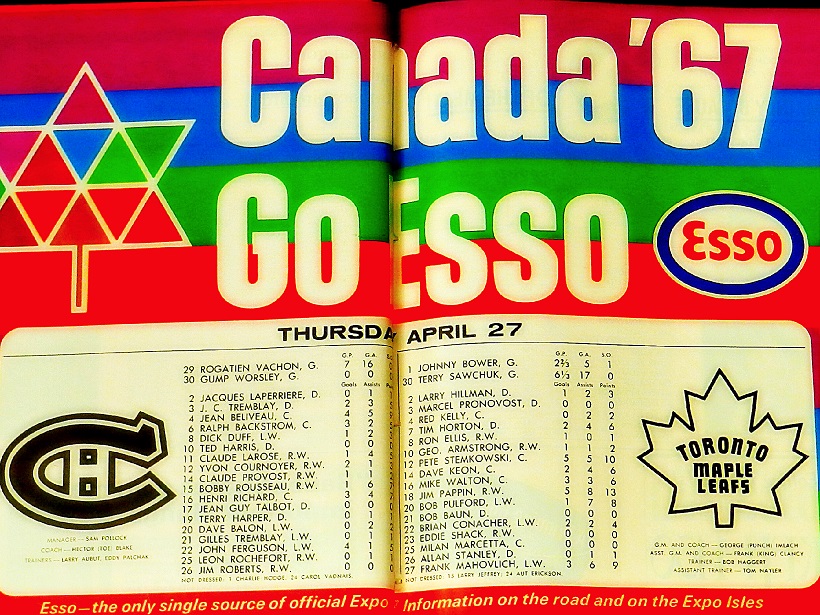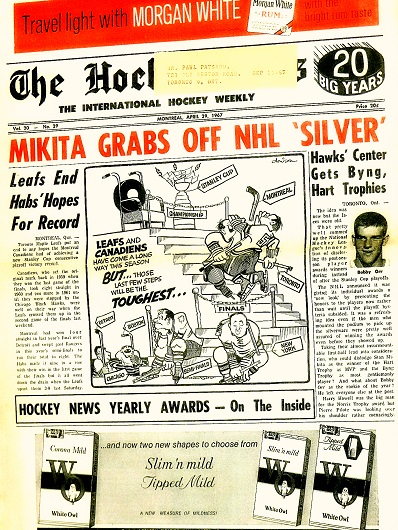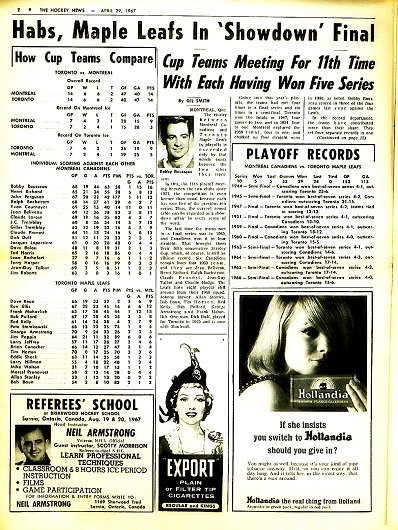 FROM THE HOCKEY NEWS EDITION OF APR. 29, 1967.
EMAIL: HOWARDLBERGER@GMAIL.COM